Who does not wish to build a farmhouse in the bosom of nature? We decided to design a mesmerizing project that takes peacefully place nearby at the back waters of Vaitarna dam at Vavi Harsh, Igatpuri. This popular dam is situated at a distance of 30 km from the heart of Igatpuri, which is renowned as one of the major dams in Maharashtra. The Farmhouse design amidst nature in Igatpuri, Maharashtra and the overall project is about 3750 square feet with many wow factors.
Farmhouse Design Amidst Nature In Igatpuri, Maharashtra | SYNECTICS ARCHITECTS
visit : SYNECTICS ARCHITECTS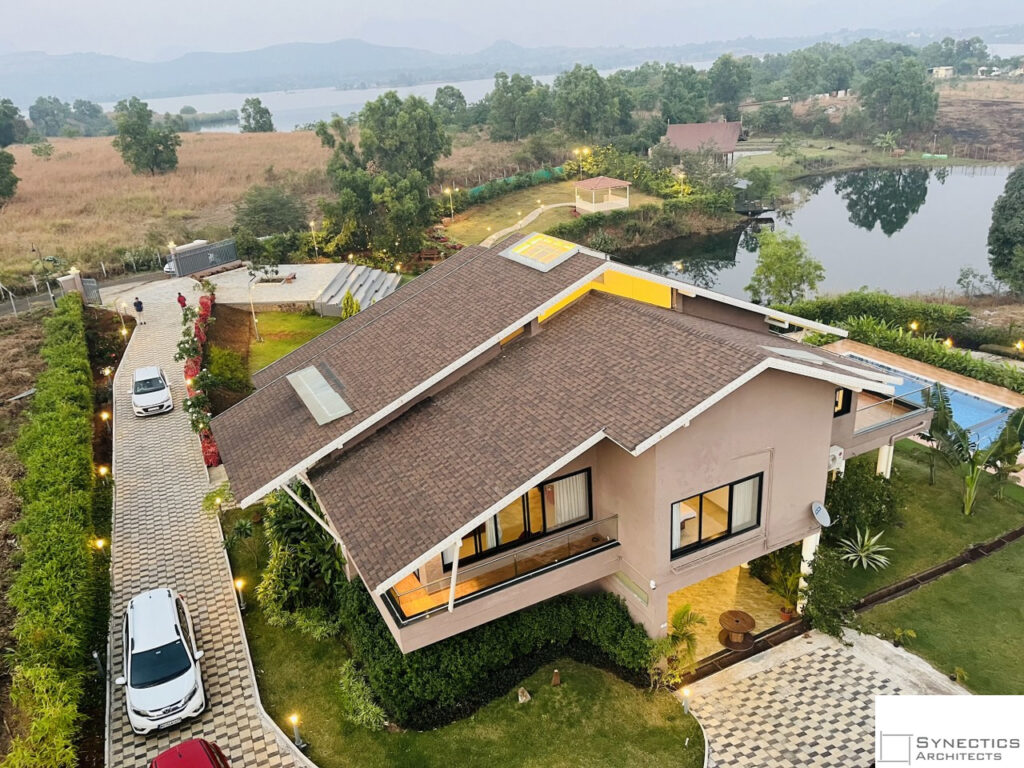 The farmhouse is strategically placed so that the upper plinth and the lower plinth harmonize with the site's levels, avoiding the expense of backfilling and, as a result, indirectly producing interesting spaces.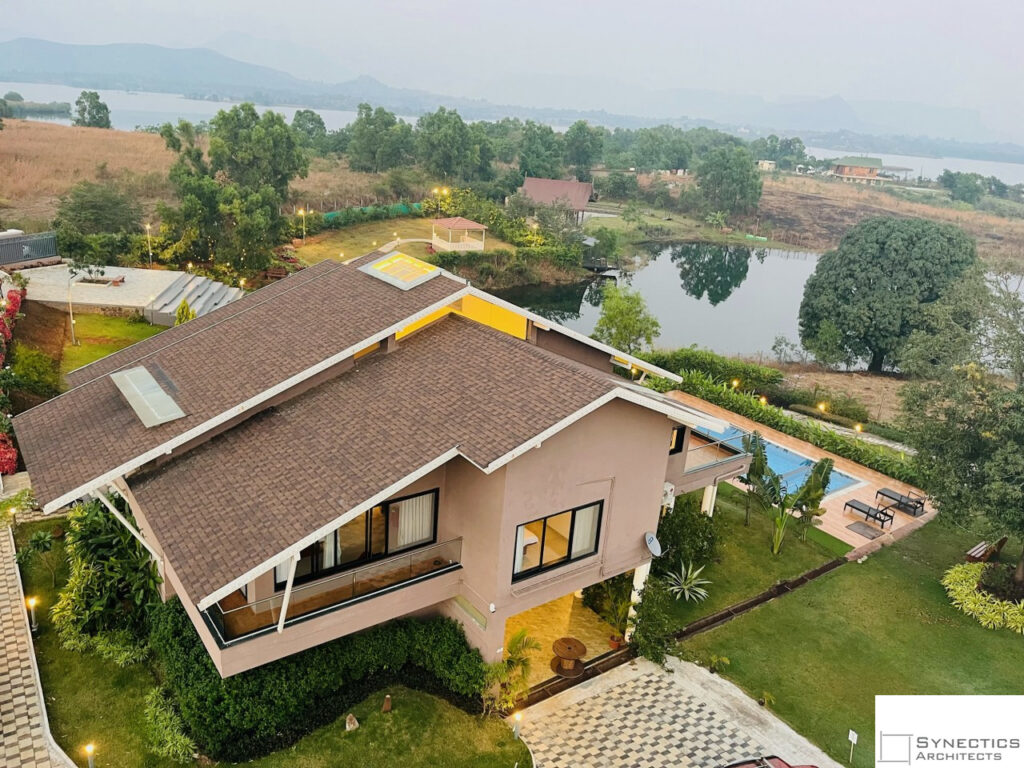 The owners love to welcome guests, and this farmhouse was built specifically for this purpose, so we purposefully designed a large and sinuous driveway. Visitors' "wow" expressions are prompted by the spacious foyers and tall ceilings that welcome them.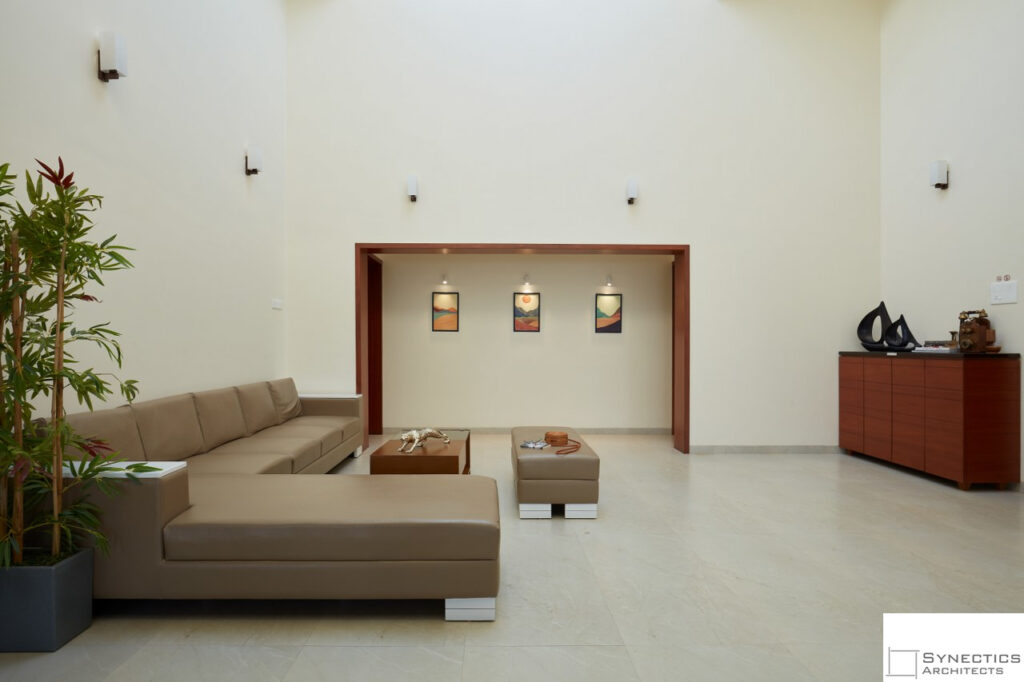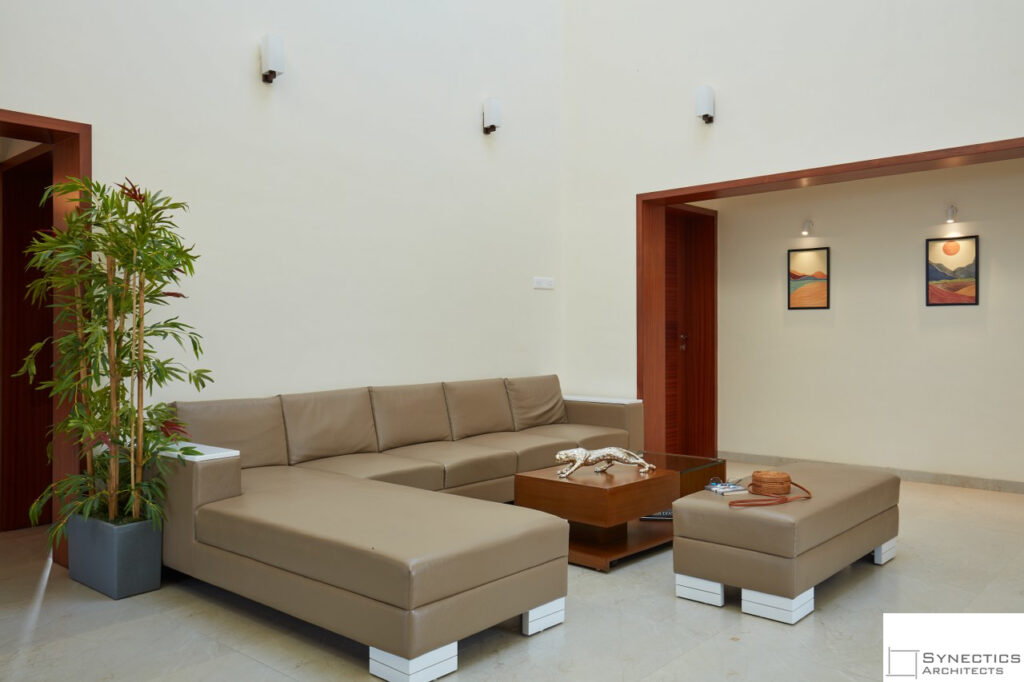 A skylight that invites beautiful natural light inside during the day and reflects artificial interior light during the evening has been added to the first level, where you will find the main farmhouse area which welcomes you.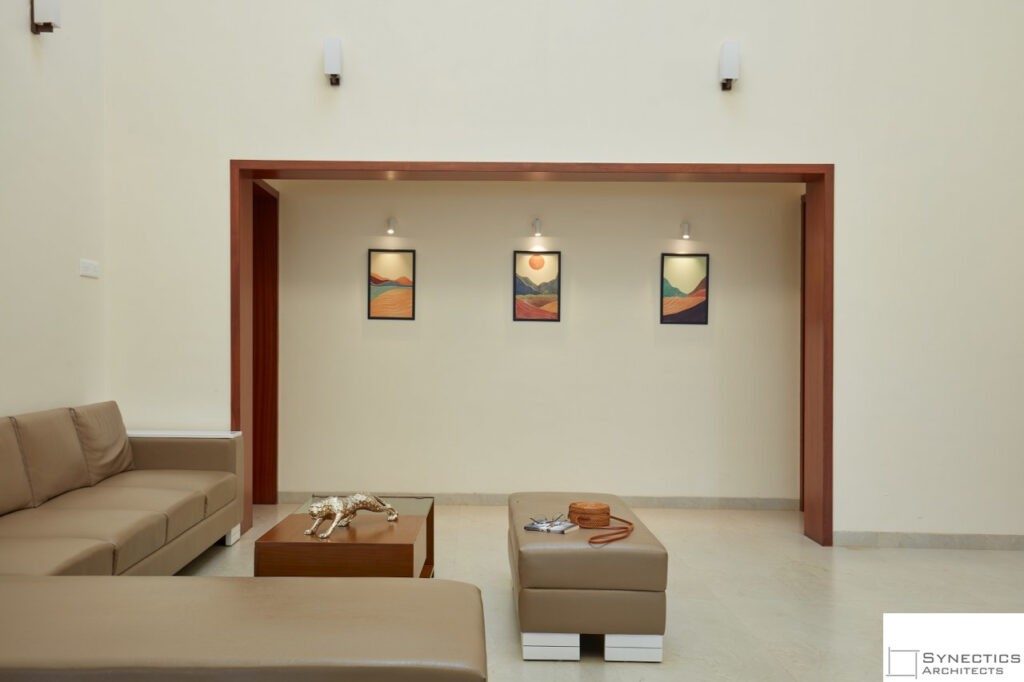 We added a brown leather "L"-shaped sofa, which enhances the room's overall design and encourages an energizing atmosphere.
In order to maximize the view of the back water, we purposefully placed the living, dining, and kitchen areas at the end of the linear space. Since the owner's family occasionally spent time here for recreation, we kept the kitchen area very minimalistic.
The kitchen and dining area are next to one another. As a result, everyone bonds with one another, shares in each other's happiness, and spends priceless time together.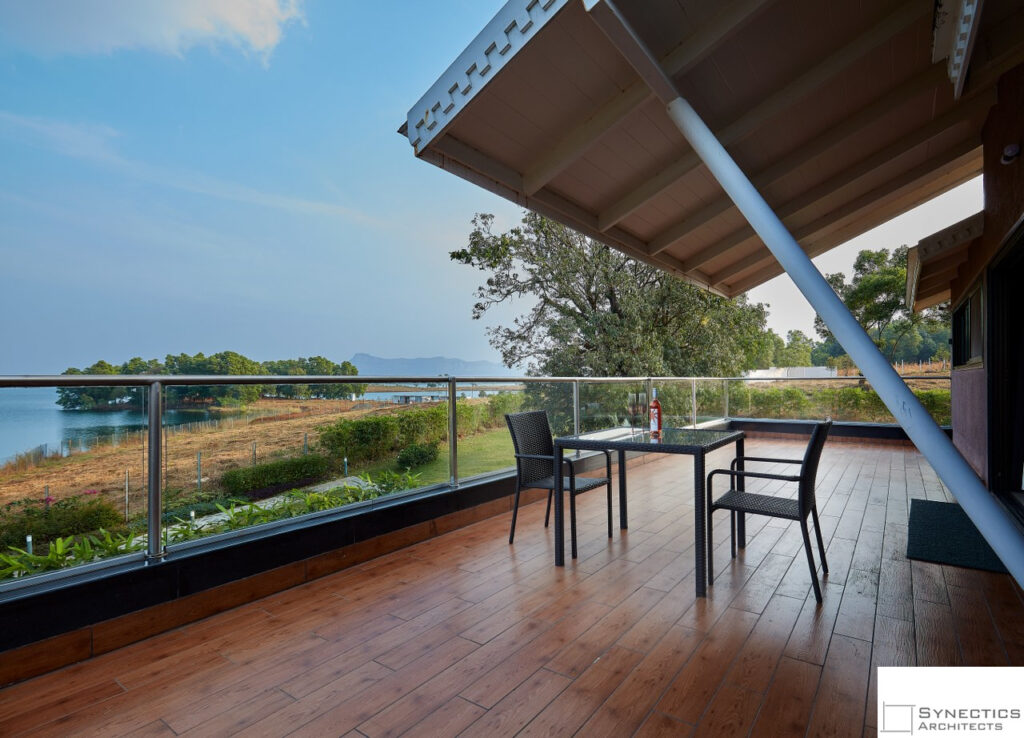 Another unexpected aspect is that we planned a deck where we can relax, enjoy drinks and light conversation, and take in the colours of the sunsets as they spread across the sky at night.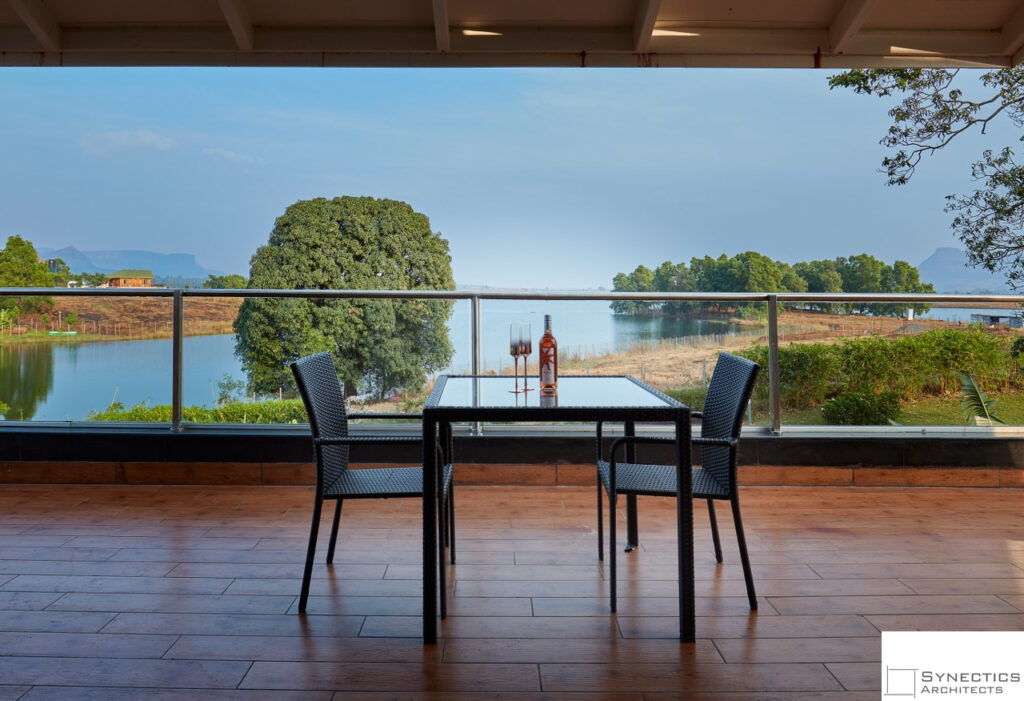 The bedroom is arranged in bright colours with wooden furnishings. White walls, matching flooring pairs, and a wider window to let in ambient daylight.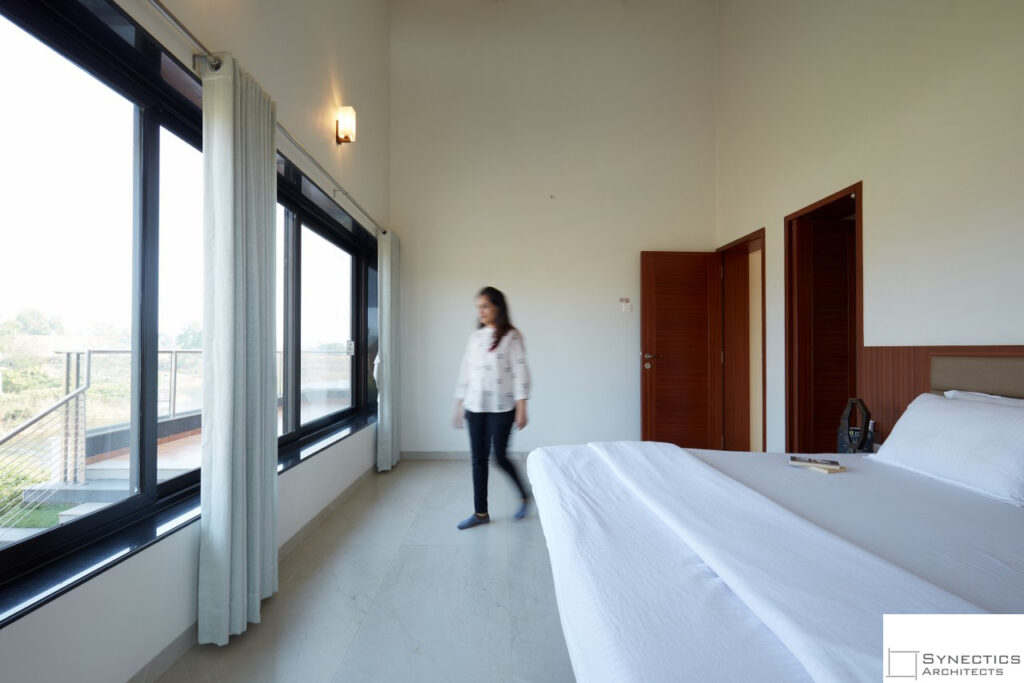 Every bedroom is connected to a bathroom where sunlight flows in directly during the day and night you can enjoy moonlight shower.
Still, the list of wow factors does not end; we planned a swimming pool that is located at the lower level with a meandering pathway that leads to all the interesting spaces in the landscape.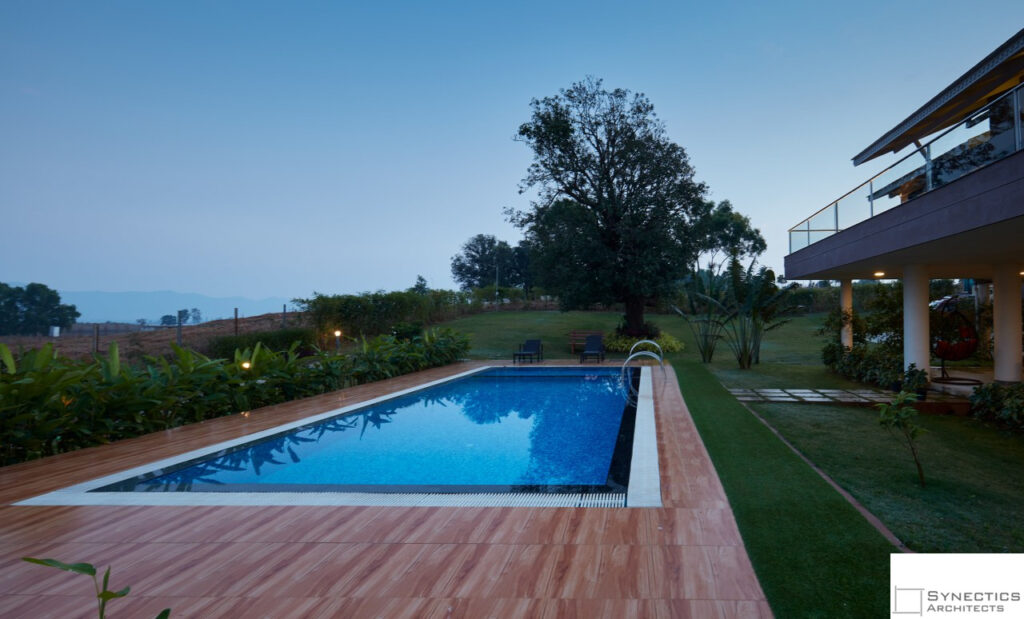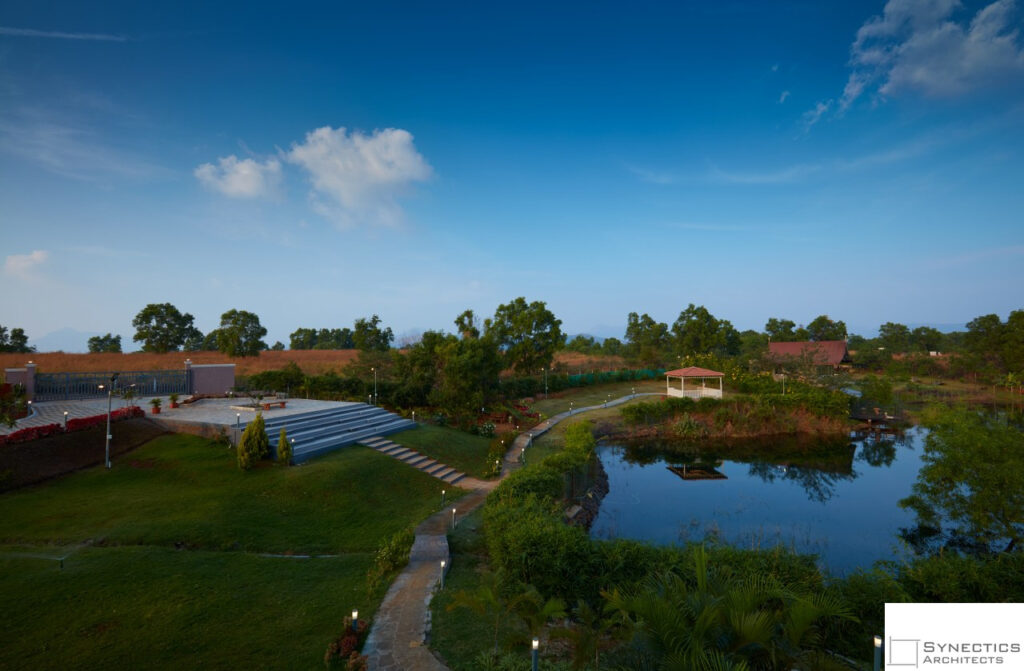 A beautiful backyard pool can be as calming for your mind as it is refreshing for your body. Even the view of tranquil water, whether from inside your home or from your garden, patio, or porch, can soothe the soul.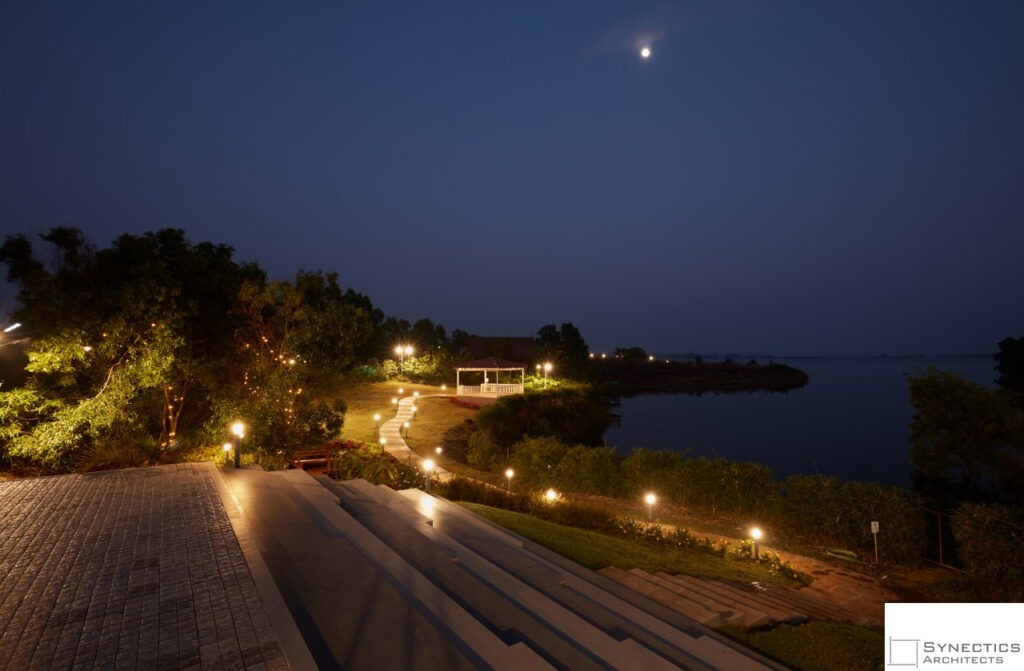 In a ghat pattern, a small amphitheatre is positioned so that it serves as a major attraction for guest and provides an endless view of the backwater.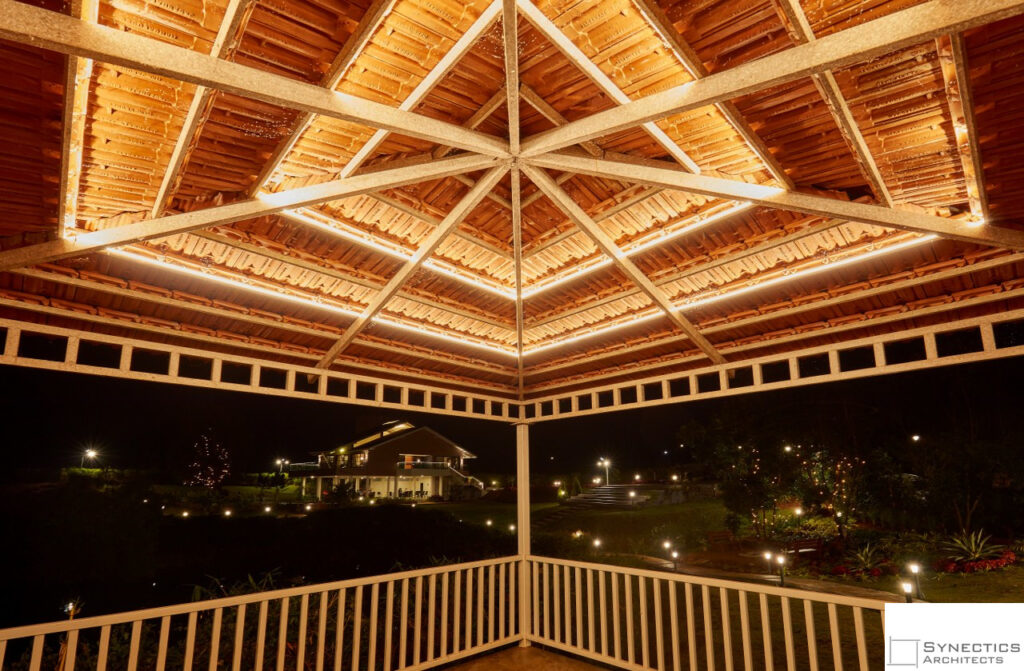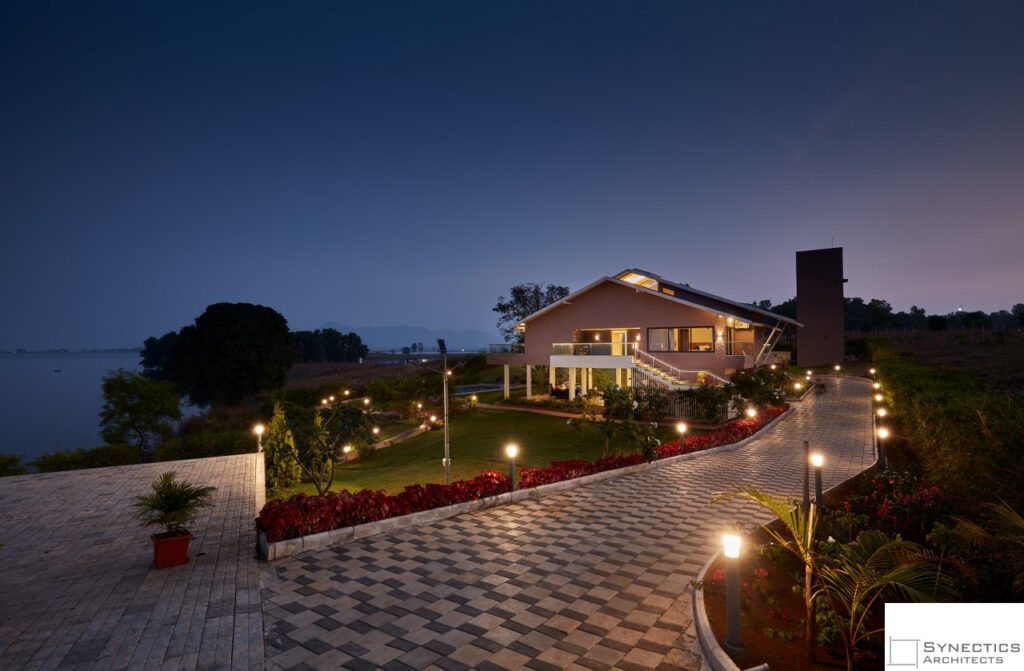 The site being located at the back waters of Vaitarna dam has a spellbinding view. The site had varied levels, which were retained. The site's existing topography was left untouched while all architectural and landscape components were juxtaposed to enhance the overall layout.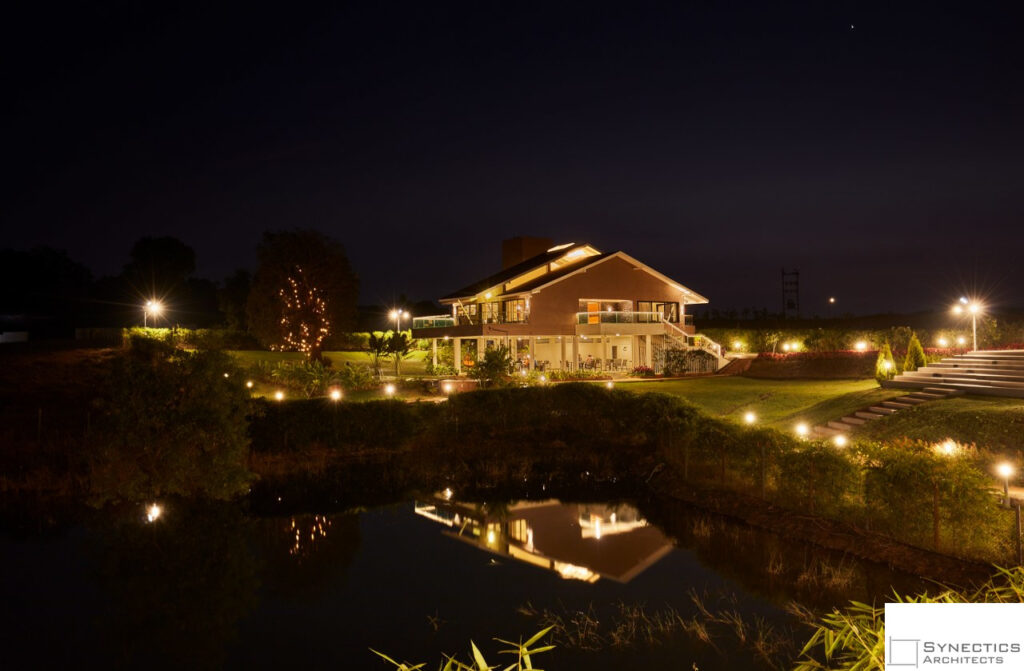 FACT FILE
Designed by : SYNECTICS ARCHITECTS
Project Type : Residential Architecture
Project Name : VIYASH VILLA
Location : Vaviharsha, Igatpuri, Maharashtra
Year Built : 2020
Duration of the project : 19 MONTHS
Plot Area : 43055.64 SQ.FT
Built-up Area : 1491 SQ.FT
Project Size : 1491 SQ.FT
Principal Architect : AR. DHANANJAY PAWAR
Photograph Courtesy : YASAR CURTAY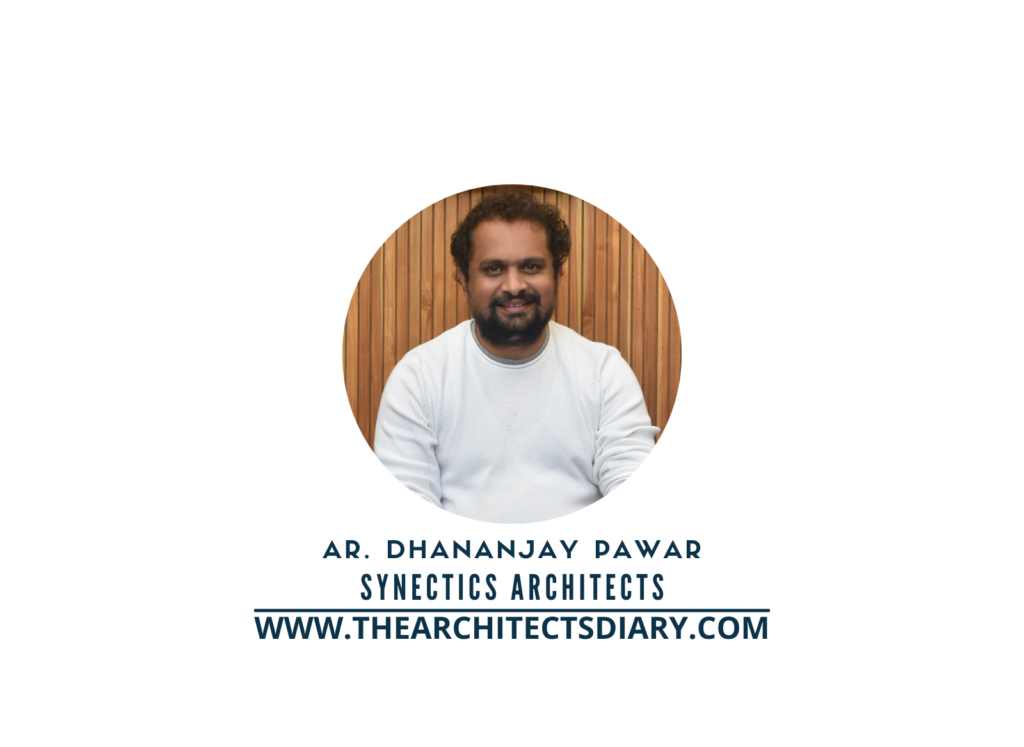 Firm's Instagram Link : SYNECTICS ARCHITECTS
Firm's Facebook Link : SYNECTICS ARCHITECTS
For Similar Project >> A LUXURIOUS HOME WITH CLASSICAL DESIGN
The post Farmhouse Design Amidst Nature In Igatpuri, Maharashtra | SYNECTICS ARCHITECTS appeared first on The Architects Diary.