We spend 8-12 hours working in offices, that is more than half the time we spend awake. Office interiors undoubtedly have a great impact on the workflow. The functional spaces, the interactive areas, how they are connected with each other and every minute detail is important. The best design is the one that can cater to both employee and the employer needs. We believe that the office arenas should be inspiring, insightful, should encourage free-thinking, and be fun to work at.
EMED Store Global Pharma IT Company Office Interiors | ARCHITERIO
visit : ARCHITERIO
It's important to love spending time in the workplace to give your 100%. Great workspaces are the key to great ideas and that leads to a successful business. We designed this EMED Store Global Pharma IT company office interiors with keeping the same concept alive. The client's idea was to have an employee friendly working environment where they are free from the daily chaos of city life.
To achieve the same, we gave this office space a raw and natural touch using natural wood and brick cladding with exposed ceiling. This office space covering 1350 sq. ft of carpet area caters working space for 40 employees, two cabins, conference hall, and restroom.
The challenging part was to accommodate 40 employees in such a small area, because the space was less than needed as per the standards. We very interestingly found the solution for this and took advantage of the high ceiling of 12 feet for overhead storage for employees.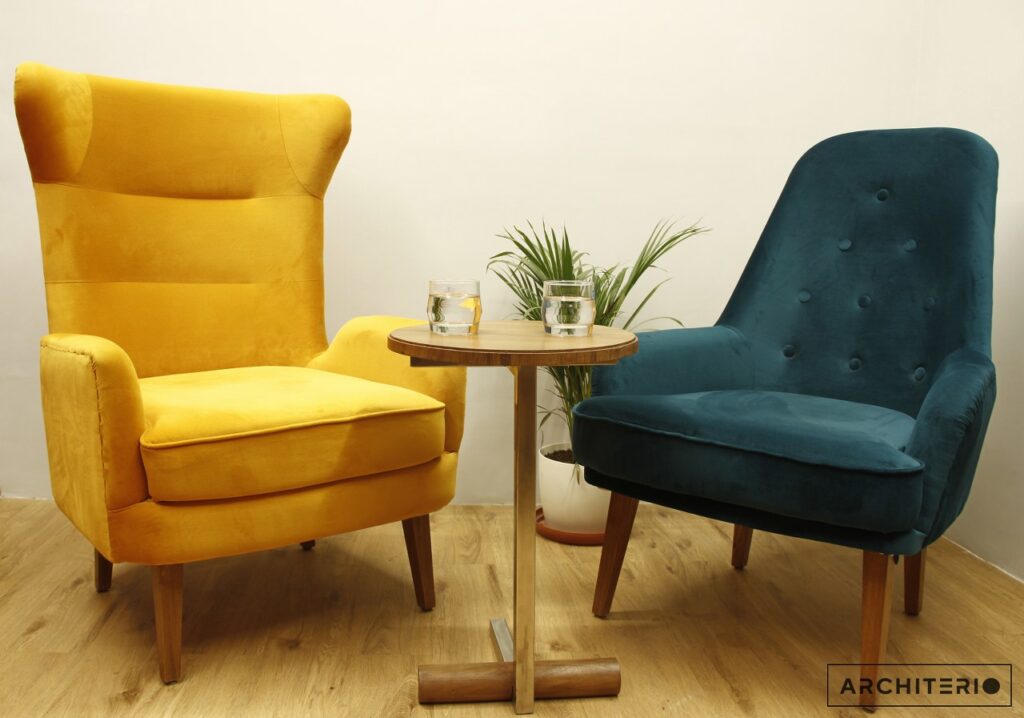 Colors form a vibe within us and every space needs a different vibe; its own vibe. The different spaces are set apart by different colors based on the activity it caters, depending upon the emotion it should create. For instance, the conference room is in natural wood with a touch of orange to give it an energetic feeling when you are entering into the space.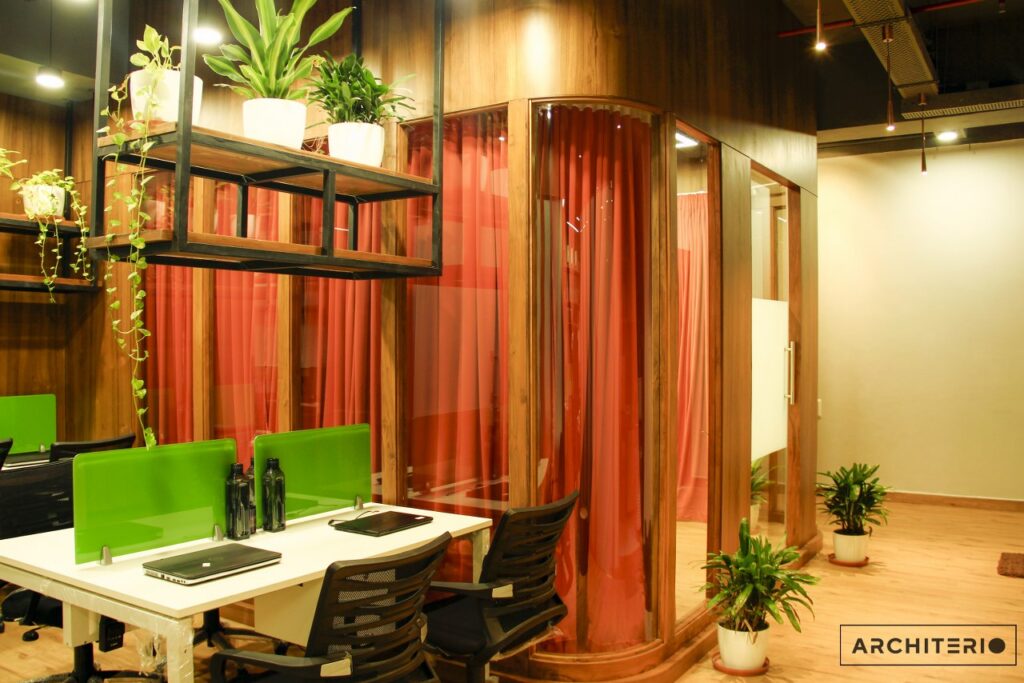 Each employee is given their own plant for them to feel connected to nature and be fresh even while working.
The working area is all covered with shades of brown with green pop ups and that makes the space very appealing and energetic.
A successful design is the one that thinks about its users, and effective working could only be achieved with employee friendly design. With the same motive we completed this small office space for an upcoming IT firm.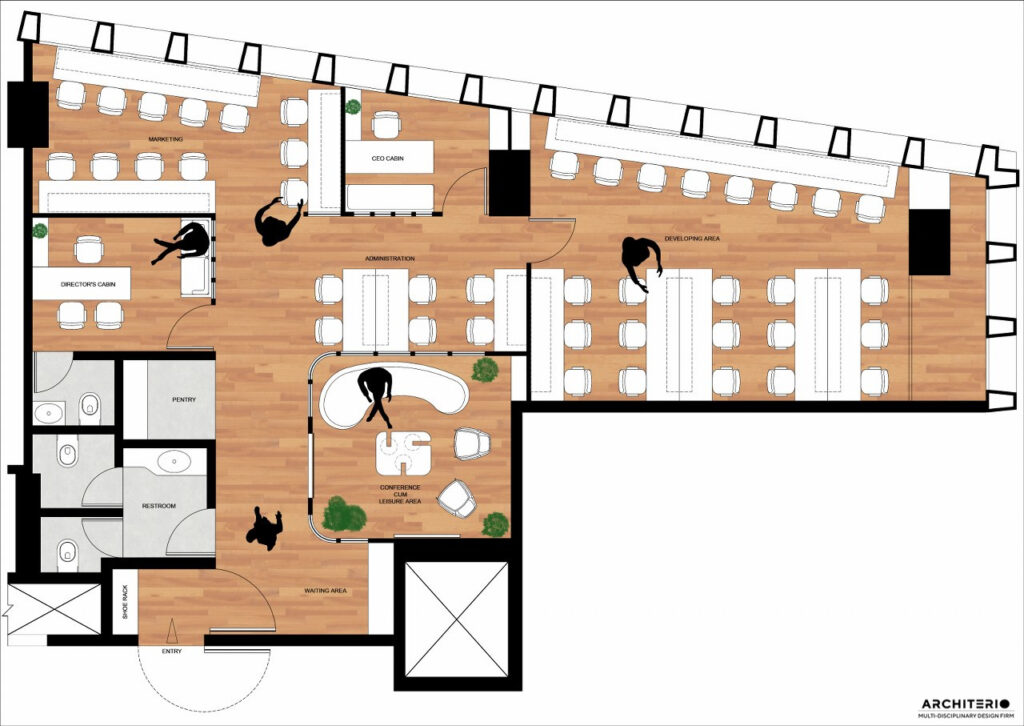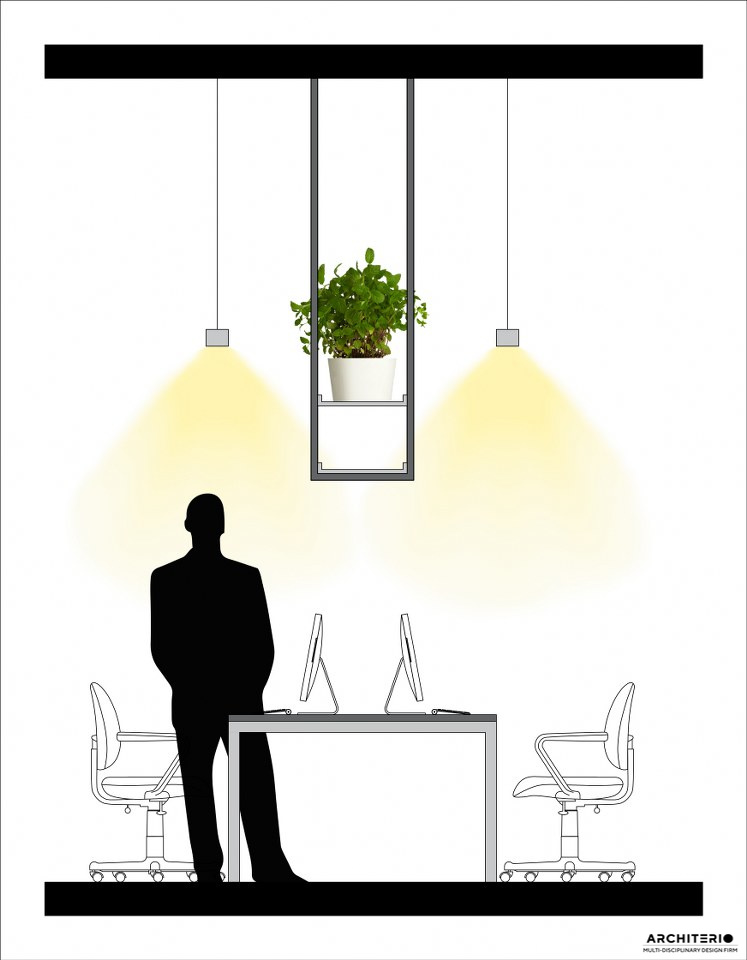 FACT FILE
Designed by : ARCHITERIO
Project Type : Office Interiors
Project Name : EMed Store Global Pharma IT Company
Location : Ahmedabad
Year Built : 2019
Duration of project : 3 months
Project Size : 1350 sq.ft
Project Cost Appx : 45 Lakhs
Principal Architects : Maherbanali Patel & Rahemanali Khanushiya
Team Design Credits : Maherbanali Patel & Rahemanali Khanushiya
Photograph Courtesy : ARCHITERIO
Products/Materials/Vendors : Lighting – Enerzone India / Doors and Partitions – Saint-Gobain Glass Sanitary Ware – Jaquar India / Paint – Asian Paint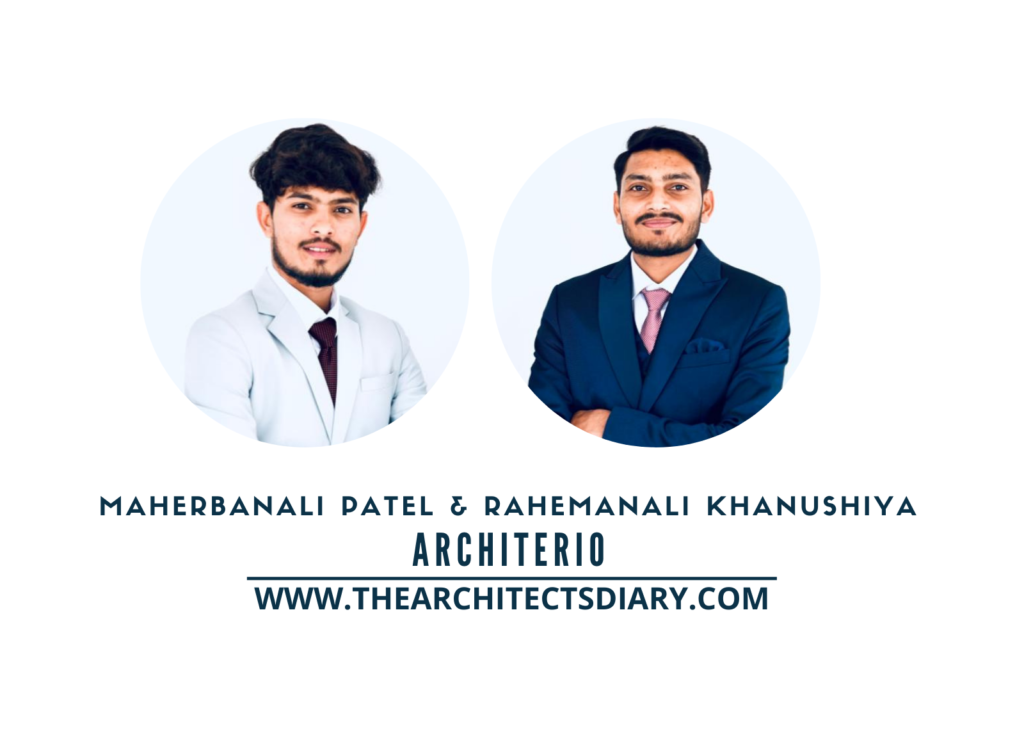 Firm's Website Link : ARCHITERIO
Firm's Instagram Link : ARCHITERIO
Firm's Facebook Link : ARCHITERIO
For Similar Project >> A WORKSPACE DESIGN FOR AN ARCHITECT AND A DEVELOPER
The post EMED Store Global Pharma IT Company Office Interiors | ARCHITERIO appeared first on The Architects Diary.