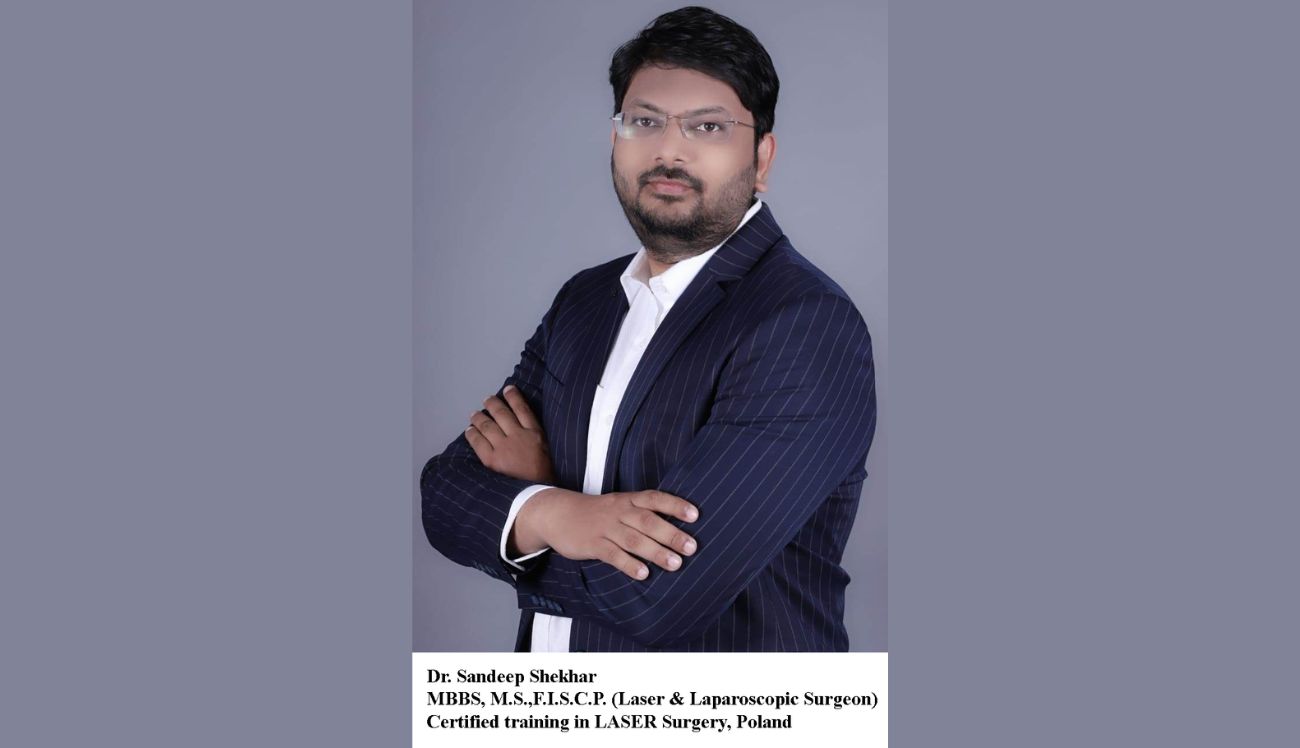 There are millions of people in India suffering from piles and fistula. It is indeed unfortunate that many people suffer from piles but are hesitant to discuss it openly.
Dr. Shekhar's Clinic offers a promising solution by providing novel approaches and upgraded medications for the treatment of piles. Their slogan, "Don't hide Piles, cure it before it gets worse," encourages individuals to openly talk about their condition and seek the necessary treatment.
If you or someone you know is dealing with piles, it may be beneficial to consider reaching out to Dr. Shekhar in Dombivli, Kalyan & Palava City, to get the appropriate help and treatment. Remember, it's important to address and talk about health concerns openly to find the best solutions.
Dr. Sandeep Shekhar has introduced advanced techniques for the treatment of piles, fistula, and other anorectal diseases. The use of laser in the treatment of piles is a significant advancement and has several benefits, including quicker and smoother recovery, lower recurrence rates, and a painless procedure with fewer cuts.
It is important to recognize the benefits of these advanced techniques in treating other anorectal diseases such as fistula and pilonidal sinus. Patients undergoing this treatment can experience faster recovery times and can return to their routine work within a short time period.
Dr. Sandeep Shekhar in Dombivli has treated thousands of patients successfully.  For treating bleeding Piles, Dr. Shekhar uses Laser Hemorrhoidoplasty (LHP), and for Fistula, Fistula track Laser Closure (FILAC)
Dr. Shekhar has been able to cure difficult cases and achieve fascinating results with these advanced treatments. All of us demand swift treatment in this fast-paced world, which laser provides.
Dr. Sandeep Shekhar is a well-known General and Laparoscopic surgeon in Mumbai. He is a part of a highly prestigious legacy and received his education from KEM Hospital & Government Medical College Nagpur.
Dr. Sandeep Shekhar has received a prestigious fellowship from the International Society of Coloproctology (FISCP). With this Fellowship, he got deep training in Laser in proctology, Coloproctology with MIPH, Suture rectopexy, and Advanced training in complex Fistulas. Dr. Sandeep can now offer comprehensive care for Piles, Fistulas, fissures and other anorectal diseases. Dr. Sandeep has more than 16 years of experience in Laparoscopic surgeries like gallstones, Appendicitis etc.
In addition to this, he is also a specialist in Hernia surgery, Circumcision, Pilonidal Sinus, Lipoma, diabetic foot, and breast lump removal. 
Dr. Sandeep's vision is to provide Hassel with free, best healthcare services to his patients under one umbrella.
He has become one of Palava's most famous surgeons due to his extensive knowledge of many surgical procedures and healthcare specialities. He possesses a special blend of education, practical expertise, and people skills. Patients, as well as his coworkers and teams, are inspired by him. Dr. Sandeep puts patients' needs above all other interests. 
After all other methods fail, patients from all across India travel to Dr. Shekhar's Clinic in the hopes of receiving Dr. Shekhar's novel method for treating Complex Piles and fistulas.
Dr.Shekhar's Clinic
Advanced Laser and Laparoscopic Center
Palava City, Dombivli, Kalyan, Ambarnath, Badlapur
By Appointment
Email: dr.sandeepshekhar.clinic@gmail.com, Phone No: +91 8369071247
If you have any objection to this press release content, kindly contact pr.error.rectification[at]gmail.com to notify us. We will respond and rectify the situation in the next 24 hours