Distinctively Designed Multi Functional Fitness Center in Kerala | Rods Architects
Would it be safe to say that spatial experience is a collective one while it's still exclusive to every user? How long does one iterate to find an equilibrium that empathizes with different user groups and yet be unique in its design approach? The Cruxlife Multipurpose Hall alters an otherwise definitive approach to designing fitness centers by experiential customizing. While the space distinctly diverges for different activities, it also creates a void for human interaction to enliven the space. Various moments that a first time visitor or a regular member would have at different places in and about the space, shapes the elements of that space aligning with appropriate narratives leading to creative design interventions. ~Yamini Vaswani
Distinctively Designed Multi Functional Fitness Center in Kerala | Rods Architects
Visit: Rods Architects
A design built on contextual inferences, Ramzi Omar and Firoz have sensitized with the users and the context. They strive to give justice, both to the practical and transcendental criteria through constant re-invention in the field. The studio believes that spaces should be ephemeral – and should mold themselves based on their form.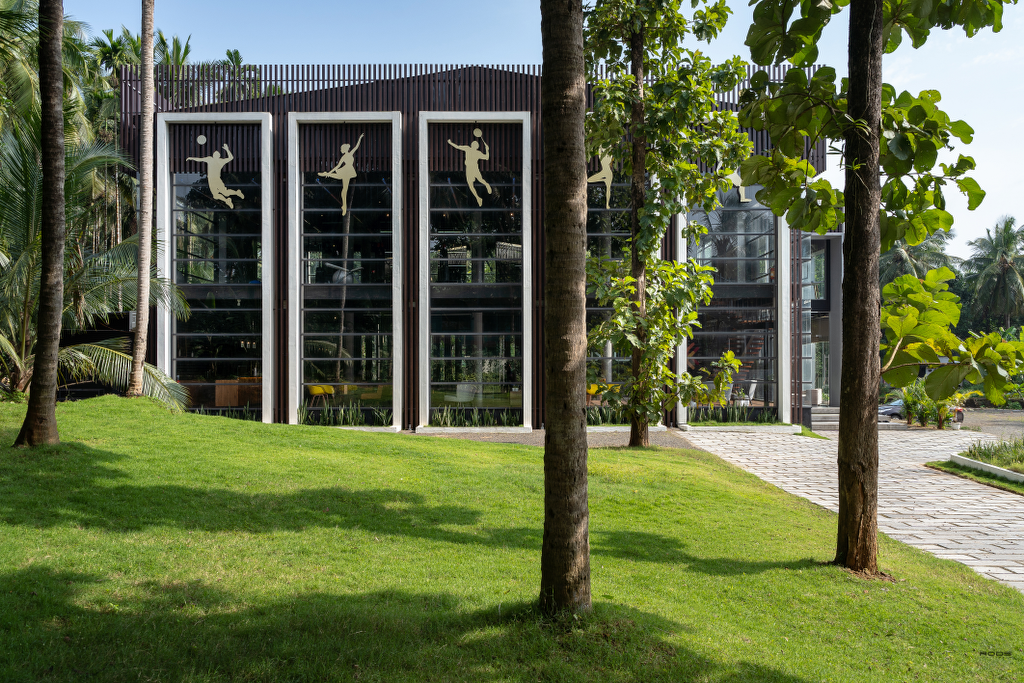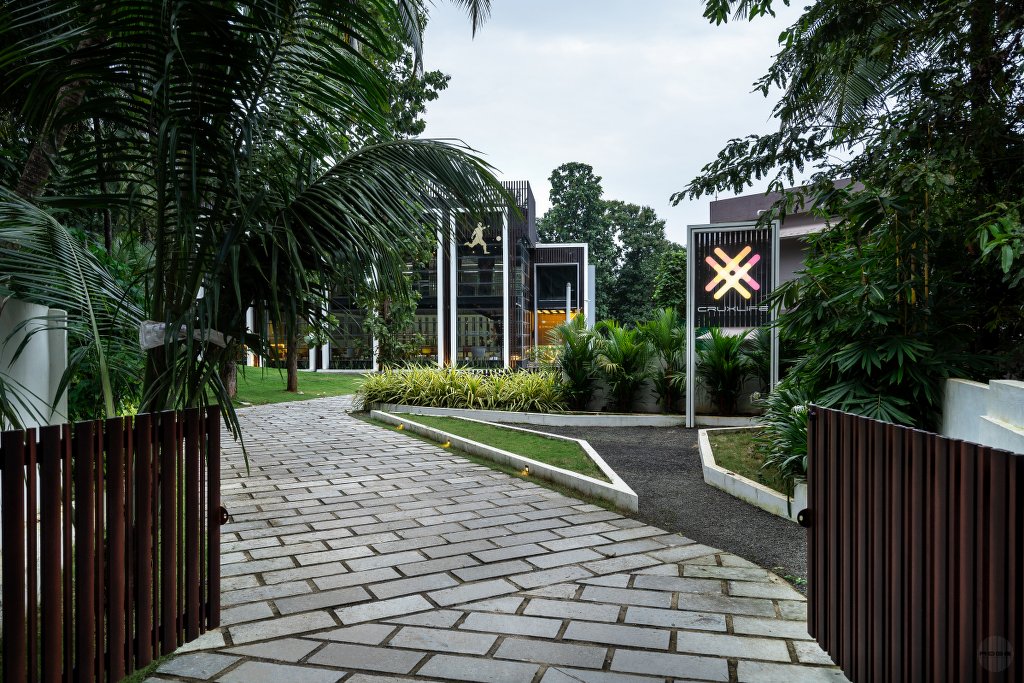 The program, settled amidst the palm trees of Kerala, involved developing a facility that is the hub for sports, culture, and social venues. It is an attempt to reimagine an existing site into a socio-cultural hub. It is a recreational centre that provides a wide range of activities based on its user base. Functionally feasible, ergonomically efficient, and aesthetically contemporary were the key features of the project. Also, it is made more spacious through clutter-free design and smart planning of utilities. Featuring partition walls and a monochrome palette, the design proposal makes a bold statement by emphasizing its linearity and rigidity right at the entrance.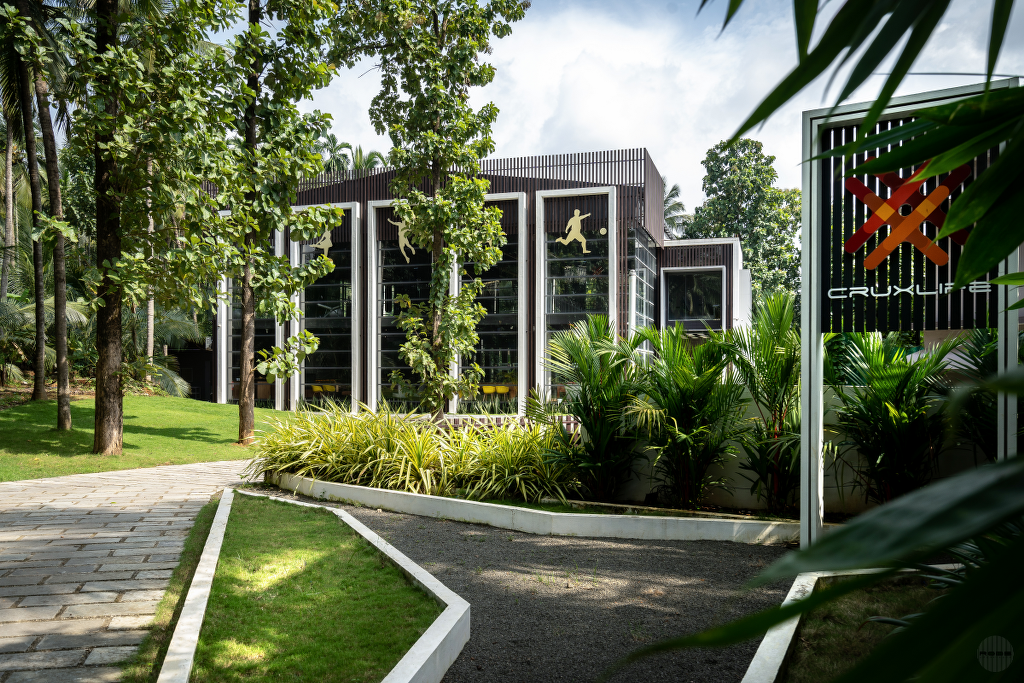 The project is nested in between the teak plantations at one of the epicenters of Kerala. This meant that the facility has to be style statement without negotiating the budget and its aesthetics. It included material exploration and utmost functionality to prevent any waste of space. To make this possible, voluminous entries welcome the users with silhouettes justifying the function of the facility. Also, the simplicity and clarity in design allowed for better footfall. The spaces are redefined, showing the journey of the visitors, their intent, and their behavior in the space. The interiors include luxurious finishes, stylistic furniture, and full-height windows which offer natural lighting and extended views.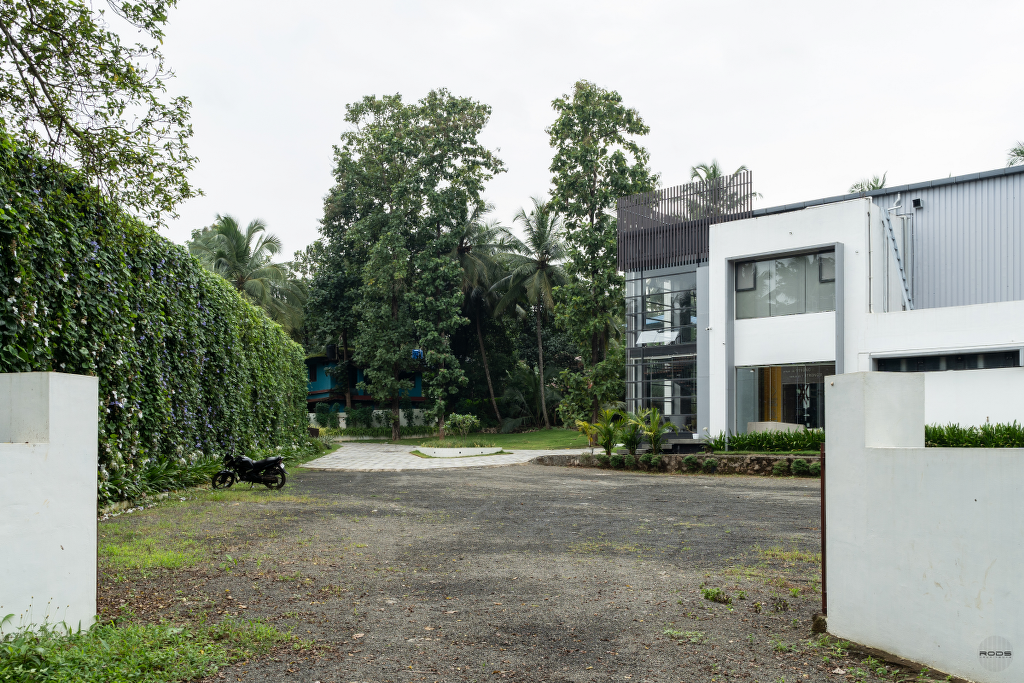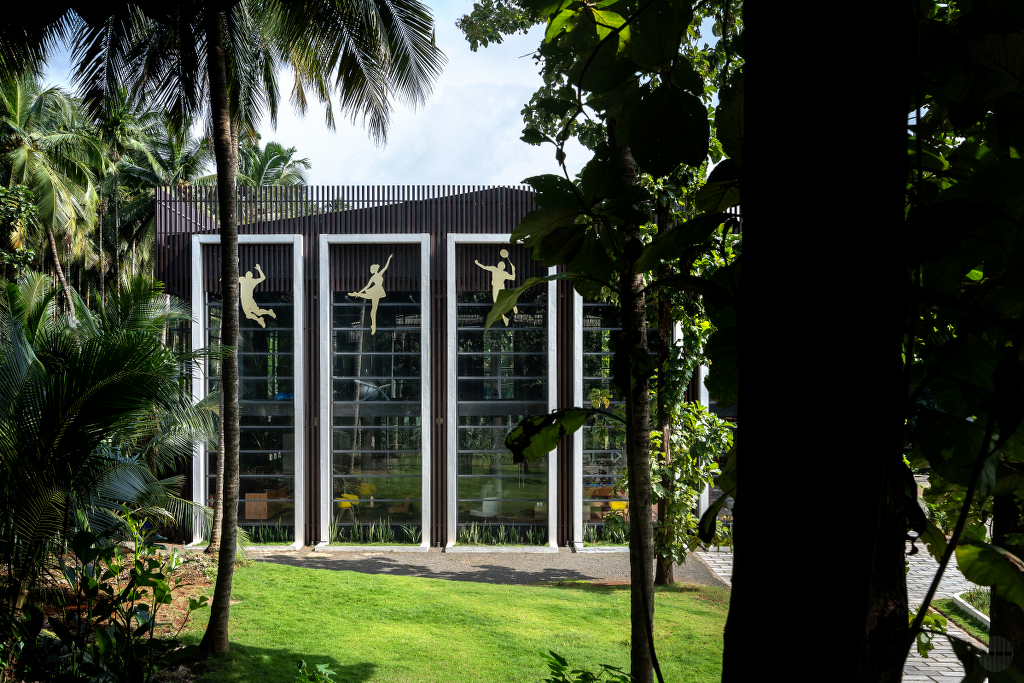 The interior design has attended all the functions required in such facility, ranging from Badminton, Volleyball, Touch tennis, and Futsal. These are supported with amenities like a café with Indoor Games, Fitness Club, Locker rooms, a shower, and outdoor public spaces. Rounded columns within the spaces give a sense of direction, scale and visual appeal to the space. These are supported with full height panels, finished flooring and hanging lights.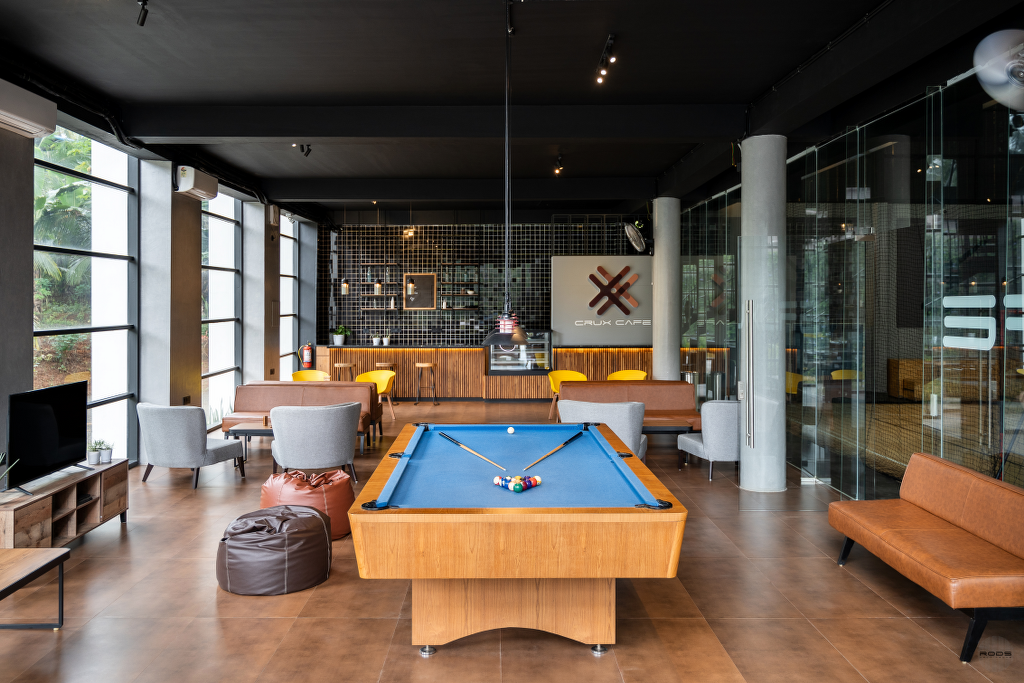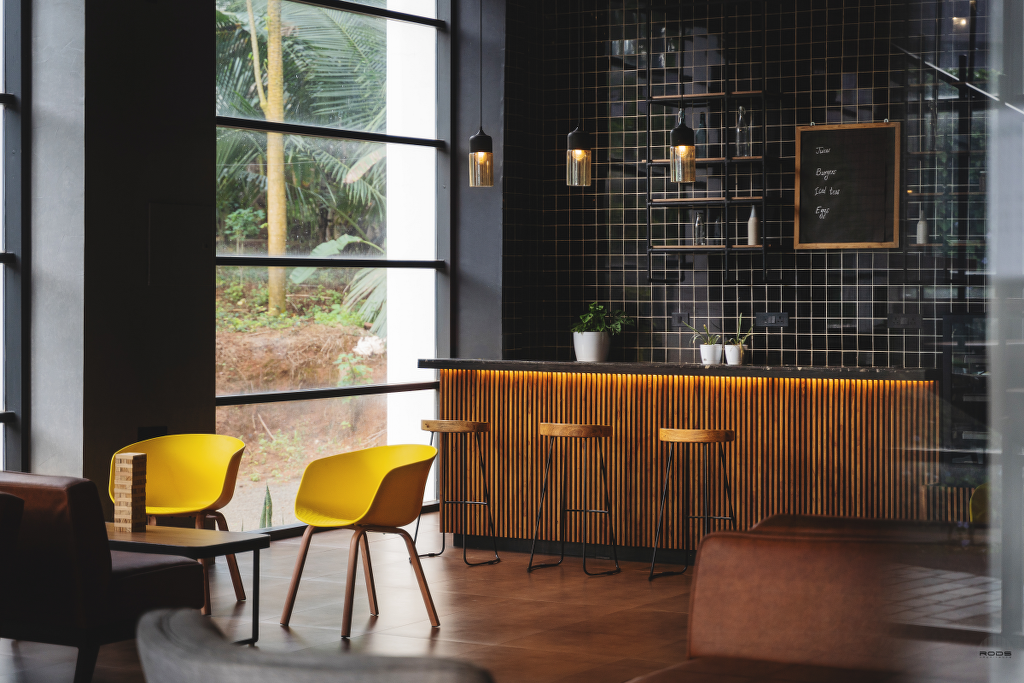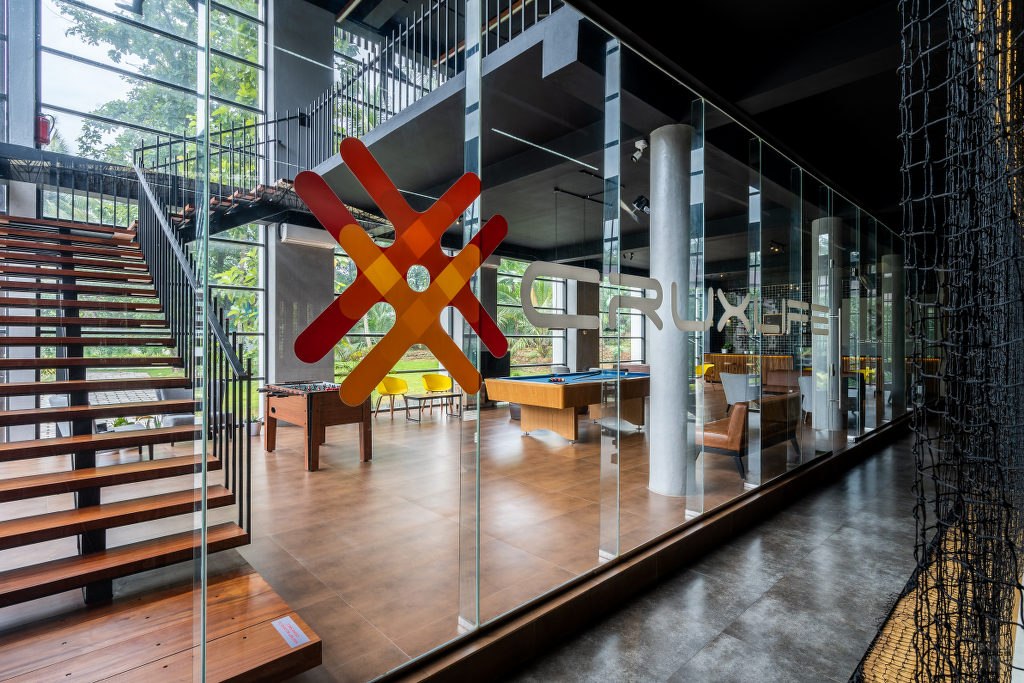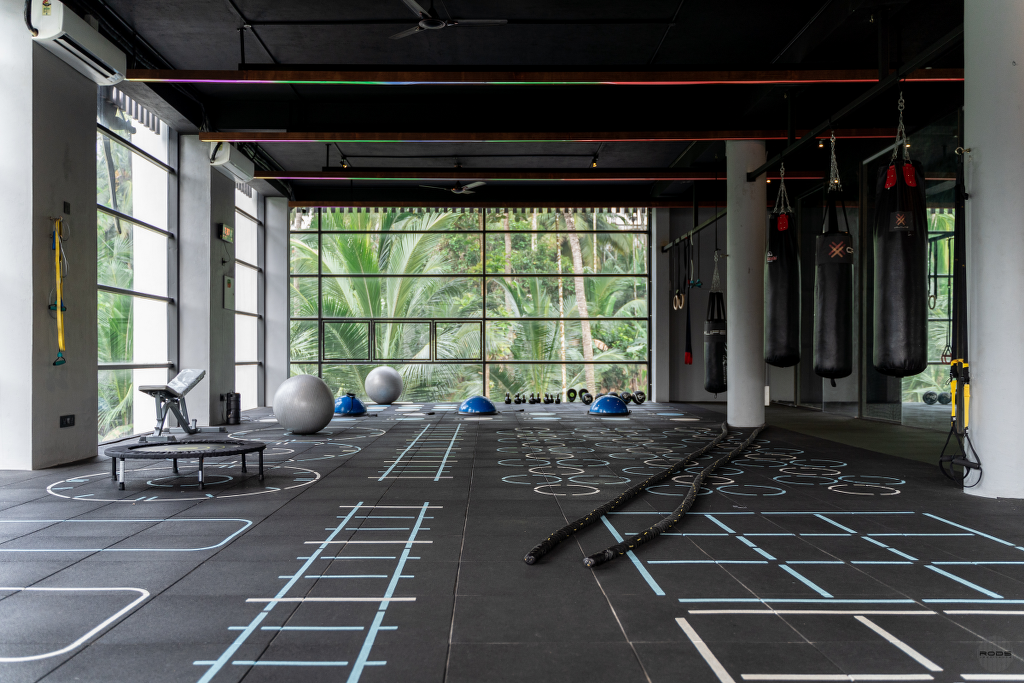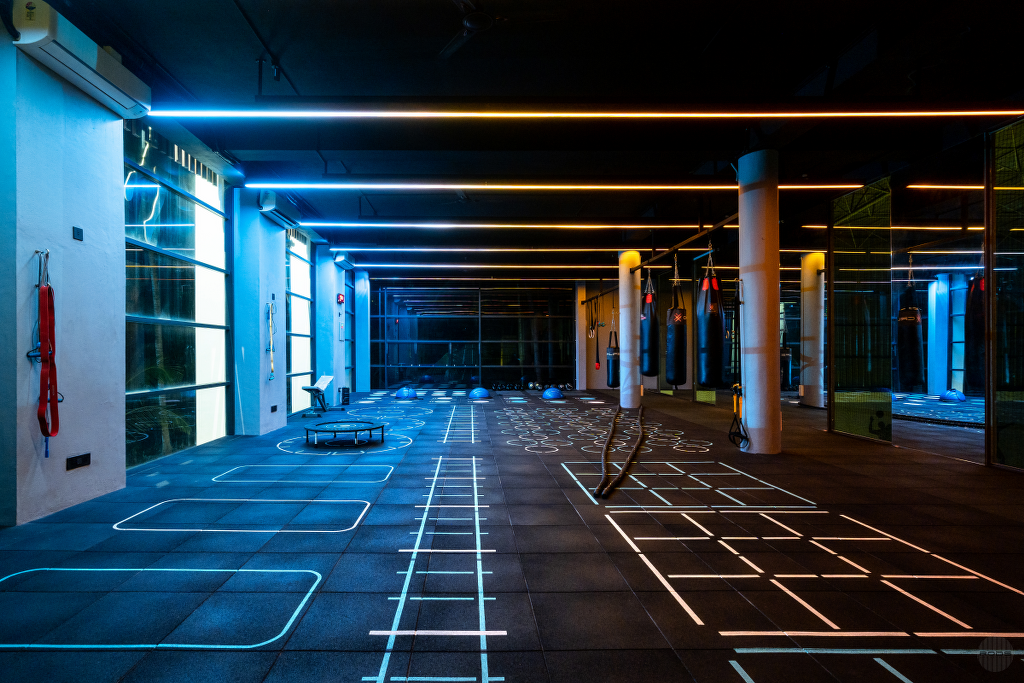 Having an open profile in the façade, the activities are visually porous right from the approaches. This makes the building look welcoming and individualistic in behavior. They designed the interiors under the palette of minimum colors, building its language and professional outlook. Ceiling lights, centralized air conditioning, and clean furniture design make the space more clutter-free and refreshing. Darker ceilings, warm lights, and low seated furniture set up the vibe of the facility.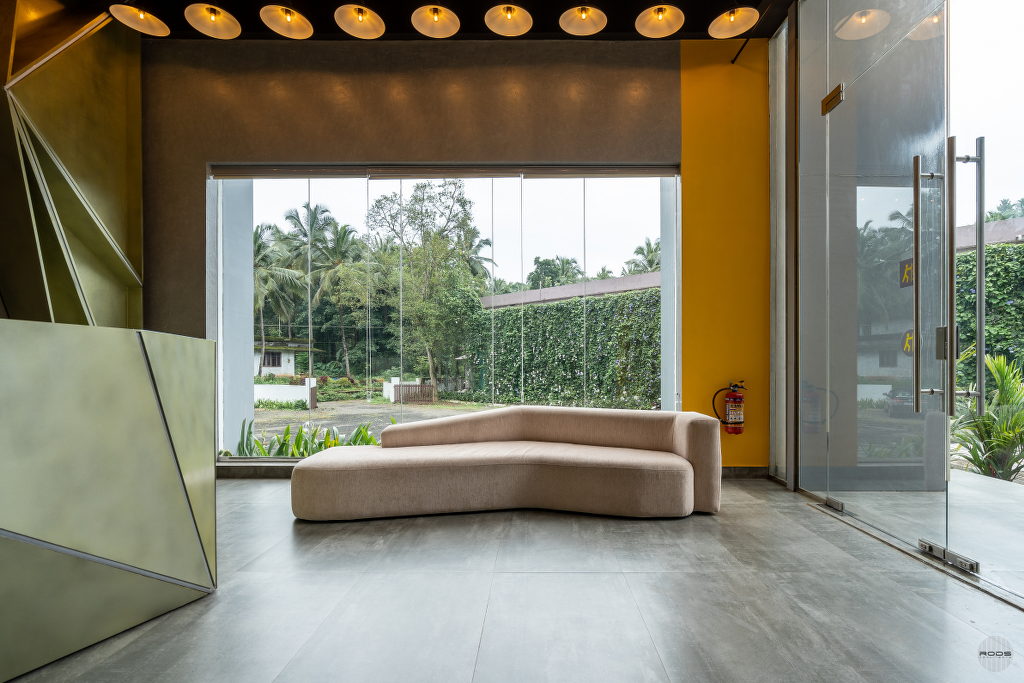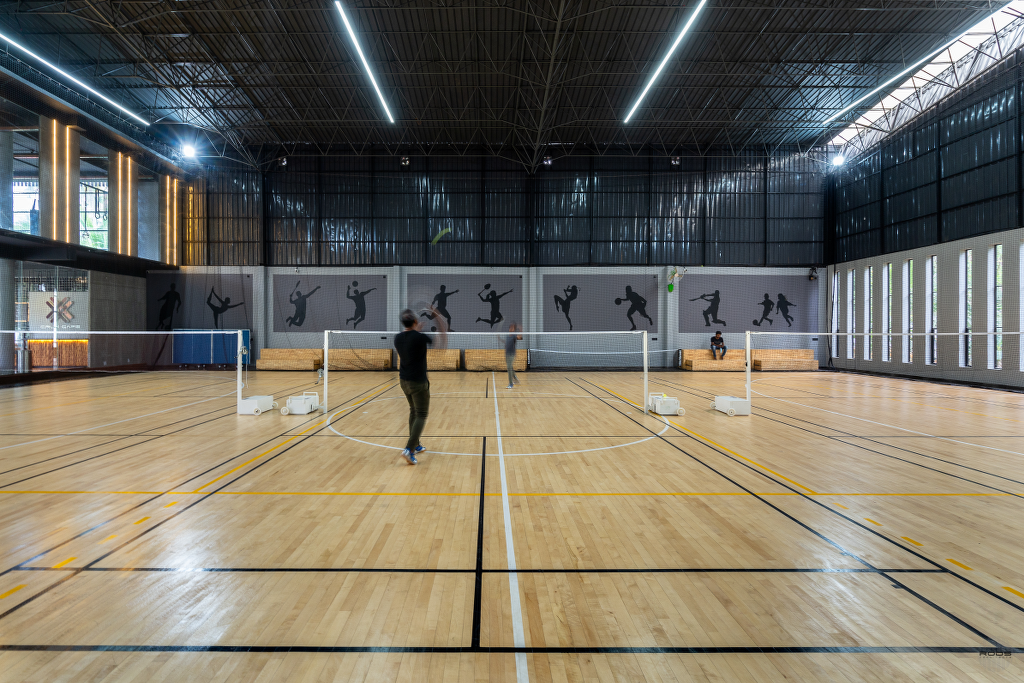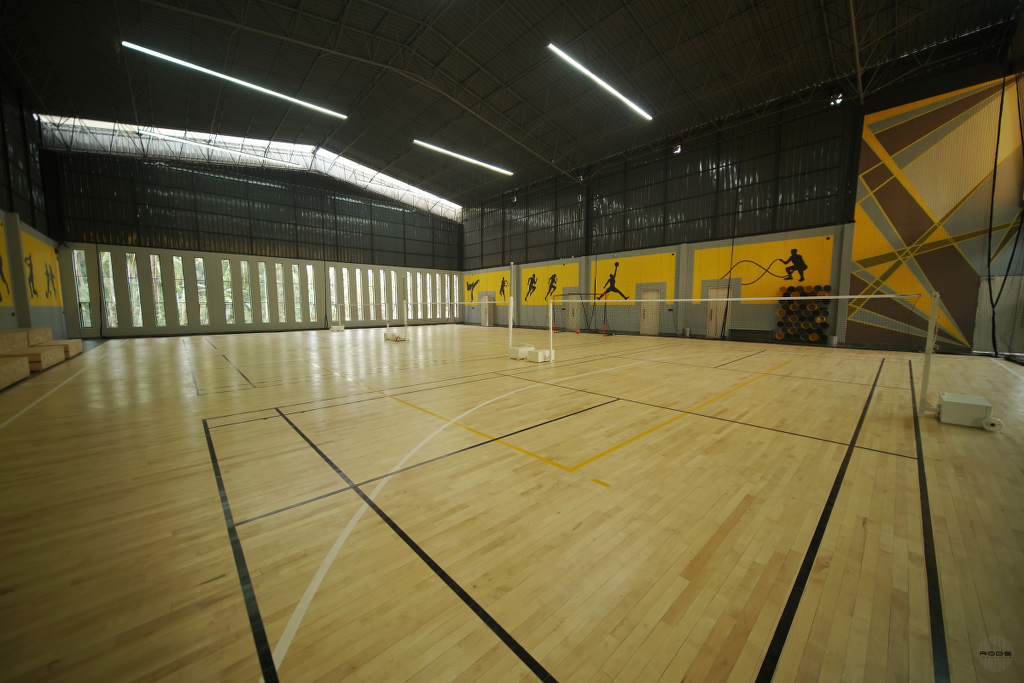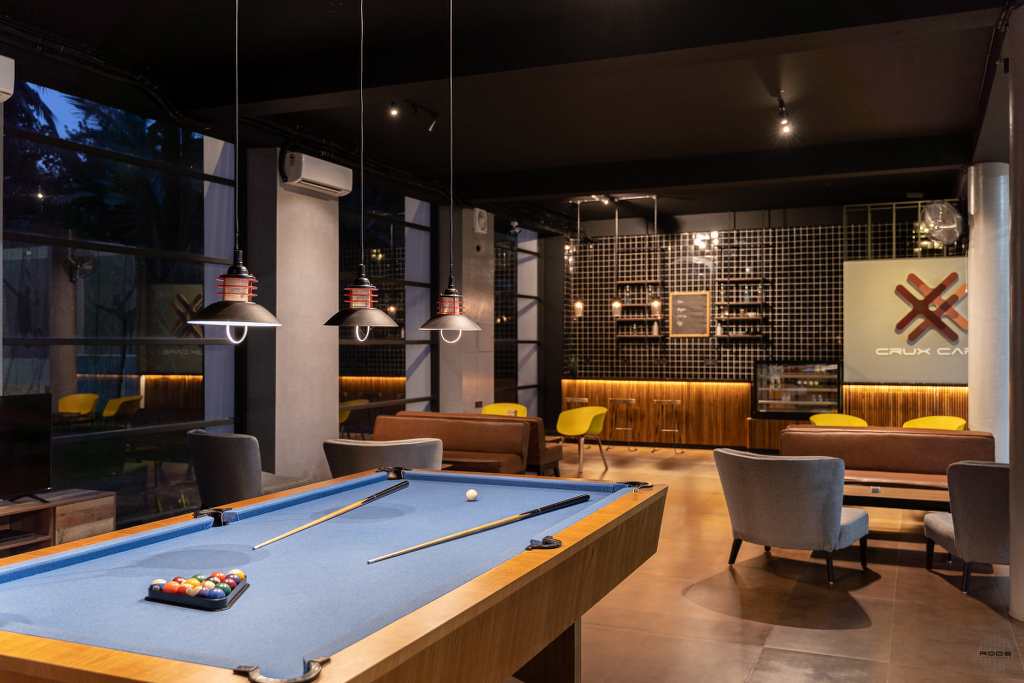 Rooms with different activities are smartly installed with different lighting – ranging from gyms to cafes, from tennis courts to lounges. Having the luxury of a large floor plate, all the spaces are given equal priority in such a way that no place is left untouched, right from dramatic lighting to material expression. All the spaces are designed including the ergonomics, target user group, and estimated footfalls.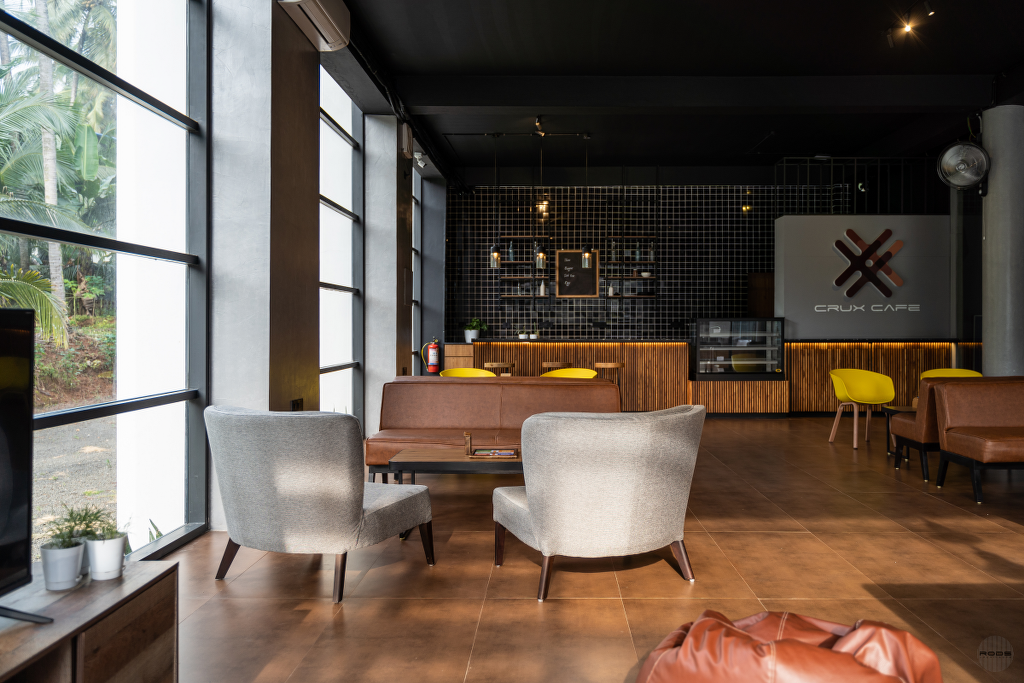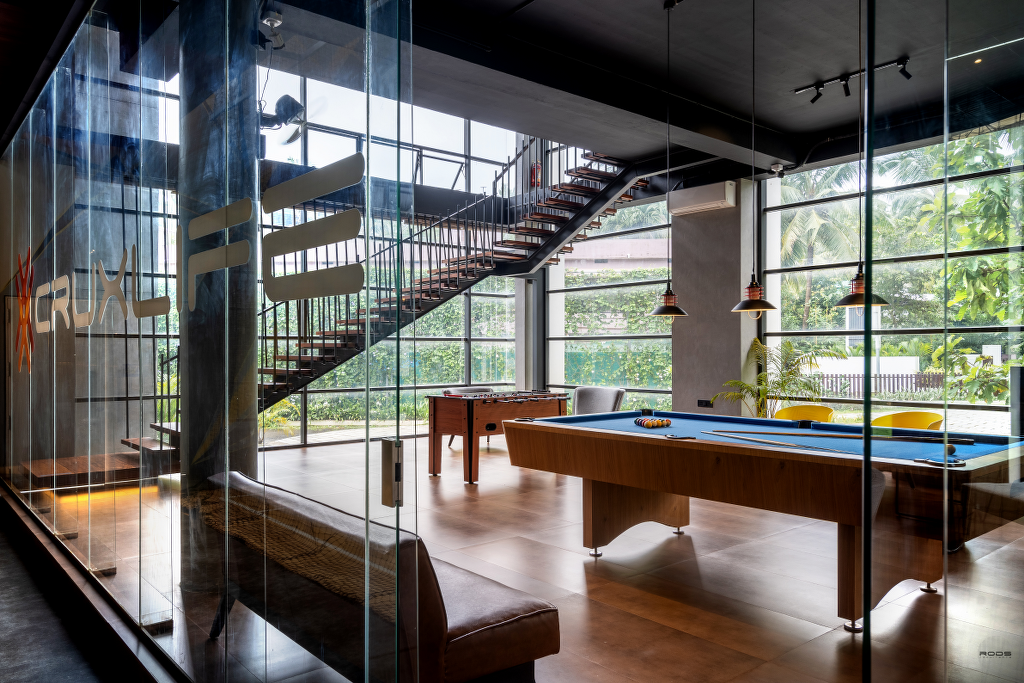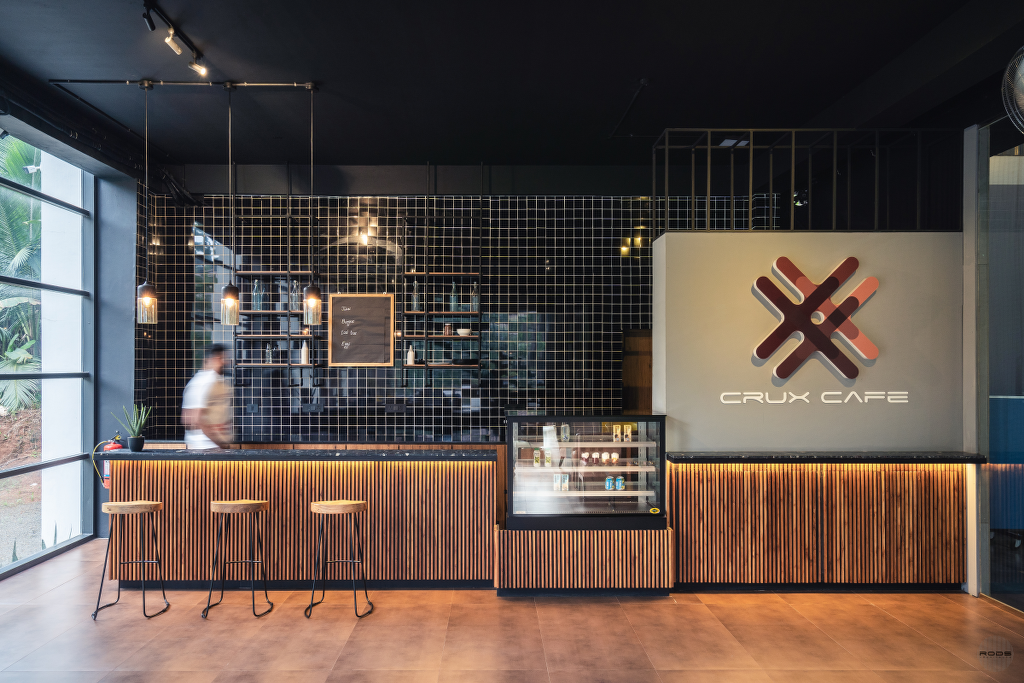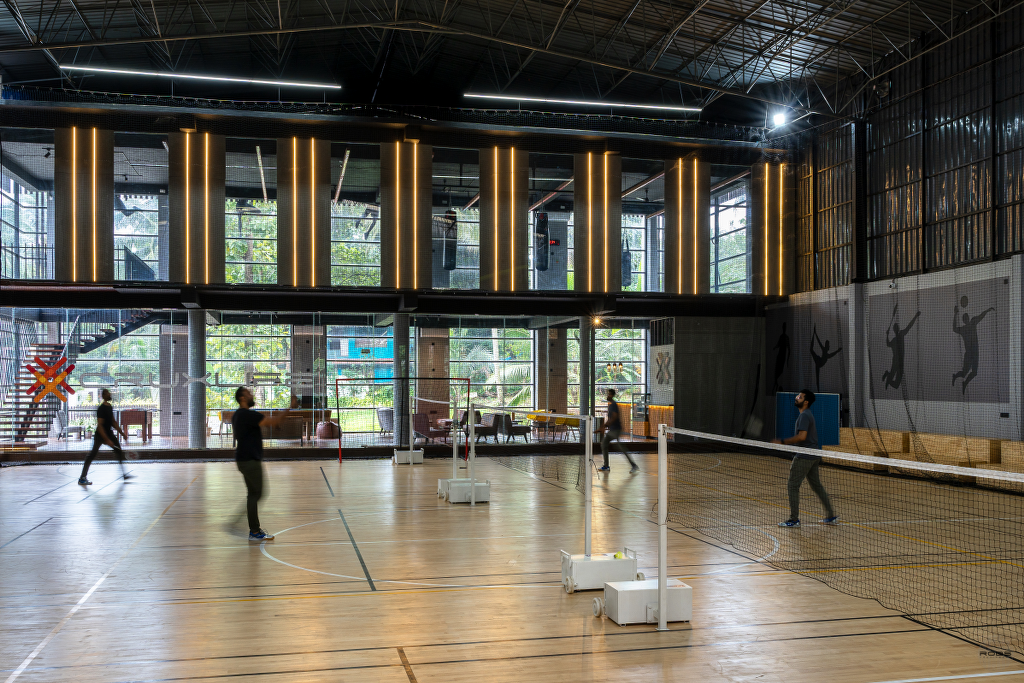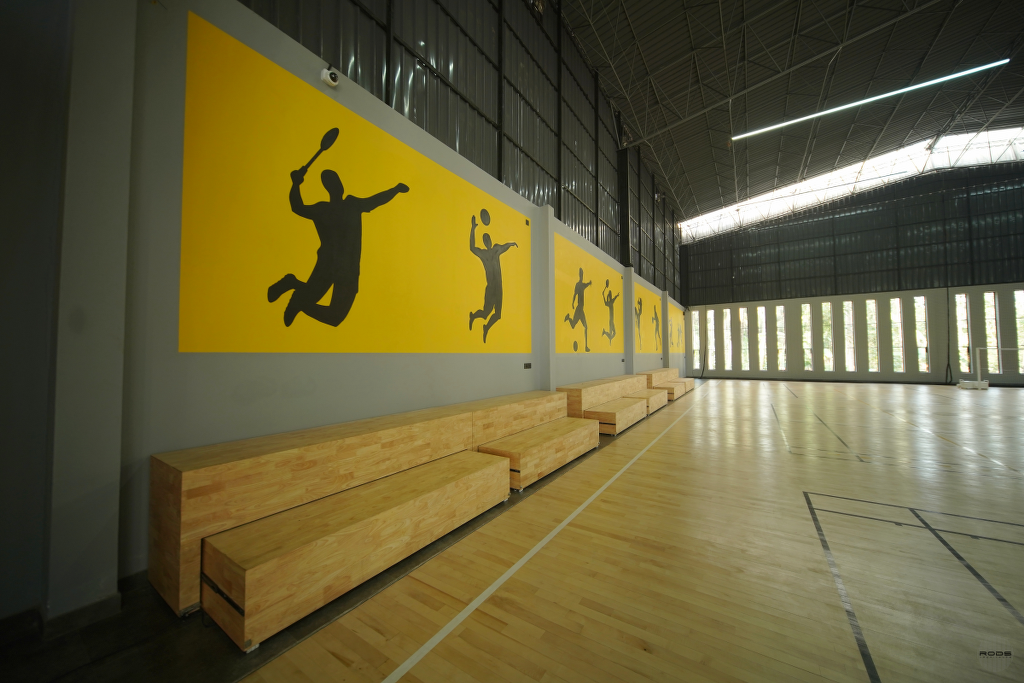 Material palette including veneer, wooden finishes, cushioned chairs, and rugs makes it essential for the clients. The design has special attention to its space dynamics, which aim to reflect the city's diverse social and generational communities and to encourage their interactions. This thoughtfulness behind the design ripples itself into ensuring durability, uniqueness, and timelessness. All of the spaces are connected, yet differentiated with levels, materials, and lighting patterns.
The proposal is envisioned as a deeply versatile complex, whose various functions are reflected at once in the technical structure, the landscaping, and the aesthetics of the buildings. While the facility does not make a loud stylistic statement, it serves as an impactful meaning to its existence. It also provides a great means to provide a perfect space for its target group and communicate the studio's design philosophies. Finally, the facility above everything else serves its purpose in bringing together people and aspires to set an example of how minimal design extrude maximal experiences.
Fact File
Designed by: Rods Architects
Project Type: Commercial Building (Sports and Recreational Center)
Project Name: Cruxlife Multipurpose Sports Hall & Recreation Center
Location: Kerala
Year Built: 2020
Project Duration: 2 years
Plot Area: 4 Acres
Project Size: 12,014 sq.ft.
Project Cost Appx: 1.6 Crore
Landscape Architects: GREENTEK Landscape
Civil: Basegroup Engineering
Principal Architect: Ramzi Omar
Team Design Credits: Firos Basheer
Photograph Courtesy: Turtlearts Photography
MEP & HVAC Consultants: Greenspark infra Consultants Pvt Ltd.
Products and Materials: Finishes: KMK Paints | Wallcovering / Cladding: New Way Glass | Construction Materials: Basegroup | Lighting: Venus Lighting | Doors and Partitions: Amera Interiors | Sanitary: KMT tiles perinthalmanna | Windows: Green Ventures | Furniture: Prakashan Industries | Flooring: Aeroflex, Kajaria, Rak | Kitchen: OAK interiors | Paint: KMK paints Perinthalmanna | Artefacts: Sharafu Painters | Hardware: ABC perinthalmanna, Jaquar, Hettich
Firm's Facebook Link : Rods Architects
Firm's Instagram Link: Rods Architects
The post Distinctively Designed Multi Functional Fitness Center in Kerala | Rods Architects appeared first on The Architects Diary.
(adsbygoogle = window.adsbygoogle || []).push({});