Prepare to enter a realm where design embraces the continuity of life's journey, where spaces unfold as chapters in an ever-evolving story. Welcome to Continuum : where design is time's eternal companion, and spaces are narratives of lifelong journey. It is envisioned as an architecture and interior design project by Studio Timescape. This project redefines the art of living by seamlessly integrating personal narratives, history, traditions, and beliefs into bespoke spaces that stand as living testaments to the enduring threads of our clients' lives.
Continuum: Where Design is Time's Eternal Companion, and Spaces are Narratives of Lifelong Journey | Studio Timescape
Visit: Studio Timescape
In the heart of "Continuum" lies an unwavering commitment to weaving the lifelines of our clients into every corner of their living spaces. We go beyond aesthetics and delve into the layers of their personal stories, traditions, and experiences. This allows us to create environments that aren't just beautiful but resonate with a deep sense of belonging and familiarity.
"Continuum" is an exploration of design that transcends the present, acknowledging the rich tapestry of the past while embracing the possibilities of the future. We intricately blend the heritage and stories of our clients into the very architecture and interiors of their homes. From design elements that echo historical aesthetics to spaces that anticipate future needs, each room speaks of a life's journey.
Our design journey involved a deep exploration of diverse family dynamics, an intimate understanding of how users perceive time and space, and a keen focus on the harmonious confluence of each individual's aspirations, interests, and values within the context of a family unit.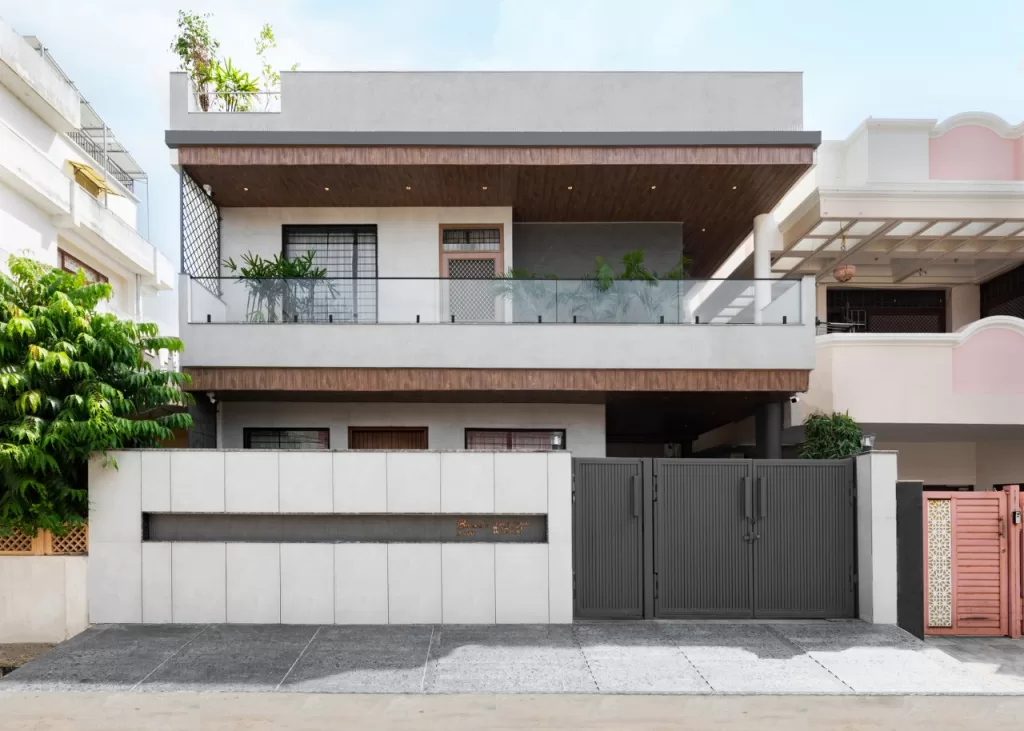 As you step into the drawing room, an exquisite stone mural extends a gracious welcome, adorning the space with its beautifully balanced tones. The delicate carving of the Gwalior Mint stone exudes a softness that mirrors the intricate nuances of our client's journey. Beneath your feet, the room's floor is gracefully carpeted with a striking rug, a rich interplay of textures and grains that carries with it the heritage and cultural values of our clients. This rug becomes more than just an element of design; it becomes a tangible link to their roots, a warm embrace of tradition within the modern setting.
The curtains establish a graceful bridge between the indoor and the outdoor environment, evoking a subtle and poetic connection to nature. Classical lamp shades cast a timeless glow, embodying the fusion of history and modernity that resonates with our clients' narratives. Each component harmonizes seamlessly, painting a vivid portrait of their unique tapestry of life. In "Continuum," the drawing room transcends being merely a space for gathering; it becomes a sanctuary of heritage and natural elegance. It's a place where the past and present coexist harmoniously, where cultural values and modern sensibilities converge, and where the intricate stories of life are woven into the very fabric of the space.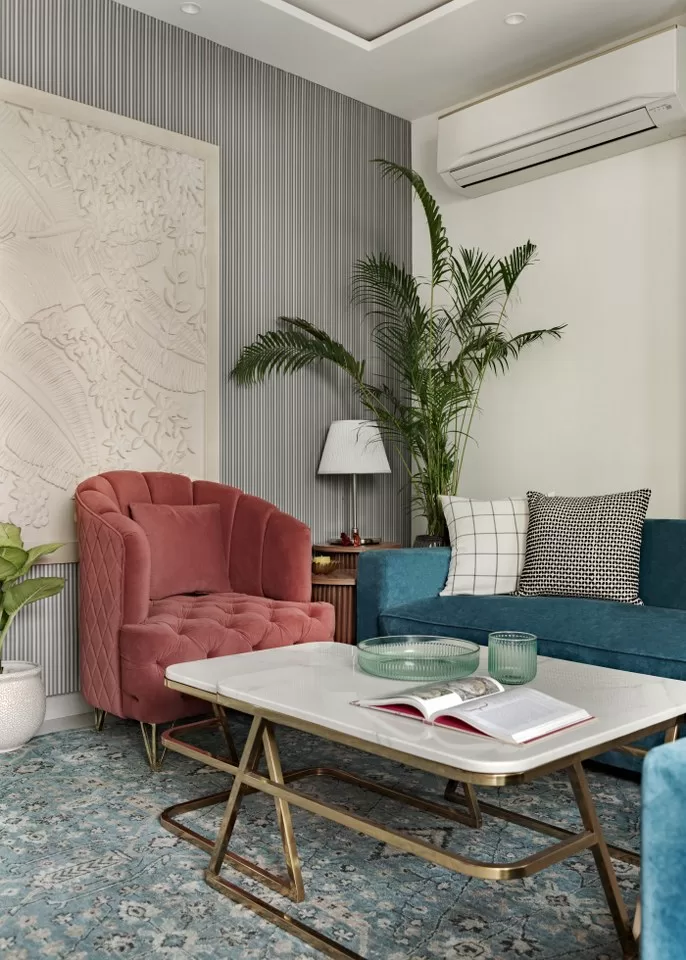 The dining area in "Continuum" was thoughtfully integrated with the informal living space to honour our clients' cherished family rituals. Here, every morning unfolds as a tea-time gathering, a cherished moment for family members of all generations to come together, share stories, and create lasting memories. This space serves as the nexus of the entire project, connecting all the primary zones of the project, and enhancing accessibility and convenience. The design of this area focuses on versatility, offering an expandable sitting area that seamlessly integrates with the dining space, fostering an open-plan layout conducive to connectivity and conversation. A key design element is the strategically placed window that connects the dining area with the kitchen, ensuring those in the kitchen are never too far from the dining table, fostering interaction and unity.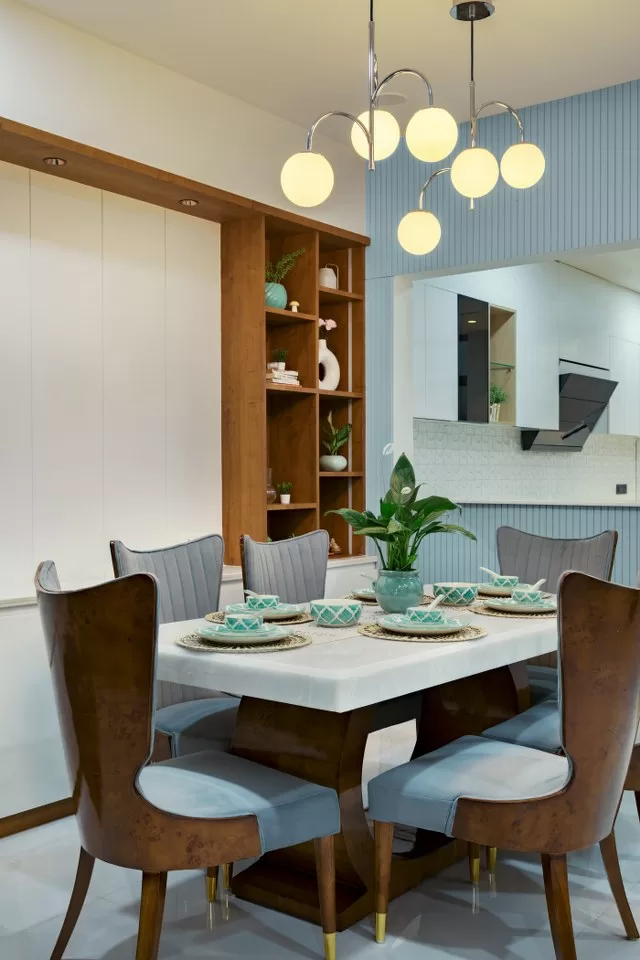 To envelop the space in a serene ambiance, a calming color palette of blue and white was carefully chosen, with wooden shelving units placed to host collectibles. The wall panelling, adorned with subtle grooves and soothing blue tones, extends a gentle invitation to the space, creating an atmosphere of tranquillity and comfort. The design of the dining area in "Continuum" is a testament to the seamless blend of aesthetics and functionality, providing the perfect backdrop for cherished family moments and culinary delights.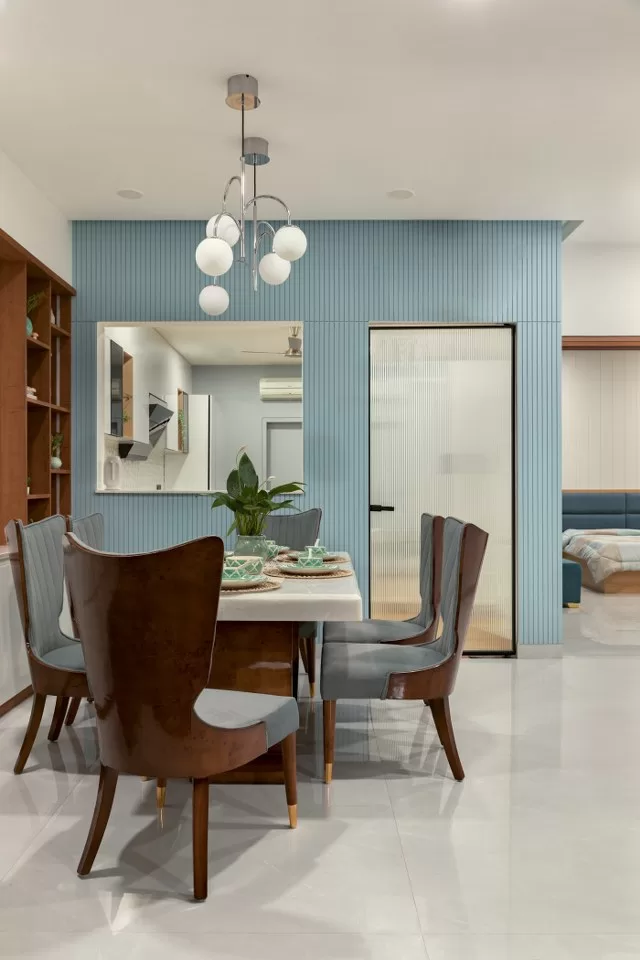 The kitchen in "Continuum" is a striking canvas of pristine white, accentuated by warm wooden ceramic tiles underfoot. Beyond its clean aesthetics, this space resonates with excitement and emotion. From countertops to cabinets and Dadoing, it strikes a delicate balance between the purity of white and the inviting charm of pine wood. The geometric pattern on the dado adds depth and intrigue, creating a captivating focal point.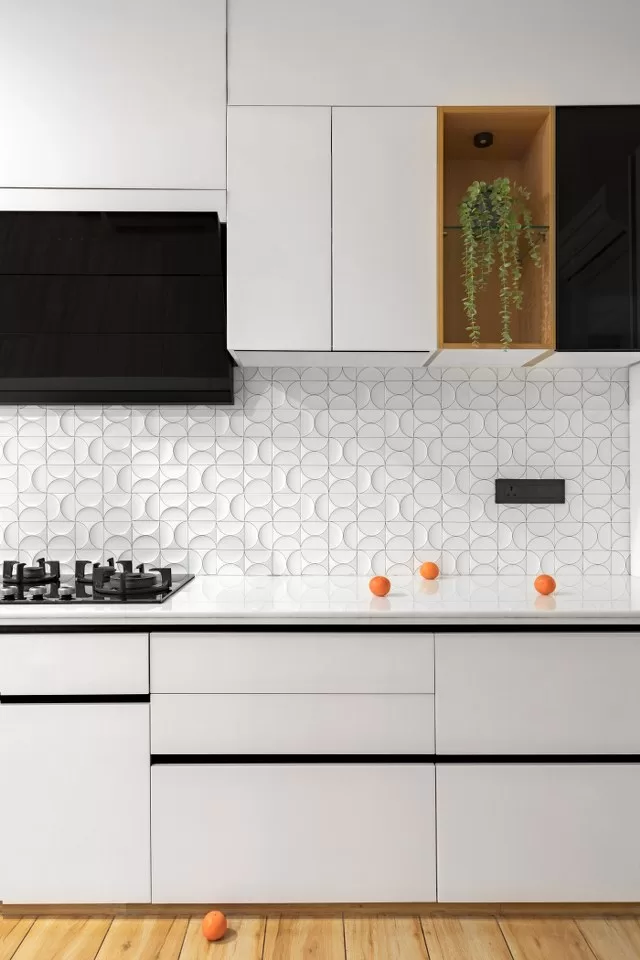 The staircase is a captivating blend of tradition and curiosity. Its design incorporates the graceful arch in the blue shade, a recurring motif seen in the balusters, the foyer standing table, and even the niche. These arches bestow an air of timeless elegance upon the space.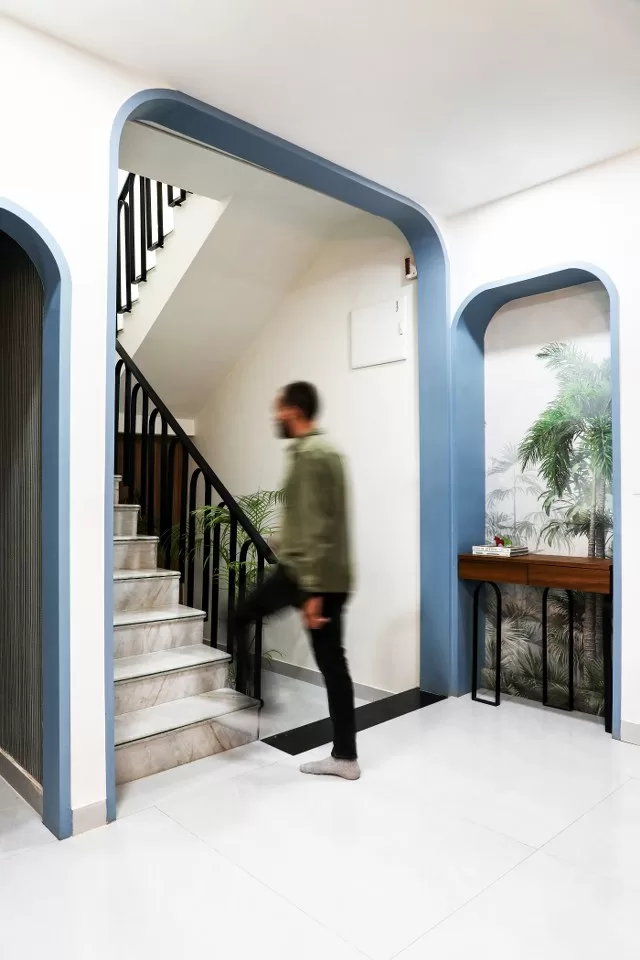 The parents' bedroom within "Continuum" embodies a vision of clean, contemporary elegance, meticulously designed to fulfil the specific needs of individuals aged 45 to 60. This space is a masterful example of form meeting function, ensuring that every element serves a purpose without intruding upon the room's serenity.
One of the room's standout features is the discreet presence of two hidden doors that lead to an open utility space. This clever design choice maintains the bedroom's sleek and uncluttered aesthetic while providing essential behind-the-scenes functionality. Within this well-organized bedroom, various zones are thoughtfully delineated to facilitate a range of tasks. From reading to accounting, dressing to laptop work, each area seamlessly integrates, allowing for effortless transitions between activities. The bed's backdrop is a study in functional elegance, featuring a balanced combination of white grooves and wooden laminate. This choice not only imparts a clean and modern aesthetic but also ensures easy maintenance and durability, promising a long and pristine life for the space.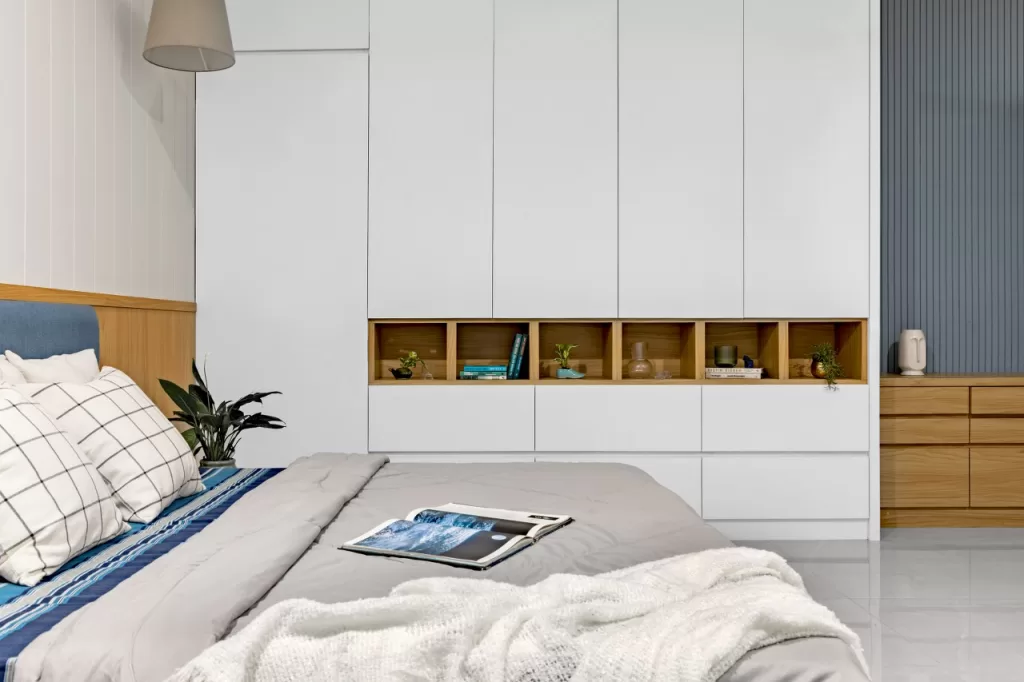 A wooden-finished vanity takes centre stage, adorned with grooves that follow a design language consistent with the project's overall aesthetic. This vanity not only adds a touch of natural warmth but also serves as a nod to the project's commitment to cohesive and thoughtful design. The highlight tiles, with their textured surfaces, add a layer of depth and sophistication to the bathroom. They create an effect akin to a private den, transforming the space into a retreat where relaxation and comfort take precedence.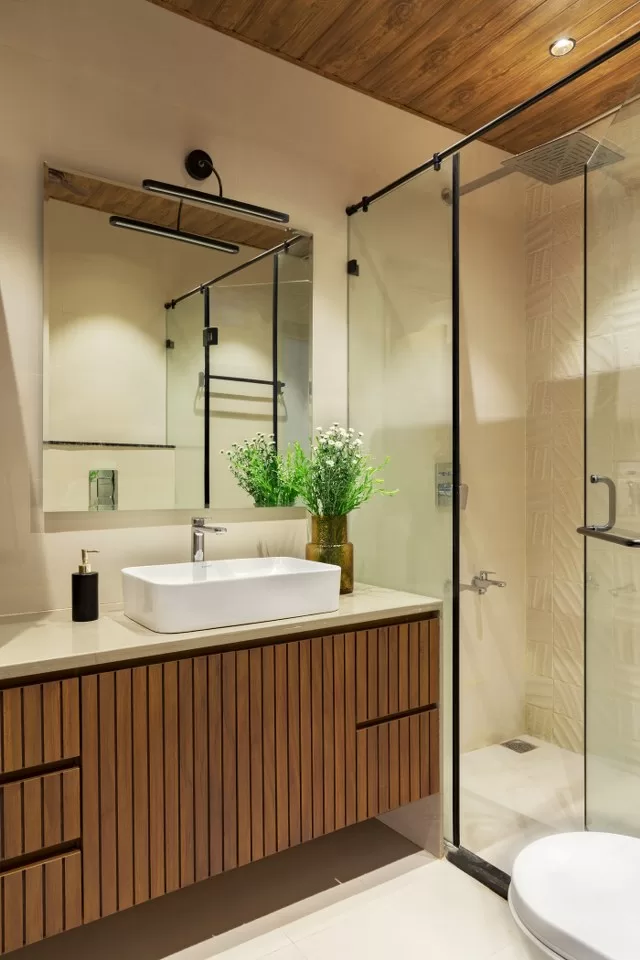 The family room on the first floor welcomes you with a touch of tradition and an earthy palette of green walls paired with warm walnut wood panelling. This inviting space combines timeless elements to create an atmosphere that encourages interaction and connection among family members. A distinctive touch to this room is the wallpaper adorned with motifs of arches and intricate patterns. This exquisite detail adds depth and subtlety to the space, enriching it with visual intrigue that invites exploration. Rooted in tradition yet embracing modernity, the family room serves as a hub for gatherings and informal activities. Whether it's playing board games, engaging in karaoke sessions, or hosting religious events, this space adapts effortlessly to cater to various family needs. Its open seating layout is a chameleon, transforming to suit its purpose at any given moment.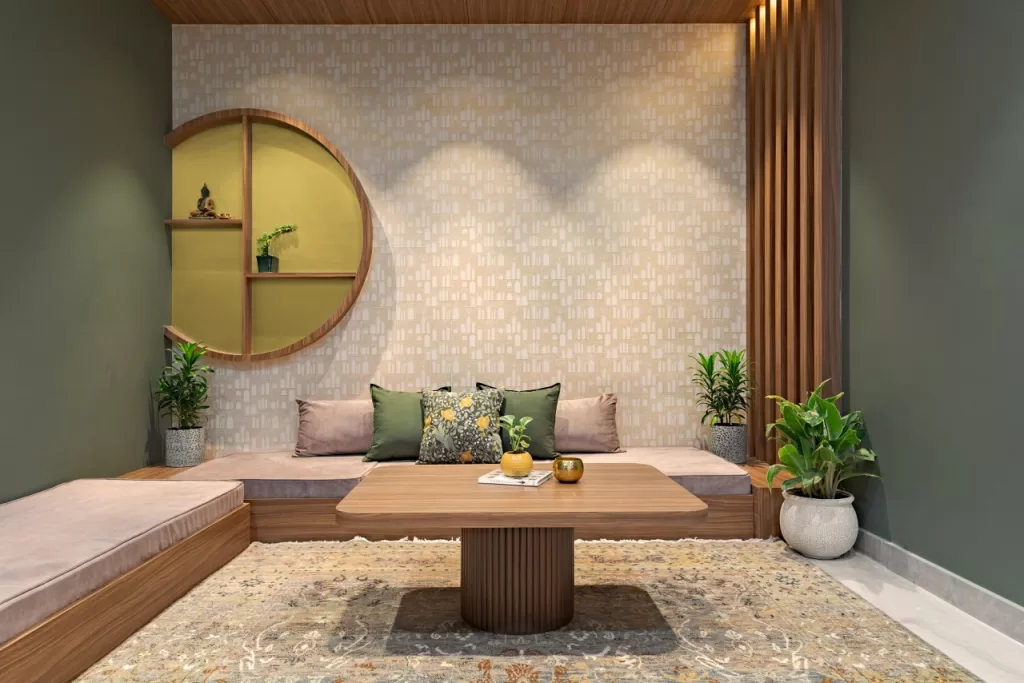 Upon entering the first floor, your attention is drawn to the Pooja room, gracefully positioned right in front of the staircase. Adorned with beautiful fluted doors, it adds a touch of spiritual serenity to the space, offering a tranquil sanctuary for contemplation and devotion. Low seating arrangement in the family room is a deliberate choice, lightening the space and making it more flexible and usable. This design approach fosters an inviting and relaxed ambiance, ensuring that this room is not just a place for activities but a true haven for family interaction and togetherness. The family room embodies the project's commitment to seamlessly blend tradition with contemporary living. It's a space where the past and present merge harmoniously, where interactions are cherished, and where family bonds are nurtured within a backdrop of timeless elegance and inviting warmth.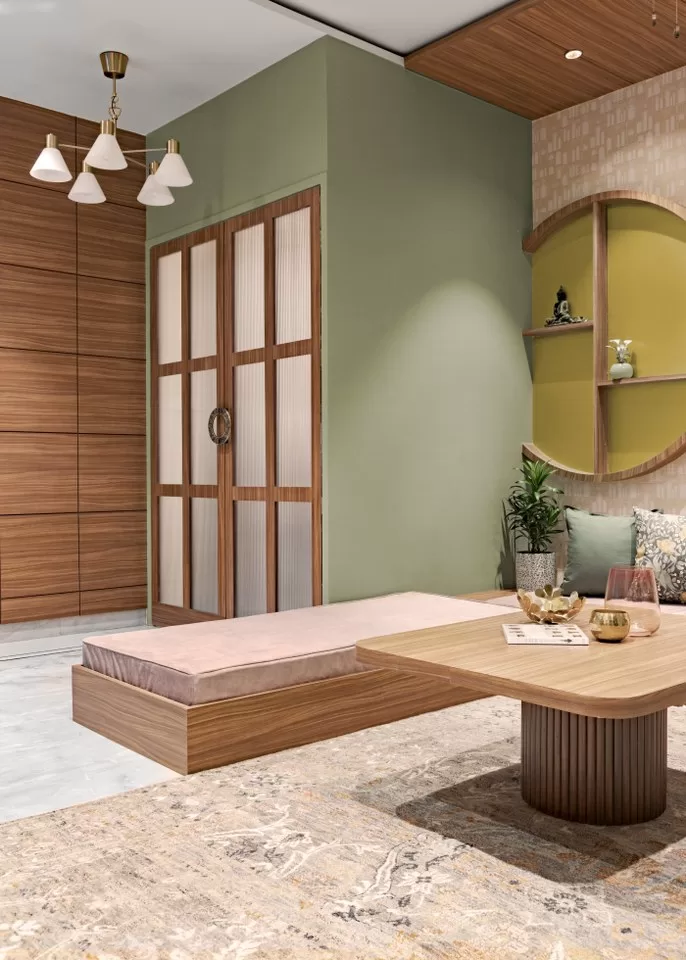 Grandmother's bedroom within "Continuum" is not just a space for rest but a dedicated haven designed to nurture her love for reading and encourage a healthy lifestyle. Every facet of this space is thoughtfully arranged to cater to her daily routines and overall well-being. The room's muted color palette creates a tranquil atmosphere, setting the stage for relaxation and contemplation. A geometric wallpaper, which adds a soft and inviting texture to the walls, imbues the space with a sense of warmth and comfort, creating a welcoming environment and also serves as a subtle backdrop to her literary adventures. An inviting ottoman stands as a symbol of comfort and accessibility, strategically placed to encourage interaction with the outdoors and promote a healthy lifestyle. It's a gentle reminder of the beauty of nature and the importance of daily habits.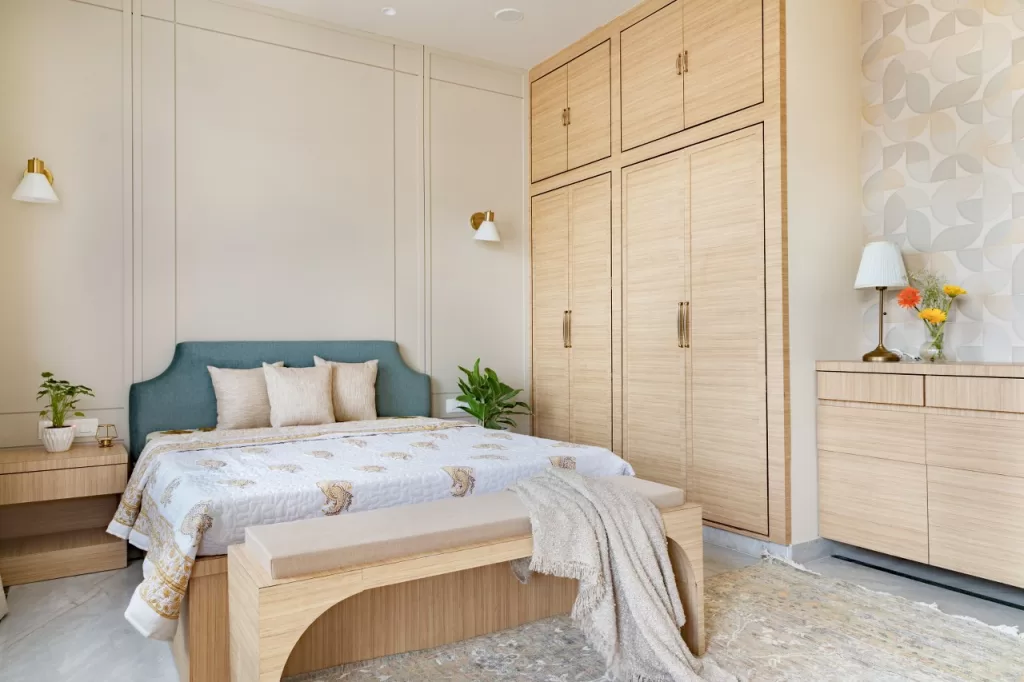 What makes this space unique is the retention of the original marble flooring from the house, a symbol of memory and heritage. Every step taken on this floor is a journey through time, a connection to the client's past, and a testament to the rich history of their life. Grandmother's bedroom in "Continuum" is a haven that supports her passion for reading and a commitment to a healthy lifestyle. It's a timeless retreat where her well-being is at the forefront, enveloping her in an atmosphere that promotes comfort, tranquillity and a love for literature.
In response to our client's clear vision, the son's bedroom was meticulously crafted to embody the essence of a den—a space that exudes coziness, softness, and embracing warmth. This room caters to the night owl in search of nocturnal comfort. Clean lines and a simple material palette define the room's design. Dark grey grooves grace the wall behind the bed, creating a dramatic backdrop, while Cairo walnut finishing adds an element of richness and depth. The choice of wooden ceramic tiles for the flooring further enhances the room's warmth and texture.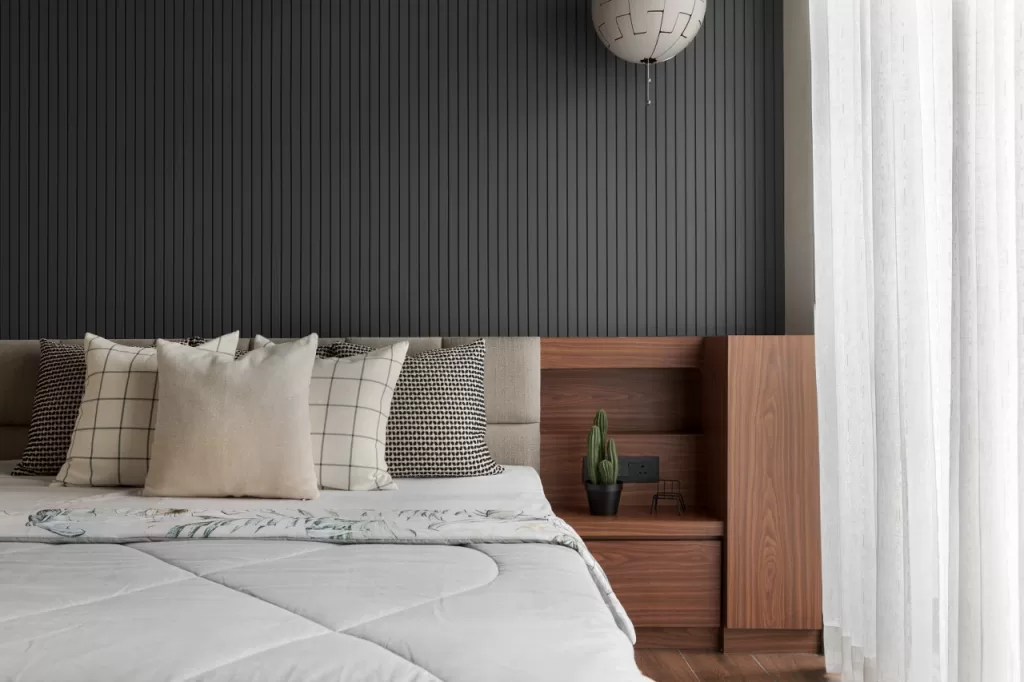 Contrasting the room's overall dark theme, bedside lamps cast a soft and inviting glow. These lamps not only provide functional lighting but also transform the space into a wonderland of exploration and curiosity during nighttime hours. Sheer curtains add a delicate balance to the room, filtering natural light during the day while preserving the room's cozy ambiance at night. The room's design is ergonomically crafted to ensure a comfortable working space, catering to the son's needs for both rest and productivity. It's a den that envelops you in a cocoon of softness and warmth, where simplicity and elegance harmonize to create a versatile haven for various activities and a restful night's sleep.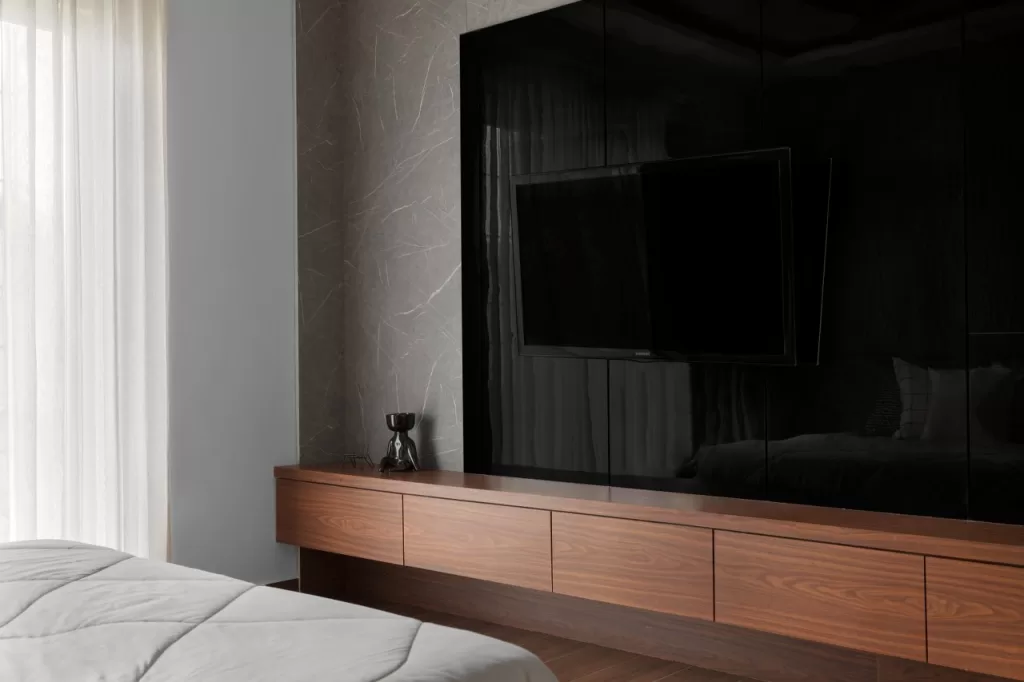 The son's bathroom is a bold departure from convention, designed to enhance the dark, den-like ambiance of the adjacent bedroom. The bathroom exudes a captivating darkness, with an all-black color scheme that sets a dramatic tone. The walls are adorned with soft textured tiles, adding depth and intrigue to the space. A matte black flooring completes the striking look, creating a sense of modernity and sophistication. To balance the darkness and infuse warmth into the space, wooden touches are introduced in the form of vanity and ceiling elements. This fusion of dark and warm elements gives the bathroom its unique character, following the outline of a contemporary design ethos.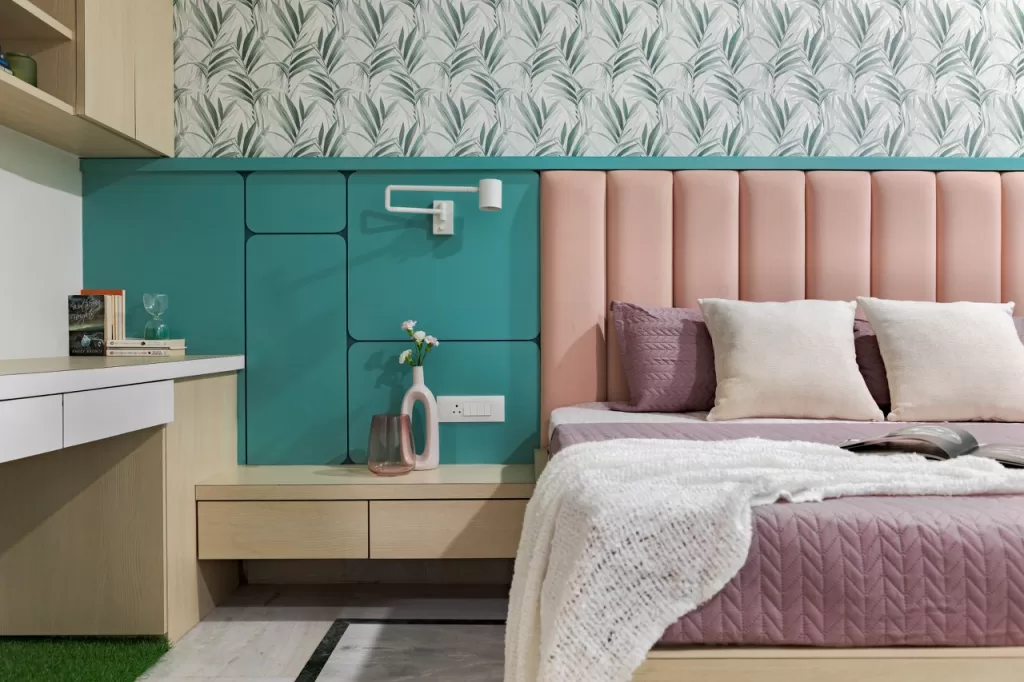 The daughter's bedroom is a unique space characterized by its playful and curvaceous design. Despite being the smallest room and lacking direct natural ventilation, this room maximizes its potential with an emphasis on soft edges and a thoughtful layout. Every element in the room incorporates curves, creating a gentle and inviting atmosphere. The space is intelligently utilized to include a study area, a wardrobe, and a walk-in dressing area that leads to the washroom.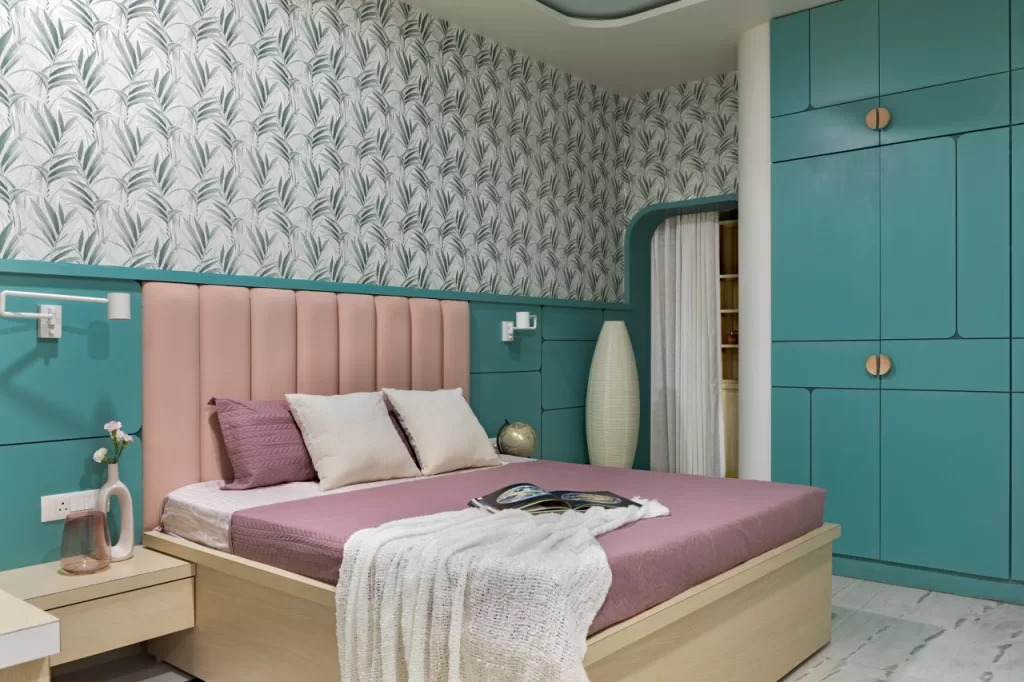 Painted in a serene blue hue, the room exudes vibrance and energy. Its surfaces showcase intricate curved lines that gracefully merge and curve around junctions, adding a touch of whimsy and elegance. This detailing is seamlessly extended to the wardrobe, ensuring a cohesive design throughout the space.
Fact File
Designed by: Studio Timescape
Project Type: Residential Architecture & Interior Design
Project Name: Continuum
Location: Jaipur, Rajasthan
Year Built: 2022-23
Duration of the project: 14 Months
Plot Area: 2100 Sq.ft
Built-up Area: 3500 Sq.ft
Project Size: 2500 Sq.ft
Principal Architect: Ar. Ayush Agarwal
Team Design Credits: Aiyesha Jan & Japneet Kaur Sethi
Photograph Courtesy:
Website Link: Studio BluOra
Instagram Link: Studio BluOra
Products / Materials / Vendors: Lighting – IKEA, Jaguar / Sanitaryware – Jaguar / Paint – Asian Paints Wallpaper Furnishings – Divine Home Furnishings / Hardware – Dorset
Firm's Website Link: Studio Timescape
Firm's Instagram Link: Studio Timescape
Firm's Facebook Link: Studio Timescape
For Similar Project >>> A Striking Brick House with Hints of Traditional Design and Essence of Reformed Living
The post Continuum: Where Design is Time's Eternal Companion, and Spaces are Narratives of Lifelong Journey | Studio Timescape appeared first on The Architects Diary.