Designed as the oasis for a young couple, the Comfort Zone personifies the coming together of contemporary designs overlaid with hints and hues of a traditional Indian home. It is a home that is meant to be and feels to be just that – a "home". The brief was to design a home rooted in and reflecting the traditions and backgrounds of the users – of Maharashtra and South India.
Coming Together Of Contemporary Designs Overlaid With Hints And Hues Of A Traditional Indian Home | Upside Artist Design Studio
visit : Upside Artist Design Studio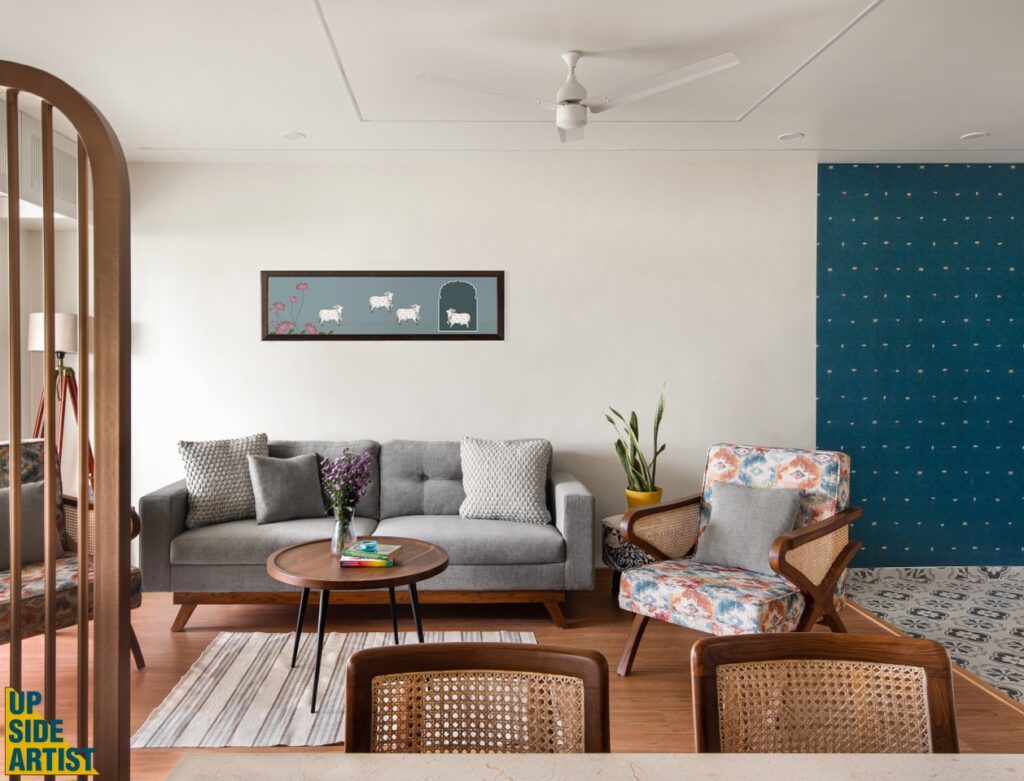 Patterned art finds a recurrence throughout the house in the form of tiles, wallpapers, hand-painted Kolam art, and wall art. Minimal colours allow for a sense of solace to penetrate into this relatively sparsely furnished house and allow room for peace to settle in.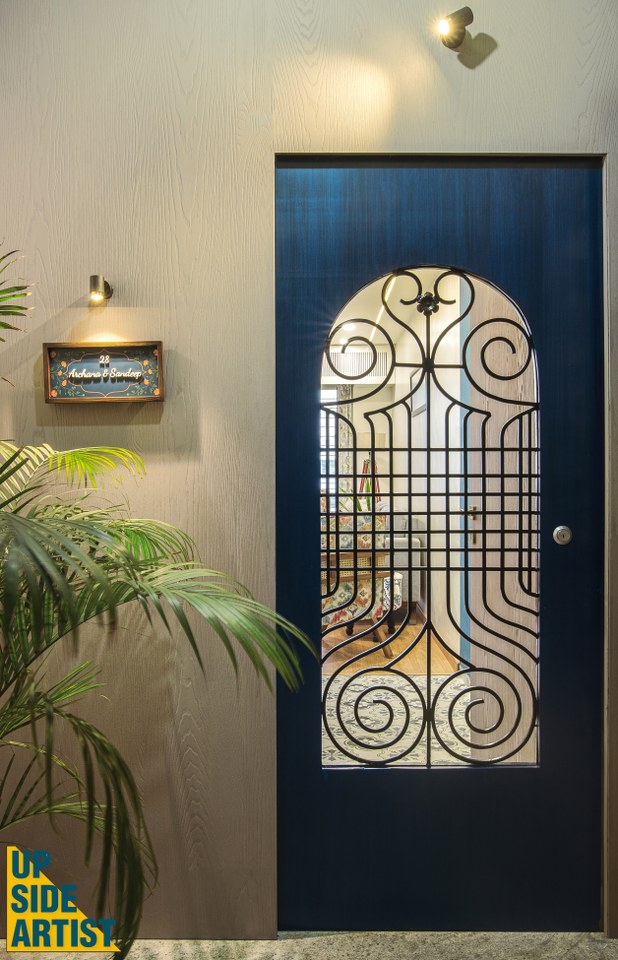 Comfort is paramount and the parameter for every aspect of design, in terms of layouts, furnishings and finishes. A finite material palette of laminates, Duco finishes, cane and wooden louvres stitch the aesthetics of the various space in the house.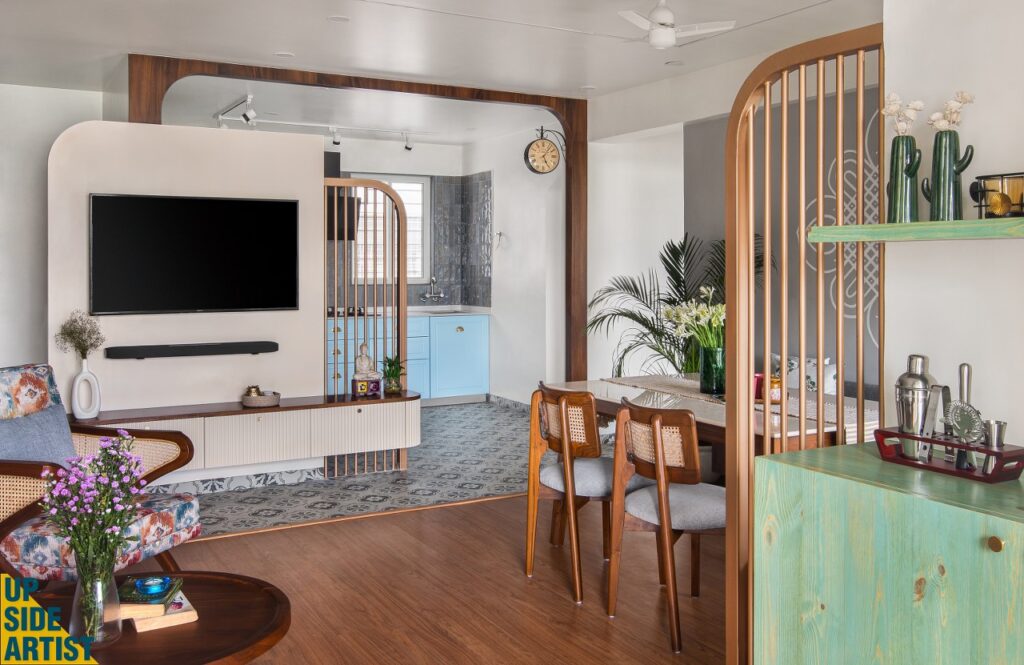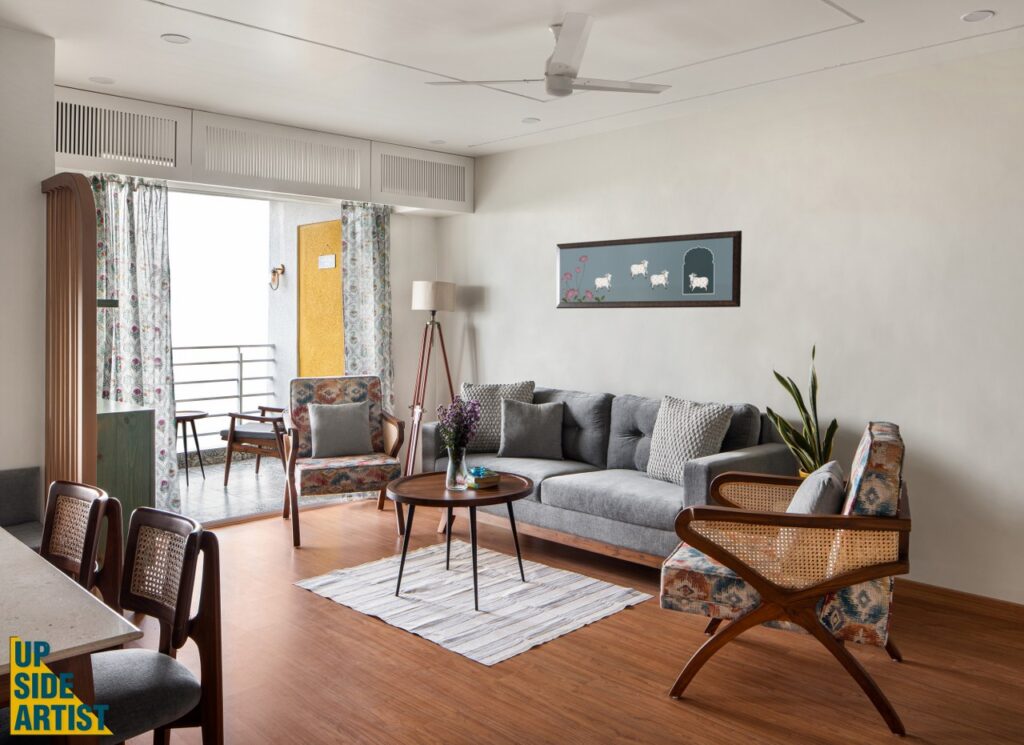 The living areas are simple and lively, illustrated by wooden flooring, contrasting white walls, and a loose sofa adorned in grey and juxtaposed with pattern upholstered chairs.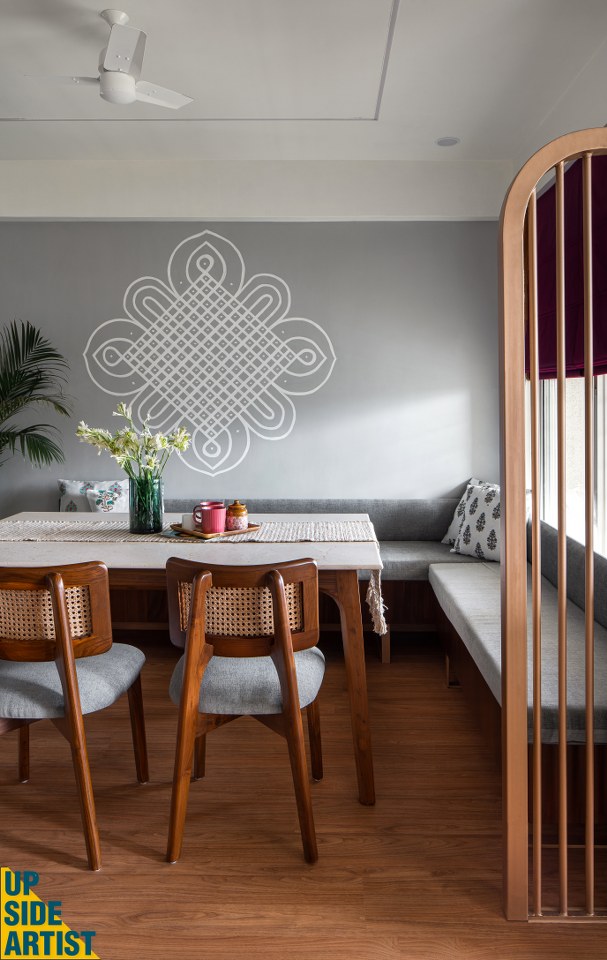 Curvilinear edges throughout the house grant a softness to the materials and furniture elements. A relaxing sit-out balcony grants warmth to the space, bouncing off a bright yellow wall.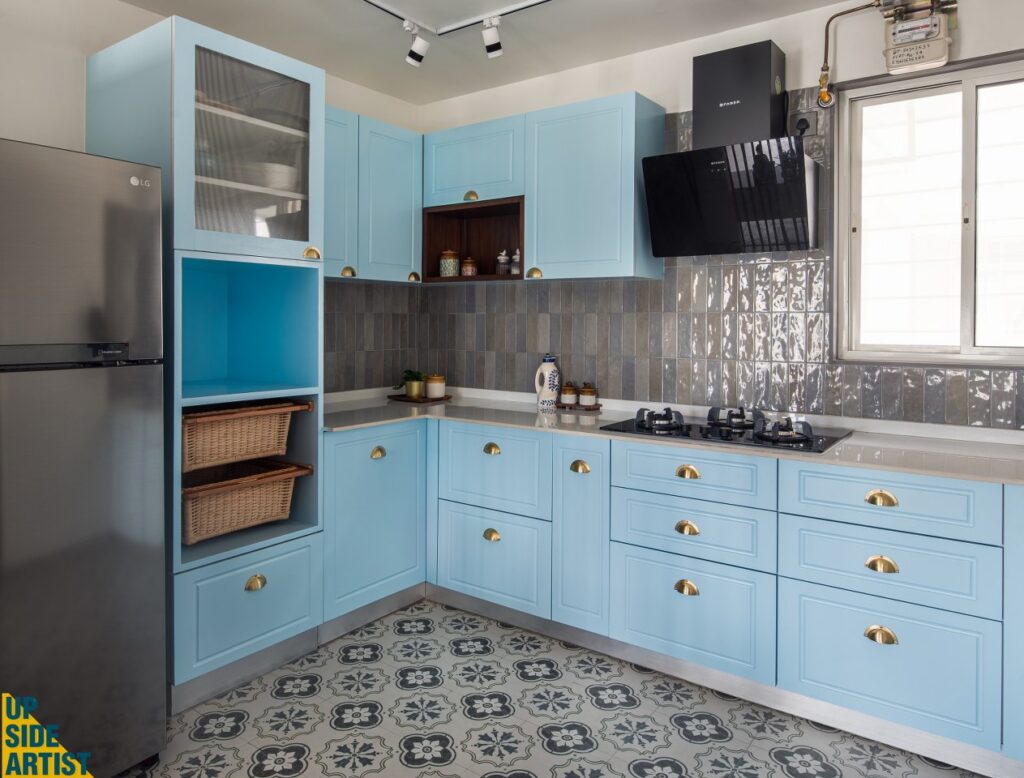 The kitchen, connected and yet separated from the living areas by a metal fabricated frame, is a lively space with floral patterned flooring and light cyan-blue cabinets finished with Duco and accentuated with metal handles. Adding much energy to the space, in a corner sits a bar unit in a green veneer.
A long passage connecting the living spaces to the bedrooms plays to its dominating linearity, heightened by the decorative tiles, continued to the kitchen. At one end of it sits a beatific temple, in all its calmness with fluted textured panels and a wooden partition.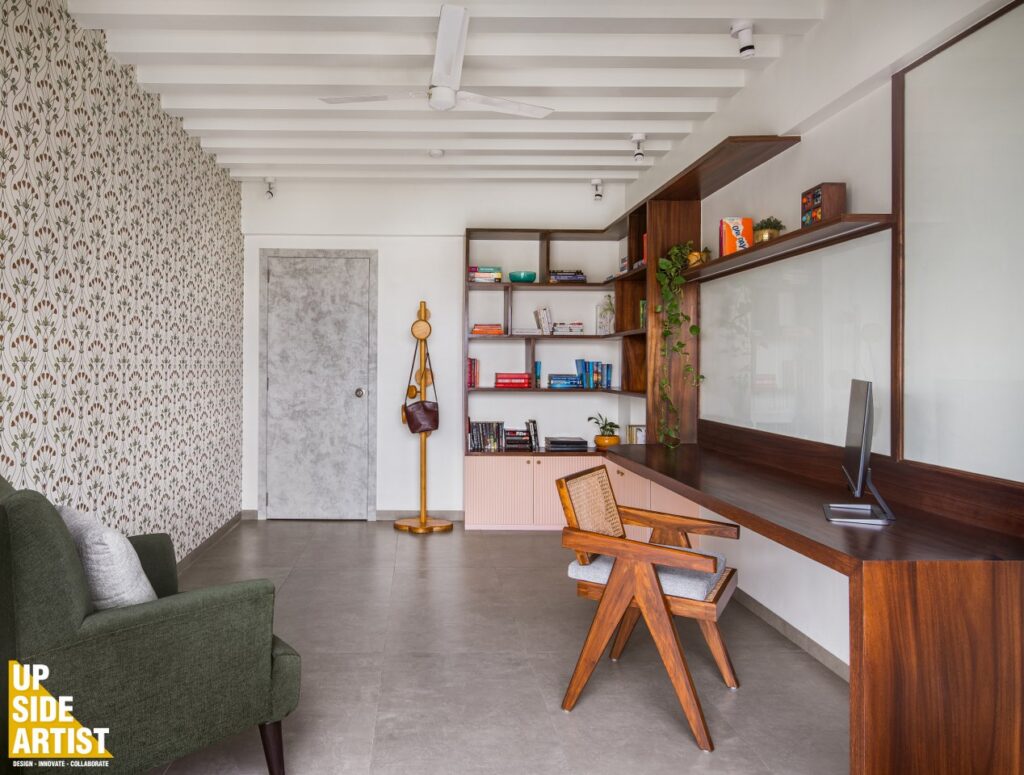 At the other end, as one enters the study, brightly coloured tiles grant the space a chirpy and active
feel. A classic bookshelf, workspace and relaxing chair coupled with an open ceiling balcony
make for an immaculate aura to work in.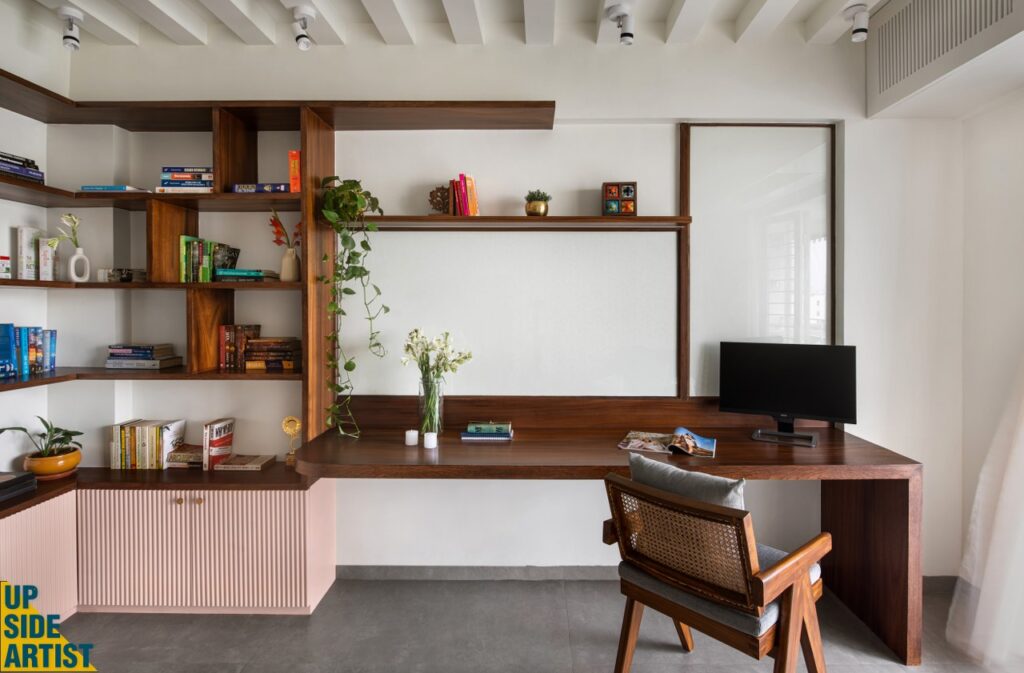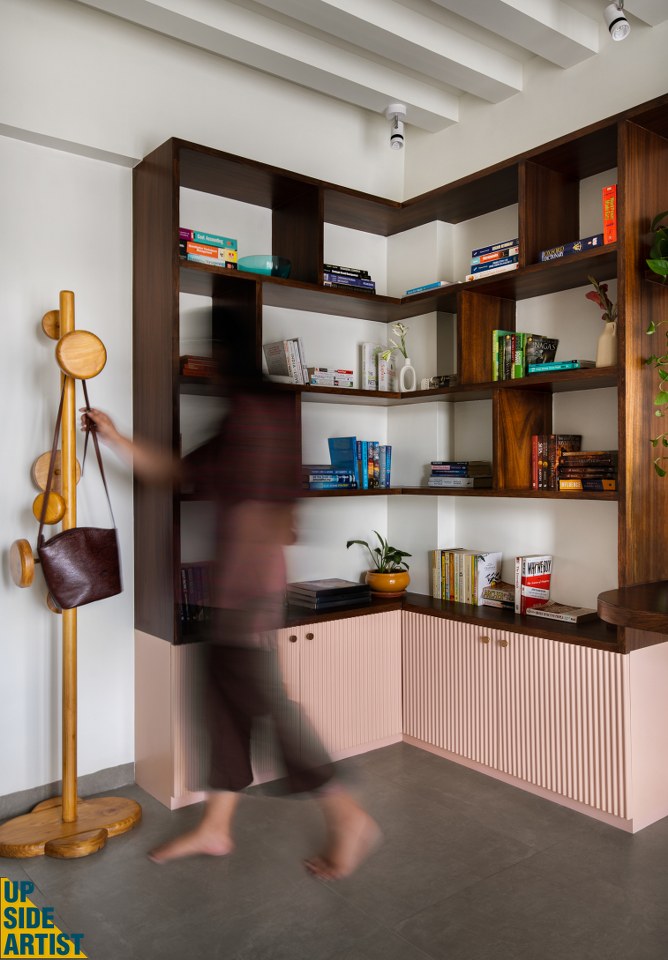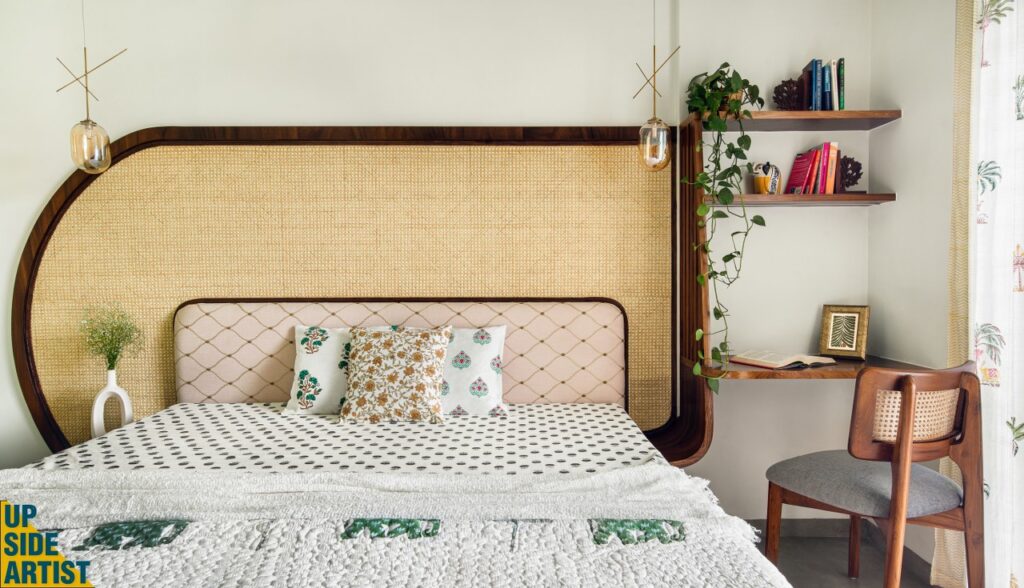 Each bedroom is characterised by one defining element added to its austere furniture. The master is a combination of cane with dark wood veneer and green Duco finish and the guest bedroom has a classic fluted wooden finish with wardrobes in light wood and fabric inserts.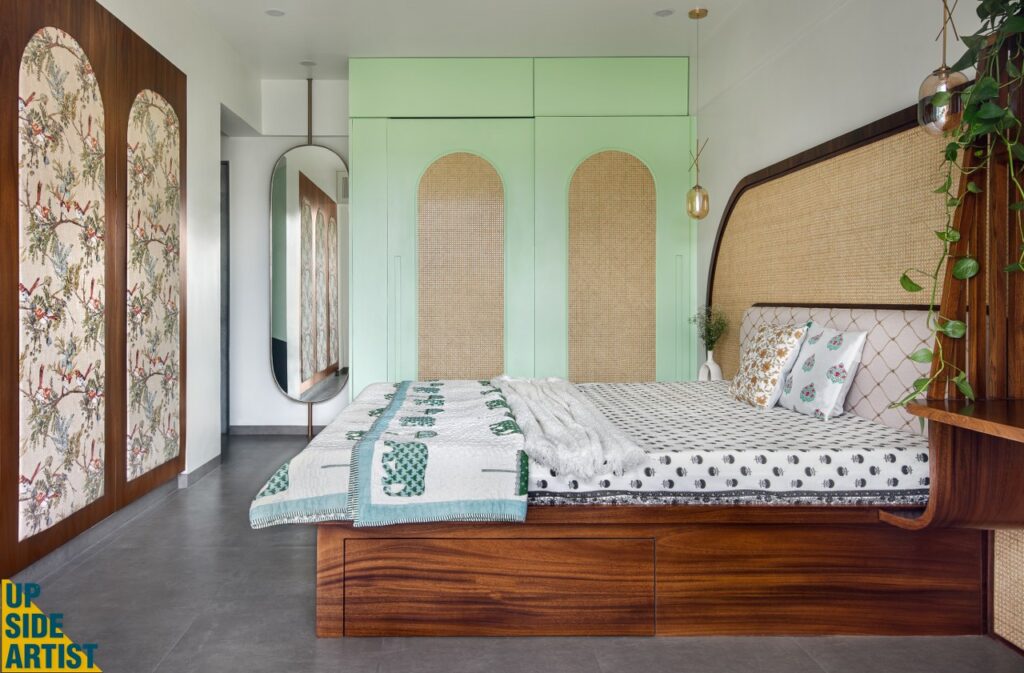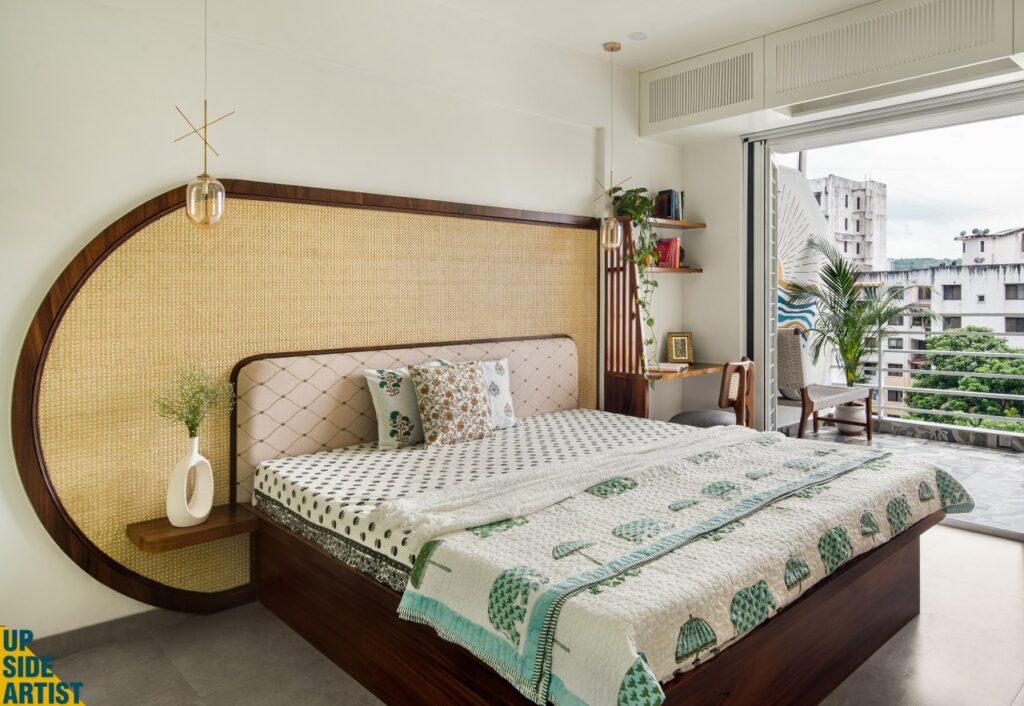 The balcony with the room provides a serene of surrounding greens that can be enjoyed on a relaxing recliner while the wall fills this space with life.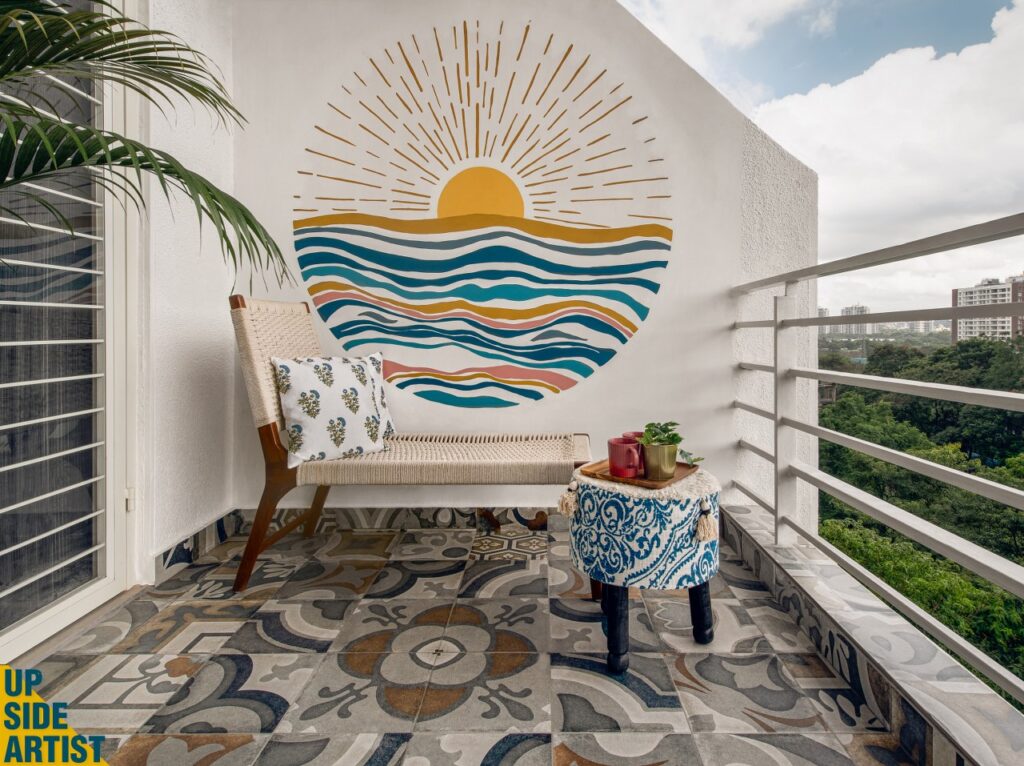 With a fantasy blue entrance door and balconies each with a different vibe, the Comfort Zone is a story of the coming together of two worlds, intertwined and overlaid to form a new whole.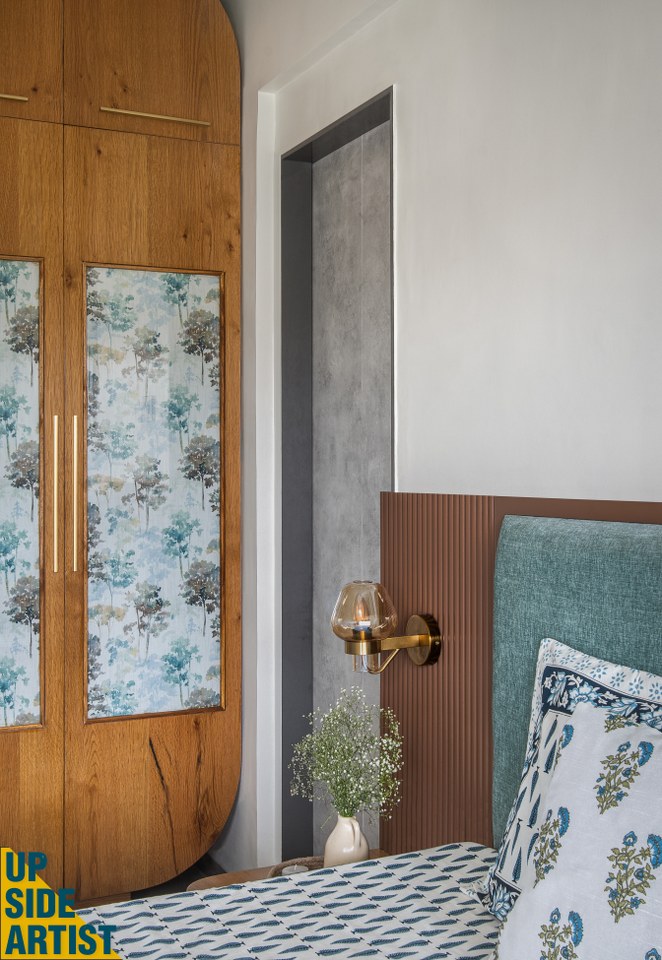 FACT FILE
Designed by : Upside Artist Design Studio
Project Type : Residential
Project Name : The Blue Door Home
Location : Balewadi, Pune
Year Built : 2022
Duration of project : 6 months
Built up : 1850 sq.ft
Project Size : 1600 sq.ft
Project Cost Appx : 35 lakhs
Principal Designer : Chinky Budhraja
Photograph Courtesy : Kartik Bakshi & Honey Thakkar
Products/Materials/Vendors : Sanitaryware – Jaguar / Furniture – Distressed Furniture / Paint – Asian Paints / Wallpaper – Asian Paints_Nilaya / Hardware – Hettich.
Firm's Website Link : Upside Artist Design Studio
Firm's Instagram Link : Upside Artist Design Studio
Firm's Facebook Link : Upside Artist Design Studio
For Similar Project >> ELEGANT APARTMENT SPACE DESIGNED WITH AMPLE NATURAL LIGHT AND VENTILATION
The post Coming Together Of Contemporary Designs Overlaid With Hints And Hues Of A Traditional Indian Home | Upside Artist Design Studio appeared first on The Architects Diary.