Chirag Shah's Studio, an ethnic wear and fashion design studio in Vadodara, under the banner of Chirag Shah, who is an established designer of Vadodara and well known for his wedding collections. Hence there was no need to attract walking customers, we focused to create an elegant space with the same vibes on both floors with the changes in designs relevant to the purpose of the space.  
Chirag Shah's Studio, An Ethnic Wear And Fashion Design Studio In Vadodara | ALTER ARCHITECTS
visit : ALTER ARCHITECTS
He required some creative solutions that drastically redefine a banal space in to a designer's den keeping in mind the functionality. His focus was to get the space which is reflection of his personality and which enhance the beauty of his designer wear which will add the value to his design.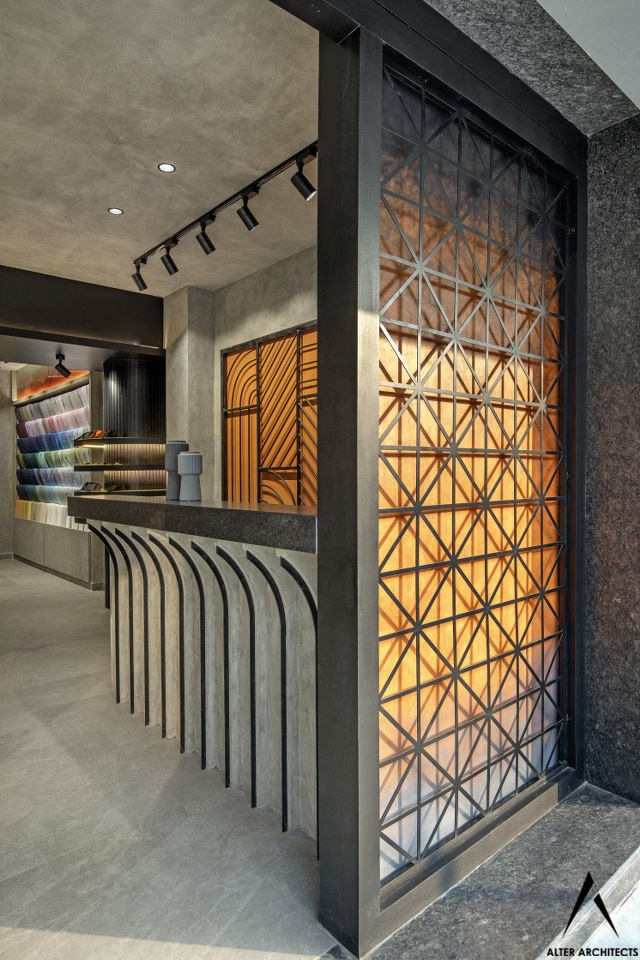 The studio has been designed considering cozy and warm environment which makes the space inviting and comfortable. Our intent was to design a space with minimal use of colors in the interiors to enhance the tone and details of fabrics.
Our approach to the design was to obtain maximum elegance through patterns, colours and materials. we tried to follow one theme- colour palette for both the floors, we used single textures on all walls along with the fabricated and wooden structures which is enhanced by glasses somewhere.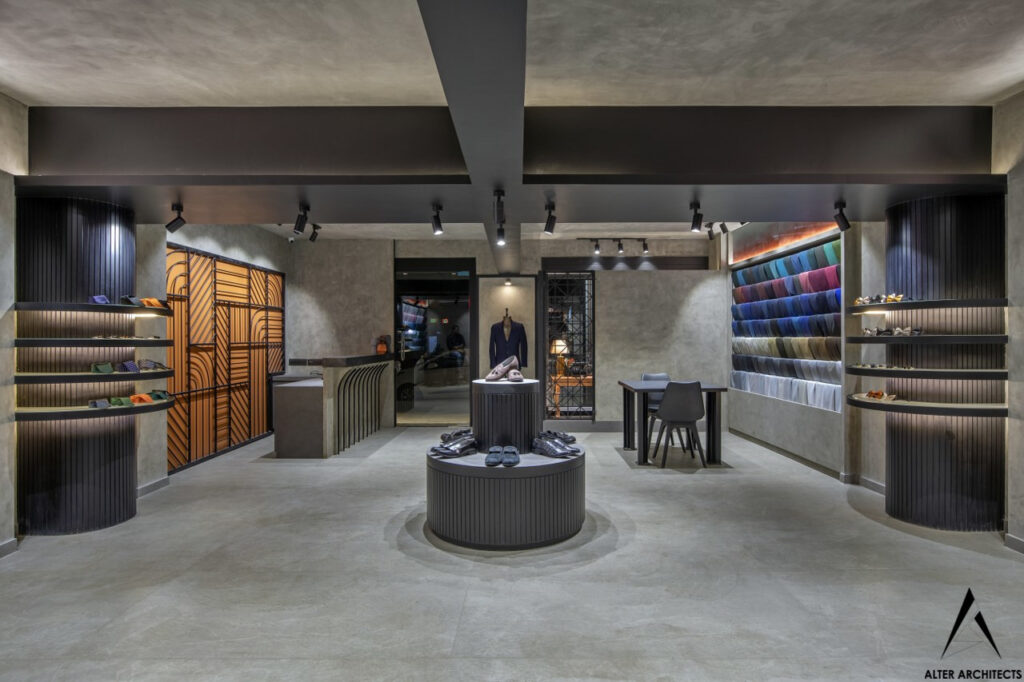 Some areas are highlighted by the customized art work on different media which is also accented with decorative lights.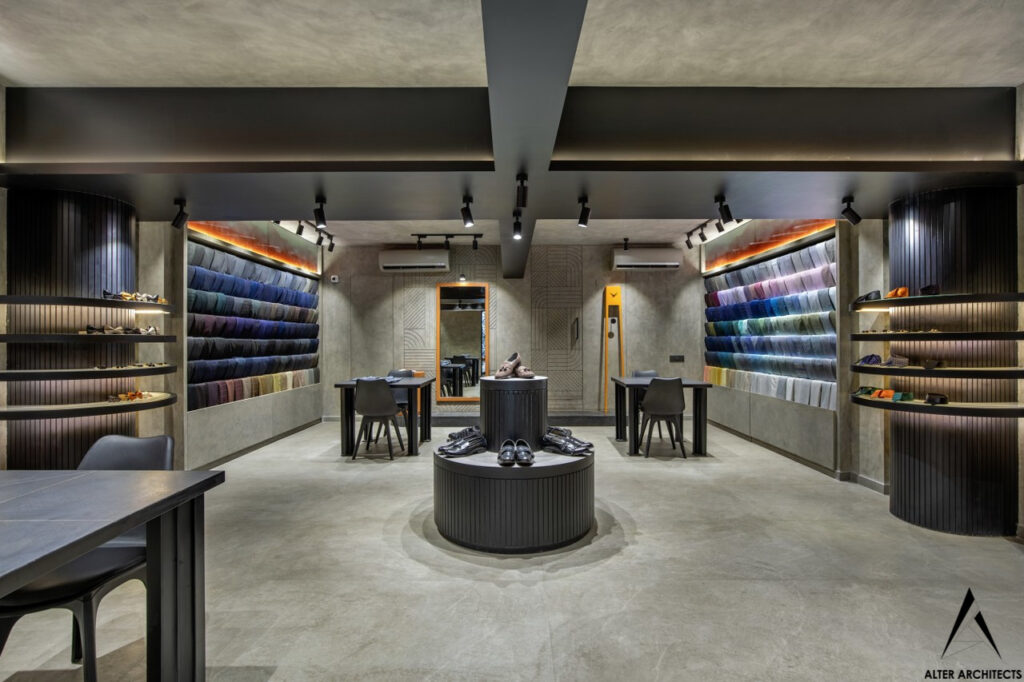 Ground floor was designed to make space for fabrics for formals and casual wear along with other aiding accessories. It was designed in a such way that client can easily glance all the fabrics together and fabricate the combinations.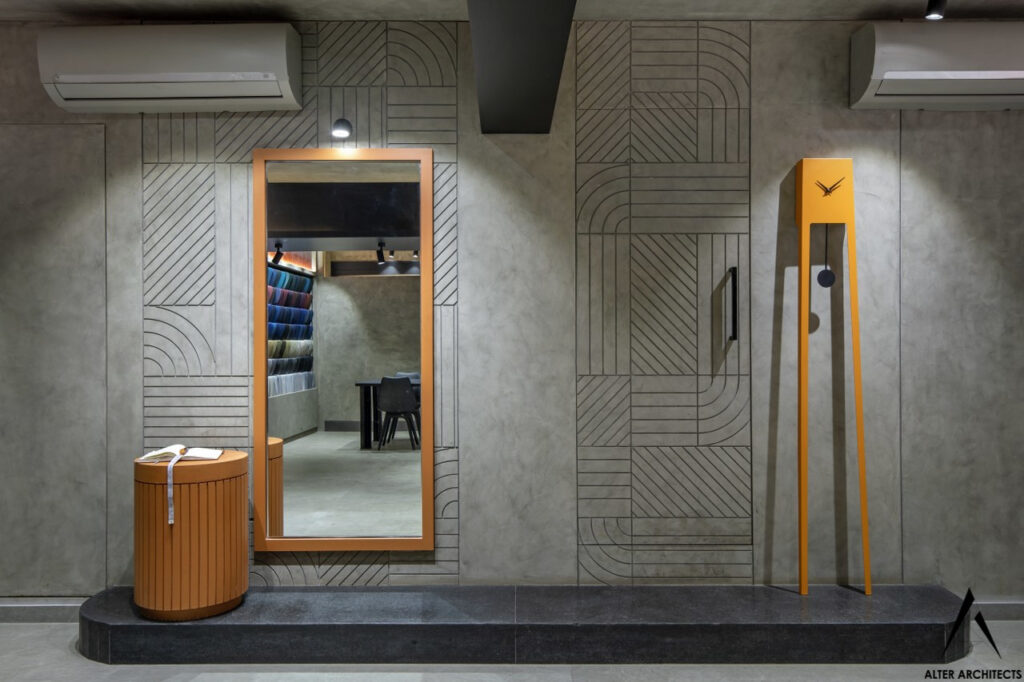 First floor was totally dedicated to the ethnic wear along with the accessories. This floor is designed with at most care as the client is going to spend more time in selections of wedding garments. The circulation of the floor is designed as an experience corridor.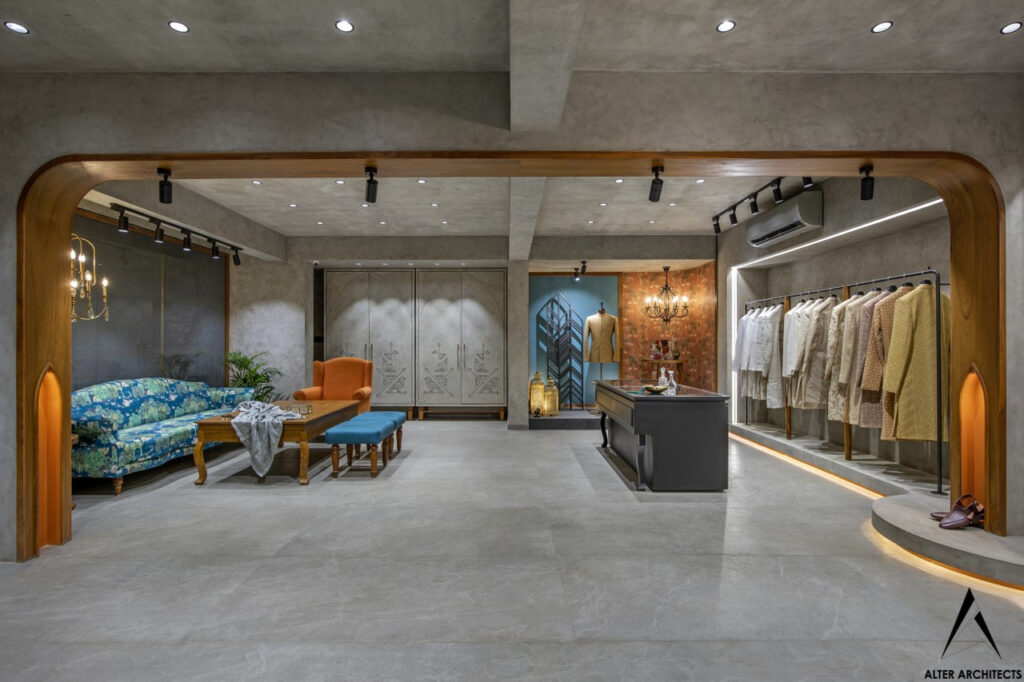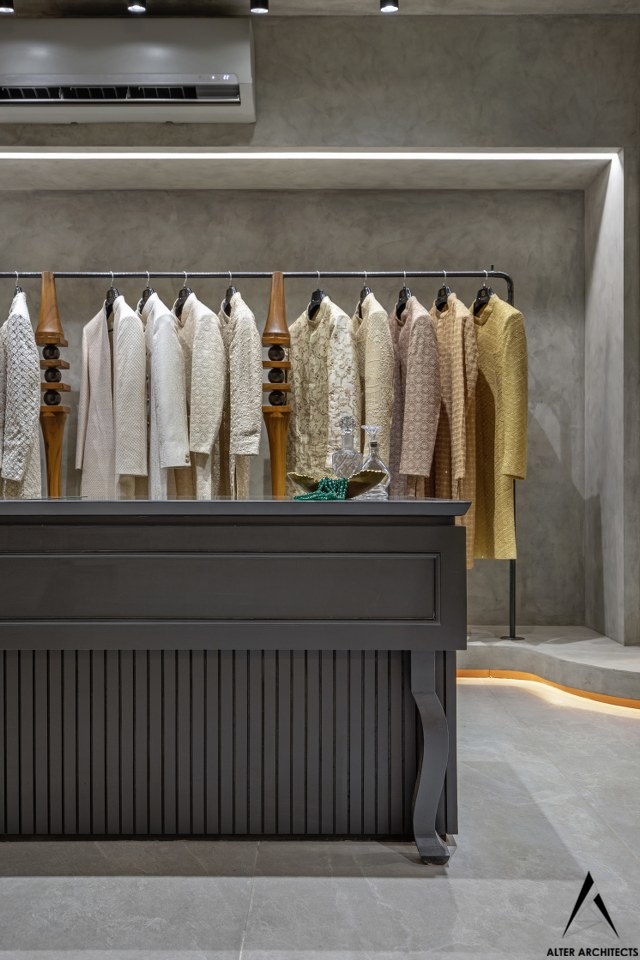 We loved to design the first floor as there was ample amount of space to play with classical elements. Also the client was very keen about the first floor designs and he helped us in many ways to approach and achieve the final outcome.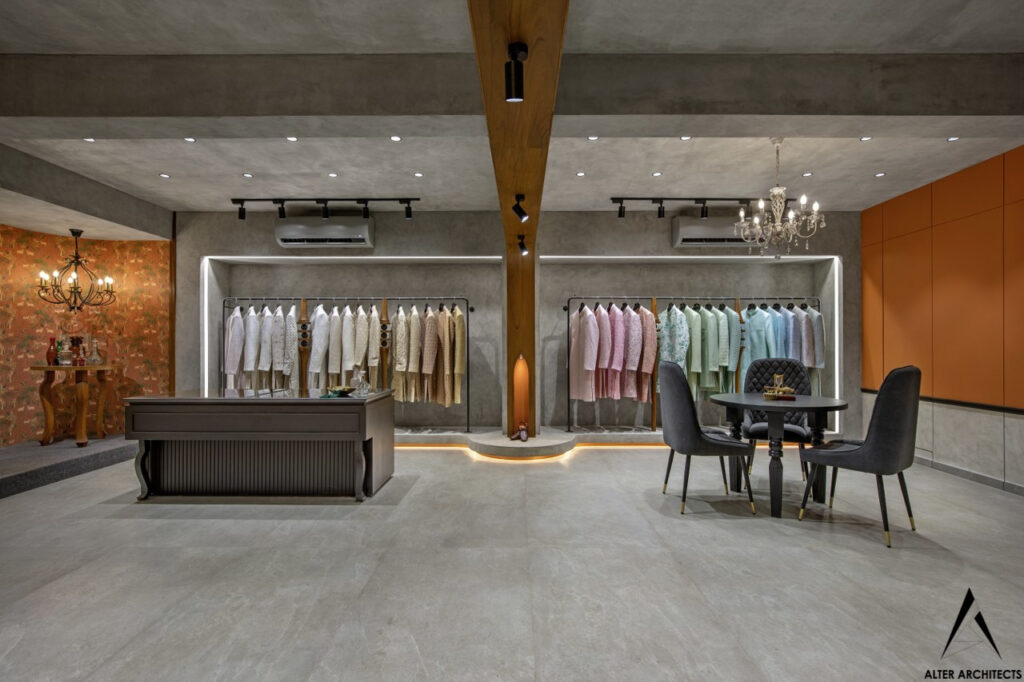 The project was a real challenge for us as it needed intricate details in terms of design as it was fashion designer's studio but we didn't get desired time for designing and executing the project.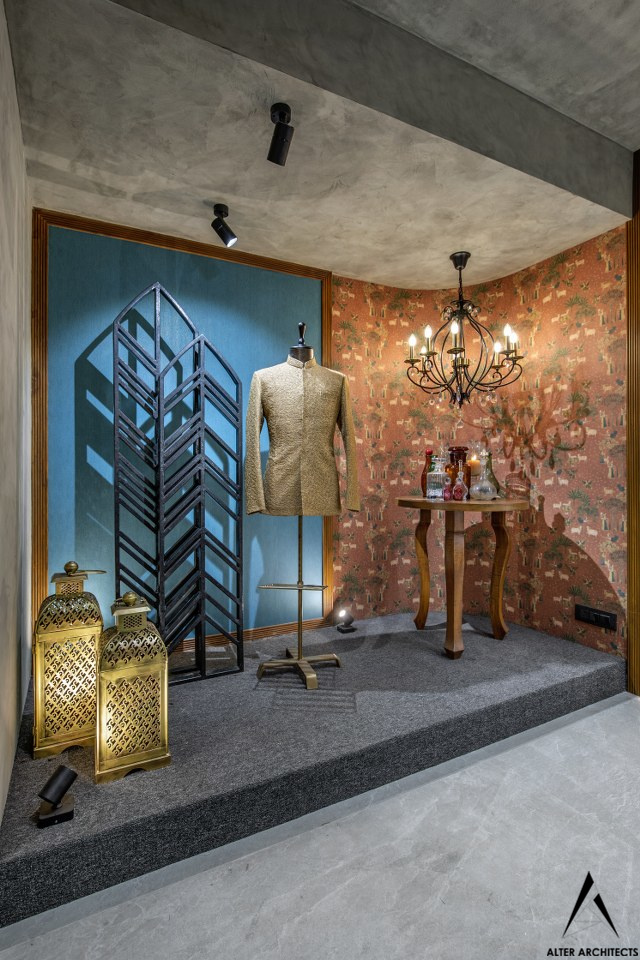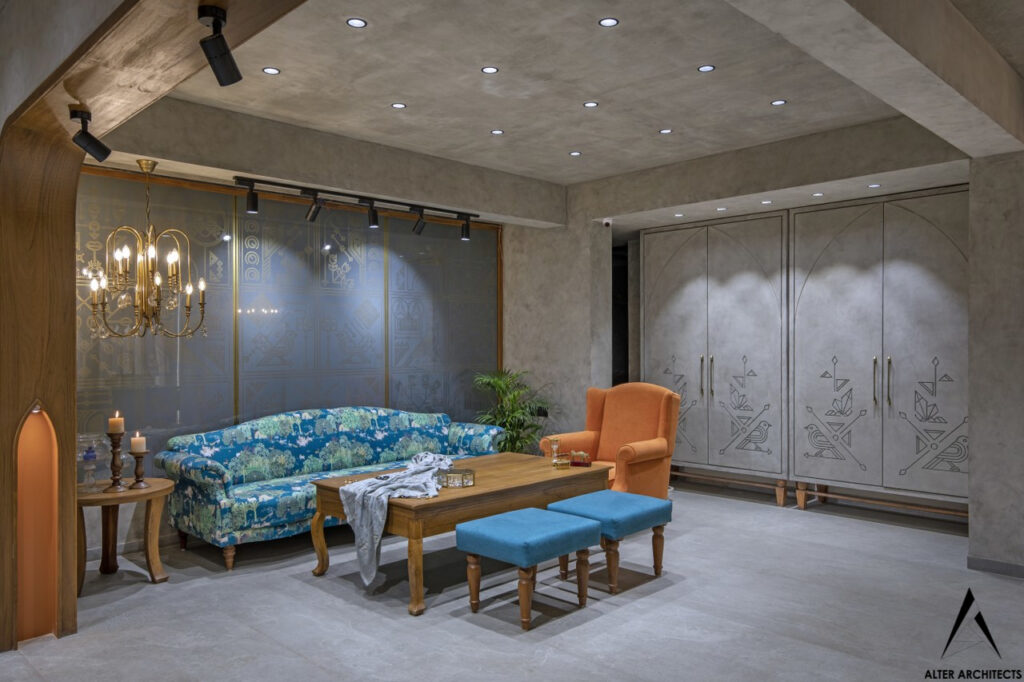 Looking at the final outcome of the entire project, we were very much satisfied with our design.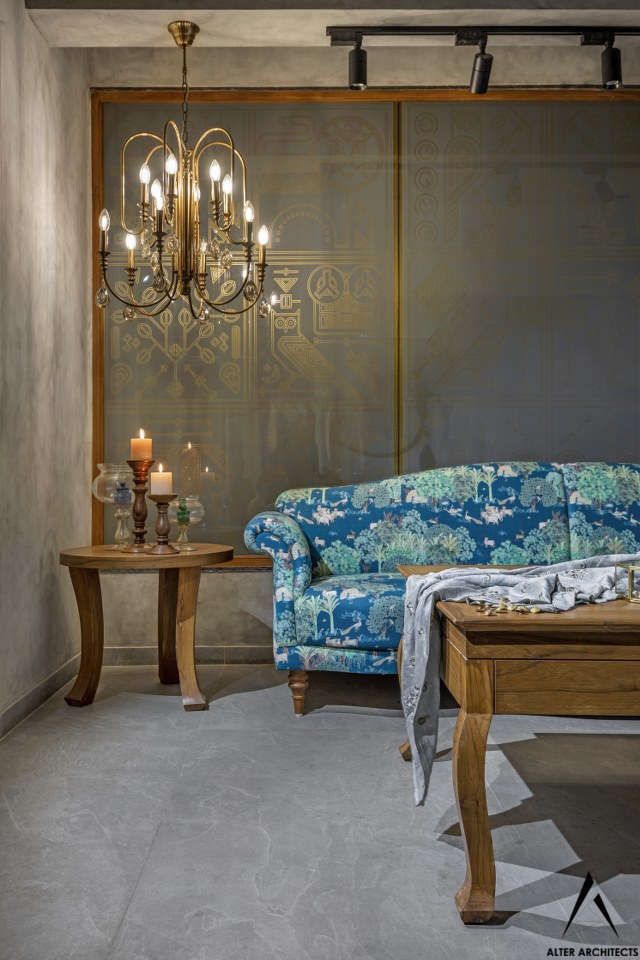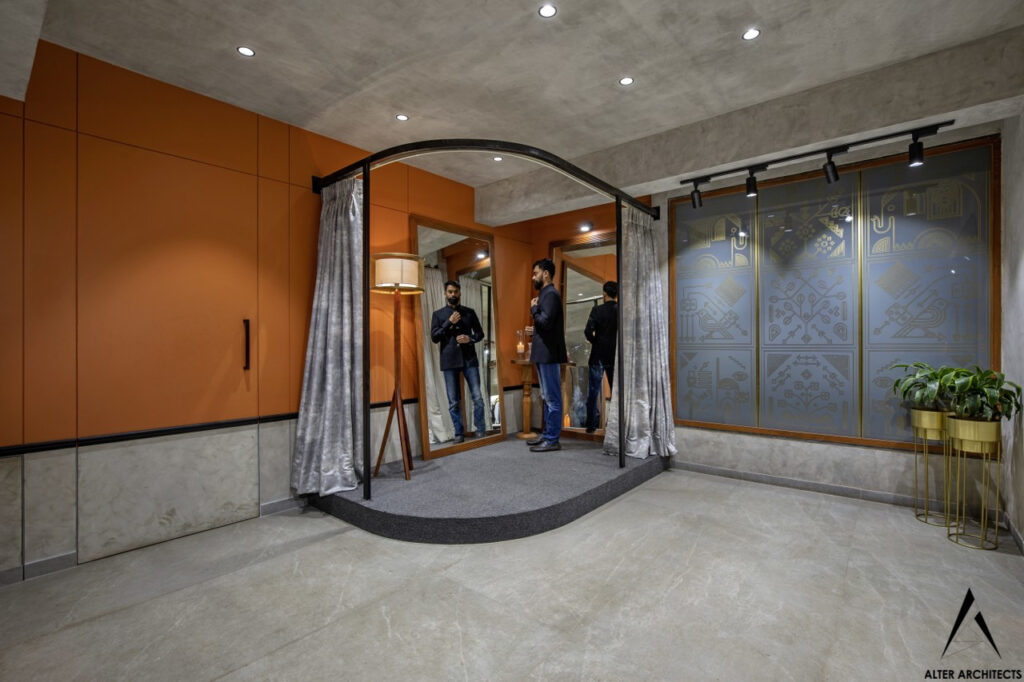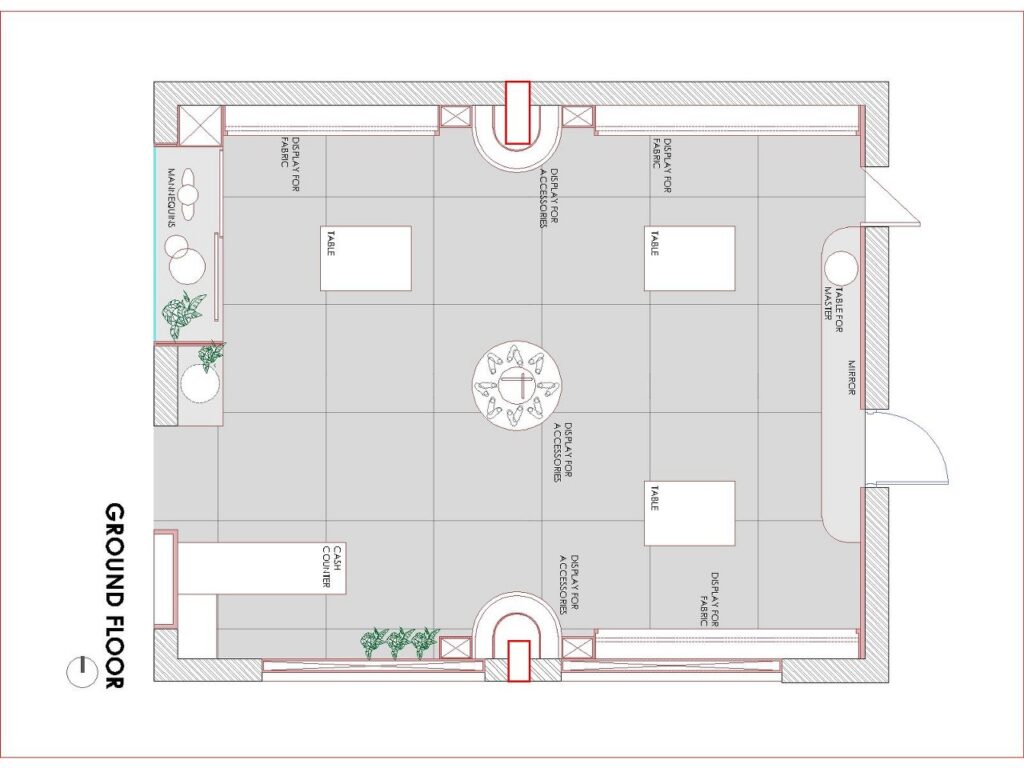 FACT FILE
Designed by : ALTER ARCHITECTS
Project Type : Commercial Interiors
Project Name : Chirag Shah's Studio
Location : Vadodara
Year Built : 2022
Duration of the project : 2 months
Project Size : 2000 Sq.ft
Project Cost : 40 lacs
Principal Architects : Ar. Aditya Umrajkar & Chitra Sindhkar, Ar. Shil Shah & Ar. Parth Patel
Team Design Credits : Krishna Pandya
Photograph Courtesy : Tejas Shah
Products / Materials / Vendors : Flooring – Nexion / Paint – Asian Paint / Artefacts – Be Komfort
Wallpaper – Sabyasachi wallpaper.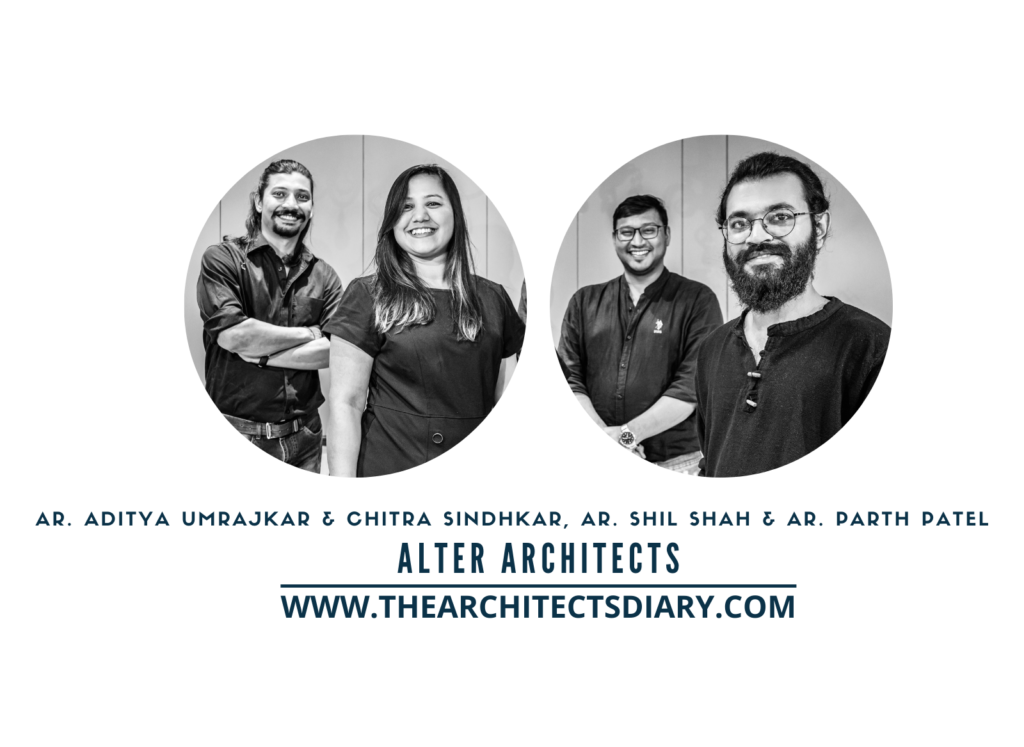 Firm's Instagram Link : ALTER ARCHITECTS
Firm's Facebook Link : ALTER ARCHITECTS
For Similar Projects >> A MINIMALISTIC AND EARTHY MATERIAL PALETTE
The post Chirag Shah's Studio, An Ethnic Wear And Fashion Design Studio In Vadodara | ALTER ARCHITECTS appeared first on The Architects Diary.