If you are free-spirited, Bohemian Interior Design is for you. It embraces a fun play of colour, textures, and patterns while not causing an imbalance. Boho style is a careful curation of everything that resonates with you, be it small curios or magnificent chandeliers.
Interestingly, Bohemian Interior Design takes inspiration from 19th-century artists who lived a nomad life. They valued a creative life more than a prosperous life and found happiness in its transience. Consequently, the philosophy of Bohemian Interior Design spread across the globe and found its place in India.
Although there are no such rules to go Boho, architects and interior designers may refer to this list of essentials to simplify their creative Bohemian journey.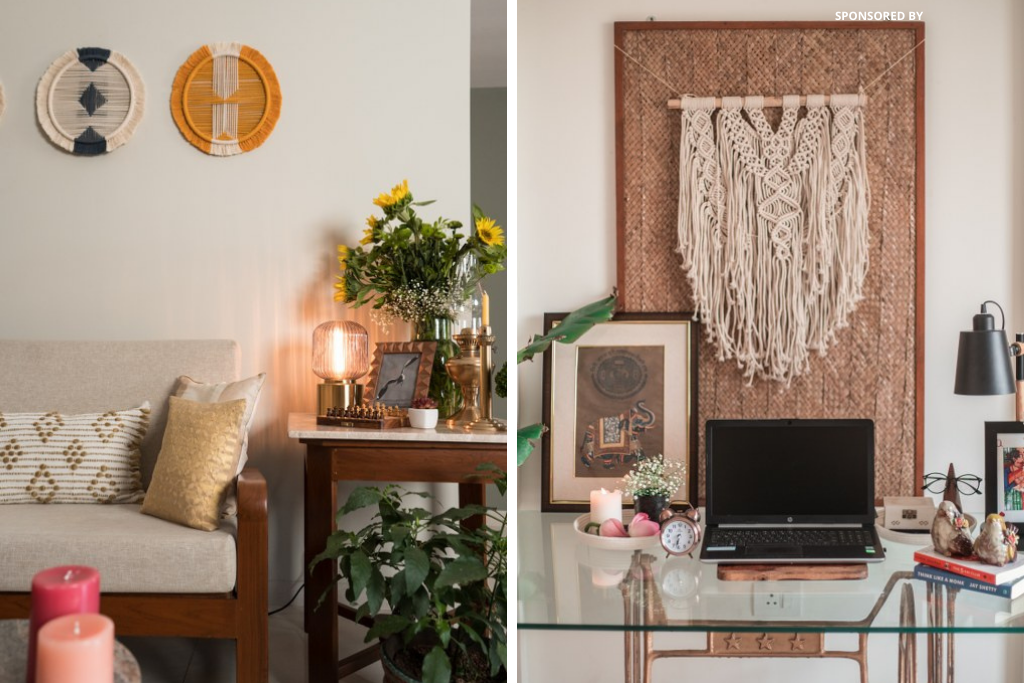 Boho is all about living a free-spirited, carefree life. Beads, fringes, tassels, and sequins are essential to creating a gypsy character. Don't throw away your faded rug or curtain. You can incorporate it into your space along with crochet, macramé, and burlap, which will add freshness to the old and worn-out.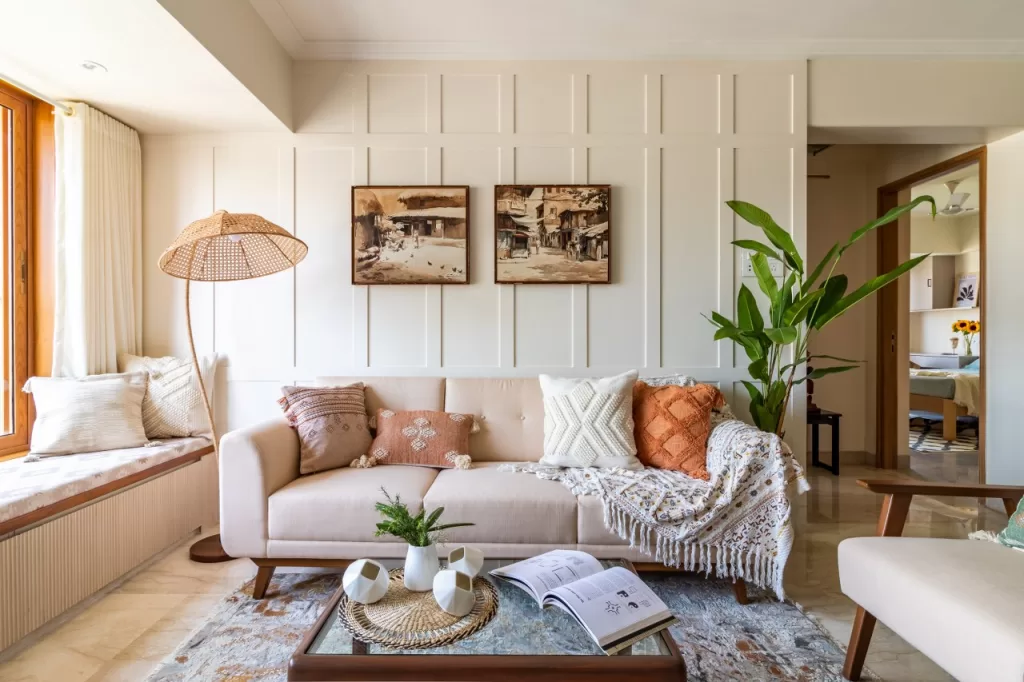 Creating a relaxed atmosphere is possible by layering a couple of pillows, throws, and blankets. Similarly, layer your decor to highlight the textures and accents while adding depth. It is also how you can use your old belongings without making yourself seem impoverished. Layering a new rug over the old one can help cover the torn portion seamlessly.
Yes, this article might be a "Guide to Bohemian Design", but in reality, there are no guides or boundaries in Bohemian style. Your design must embrace randomness and is not meant to stay within the frame of your 2D plans. It is all about experimenting and throwing around textures and colours so that you feel there is a balance.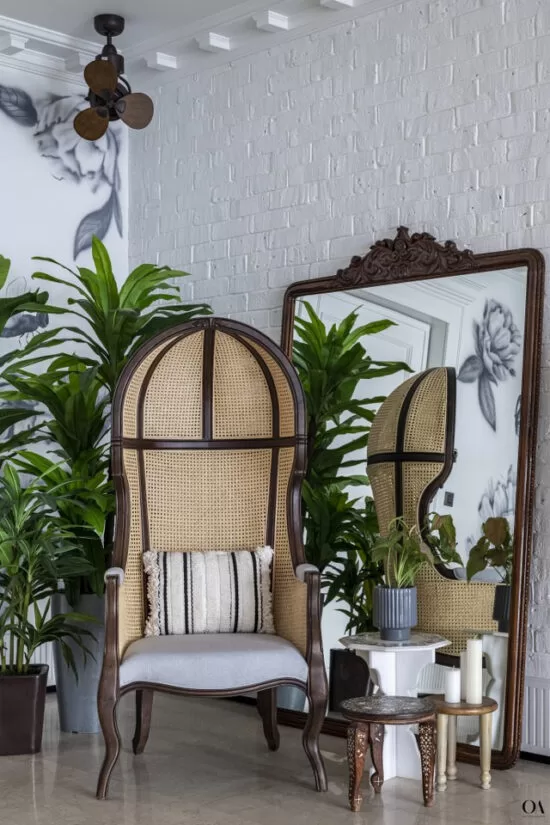 Bohemian furniture is usually low to the ground and embellished with plush pillows and throws to give you maximum comfort. Vary the heights of furniture here and there to make the space seem more inviting and casual. Rattan chairs, diwans, ottomans, an Arabic coffee table, and bean bags are cool lounge furniture for your Boho home.
In Bohemian, the saying goes "More is More". So, stop forcing yourself to achieve a sleek, minimalistic finish. You would want to create a space that feels like you are living on a soft cushion. Not the tiniest of corners should be left empty. Every corner must make you feel cosy and inviting with saturated colours and patterns.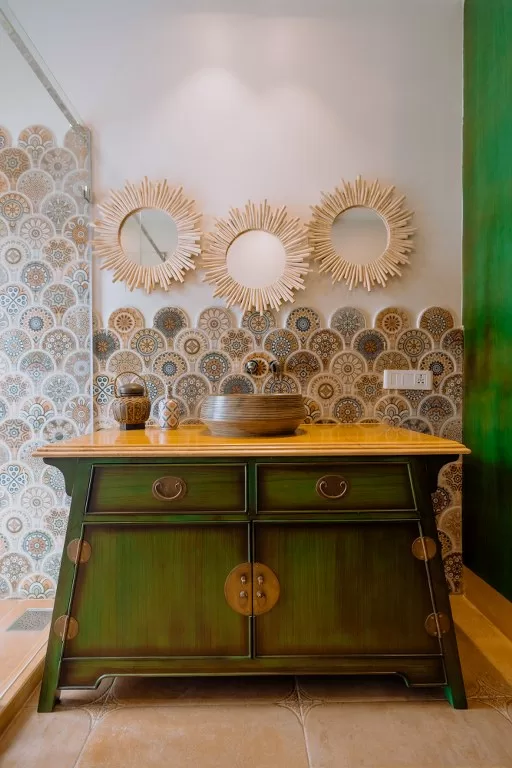 Vintage and antique pieces are rare treasures that indicate originality. You don't need to be a rich art collector to own vintage products. It could be something from your childhood or a passed-on ancestry. Still, if you have nothing vintage, spark your creativity, repurpose your old objects like a suitcase or a broken radio, and give them a new meaning.
Are you a traveller or have a relative who gives you an Eiffel Tower after every trip to Paris? Those souvenirs are all you need to create an eclectic blend of art, culture, and diversity. A couple of simple woven baskets you bought from the beach could be lovely wall decor.
Bohemian is a reflection of a person's life, books, travel, art, and so on. If you have seen a style and want to incorporate it into your home, you are free to do so. If you want to recreate a royal palace feel, rearrange some vintage arm chairs and throw some gemstone-hued embroidered fabrics, and you are good to go.
The placement of decor must be thoughtful. There must be a balance between clutter and emptiness. Even if you place the most beautiful Boho pieces in a bunch, they will lose their meaning. Just a few objects placed right can create a Boho appeal. Make sure that the souvenirs are arranged casually, not like a museum display.
Boho need not be entirely vintage, either. Small minimalist items like candles, incense burners, and vases can make your interiors chic. DIY decor items are also perfect to achieve a Bohemian aesthetic. You can also add an elegant chandelier and hints of gold strips to add a splash of luxury.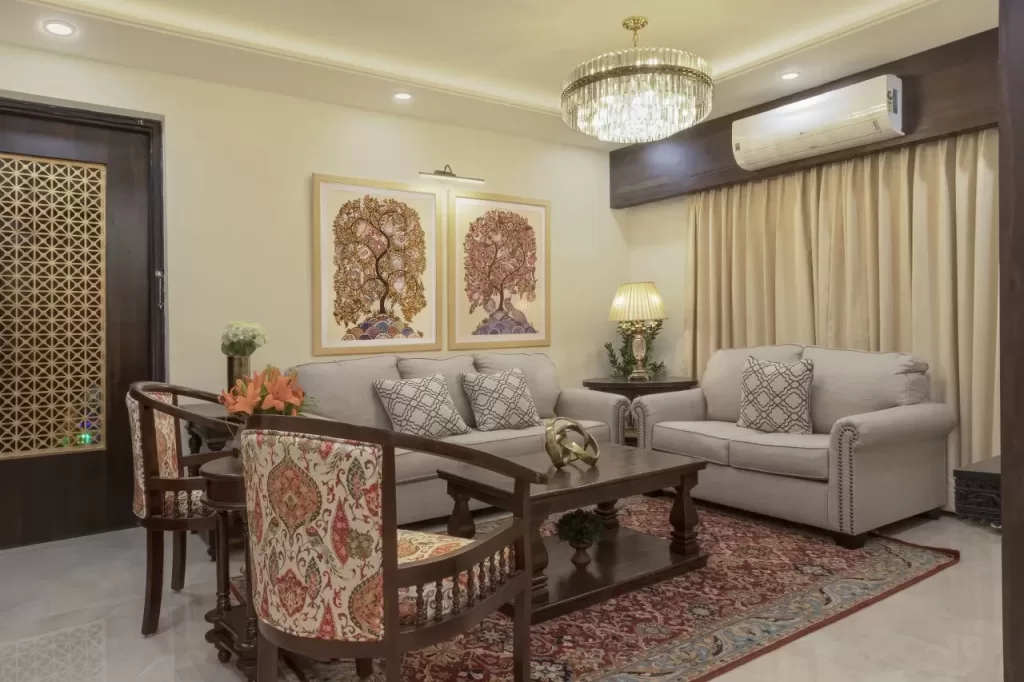 After all, Boho is about telling a story. Travels, gifts, childhood memories, and family heirlooms are great story trinkets in your home. Arranging your family photographs on the wall or on a printed mug is the simplest way to narrate your story visually in your spaces. Your home must be a personification of yourself architecturally and expressed without words.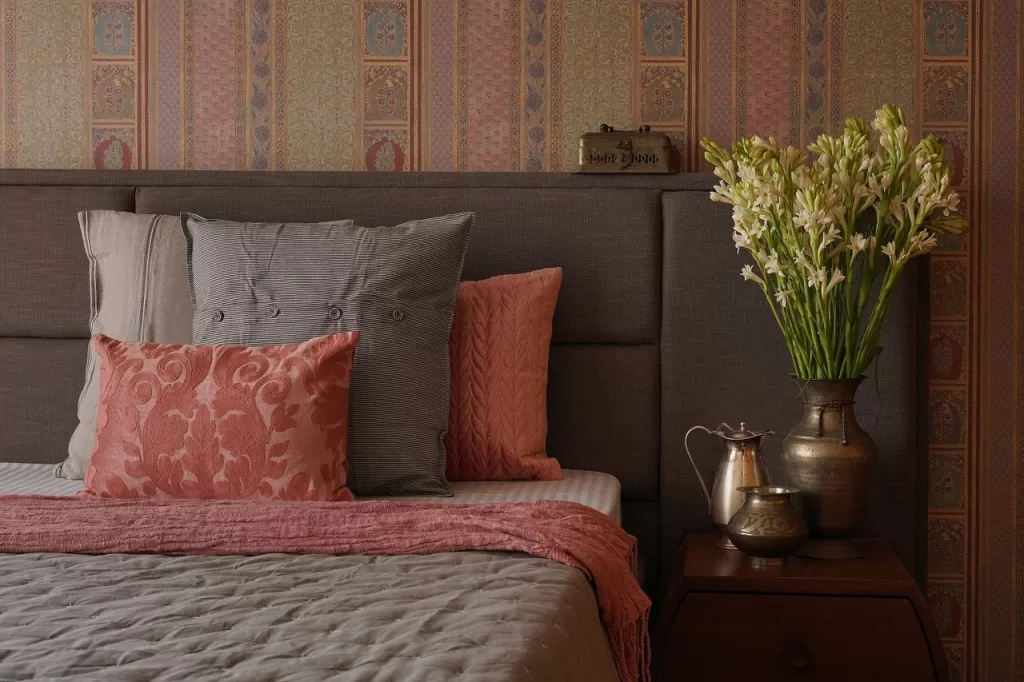 Bohemian is a reflection of a person's life, books, travel, art, and so on. If you have seen a style and want to incorporate it into your home, you are free to do so. If you want to recreate a royal palace feel, rearrange some vintage arm chairs and throw some gemstone-hued embroidered fabrics, and you are good to go.
It is a myth that Bohemian style must have subtle natural tones and patterns, which is not the rule. There is no written rule on the colour palette. Some might prefer bright colours, which add character to the space, and others might prefer earthier tones. But make sure that a white wall acts as a canvas for your eclectic embellishments and decor layering.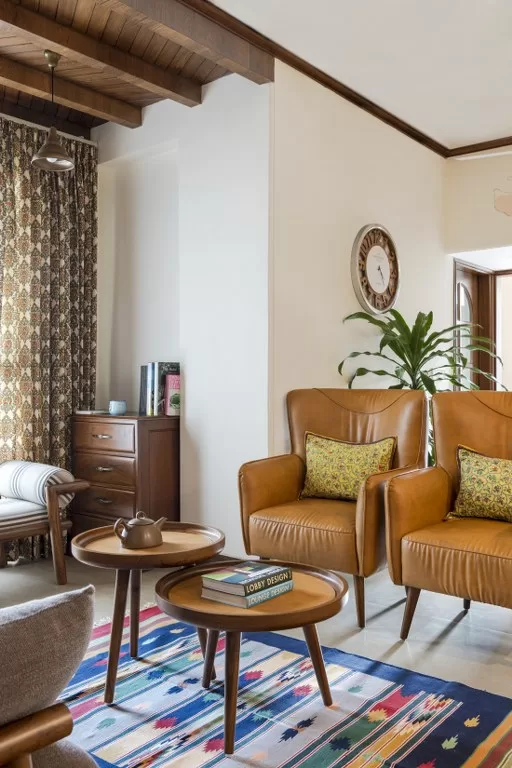 If you are looking for Bohemian interior inspiration, you must have come across many interiors that have muted and earthy interiors. This need not always be the case. Use bright tones like emerald, amethyst, and so on to create contrast in the interiors. Deep, dark walls behind elegant chandeliers can make the space seem more luxurious.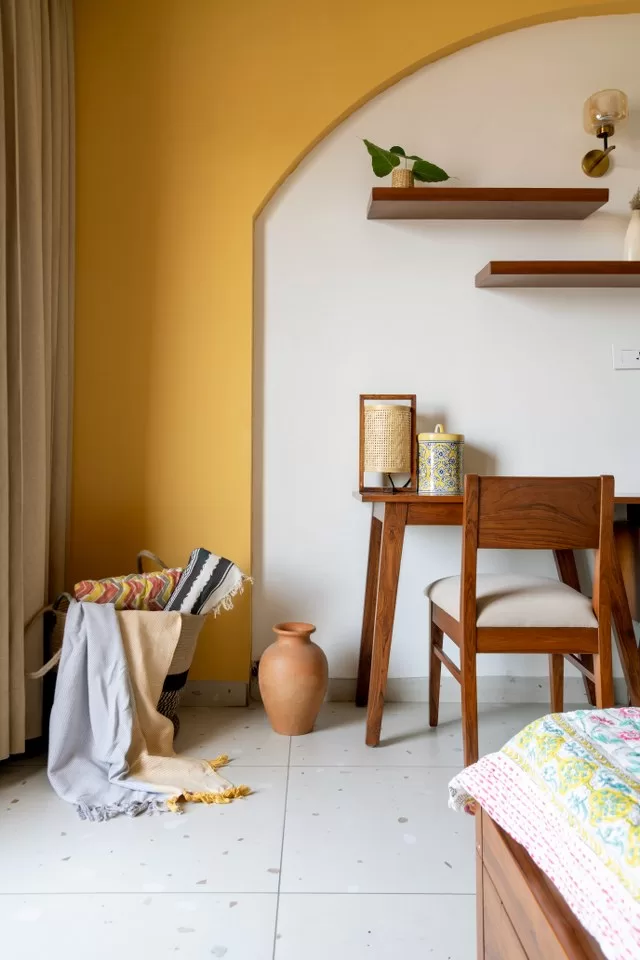 Using bold tones as they are can be pretty flashy. Make sure to balance it using muted colours so that both tones have equal importance. You may play with textures and patterns to avoid the theme seeming too monotonous. Muted colours are a great way to highlight objects that need to catch one's eye.
Handmade products and decor are a unique way to use sustainable materials into your spaces. Some fabrics like burlap and sisal are aesthetic alternatives to modern furniture decor. Pairing with indoor plants can create a calming ambience to your home.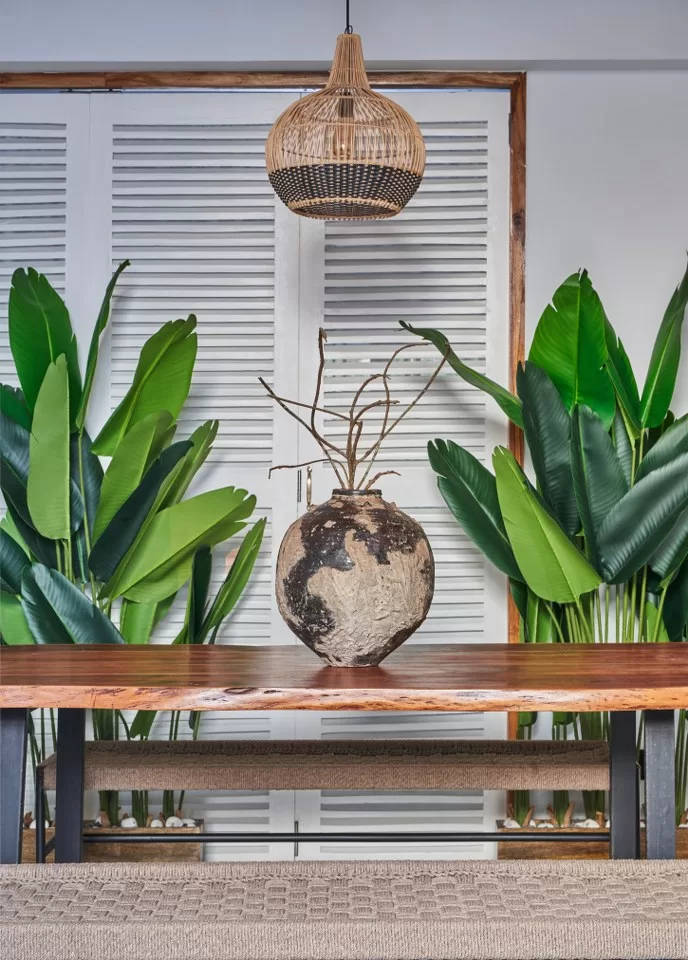 Bohemian interiors are incomplete without small plants and creepers. Plants, whether in small succulents or hanging pots, will breathe life into your space. A couple of leaf prints and botanical art can add a pop of colour and make your space lively and fresh.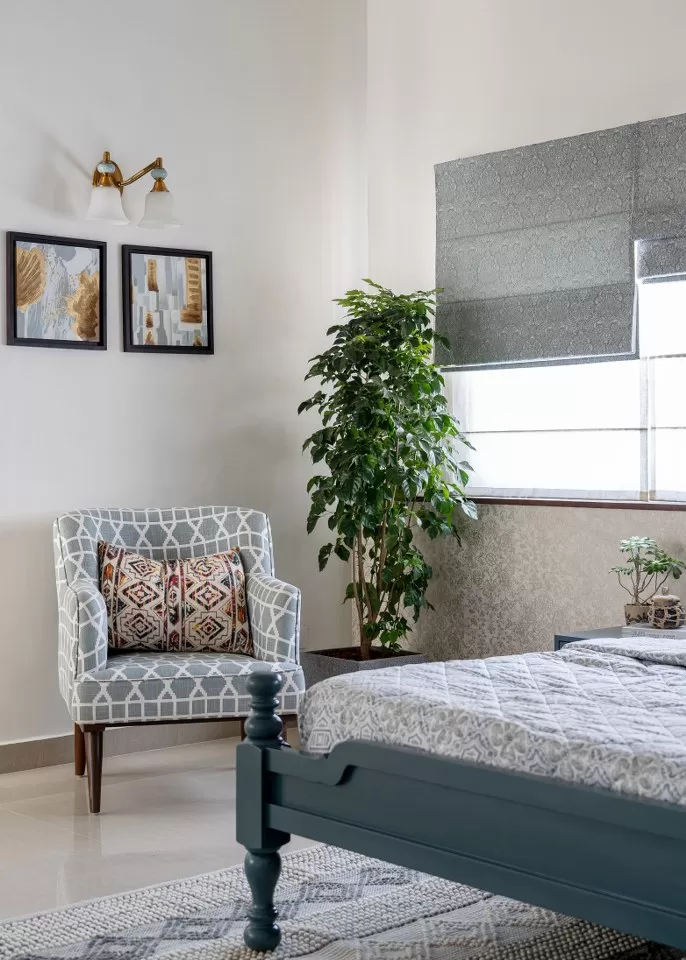 Bohemian aesthetics are free-spirited, artistic, and eclectic. So, it's your chance to run wild with colours. Intermix neutral, earthy, and subdued tones to complement plants and textures, while not forgetting a pop of colour.
Since the interiors are maximalist, one may tend to follow the same for the windows as well, which is not true. Opt for big windows and minimal window ornamentation so as to let in more natural light into the interiors. You can experiment with jaliwalls and punctures occasionally to reduce heat.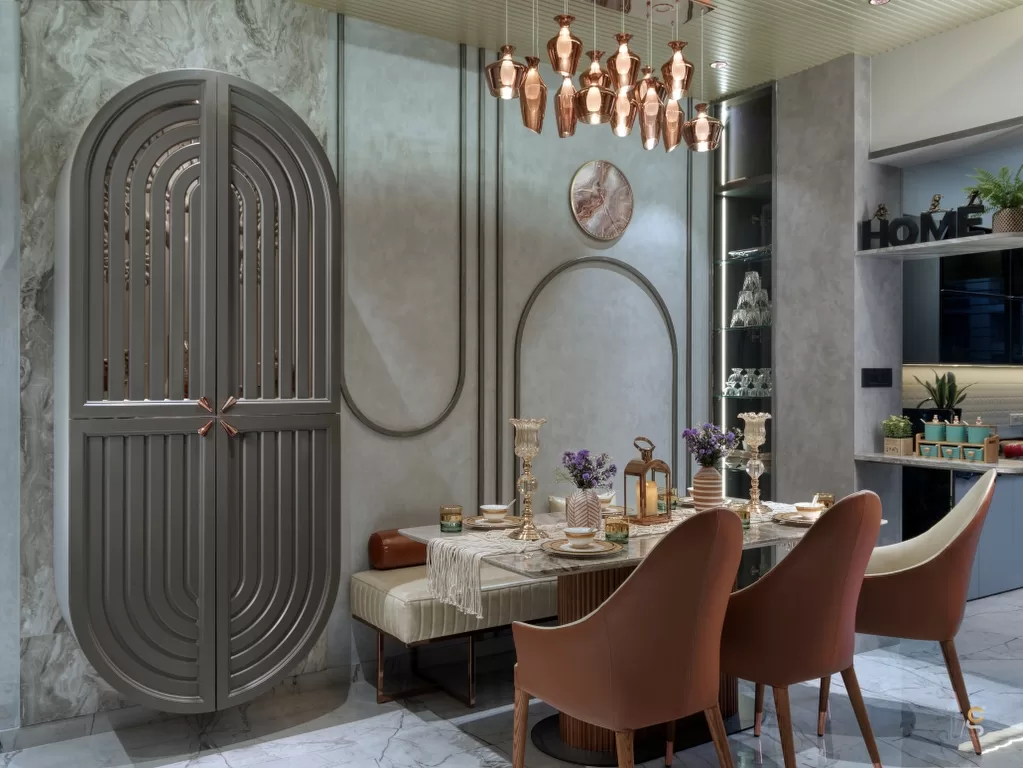 Whether modern or traditional, ambient lighting can give a warm, welcoming appeal. Decorate your space with fairy lights, candles, table lamps, and elegant lanterns. All you have to be sure of is that the lighting should not be too glaring and bright.
Bohemian Interior Design takes on multiple meanings in the private sphere of an individual. It is like modern art that takes up three-dimensional space. At the same time, Bohemian Interior Design is an alternate way to blend traditional and modern characteristics. Sadly, modern interior design has become a short-lived aspect of a home that only lasts picture-perfect for a few days.
Thus, interior design needs to accommodate and adapt to future requirements. Bohemian Interior Design is one of the few interior design principles that is adaptable and feels like it has been in use for a long time. In short, it will feel like home. Can interior designers align their clients' idea of feeling at home through Bohemian design?
The post Bohemian Interior Design: Top 20 Essentials To Going Boho appeared first on The Architects Diary.