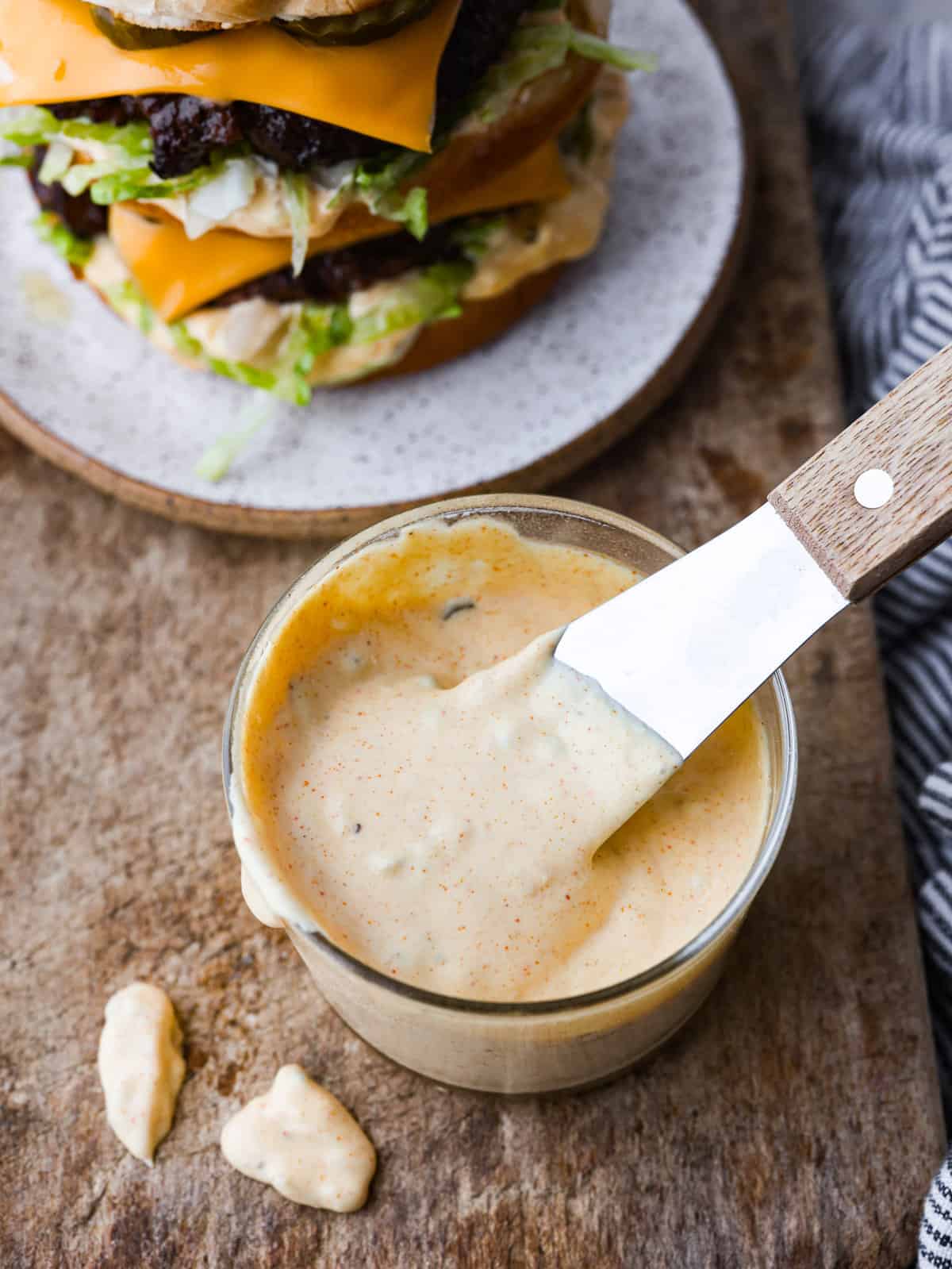 Level up your burgers with this tasty homemade Big Mac sauce! It's made with creamy mayo, pickle relish, vinegar, and a bunch of delicious seasonings. You'll always want it on hand!
I love recreating my favorite sauces at home. After you make this flavor-packed Big Mac sauce, you need to try this copycat Cane's sauce or Chick-fil-A sauce!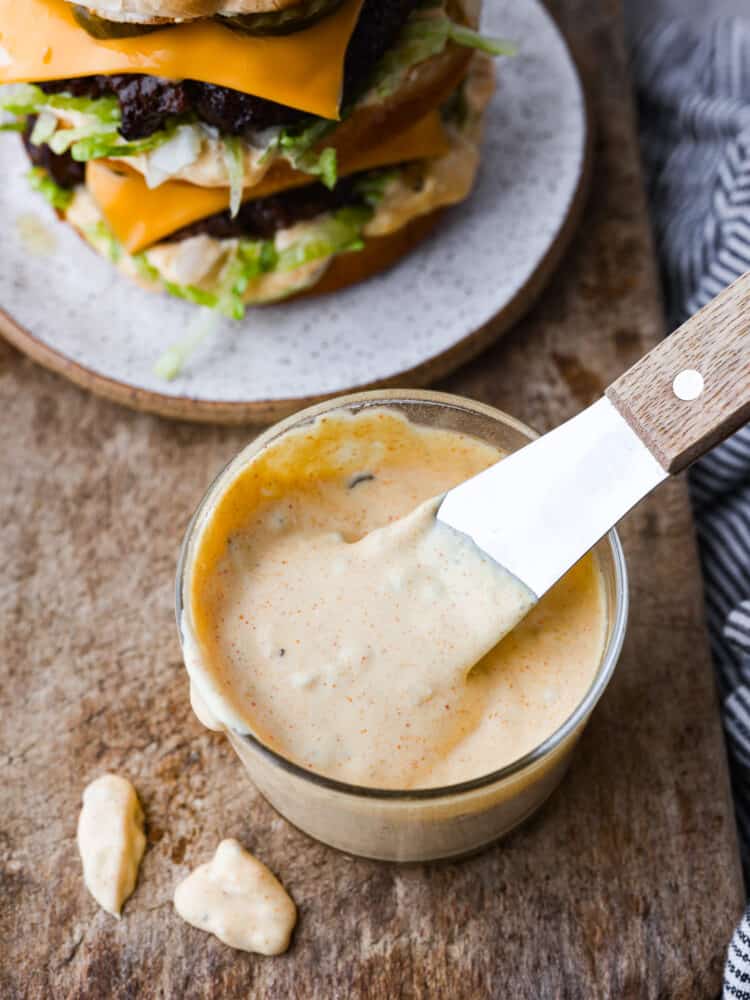 Copycat Big Mac Sauce Recipe
Let's talk Big Macs. Everybody loves them, and I think part of what makes them so good is their sauce! So since I love making homemade sauces, I recreated it at home. This copycat Big Mac sauce recipe tastes just like the real thing, maybe even better since it uses fresh ingredients without any preservatives!
Like my other homemade sauce recipes, this Big Mac sauce is super easy to customize. So if you see an ingredient below that isn't your favorite, feel free to leave it out or adjust the amount to taste! Once you create your perfect batch, you'll want to put it on everything. You can also use it as a dipping sauce for fries or onion rings. The options are endless!
Is Big Mac Sauce the same as Thousand Island Dressing?
The two are similar, but they have different ingredient ratios. Also, Thousand Island dressing is made with ketchup and diced onions. Big Mac sauce doesn't use either of these ingredients. Both are tasty, and if you're looking for a homemade Thousand Island dressing recipe, you can find mine here!
Ingredient List
This Big Mac sauce recipe is great because it uses such simple ingredients. I'm sure you have all of the seasonings to make it hanging out in your pantry right now!
Mayonnaise: Creamy and rich, mayo forms the base of the Big Mac sauce, giving it a smooth and velvety texture.
Sweet Pickle Relish: For that classic burger flavor! Relish adds a sweet and tangy flavor to the sauce that you'll love. If you want a different twist, swap sweet pickle relish with dill pickle relish for a tangier flavor.
White Vinegar: The tangy kick from vinegar balances the sweetness of the relish. It's the perfect combo!
Garlic Powder: Boosts the overall savoriness of the Big Mac sauce.
Onion Powder: For a pop of extra flavor.
Paprika: Paprika adds a gentle smokiness and a hint of mild spiciness to the sauce, giving it a bit of kick.
Turmeric: A pinch of turmeric adds a subtle golden hue and a touch of earthiness to the sauce.
Granulated Sugar (if needed): If you prefer a sweeter sauce, a little granulated sugar can be added to achieve the perfect balance of sweetness and tanginess.
Let's Make Homemade Big Mac Sauce!
Now that you have all of your ingredients ready, let's whip up a tasty batch of copycat Big Mac sauce. Simply whisk everything together and adjust all the flavors to taste!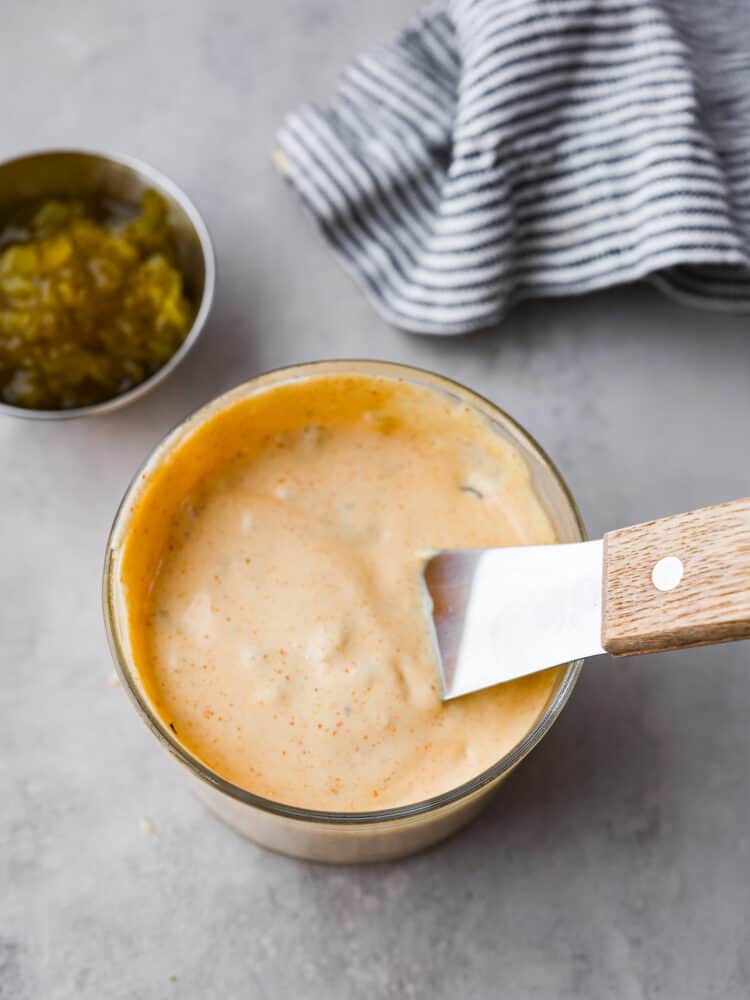 Leftover Sauce
I like to double this big mac sauce recipe to use for the week! It's a great condiment to have in the refrigerator. It's easy to make and have on hand. Follow my instructions below for storing leftover sauce.
In the Refrigerator: Store in an airtight container or a jar with a lid. Keep in the refrigerator for 5-7 days. I like to stir the sauce before reusing it because the relish can release additional liquid as it is stored.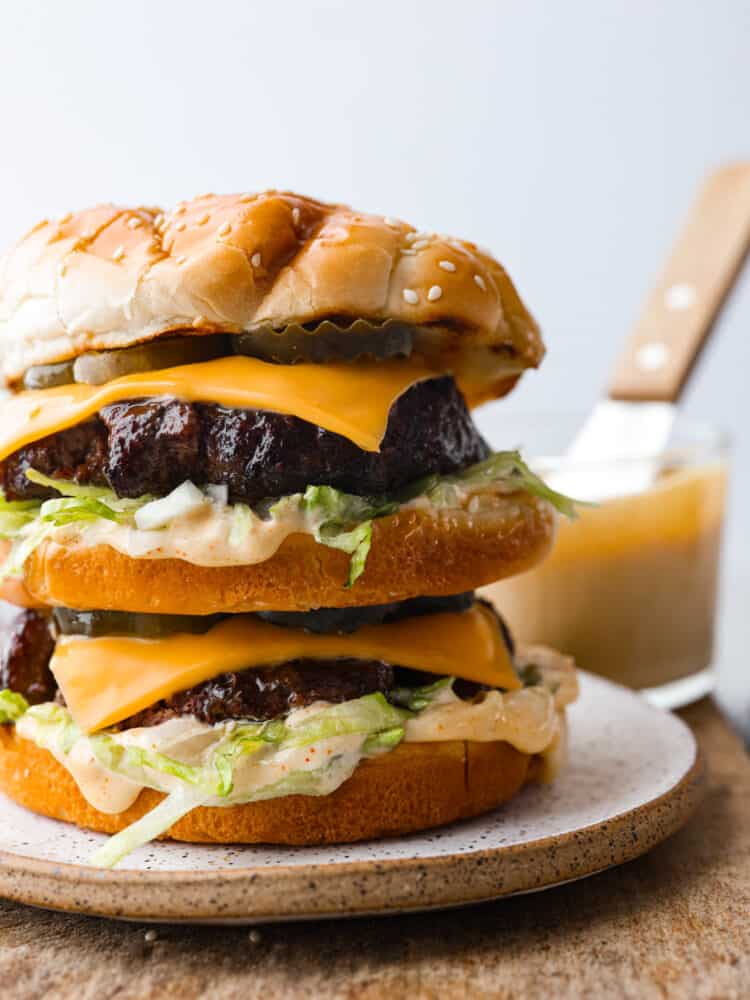 Big Mac Sauce
Ingredients
1/2

cup

mayonnaise

2

tablespoons

sweet pickle relish

1

teaspoon

white vinegar

1/4

teaspoon

garlic powder

1/4

teaspoon

onion powder

1/4

teaspoon

paprika

1/8

teaspoon

turmeric

granulated sugar,

if needed to taste
Instructions
In a medium bowl, add the mayonnaise, relish, vinegar, garlic powder, onion powder, paprika, and turmeric.

Whisk the ingredients together until combined.

The granulated sugar is optional. Depending on the sweetness of the relish will determine if you want to add sugar or not. I like mine slightly on the sweeter side. Add a dash of sugar until you reach the desired taste.

Enjoy with French fries, as a dipping sauce, or on a burger of course!
Nutrition
Serving:
2
tablespoons
|
Calories:
202
kcal
|
Carbohydrates:
3
g
|
Protein:
0.4
g
|
Fat:
21
g
|
Saturated Fat:
3
g
|
Polyunsaturated Fat:
13
g
|
Monounsaturated Fat:
5
g
|
Trans Fat:
0.1
g
|
Cholesterol:
12
mg
|
Sodium:
239
mg
|
Potassium:
15
mg
|
Fiber:
0.2
g
|
Sugar:
2
g
|
Vitamin A:
171
IU
|
Vitamin C:
0.1
mg
|
Calcium:
4
mg
|
Iron:
0.2
mg