In this captivating dwelling, the essence of spiritual practice seamlessly blends with contemporary aesthetics, with the intent to create a space that acts as a support system for spiritual seekers. Designed for young aged couple, Bhairavi Residence : a tale of modern home that embraces spirituality is a 3BHK apartment. With an area of approximately 1450 sq.ft, it offers a harmonious environment that fosters relaxation and ease.
Bhairavi Residence : A Tale of Modern Home that Embraces Spirituality | Goldie Kalda Design Studio
Visit : Goldie Kalda Design Studio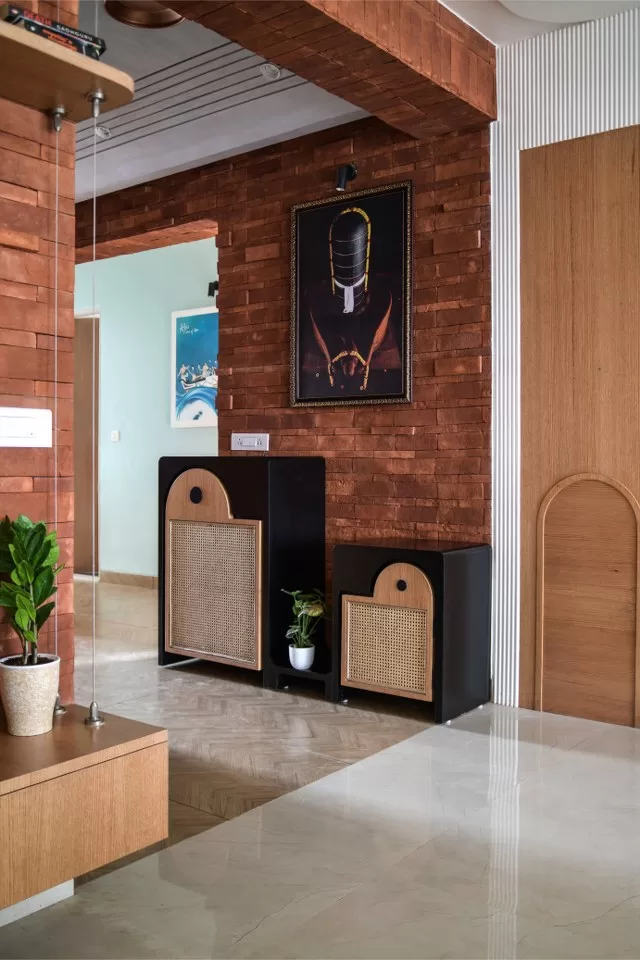 The house is thoughtfully planned with the Mandir, being a spiritual sanctuary, a metaphysical centre where individuals come together for Satsang (spiritual gatherings) becomes the nucleus. The apartment was reshaped, to emphasize the concept of free planning, opening up eliminating negative spaces and maximize natural light and ventilation, allowing the house to breathe and thrive.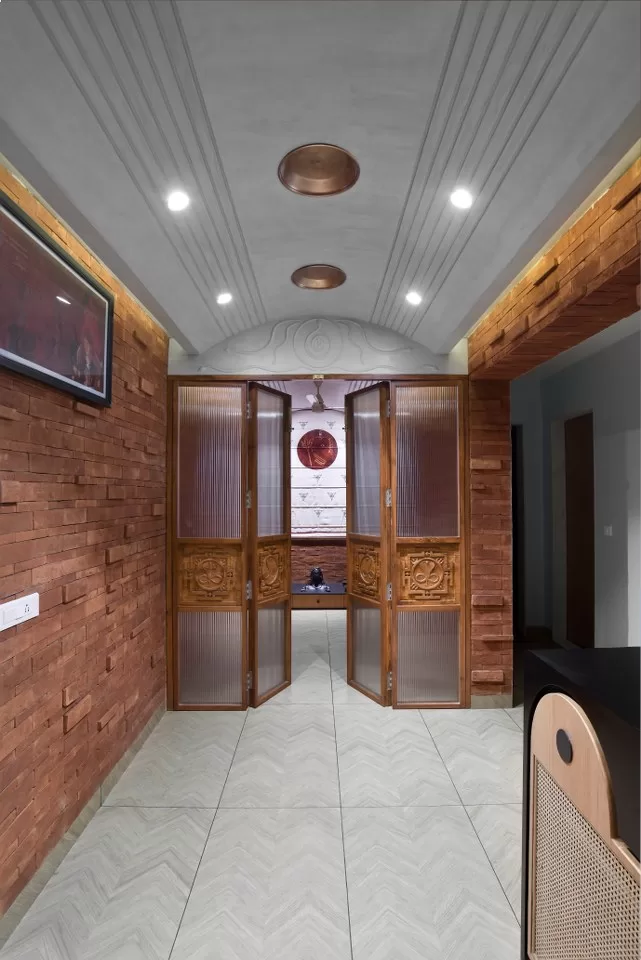 At the heart of this home lies the Mandir, a sacred space that instills a profound sense of tranquility which connects to the entrance and opens up into a passage seamlessly glorifying itself, when the user moves towards dining area, kitchen area and living area.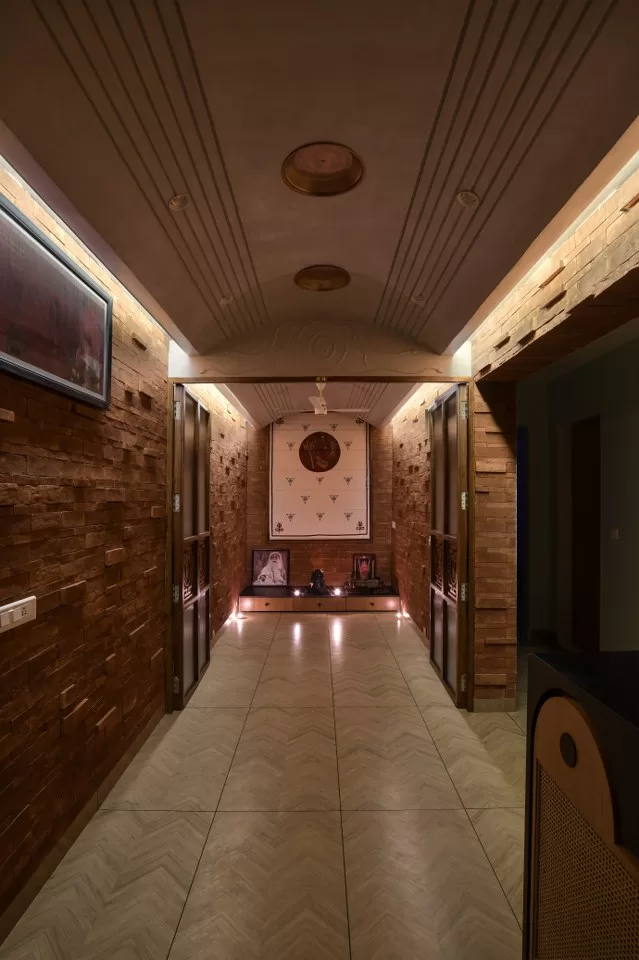 The Mandir boasts a captivating brick-clad wall, complemented by an arch-shaped concrete-finished ceiling adorned with elegant copper bowls. It has been designed in such a way that even the smallest diya, when placed within, emanates a gentle and divine light that extends all the way to the farthest corner of the house creating an ambiance of spiritual serenity.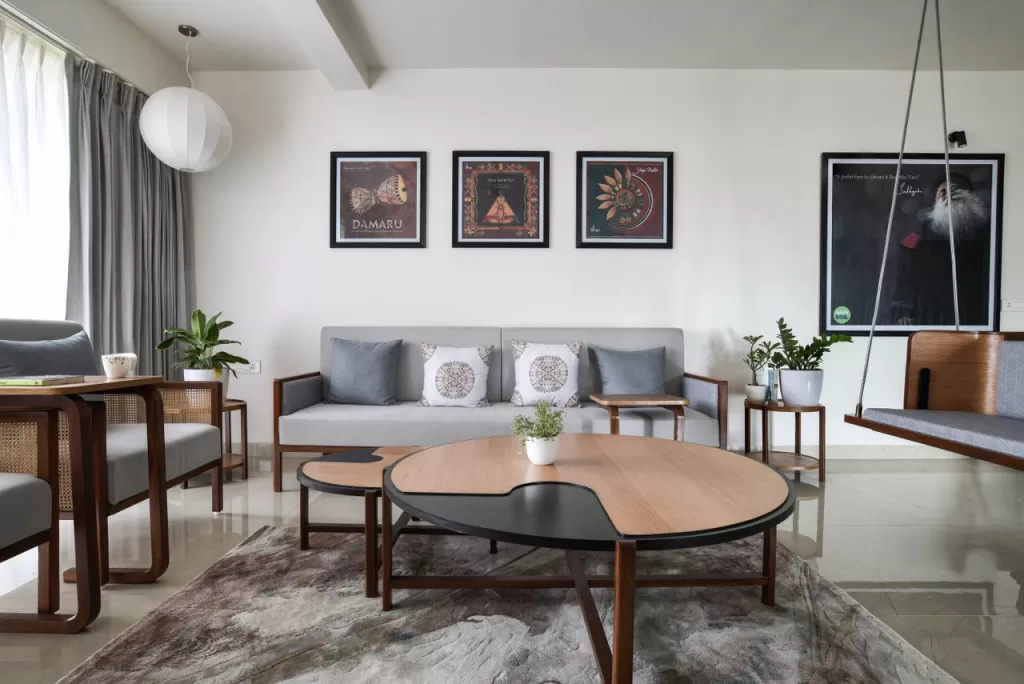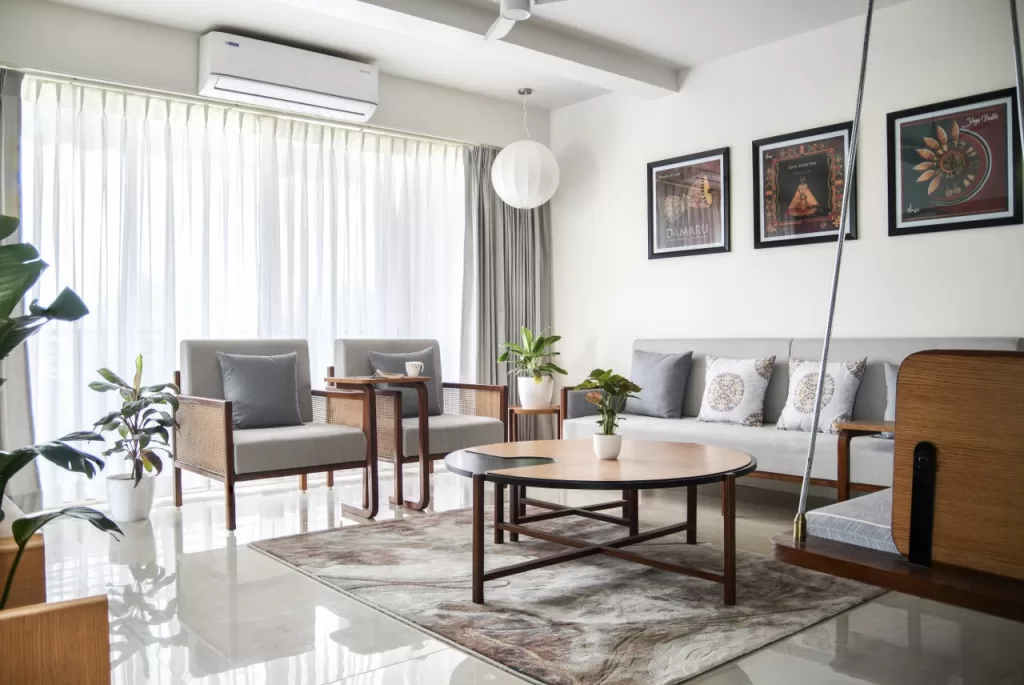 Serpents have profound spiritual significance, signifying protectors in Indian temples. These elements add to the aura of reverence and safeguard the sacred space, inviting individuals to engage in soulful meditation and reflection.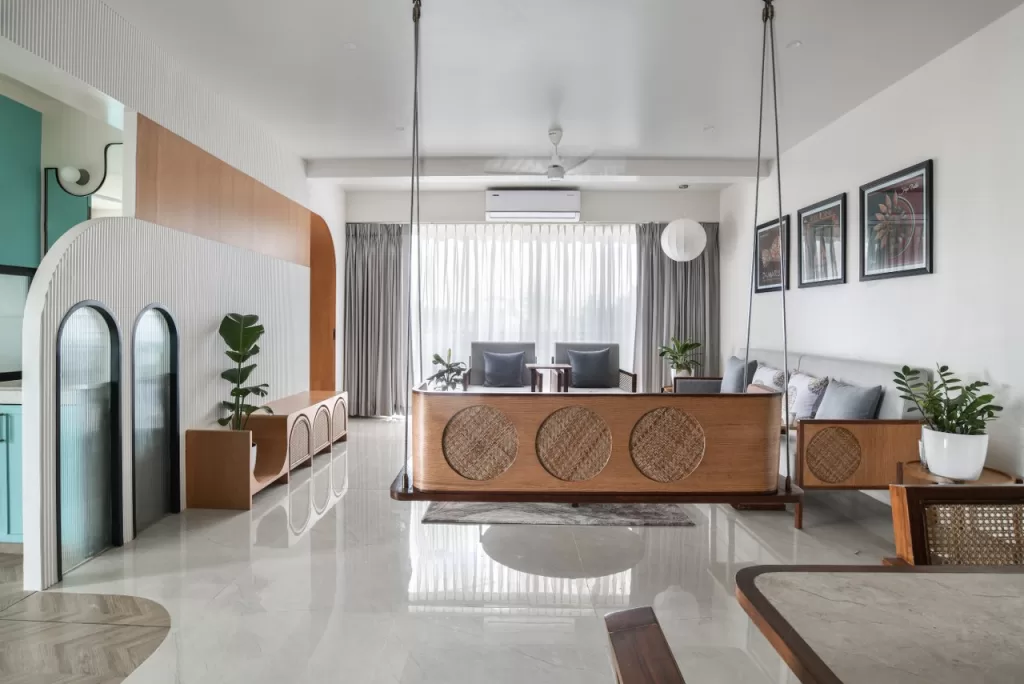 The rest of the house embodies a harmonious blend of modern minimal geometry and earthy material palette. The furniture design features an earthen material palette, keeping in line with the natural and serene ambiance.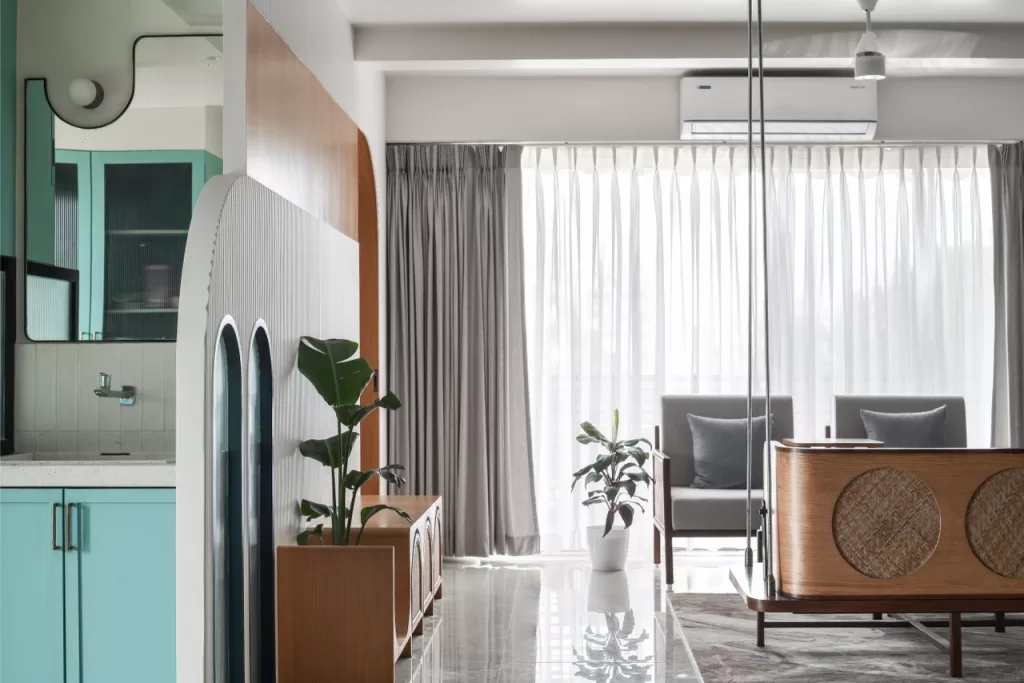 Arch shapes dominate the console, center table, TV unit, and kitchen partition, reminiscent of the Lingam, symbolizing cosmic energy.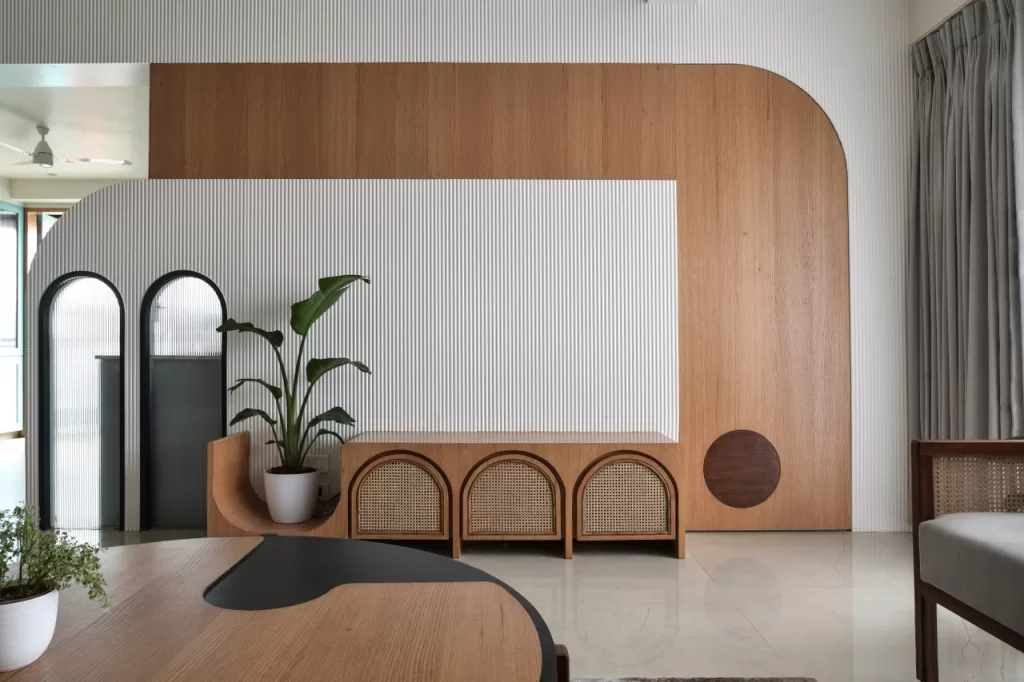 The clever integration of circles in different angles infuses the spaces with an enchanting and soothing character as you move within.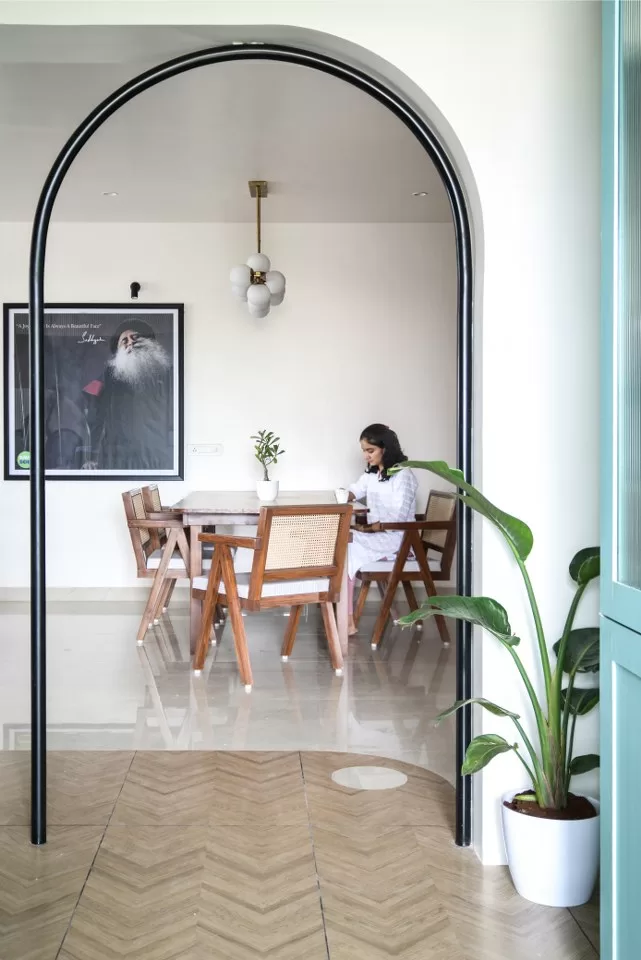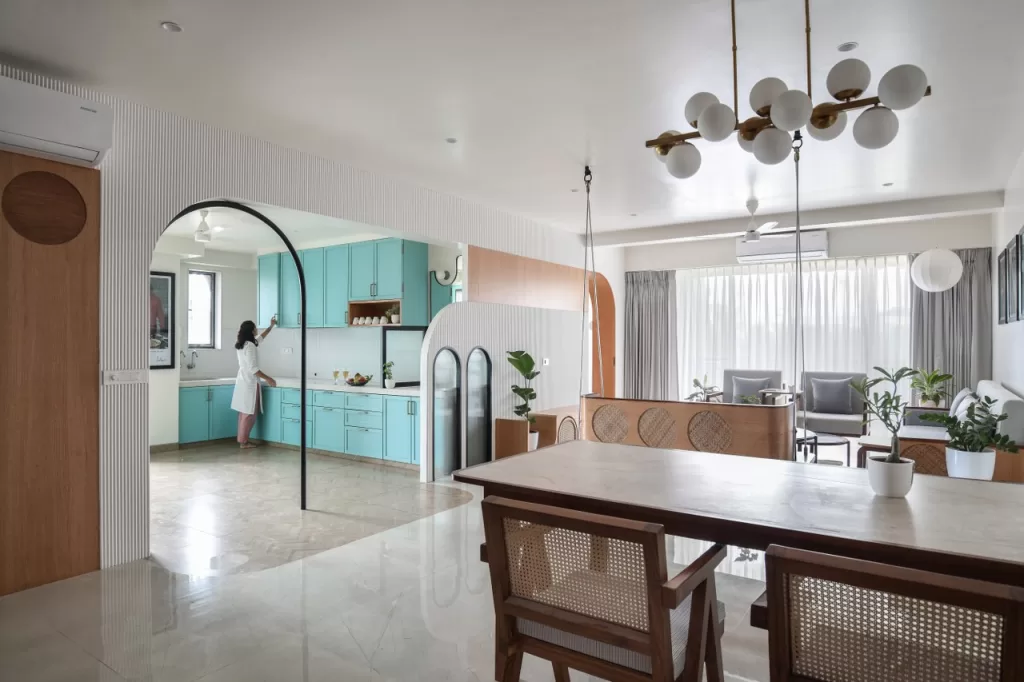 Merging Spaces: The Metal Arch in the Kitchen
A captivating metal arch serves a dual purpose in the kitchen, acting as a minimal partition and maintaining a seamless design flow throughout the wall. This thoughtful inclusion brings unity and continuity to the overall design, reflecting the essence of spiritual harmony.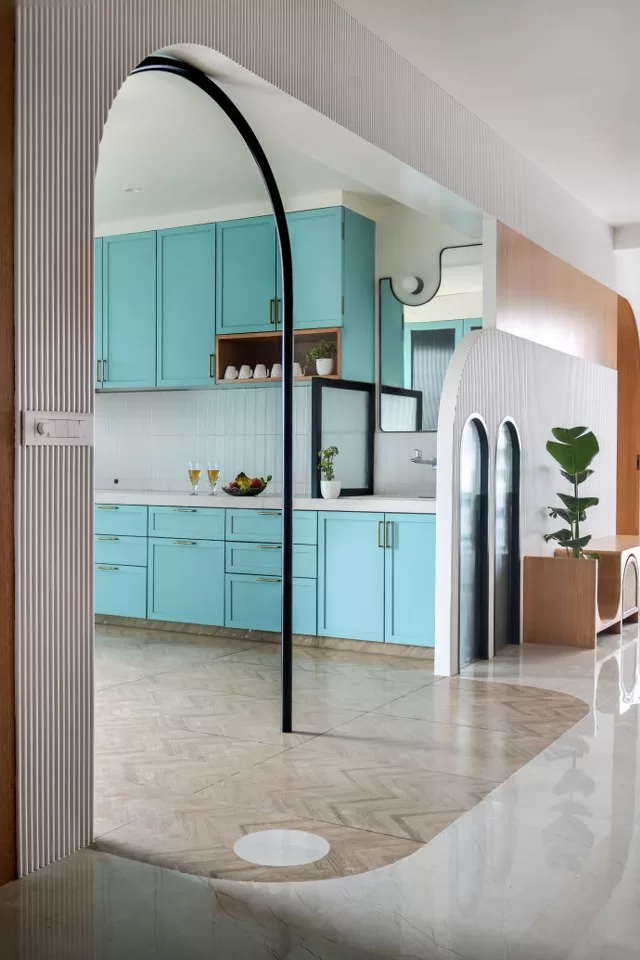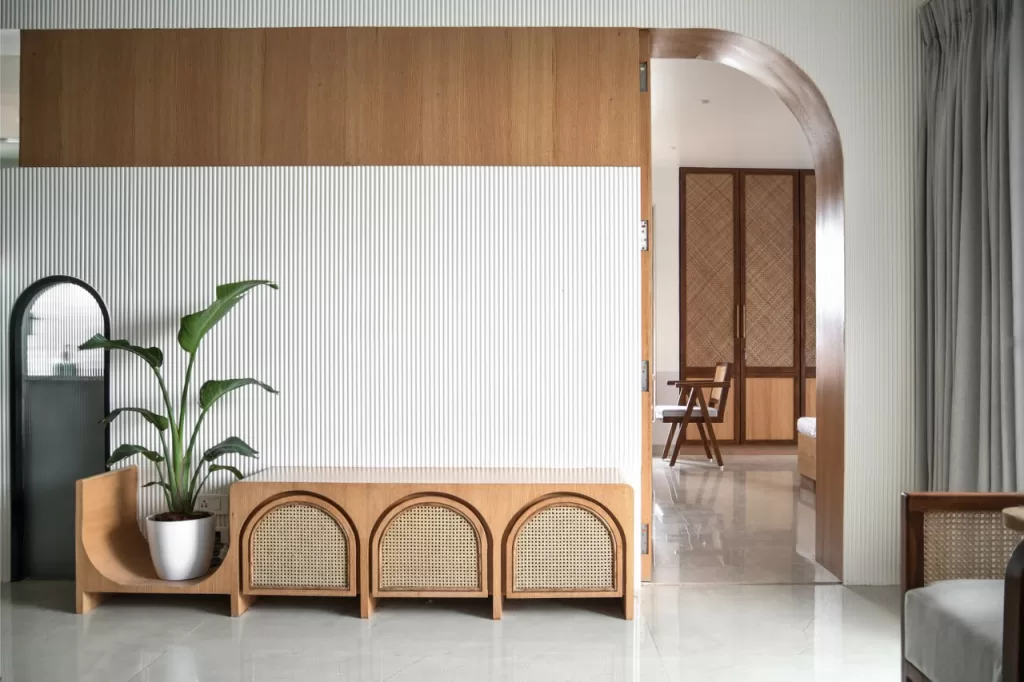 Materials and Colors:
The material palette includes bricks, (type) veneer, cane, wooden finished tiles, and wood, all carefully chosen to complement each other. These elements harmoniously blend with soft, earthy colors, creating an atmosphere of warmth and comfort throughout the dwelling.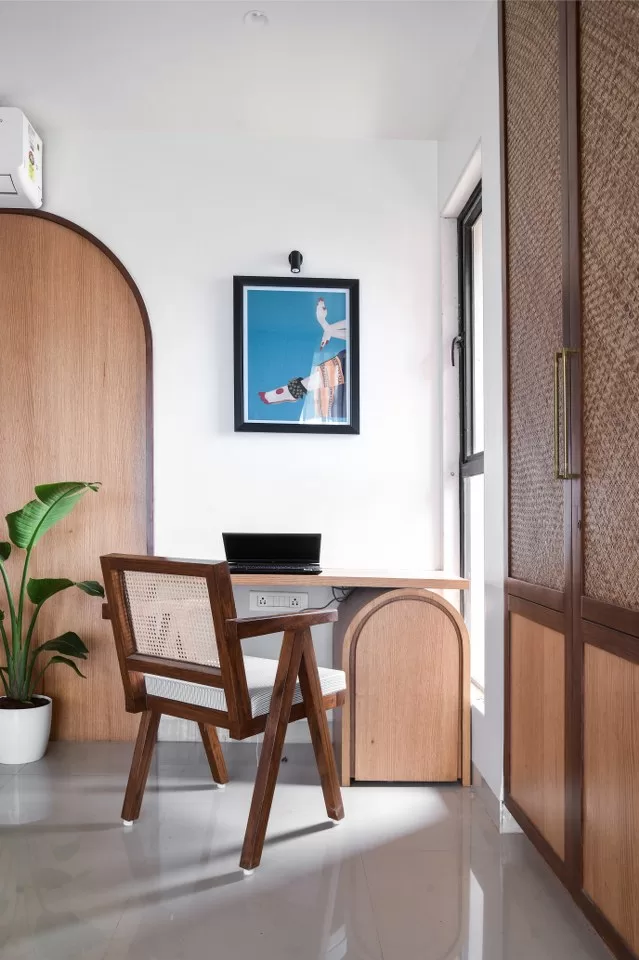 The fusion of modern design elements with spiritual symbolism ensures that each corner of the house exudes an air of tranquility, offering a haven for relaxation and spiritual contemplation.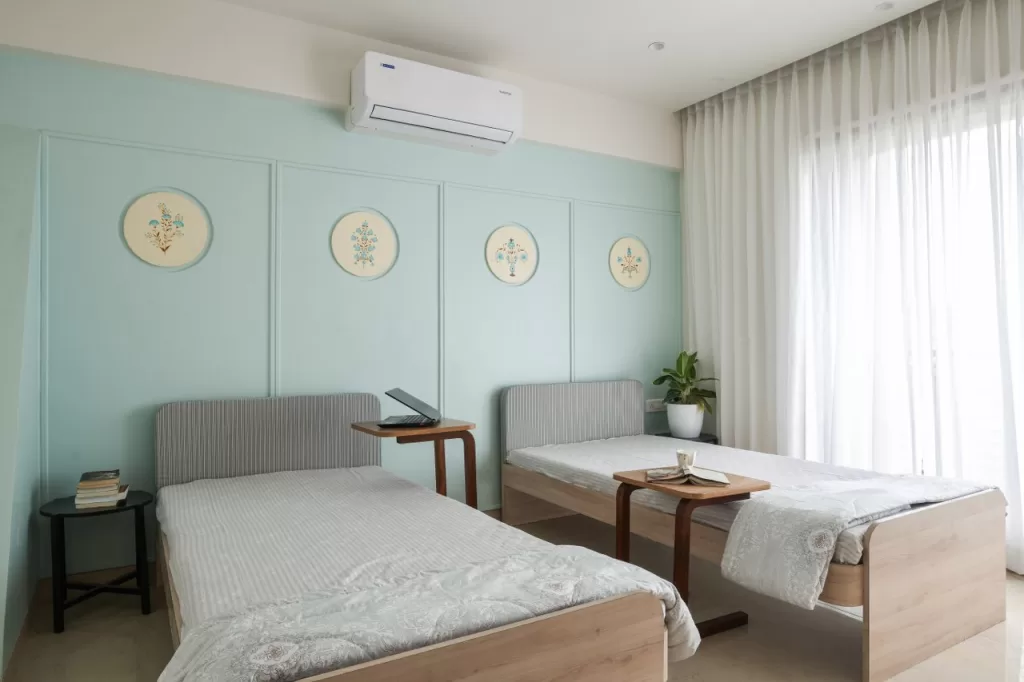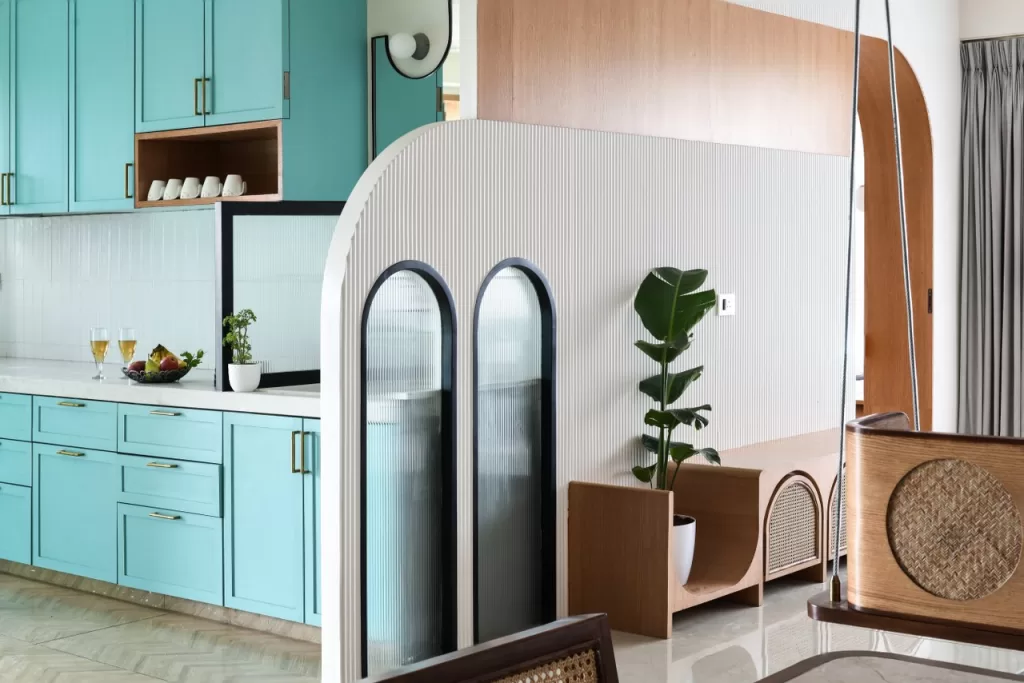 Fact File
Designed by: Goldie Kalda Design Studio
Project Type: Residential Interior Design
Project Name: Bhairavi Residence
Location: Etkheda, Chatrapati Sambhaji Nagar (Aurangabad), Maharashtra
Year Built: 2023
Duration of the project: 7 Months
Project Size: 1450 sq.ft
Principal Architect: Ar. Goldie Kalda
Photograph Courtesy: Sudhir Parmar
Products / Materials / Vendors: Lighting – Litomatic, Pepperfry / Sanitaryware – vitra / Paint – Asian paints / Furnishing- Rajdhani Furnishings.
Firm's Instagram Link: Goldie Kalda Design Studio
For Similar Projects >>>A Rich Concoction Of Earthy & Pastel Hues is Seen In This Abundant Abode
The post Bhairavi Residence : A Tale of Modern Home that Embraces Spirituality | Goldie Kalda Design Studio appeared first on The Architects Diary.