Do you wish to assume maximum control over your home's security? You can consider employing some cutting-edge smart locks. These advanced security solutions offer a reliable means to amplify your home's protection to top-notch levels. Though traditional locking mechanisms suffice in some scenarios, the ability to exercise authority over your domicile's security, irrespective of the location, offers an unprecedented sense of tranquility.
The standout feature of these intelligent locks lies in their amalgamation of state-of-the-art durability and biometric safeguards. Accessible via different means like passwords, fingerprints, RFID cards, and PINs, these smart locks symbolize versatility.
This guide can be helpful for anyone deliberating the pros of integrating a smart lock into their security regimen. Below we will take you through some best smart locks recommended by a team of professional architects. We also took bytes from professional locksmiths/lock picking enthusiasts to take their opinion on the security aspect of the options mentioned below.
So without any further ado, let us embark on this informative journey.
U-Bolt Pro Smart lock
U-Bolt Pro Wi-Fi Smart Lock from Ultraloq stands out as a versatile selection, courtesy of its meticulous craftsmanship and an aesthetically appealing but unobtrusive design. Unlike its predecessor, this smart lock incorporates in-built Wi-Fi, eliminating the need for a separate plug-in Bluetooth bridge. You can unlock it in six distinct ways, but the most popular ones include physical key access, app-based control, numeric codes, and the fingerprint recognition feature.
We loved the tactile performance and feedback of the several buttons that surpass the glass touch screen experience of different keypad models. But our preferred unlocking method continues to be fingerprint identification, irrespective of occasional sensitivity issues. However, regardless of your chosen unlocking method, you will continue to enjoy endless responsiveness with the U-Bolt Pro Wi-Fi. Its discreet operation, marked by a subdued mechanism and compact form, makes it visually appealing.
In all honesty, we did encounter a few minor challenges while working with this smart lock. In addition, we also documented some battery drain concerns. Nonetheless, these minor setbacks do not detract from U-Bolt being one of the top picks for those interested in an avant-garde smart lock.
This is what Mark from Lockspedia has to say about it –
"U-Bolt Pro is a formidable challenger to heavy weights in the industry like Schlage and Kwikset. It carries a ANSI grading 1 which offers the maximum security. This is typically found in commercial locks and such locks are pretty hard to pick."
Lavna Wi-Fi Smart Home Lock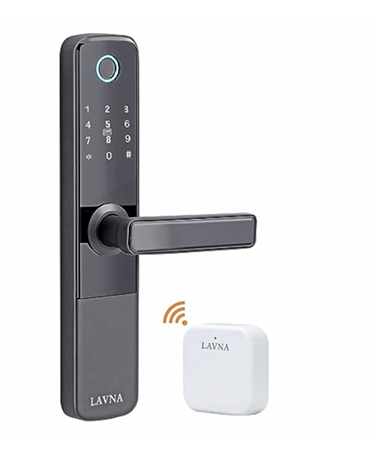 Do you need a smart lock with a contemporary but understated design? If yes, this Lavna Smart Lock can be an excellent choice. It comes with a seven-fold unlocking mechanism that accentuates your door's security, surpassing alternatives within the market.
You can connect it to Wi-Fi to enable remote unlocking, even when away from home. With a rapid 0.4-second response time, the lock integrates a 360-degree fingerprint scanning system, enabling seamless fingertip access for up to 100 registered fingerprints. Employing a blend of Bluetooth and Wi-Fi technologies, the Lavna Smart Lock offers seamless access control, enabling remote unlocking and comprehensive management via a dedicated mobile app. Its app ensures seamless operation, empowering users to delete or add users and monitor unlocking records. It supports up to 100 high-frequency RFID cards, further bolstering safety measures.
PIN option further amplifies flexibility, enabling the registration of up to 100 PINs via the refined Touch Key Pad. For enhanced guest access, the OTP unlock feature is available. It permits the generation of one-time entry codes, ensuring temporary access in your absence. Lavna also has a Spy Code feature that safeguards your Pin from prying eyes by adding random digits before or after the original code. The lock also has a low power indicator, issuing alerts as battery levels drop and offering real-time battery status updates via the mobile app. In dire circumstances, it also allows the traditional door unlocking.
SamtechT Smart Lock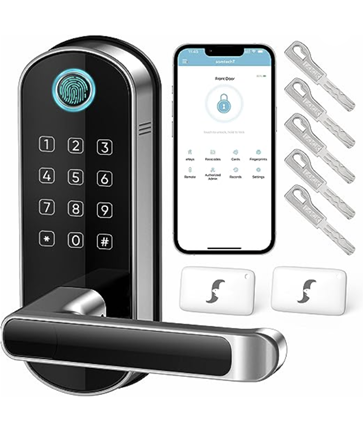 For those managing Airbnb Properties or rental apartments, the SamtechT Sifely can be a good alternative. It presents an economical yet effective smart locking solution, amplifying property security. Generating a passcode sans internet connectivity and sharing it with visitors encapsulates the essence of simplicity.
Further, amplifying its appeal is the hassle-free installation process, achievable via a mere screwdriver, eliminating the need for a locksmith's involvement. The smart locks boast five unlocking methods – fingerprint, FOB, smartphone, passcode, and digital key.
It comes with a one-year warranty, and you have lifetime customer support. Furthermore, the Sifely Smart Lock assures added peace of mind with its 30-day money-back guarantee. It signifies the manufacturer's confidence in the smart lock's functionality.
August Wi-Fi Smart Lock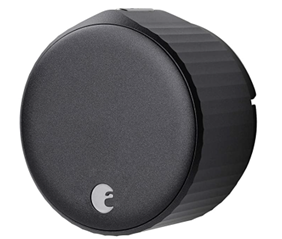 People owning the Alexa Home Assistant will find the August Smart Lock one of the best solutions. It can metamorphose your basic residence into a smart domicile. Adaptable with Alexa, the August Wi-Fi Smart Lock provides remote control capabilities contingent upon a continuous 24X7 Wi-Fi connection.
This smart lock seamlessly incorporates into your door, amplifying the functionality of the deadbolt to new heights of comfort and intelligence. It also comes with an App that empowers you to authorize entry for family and friends, adding to its convenience.
The primary reason it is one of the architect's top picks is because of its straightforward installation. It hardly takes 10 minutes to install the smart lock and add an extra layer of safety to your home. Moreover, automation offers an extra layer of appeal, allowing the lock to unlock itself autonomously sans any human intervention.
It is compatible with Amazon Alexa and other smart device assistants like Apple HomeKit, Google Home, Samsung SmartThings, and many others.
This is what Mark, author of Lockspedia, had to say about August smart lock –
" This product from August is not a complete lock set. It makes your existing deadbolt smart by integrating it with wi-fi. Therefore the security of the entire unit will depend on the durability and lock picking resistance of your existing deadbolt. However it does provide more convenience."
Bosma Aegis Smart Door Lock
Next, we have an affordable and practical solution – The Bosma Aegis Smart Lock. It offers the convenience of remote management via voice commands or smartphone, including its compatibility with Google Assistant and Alexa. Like the August Wi-Fi lock, it replaces the interior components of your existing lock while leaving the outer keys and escutcheon unchanged.
Bosma smart lock has a nearly silent and seamless operation, accompanied by valuable security features like Break-In Detection that trigger an alarm in response to tampering and a Door Security Alarm that triggers a continuous alert if the door is left ajar.
It is for individuals hoping to metamorphose their conventional door lock into an intelligent solution without changing the exterior. In addition, the Bosma Aegis Smart Lock has a straightforward installation process and enables further expansion via optional accessories. Its versatility extends to seamless integration with many third-party devices. However, it is not compatible with HomeKit. Lastly, please note that this smart lock does not have an in-built Wi-Fi radio and mandates an included hub for connectivity to your home network. It also accommodates voice commands for added convenience.
Eufy Security Video Smart Lock
Loved for its fusion of a video doorbell and a smart lock, the Eufy video smart lock seamlessly combines these smart features into a single device. It has multiple unlocking alternatives like a mobile app, key-based access options, touchpad, and fingerprint, complemented by an HD 2K video resolution. The night vision capabilities via multiple LEDs and intelligent notifications amplify its likability.
In totality, this smart lock offers a comprehensive selection of functionalities, making it worth every penny. But please note you must activate Bluetooth and Wi-Fi connectivity for the chime box installation.
This lock is ideal for people seeking to integrate a video doorbell and a smart lock sans the complexity of managing several devices. Of course, it comes at a premium cost, but the convenience of having these features consolidated into a single device outweighs the investment.
Conclusion
In the world of advanced home security, smart locks can be the ultimate choice, amalgamating cutting-edge tech and convenient access methods. From SamtechT Sifely's simplicity to Bosma Aegis's affordability, U-Bolt Pro's versatility, and Lavna's contemporary design, we have listed multiple options to satiate different needs. This curated selection can give you an excellent choice to make a wise decision.
The post Architect's Choice For The Best Smart Locks appeared first on The Architects Diary.