RB Design Stories designed "Anughrah" – luxurious bedroom designs with elegant furniture and walk-in wardrobes.
Master Bedroom : This master bedroom portrays a statement of elegance through its material and colour palette. It's colour palette pirouettes around white, brown and a bit of copper. We kept the walls white and highlighted it with French mouldings in glossy finish.
"Anughrah" – Luxurious Bedroom Designs With Elegant Furniture And Walk-In Wardrobes | RB Design Stories
Visit : RB Design Stories
The showstopper luxurious brown bed and mirror stripe on tv unit were doing enough justice with brown. This master bedroom is laid on white onyx flooring to make it look luxurious and spacious as well.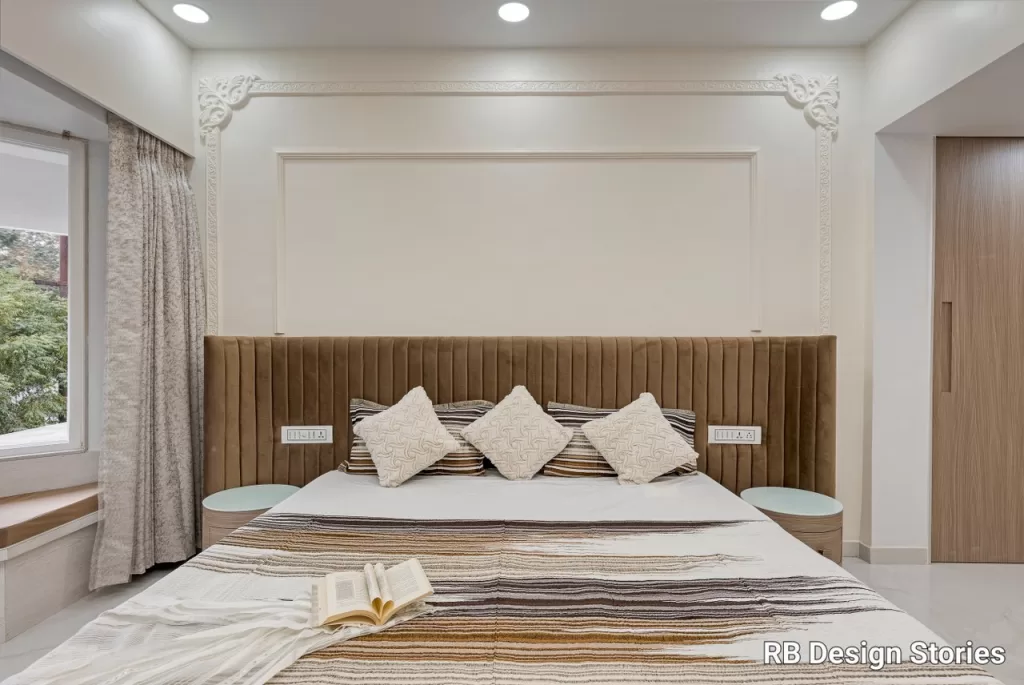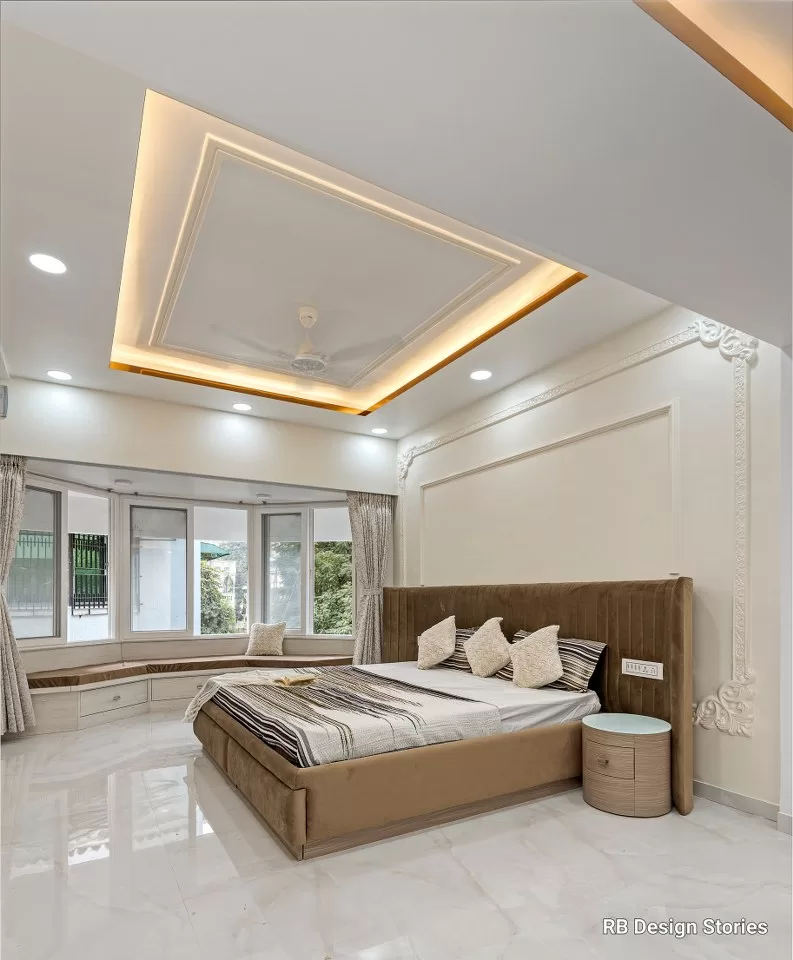 The room receives a soothing amount of daylight, keeping the space bright & lively throughout the day.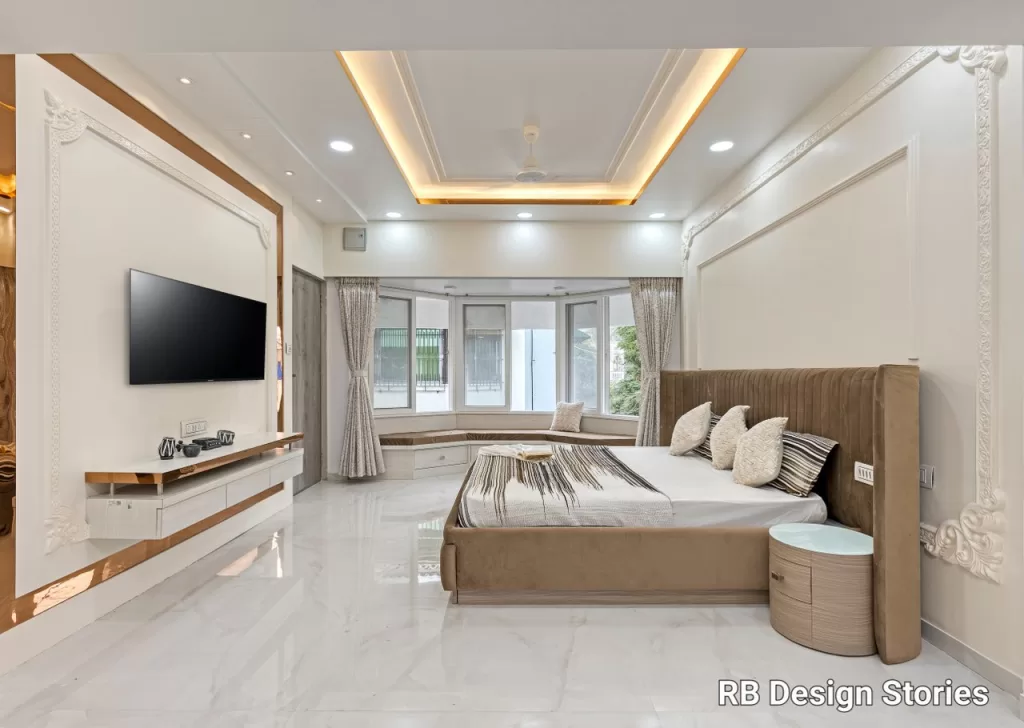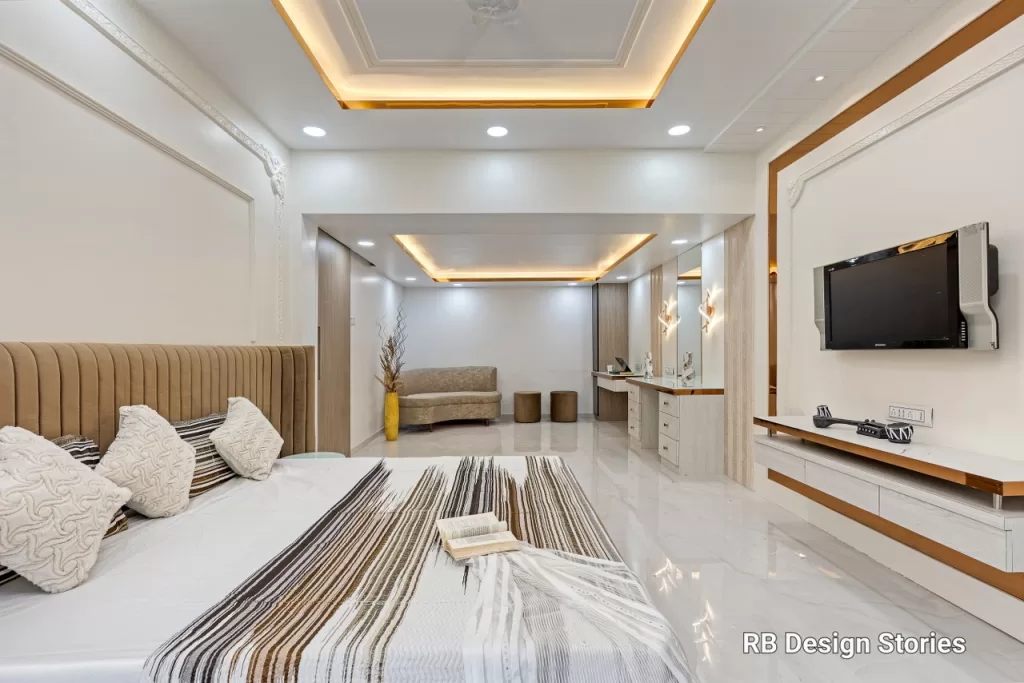 To connect the space with the nature and to let our clients enjoy their tea/coffee time and dive into the magical golden hour we used this bay window as sitting lounge in the room.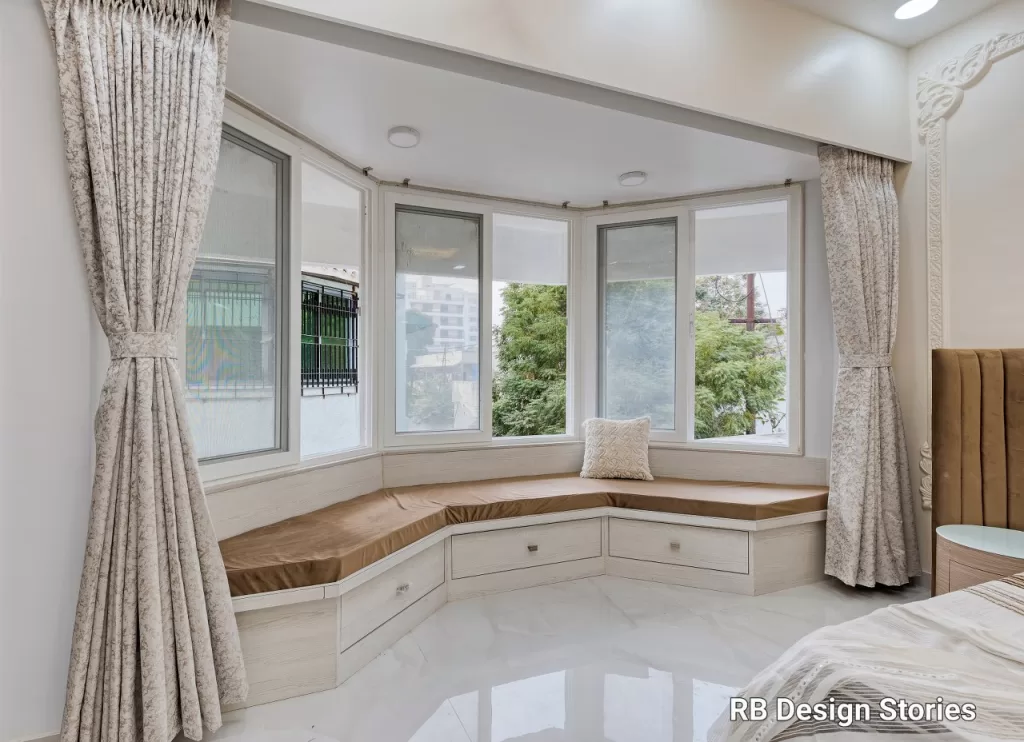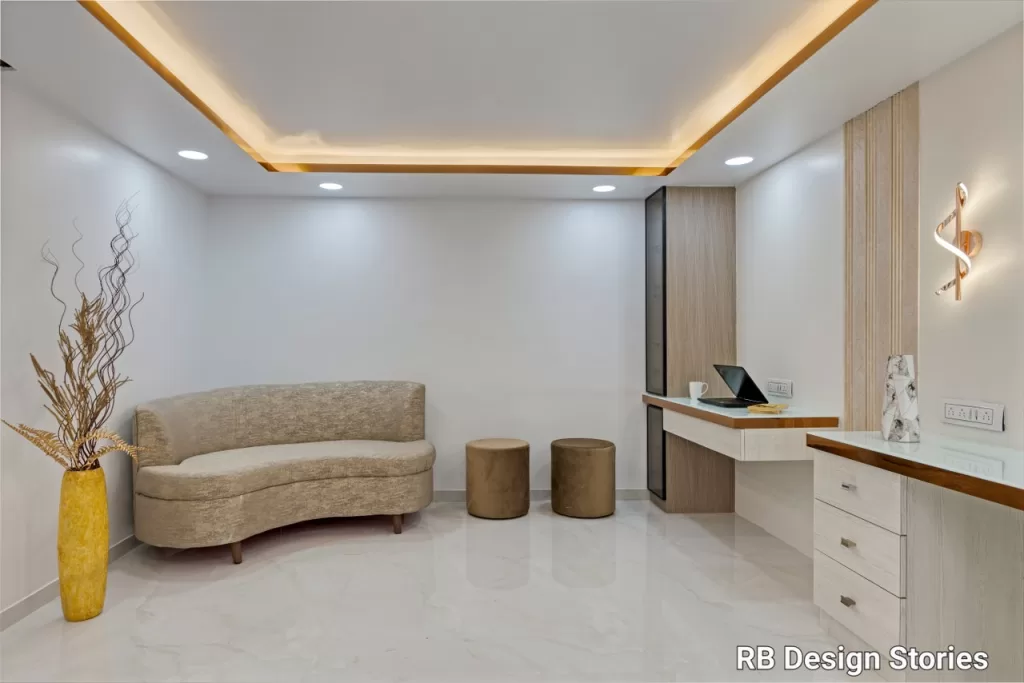 In the other segment of the room we kept round sofa lounge and small ottomans set against the work desk and dressing area.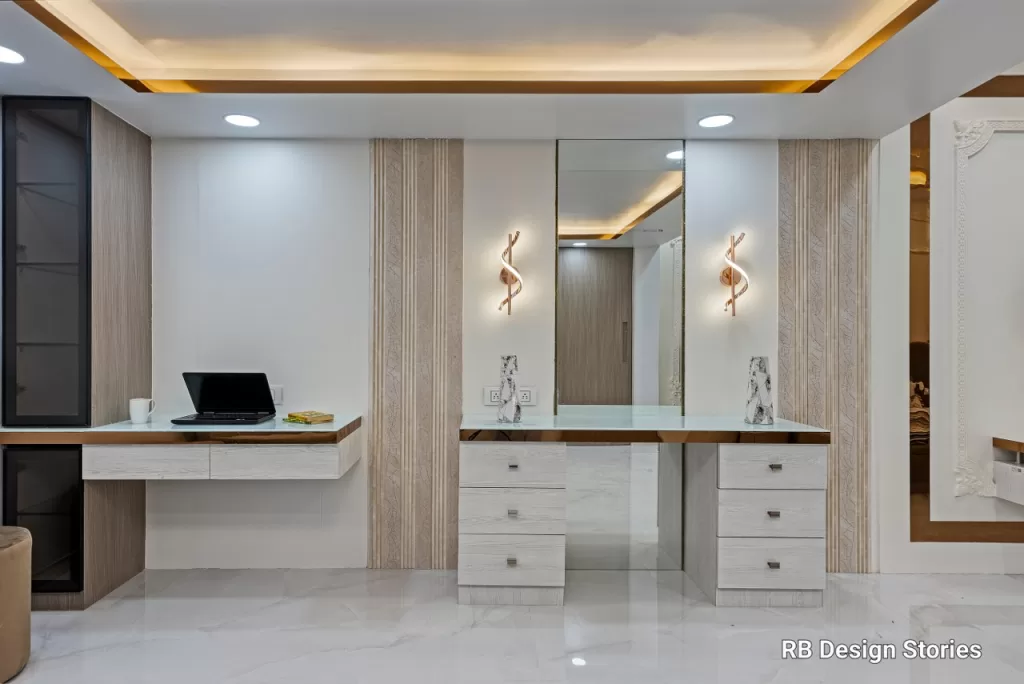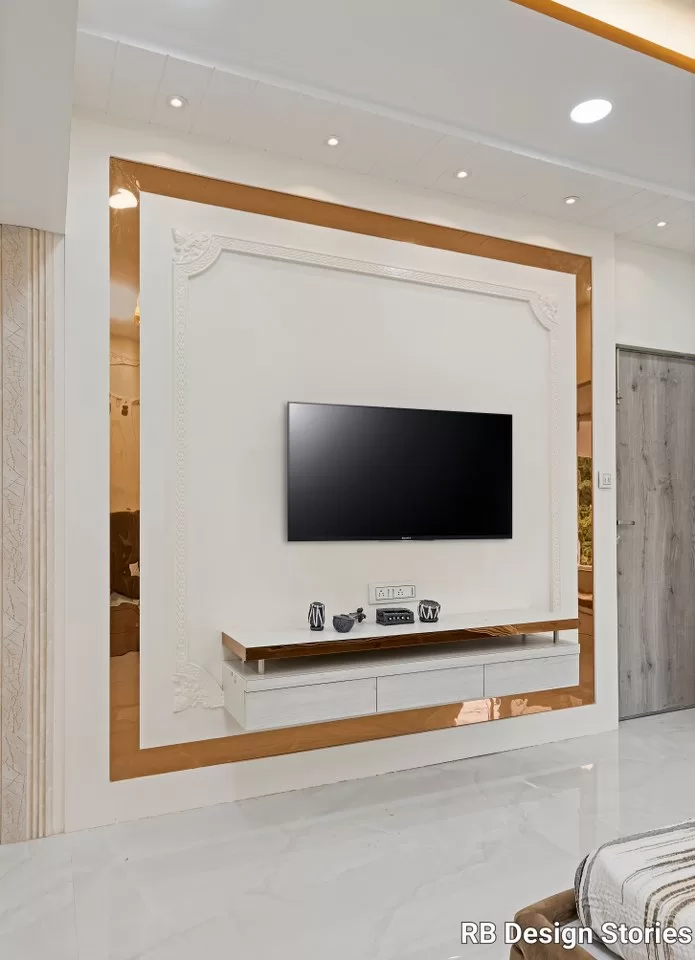 The sliding door opens to walk-in wardrobe which is followed by the bathroom. Our clients wanted to have ample of storage, so keeping in mind the need of it we took the advantage of this small room and designed it as walk in wardrobe.
Son's Bedroom : This bedroom is designed for a young newly married couple. So to make it oh so sophisticated it has got white and neutral blue in its colour palette. Bed back panelling is done with blue white tiles to achieve that stone effect and also to keep control on budget.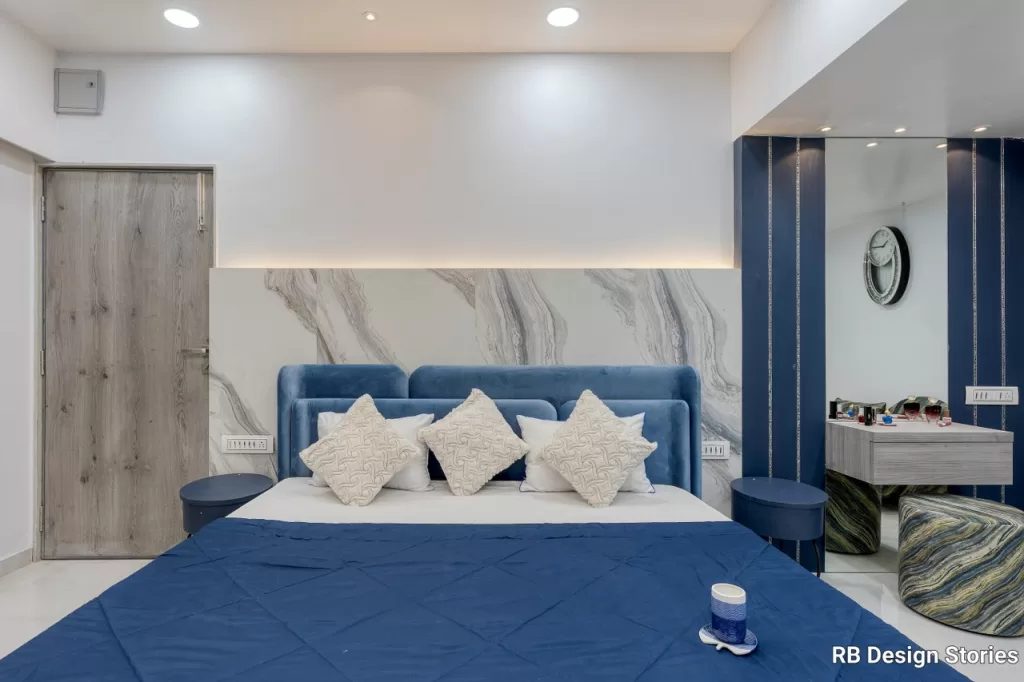 This bedroom is witnessing the versatility of the colour blue. The inviting blue bed is so soothing to eyes of the user because of the fabric which is used. Whereas on the other hand the blue used on the dressing unit is like the cherry on the cake.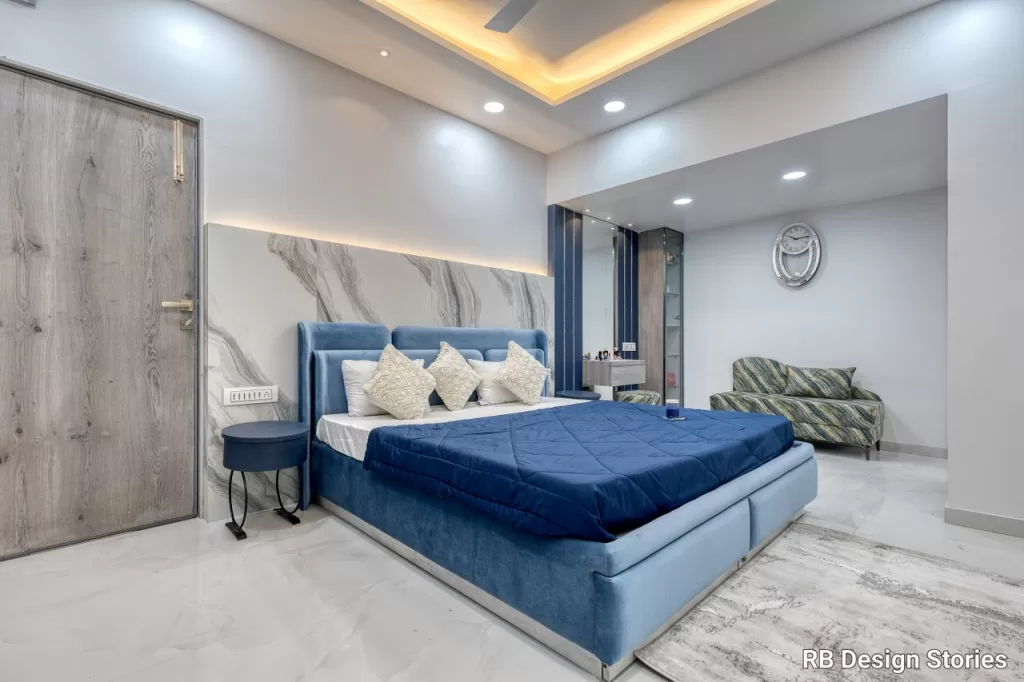 The further studies of this couple is still going on, so to keep the daily dose of productivity on we have designed the study table on the bay window with subtle laminate.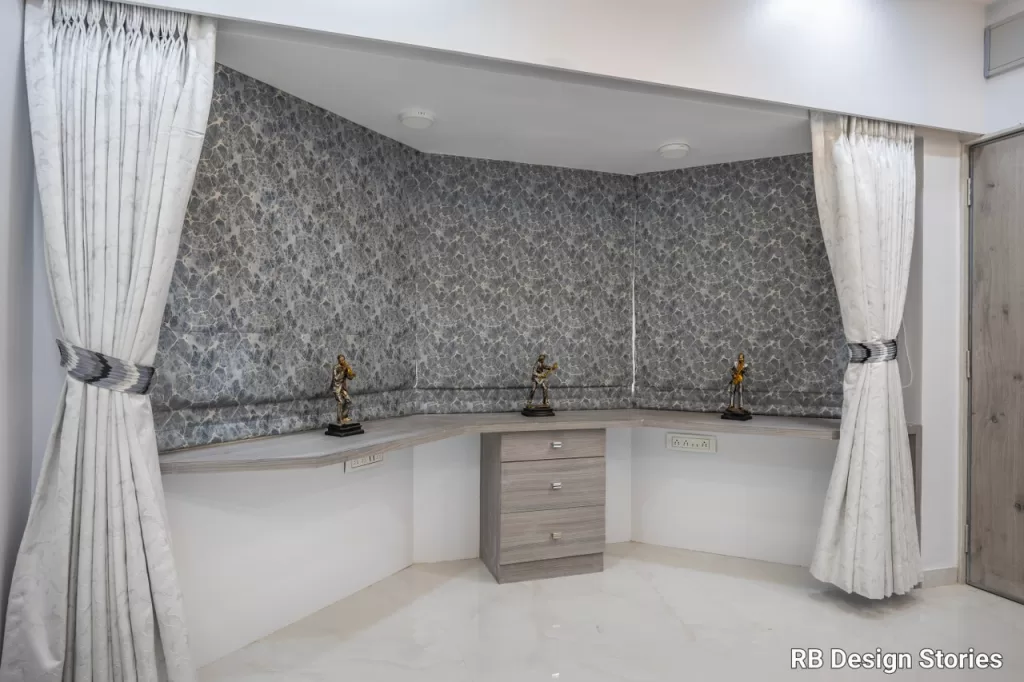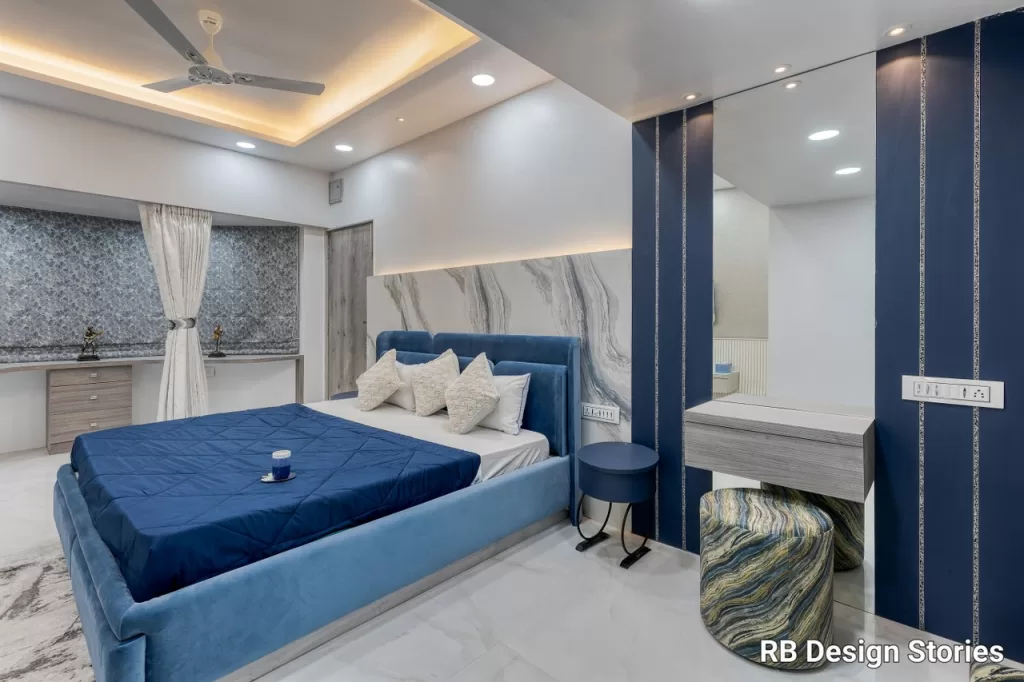 The door against the dressing area opens to walk in wardrobe which has his and her wardrobes followed by the bathroom. Another showstopper here is the stand basin in the bathroom which we have created with 4'x2' tile and it came out absolutely flawless which our clients also loved.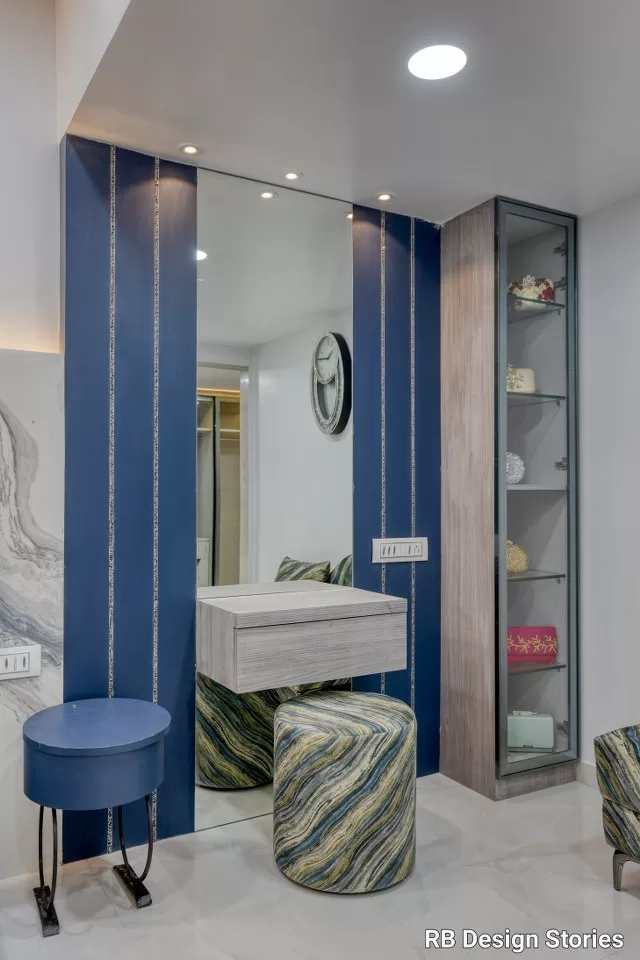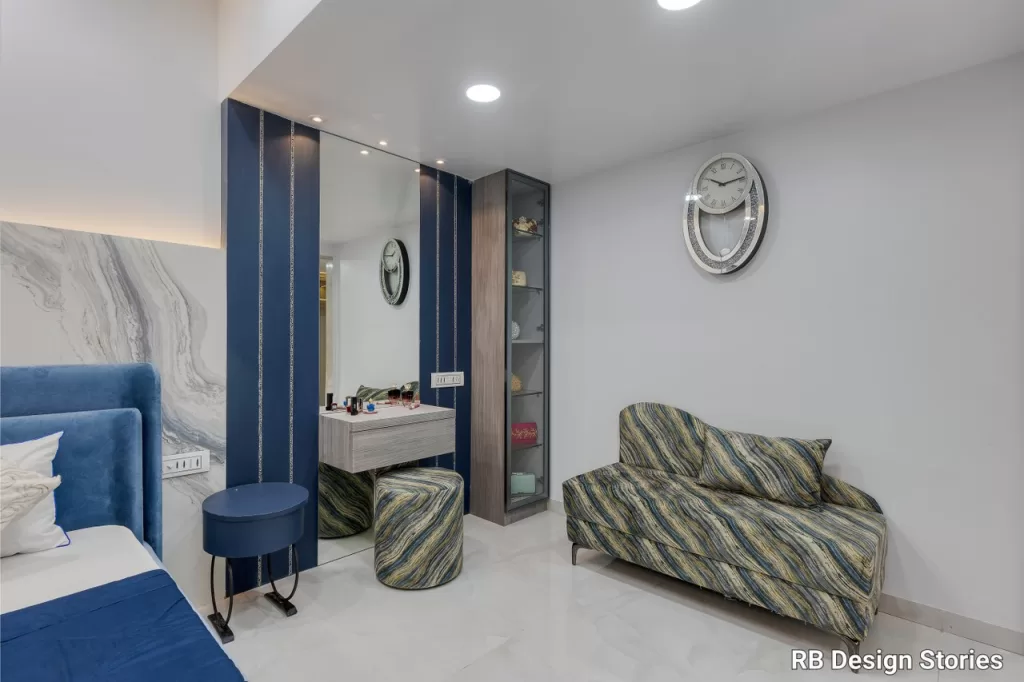 Balancing the blue, tv unit is designed with wpc louver panels in white and decorative sheet highlighted with cove lighting. The curtains are white with grey designer belt to add character..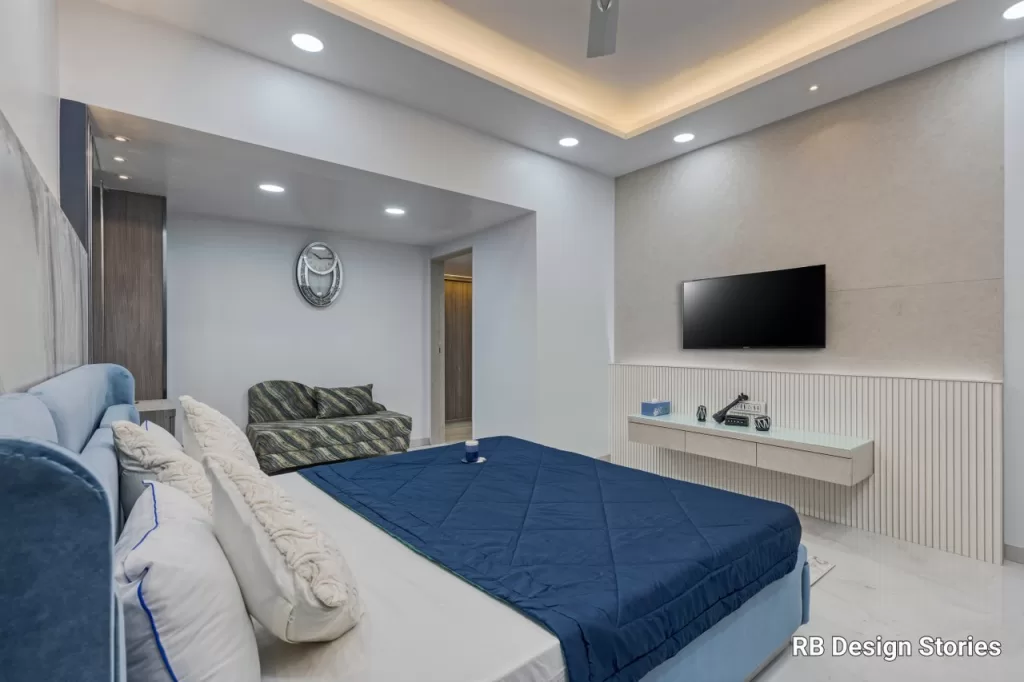 The space between the two bedroom is used to create shoe rack finished in laminate and louvered shutters for better ventilation are finished in PU have also given a small sitting for better comfort.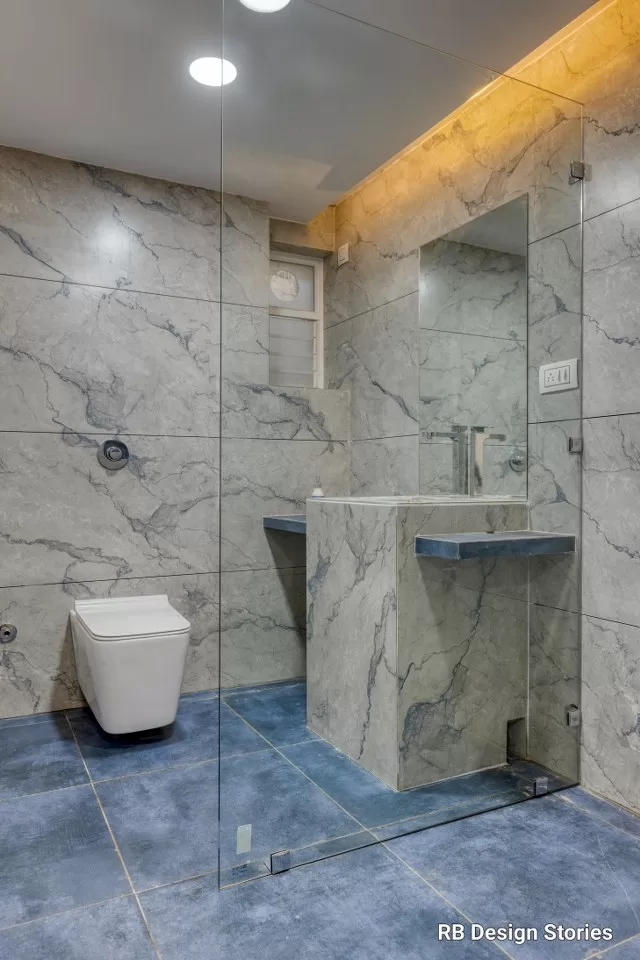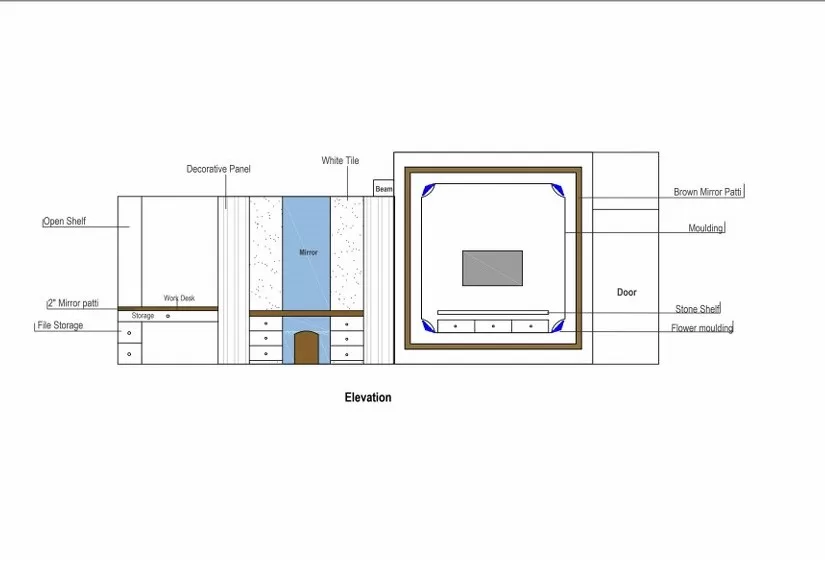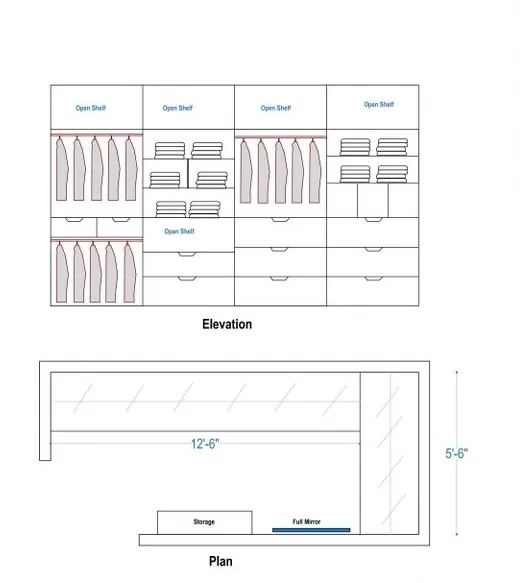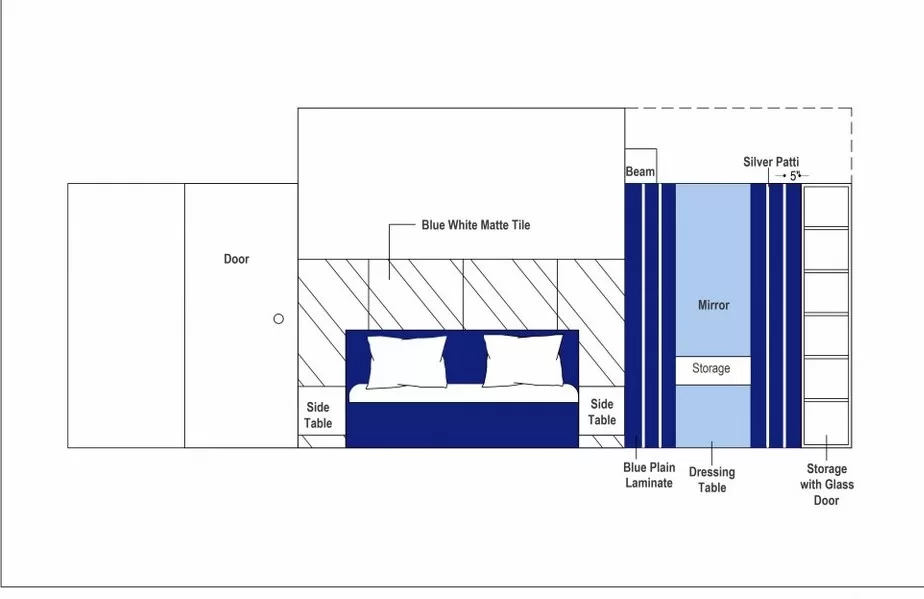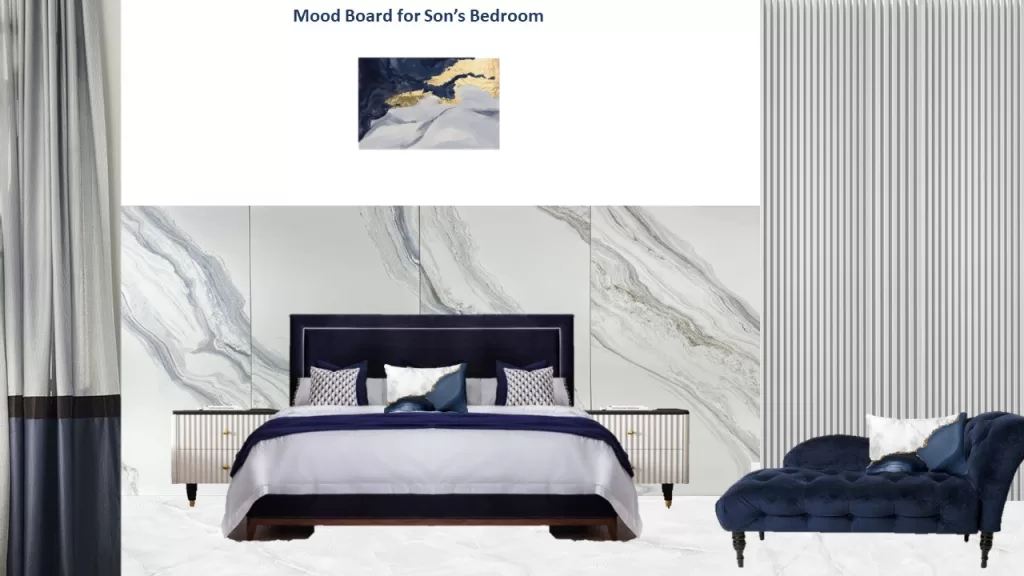 Fact File
Designed by : RB Design Stories
Project Type : Residential Interior Design
Project Name : Anughrah
Location : Vadodara
Year Built : 2023
Duration of the project : 2 Months
Project Size : 1417 sq.ft
Principal Designer : Aishwarya Wadhwani
Photograph Courtesy : Zotagraphy
Products / Materials / Vendors : Wallcovering / Cladding – WPC Louver Panels, Decorative Stripes / Lighting – Mahesh lights / Sanitaryware – jaquar India / Windows –sai_alumina_systems / Flooring –JB Enterprise / Paint –Asian Paints / Furniture – RB Design Stories.
Firm's Instagram Link : RB Design Stories
For Similar Projects >> Luxury Interior Design That Is Functional Yet Aesthetically Pleasing
The post "Anughrah" – Luxurious Bedroom Designs With Elegant Furniture And Walk-In Wardrobes | RB Design Stories appeared first on The Architects Diary.