The clients are a young doctor couple with two cute kids and parents living together so they wanted their clinic and residence connected as they can balance their personal and professional life. Dr. Ankushji is a gynecologist and Dr. Rashmiji is a pathologist so they wanted to have space of their own and easy to work. Their requirements for the clinic were a waiting area, medical store, Doctor cabin, checkup room, sonography room, labor room, O.T., patient rooms, staff area, a Pathology lab and most importantly 'A stretcher Lift'. They want to have an upgraded residence compliant to Vaastu principles and with modern interior. In their family they have three generations, so wanted to have space and interior balanced accordingly.
Visit: Chiraniya Consultancy
The biggest challenge was to demolish old and thick walls and to balance structural load in an existing building. The structure was an old linear pattern box or train planning without proper circulation. The planning and designing was well thought of with various massive civil works, structural changes and is transformed making it look like fresh new as today. Client said 'We could not guess how this 50 years old building could get transformed in such a beautiful structure having multiple complex requirements'. At many points beams and columns were added in fabrication to take care of the loads on walls. Slab and walls were extended or punctured as per the design.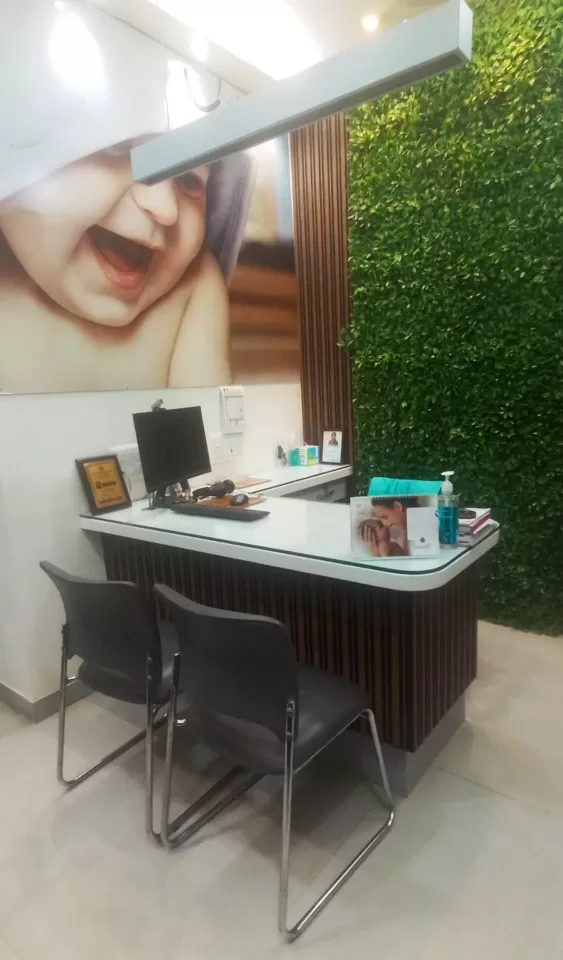 The clinic have medical store in front for easy excess, waiting area and reception connected to doctor cabin and checkup area for patients. The doctor cabin have vertical green wall for giving calm, pleasant vibes and fresh, positive environment to people coming in its contact. It also have general ward and Pathology lab on ground floor. There is a stretcher lift connecting first floor with O.T, labor room and patient rooms.
On second floor we have lift entrance foyer for residence, you get a warm welcoming vibes with soft and bright colours and lights. In entrance lobby there is zig-zag play of POP bands and small bottom lights connecting various spaces.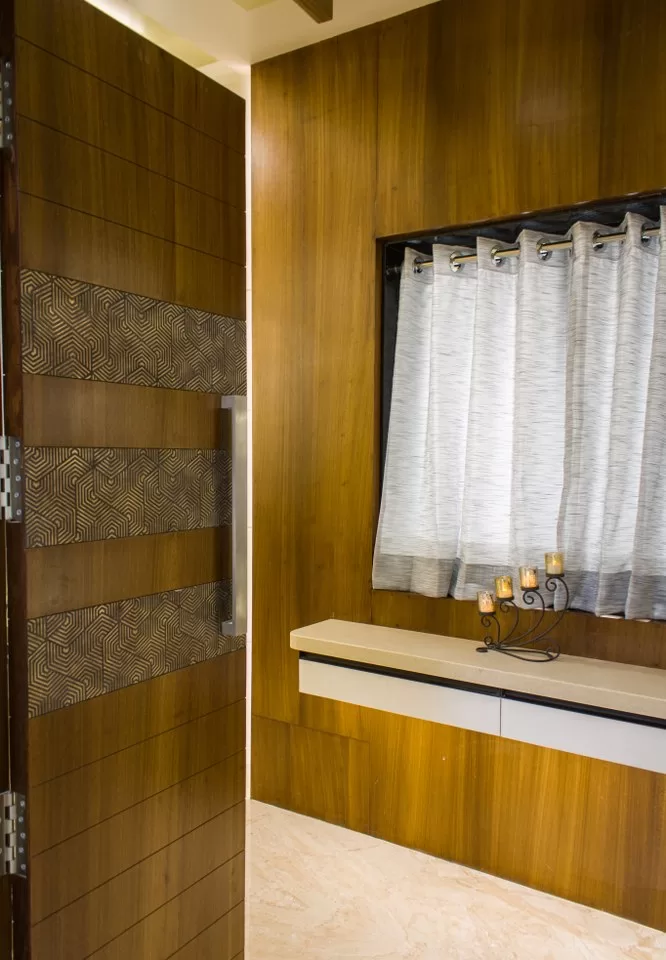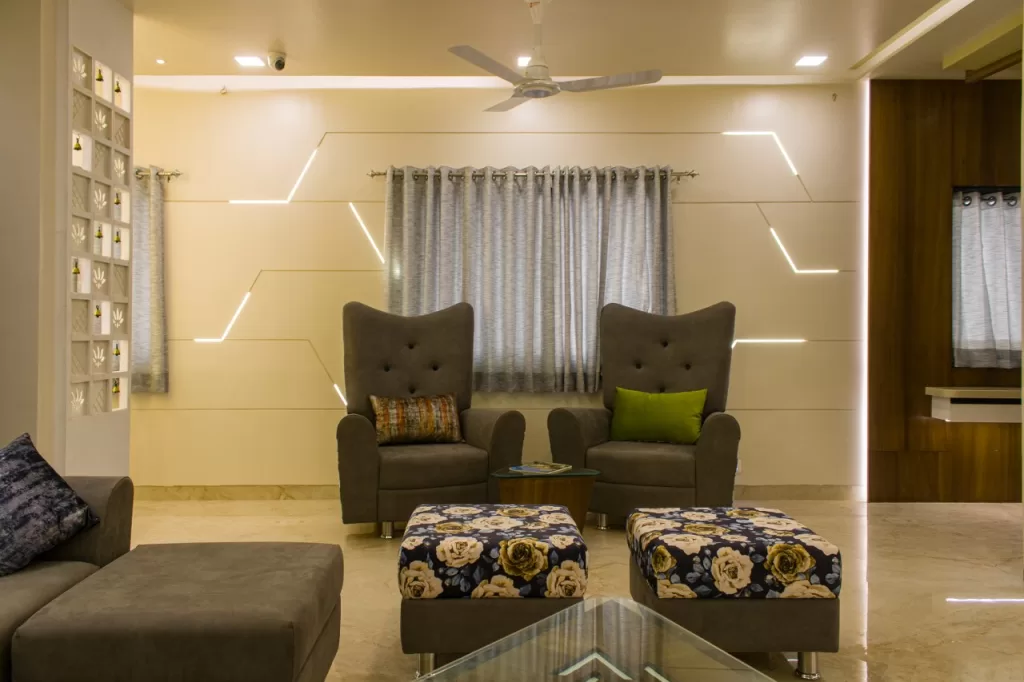 In living room, triangular form is used in ceiling, tv unit, and center table and on walls. Triangular formations in profile light in ceiling and play of light shadow and reflection gives soothing look.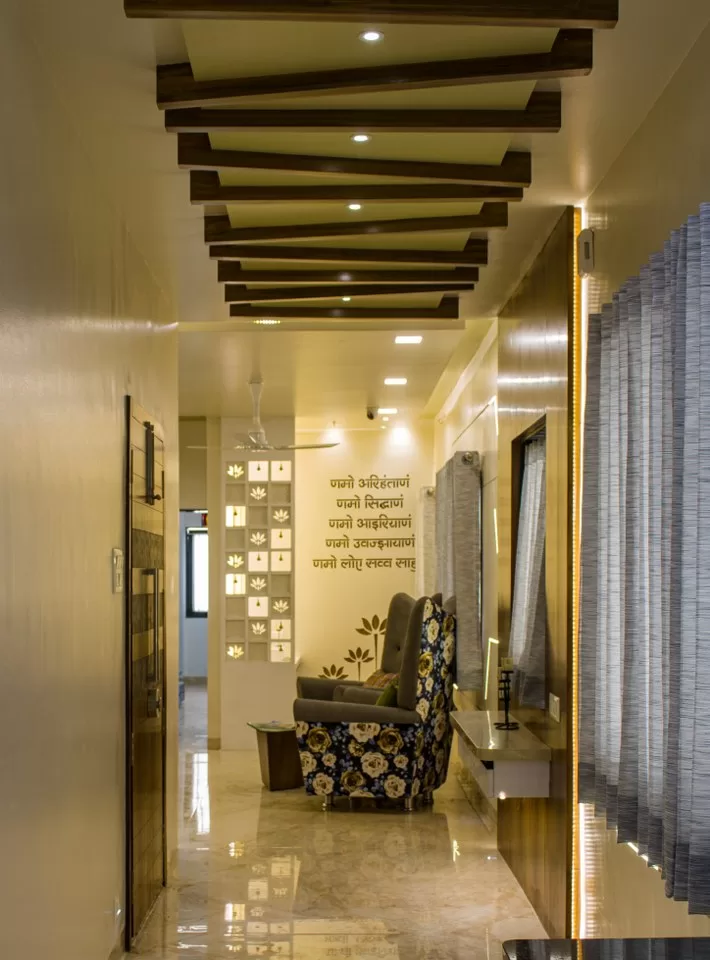 LED profile lights on walls give dramatic look to living space and passage and maintain connection to various spaces. Neutral colour sofa with bright and floral print cushions gives lively feel to the space.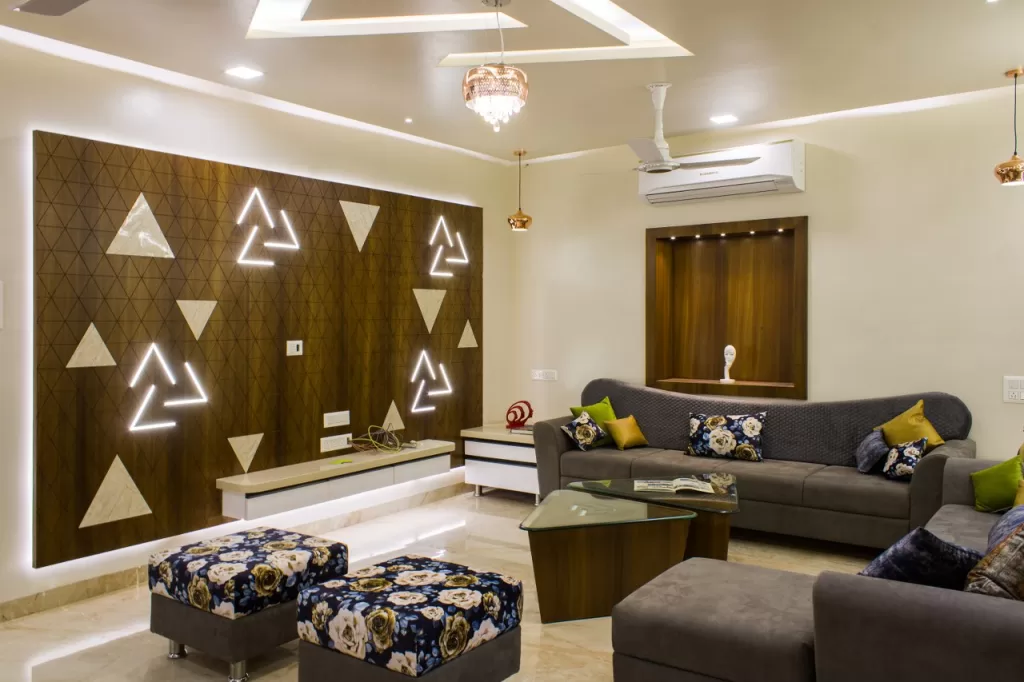 Pooja space have combination of modern materials and design like backlit alabaster sheet, cnc work in partition and religious feels with Namo Omkar Mantra and lotus carved on wall.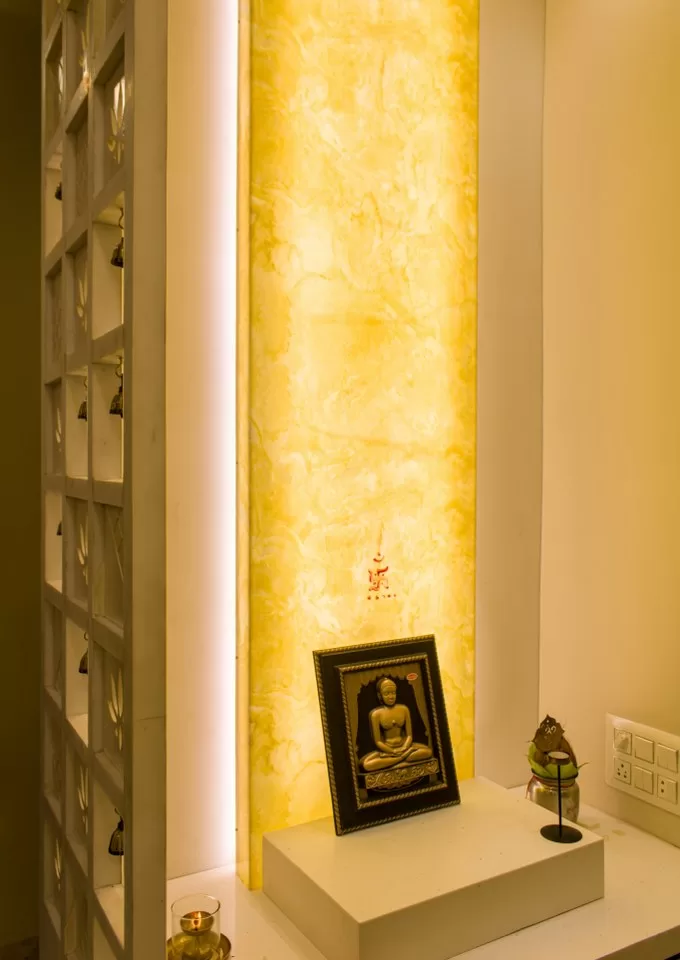 In kitchen we have small width and long length platform for cooking and opposite it is a small multipurpose platform used for placing kitchen gadgets. The kitchen have lots of storage space below platform, in overhead cabinets and store room is attached.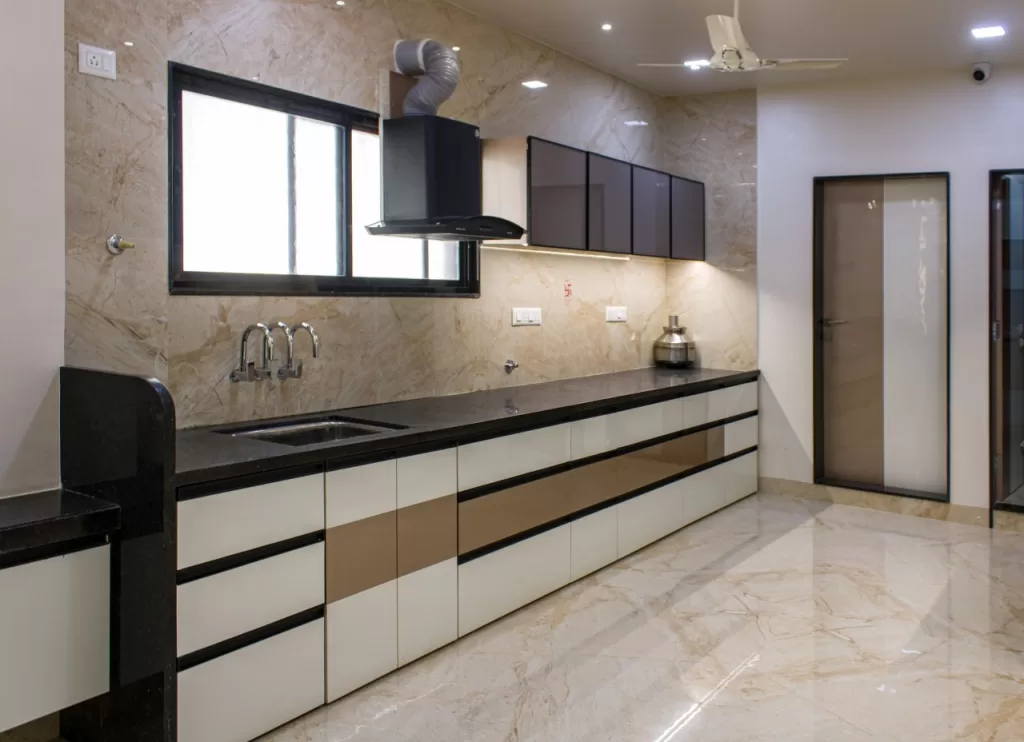 Combination of light pastel brown and ivory glossy mica shades used with play of vertical and horizontal lines creating various patterns.
In master bedroom play with yellow and brown shades with a beautiful hanging pendant lamp on side table. TV unit back have charcoal sheet with golden pattern on it. In wardrobe a space is carved out for display unit. Wooden veneer with golden touch is used all around the room in furniture.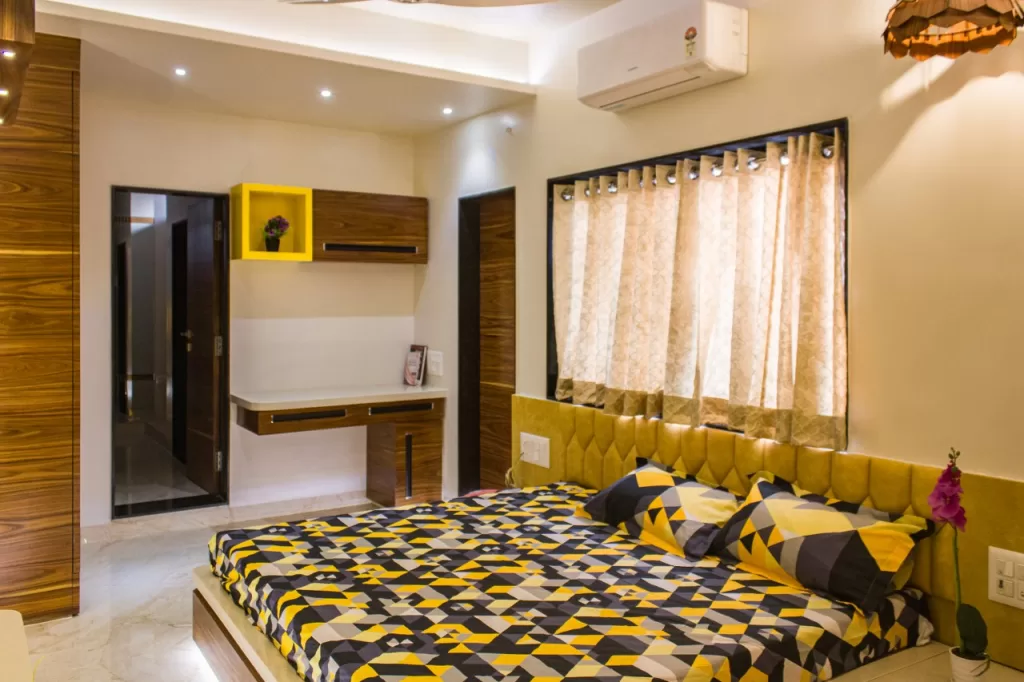 In children bedroom we play with geometry forming collage on wardrobe and bed back crushing with shades of fresh blues and greys. Decorative mirror add instant light to bedroom. Mirror is used to make small space feel large. The room is bright and energetic and with all comforts of the children's.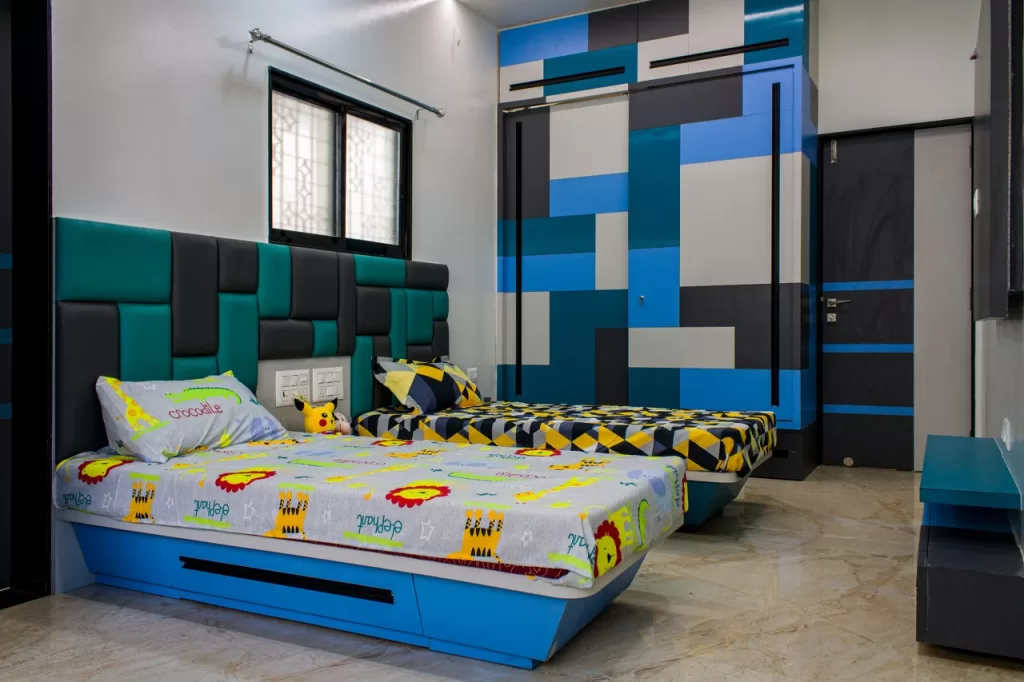 For the project all we can say is "The New story in an Old book". The clients are young couple starting their new journey of life in an old building with new look, fresh colours, modern interior, materials and facilities. It's always satisfying to see happy clients after some much of struggle and hard work.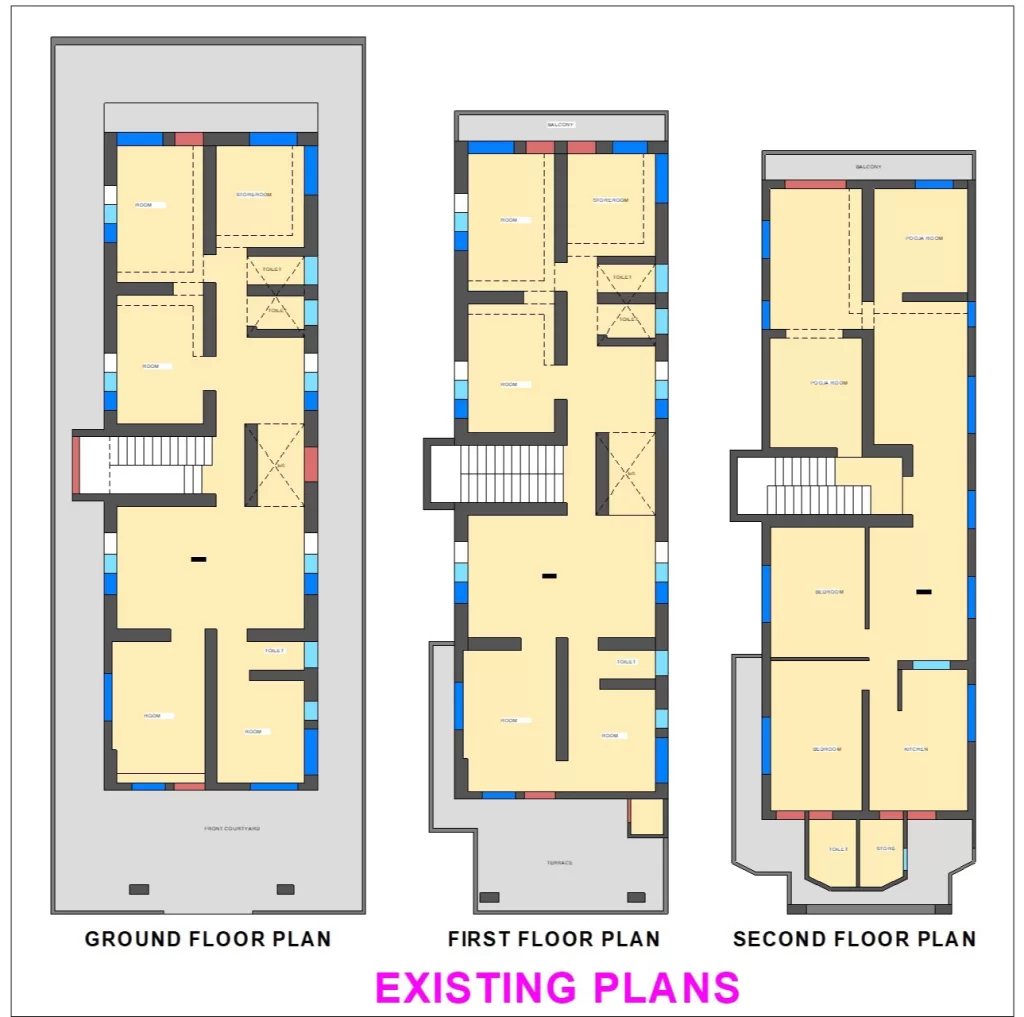 Fact File
Designed by: Chiraniya Consultancy
Project Type: Residential Interior & Commercial Building
Project Name: Ajmera Hospital & Home
Location: Ratanlal Plot, Akola, Maharashtra
Year Built: 2020-2021
Duration of the project: 8 Months
Project Cost: 80 Lakhs
Principal Architect: Ar. Pankaj Chiraniya
Photograph Courtesy: Chiraniya Consultancy
Structure Engineers: Er. Hitesh Anandani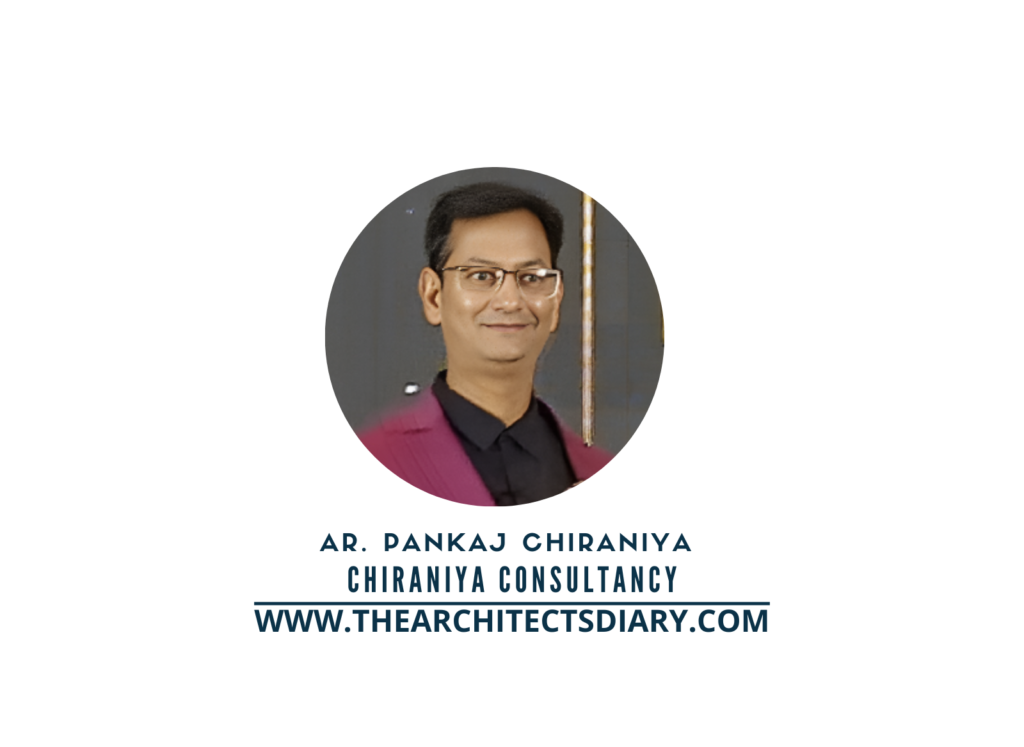 Firm's Website Link: Chiraniya Consultancy
Firm's Instagram Link: Chiraniya Consultancy
Firm's Facebook Link: Chiraniya Consultancy
For Similar Projects >> Barkat House Is A Reflection Of Modern Contemporary Design Blended With Timeless Elegance
The post An Upgraded Residence Compliant to Vaastu Principles and with Modern Interior | Chiraniya Consultancy appeared first on The Architects Diary.