Interiors in Mumbai have taken a revolutionary turn in the past decade. Where one of many designers, Ar. Sambhav Jain brings luxurious and opulent living on the 56th floor of this magical city.
An opulent living on the 56th floor that showcases luxurious interiors in Mumbai | Architect Sambhav Jain (ASJ)
Visit: Architect Sambhav Jain (ASJ)
Welcome to the world of opulent living! A space that integrates breathtaking views with timeless elegance, creating an unrivalled living experience in Mumbai.
The apartment is spread across 2200 Sq. ft. on the 56th floor in the hearts of bustling Mumbai. Known as the city of dreams, this project perfectly presents the blend of modern and contemporary design along with some breathtaking city views from each spaces of the house. Besides the 56th story views, the interiors exude elegance and style as well.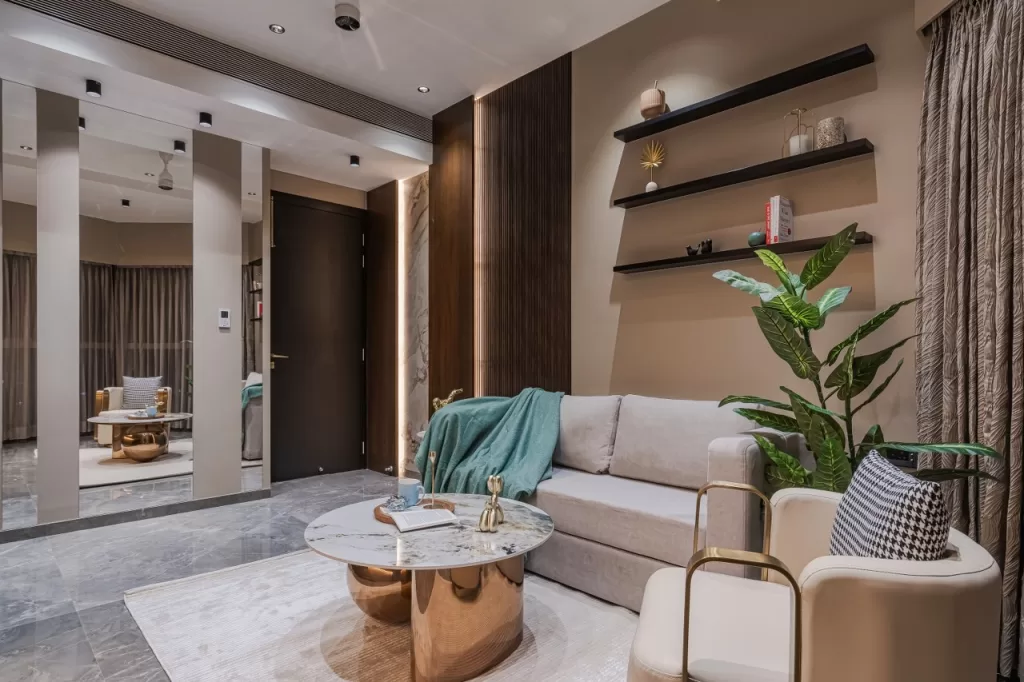 As you enter the hall, the use of gold finishes add a touch of decadence, creating a regal and extravagant ambiance. Where the expansive living area, adorned with plush furniture in warm neutrals and rich gold accents, complements floor-to-ceiling windows offering impeccable views.
Further along, the adjacent dining area features a sleek table and modern chandelier, perfect for hosting lavish dinner parties. Additionally, the kitchen is a culinary oasis with top-of-the-line appliances, marble countertops, and ample storage that is a challenge for interiors in Mumbai.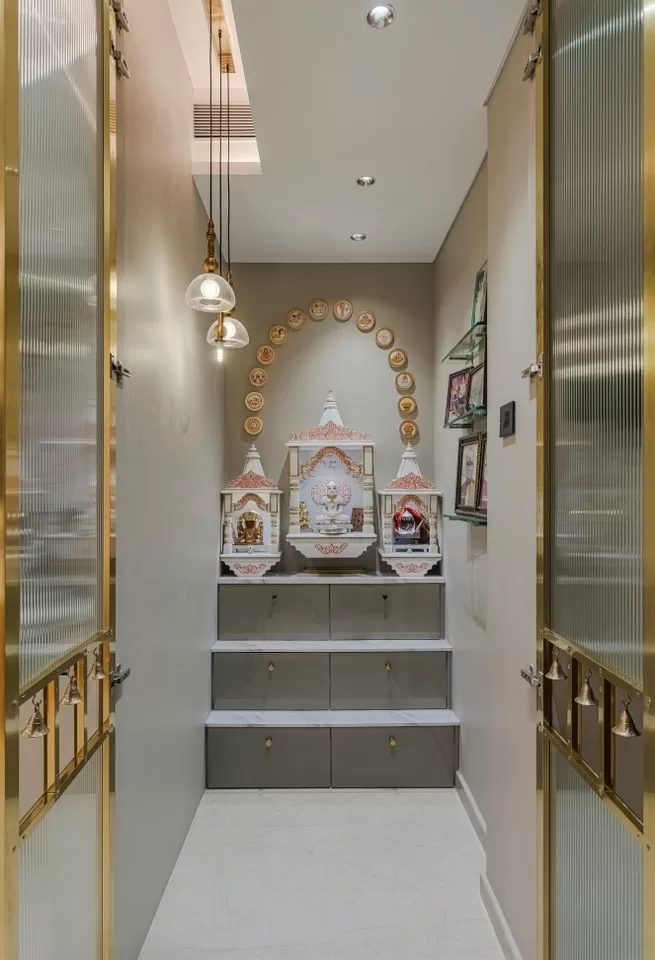 Continuing the luxury feel from the living, dining, and kitchen, the traditional puja design adds a touch of spiritual tranquility, crafted with intricate SS, wood and marble detailing. Furthermore, puja entrance design also explores the trending fluted panel doors in a subtle way.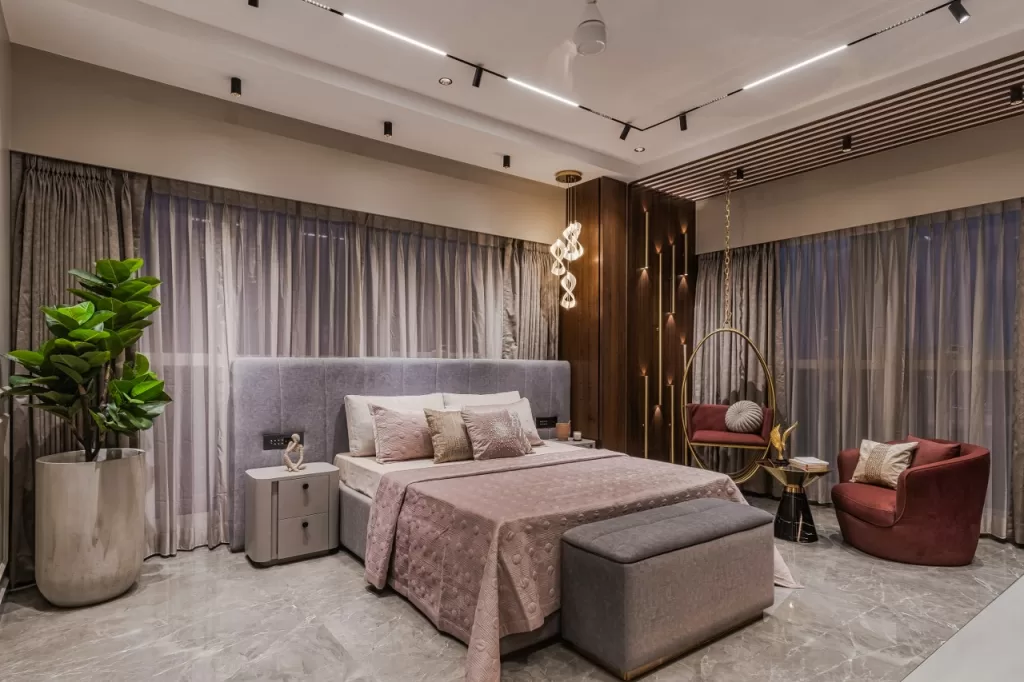 Bedrooms:
Talking about the bedrooms, they are sanctuaries of relaxation where one can spend a long time. The bedrooms also feature sumptuous textiles, bespoke furniture, and muted color palettes.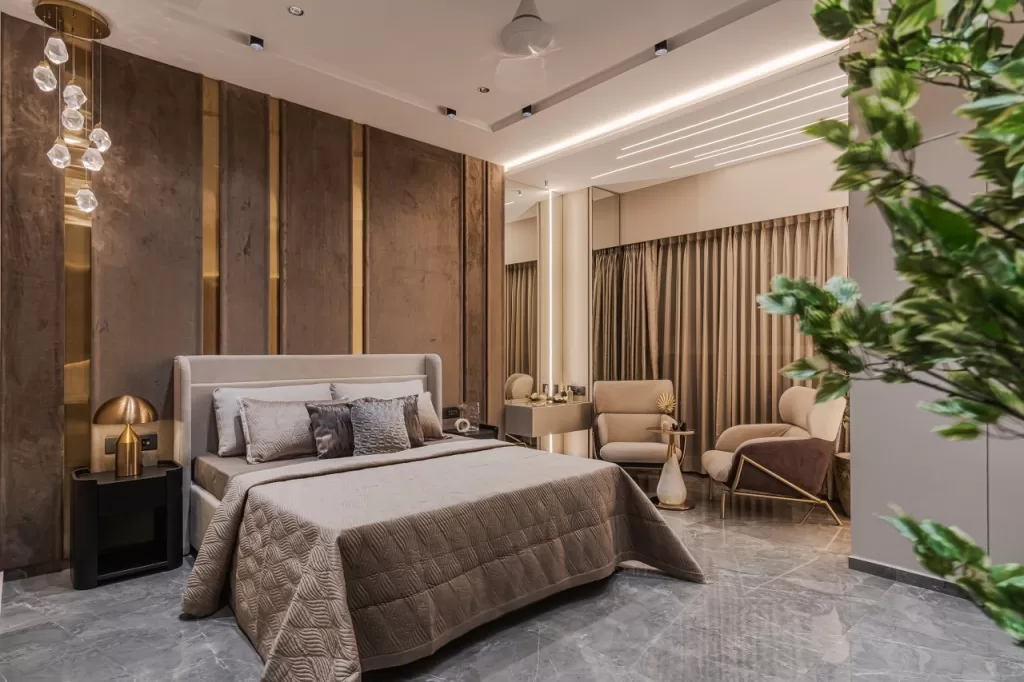 This apartment offers the epitome of luxurious living, where style meets comfort, and every corner reflects opulence. Whether it is the hall, living, bedrooms or bathrooms, the metallic details and lighting solutions evoke a sense of luxury in the given area.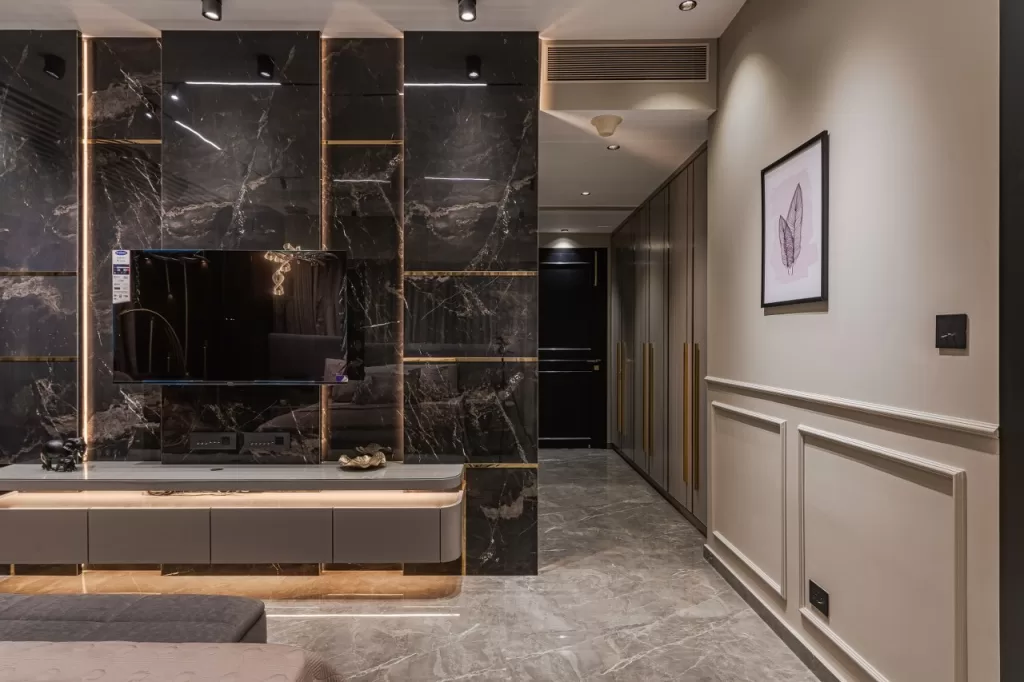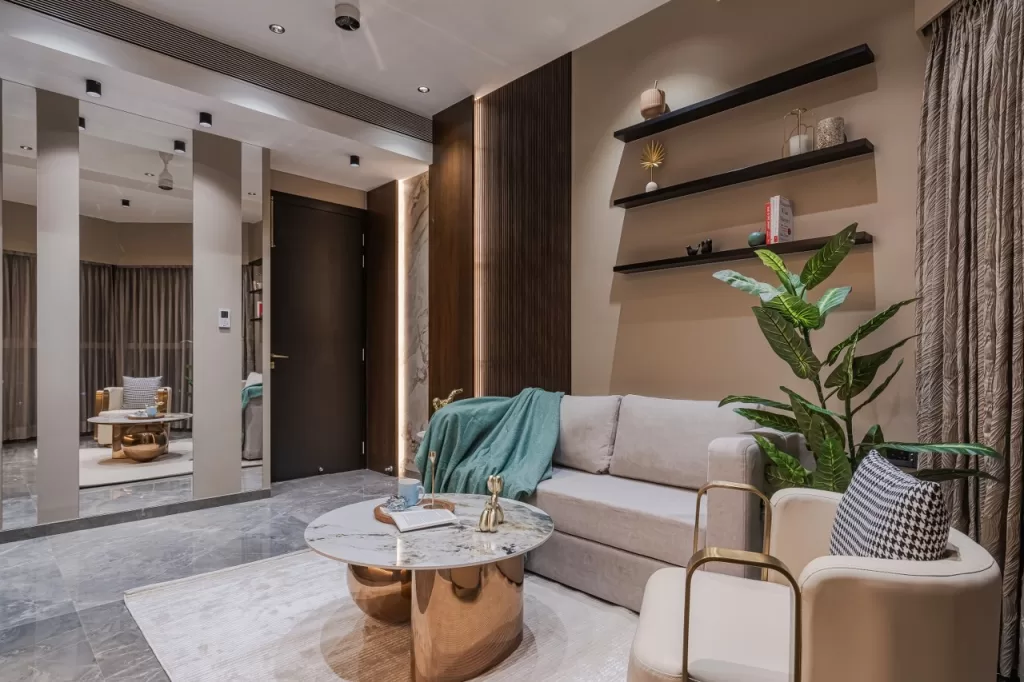 As per the interiors in Mumbai goes, this apartment makes the best utilization of spaces along with style and class. Impressively, the entire project completed in the time frame of 5.5 months.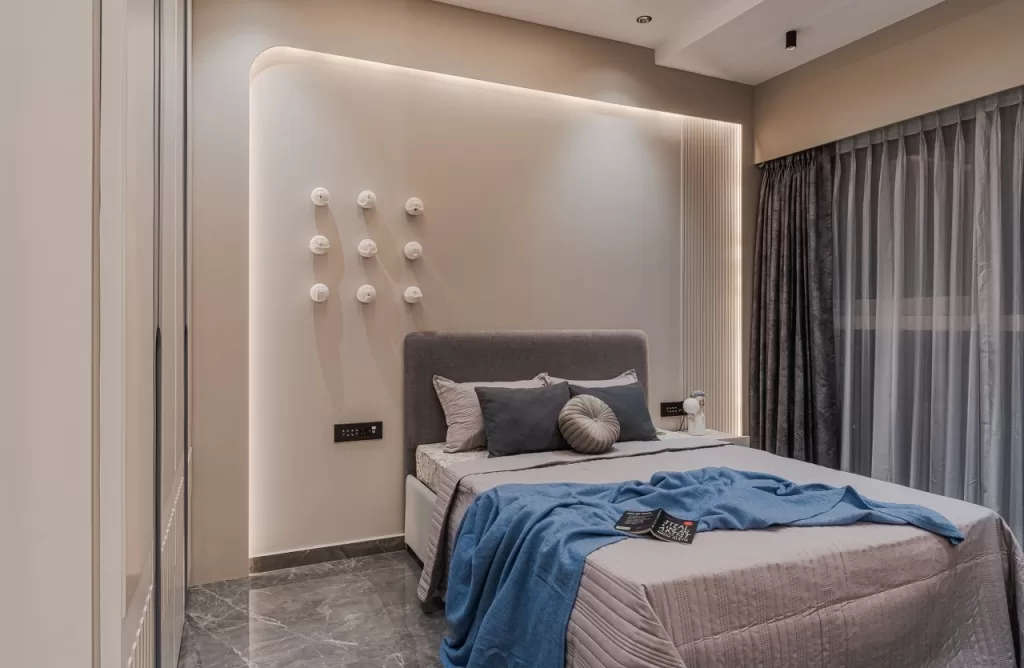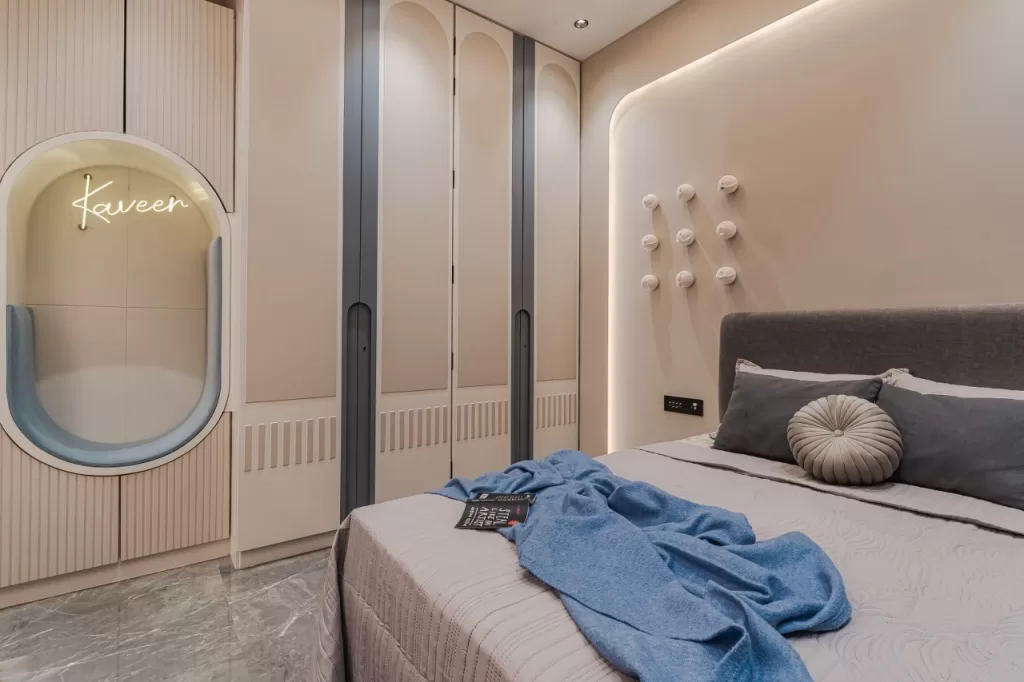 Fact File
Designed by: Architect Sambhav Jain (ASJ)
Project Type: Apartment Interior
Project Name: Pannalal Residence
Location: ICC TWO, Island City Center, Dadar, Mumai
Duration of project: 5.5 Months
Project Size: 2200 Sqft
Principal Architect: Ar. Sambhav Jain & ID Shreya Jain
Photograph Courtesy: ARCHCEPTIONS by Nisheet Dodia
Products/Materials/Vendors: Wallcovering / Cladding – Miscellaneous / Construction Materials–Greenlam Marine Ply / Lighting–Atomberg/ Orient/ Phillips / Doors and Partitions– Saint-Gobain / Sanitaryware– Kohler / Furniture–In House / Flooring–Italian Marble / Kitchen– Greenlam/ Quartz / Paint– Asian Paints / Artefacts–Nestasia/ Mason Home/ Amazon/ Pure Living / Hardware– Hafele.
Firm's Website Link: Architect Sambhav Jain (ASJ)
Firm's Instagram Link: Architect Sambhav Jain (ASJ)
Firm's Facebook Link: Architect Sambhav Jain (ASJ)
For Similar Projects >> A Mumbai Apartment that Aims to Create a Visually Stunning and Inviting Space | Design Storie

The post An opulent living on the 56th floor that showcases luxurious interiors in Mumbai | Architect Sambhav Jain (ASJ) appeared first on The Architects Diary.