This residence is an intricately woven mix of contemporary and scandinavian styles. Spanned across 1400 sq.ft This home is a canvas for interplay of clean line, soft hue, textures, simple furnishings and it features a living room, a dining room, three bedrooms, and a kitchen. A minimalistic style using a blend of textures and soft hues to make sleek, modern décor fell warm and inviting.
An Intricately Woven Mix Of Contemporary And Scandinavian Styles | Studio Imagine
Visit : Studio Imagine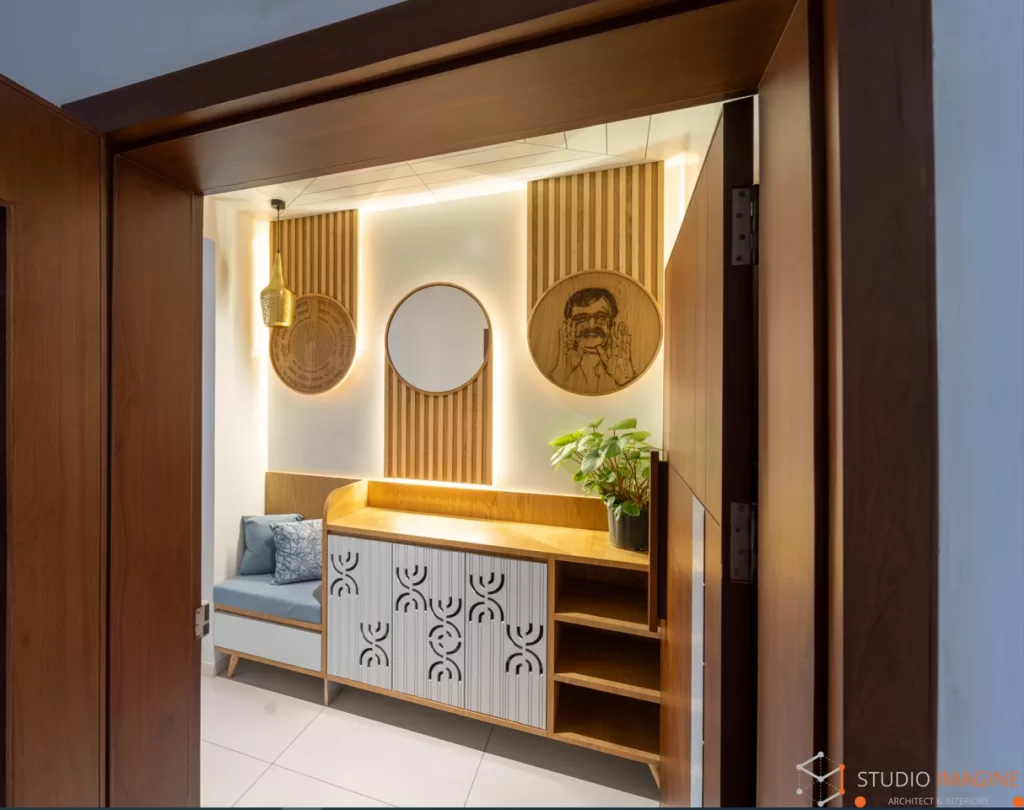 A small foyer on the entrance separates the living room and sparks curiosity with snippets of the house. On stepping into the space, one is greeted by artistic wall with backlit round mirror and detail portrait of occupant's Guruji and Mantra on the other side and dramatic lines & texture play on the ceiling.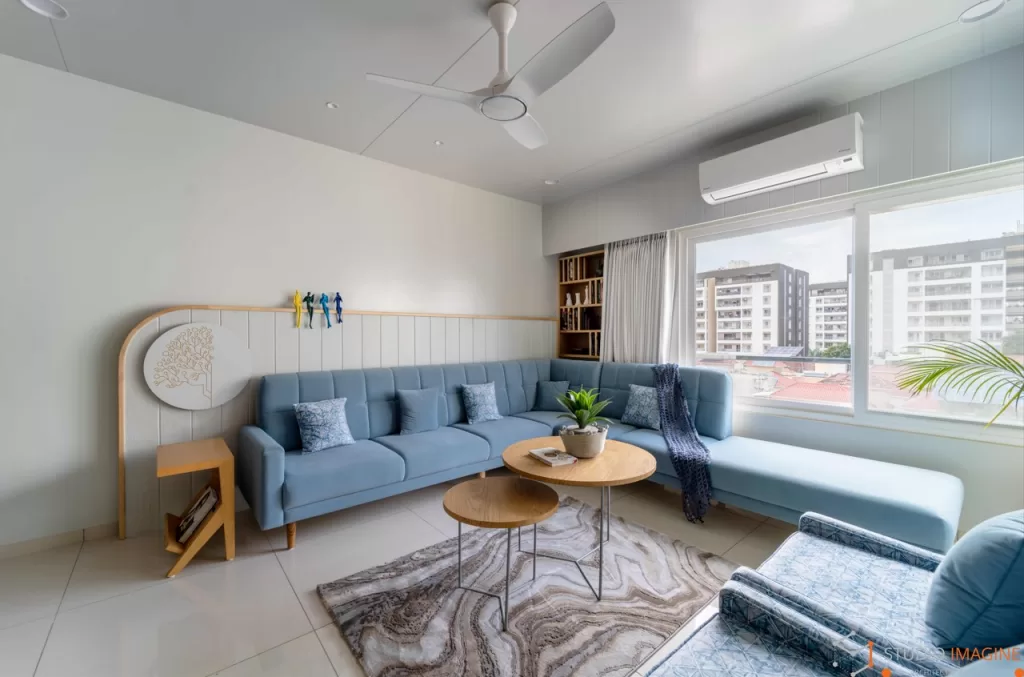 The living room is strategically designed with minimal furniture setup using warm veneer, subtle color tones and clean lines. Emphasis on fine line motif and marble rug adds drama.
The neutral shades throughout set the stage for a beautiful play of light and shadow. As client and his folks are bibliophile, this space is exercised as reading space too. We introduced statement plants in the space to liven up the home.
They not only added color and texture to the space but also created a connection with nature and the outdoors.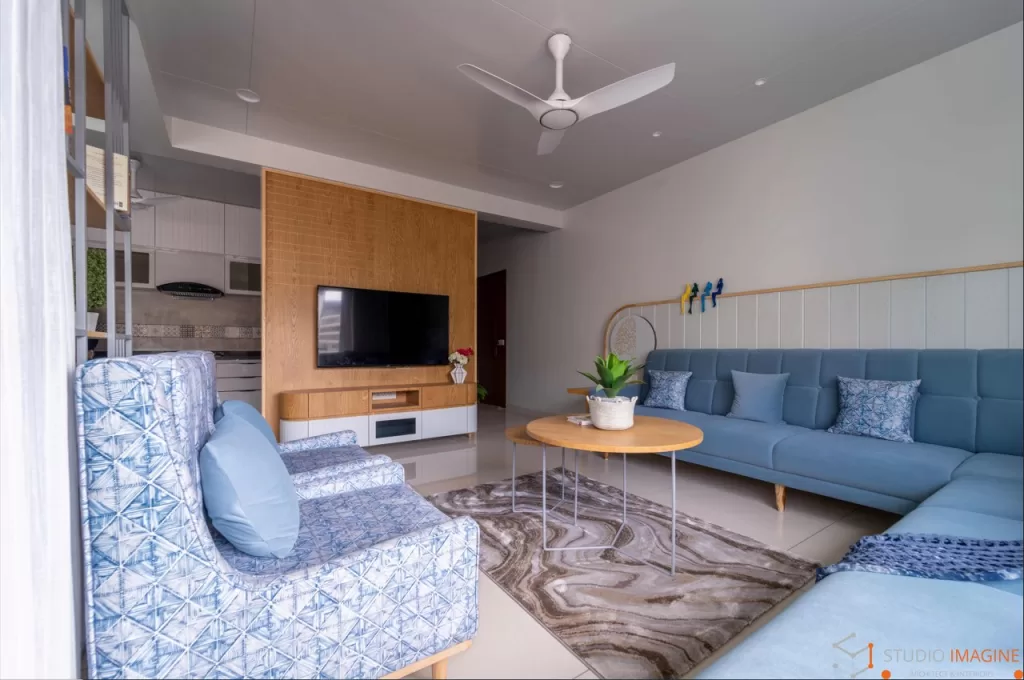 A bookshelf partition connects living room and dinning space. Veneer ceiling and stone table top earthy material along with playful furnishing is eclectic.
The open kitchen which opens to the dining area, also breathes freshness. The entire space has been a monotone of grey with some line elements here and there.
The guest room material palette consists of terrazzo texture, warming veneer, denim texture furnishing, clean line pattern and neutral wall hue. This area is well ventilated and bright which welcomes outdoor in.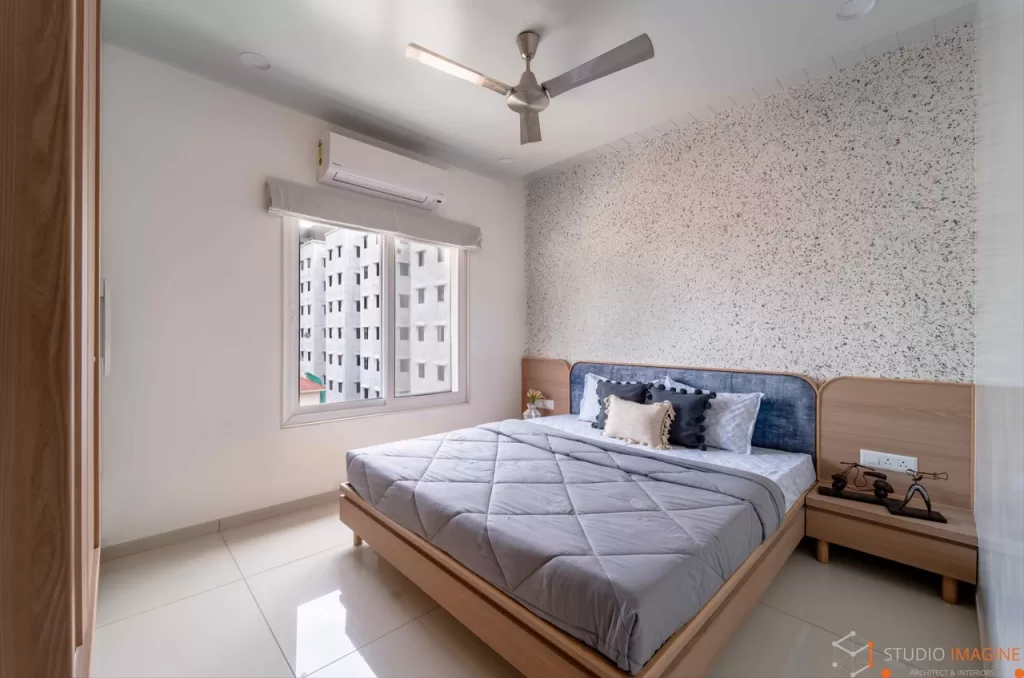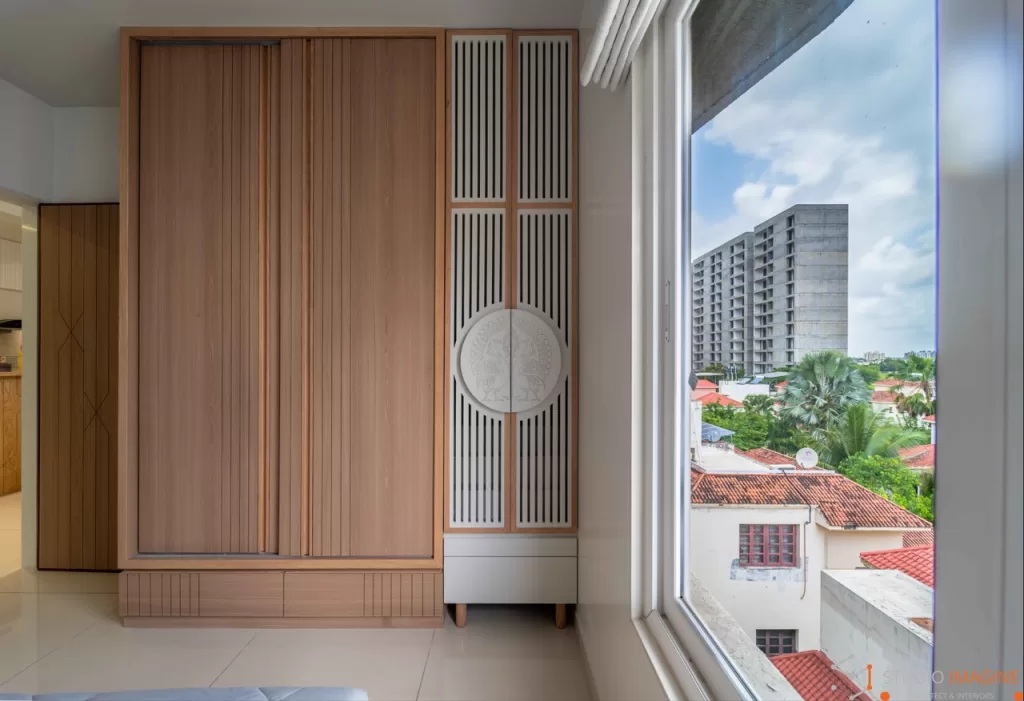 Aesthetics is the main source that defines a design's beautiful qualities and brings out the finest features of different elements including balance, color, movement, pattern, scale, shape, and visual weight.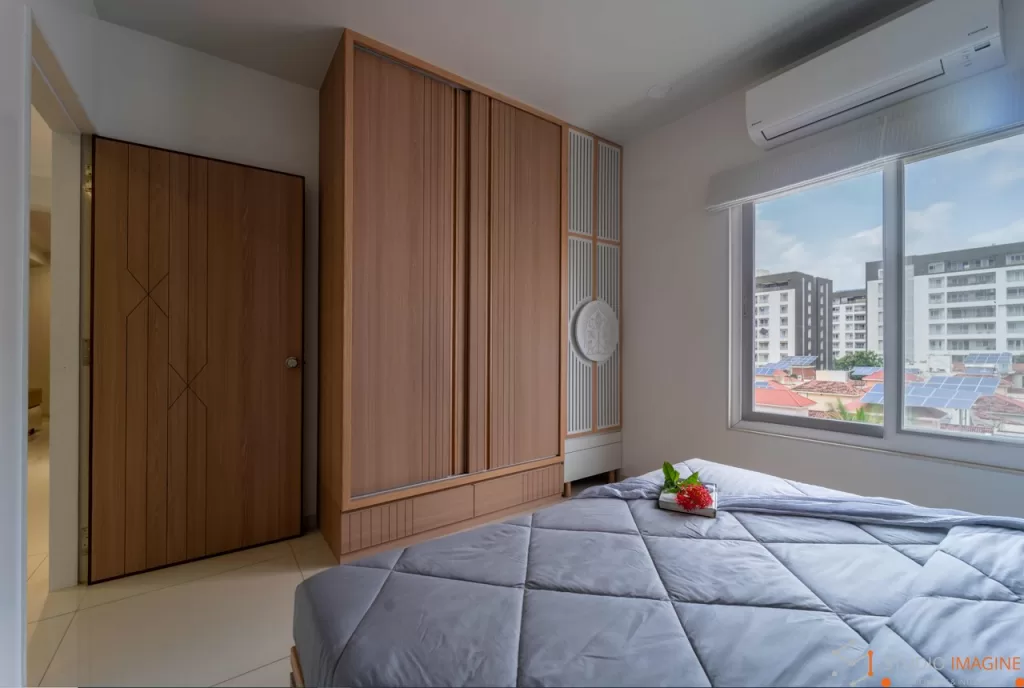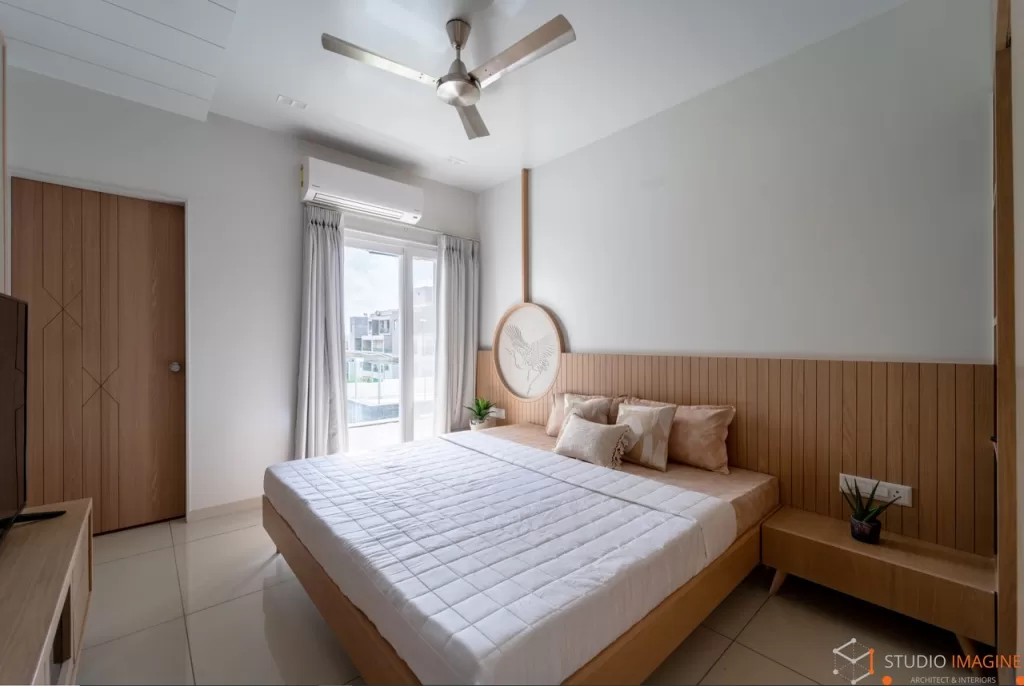 Master bedroom is complete theatre play of geometry. Material palette is warm and subtle. Neutral hue and warmth of material emphasis on accent motif i.e., Eagle which denotes power and growth, and its on edge. Natural day light lit up the space.
We call linear space to the parents' room, the play is all about linear lines, soft hues, warmth wooden laminate, cool fluted panel, nature in space and airy & lit day light.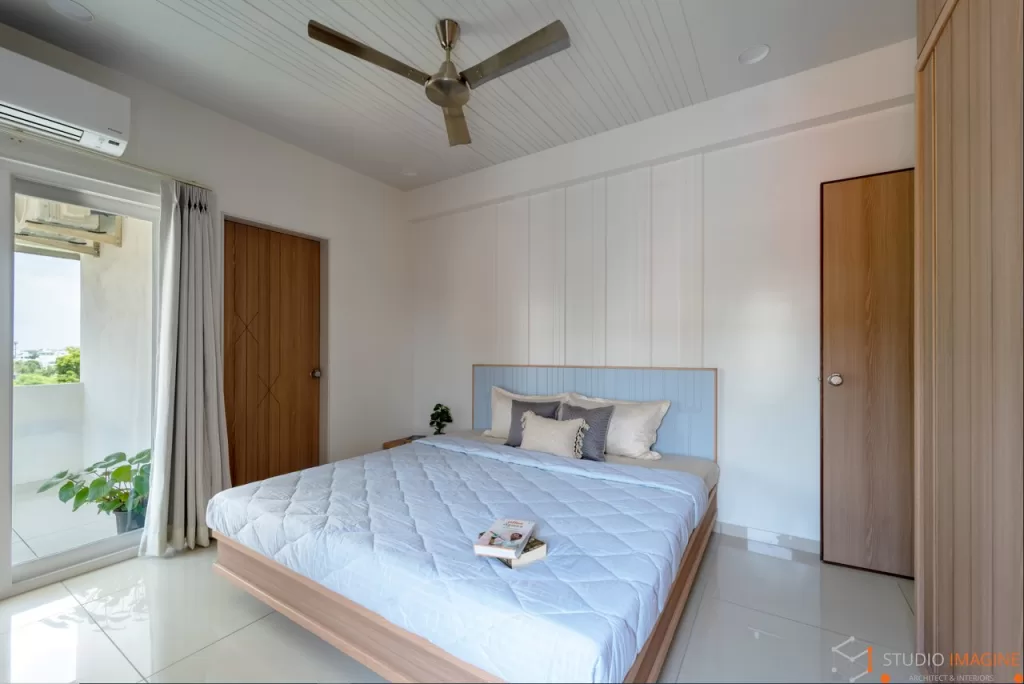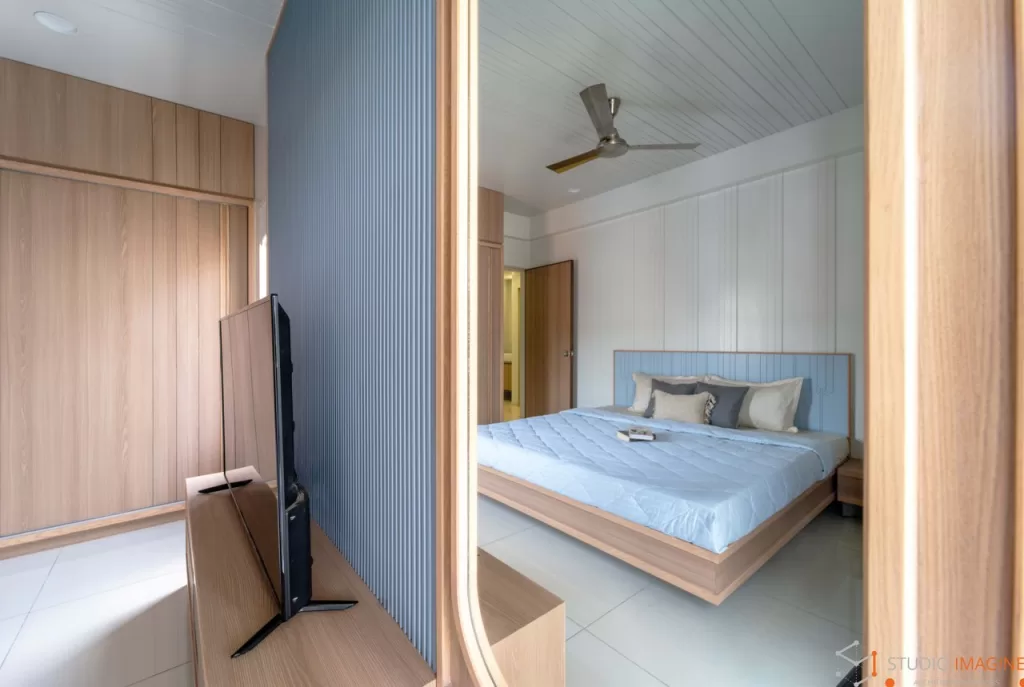 Every room in the house is brightly lit and airy. Light, harmonious, and perfectly balanced-the style informs the color palette and material scheme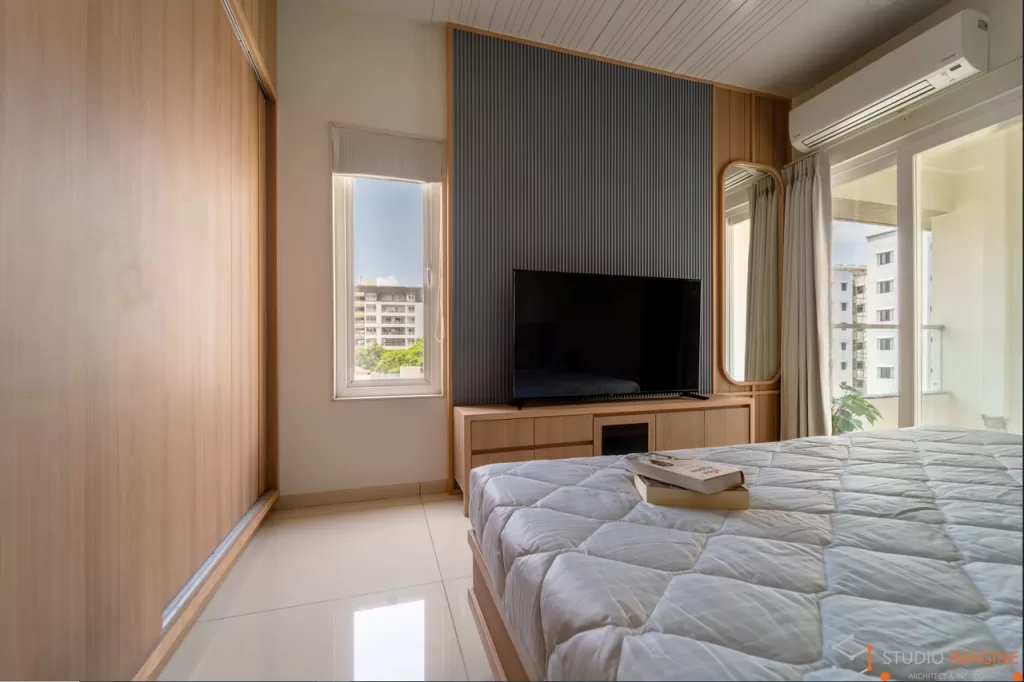 Fact File
Designed by : Studio Imagine
Project Type : Apartment Interior Design
Project Name : Dr Badhe's Apartment
Location : Vasna Bhayli, Vadodara
Year Built : 2022
Duration of the project : 4 months
Project Size : 1400 sq.ft
Project Cost : 20 lakhs
Principal Architect : Ajal Shah
Team Design Credits : Nehal Sangani
Photograph Courtesy : Dron Trivedi
Products/Materials/Vendors : Finishes – Veneer, Fluted panel, granite stone, Laminates from Swastik Ply & Veneer, The Laminate Gallery / Lighting – Reflection Lights, Kesha Lights / Paint –Dulux, Asian Paints Pu Paint / Artefacts – Khandelwal Vadodara / Furnishing – Khandelwal Vadodara / Hardware – Hettich.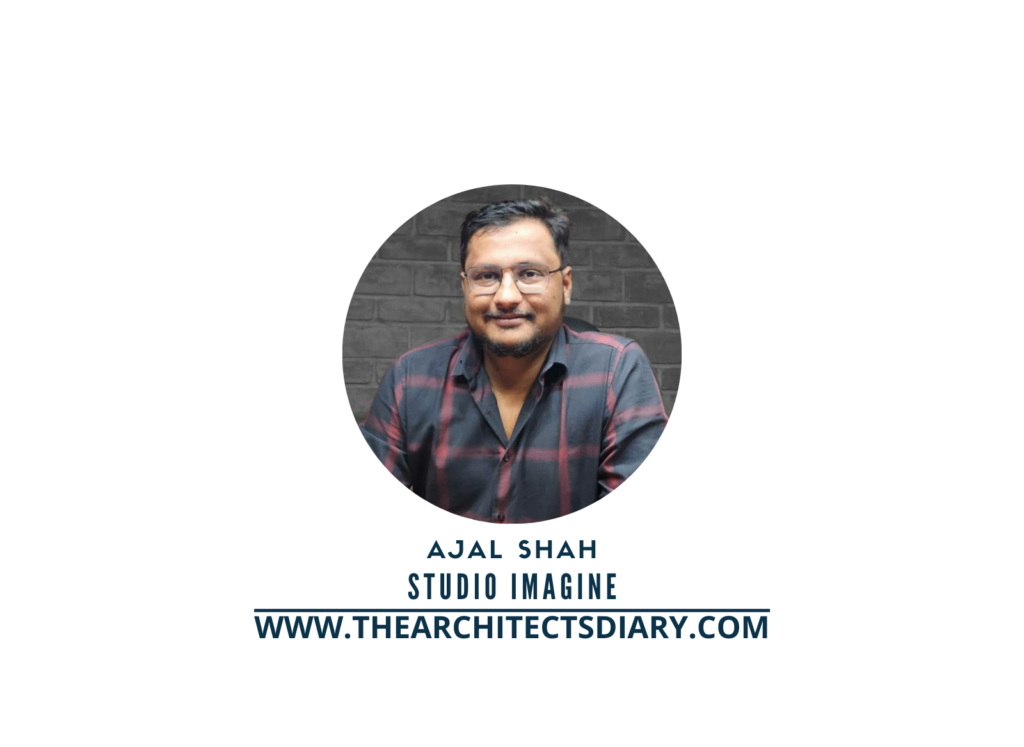 Firm's Website Link : Studio Imagine
Firm's Instagram Link : Studio Imagine
Firm's Facebook Link : Studio Imagine
For Similar Project >> 2BHK Minimal Yet Luxurious Residence Inspired By Natural Elements And Shapes
The post An Intricately Woven Mix Of Contemporary And Scandinavian Styles | Studio Imagine appeared first on The Architects Diary.