LADLAB, a Nashik-based architecture and interior design studio, was engaged to design a home of calibrated simplicity for a family of four in an upscale neighbourhood in Nagpur, India. This 1200 sq.ft apartment was designed and executed entirely during the pandemic over countless video calls and WhatsApp messages. Unphased by current design trends, architects Saniya and Sagar ensured timeless design and function remained at the core of this home. An interplay between light and materiality manifests to create this modern family home.
An Interplay Between Light and Materiality Manifests to Create this Modern Family Home | Ladlab
Visit : Ladlab
"The apartment was a typical builder-flat; we had to work with tight spaces, large storage requirements, and still enough area to move around freely." chuckles Sagar. LADLAB's design intervention began with efficiently planning odd spaces and utilizing every niche to accommodate concealed storage. Their keen awareness of light, composition and material came to the fore in designing this minimal abode.
LADLAB uses colour strategically to evoke emotions of a gentle whisper across the space. Architects Saniya and Sagar worked with subtle tonal shifts across white, cream, and grey with hints of unusual pastels to create a calm, responsive environment. The apartment is a collection of soothing spaces to rest and entertain. The living, dining, kitchen, passageway, and master bedroom have large format milky-white tiles with grey striations.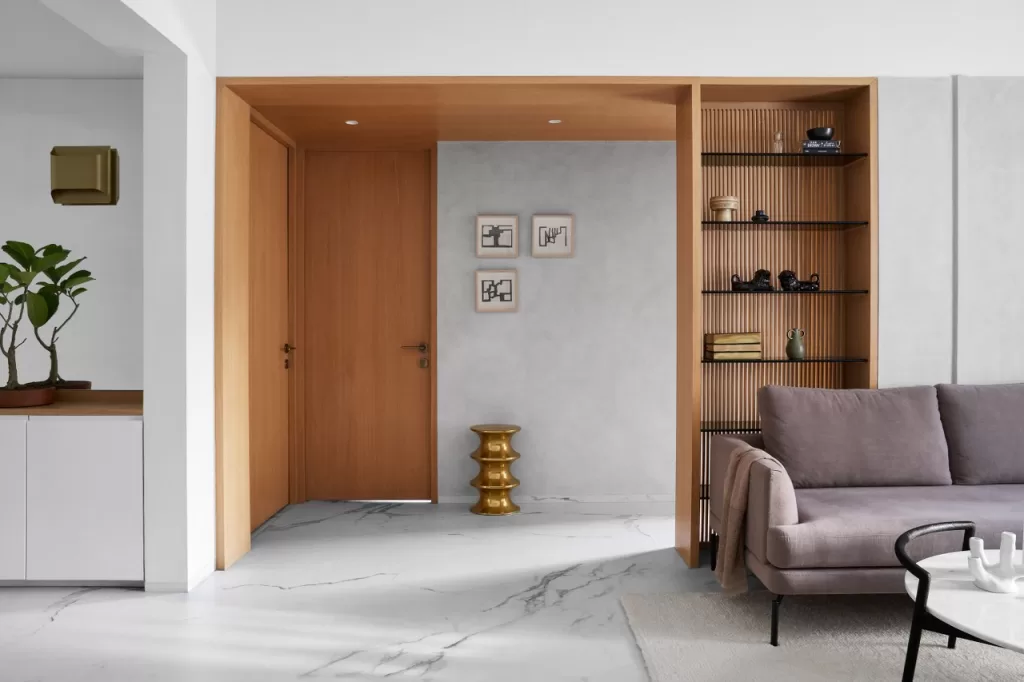 The living room is the centerpiece of this home, around which the rest of the spaces convene. A cozy, contemplative place perfect for curling up on the couch and watching television together. Light grey textured walls complement a slender ribbed ceiling, cleverly concealing the general lighting in the apartment.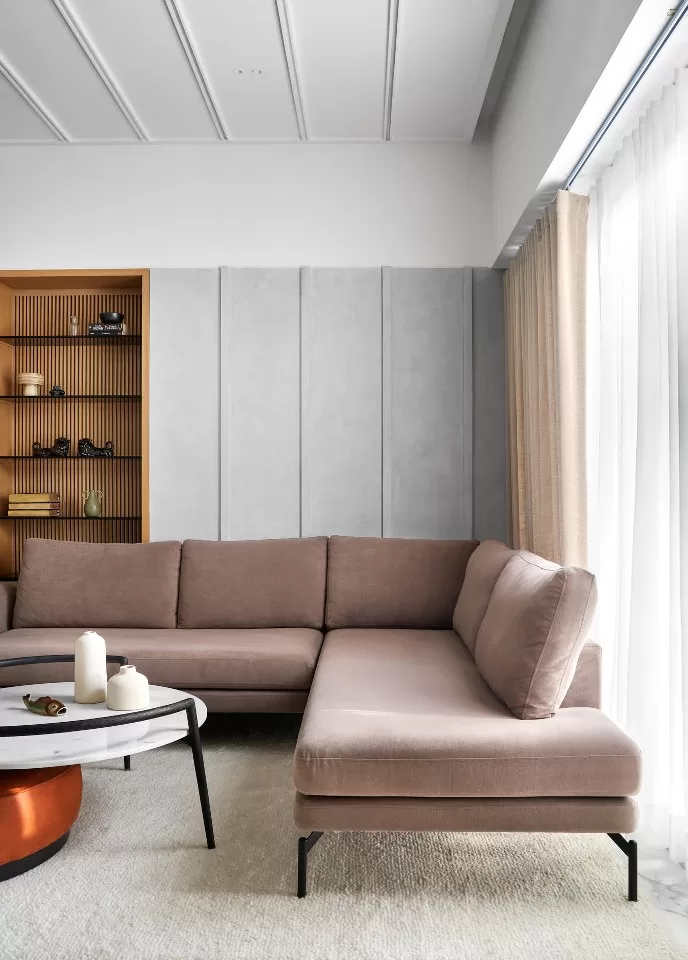 The linearity continues onto the TV wall, emphasizing the overall height of the space. "We paired a sand-coloured L-shaped sofa with a tan-coloured ottoman to break the monochrome palette". Every piece of furniture is custom-designed to serve the scale and minimal aesthetic of the apartment. A perforated wooden portal softly punctuates the light-grey walls, doubling up as a partition and bookcase.
"For the dining, we found an abstract work of art whose colours were in tune with the sensibility of the overall apartment," remarks Saniya.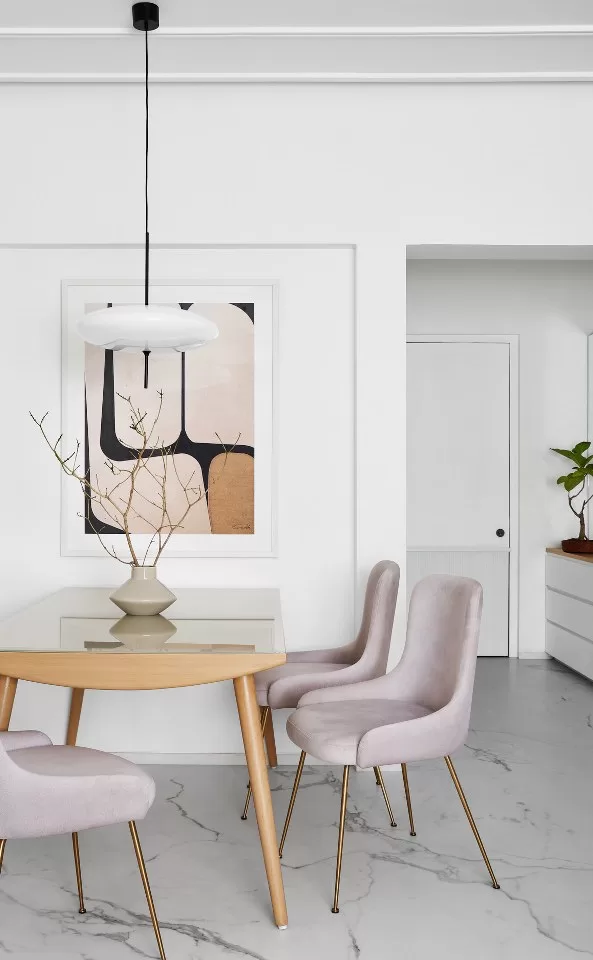 LADLAB generates continuity in the home through clean lines and a repetitive colour palette. Ice-grey cabinetry and strong black accents frame the kitchen. The milky-white floor tiles wrap onto the backsplash, accentuating the volume of the kitchen. The kitchen is adjacent to a large balcony, flooded with natural light.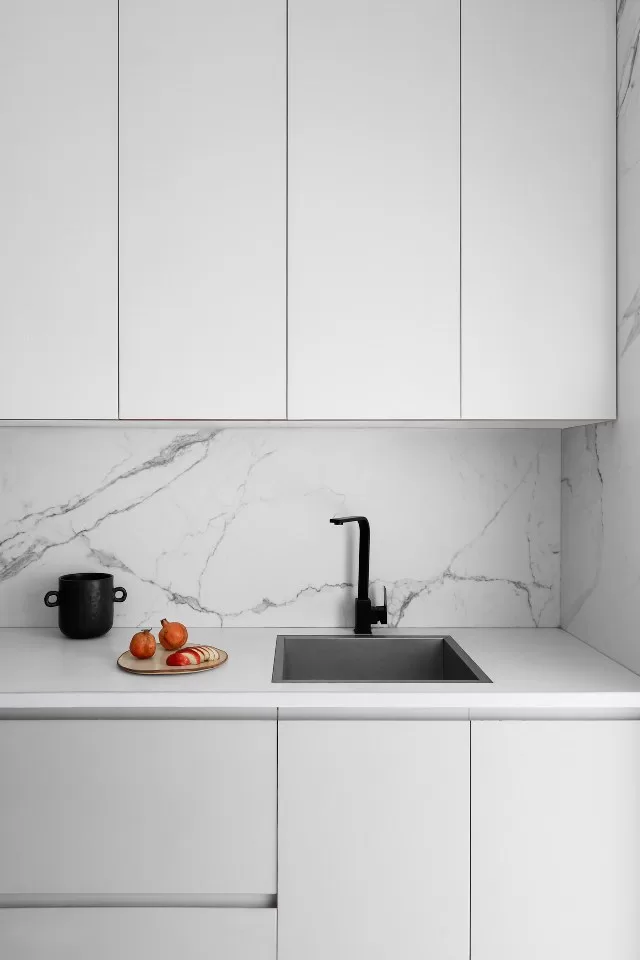 The master bedroom is layered in tones of grey. Sitting under a concave fluted panelled ceiling is a two-layered bed. Walls are lined with vertical ribs adding texture and creating interesting shadows as you move through the space. Custom nightstands, with a white Carara marble top and PU-finished storage unit, sit on powder-coated matt black MS legs. A dark grey throw from IKEA dresses the bed.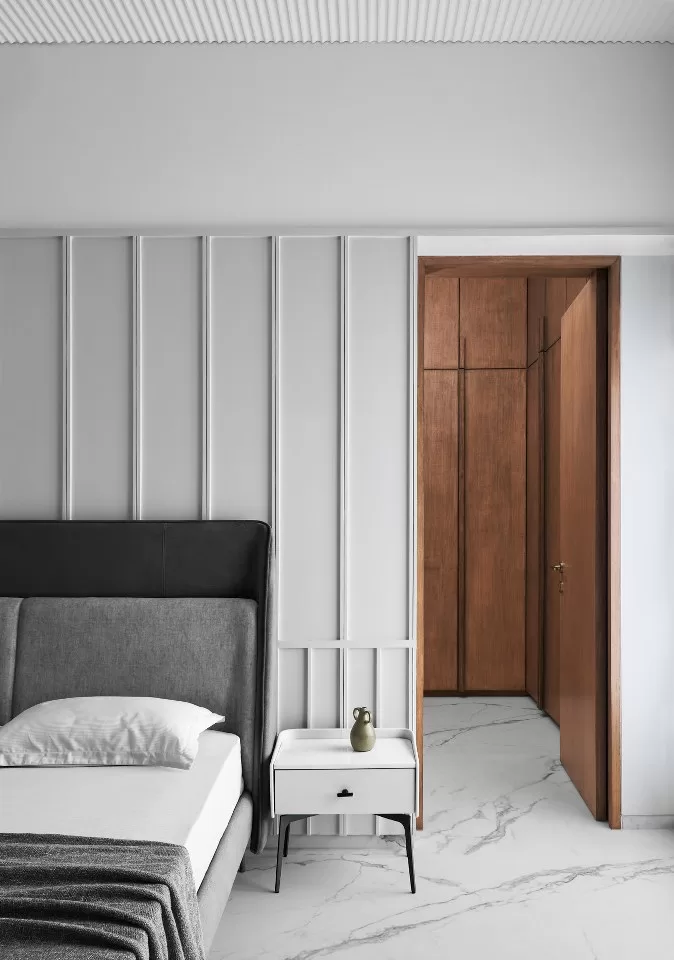 The study fits neatly into a corner niche with concealed storage finished in veneer and backed in tan-shaded faux leather. A stippled black and white canvas hangs above the study. A comfortable study chair is upholstered in a checkered grey-white fabric.
The bed was tucked cosily between two full-height ribbed storage units. The niche is painted in a delicate Young Berry shade from Asian Paints and accented with tiny globe wall lights.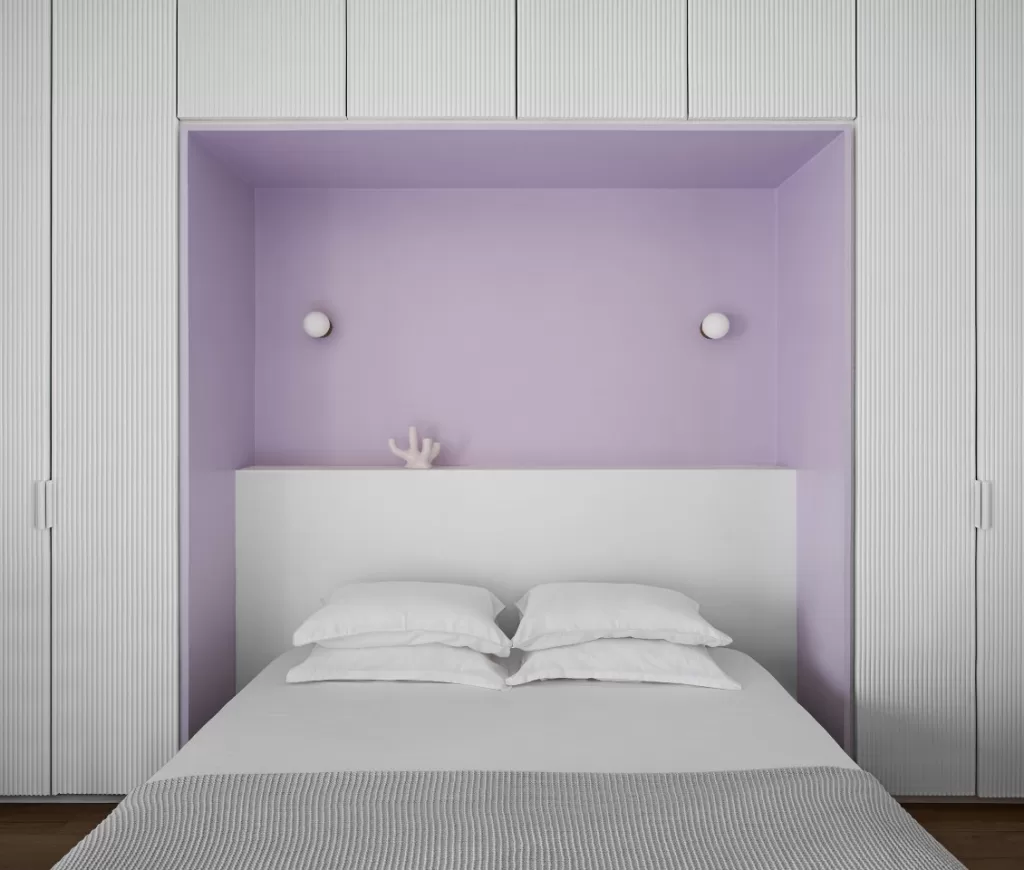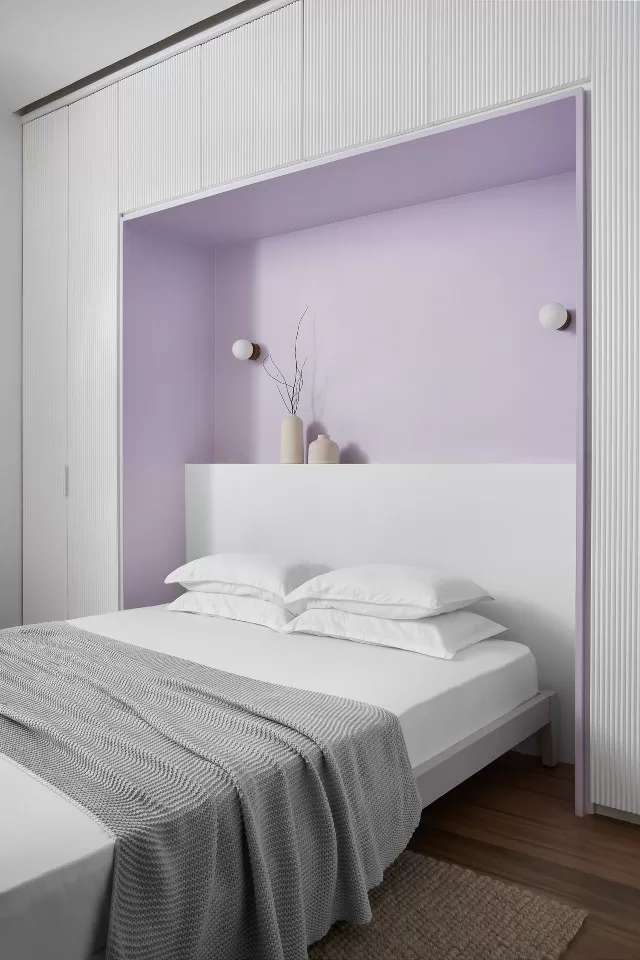 An organic-shaped dressing mirror adds interest to the straight-lined space. Globe lights stacked one above the other are compositionally arranged by the mirror.
The teen's bedroom was challenging because the storage requirements were disproportionate to the area. Two single beds with curved grey tufted headboards soften the space. "We adopted a playful scheme and used gender-neutral colours: Mangrove green, pearl grey, and crisp white. Floor-to-ceiling wardrobes and study niches wrap the bedroom on two sides, green for the daughter and grey for the son," remarks Saniya.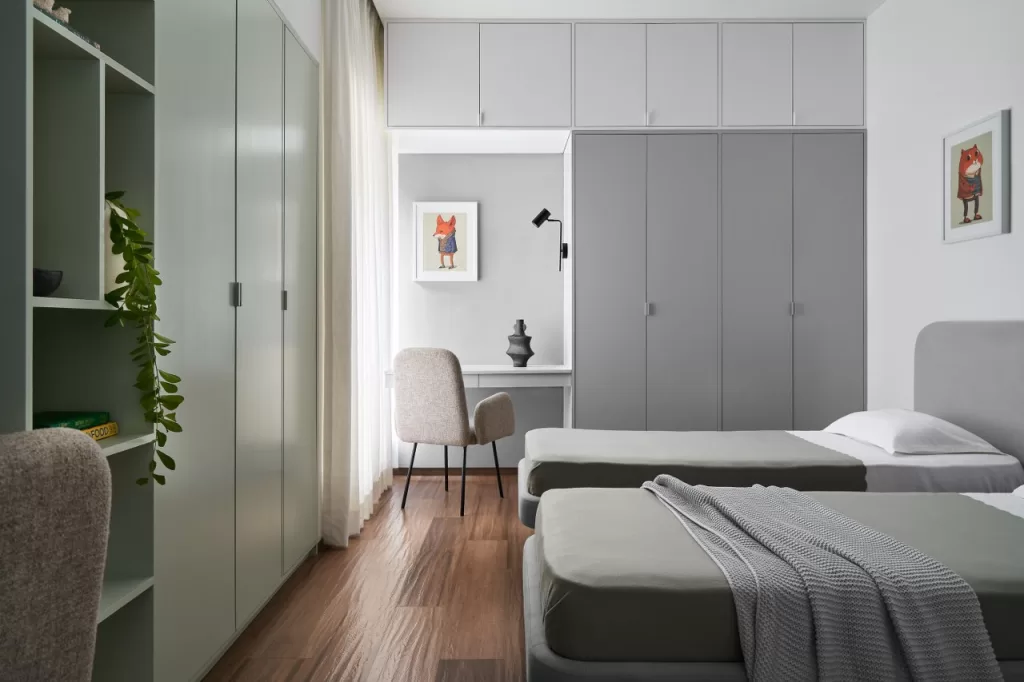 The tiniest room in the space had only one function: long-term storage. A bed is snug between two full-height wardrobes with ribbed surfaces finished in white PU, adding a soft textural quality to the room. The niche is painted in a shade called Young Berry, infusing colour into an otherwise all-white room.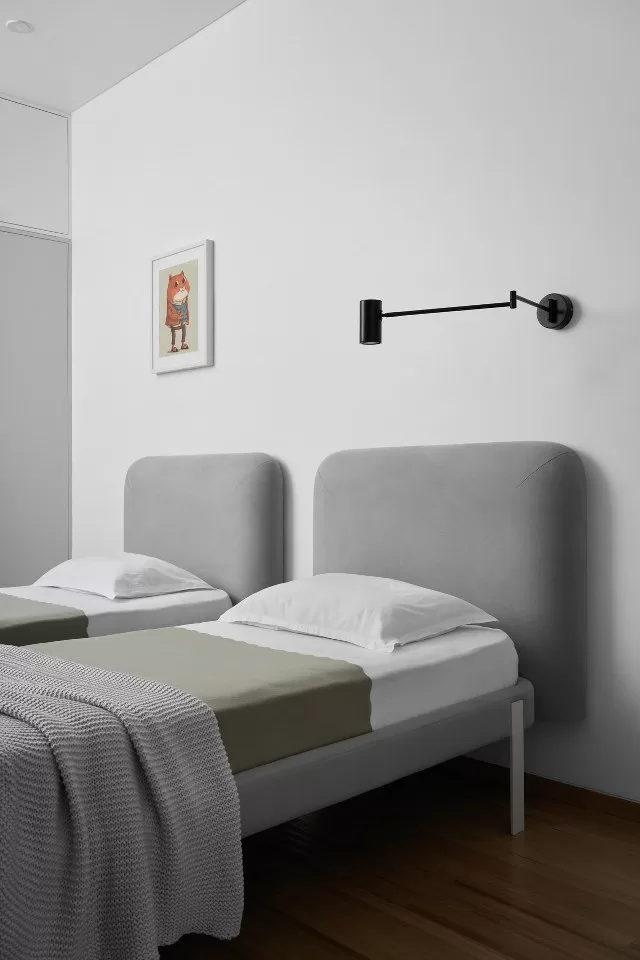 A continuing aesthetic of ribbed panels, clean lines, concealed storage, and a soft grey-and-white palette characterize this apartment and demonstrates how minimal spaces can be designed in a manner that combats the cold and sparse associations with it.
Fact File
Designed by: Ladlab
Project Type: Residential Interior Design
Project Name: House of Whispering Hues
Location: Nagpur, Maharashtra
Year Built: 2023
Duration of the project: 6 Months
Project Size: 1200 Sq.ft
Principal Designers: Sagar Lohar & Saniya Jejani
Design Credits: Bhumika Jejani – Site Supervisor
Photograph Courtesy: Yadnyesh Joshi
Products / Materials / Vendors: Finishes – Asian Paints / Sanitaryware – Jaquar / Flooring – Nexion / Paint – Asian Paints / Artefacts – H&M.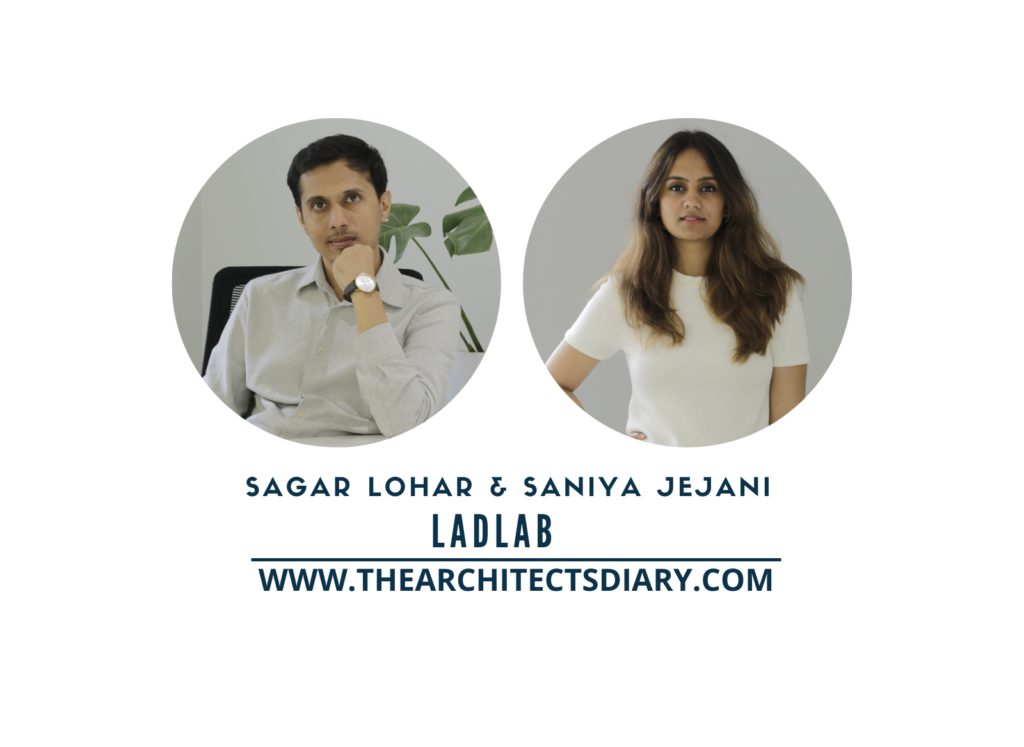 Firm's Website Link: Ladlab
Firm's Instagram Link: Ladlab
Firm's Facebook Link: Ladlab
For Similar Project >> A House Fostering a Modern Atmosphere and Offering Ample Space
The post An Interplay Between Light and Materiality Manifests to Create this Modern Family Home | Ladlab appeared first on The Architects Diary.