When it comes to creating an interior space that exudes elegance and luxury, it requires careful attention to detail and a deep understanding of the client's preferences. This is an exquisite 3BHK apartment with a minimal aesthetic and a luxurious atmosphere which is designed by Rohit Sethi for a jeweler family in Jaipur.
An Exquisite 3BHK Apartment with a Minimal Aesthetic and a Luxurious Atmosphere | Designs by Rohit Sethi
Visit : Designs by Rohit Sethi
One of the main challenges faced during the project was coordinating with labor and ensuring timely delivery. However, despite the hurdles encountered, the designer managed to create a space that exceeded the client's expectations. The drawing room partition, in particular, was highly appreciated by the client, showcasing the designer's attention to detail and commitment to excellence.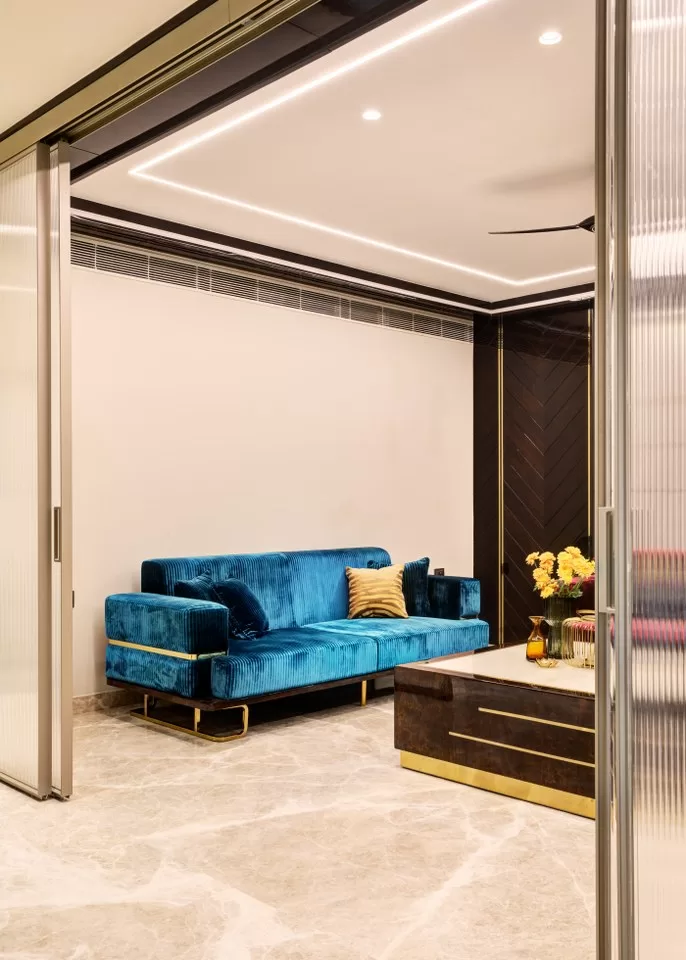 Upon entering the apartment, one is greeted by a stunning formal living room on the left with a fluted glass partition which slides to close in need for privacy. It showcases a vibrant and eye-catching couch, commanding attention with its bold pops of color.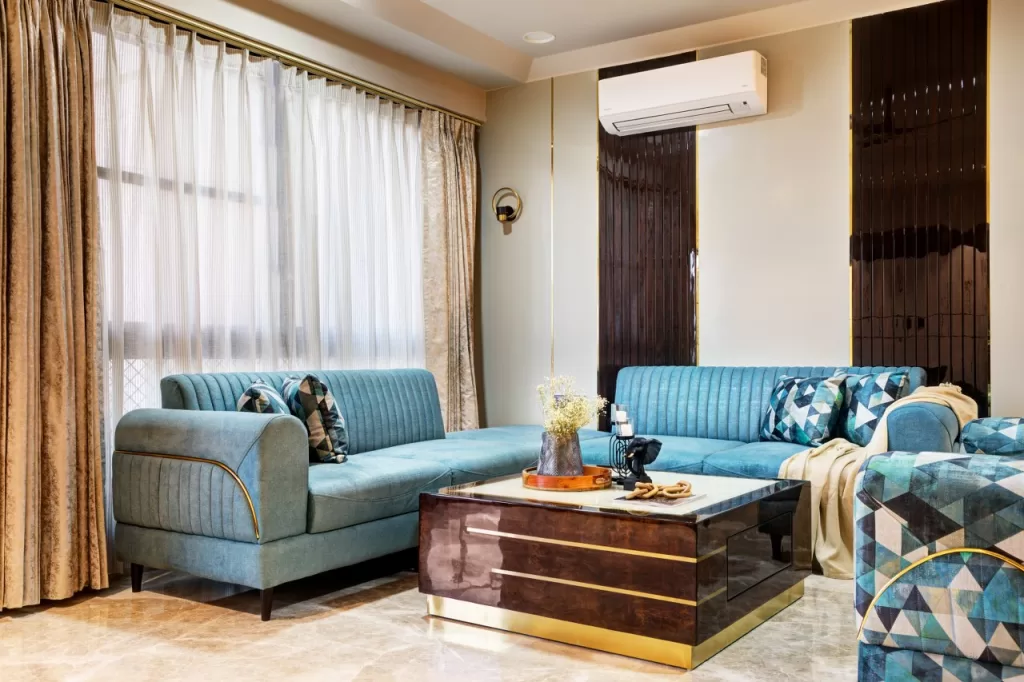 On the right, there is a stunning wooden dining table topped with onyx marble with a chandelier on the ceiling. The theme used in the dining area extends seamlessly to the informal living area, where matching color patterns of the couch create a harmonious ambience.
The couch, adorned in a dusty shade of blue, takes center stage, accompanied by a stylish wooden center table.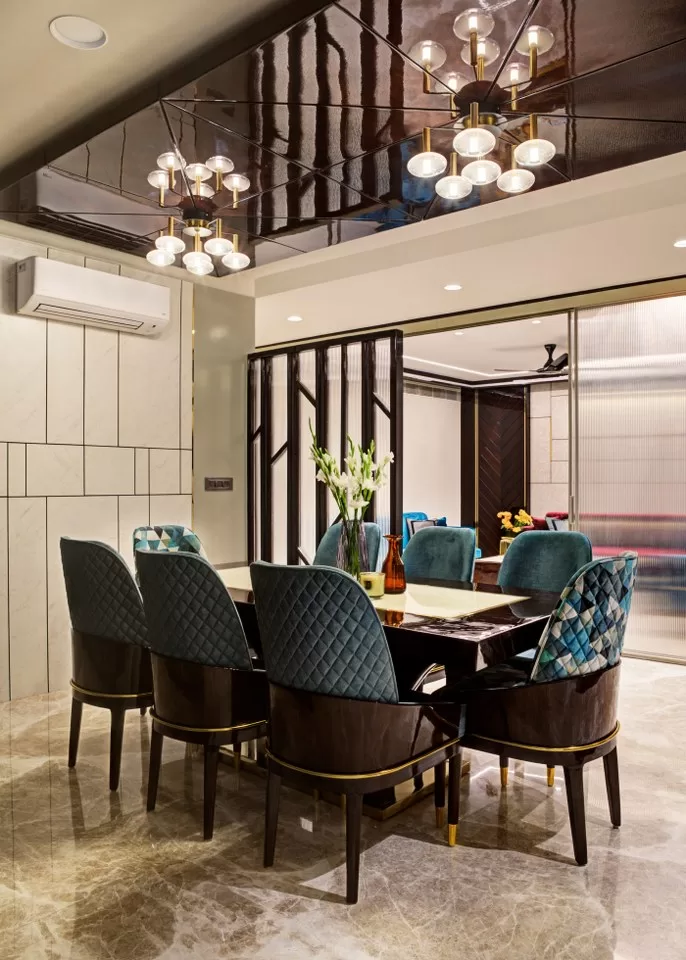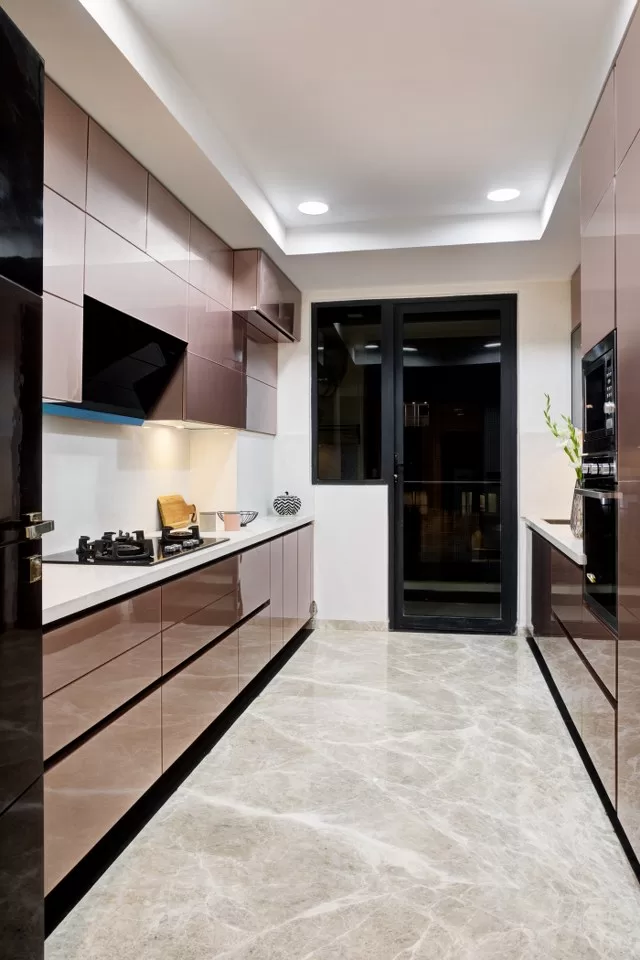 Each room in the apartment has been meticulously designed to cater to the client's unique tastes and preferences. The boys' room has a sophisticated grey theme, reflecting a refined personality.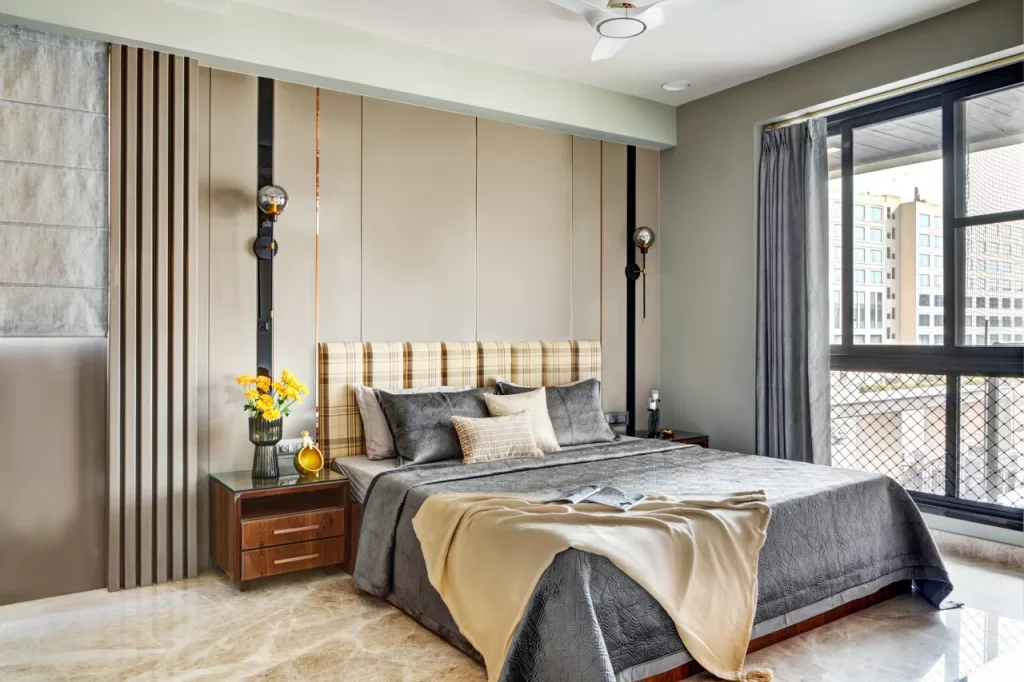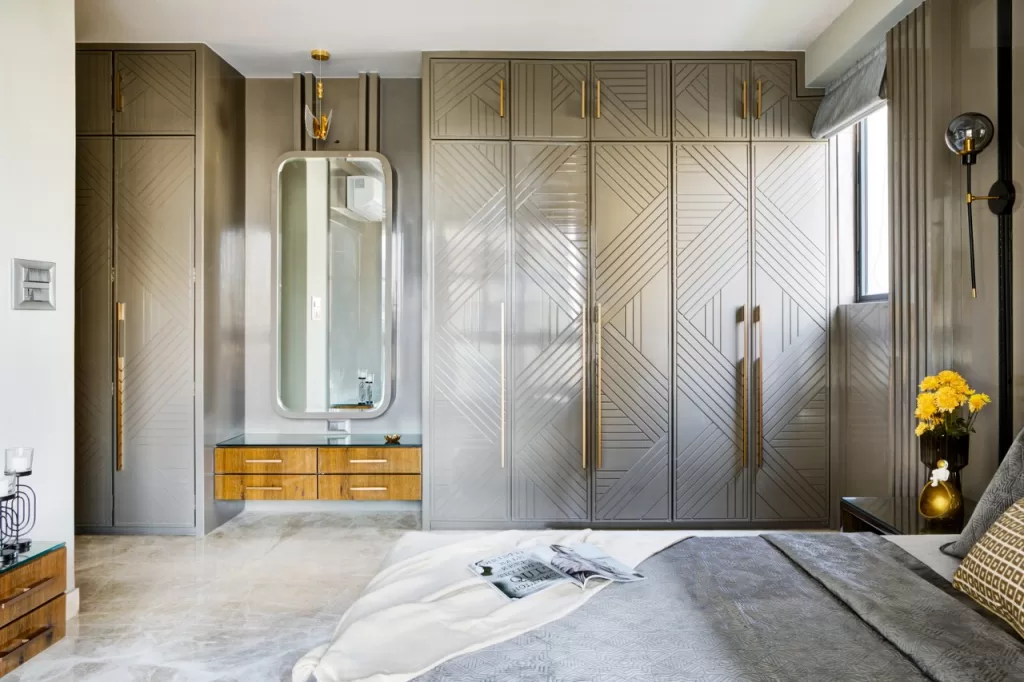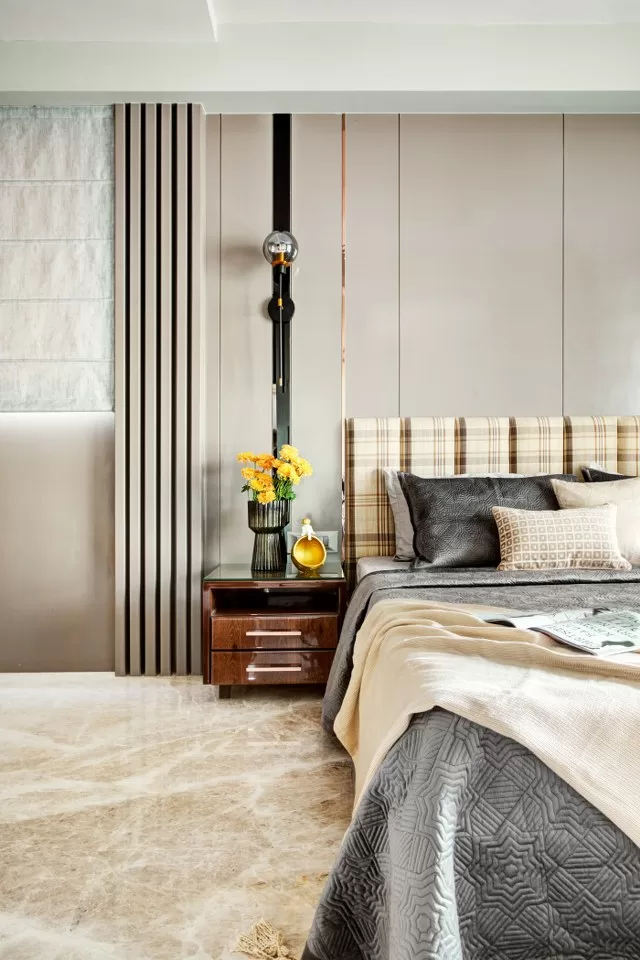 On the other hand, the girls' room employs a delicate combination of soothing colors, with a full-size mirror, adding both functionality and elegance.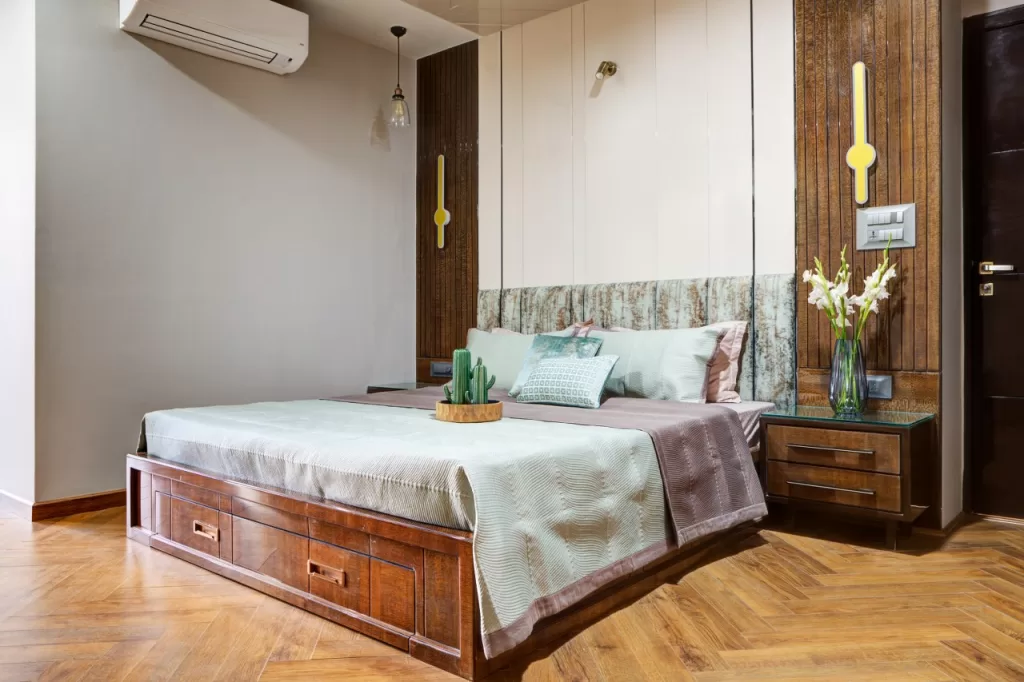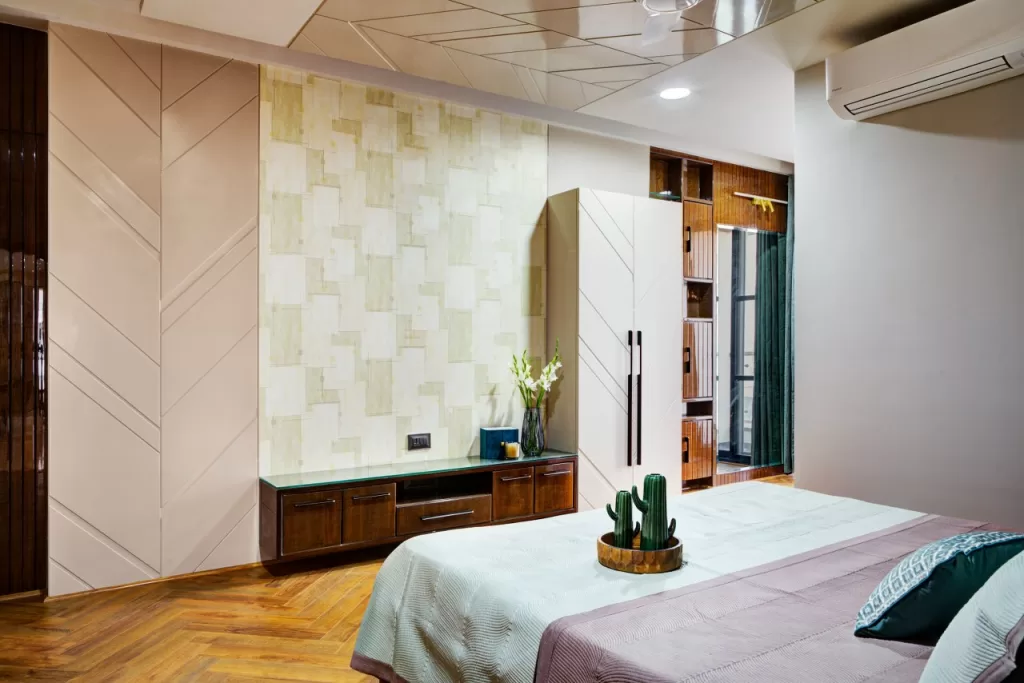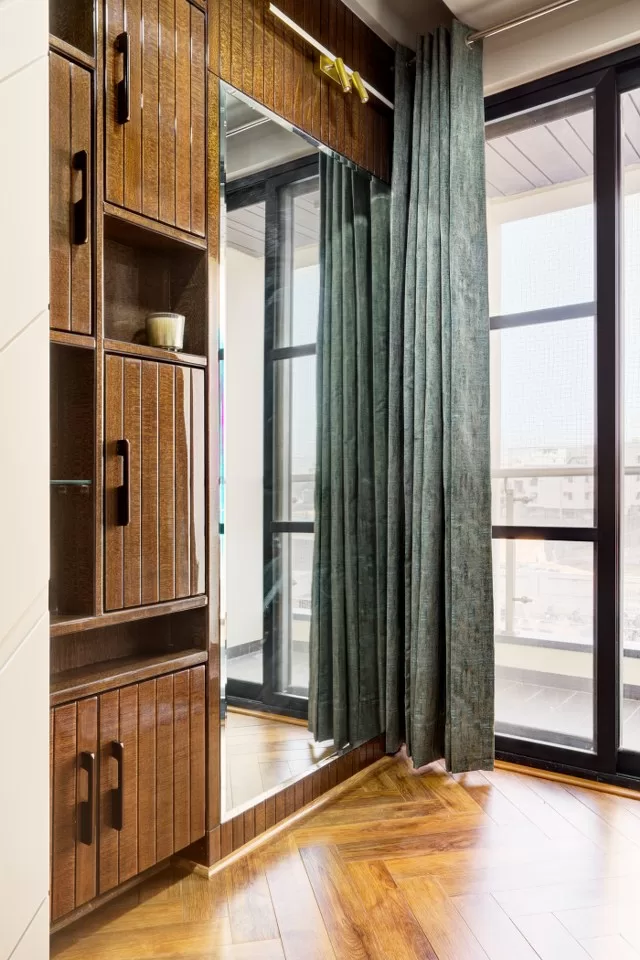 The master bedroom has been thoughtfully crafted to include a dedicated workspace, complemented by a spacious closet that incorporates a full-size mirror. This arrangement enhances the overall aesthetic appeal of the room.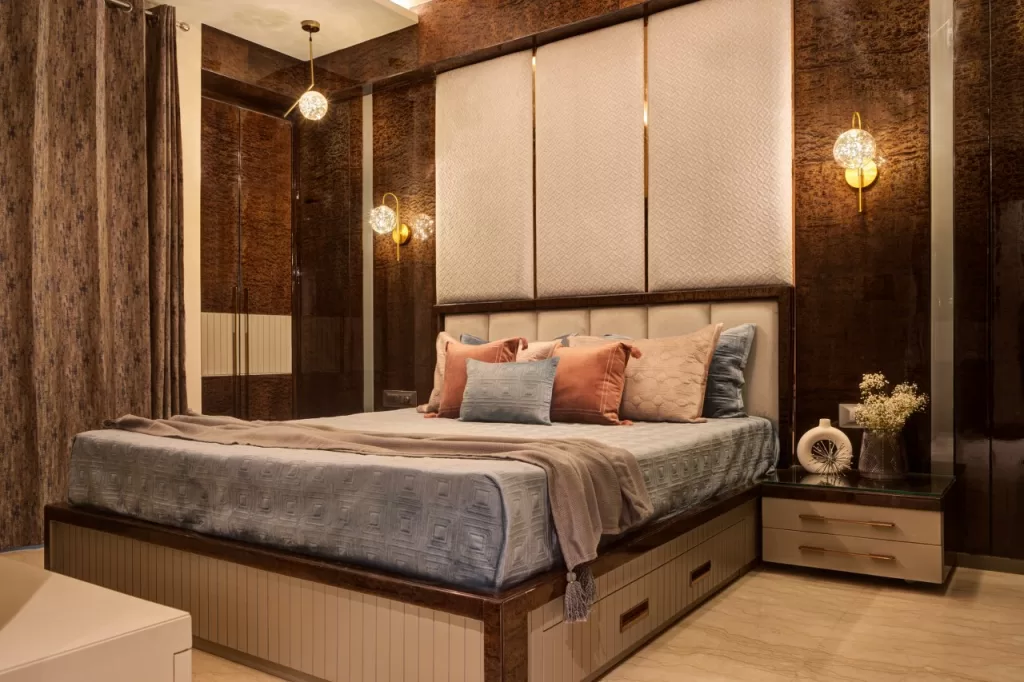 Throughout the apartment, Rohit has employed a selection of high-quality materials and decorative elements to create a lavish ambience. Wood, in its various forms, played a prominent role, lending a sense of warmth and sophistication. Decorative materials such as veneers were skillfully incorporated, adding texture and visual interest. The strategic use of glass and other ornamental accents further enhanced the thematic cohesion and opulence of the apartment.
The perfect balance between minimalism and luxury made this project a success, with the designer's deft touch and understanding of the client's vision. The apartment incorporates minimalistic elements with luxurious materials and personalized touch. The interior designer created a haven of elegance and style that fully satisfied the client's desires.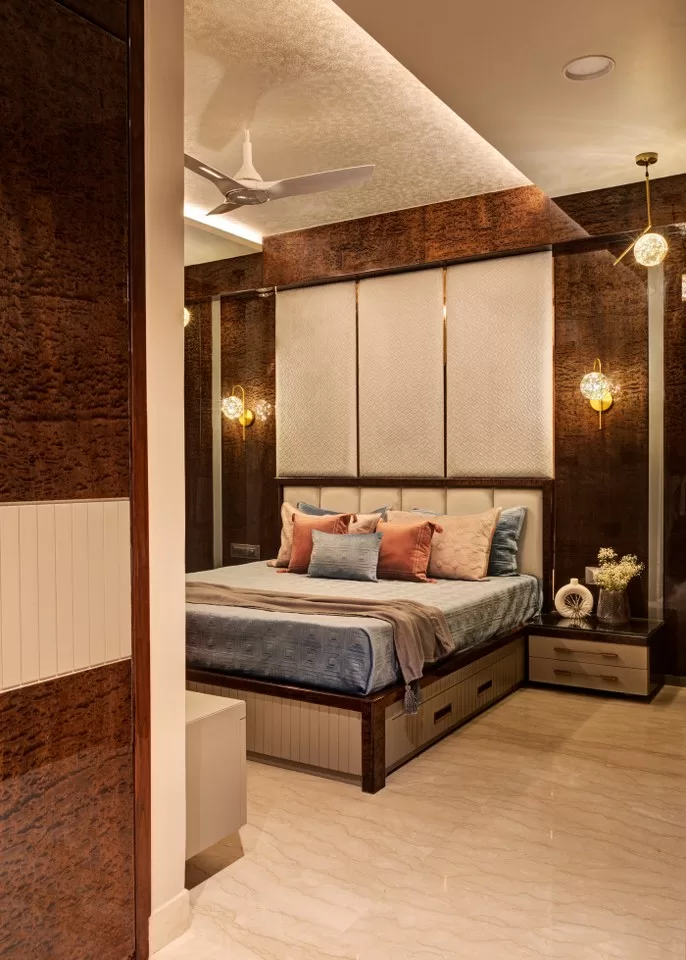 Fact File
Designed by: Designs by Rohit Sethi
Project Type: Residential Interior Design
Project Name: Urban Serenity: A Contemporary Haven
Location: Jaipur
Duration of the project: 8 Months
Project Size: 2200 Sq.ft
Principal Architect: Ar. Rohit Sethi
Photograph Courtesy: Studio BluOra
Photograph Website Link: Studio BluOra
Firm's Website Link: Designs by Rohit Sethi
Firm's Instagram Link: Designs by Rohit Sethi
For Similar Projects >> Apartment Interior Design With Warm Earthy Palette Of Materials, Textures, And Colors
The post An Exquisite 3BHK Apartment with a Minimal Aesthetic and a Luxurious Atmosphere | Designs by Rohit Sethi appeared first on The Architects Diary.