The city that has been enchanted far and wide for years at the end, Bangalore is a mix of old-world heritage charm with a striking contrast to modern high-rise structures. And in between all the city bustle lies this inspiring 900 sq ft, designed by Shilpa Srinivas and Nithin, Founders of Aarthaa Design Studio. Taking cues from the term 'less is more', elevating the bare form, revealing the true essence of design and achieving simplicity, an earthy colour palette becomes the face of this minimalistic modern home. The lack of natural light on the first floor became the reason for hues that craft an idyllic atmosphere, emit warmth and add a sense of space and volume to the home.
An Earthy Colour Palette Becomes The Face Of This Minimalistic Modern Home | Aarthaa Design Studio
VISIT : Aarthaa Design Studio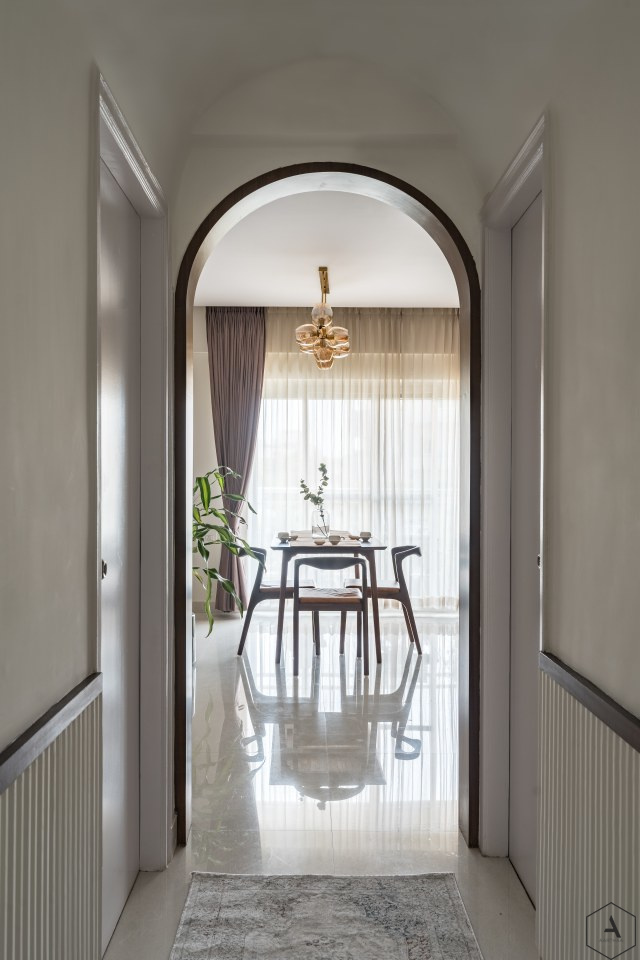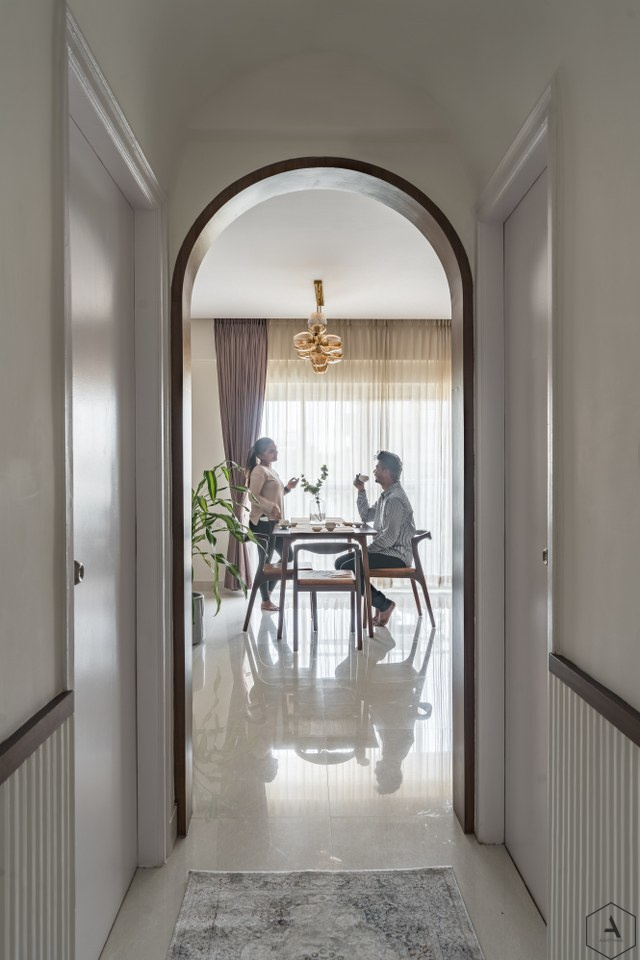 Upon entrance into the foyer area, a customised wallpaper above teak veneer beading and fluted POP panels wall cladding greets the eye. A decorative wall light with brass and ribbed glass details enhance the appeal of this frame.
Moving towards the living room, a smartly designed media unit hides the MCB behind fluted teak panels for easy access and a clean look. A compact space renders innovation! A small pooja unit is accommodated beside the television with a sleek ledge and sliding panel.
Three seater sofa in soft beige merges with the vibe while a contrasting high back wing chair and pastel pink arched panelling bestow a breath of fresh air. Multiple planters used around the home are an attempt to bring the outdoors inside.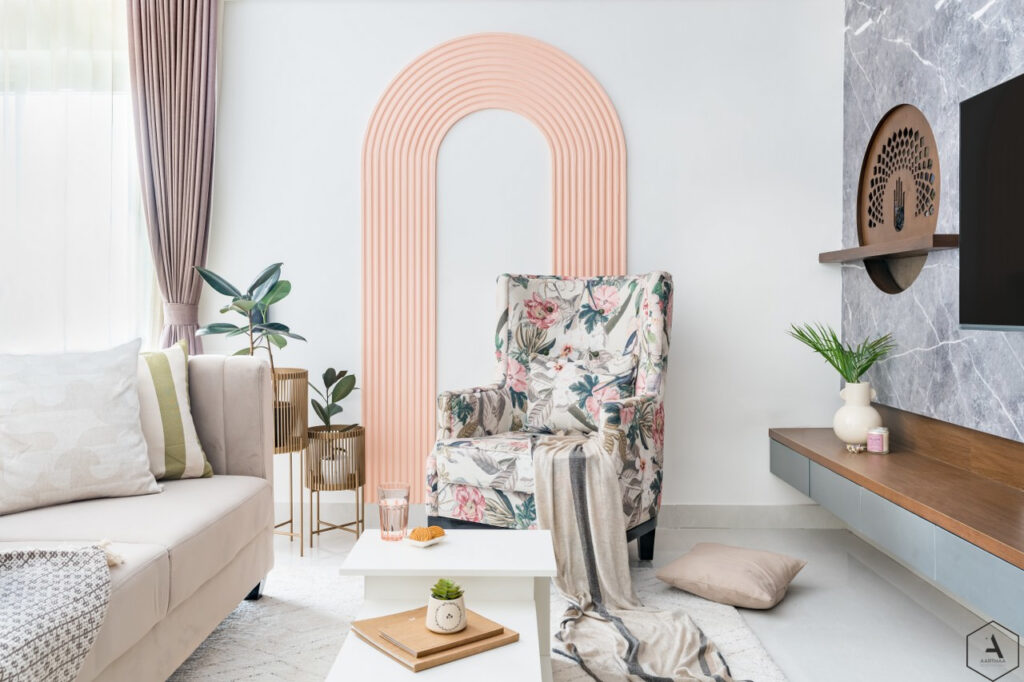 When we talk about traditional homes, wood is the first picture to pop into our minds. In the modern rendition of homes, wooden accents and furniture still play a major role. With a rich teak dining table and custom designed sleek chairs, the space brings a touch of Indian culture.
A hollow wall cavity was covered in cement board to create an arched open display unit with ledges and concealed strip lights to highlight the glassware. A brass finished glass chandelier lights up the space. Comfortable and uncluttered, the whole space brings a sleek touch and a swash of drama to break the monotony.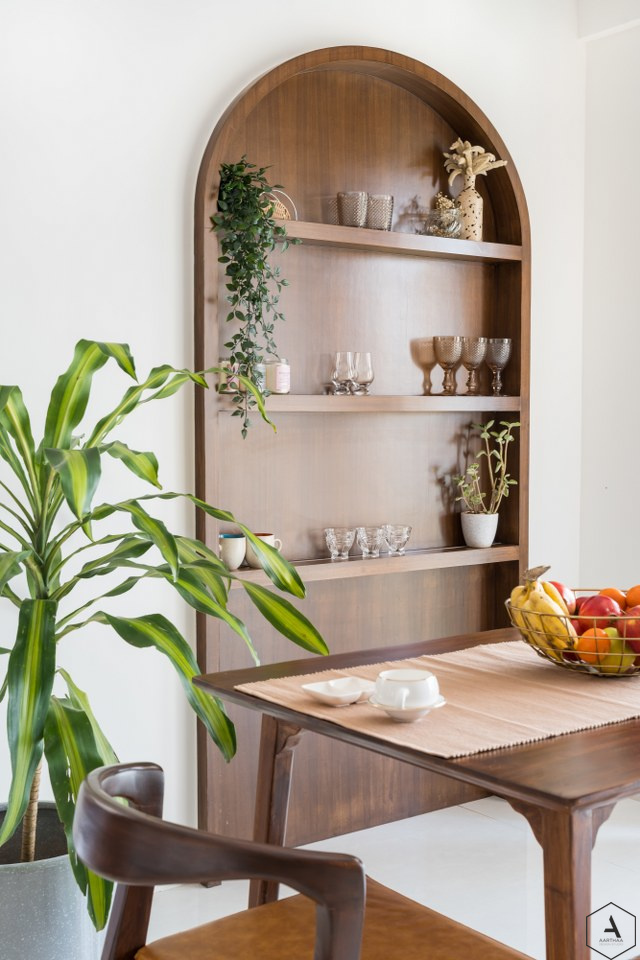 Designed with sophisticated acrylic cabinets in neutral shades, the kitchen features a stunning white quartz countertop.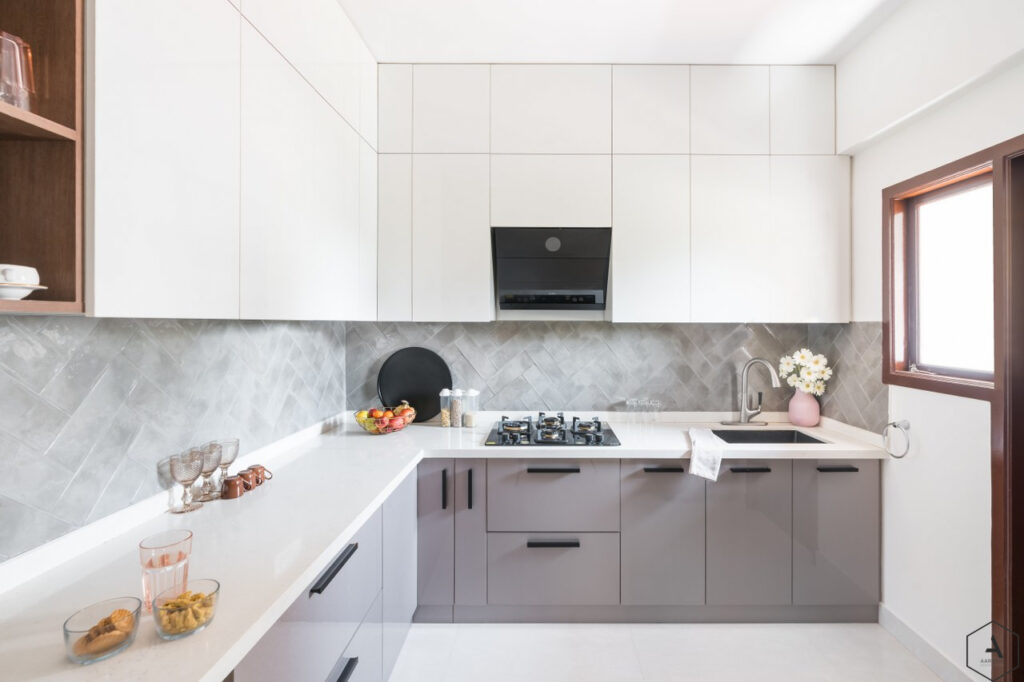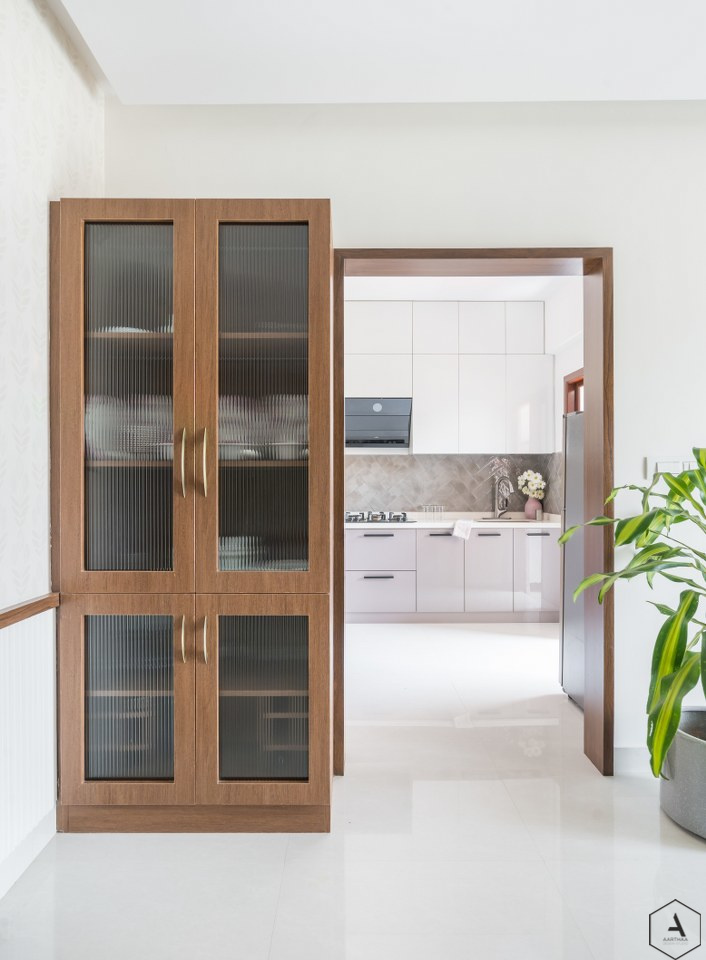 Glossy subway tiles laid in a herringbone pattern form the backsplash and complete the look. Where wooden niches and cane baskets bring colour, sleek matt black handles match the appliances.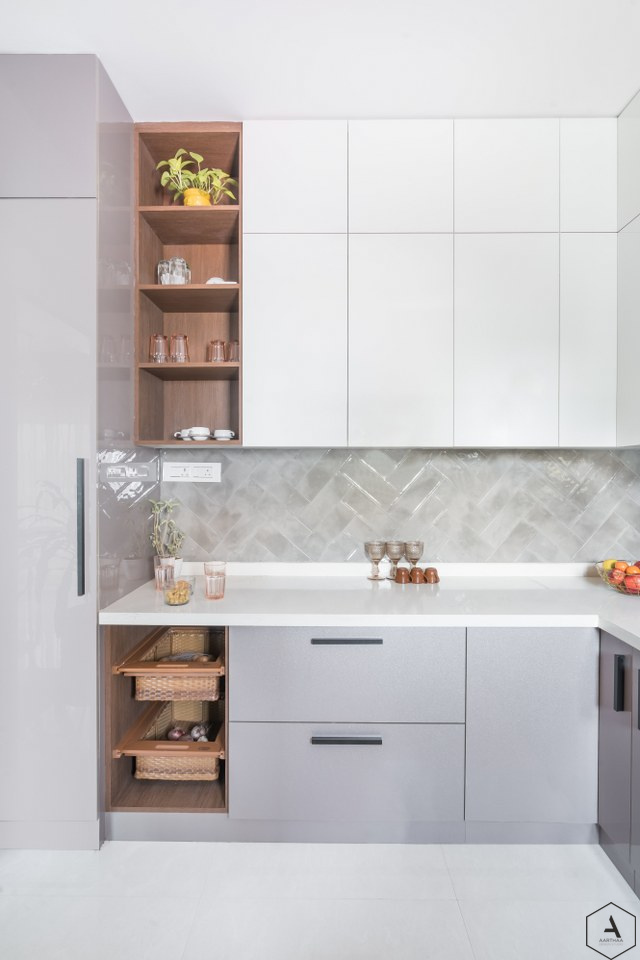 A narrow passage directing to the kids and master bedroom is enhanced by a soft arch made of flexi ply and veneer. To replicate it, the flat ceiling has also been transformed into a curved design using gypsum board covering, finished in paint.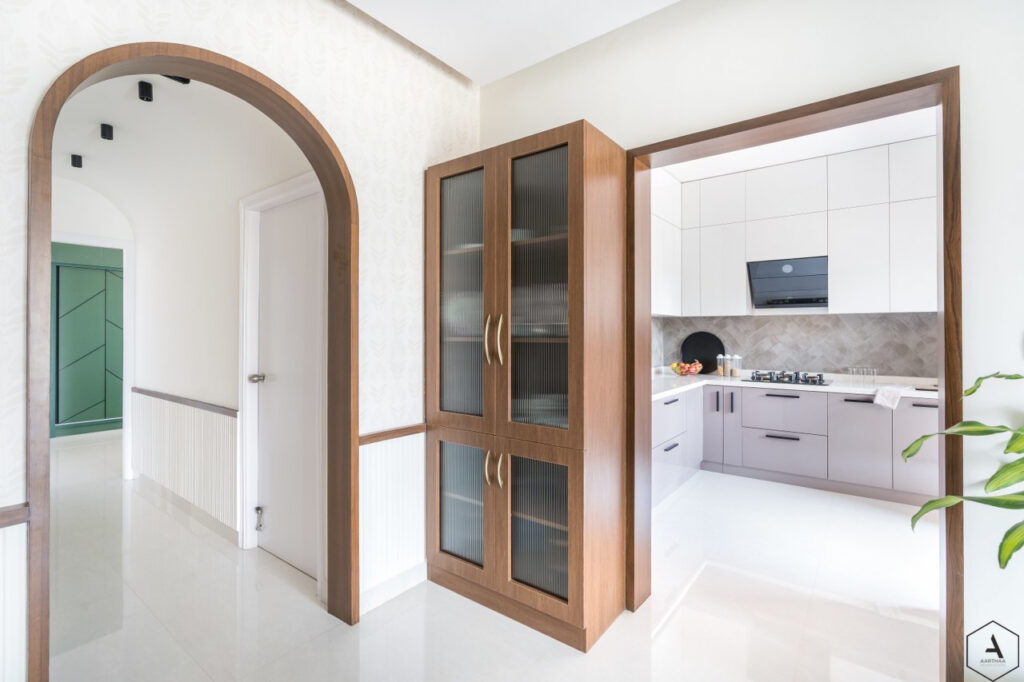 Going and planning a step ahead, the door colours are changed from dark laminate to go hand in hand with the passage area. Teak veneer beading with fluted POP panels on the walls has been continued here as well. Black cylindrical ceiling light fixtures illuminate the passage.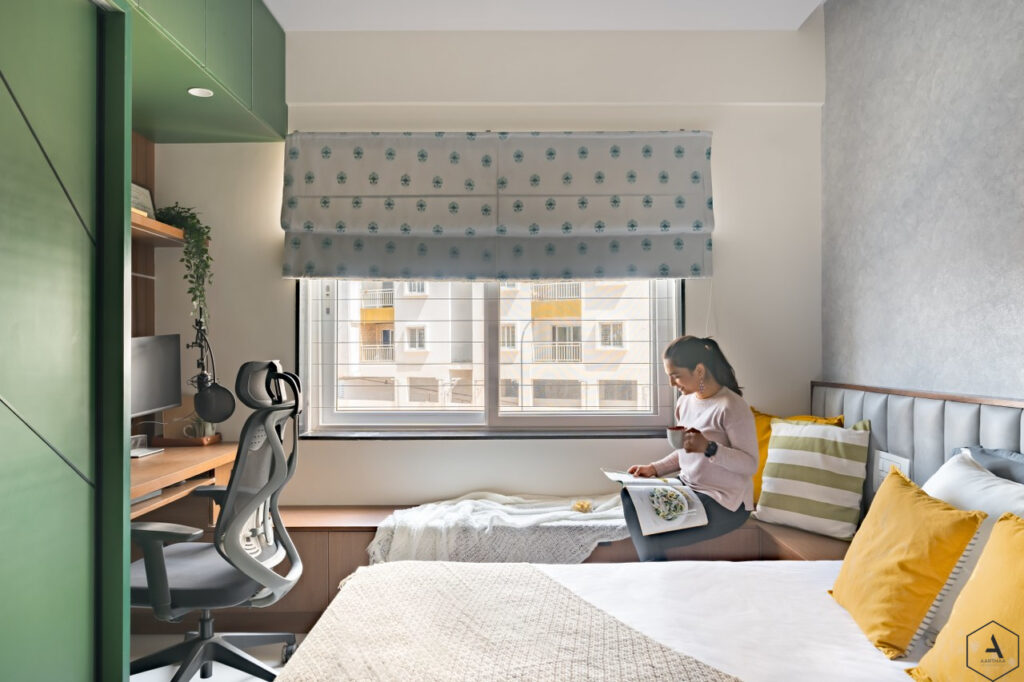 The master bedroom required clever manoeuvring around the structural anomalies with slightly protruding beams and columns creating a niche behind the headboard. The niche was covered using cement board, finished in grey textured wallpaper. Post that, the layout of this room was planned in a way to facilitate good space for the dresser cum sliding wardrobe cum study unit on the same wall.
Keeping up with monotones, a pop of forest green colour is introduced. Another striking feature is the sliding wardrobe detailed with matt black strips to match the concealed long handles. At the far end of the bedroom, a bay window seat with adequate storage space crafts a cosy nook for the clients' love for a steaming cup of tea while indulging in a good read.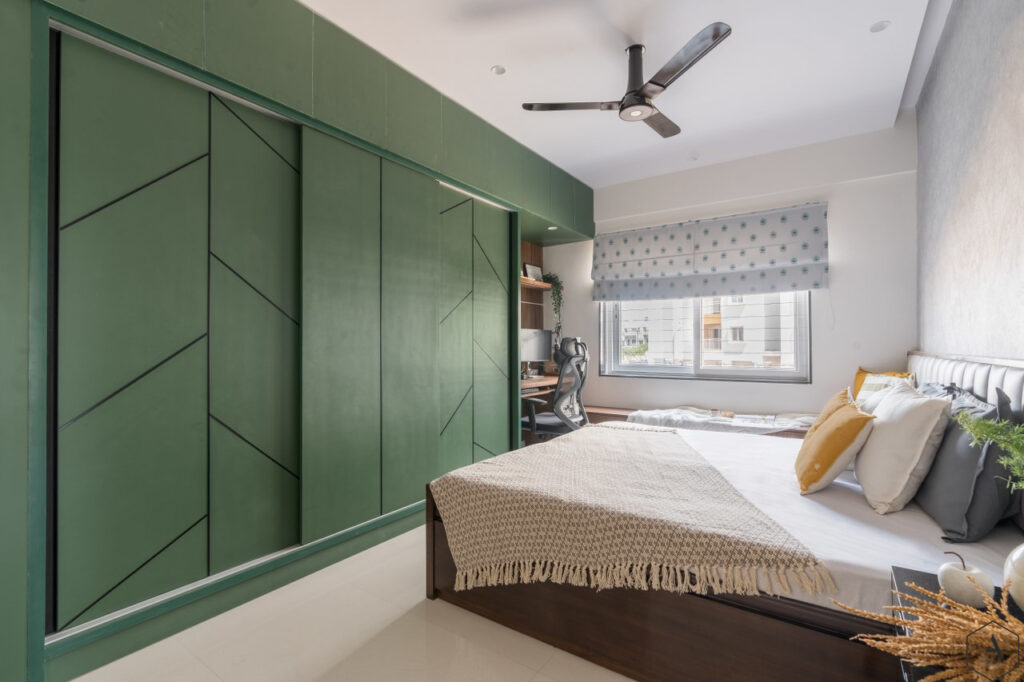 The study table is designed keeping in mind the owner's needs, with a floating table and functional drawers decked with a fluted back panel and concealed lights.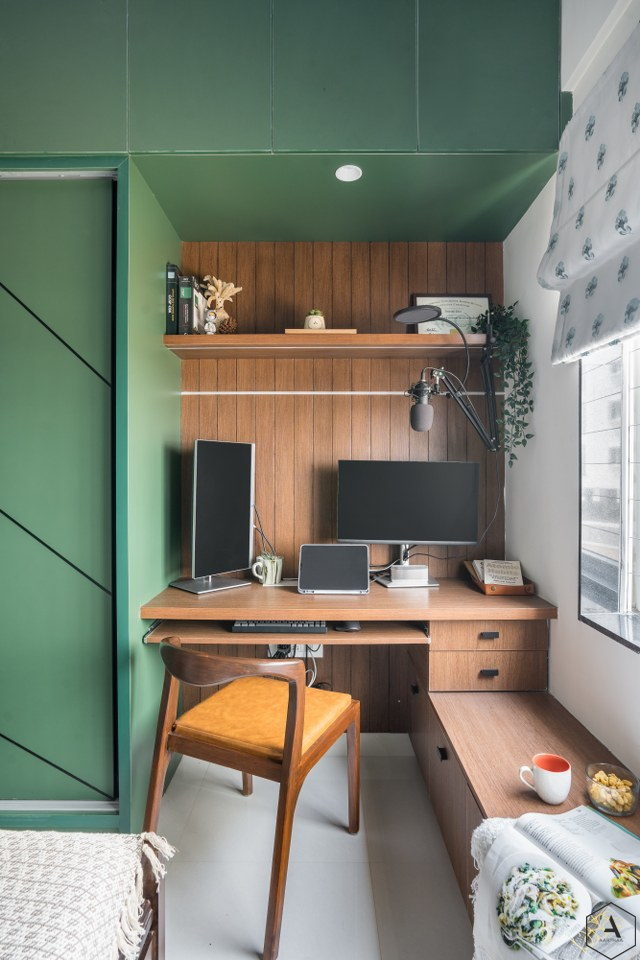 Not restricting a girl's room to pink, the daughter's bedroom is a combination of blue and pink tones that are balanced with white walls. A playful corner bunk bed appeals to her young mind and creates more floor space as a play area.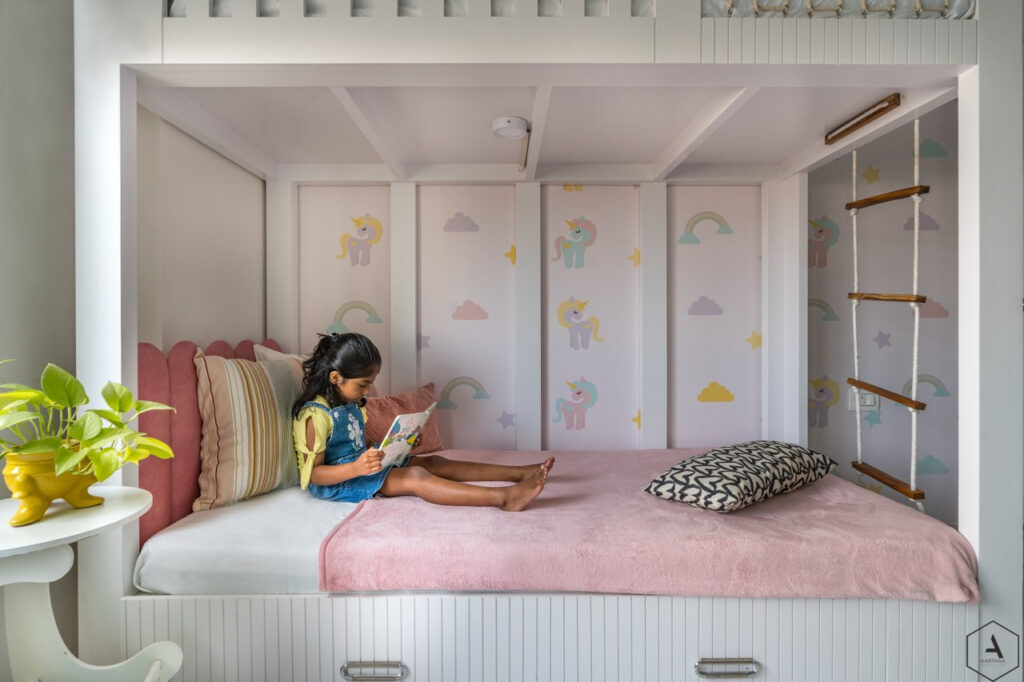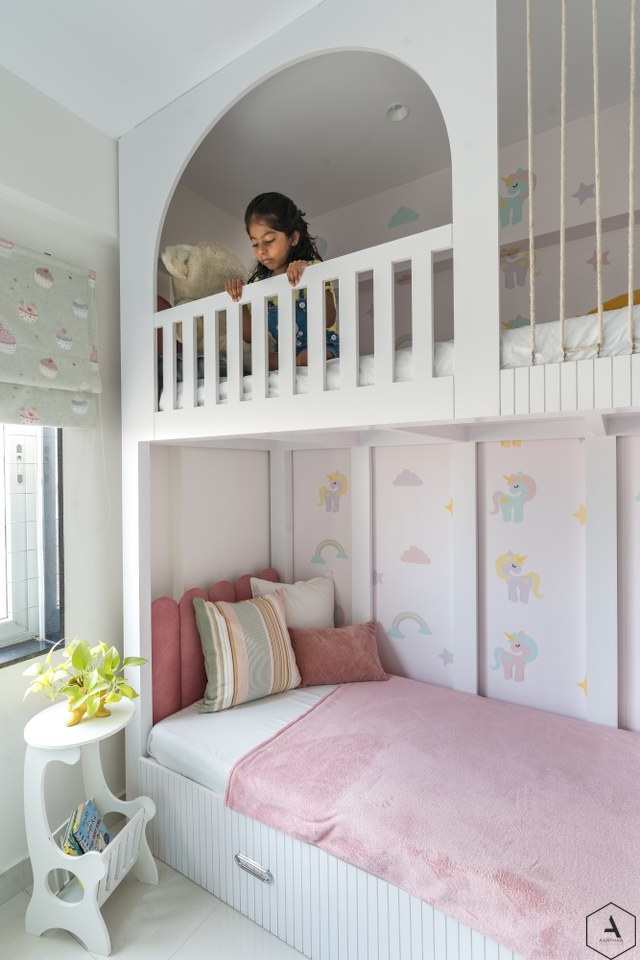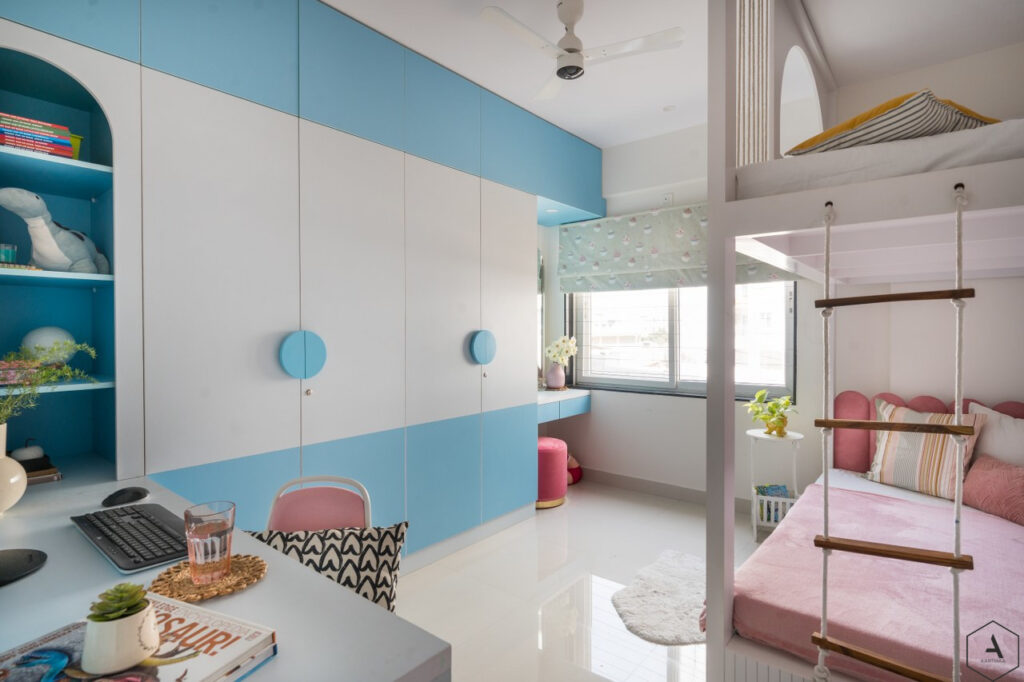 The arches enter this room as well—from the arched opening in the bed to an arched dressing mirror and wardrobe niche. Customised blue handles match the hue of the wardrobe shutters and the roundness of the arches.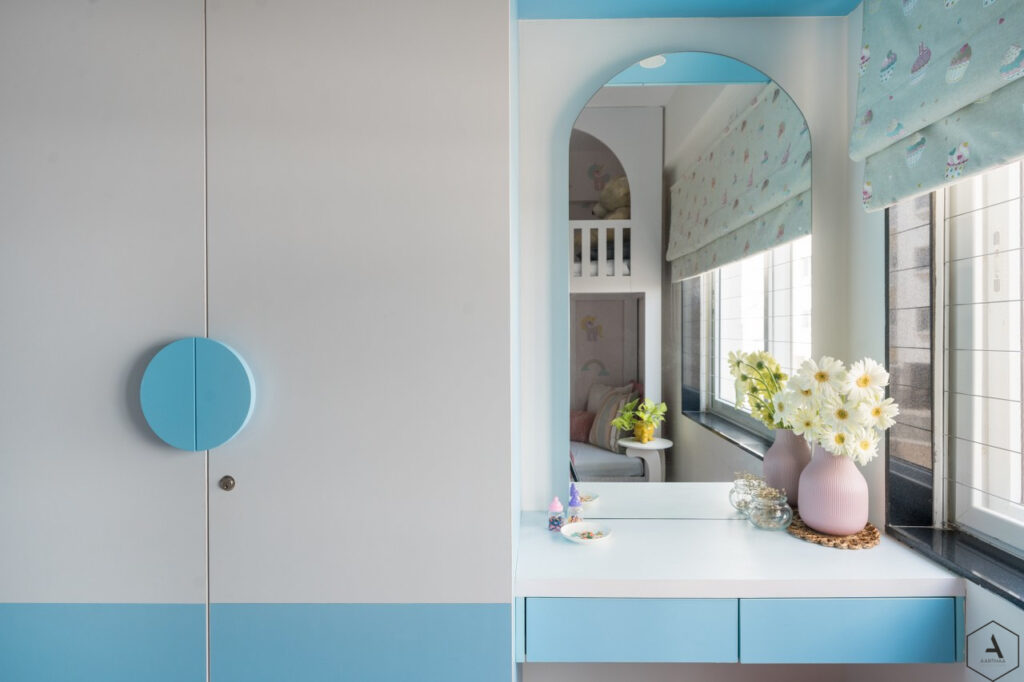 A cutesy study corner makes for an ideal learning spot. A shelter to dwell, a haven of peace, a break from the hustle and a retreat to relax—function and fluidity converge with a sense of harmony and poetry in this home.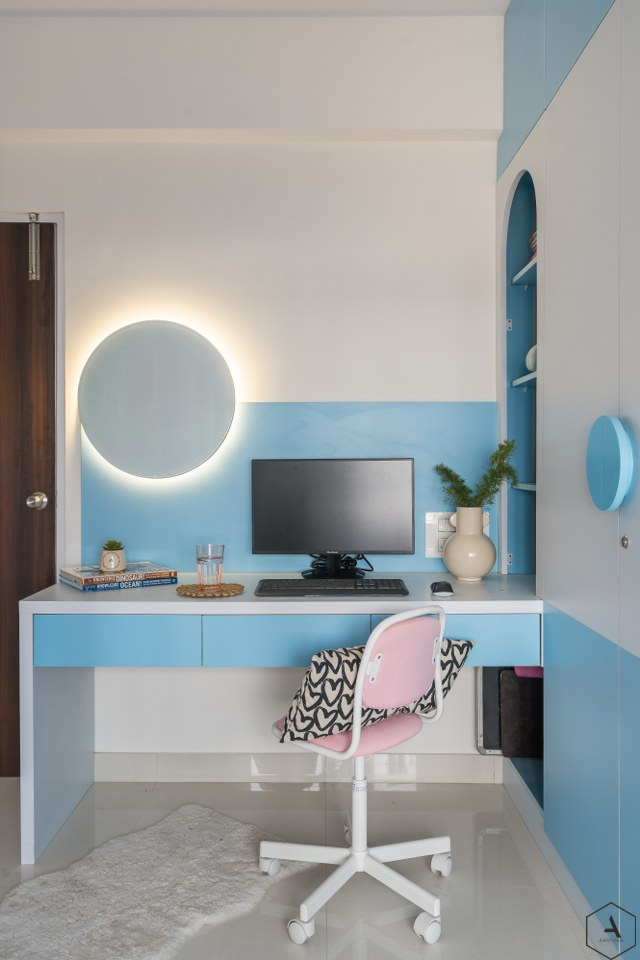 FACT FILE
Designed by : Aarthaa Design Studio
Project Type : Residential Interior
Project Name : The modern abode
Location : Bangalore
Year Built : 2022
Duration of the project : 75 days
Built-up Area : 1196 sq.ft
Project Size : 900 sq.ft
Project Cost : 17 lakh
Principal Designer : Shilpa Srinivas
Team Design Credits : Nithin
Photograph Courtesy : Shine Parsana
Products / Materials / Vendors : Lighting – Aditya lamps / Sanitaryware – Kohler / Paint – Asian Paints Wallpaper – Wall Queen / Hardware – Hettich.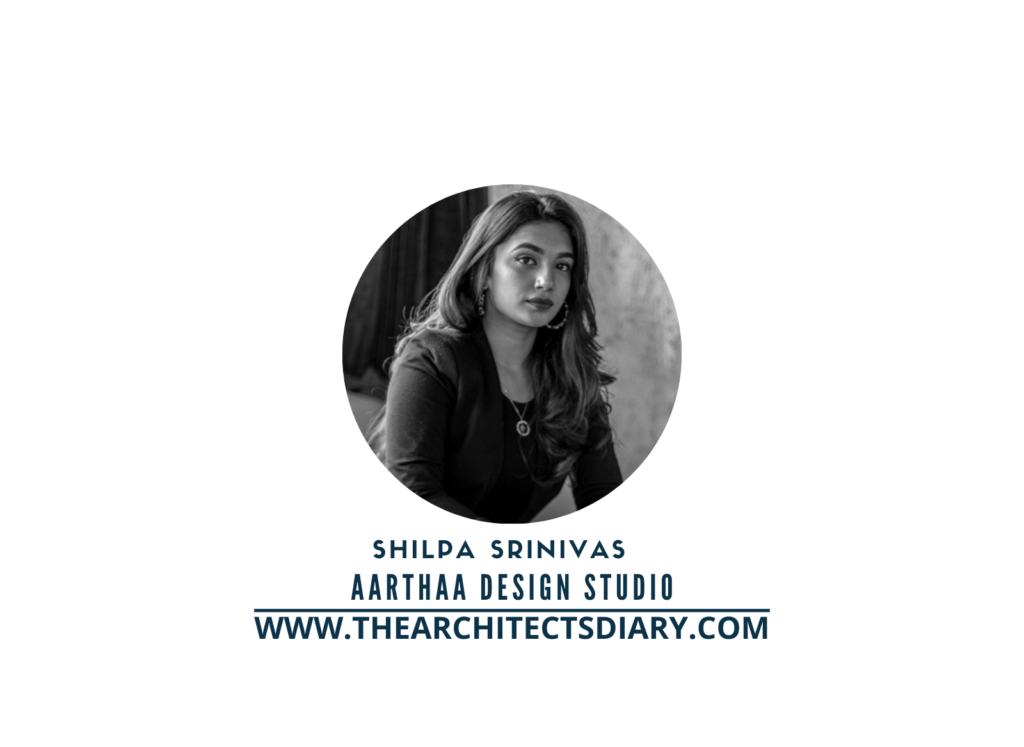 Firm's Instagram Link : Aarthaa Design Studio
Firm's Facebook Link : Aarthaa Design Studio
For Similar Projects >> MUMBAI APARTMENT WITH NATURAL MATERIALS AND A PASTEL COLOUR PALETTE
The post An Earthy Colour Palette Becomes The Face Of This Minimalistic Modern Home | Aarthaa Design Studio appeared first on The Architects Diary.