As we begin with this Residential Interior Renovation project which was built around 3 decades ago, our vision was not only to create an aesthetically appealing interior space inclusive of modern amenities. We designed it in such we were we could accommodate these modern amenities which any modern residential apartment has.
An Aesthetically Appealing Interior Space Inclusive Of Modern Amenities | K Mewada Architecture. interior. Designer
Visit : K Mewada Architecture. interior. Designer
We wanted to have Grand and welcoming main door design, which we have tried to achieve by creating symmetrical panelling which can be merged with main door design giving it one single grandeur look too the entrance.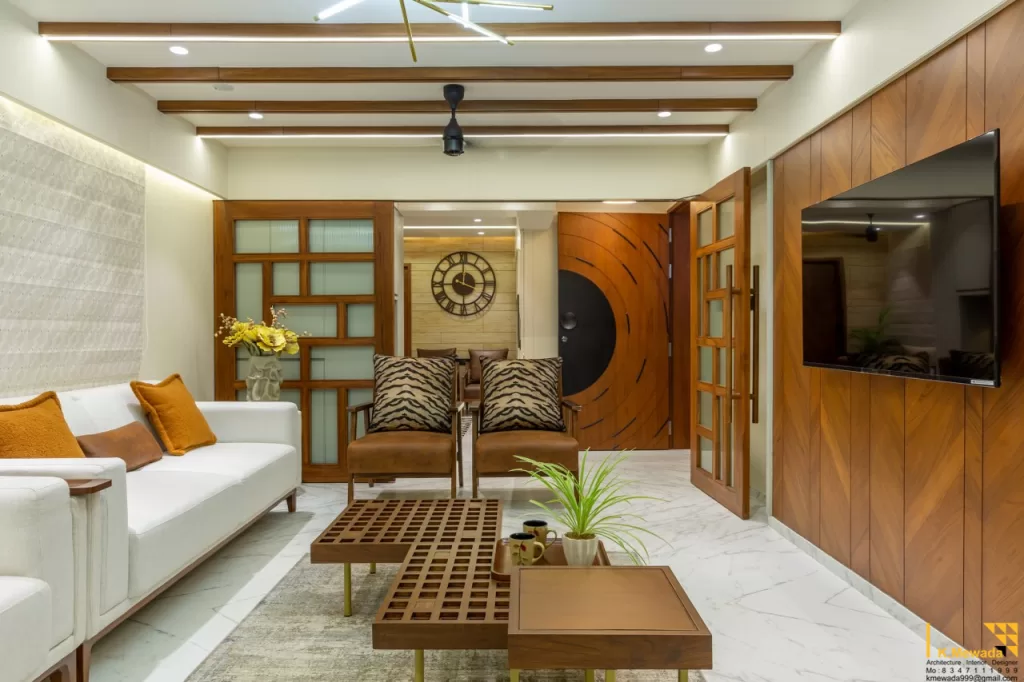 As we enter in we see very spacious and grand living room and which can further extended to the drawing room by openable sliding partition be in between, colour scheme which is something homely and inviting about this living room area that has been designed in earth tone colours.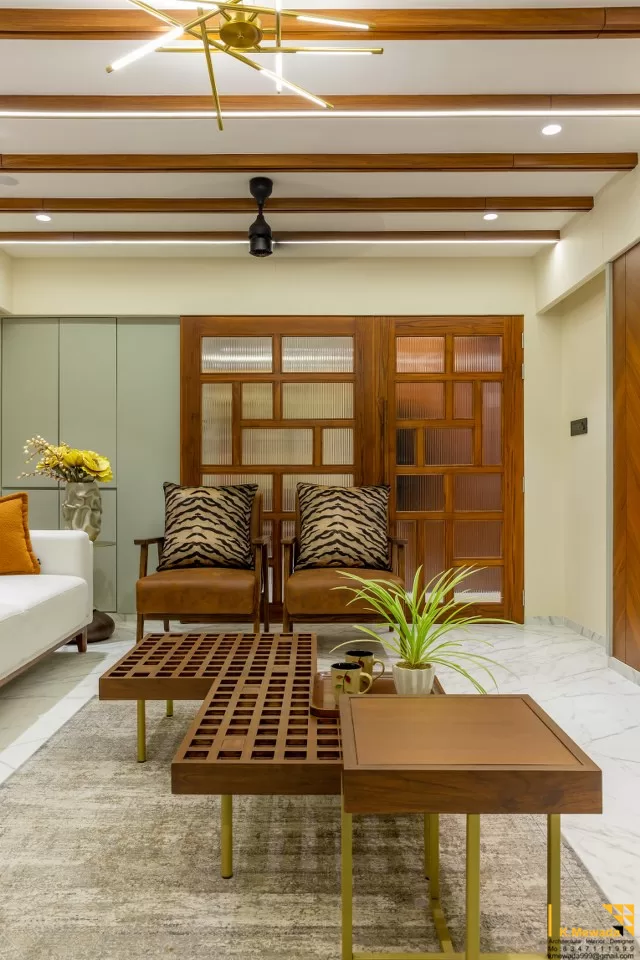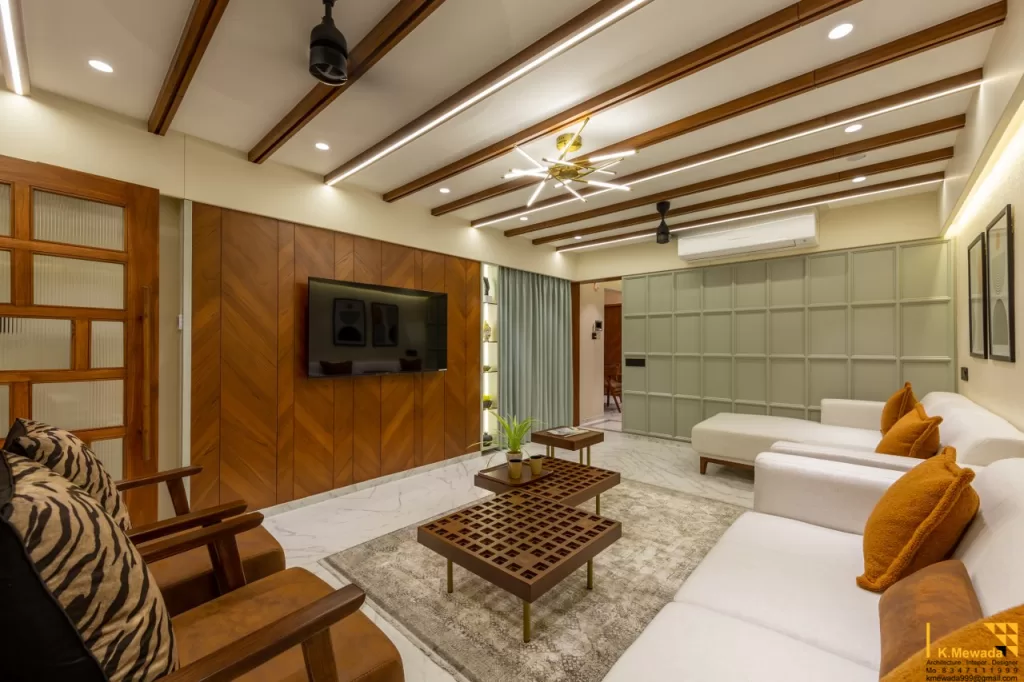 With exclusive dominating veneer panelling design as TV wall.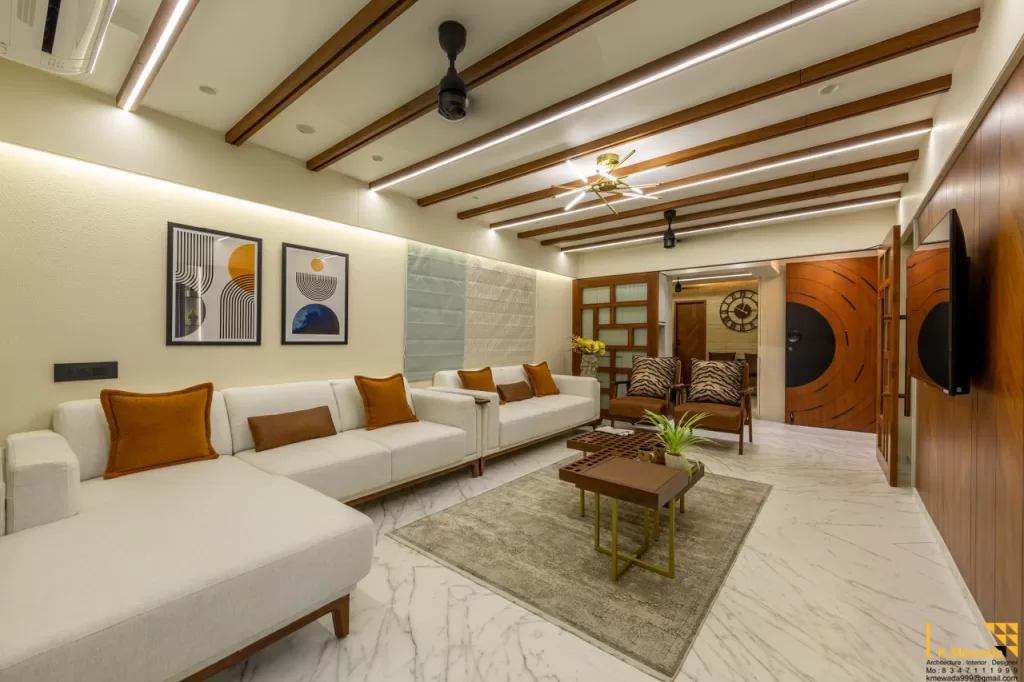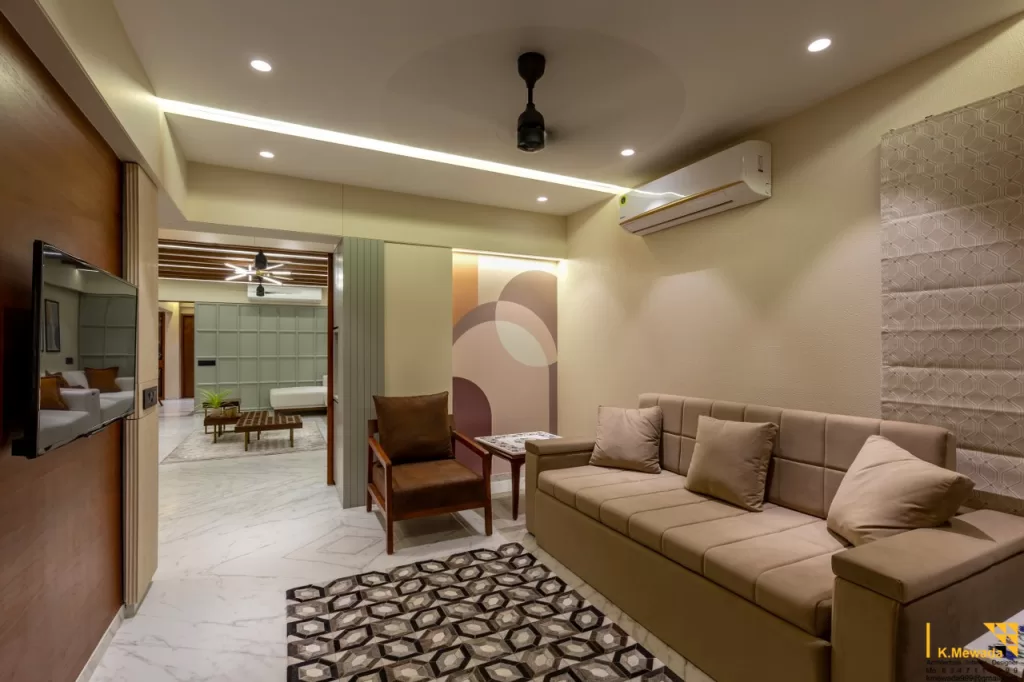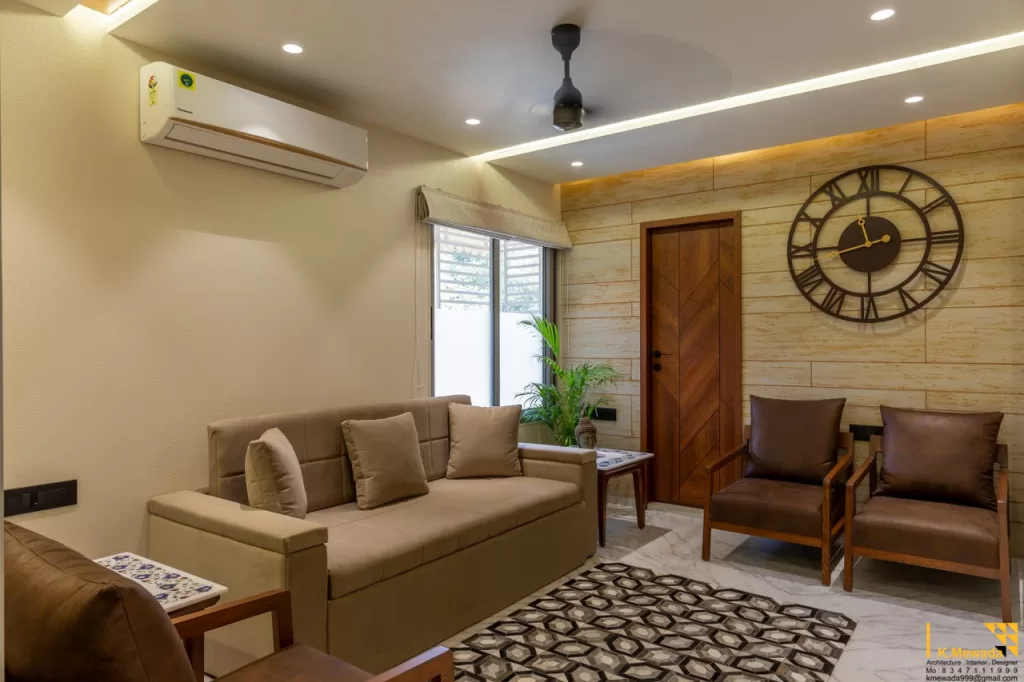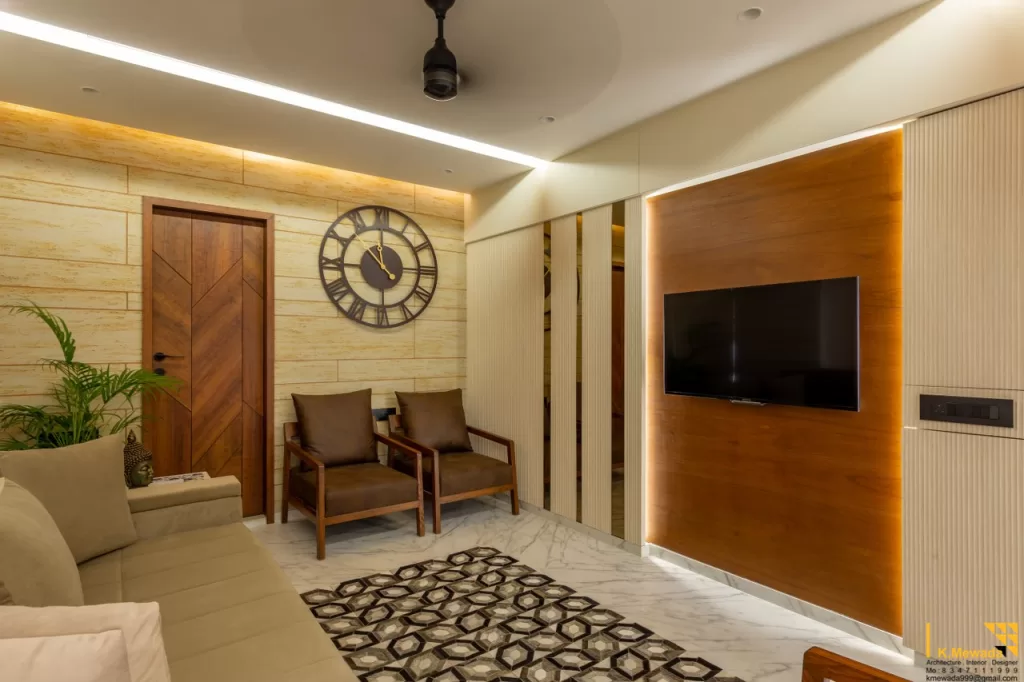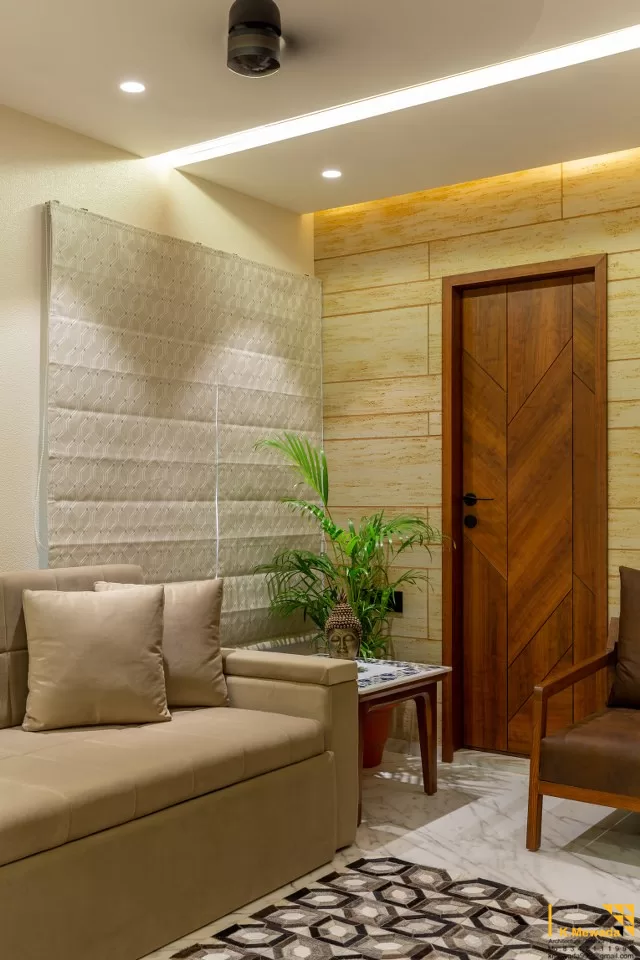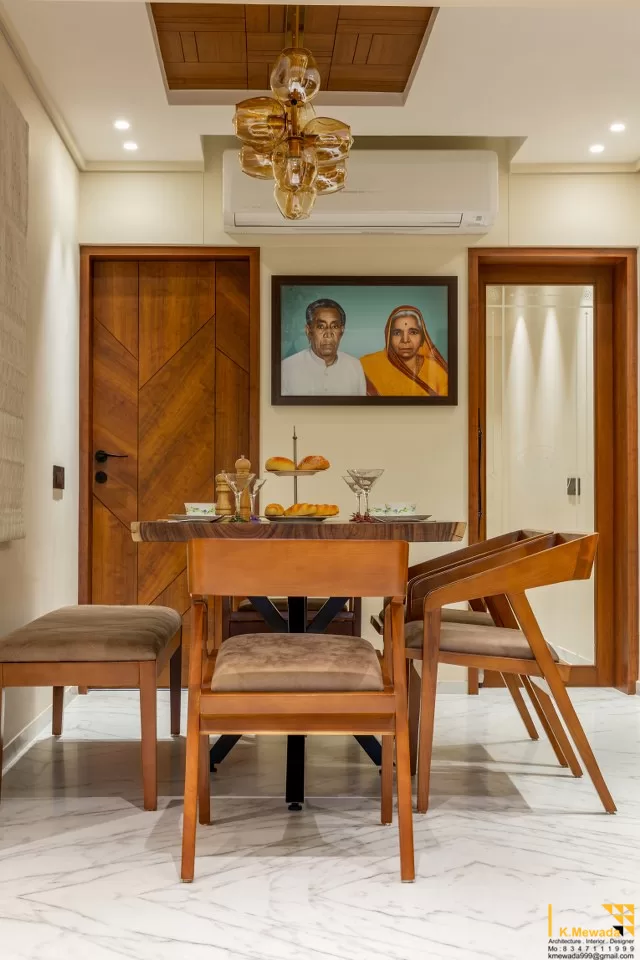 A kitchen is a heart of your home, the place where your family spend hours, enjoying meals, as we were remodelling the entire kitchen part we came up the open kitchen concept in wine and beige colour combination with uncut raw wooden dining table giving perfect blend in to space making it more easy to serve delicious home cooked food, which was previously designed as closed kitchen with partition wall and door.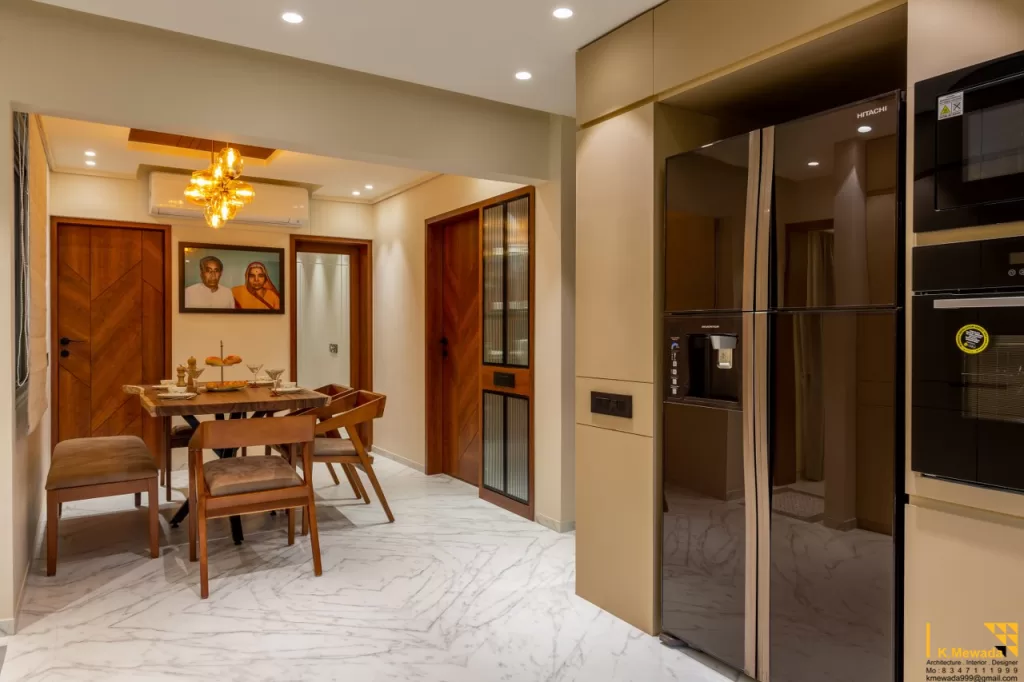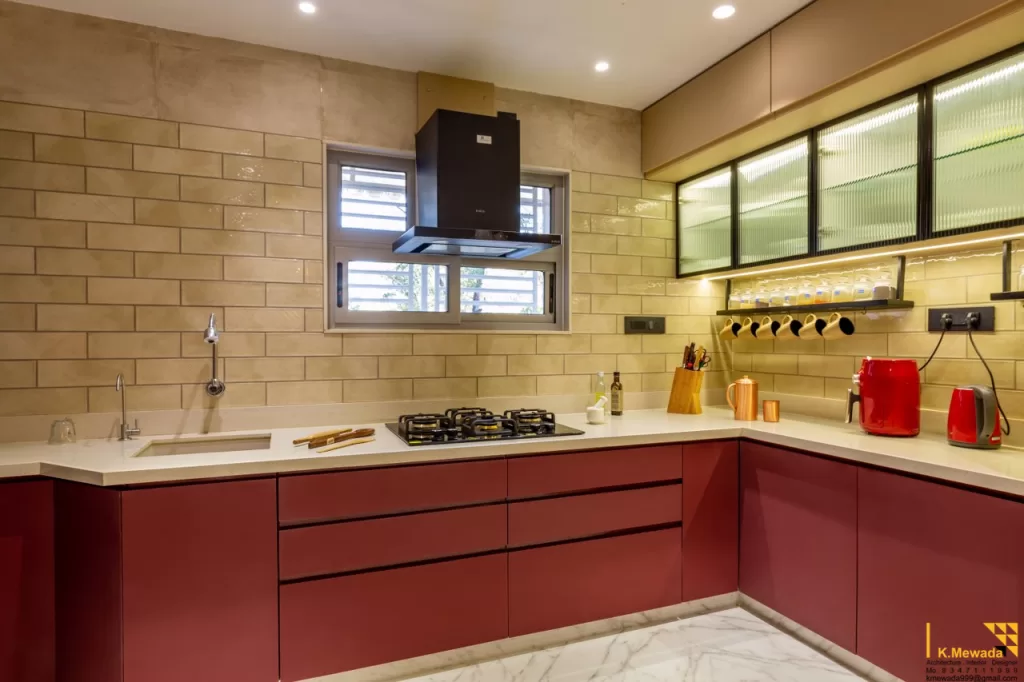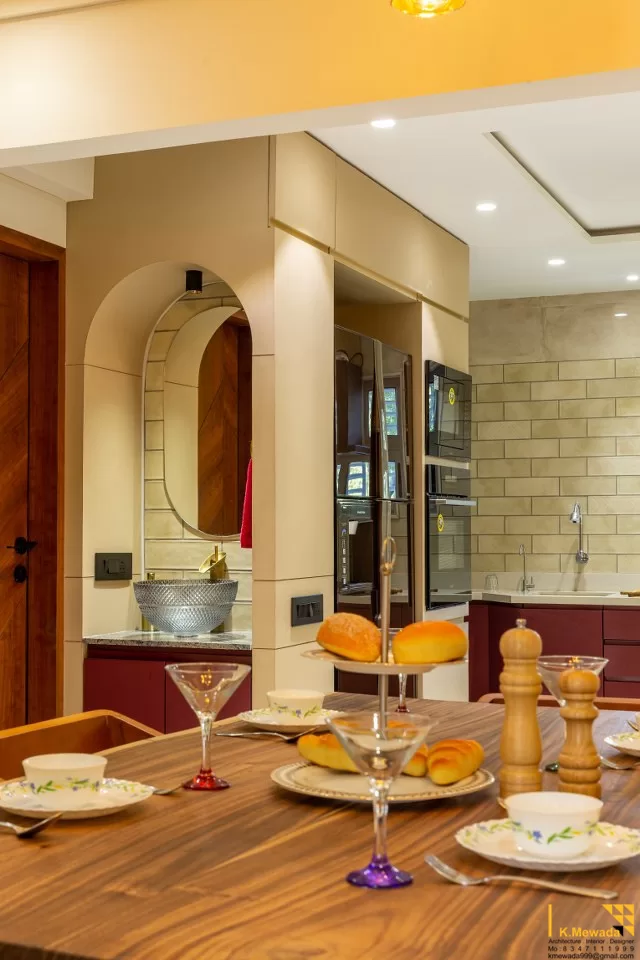 A Head of the family, client's mother being a very spiritual person we have conceptualized this mandir in very traditional Indian design, as we enter into the room we can feel the spiritual aura of the room,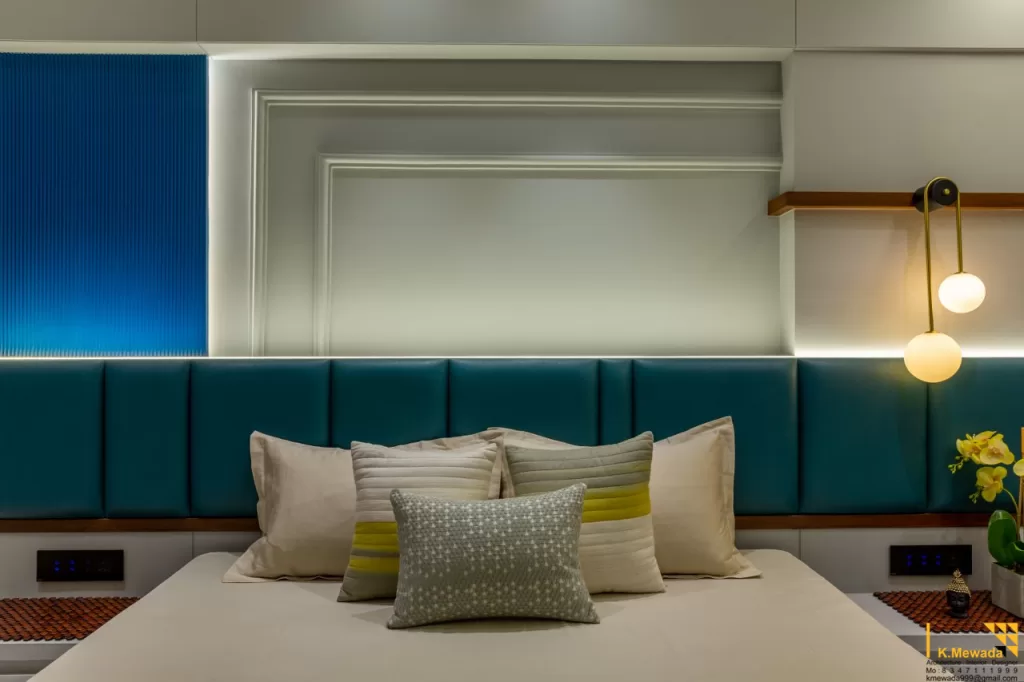 Master bedroom designed with oversized headboard in this grey and blue colour theme bedroom is undoubtedly part of why this set up feels so luxurious.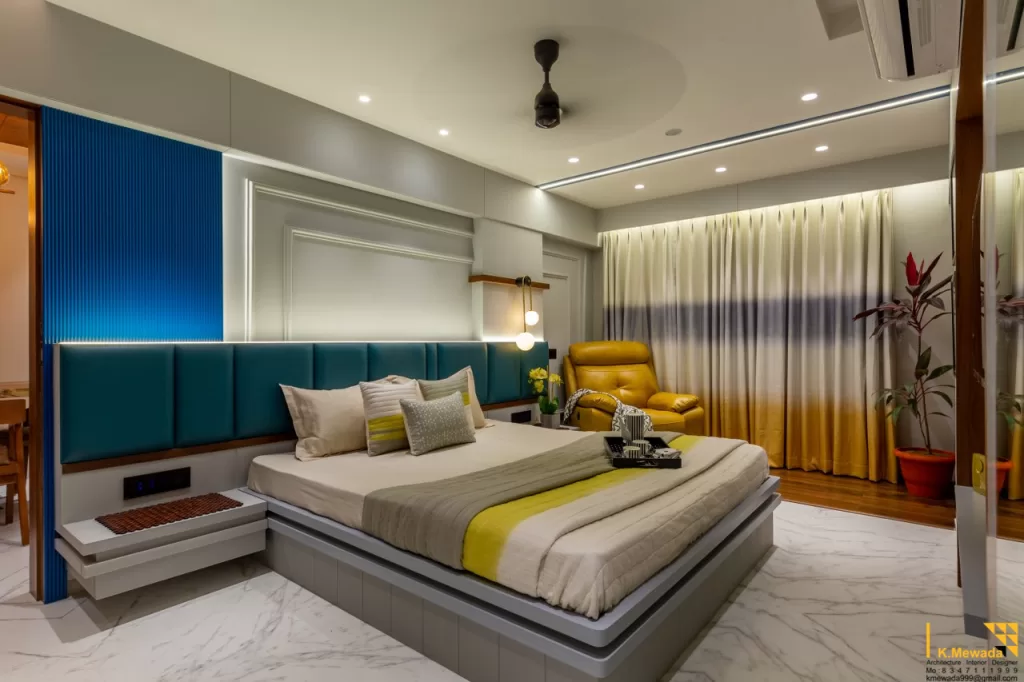 You will notice that many luxury bedroom are big on metallic and neutrals, but that doesn't mean you can't use colour.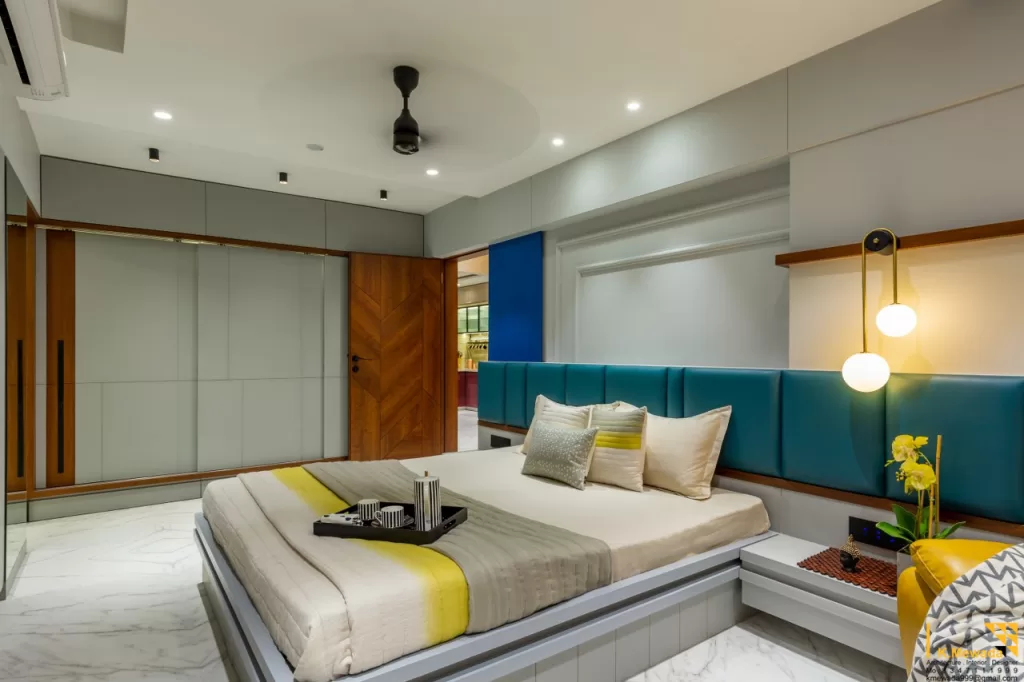 A great example is the colour blocked corner of this bedroom. The plush cushioning stretching across the entire back wall makes this room look extra cozy.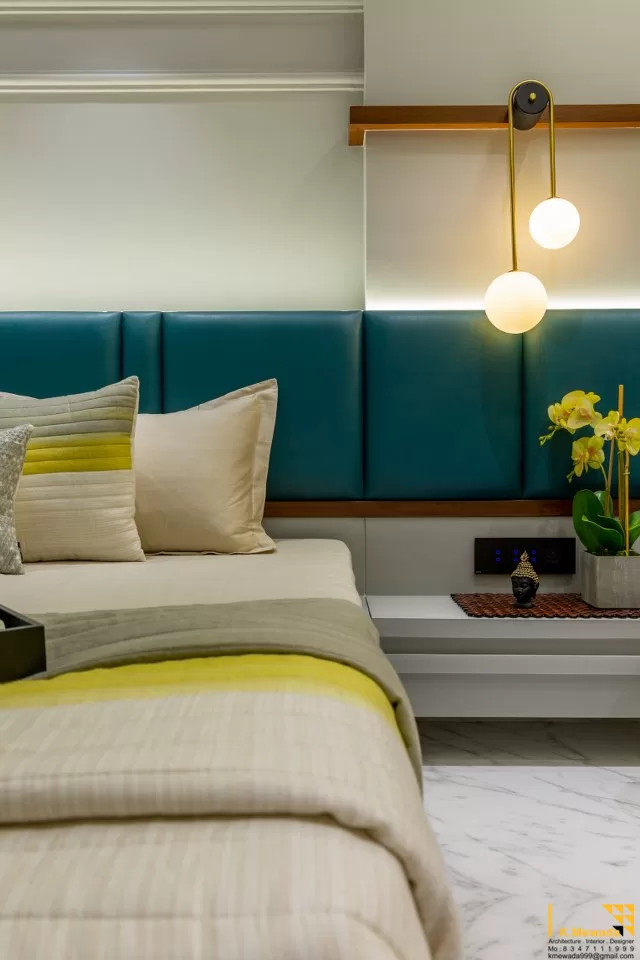 Giving this modern bedroom interior design ideas a colourful twist with this lovely colour combination of white and blush pink, this white bedroom highlighted with pink curtains and bed furnishing the focal point of the room, the bed back wall elevate the entire look of the space within no time.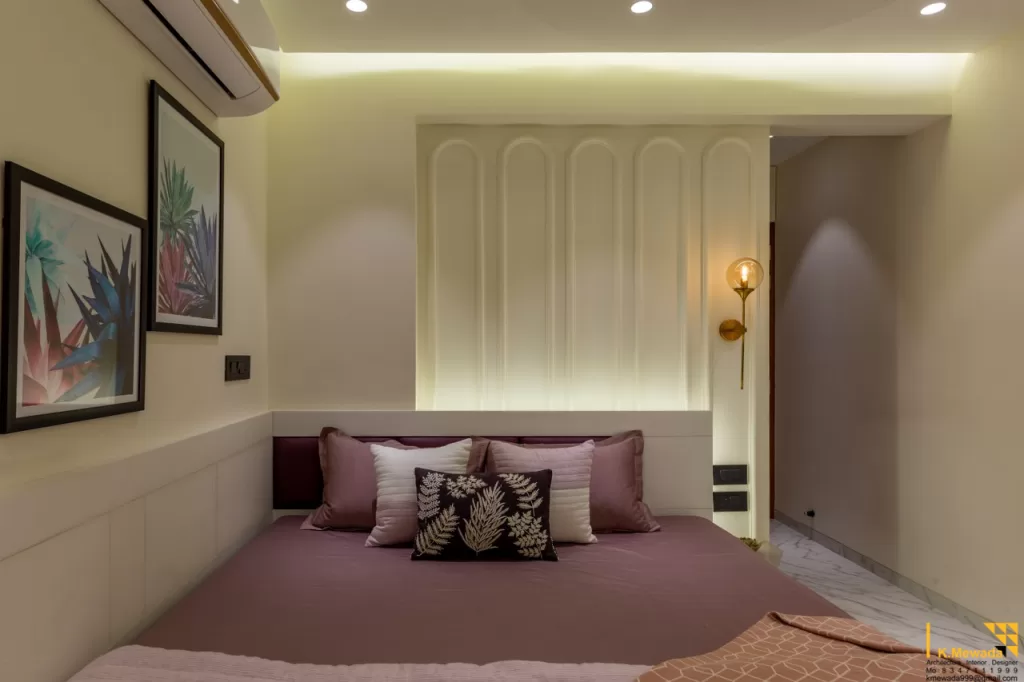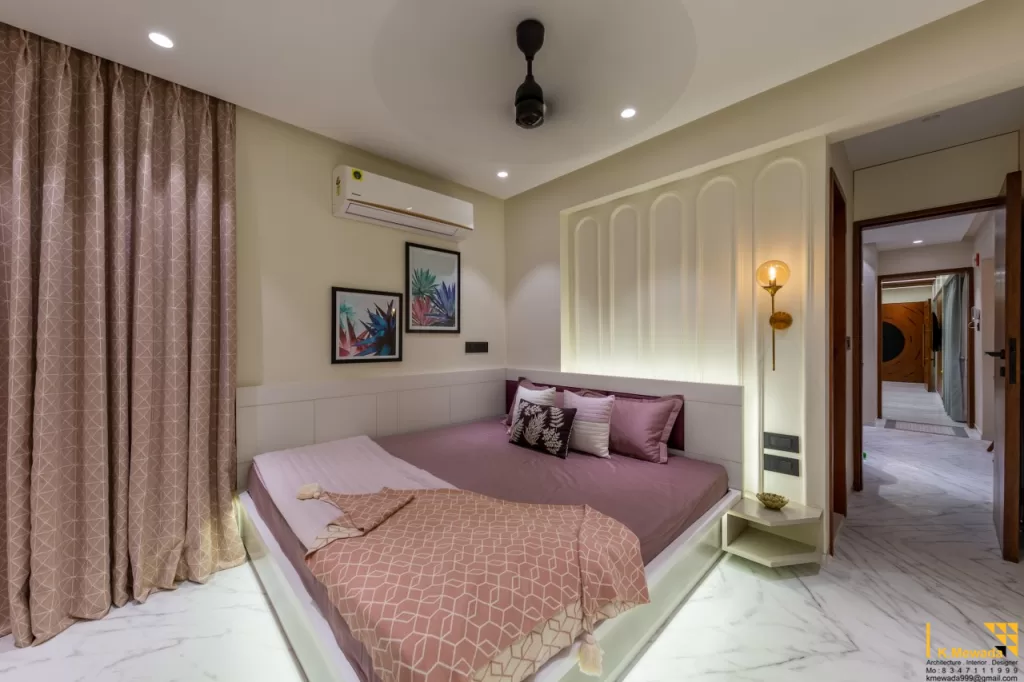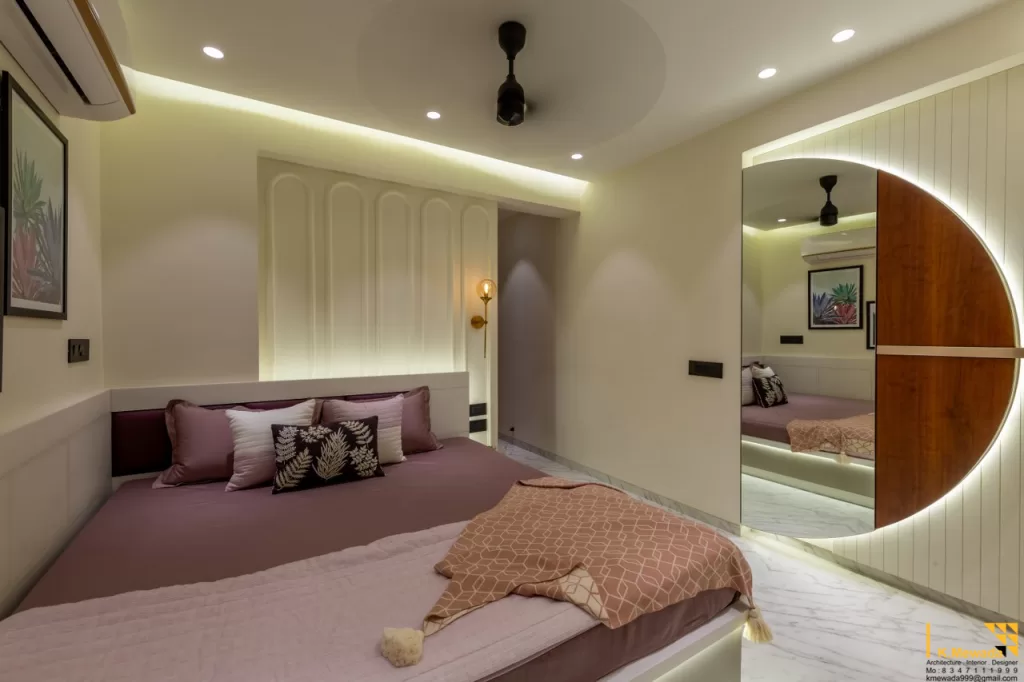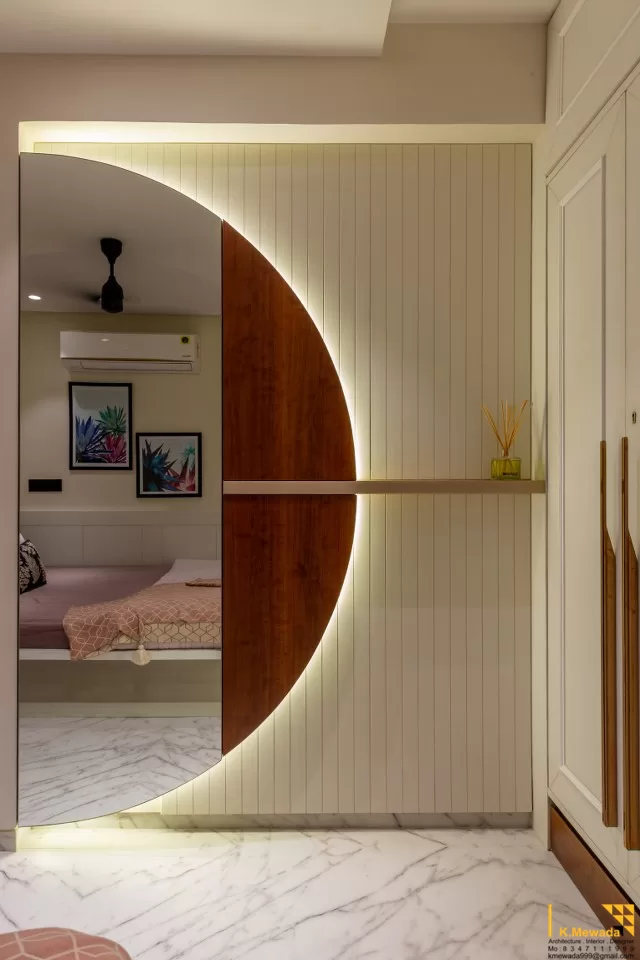 Carved out this small single bed room keeping it very minimalistic approach to give more space and not to overdo, we have designed this beautiful shelves in to the niche and decorate with one single wall lamp to give it focal point.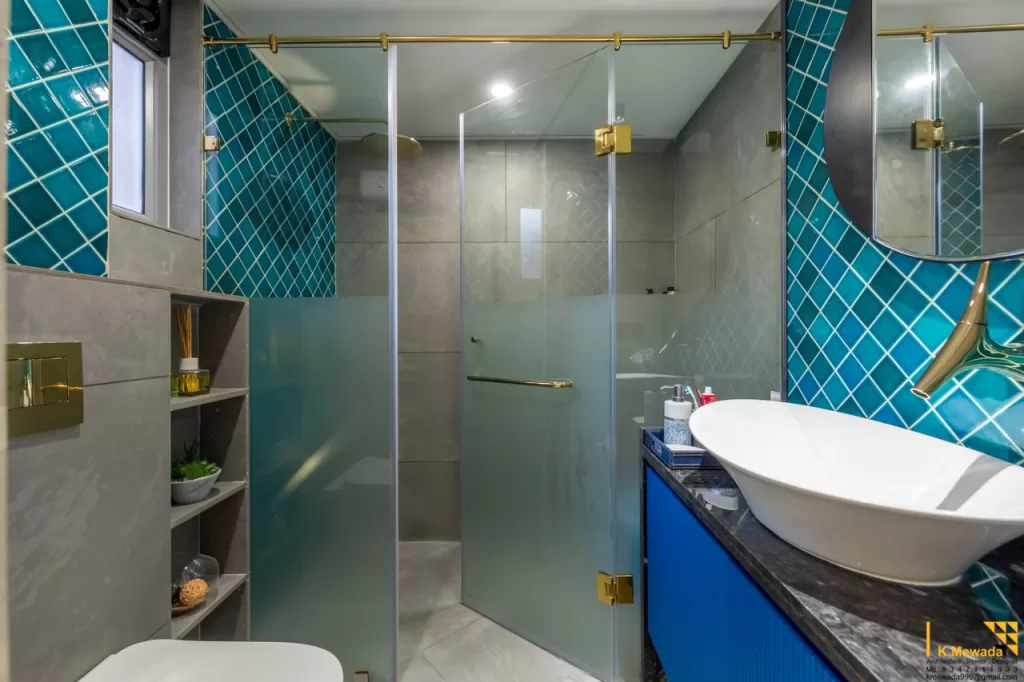 Master Bathroom-1 An accent wall covered in blue mosaic tiles instantly sets a lovely tone in this small Bathroom. Gold finish accessories of the Bathroom giving great Complimentary to this rich blue mosaic tiles.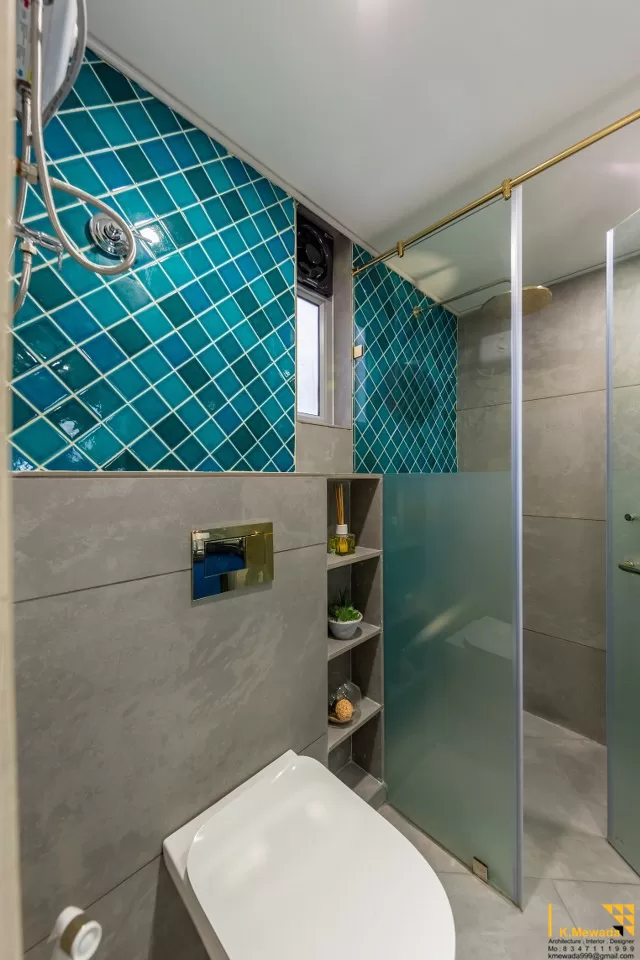 Master Bathroom 2 – Black and white can never be out of trend carefully designed this small Bathroom, lighting it up with ambient light running thru corner of featured wall Helps to light up the whole Bathroom, Notched circular Mirror setting up perfect selfie point
Guest Bathroom – Giving warm look this guest Bathroomcolour scheme beige tiles with mandala prints on tiles are adding interesting patterns in to this sub tile guest Bathrooms…….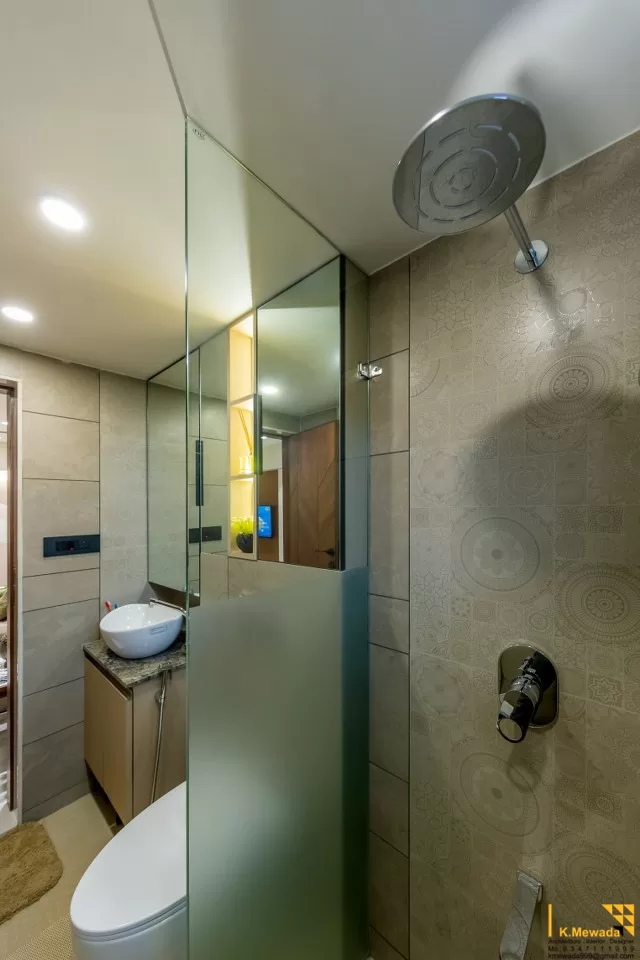 Fact File
Designed by : K Mewada Architecture. interior. Designer
Project Type : Residential Interior
Project Name : Kesar Bhavan
Location : Shahibaug, Ahmedabad
Year Built : 2022
Duration of the project : 6months
Project Size : 1400 sq.ft
Principal Designer : Nikunj Mewada
Products / Materials / Vendors : Finishes – Veneer, PU Color, Acrylic Laminate / Wallcovering / Cladding – Veneer, Wood, Acrylic Laminates, MCM Stone, Wallpaper, PU Color, Zinc Paint / Lighting – Bela Casa Lights Ahmedabad(Decorative Hanging Lights) / Sanitaryware – Kohler, Jaguar / Flooring – Qutone Ceramic / Kitchen – Hettich Hardware, Fluted Glass, Acrylic Laminates / Paint – Royal Advance Paint Artefacts – Drapshoppe Ahmedabad / Hardware – Hettich.
Firm's Facebook Link : K Mewada Architecture. interior. Designer
For Similar Projects >> Modern Take on Classical Design Elements Graces this Residence in Gujarat
The post An Aesthetically Appealing Interior Space Inclusive Of Modern Amenities | K Mewada Architecture. interior. Designer appeared first on The Architects Diary.