Living in the uptight city of Mumbai, where a city dweller constantly lives on his toes, one wants to come back home to detach and disconnect from the urban hustle bustle. The WHITE BLUE nest promises to be this urban private space to unfasten, invigorate, and resuscitate. Along the planned streets of Charkop, is a petite 400sq.ft. amorously crafted terrace garden in this Mumbai apartment for an ebullient client, reflecting her persona, while overlooking the extensive Manori creek and the majestic Gorai Pagoda from the fifteenth floor.
Amorously Crafted Terrace Garden In This Mumbai Apartment | unTAG Architecture and Interiors
visit : unTAG Architecture and Interiors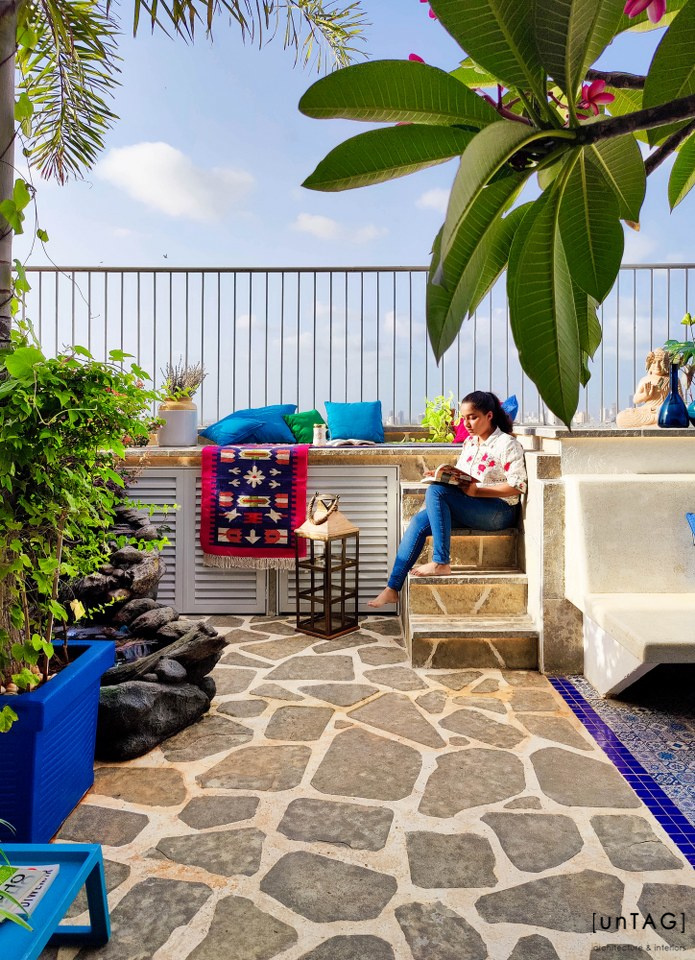 Inspired by the sandy beaches and the deep blue hues of the Arabian sea, along Mumbai's west coast, this quaint terrace, is perennially blooming with various seasonal flowers, alongside a tropical green palette, while creating a microclimate of its own.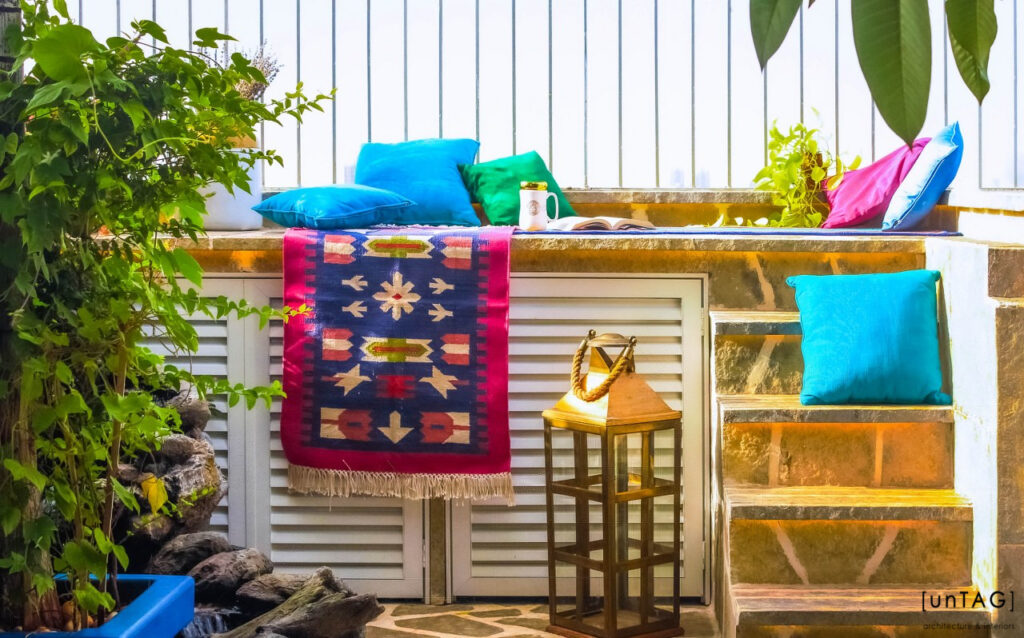 This miniature urban oasis occasionally hosts the neighboring avifauna, who fly in for water, nectar and shade. With sightings of kingfishers, kites, sun birds, bulbuls and more in this bio-diverse urban nest, the terrace also offers the best views of the migratory wetland birds like black cormorants flying in their flocks, every evening.
The hardscape is conceptualized as an earthy palette of indian shahabad stone and plastered white walls, complemented by a white indian marble terrazzo seating and printed azure blue flooring inlay, the roofscape resonates biophilic aesthetics.
The hardscape is further complemented by the breathing canvas of the colorful, textured and fragrant softscape.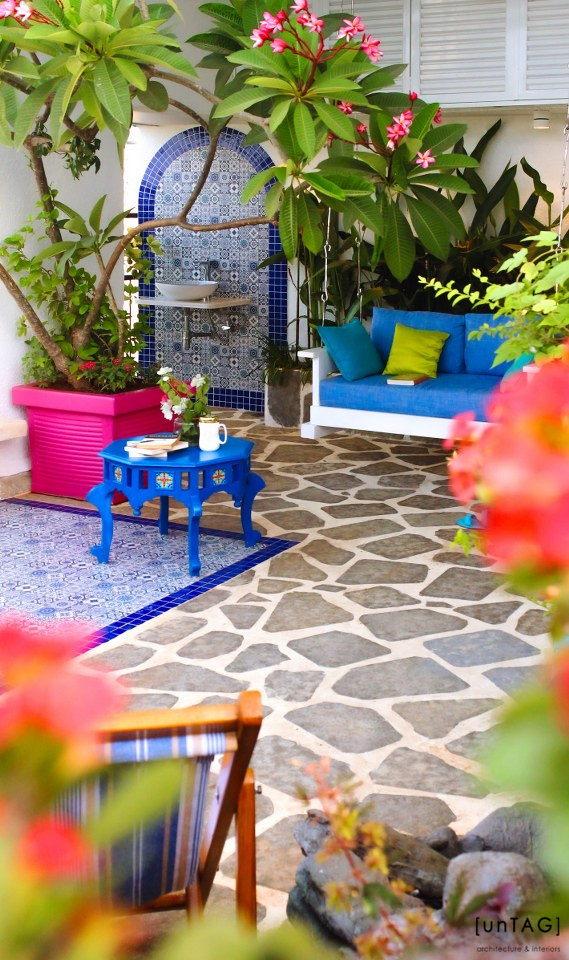 This urban nest has been planned putting together various design elements like an ornately crafted washbasin niche, an upcycled Indian zhoola, with strategically placed planter beds as lush green backdrops, and a raised deck at the far end, for panoramic sunset views of the creek.
The brightly interspersed bouganvellias, champas, heliconias, gokarna and more, add their own natural warmth to the cozy space. It's a landscape of transformations, constantly adapting, and pleasantly surprising every day, every week, every season, wherein the flora and fauna continue to live symbiotically.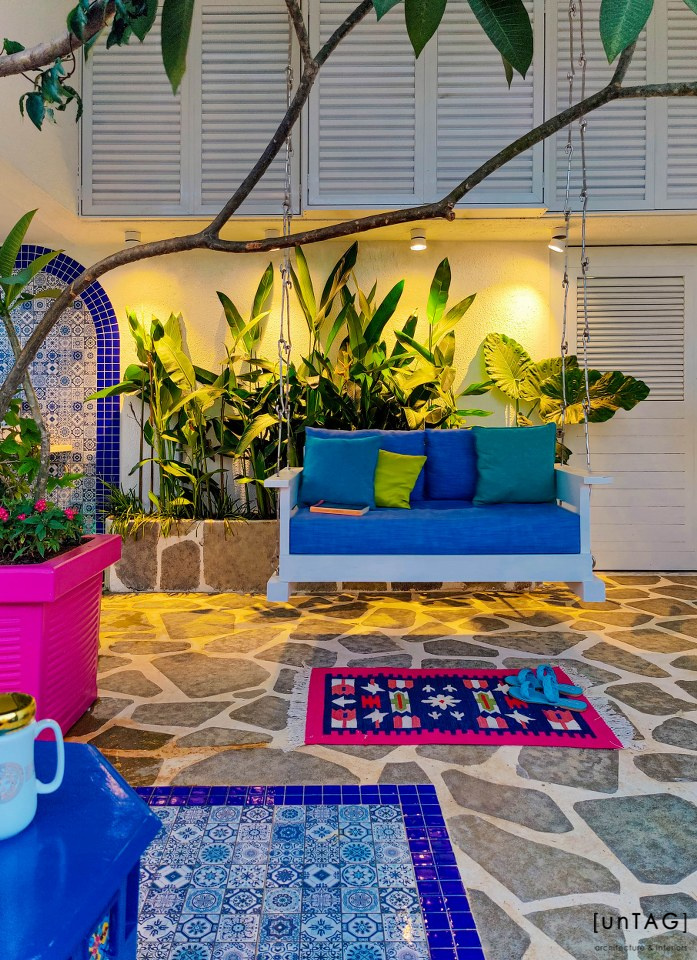 It's been quite a collaborative journey towards weaving this WHITE-BLUE urban nest with our dear client, wherein we have created an exemplar of how humans and nature can co-exist amiably, even in an urban setting.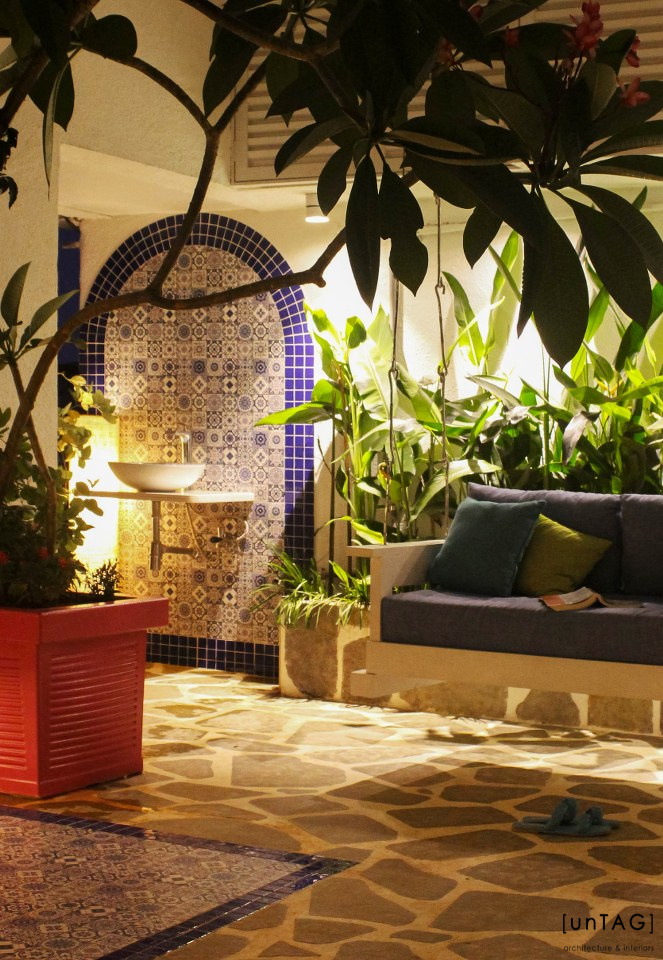 FACT FILE
Designed by : unTAG Architecture and Interiors
Project Type : Residential Interior
Project Name : The White Blue Nest
Location : Mumbai
Year Built : 2022
Duration of the project : 4 months
Project Size : 400 sq.ft
Principal Architects : Ar. Gauri Satam & Ar. Tejesh Patil
Team Design Credits : Kavya Shah & Srivibhu Viraj
Photograph Courtesy : Yash Prabhu & Srivibhu Viraj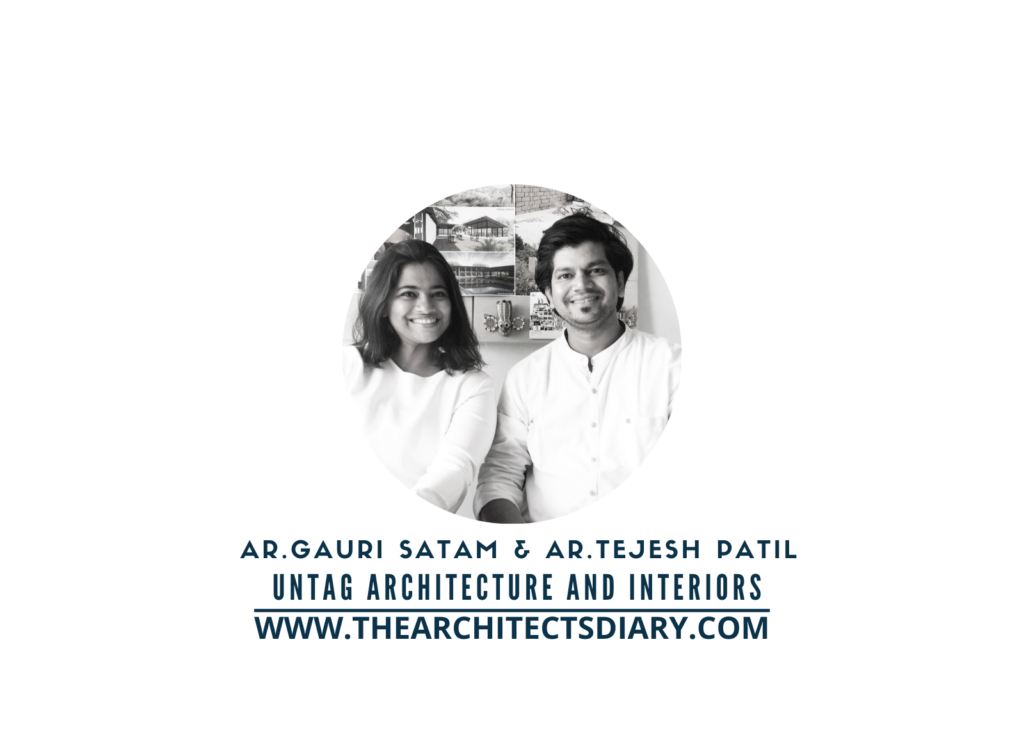 Firm's Website Link : unTAG Architecture and Interiors
Firm's Instagram Link : unTAG Architecture and Interiors
Firm's Facebook Link : unTAG Architecture and Interiors
For Similar Project >> THE KERALA-THEMED TRADITIONAL HOME WITH A MODERN TOUCH
The post Amorously Crafted Terrace Garden In This Mumbai Apartment | unTAG Architecture and Interiors appeared first on The Architects Diary.