When tasked with designing a 1150 Sq.ft apartment for a group of three women, our team was delighted to receive a clear-cut brief; a sober yet vibrant aesthetic to cater to their discerning tastes. With this in mind, we created a warm and welcoming space that emanates positivity, characterized by a blend of soothing pastel tones throughout. Despite a budget-friendly approach, we paid close attention to every detail, ensuring that the apartment would be a feast for the senses.
A Warm and Welcoming Space that Emanates Positivity, Characterized by a Blend of Soothing Pastel Tones | Sapscapes
Visit : Sapscapes
"Apartment 903" is a haven of soft, refreshing, and subdued tones, which effortlessly project both modesty and appeal. Taking cues from the family's regular lifestyle, we opened up a wall to create a breakfast counter, an innovative feature that imbues the living area with both functionality and style. Moreover, we incorporated window seating and display shelves as key elements, further accentuating the design of each zone.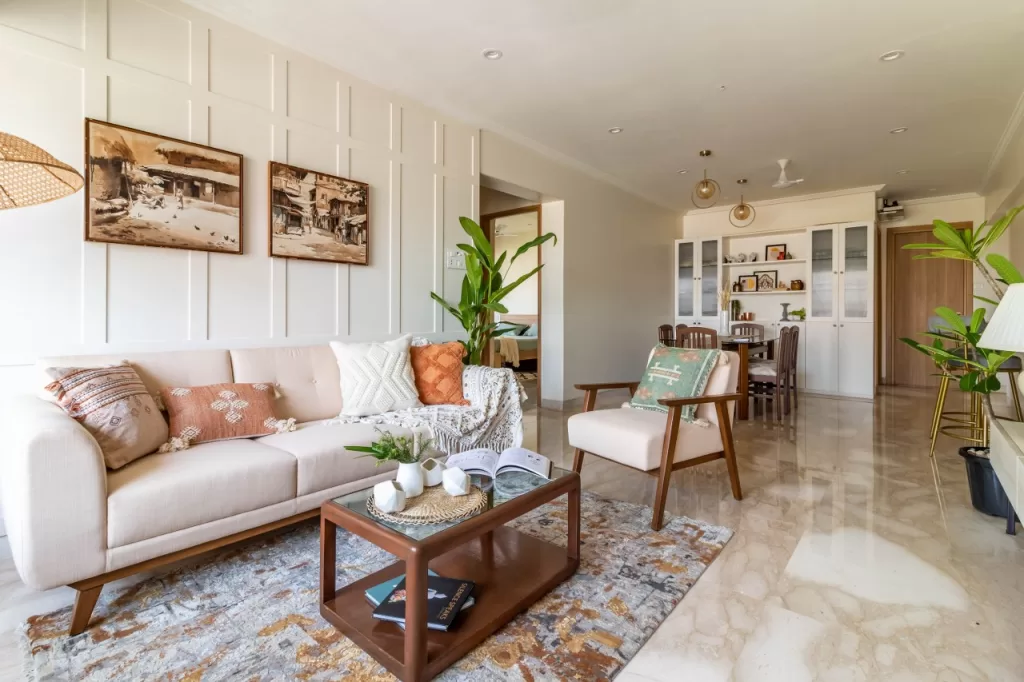 Upon entering this resplendent living room, one is immediately struck by the captivating sofa that serves as the centre piece of the space. Accompanied by vibrant cushions from Altrove, the sofa adds a touch of elegance and sophistication to the room's aesthetic.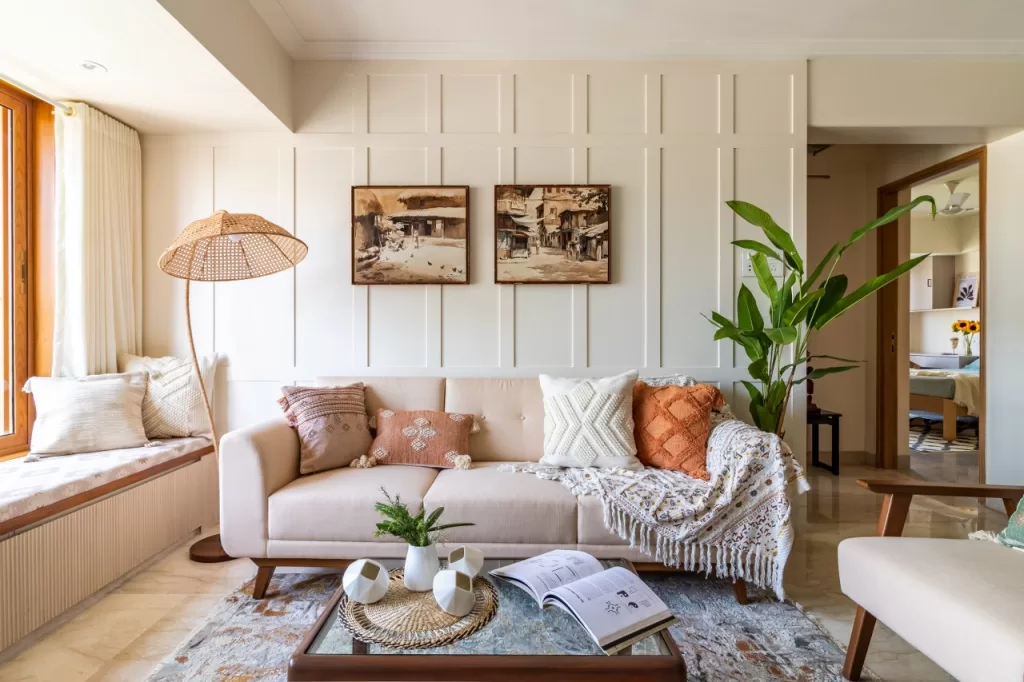 The carefully selected boho lamp from Kaleido Store provides not only functional lighting but also a modern and chic feel that complements the overall design scheme flawlessly.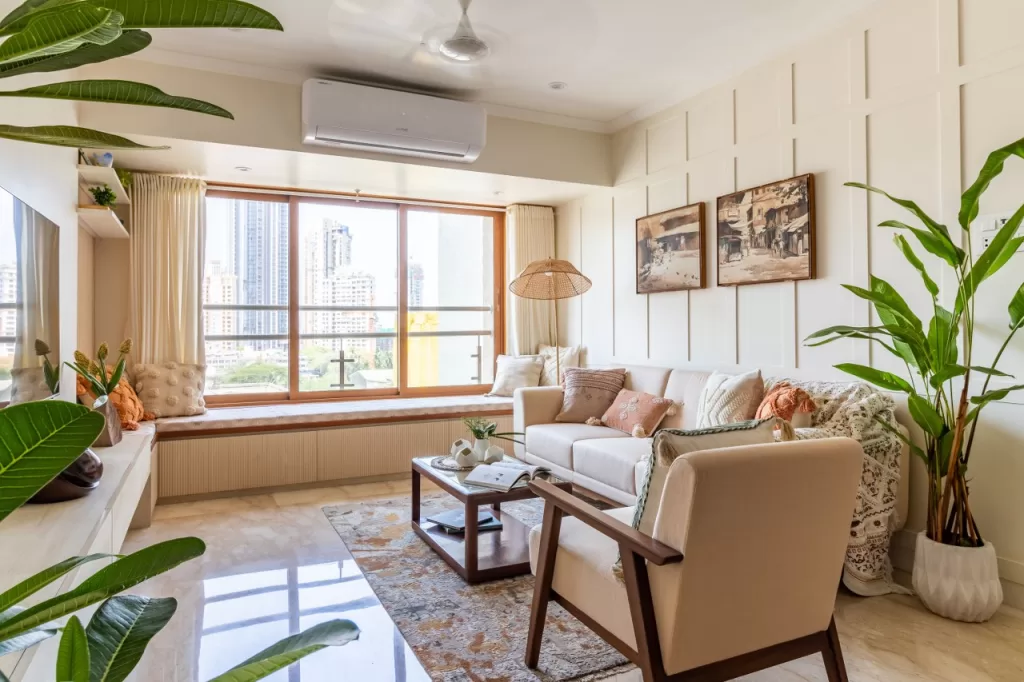 The inviting and cozy atmosphere of the room is further amplified by the charming rug from cocoon fine rugs, which serves as a warm and welcoming addition to the space.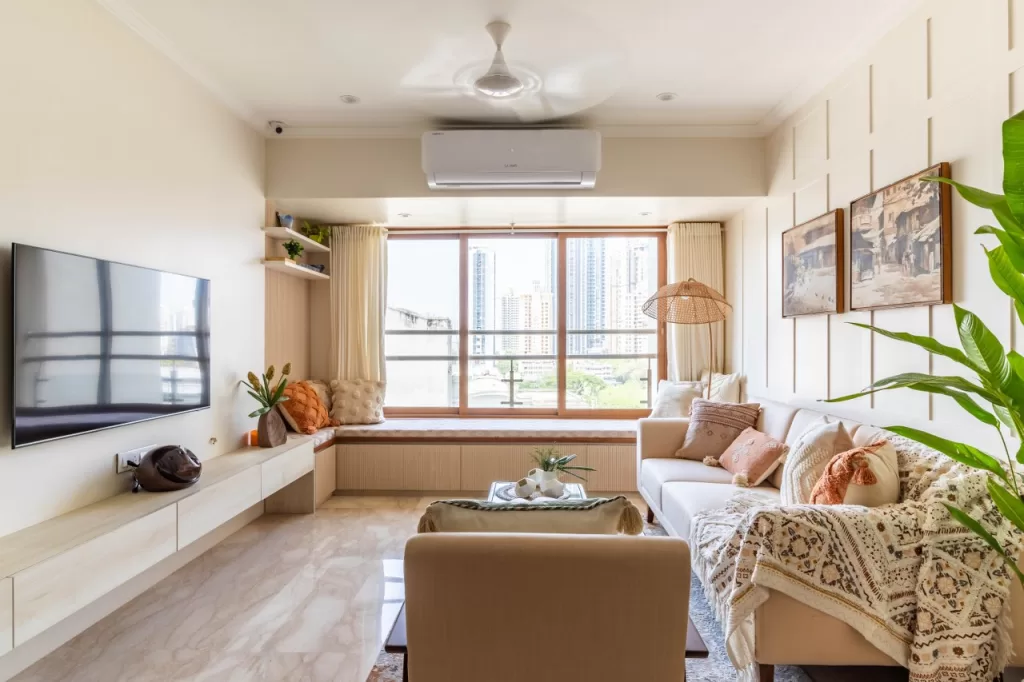 The wall paintings in the living room have been tastefully curated to align with the colour scheme of the space, featuring calming pastel tones that imbue the room with a tranquil and serene ambiance. The window seating is a perfect spot to unwind and take in the city view, while carefully positioned green plants throughout the room introduce a natural artistic element.
The fusion of sophisticated furnishings, elegant decor, and organic elements creates an inviting and comfortable living space that is sure to delight and captivate all who enter.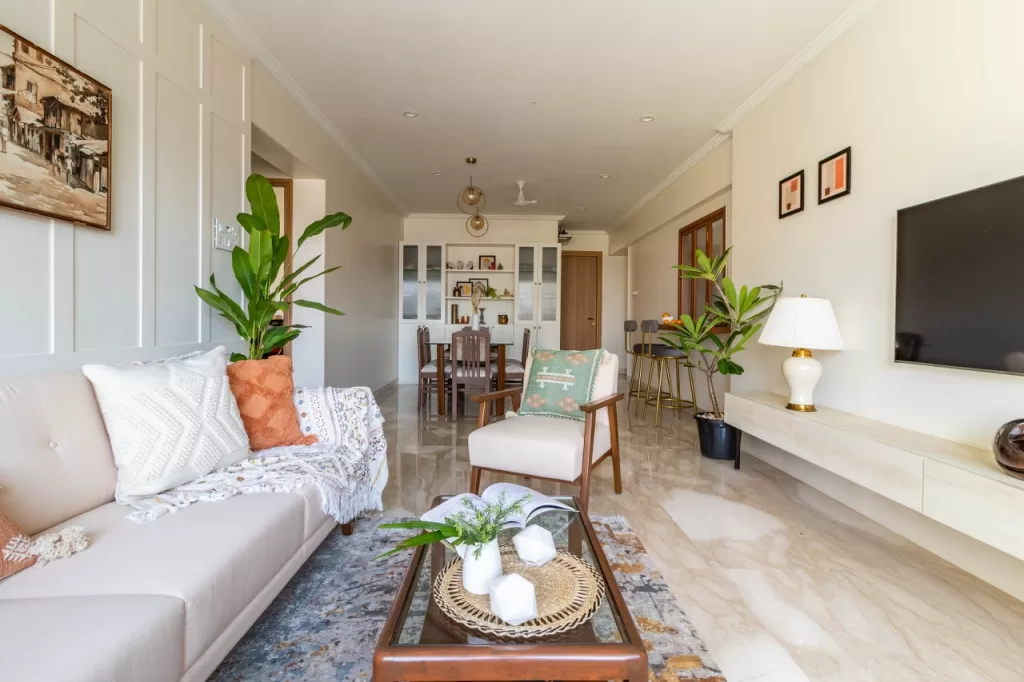 The dining area in this exceptional residence offers a myriad of features that enhance the overall culinary experience. An attached breakfast counter in the kitchen provides a convenient option for casual meals or entertaining guests, while a collapsible window integrated into the wall seamlessly connects the kitchen and living spaces.
Shelves are thoughtfully placed throughout the area, serving not only to display cherished possessions but also to offer practical storage solutions that enhance the room's functionality. The use of muted tones throughout the space creates a sophisticated and cohesive ambiance that further accentuates the dining area's modest features.
In each of the bedrooms, the design has been carefully curated to cater to the ever-evolving work-from-home lifestyle.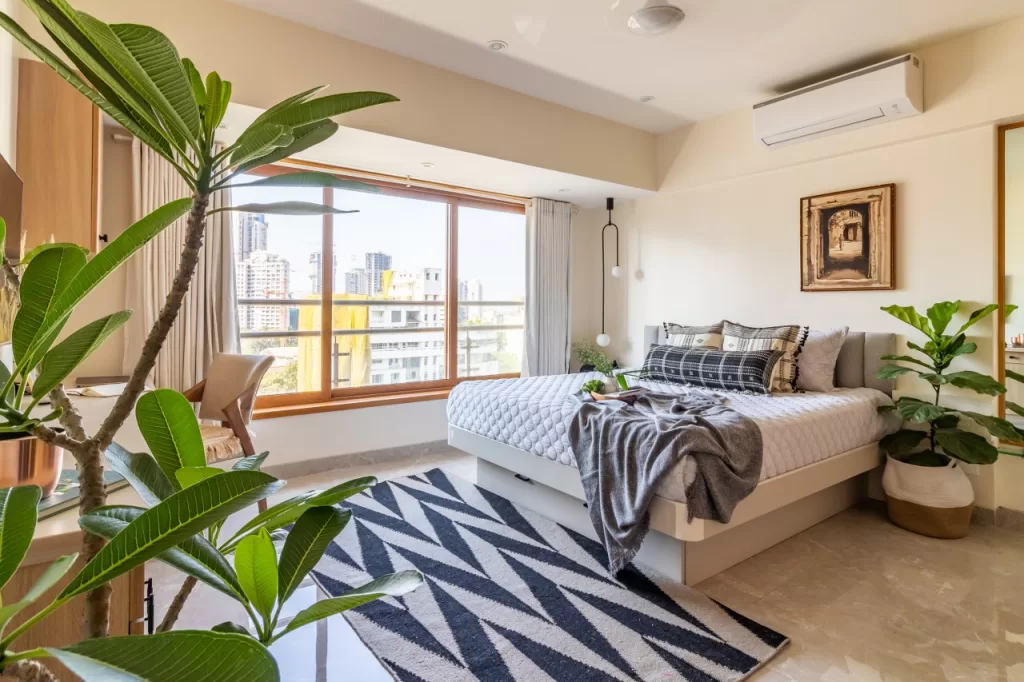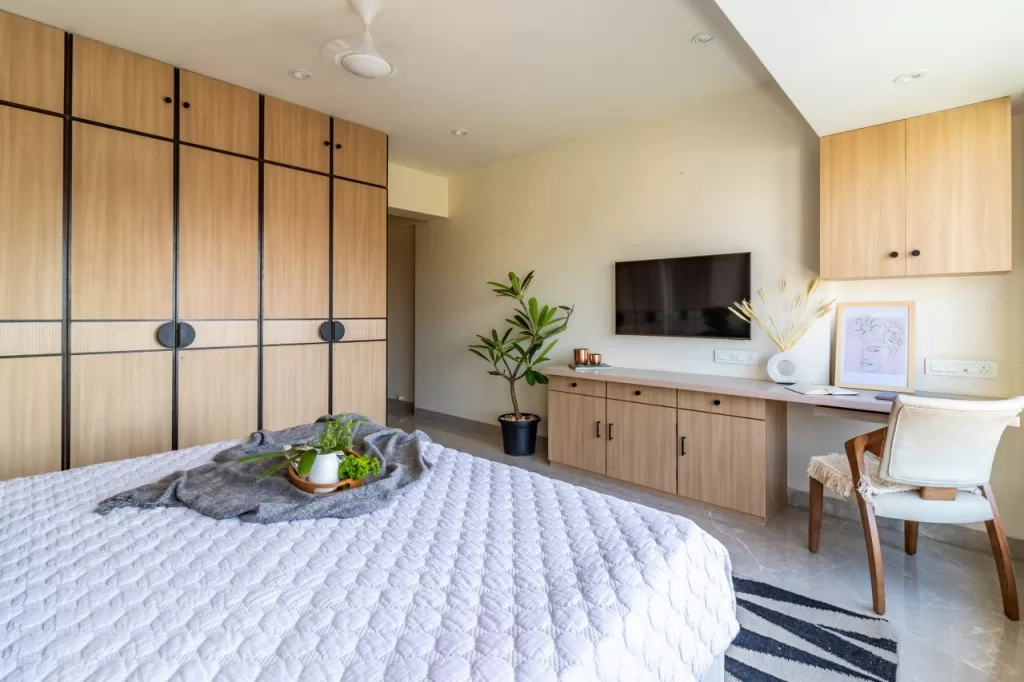 Each room features a dedicated study table area that occupies a prominent space, strategically placed to provide ample natural and artificial light, facilitated by large windows and use of light subdued tones.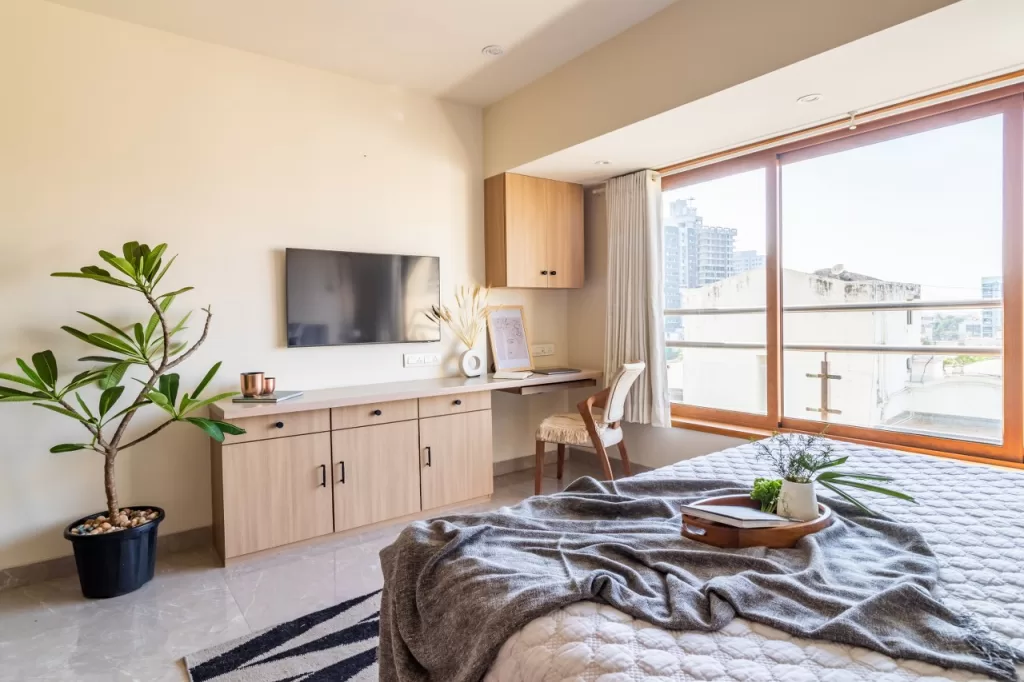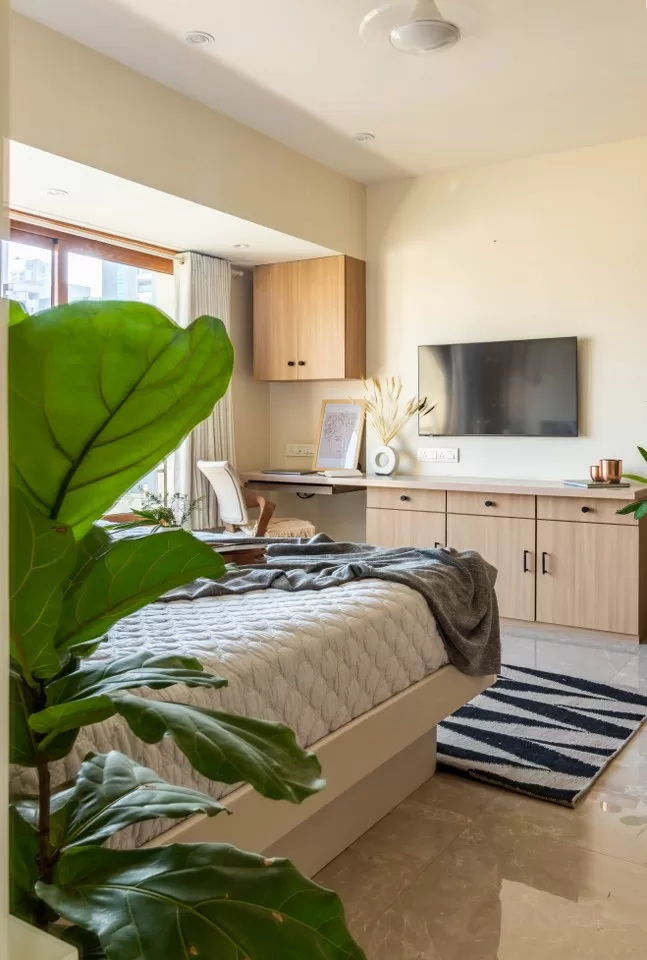 The addition of rugs from Jaipur rugs and bedding from altrove adds a comforting touch to the spaces while the design of the wardrobes seamlessly blends with the overall aesthetic.
One of the rooms even boasts a beautiful seating arrangement by the window, offering the perfect spot to savour a cup of evening chai while enjoying the breath-taking view.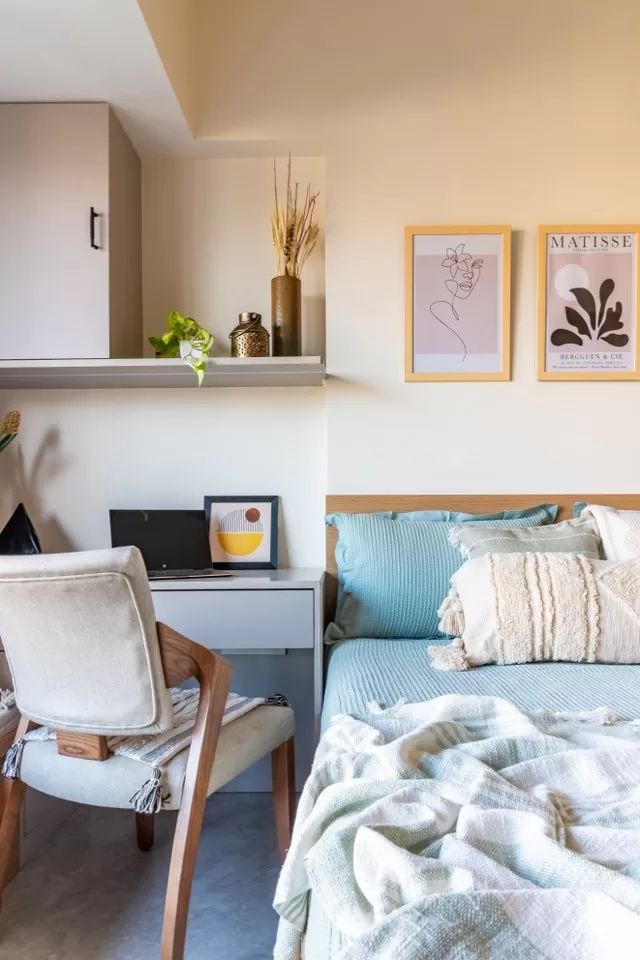 This residence has a simple yet homely ambiance, with a distinct feminine touch that permeates every space. The living room displays a subtle, understated elegance that blends seamlessly with the lively and energetic decor of the bedrooms. Our clients were highly receptive to incorporating plants and neutral hues, resulting in a warm and personalized space that feels cozy and inviting. Overall, the apartment strikes a perfect balance between style and comfort, making it a welcoming retreat for its inhabitants.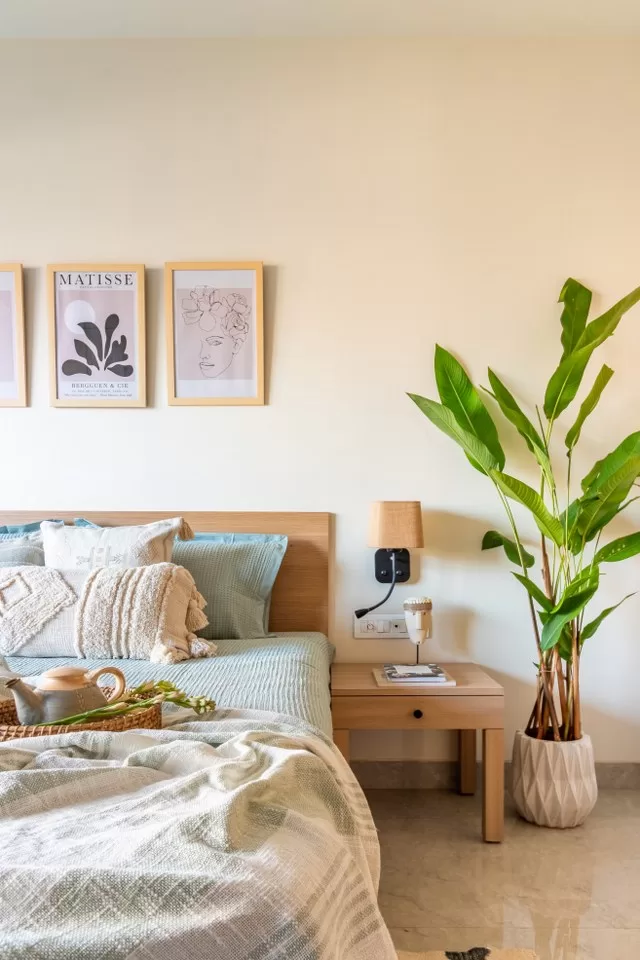 Fact File
Designed by: Sapscapes
Project Type: Residential Interior Design
Project Name: Apartment 903
Location: Prabhadevi, Mumbai
Year Built: 2023
Duration of the project: 6 Months
Project Size: 1150 Sq.ft
Principal Architect: Sapna Tapuriah
Photograph Courtesy: Aroh Thombre
Products / Materials / Vendors: Living Room Rug – Cocoon Fine Rugs / Bedroom Rugs – Jaipur Rugs / Living room lights – The Kaleido Store / Cushions & Bedding – Altrove.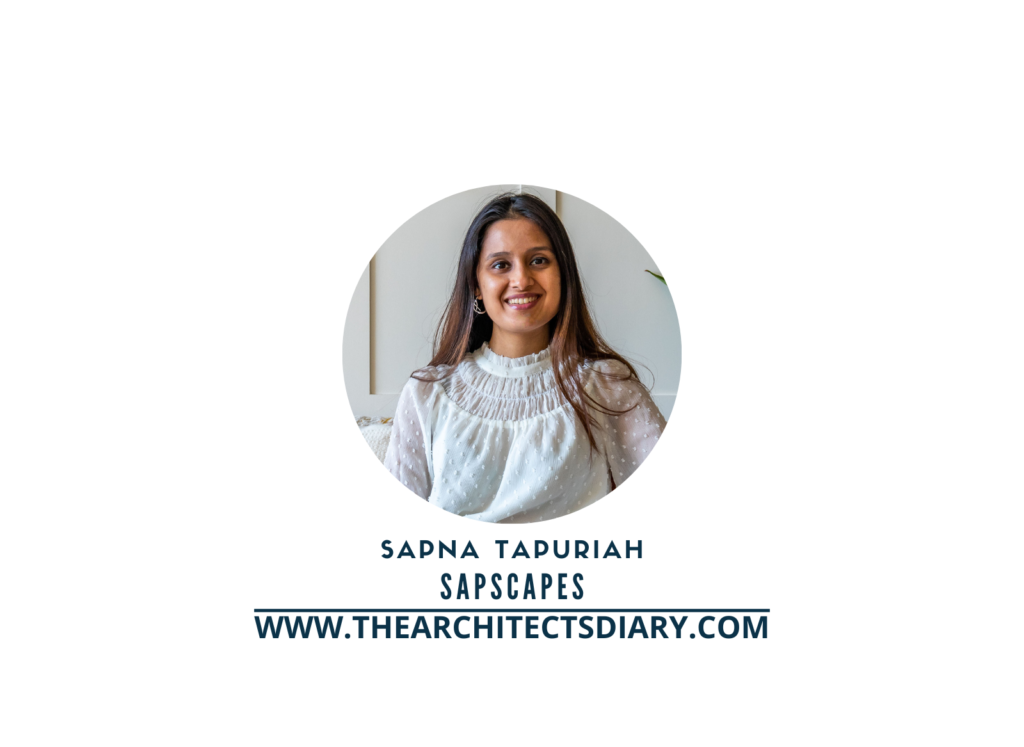 Firm's Instagram Link: Sapscapes
For Similar Projects >> Aspects of Traditional and Earthy Design with Minute Attention to Details Encompasses this Residence
The post A Warm and Welcoming Space that Emanates Positivity, Characterized by a Blend of Soothing Pastel Tones | Sapscapes appeared first on The Architects Diary.