"However when we design a space for any living, a home should always be your home, a place where you can we feel most comfortable, loved, and connected to your culture, traditions and memories." says Pragya Bharati, Architect and Co – Founder, Upscale Architects. This 2000 Sq.ft home for an old couple based in Kolkata with their traditions rooted from old Gujarat was looking for a traditional home with classical spaces and a sophisticated modern touch, hence giving a ageless vibe altogether.
A Traditional Home With Classical Spaces And A Sophisticated Modern Touch | Upscale Architects
Visit : Upscale Architects
An old couple who used to travel a lot finally wanted to settle so that they can enjoy their retirement in peace and harmony. Being from parts of Old Gujarat they are very much close to their native culture and traditions and wanted a space that would reflect their traditional mindset. With their Grand children (Gen Z) being a very common guest they wanted to have a modern sophisticated touch so that the space should look ageless.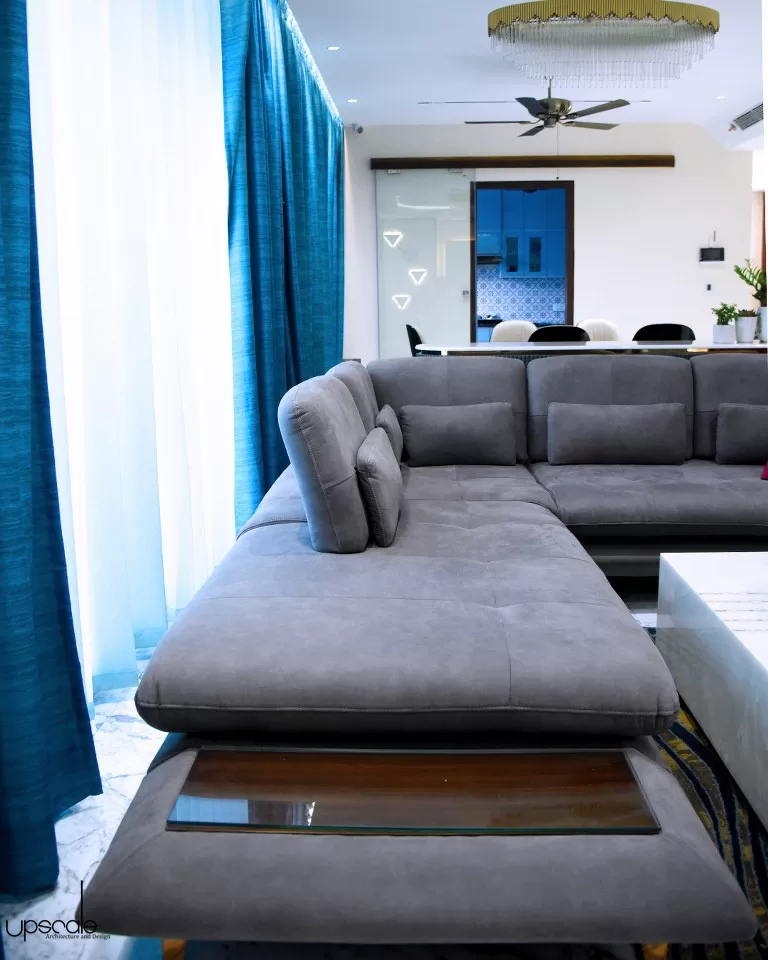 We call it "The Hall of play" , where we played with lots of shapes and design elements , hence keeping it minimal and respecting the white space. We paired the subtle walls with the perfectly paired grey veined white Statuario marble floor. The monochromatic palate with bright pop up shades makes it more interesting. Therefore, the perfect space for different generations to sit and enjoy a family matches night.
The Charcoal sofa adds a depth with beautiful mother of pearl finished center table. The PU finished fluted console with white marble top acts as a soft and functional barrier between living and dining. The white marble toped dining table with gold patterned inlays which almost reflects the round cornered ceiling pattern.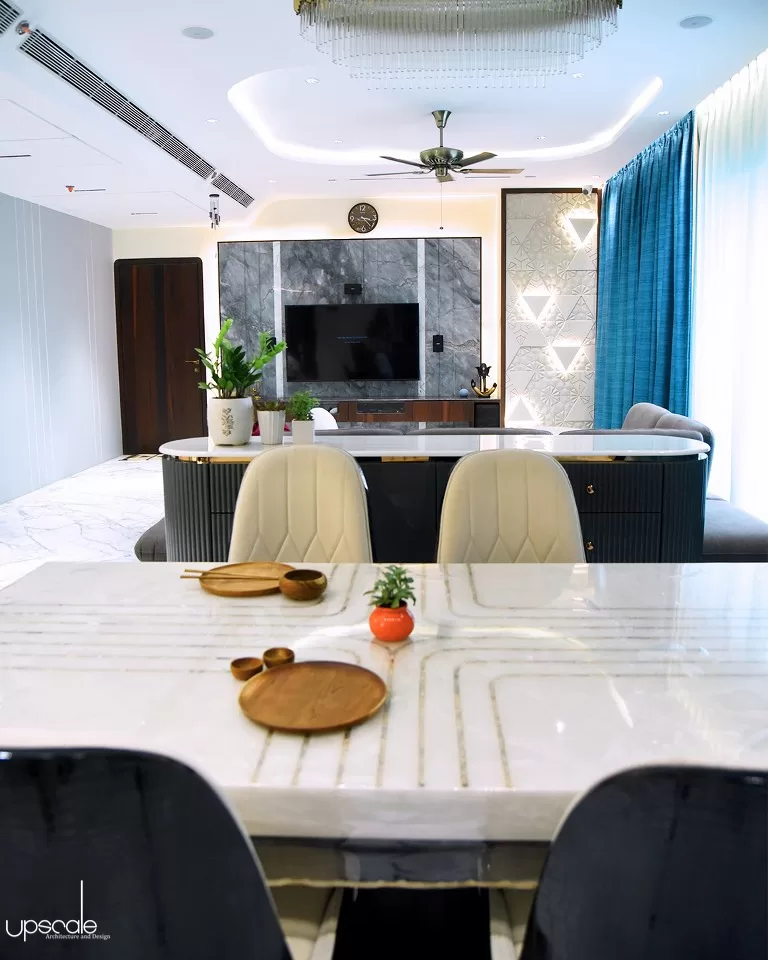 Similarly the curved edged doors frames give the elegant and playful touch all together. Keeping three forth of the walls as subtle as possible we played with the curtain wall in a very bright cobalt blue shade giving the space a bold background which contrasts with the wood framed grey marble back TV wall.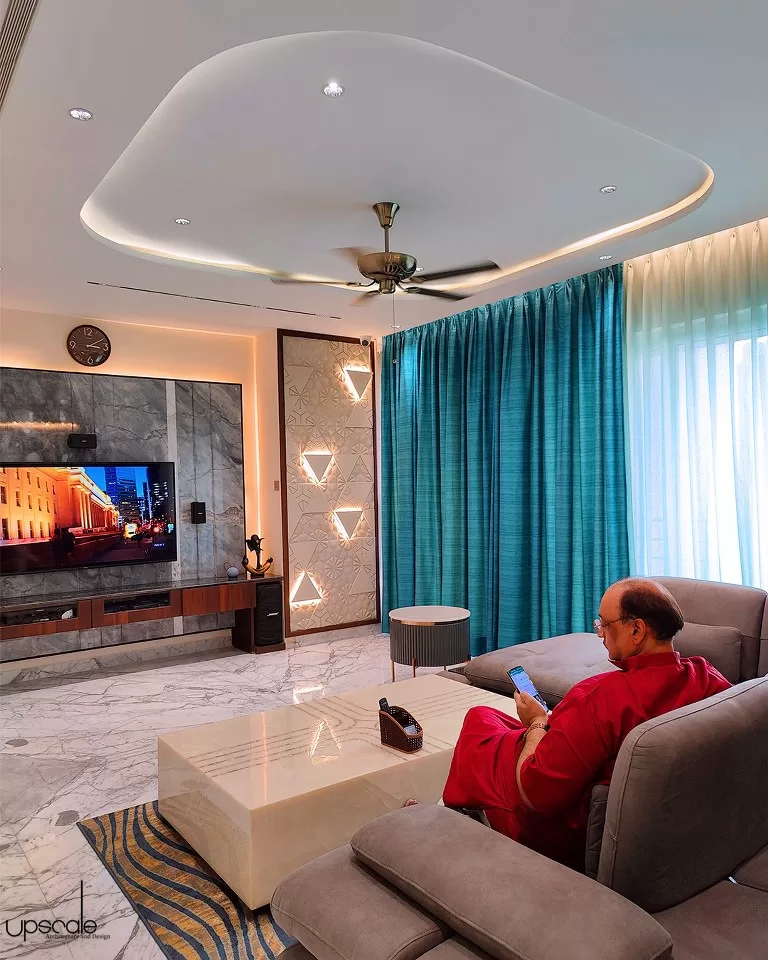 Since both of our clients are very much into spiritual practices, we have given utmost attention to the Mandir details. The beautiful marble carved with floral patterned yellow mother of pearls from Jaipur attached with functional marble sculpted drawers for storage. The enormous chandelier becomes major focus in the Mandir space.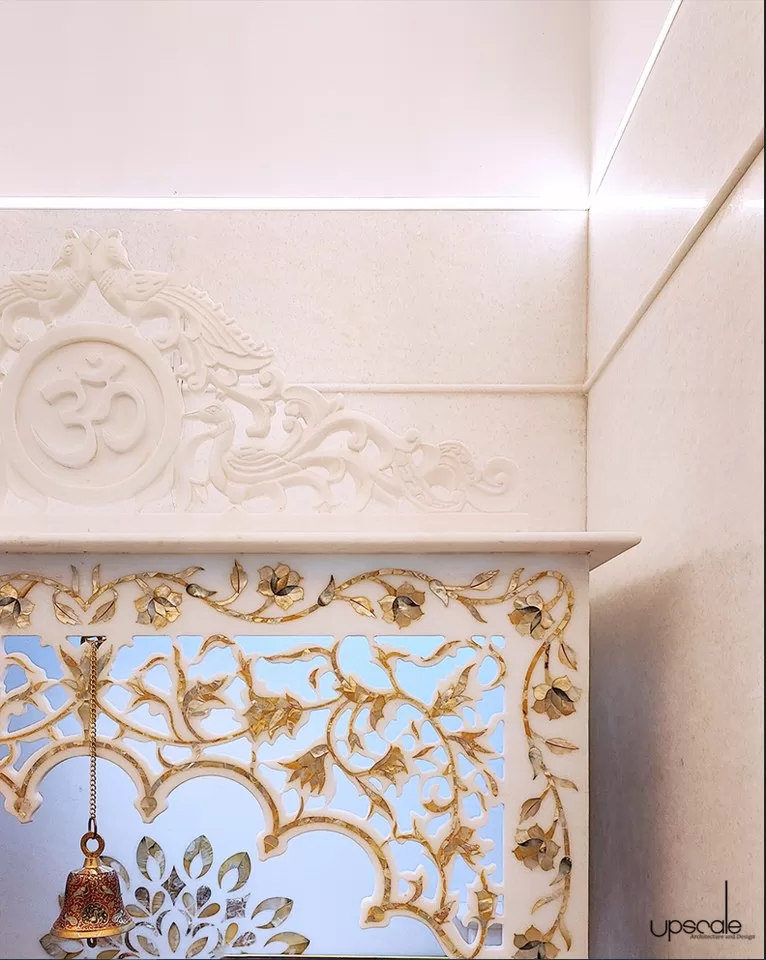 The Natural Tones of Wood and Subtle Beige warms up the space pairing with beautiful dark grey toned Grigio Italian marble floor. The lower portion is designed heavy keeping the ceiling calm, continuous arched and white. The overall space gives a classic touch to the modern design which is our main concept while designing for the entire space. The natural beauty of the wooden veins is the highlight which are polished in a very subtle semi matt finish. The old style moldings are redesigned in a very sleek curvy mould which are continued in the walls.
We love to play with textures; hence you can see so many textures in one frame. The TV wall is another highlight where we used beautiful earthen toned onyx, framed in dark polished wood. Designing the dressing area was very challenging yet we created a very beautiful space with the magic of mirror and lights. As told earlier we have played with textures in every corner of the room like how the perfectly veined wooden wardrobe hiding behind the subtle shimmery powder blue curtains.
On the other side the bright velvet cobalt sofa steals every attention of the bedroom corner. To break the monotony of earthen tones a splash of cobalt is the right choice with mild shimmery powder blue curtains to jazz up the space. The playful long pendent installation acts as a perfect anchor that holds up the corner creating a balance between Traditional and Modern design. We chose a very elegant , volume less and smooth white marble topped center table to highlight the cobalt sofa more.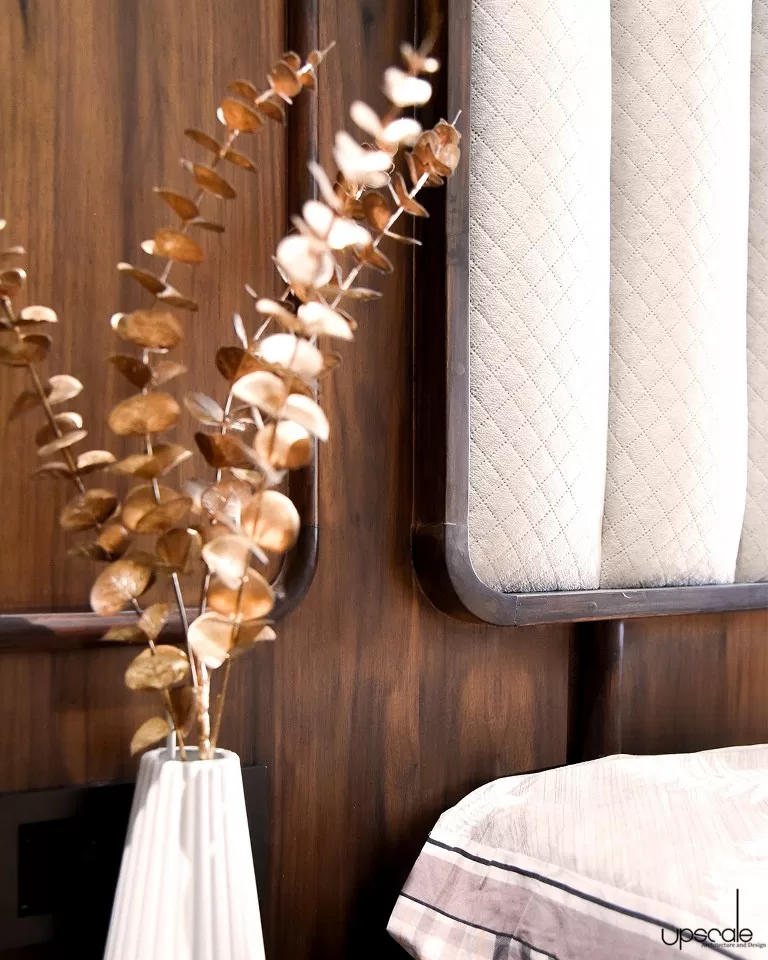 The guest room is kept very sober and calm, perfect for any generation to come and feel comfortable. We choose light sandstone as a base shade for this space that tone with the grey veined white Statuario marble floor.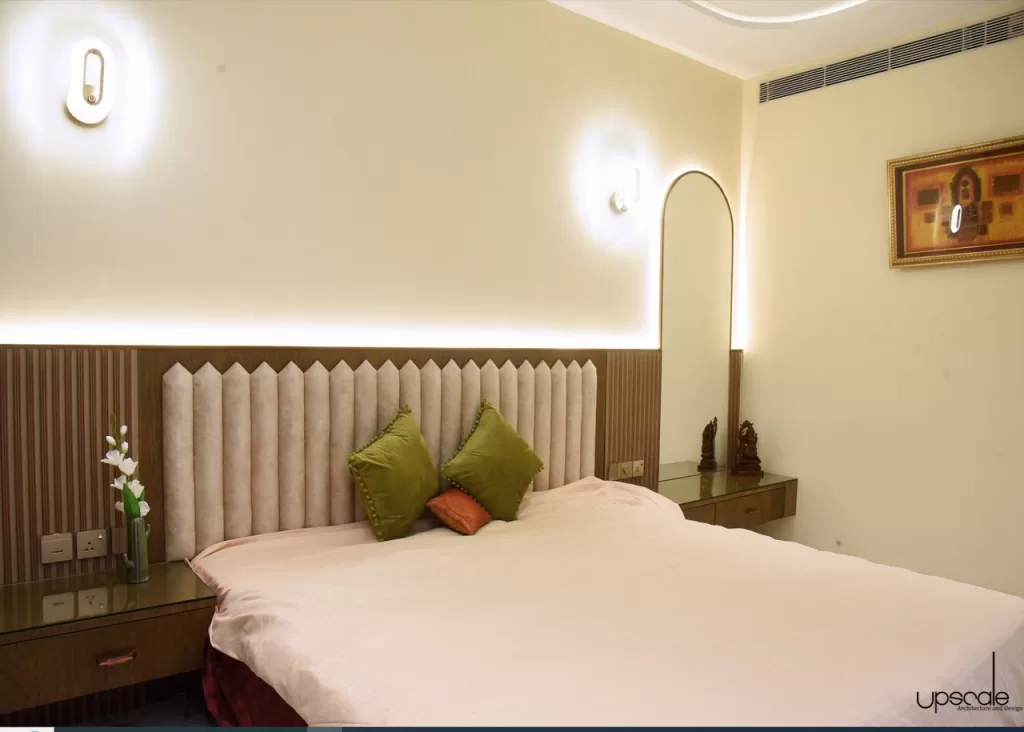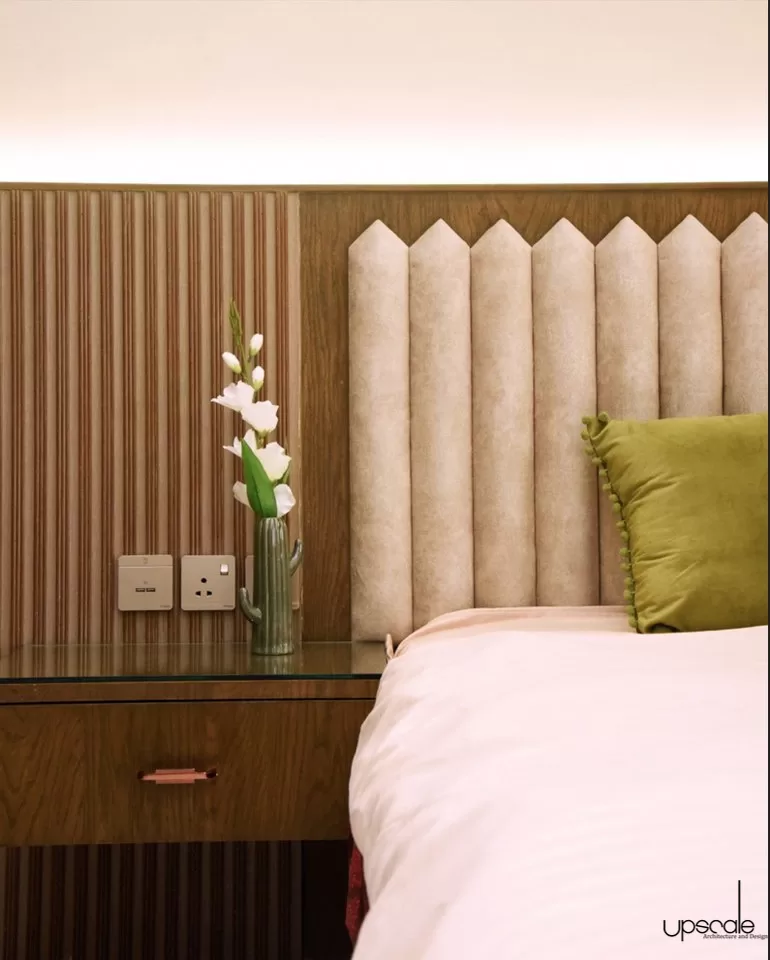 "I think the best possible way of design approach in this project is designing with sensitivity for client's local context combining with the form-making principles of modernism" says Pragya Bharati.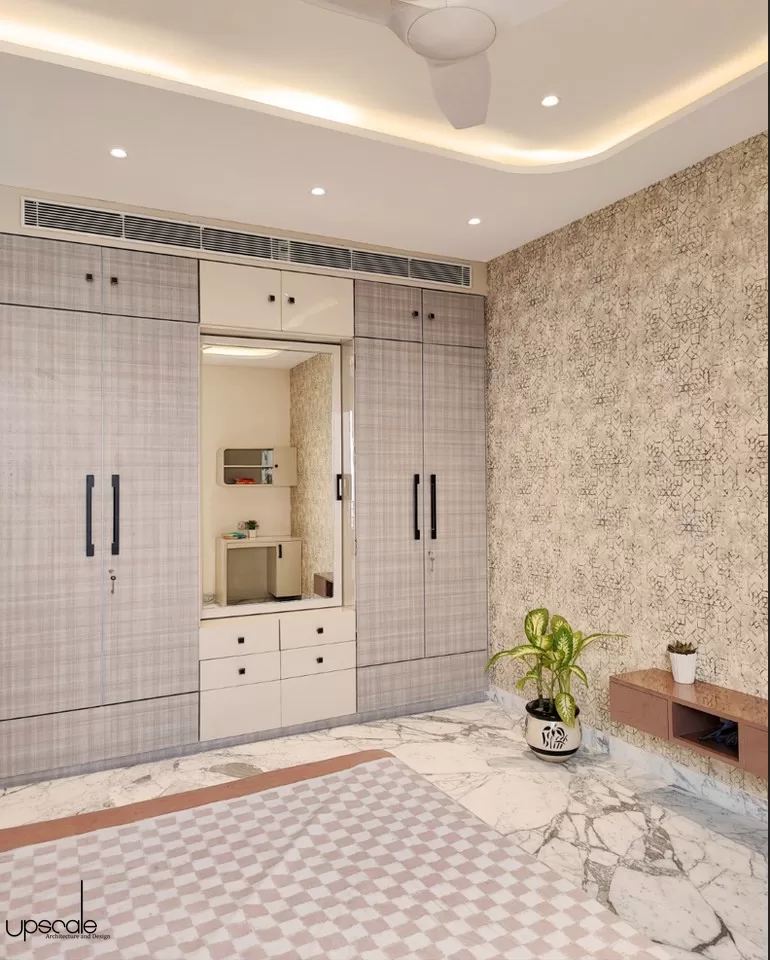 We tried to play with different patterns in wardrobe finish which contrasts with the smooth bed paneling. Copper strips are introduced to give a elegant touch. The attached washroom has a beautiful terrazzo floor paired with horizontal fluted wall tiles.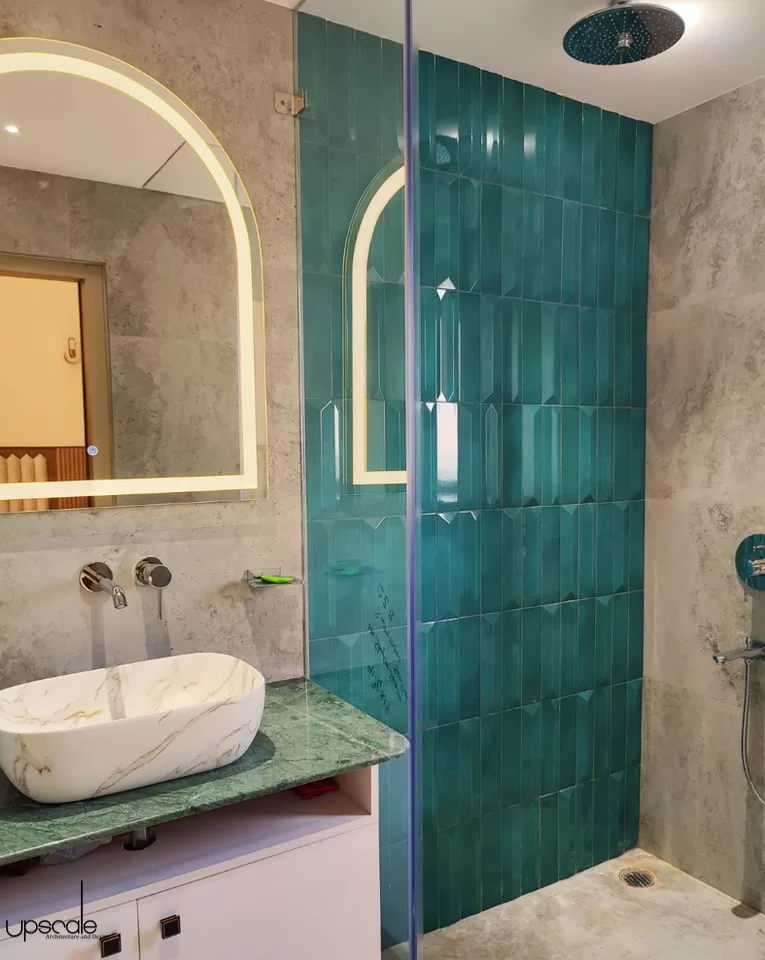 The kitchen is designed with classic Moroccan tiles with Blue pearl Granite countertop that complements the grey veined white Statuario marble floor with subtle powder Blue Cabinets contrasting the raw concept of exterior balcony.
Fact File
Designed by : Upscale Architects
Project Type : Residential Architecture Design
Project Name : The Classic Expanse
Location : Swarnamani, Kolkata
Year Built : 2022
Duration of the project : 8 Months
Project Size : 2500 sq.ft
Project Cost : 1.2 Crore
Principal Architect : Ar. Pragya Bharati
Team Design Credits : Ar. Unnat Kamboj & Ar. Utsav Kamboj
Photograph Courtesy : Somsubhra Roy
Products / Materials / Vendors : Finishes – PROVO / Wallcovering / Cladding – PROVO / Lighting – White Teak / Doors and Partitions – Inhouse – UPSCALE / Sanitaryware – Jaguar / Facade Systems – PROVO / Windows – Inhouse – UPSCALE / Flooring – Atlantis Marble / Kitchen – Hafele / Paint – Asian Paints / Wallpaper – DDECOR / Hardware – Hafele.
Firm's Website Link : Upscale Architects
Firm's Instagram Link : Upscale Architects
Firm's Facebook Link : Upscale Architects
For Similar Projects >> A Minimalist Interior Design With Elements That Soothe And Calm
The post A Traditional Home With Classical Spaces And A Sophisticated Modern Touch | Upscale Architects appeared first on The Architects Diary.