Our client, Chintan Sir, approached us looking at our past works. His brief was clear from the start about the project being a 3 BHK residential flat and also that he had to work under a constrained budget. These were the client's terms and requirements that we had to put forth and keep in mind while proceeding with the design discussions. He trusted us with the design as he knew we created something that would be fresh and bring something new to the plate. He solely gave us the upper hand for designing his space. Also, his straight brief was about minimal use of space for storage. He wanted a spacious minimalistic 3bhk home interior that is lively and breathable.
A Spacious Minimalistic 3BHK Home Interior That Is Lively And Breathable | AAKAR ARCHITECT
VISIT : AAKAR ARCHITECT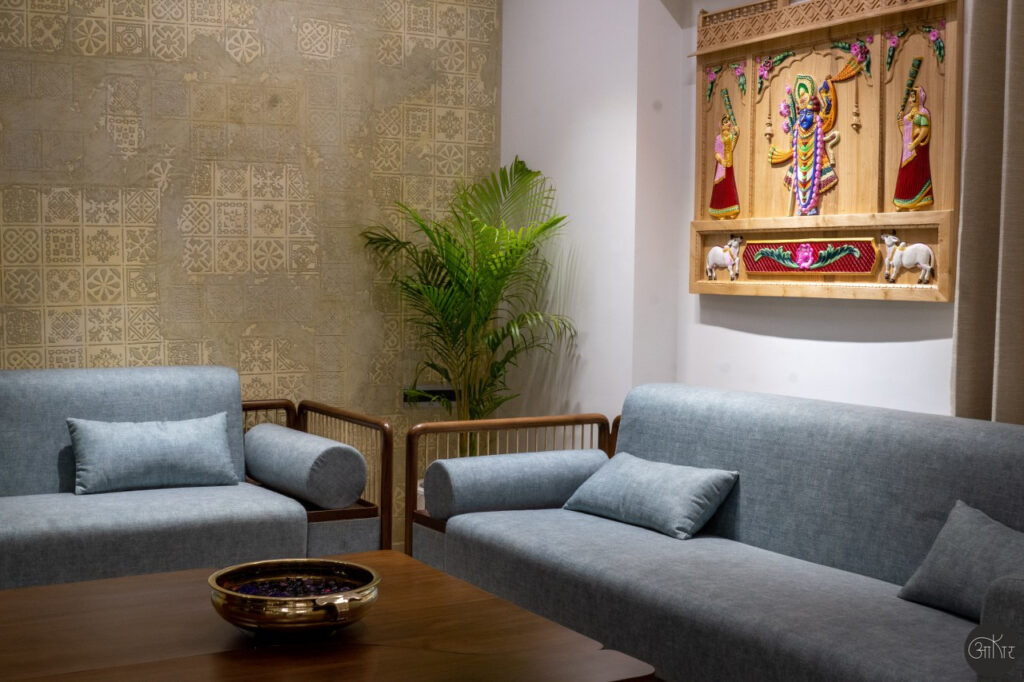 The LIVING AREA had aniconic wall that was created to match the vibe of the entire house. It was created to be patchy and stamped with prints, for it to feel fresh and new. Some greens were added with some antique sofa and a diwan.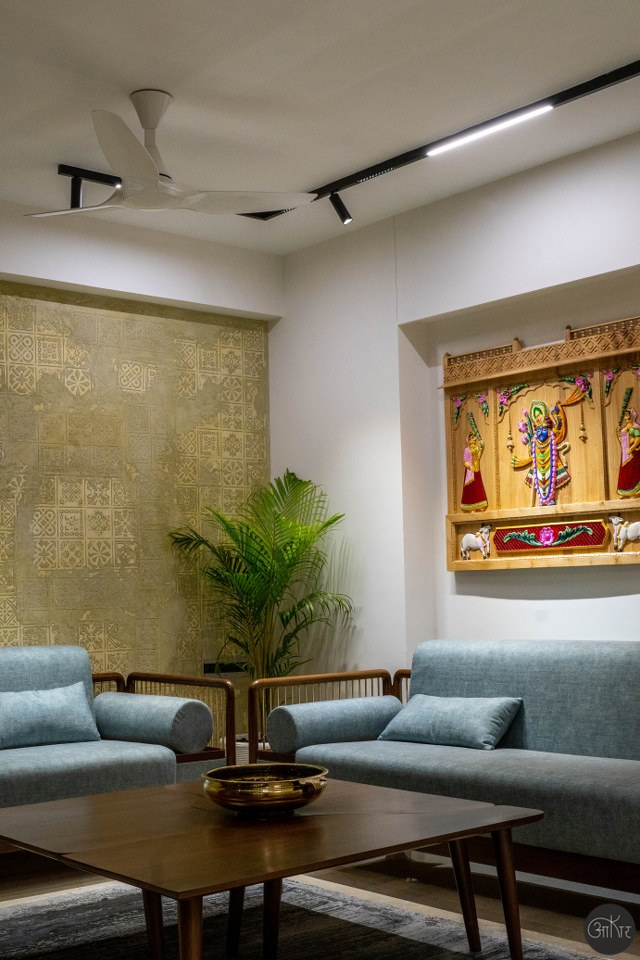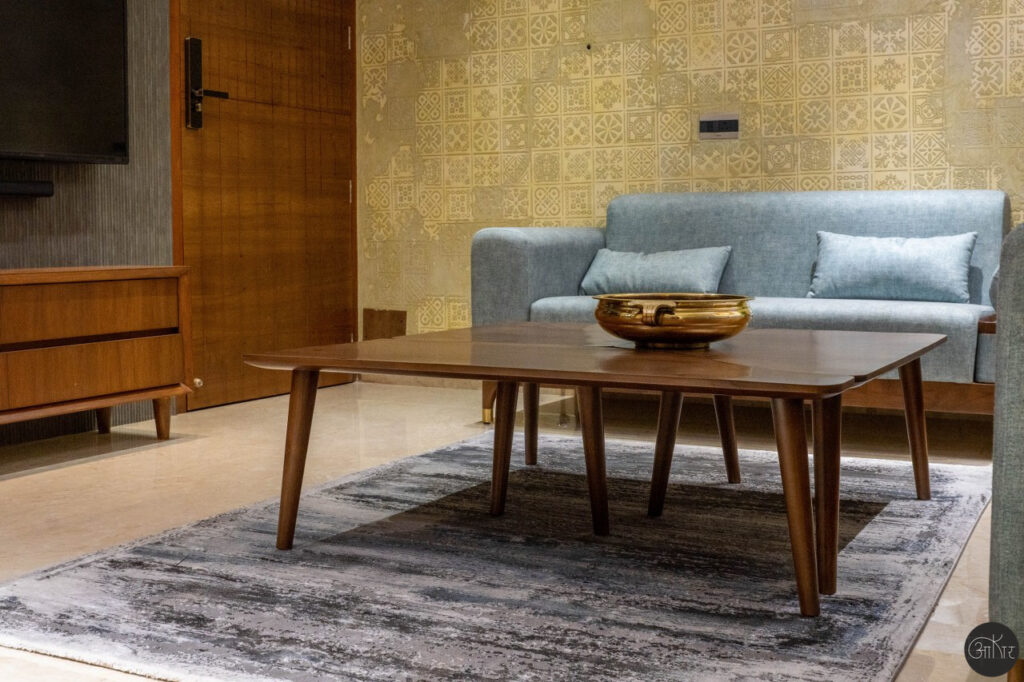 The space should be utilized in a way that it should not feel disrupted. Less and Minimalistic look was the one he was rooting for. Also, veneer was the material of choice with a striking and beautiful color palette.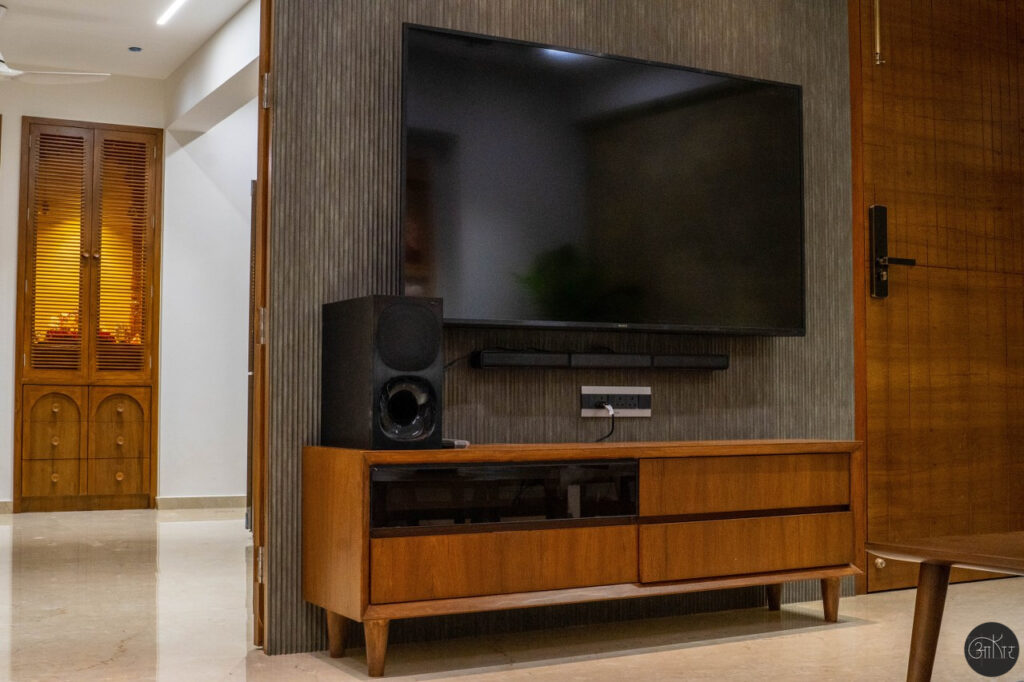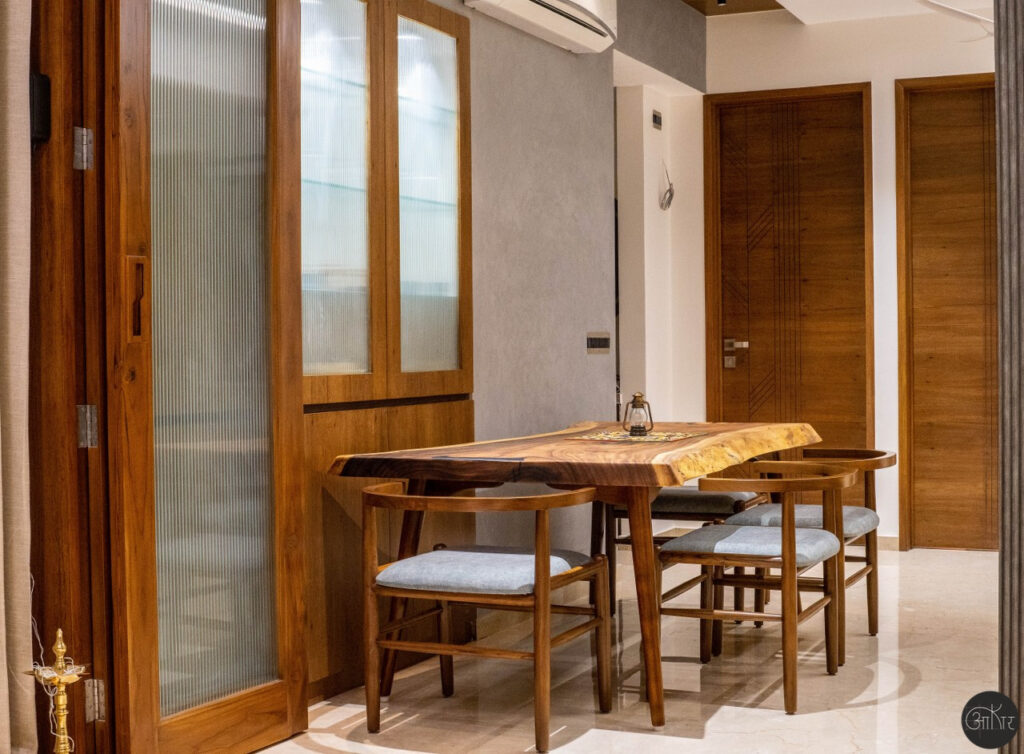 The DINING TABLE was created out of a dead log of wood for the rustic feel. The chairs were also made of a solid wood bench.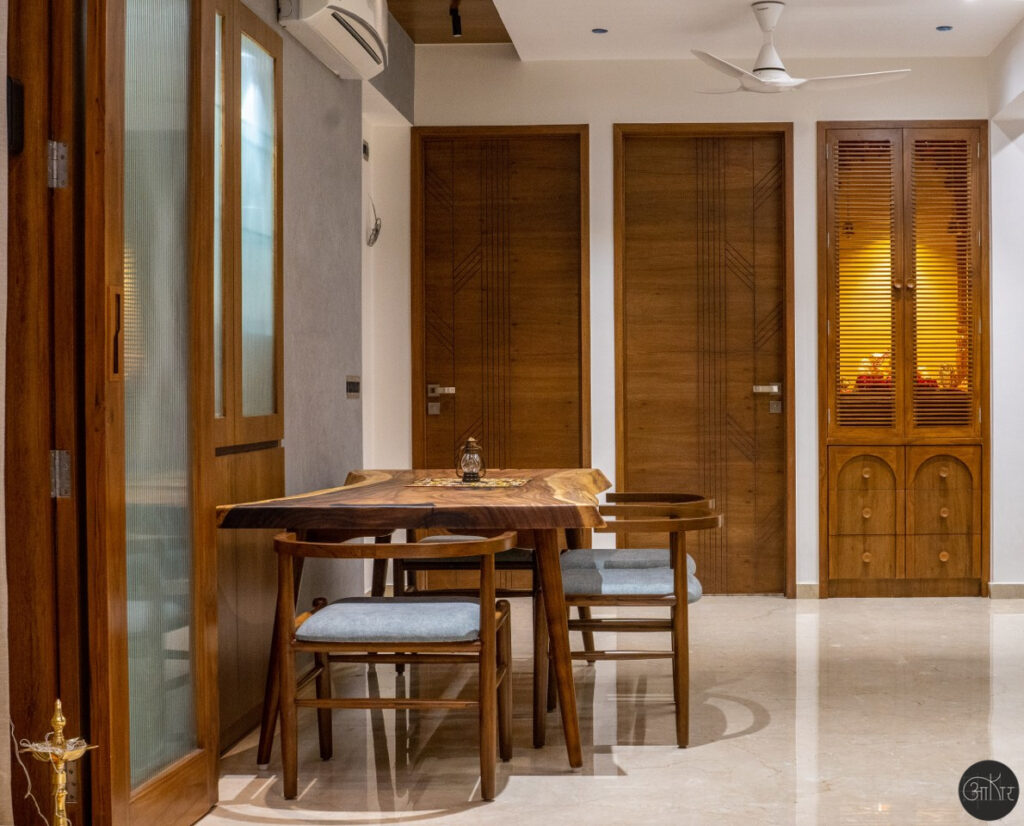 The POOJA AREA had mild lighting; rounded knobs and louvers were fabricated to follow a minimalistic approach.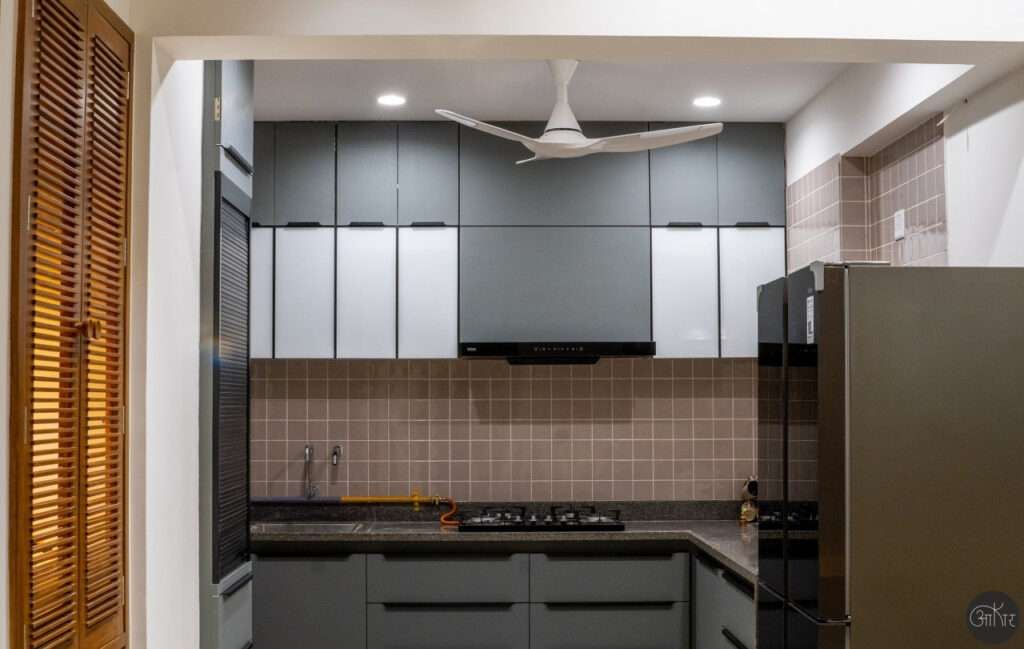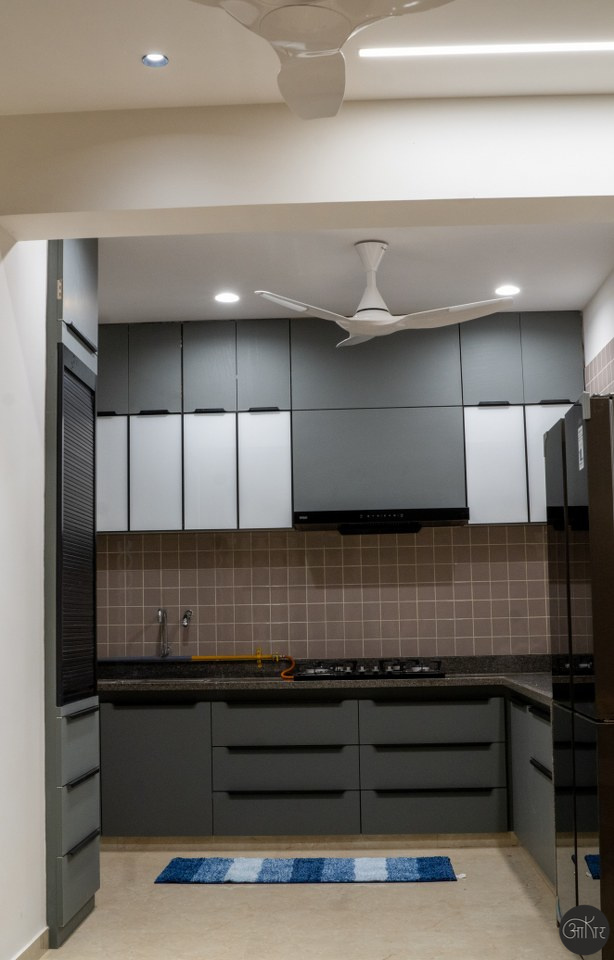 The MASTER BED room was created using traditional elements with a rustic touch with textured wall having gothic element that gives a timeless effect. The green veneer reflects an aging process giving a mid century vibe.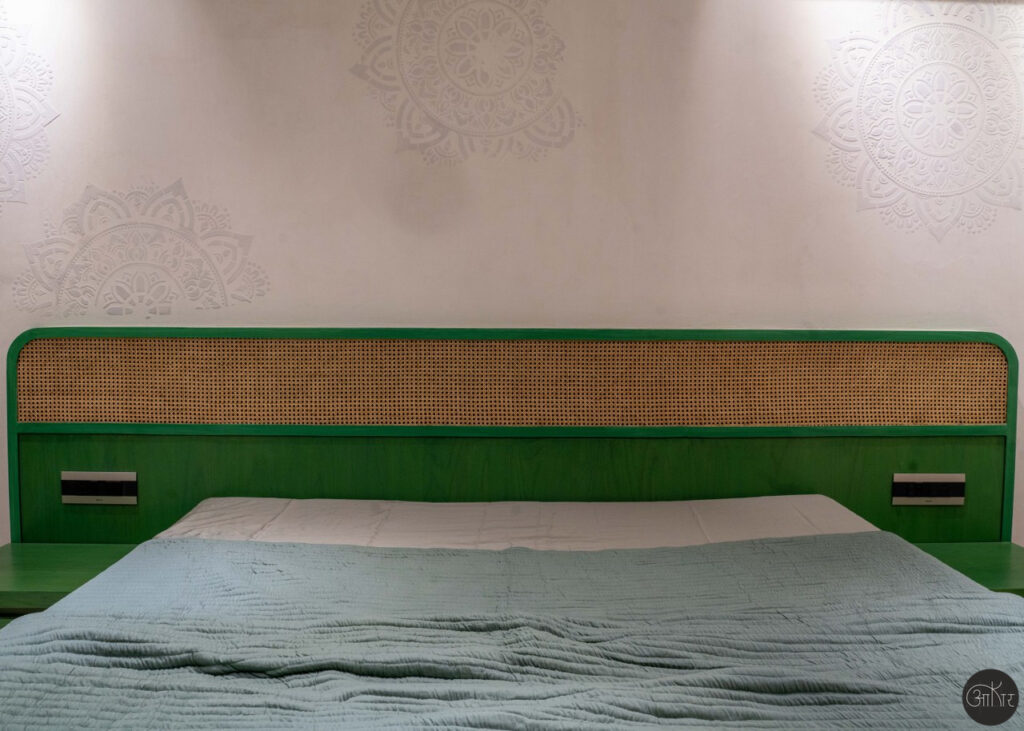 Following the clients brief, we incorporated and experimented with a Green veneer sheet in the master bed room. This was the very first time anyone had don that so the clients were taken aback as we didn't have any references to show, this was one of the biggest challenges we faced.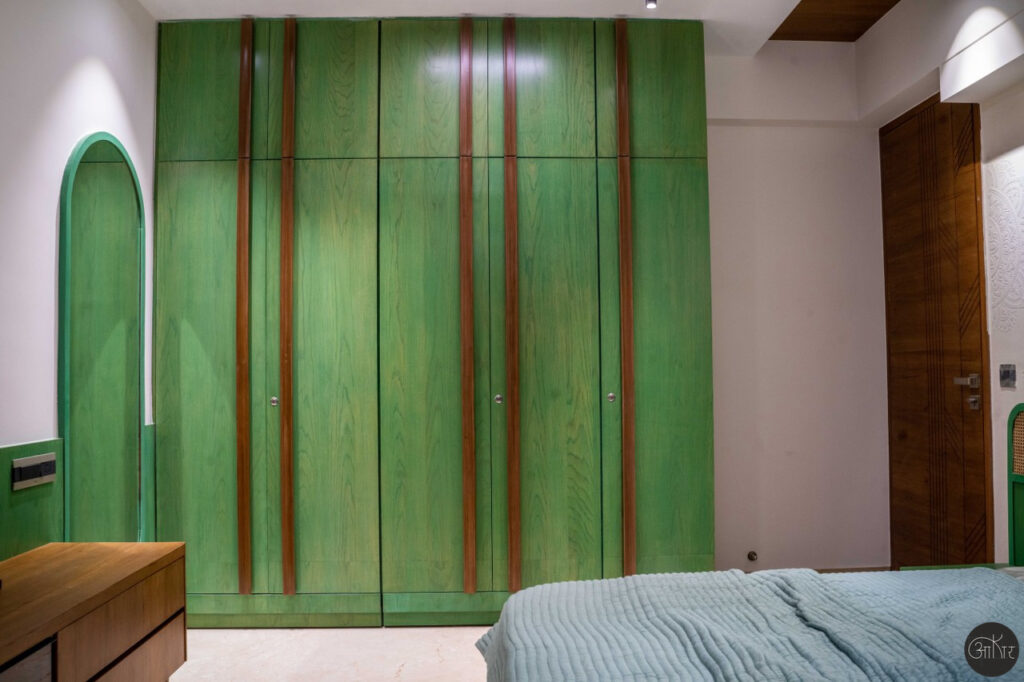 At first we created samples on site with the reassurance that it would turn out better. The service doors for this project were all covered under fluted panels. The glass panels that were used those were fluted to create a privacy dividing the two spaces. All the spaces were designed according to themes.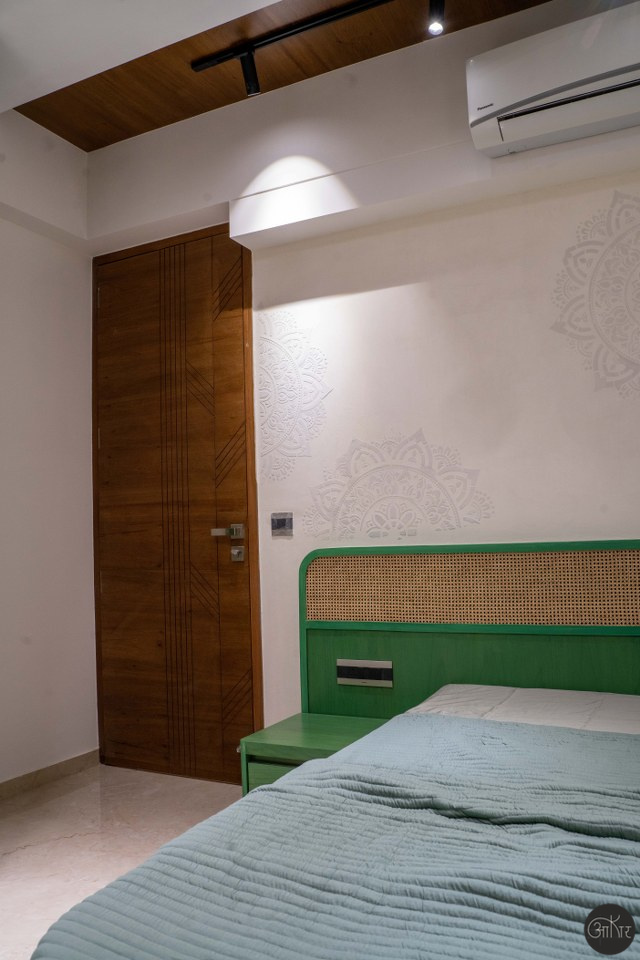 The CHILDREN'S ROOM was created to be bright and dynamic as it was compact. We created a step bed as well as a study area and a world map cut out was placed that was elemental. A rope light was added at the bottom of the bed for an upper edge.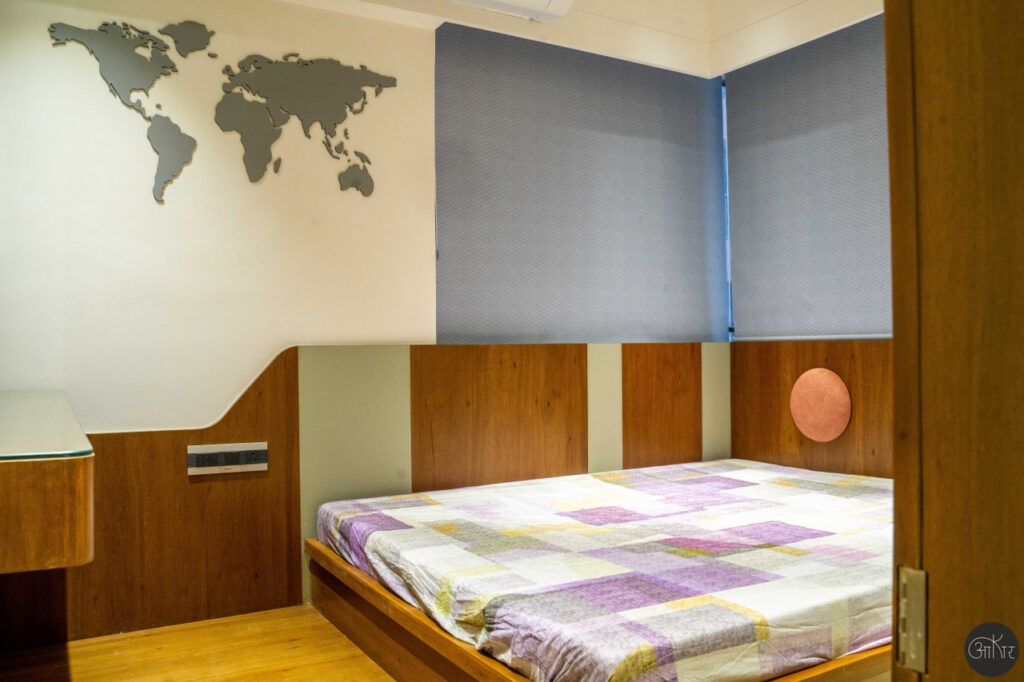 The GUEST ROOM was created with a feel of gathering. A sofacumbed was introduced with grooves and veneer. It gave a look of modernist sofa. The bed back was made to be striking. The storage wardrobe was created with the same color palette in peach with the fluted panels. The lighting was subtle.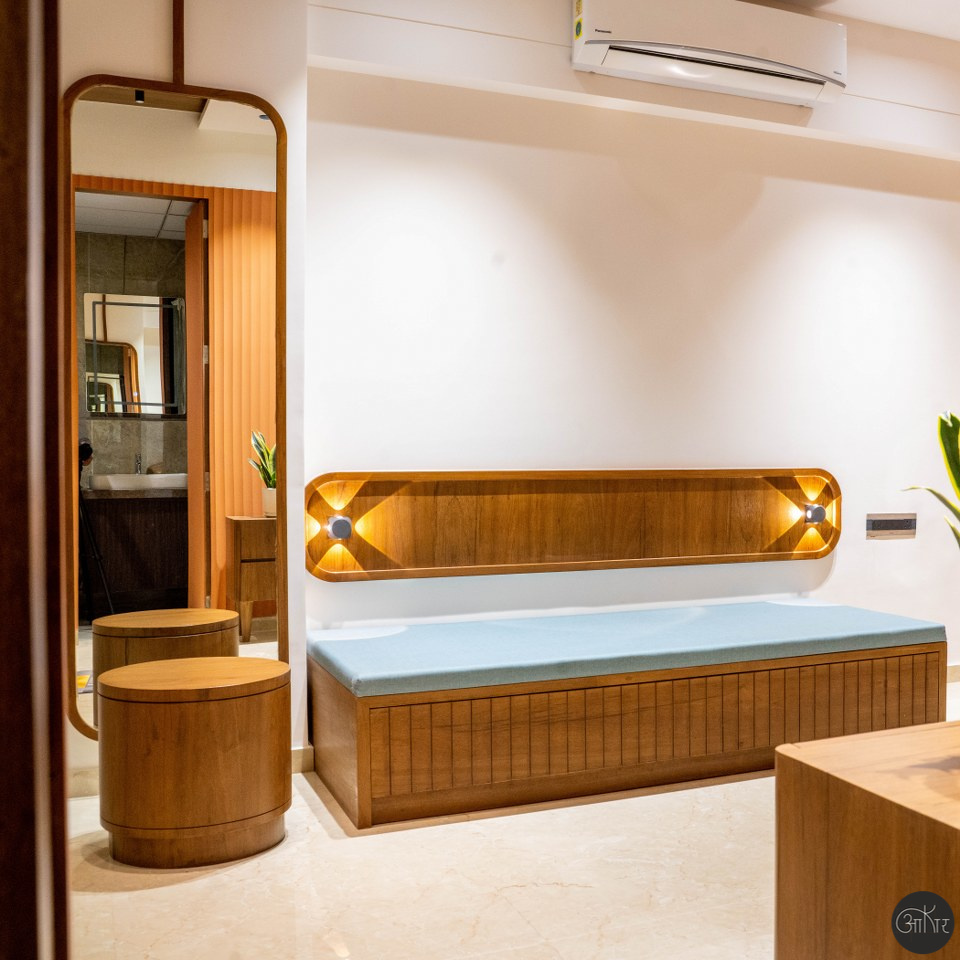 The client was presented furthermore with a Mood board after having design discussions and understanding the ideology of the family and their requirements. It was a clear note of the fact that the family had a Mid-century as well as a modernist taste.
The challenge here was tricky as we had to fit in both the look in a descent manner so that they blend with each other not overpowering the other.
FACT FILE
Designed by : AAKAR ARCHITECTS
Project Type : Residential Interior
Project Name : A Mid-Century Abode
Location : Ahmedabad, Gujarat
Year Built : 2022
Duration of the project : 4 months
Project Size : 1250 sq.ft
Project Cost : 35 lakhs
Principal Architects : Ar. Vishal shah & Id. Amit shah
Team Design Credits : Khushali Sheth
Photograph Courtesy : Shethyash & Harshal Bhavsar
Products / Materials / Vendors : Wallcovering / Cladding – texto_texture / Paint – Asian Paints / Furniture – aakar.archites / Kitchen – aakar.archites / Hardware – Darshan Hardware
Firm's Instagram Link : AAKAR ARCHITECTS
For Similar Projects >> A RESIDENCE HAVING MINIMAL AESTHETICS AMALGAMATED WITH STARK TRADITIONAL DETAILS
The post A Spacious Minimalistic 3BHK Home Interior That Is Lively And Breathable | Aakar Architects appeared first on The Architects Diary.