Our goal was to bring a fresh, modern appeal while maximizing the available space to make it both aesthetically pleasing and highly practical for daily living. The stunning makeover of a spacious 3BHK apartment that blends style, functionality, and comfort to create a dream living space. Through a thoughtful combination of design elements, color schemes, and functional furnishings, we have transformed this apartment into an inviting oasis. Soothing, clutter-free, and oozing with a zen-like vibe, this 3BHK house nestled in a calm and peaceful location of Wadala east, Bhakti Park .We focused on a neutral color palette combined with pops of vibrant colors to create a sense of harmony and energy in each room.
When it comes to typical Mumbai apartment layouts, the clients put forth two main requirements: to make the space feel as large and expansive as possible and to maximize storage space. We figured that with the use of the right materials, colours and elements we could create an illusion of expanse and spatial volume. Our task was to make the most of the floor space of this typical 3 BHK apartment with minimum turnover time and budget.
Upon entering the apartment, you're greeted by a spacious living room that emanates warmth and elegance. We installed large windows to allow natural light to flood the space, making it appear even more spacious. The TV Panel designed with geometric patterns creates a dramatic effect with minimalistic approach. A soft, blue sectional sofa takes center stage, complemented by geometric patterned cushions in muted colours . The coffee table with clean lines and a glass top adds a touch of sophistication. A grey and blue abstract printed rug used near the L-shaped sofa sitting has a beautiful blend of patterns, textures and colors giving the home a modern and elegant touch.
We started by stripping the house to its bare shell. This 3 BHK apartment has been designed with two base ideas, one of creating calming yet lively spaces and the other was of connecting the spaces in a free-flowing manner such as each being a part of the other. The kitchen wall was demolished to accommodate an open kitchen making the kitchen a part of the living room.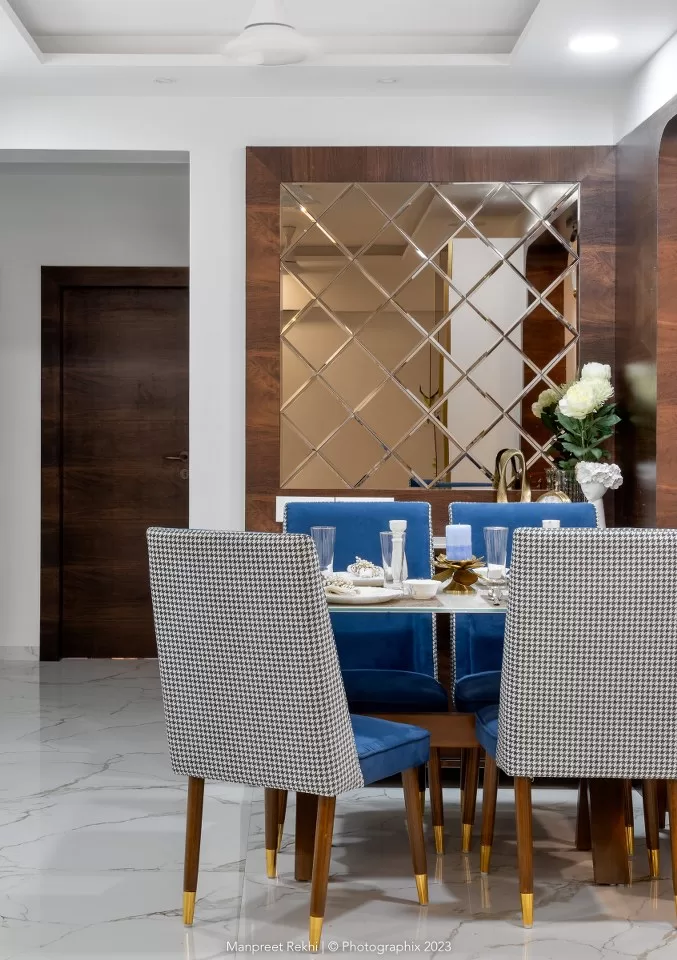 The beveled tinted mirror panelling form a welcoming backdrop to the dining area adding depth to the wall .The sideboard showcases natural wood grains, clean lines and midcentury inspired tapered legs. The carved handles and curves add third dimension to the soft closing drawers giving a very subtle look.
The kitchen was revamped to enhance functionality and aesthetics. We opted for sleek, handle-less cabinetry to create a seamless look. Blue subway tiles adorned the backsplash, reflecting light and adding a classic touch. This shade of blue adds a touch of freshness to the kitchen while acting as cool and calm accent. The open modular kitchen is finished with anti-scratch acrylic shutters in white colour . The kitchen now boasts modern appliances that are both energy-efficient and visually appealing.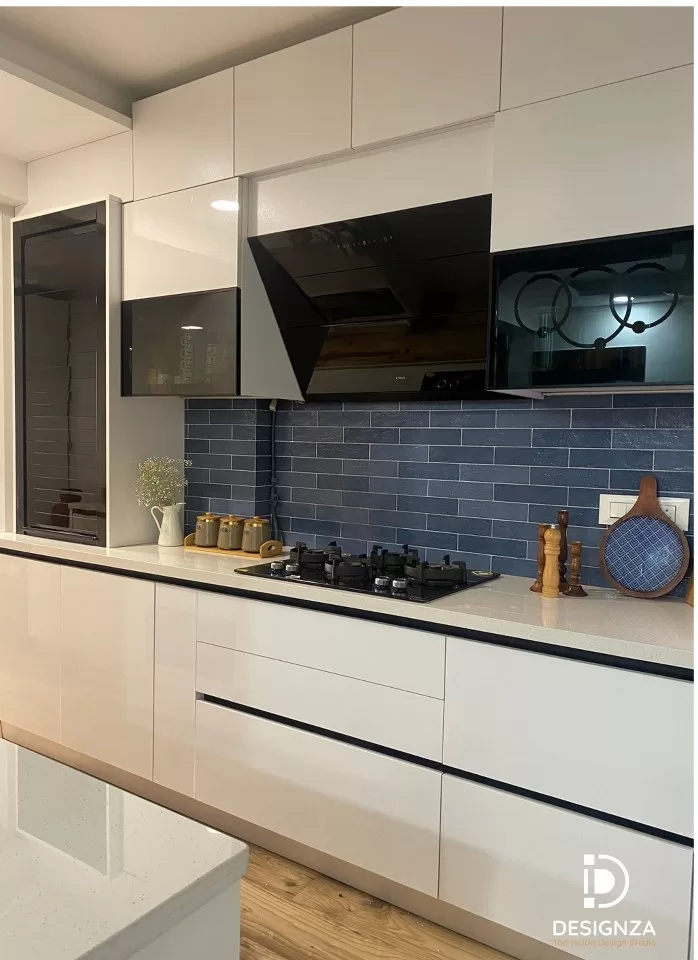 As young adults, teenagers crave a space that reflects their personality, interests, and style. Our design takes inspiration from their growing independence and individuality, offering a space that is both functional and inviting.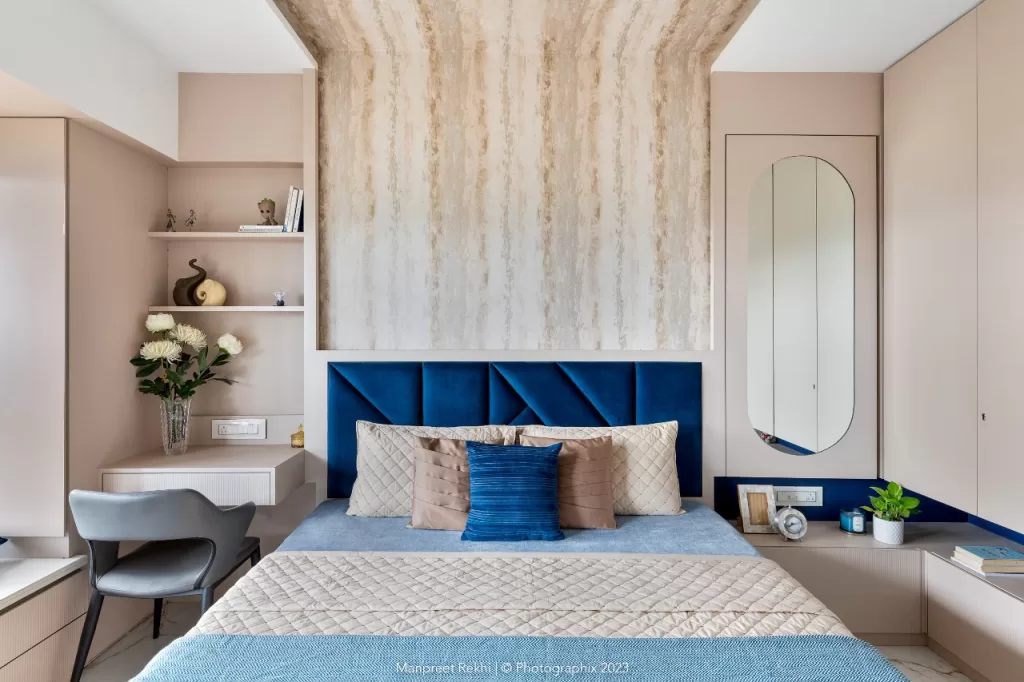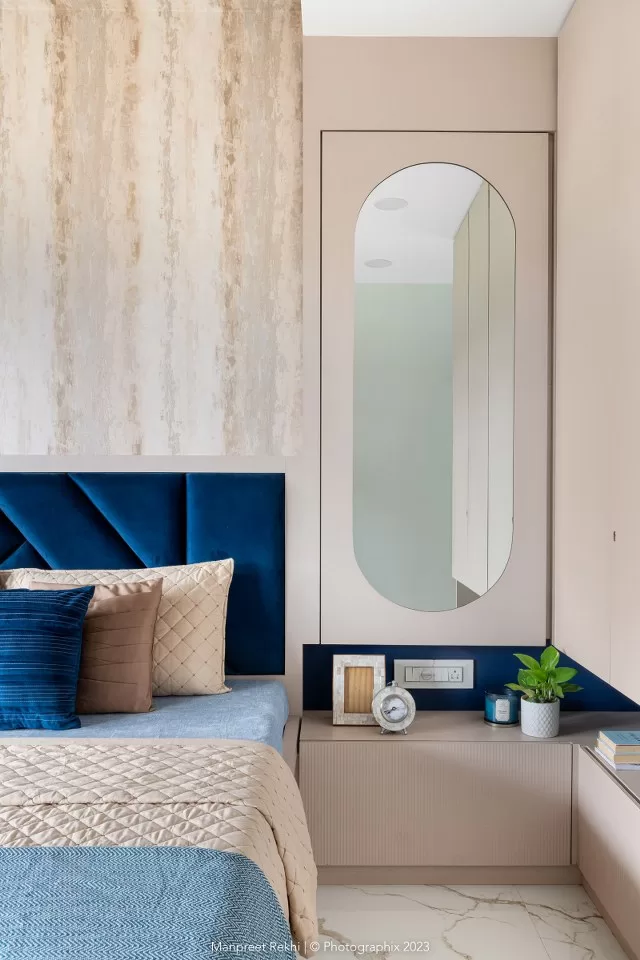 The dominant color scheme of blue is chosen to create a calming yet modern ambiance, making it a perfect sanctuary for relaxation and self-expression. A muted textured wallpaper used as backdrop to the room adds depth and complements the blue upholstered headboard.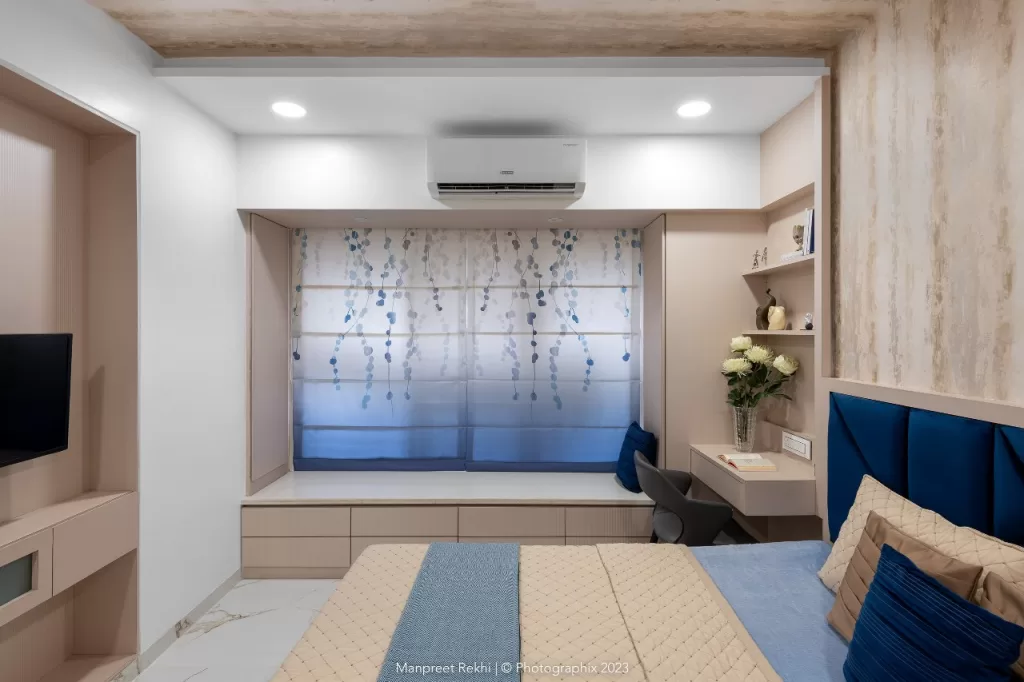 The master bedroom exudes luxury, featuring a king-sized bed with a sage green tufted headboard, elegant bedside tables, and soft, luxurious bedding. Subtle textures and a muted color palette create a serene ambience.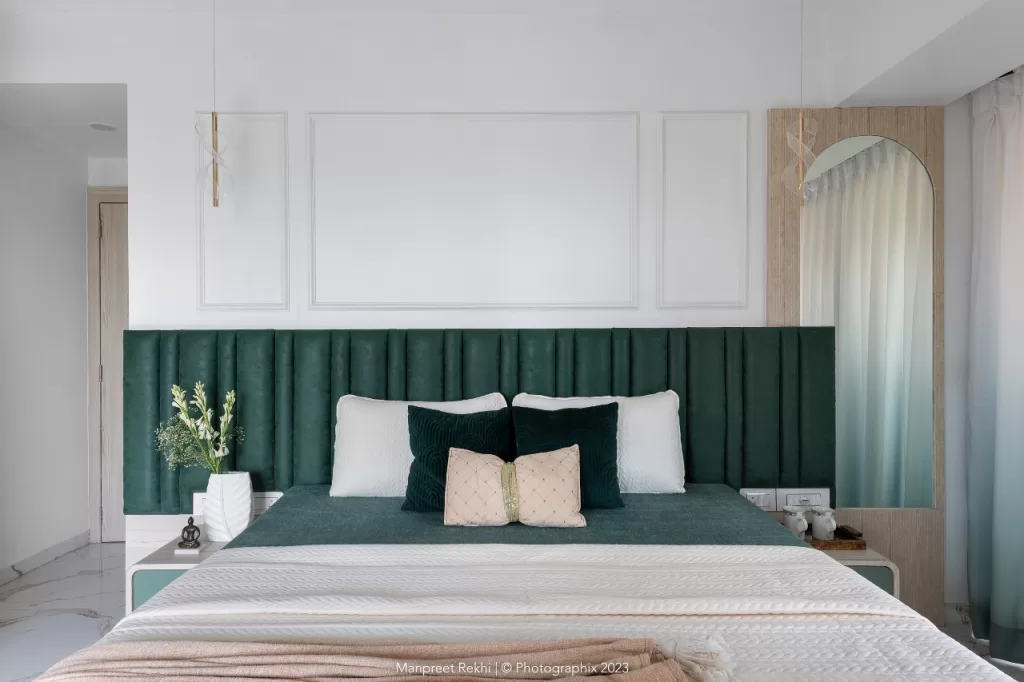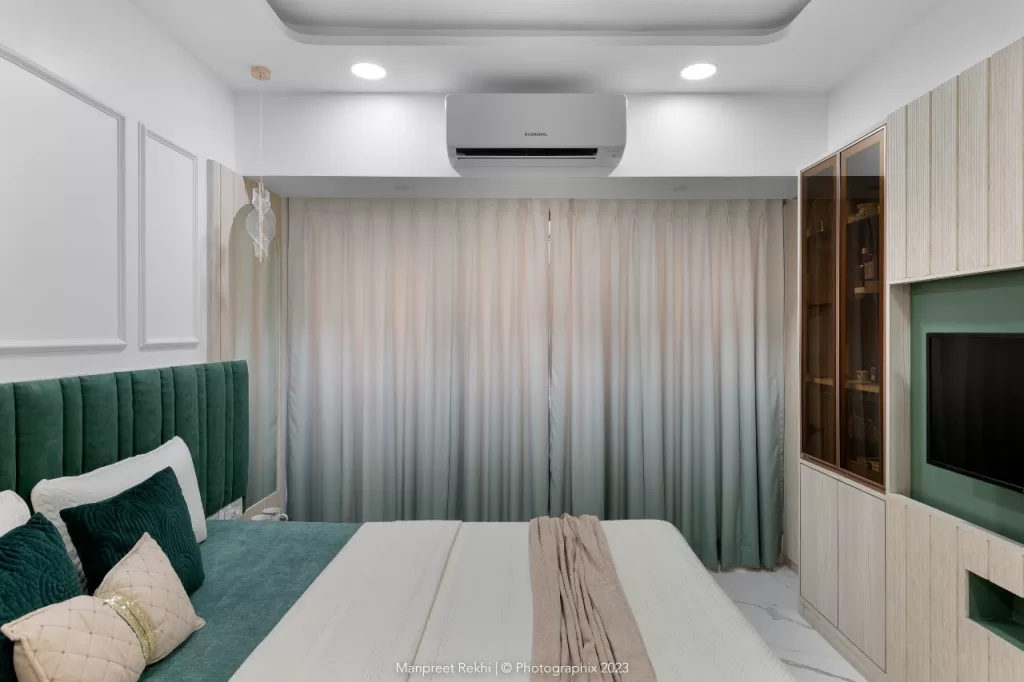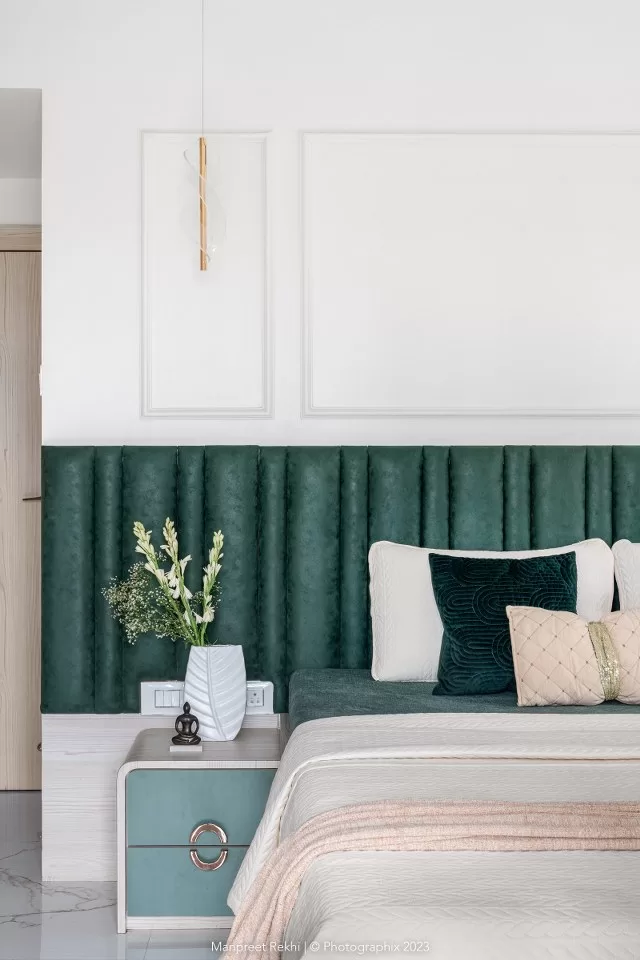 A serene and elegant bedroom makeover designed for parents who seek a tranquil escape from their busy lives. Neutral colors are at the heart of this design, creating a soothing and sophisticated atmosphere. The centerpiece of the room is a luxurious, upholstered queen-sized bed with a tufted headboard. The bedframe is in a muted beige or taupe color to maintain the neutral theme. Plush bedding in various shades of ivory, cream, and pale gray creates a cozy and inviting haven for restful sleep.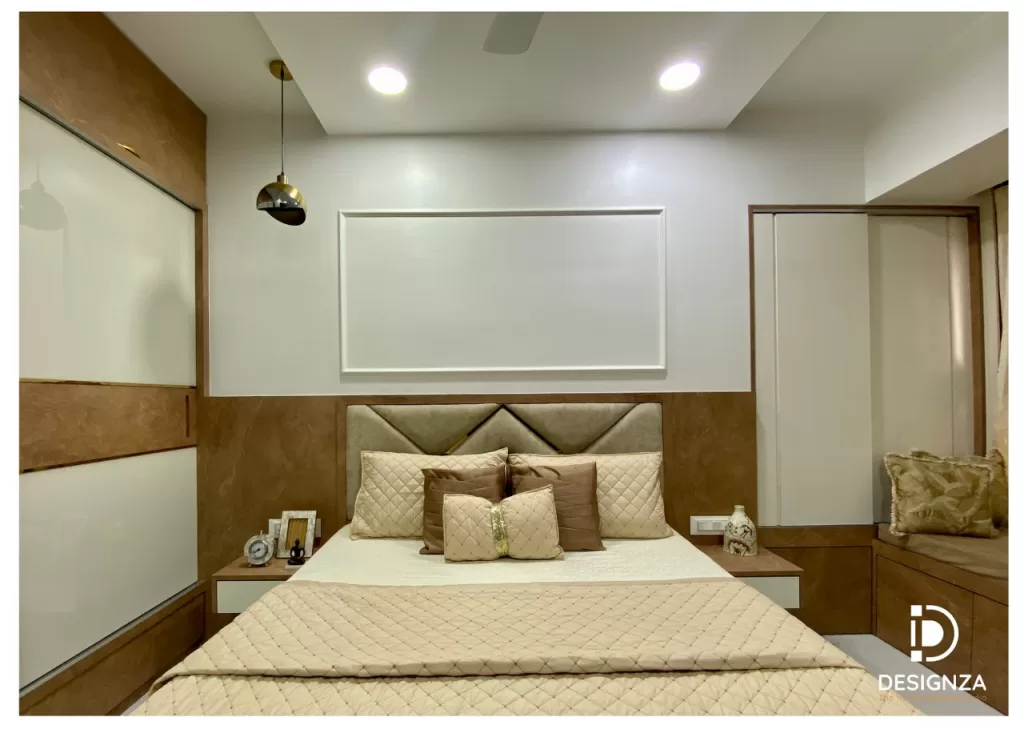 The bathrooms received a complete makeover, transitioning into modern retreats. We incorporated large format tiles in soothing tones, complemented by contemporary fixtures and fittings.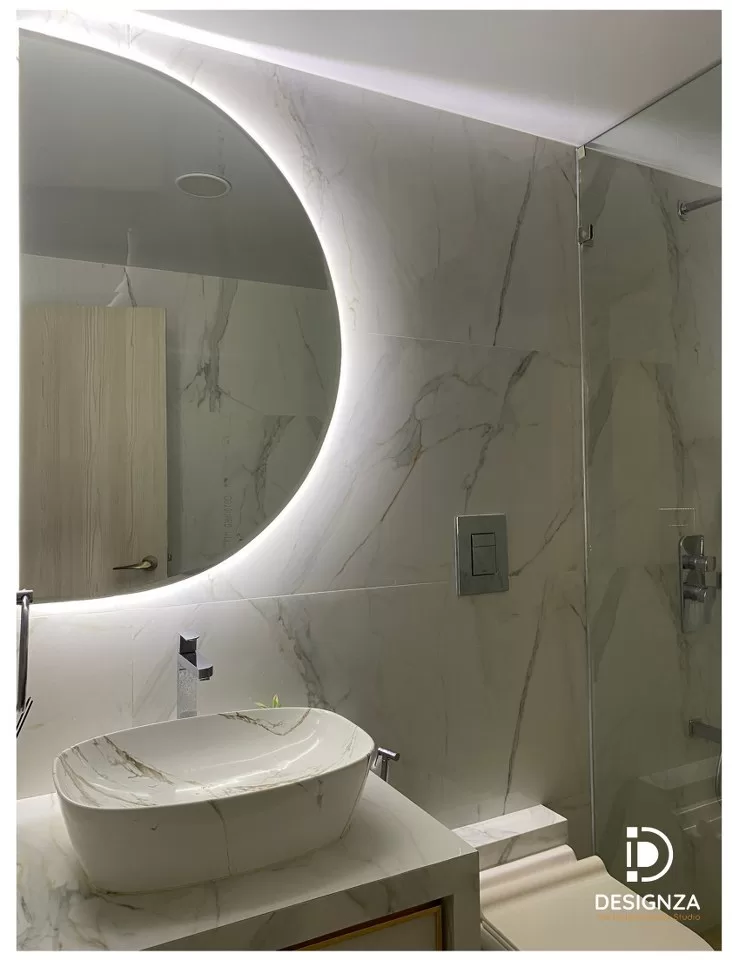 The makeover of this 3 BHK apartment has been nothing short of transformative. By combining thoughtful design choices, a touch of sophistication, and a focus on functionality, we have turned this apartment into a stylish and comfortable home for its occupants. The new design now exudes an aura of contemporary living with a timeless appeal, creating a space that the residents can enjoy for years to come.
Fact File
Designed by: Designza Studio
Project Type: Residential Interior
Project Name: 3 BHK –Mount Everest
Location: WADALA EAST
Year Built: 2023
Duration of the project: 6 months
Project Size: 1000 sq ft
Principal Architect: Ar. Manpreet K Rekhi
Photograph Courtesy: Photographix
Firm's Website Link : Designza Studio
Firm's Instagram Link : Designza Studio
For Similar Project >>> A Bright Pop Of Colors And Prints Define This Apartment | AR praxis architects
The post A Spacious 3BHK apartment that Blends Style, Functionality, and Comfort to Create a Dream Living Space | Designza Studio appeared first on The Architects Diary.