The brief from the client was simple: a sophisticated, elegant, simple and modern office space. The first task, however, was to break all the existing walls in the space as it lent the law office a cluttered look. In fact, before Studio Ma:Ya took charge of re-designing the space, it existed with smaller rooms that failed to provide a visual connection. The entire ground floor was converted into an immense office area with execution of architectural changes to maximize space as per the requirement.
A Sophisticated, Elegant, Simple And Modern Office Space | Studio Ma:Ya
VISIT : Studio Ma:Ya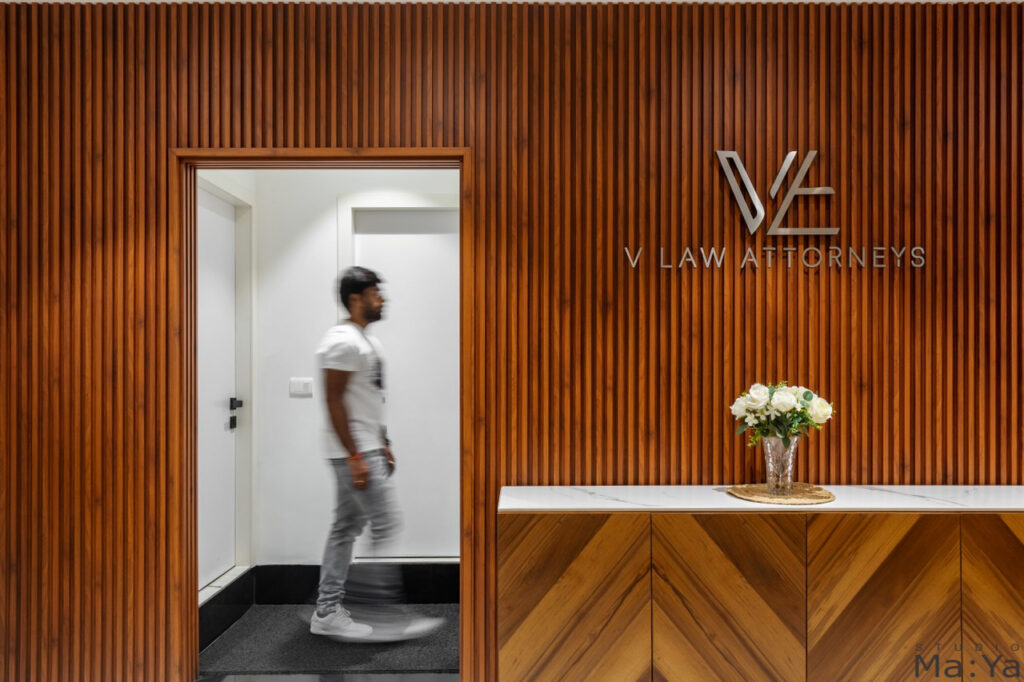 Transparency is being embraced by today's progressive law firms in order to encourage a more open and inclusive work environment, as well as to reinforce the firm's culture and organizational structure. The overall tone and materiality of space is highly inspired by colonial courtrooms.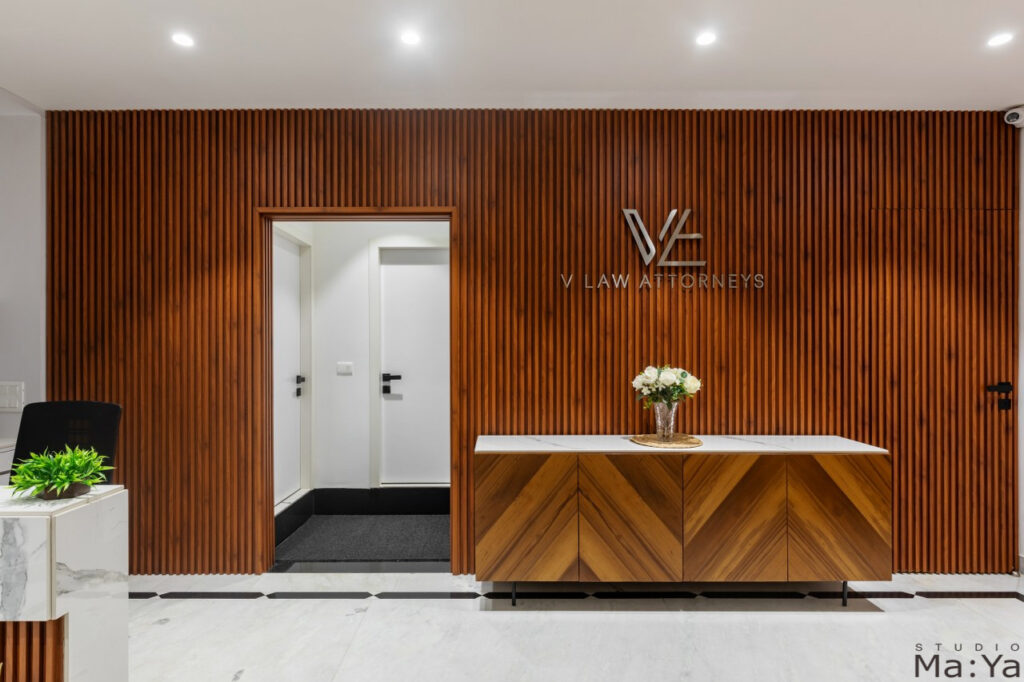 It is critical to understand how a legal business operates so that the design of its rooms can meet its unique needs, which amalgamates all the linear requirements to the focal points.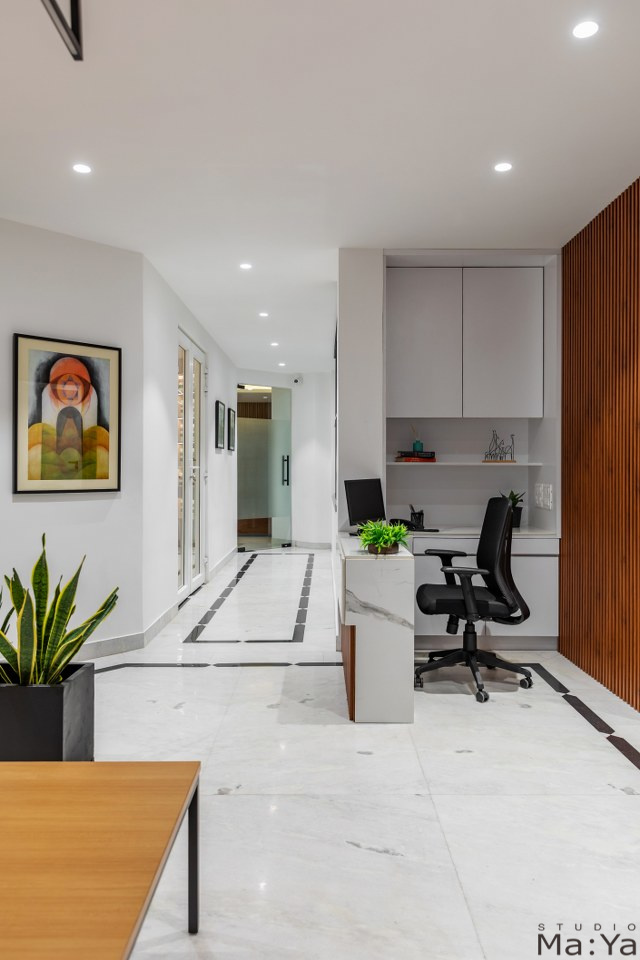 Elements such as glass-fronted offices and conference rooms allow diffused light to enter dark work-spaces while also removing obstacles to knowledge sharing, associate mentoring, and broader communication of business goals, creating new opportunities and insight.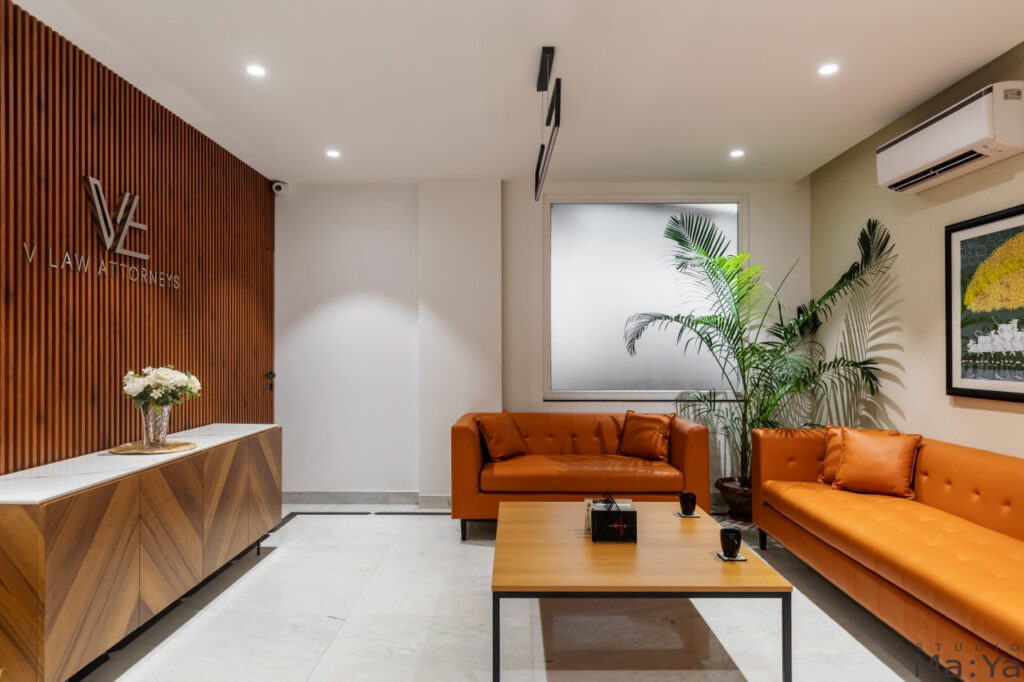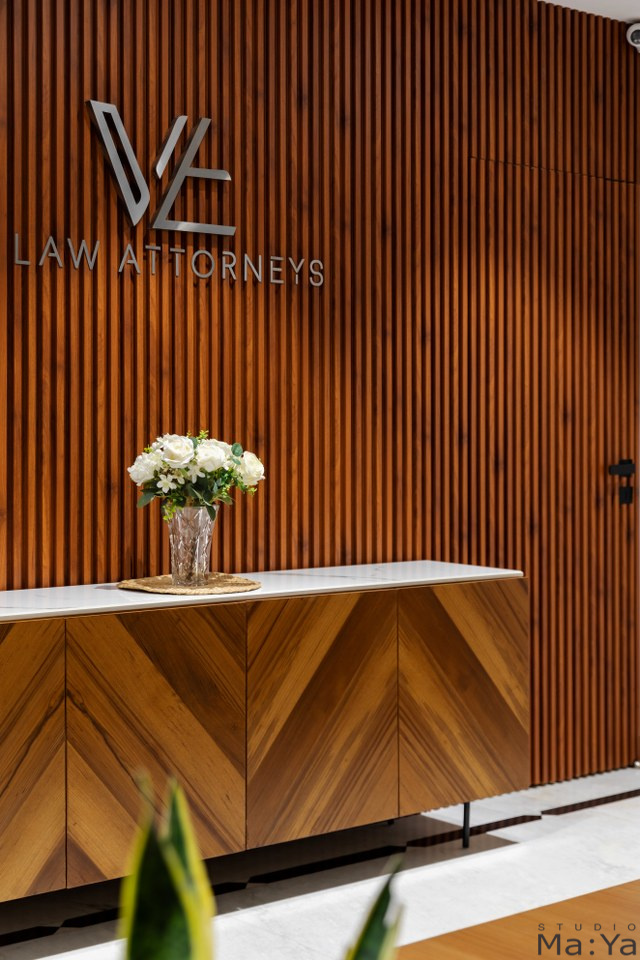 When you enter the law office, the reception area greets you, followed by the conference room on the left. The workstations follow, accompanied by senior cabins and lounge area for private meetings. They are all visually connected to each other, without infringing on privacy. The master cabin for the firm's director, is located off the reception area to eliminate noise and ensure privacy.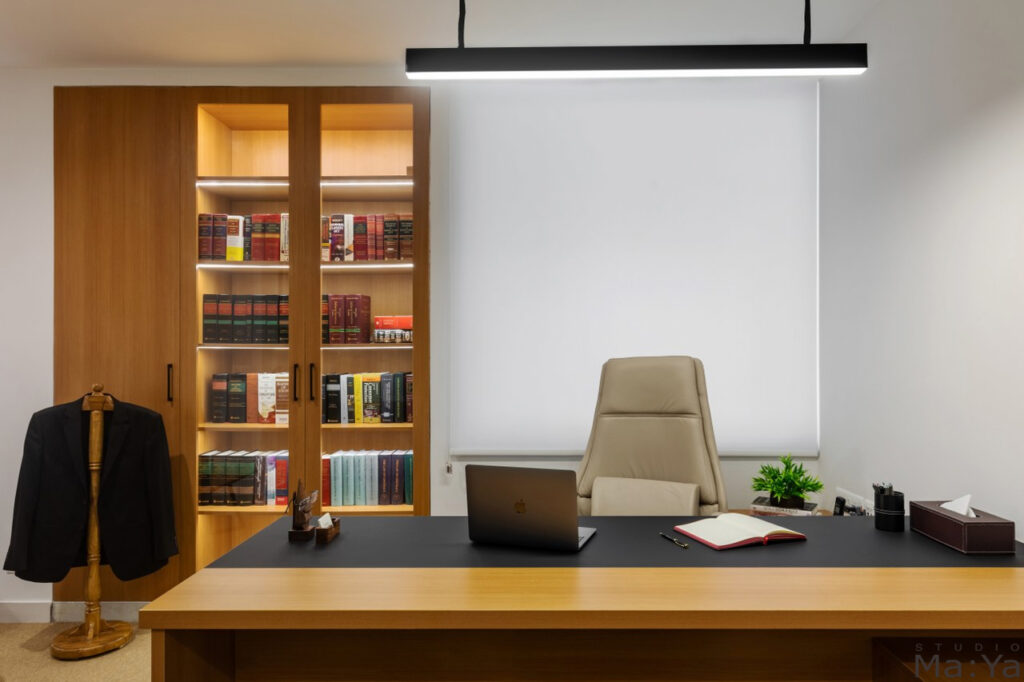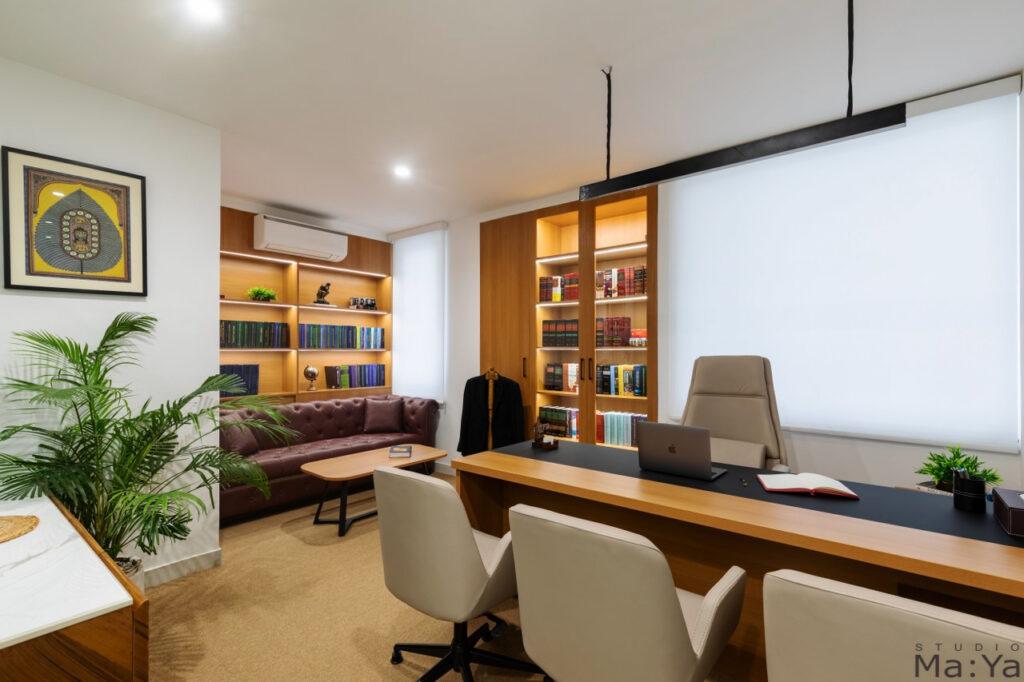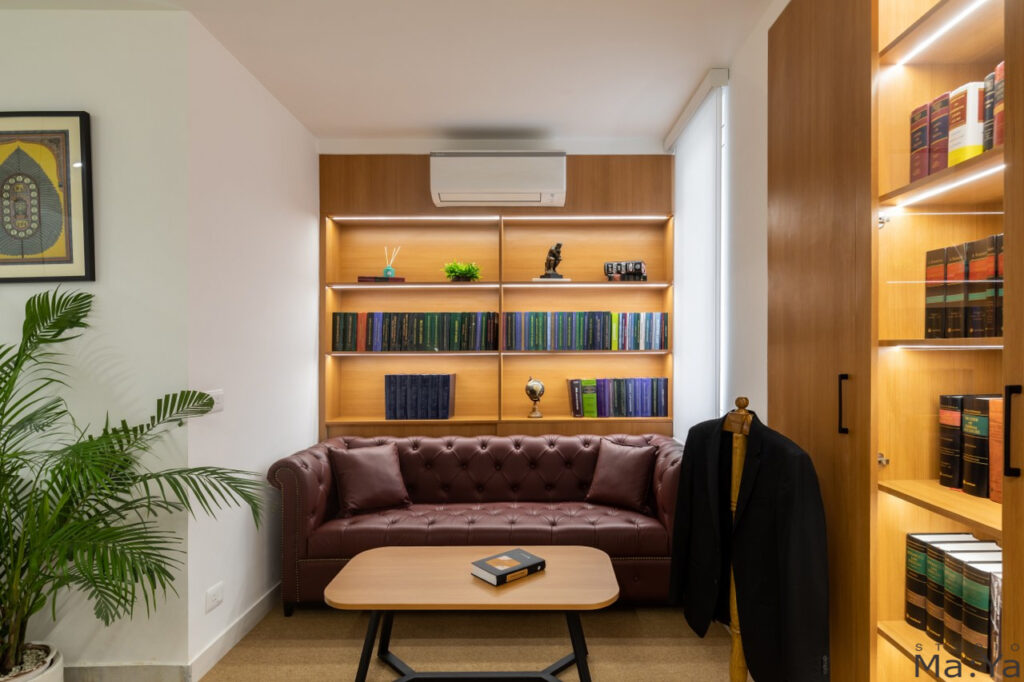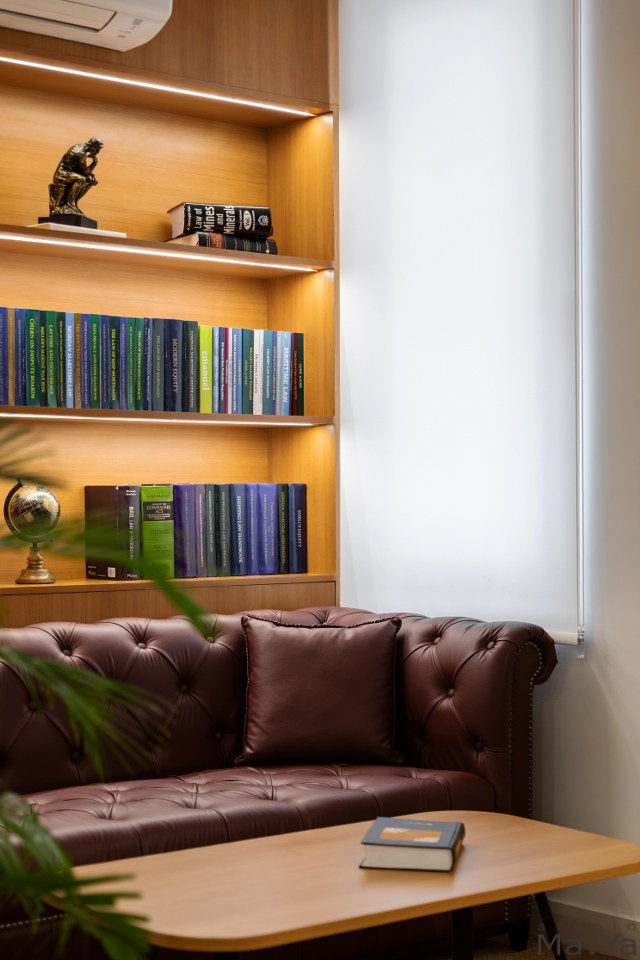 A frontal symmetry and a neutral warm color, dissolving ideas of regularity and pattern on the side walls of the individual cabins, and workstations. As law offices go, this one definitely transcends conventions.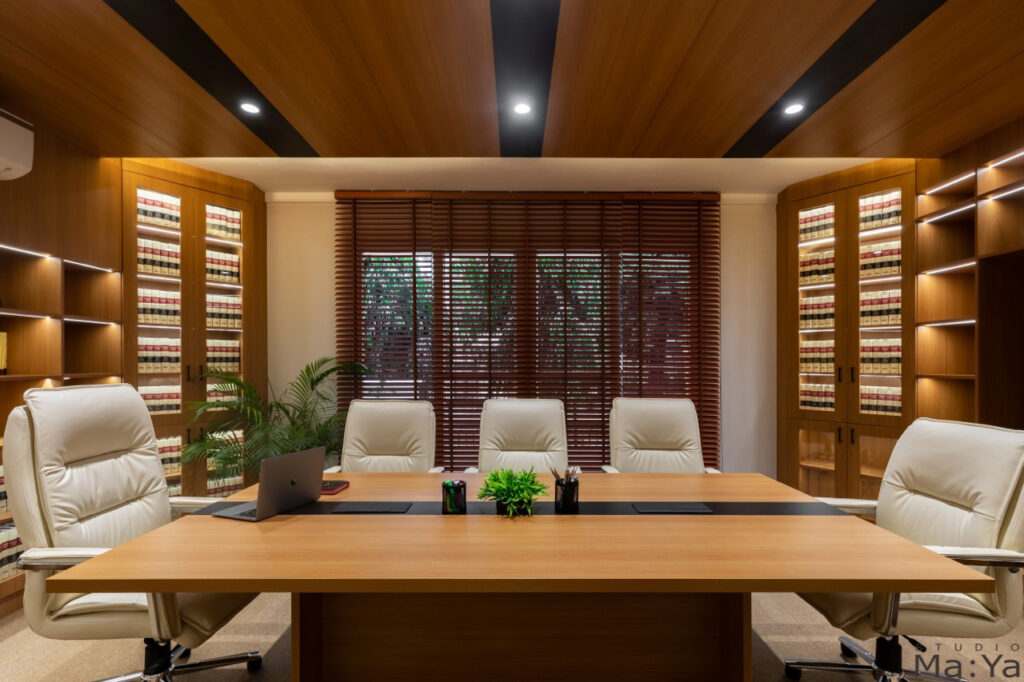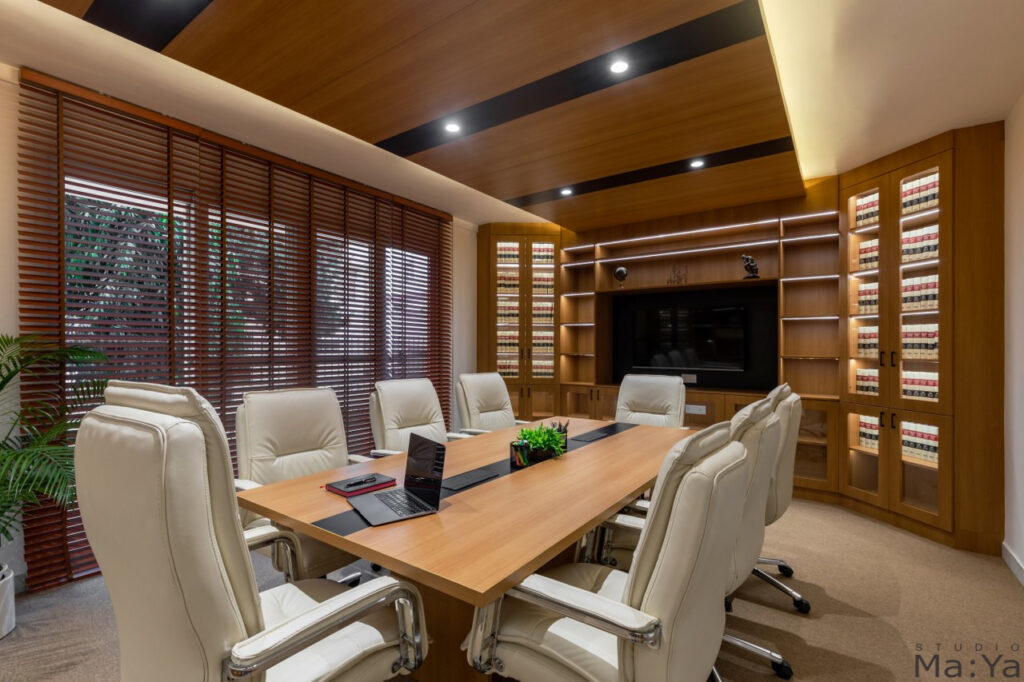 The choice of the retaining old flooring and enhancing it with carpeted floor, including a feature wall at the reception area, monolithic design for the washrooms, choice of material and profiles for the conference uplifts the entire design scheme which helps the initial vision of correlating beautification with cost efficiency.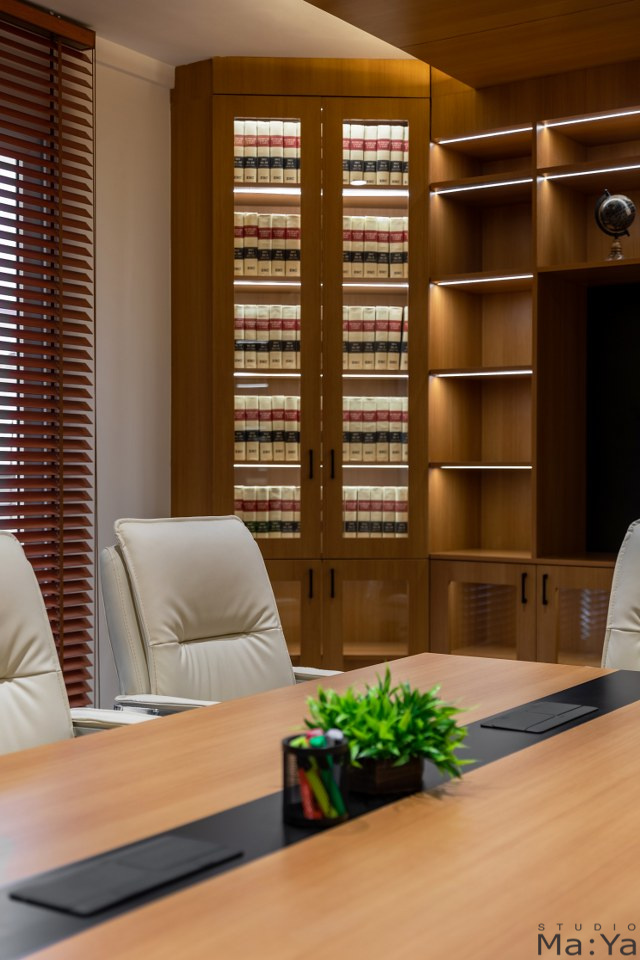 Any office makeover should start with space programming, because the configuration of square footage is defined by how each organization wishes to work within its space. Throughout the design and execution journey few challenges such as converting the entire process within the span of 50 days at the midst of active building was looked after.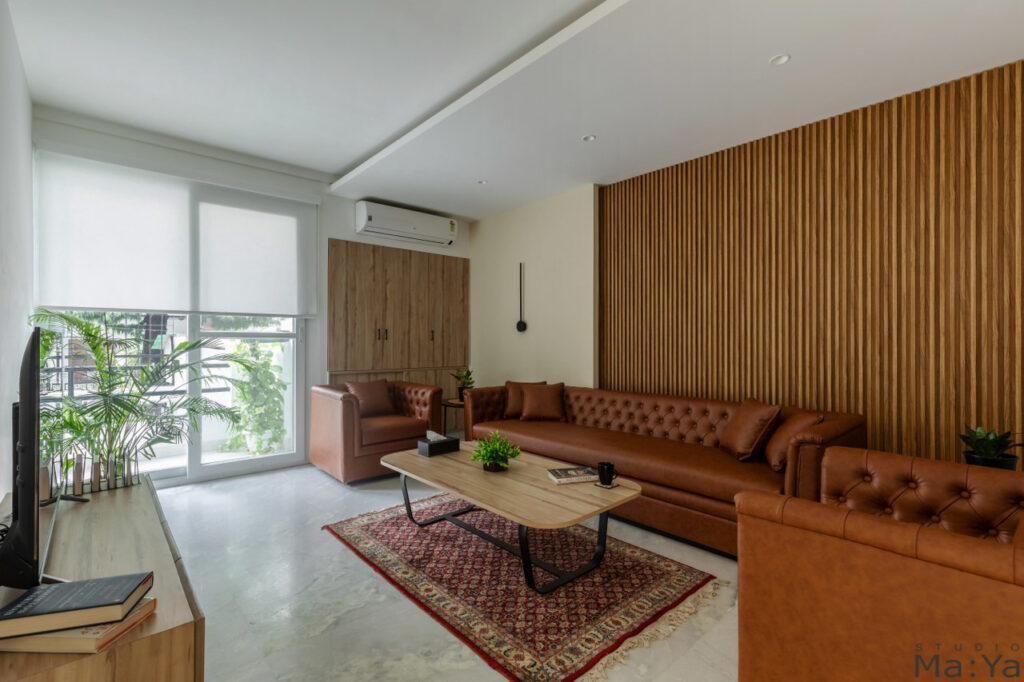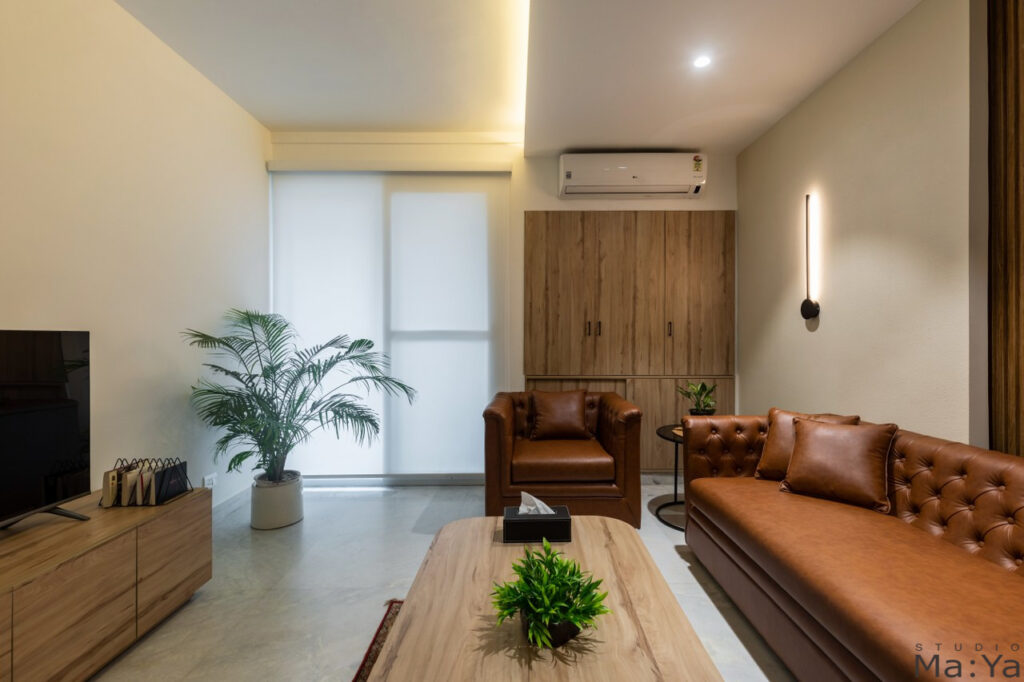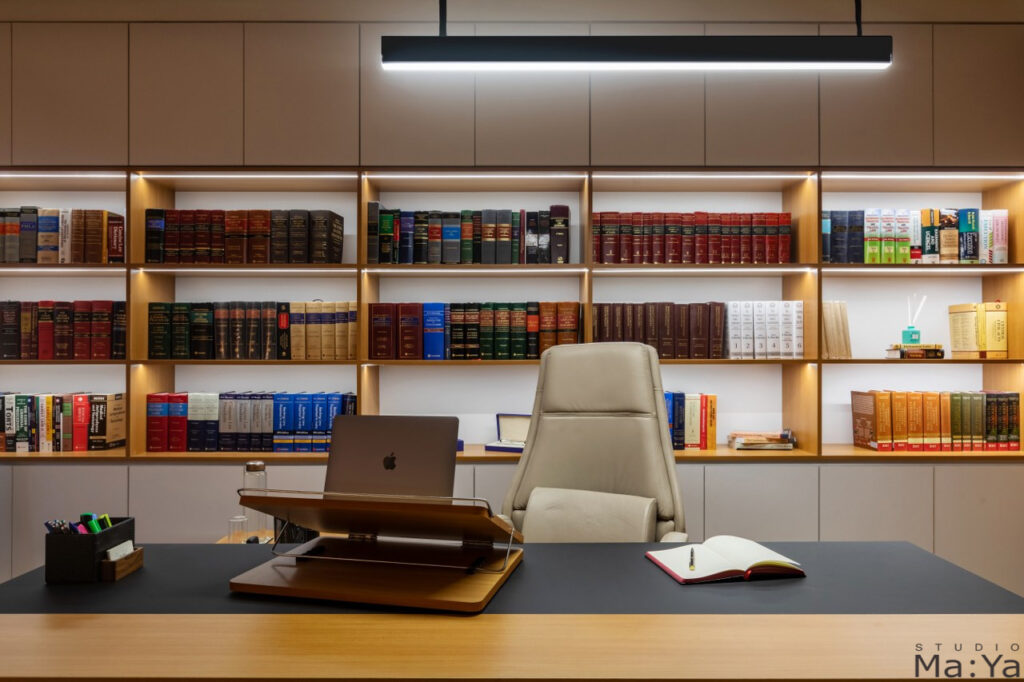 Designing for fluidity was key to this firm's design, due to which inclusivity of existing foliage and greenery lead to a sustainable approach.The legal profession has a reputation for being conservative. While many law offices across India adopt a traditional decor, replete with oversized leather chairs, chunky wooden bookshelves and framed artwork, architecture firm Studio Ma:Ya, helmed by Principal Architect Mayank Yadav, took a different approach when called on board to design a law office, V Law Attorney, in South Delhi.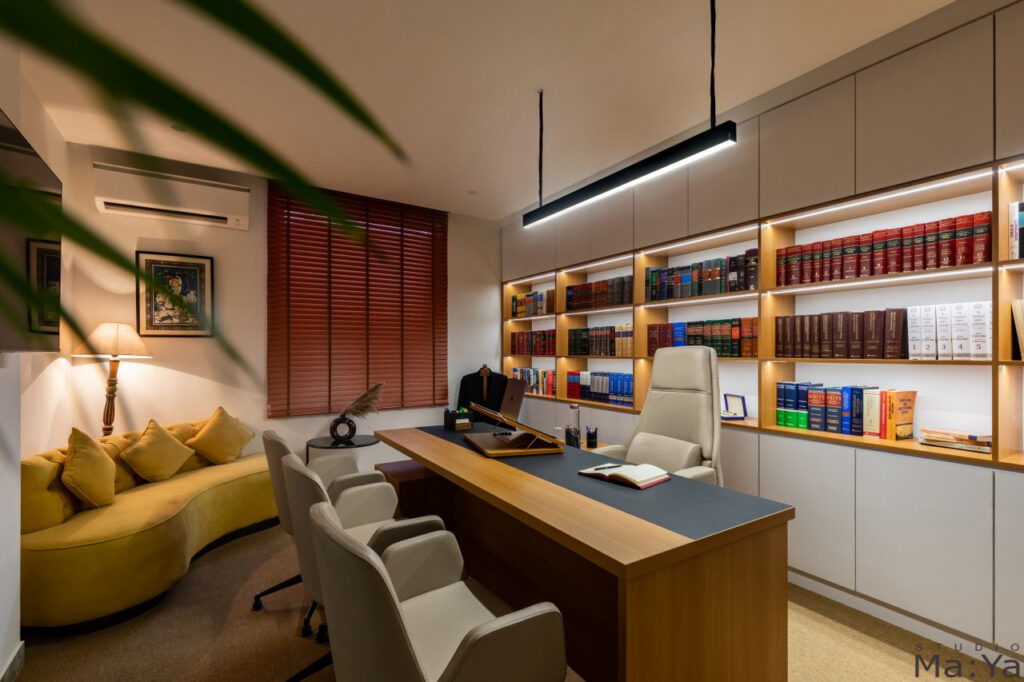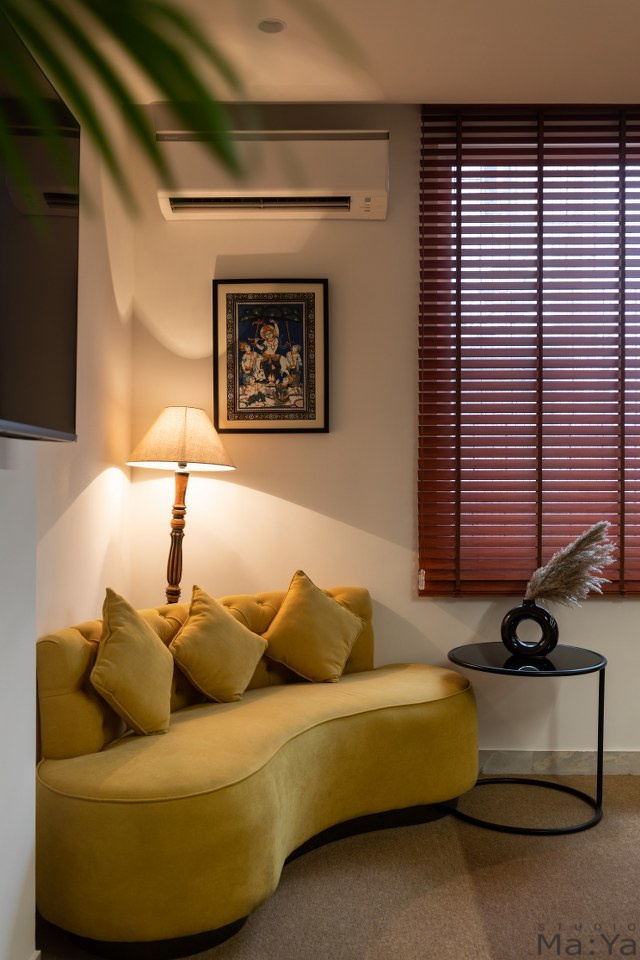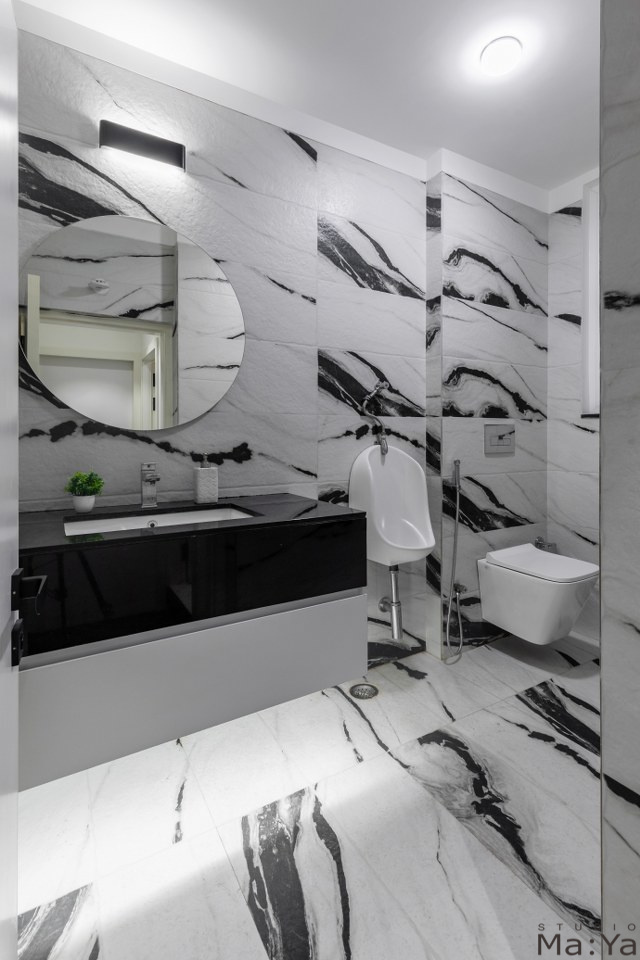 FACT FILE
Designed by : Studio Ma:Ya
Project Type : Office Interiors
Project Name : V Law Attorney
Location : Defence Colony, New Delhi
Year Built : 2022
Duration of project : 50 Days
Plot Area : 300 sq.yd
Built up : 11000 sq.ft
Project Size : 2300 sq.ft
Project Cost : 46 LAC
Principal Architects : Ar. Mayank Yadav
Team Design Credits : Ar. Deeksha Goswami, Ar. Dilip Singh, & Dharmendra Singh
Photograph Courtesy : Ruuhchitra
Products / Materials / Vendors : Wallcovering / Cladding – MARCO POLO / Lighting – SCHON / Doors and Partitions – CENTURY / Sanitaryware – JAQUAR / Facade Systems – LINGEL / Windows – LINGEL Furniture – DAFT / Paint – DULUX / Hardware – HETTICH/GODEREJ/OZONE.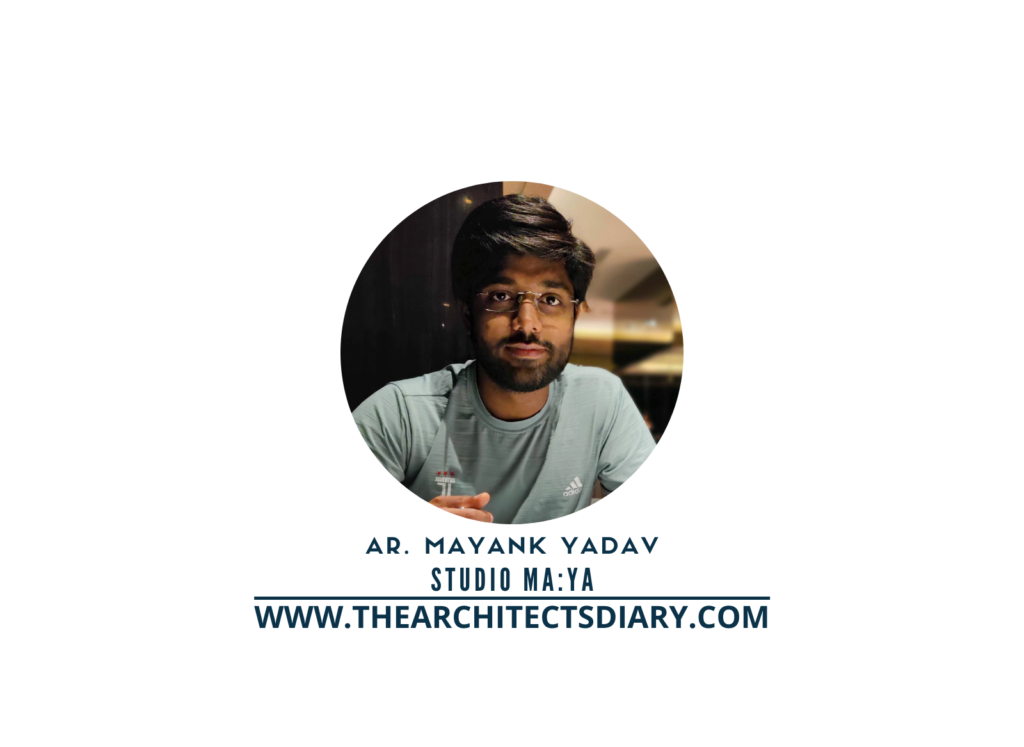 Firm's Website Link : Studio Ma:Ya
Firm's Instagram Link : Studio Ma:Ya
Firm's Facebook Link : Studio Ma:Ya
For Similar Project >> COLOURFUL OFFICE SPACE FOR 'RUPIYA.APP'
The post A Sophisticated, Elegant, Simple And Modern Office Space | Studio Ma:Ya appeared first on The Architects Diary.