The design brief involved the consolidation of two adjacent 2-bedroom apartments to create a single, spacious 3-bedroom apartment. The primary goal was to seamlessly merge the two units into a unified space that offers enhanced functionality and a comfortable living. The client desired a sophisticated and contemporary design that seamlessly integrates with their urban lifestyle while ensuring optimal functionality for their family.
A Sophisticated and Contemporary Design that Seamlessly Integrates with Urban Lifestyle | Smayan Atelier
Visit: Smayan Atelier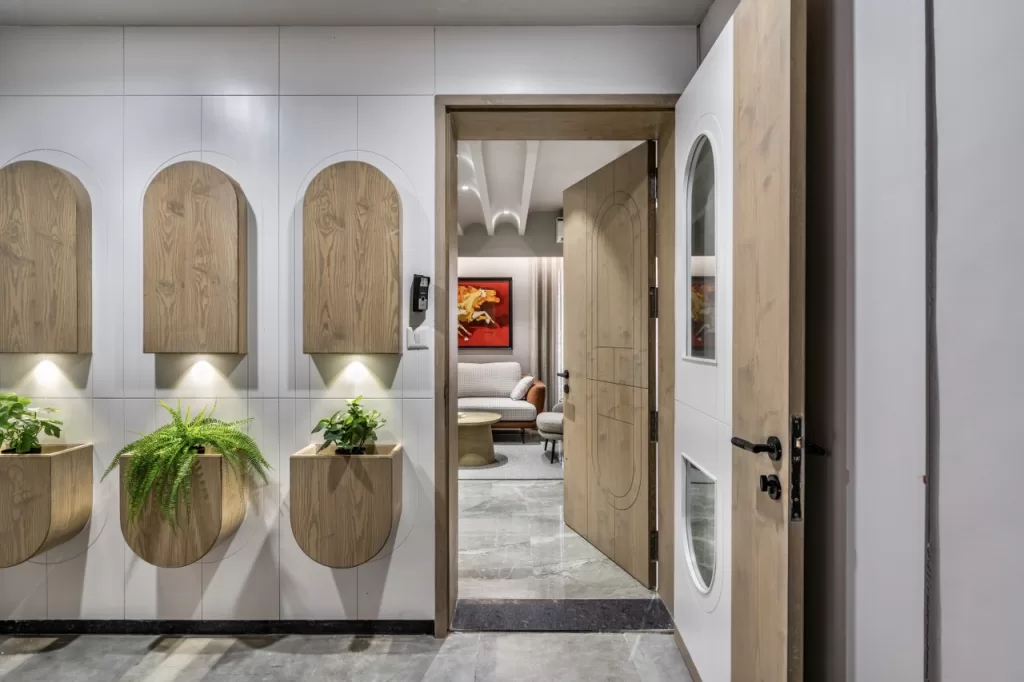 The concept focuses on creating a welcoming and stylish environment that caters to the needs and preferences of a young urban family. The design revolves around a fusion of modern aesthetics with subtle elements. The focus is on creating a timeless interior that reflects the family's personality and provides a comfortable atmosphere. The design style emphasises clean lines, minimalism, and a sense of openness.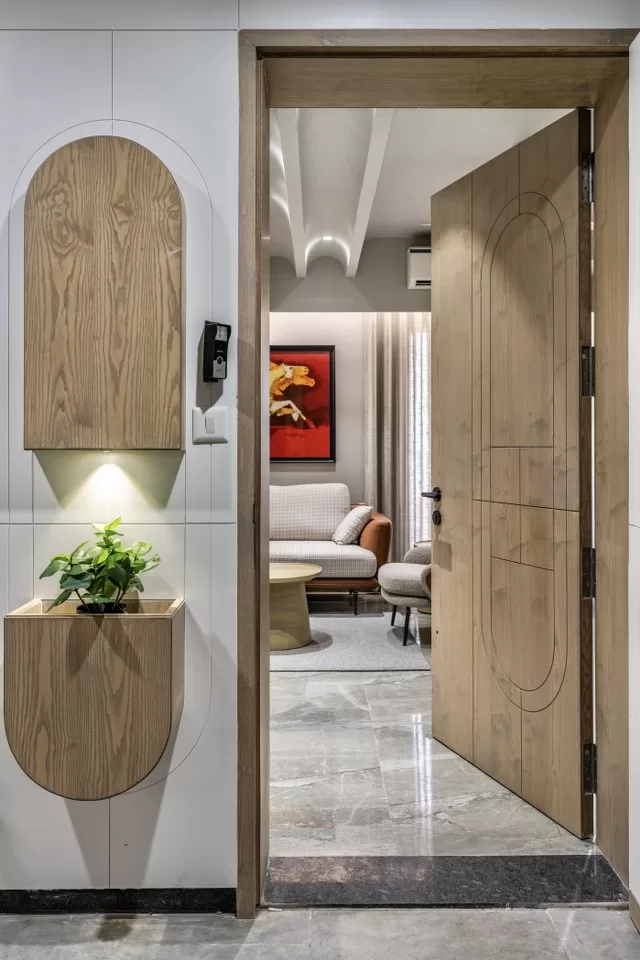 Choice of grey colour palette serves as the foundational element, creating a neutral and calming backdrop against which other design elements can shine. A grey colour palette is a versatile and timeless choice for interior design. Combination of grey with natural elements like wood veneer creates a balanced and inviting space.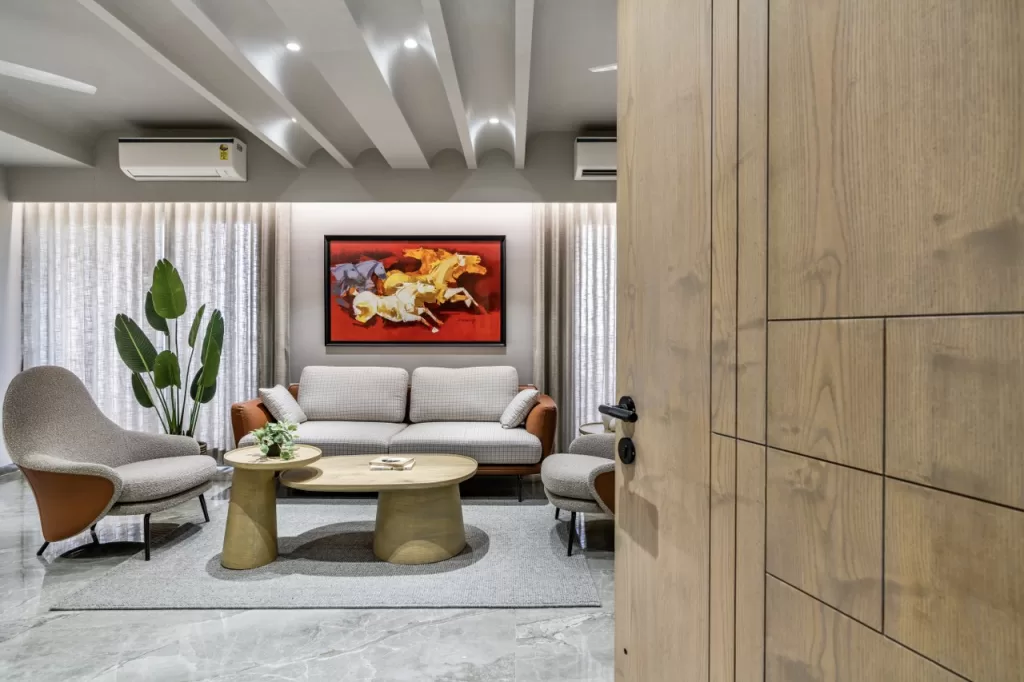 The living room serves as the gathering space for the family. The walls are painted in soft grey colour to create a warm ambience perfect for unwinding.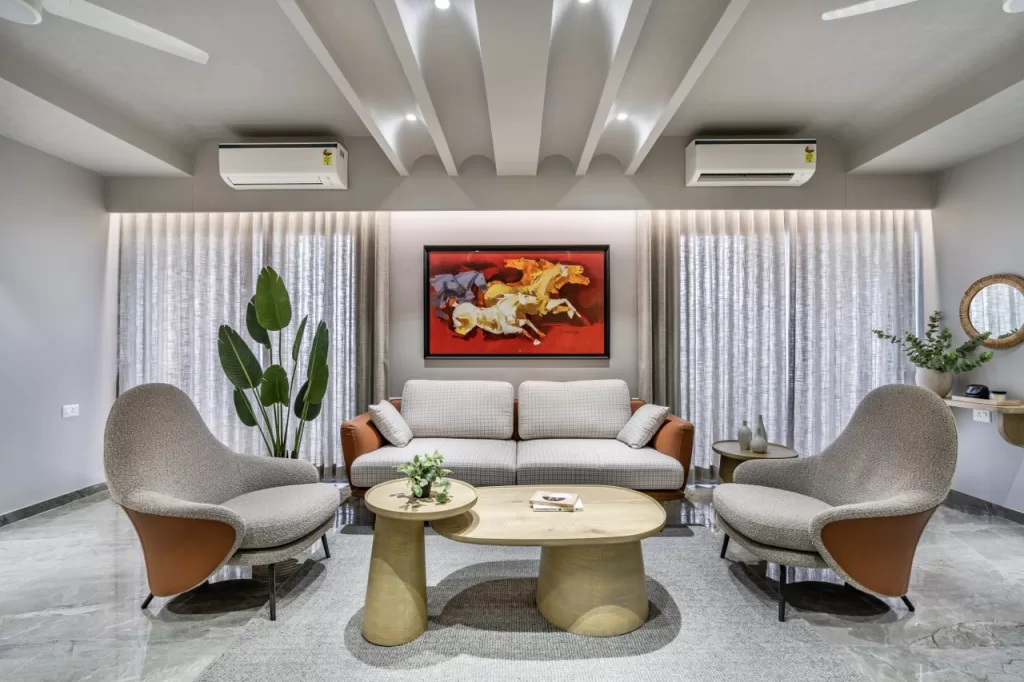 Selection of chic yet comfortable sofa in a neutral tone provides cozy seating, while accent chairs in similar tones add a playful touch and maximizes the seating capacity.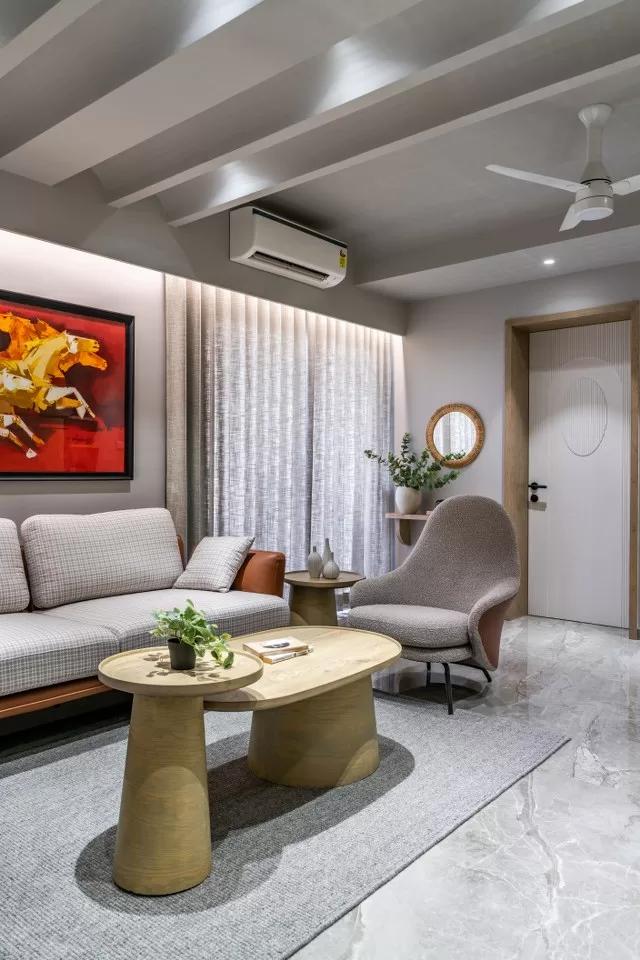 One of the long wall in living room is finished in ash wood veneer with unique grey tone polish. The wall conceals the main door and holds the TV. The idea behind creating this cohesive wall was to reduce visual distraction and enhance the experience of entertainment while watching TV. Living room also features this vaulted ceiling detail.
The dining area has a sleek & modern solid ash wood table with chairs in a mix of grey fabric and tan leather.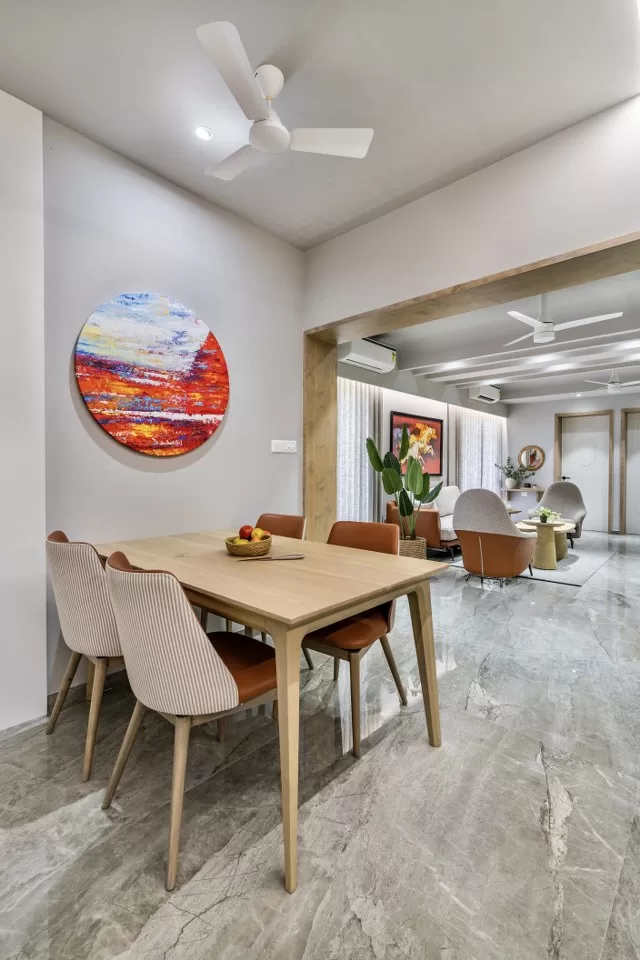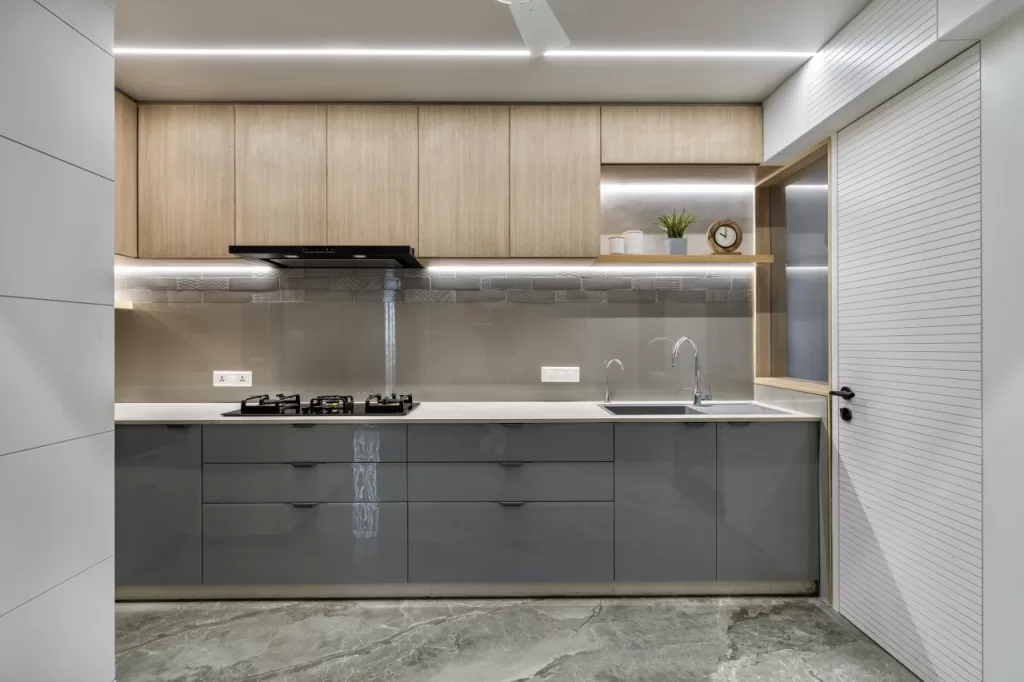 The kitchen is designed for efficiency and style with built in appliances for a hassle free meal prepping experience for the couple.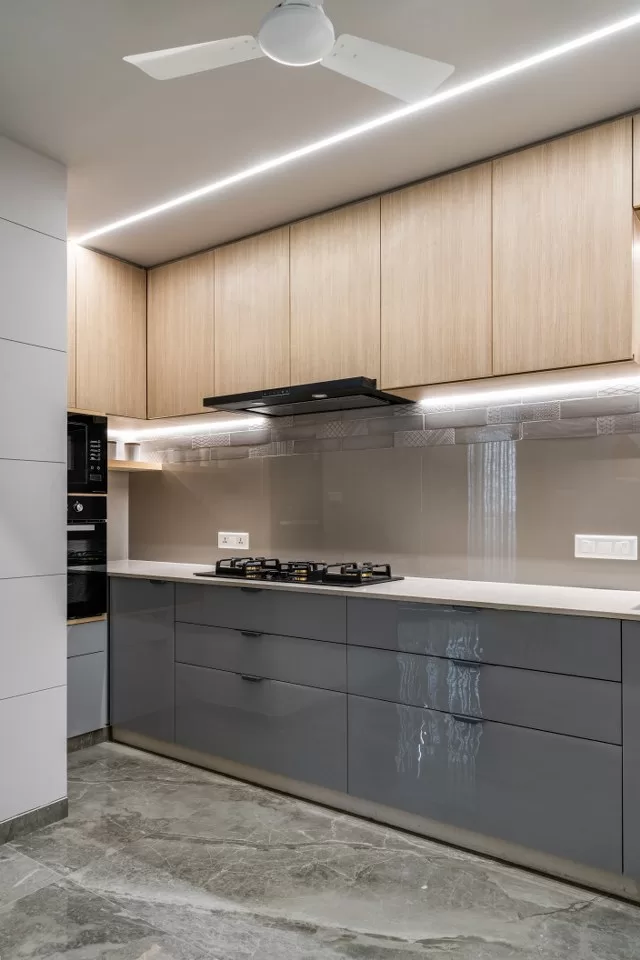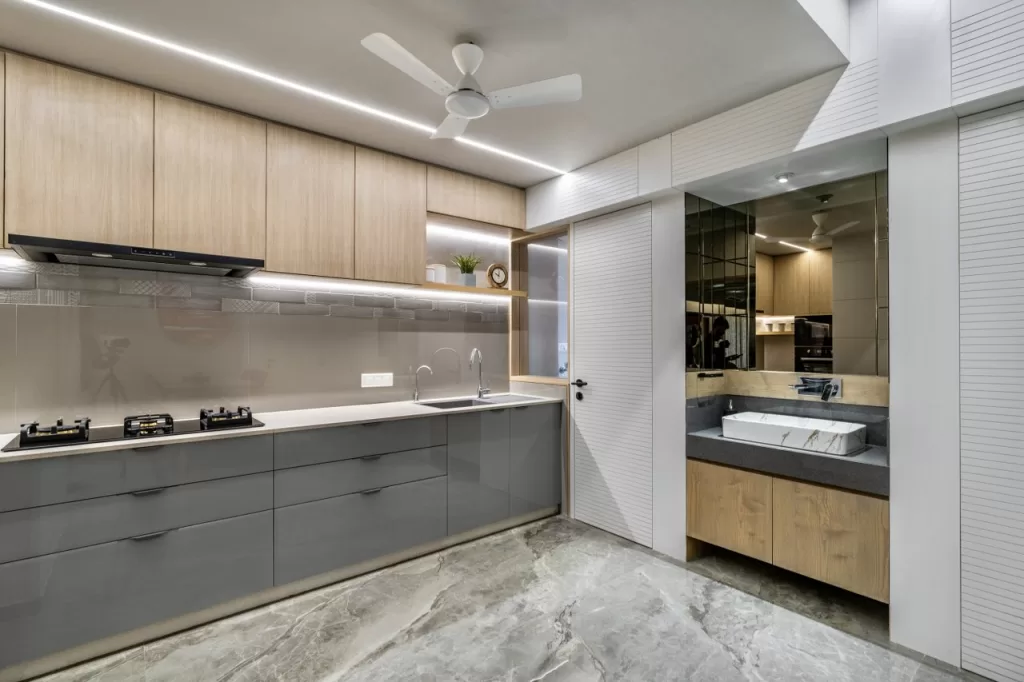 Each of the three bedrooms follows a similar design theme with variations in shades of wall colour to create a distinct character for each room. The master bedroom features stucco finish accent wall as a dramatic backdrop for the bed.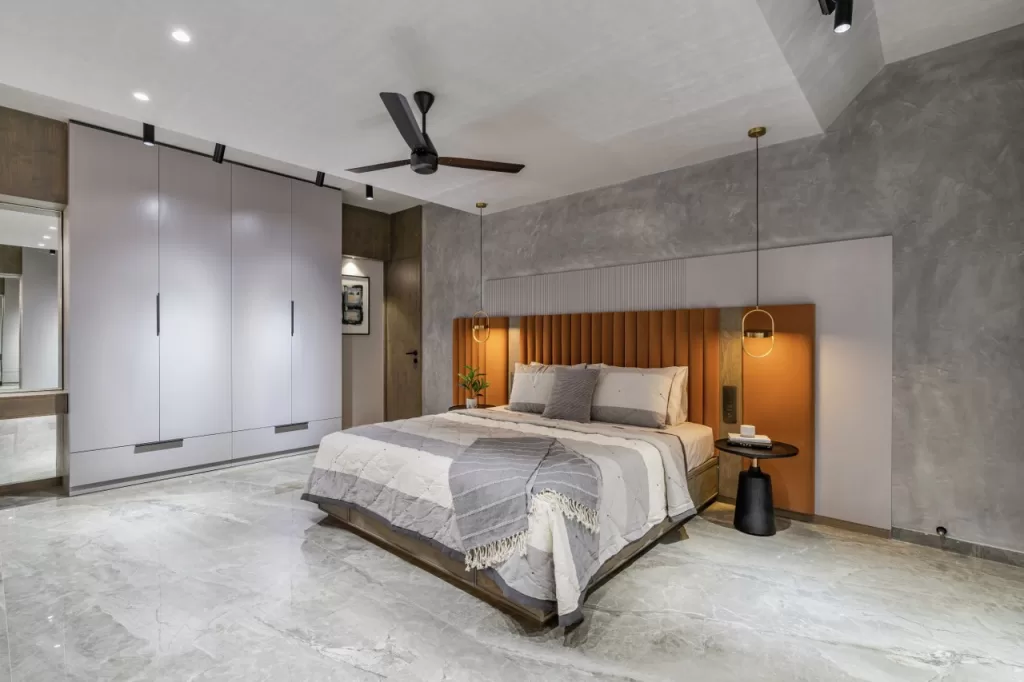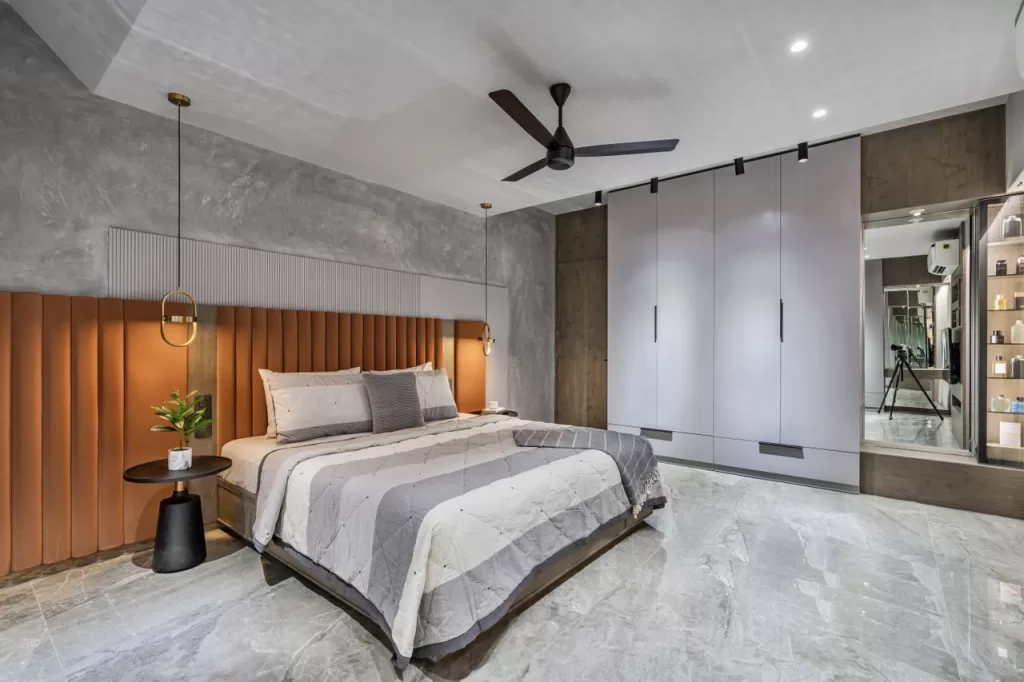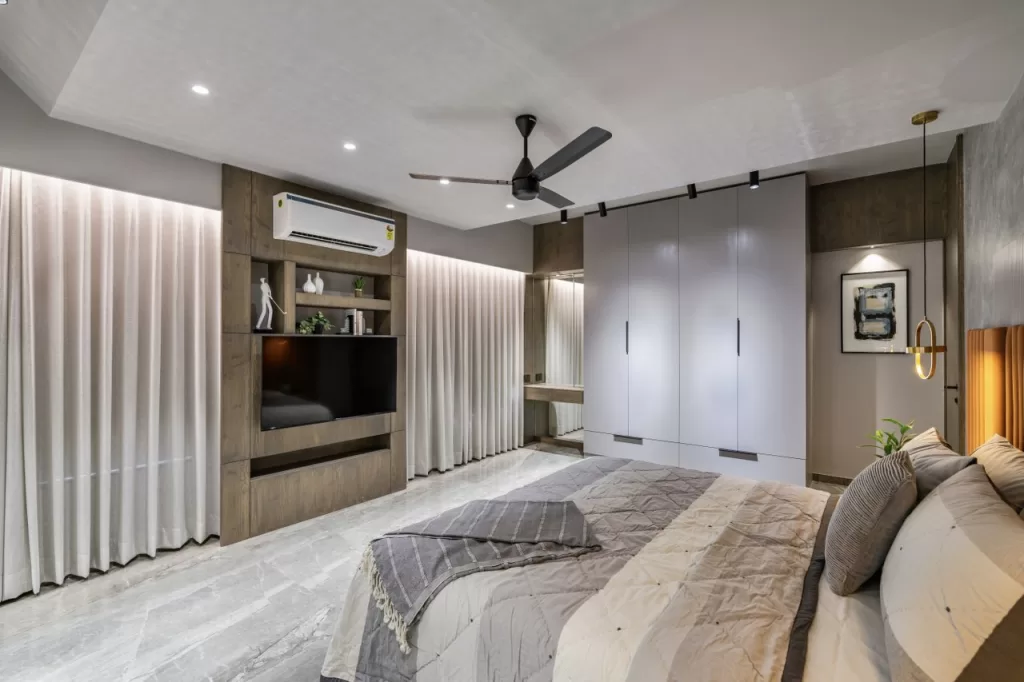 A burnt orange upholstered headboard and bedding in varying shades of grey create a serene ambience. Full height wardrobes in light grey matt PU finish covers the walls on both sides of the bed offering ample storage but without over powering the space.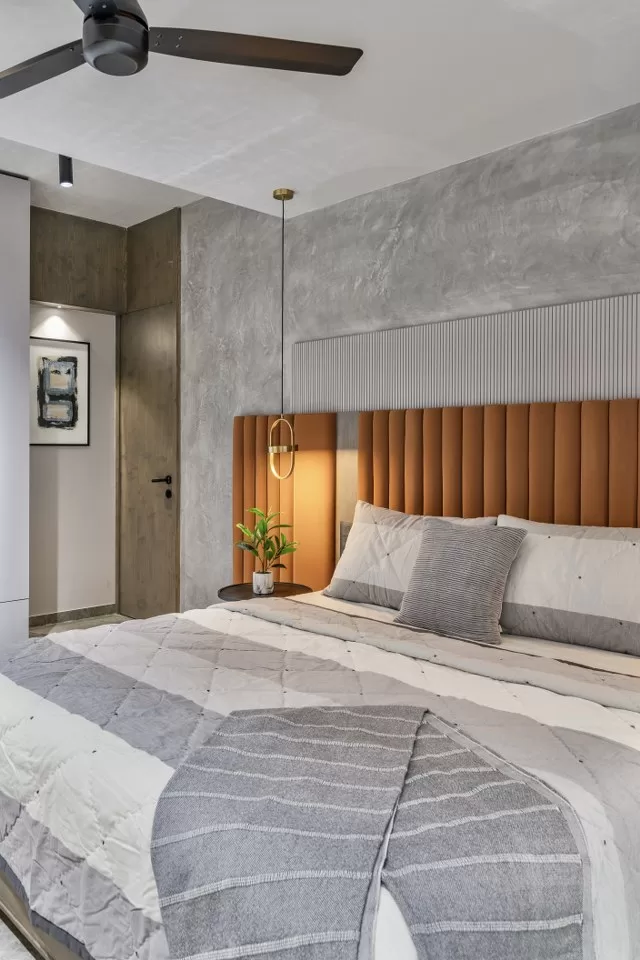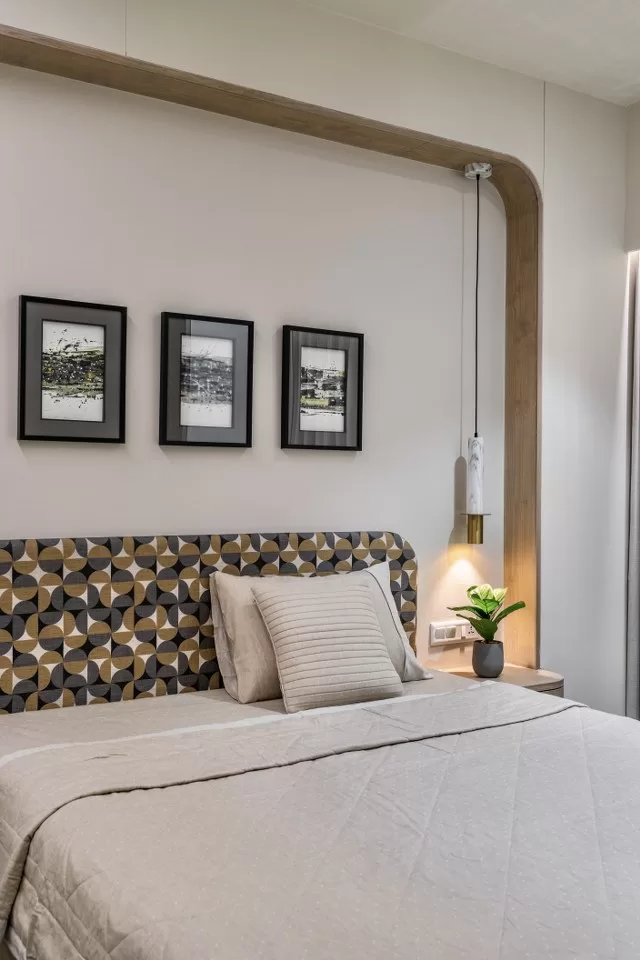 Second bedroom serves as a guest room, concept revolves around creating a warm, inviting and serene space where guests can relax and unwind. It combines elements of comfort, functionality, and aesthetics to ensure a memorable and comfortable stay for visitors.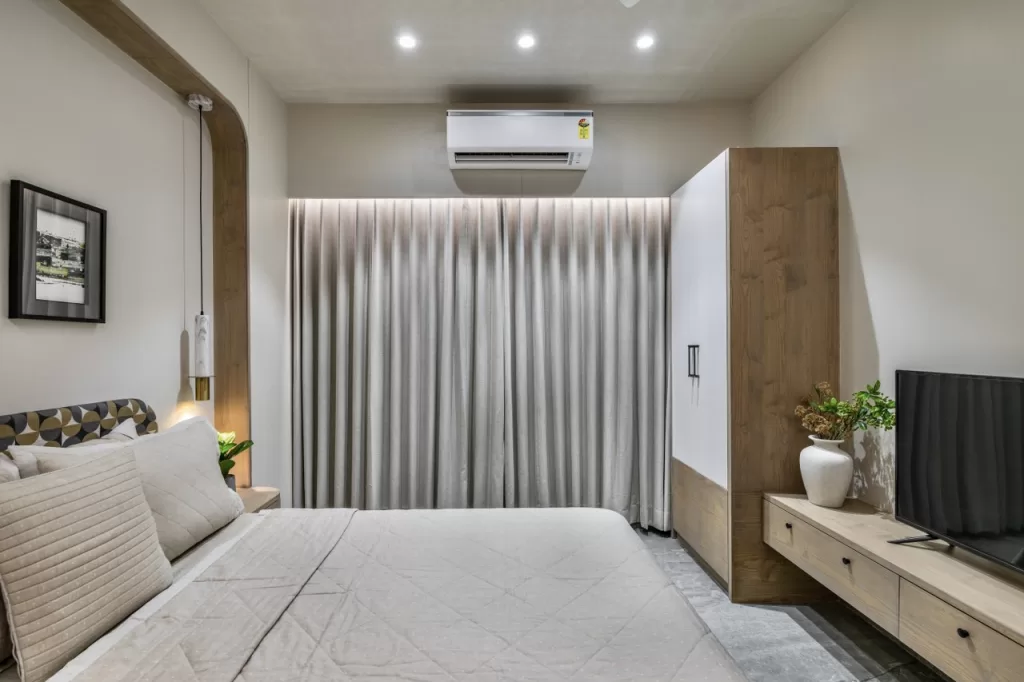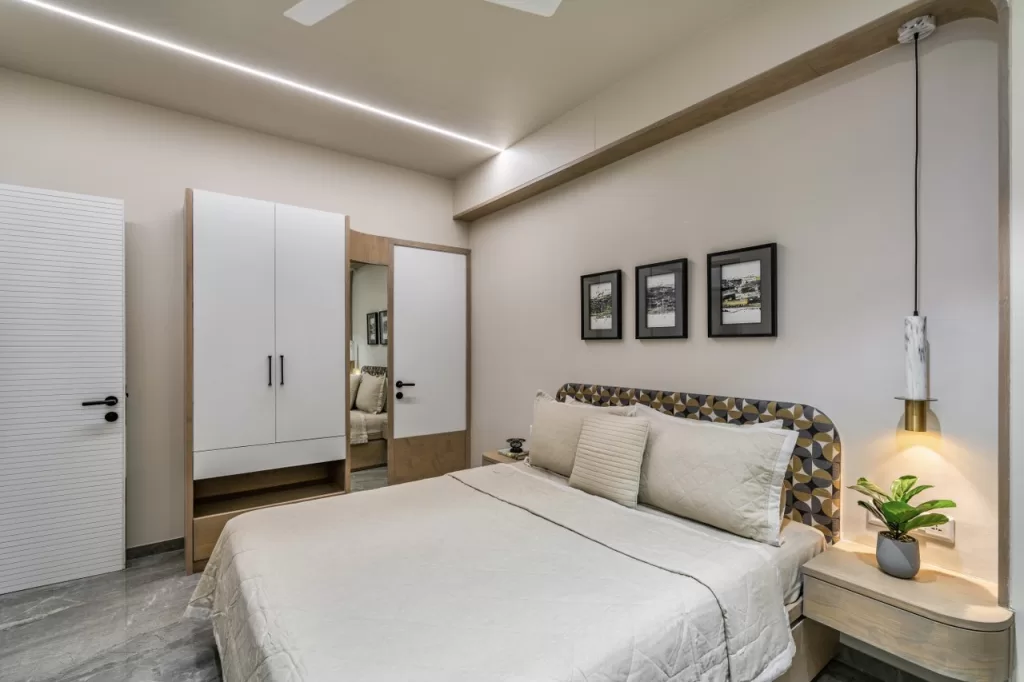 And the last bedroom is for the daughter. Creating a room in shades of muted tones green and lavender can result in a soothing space.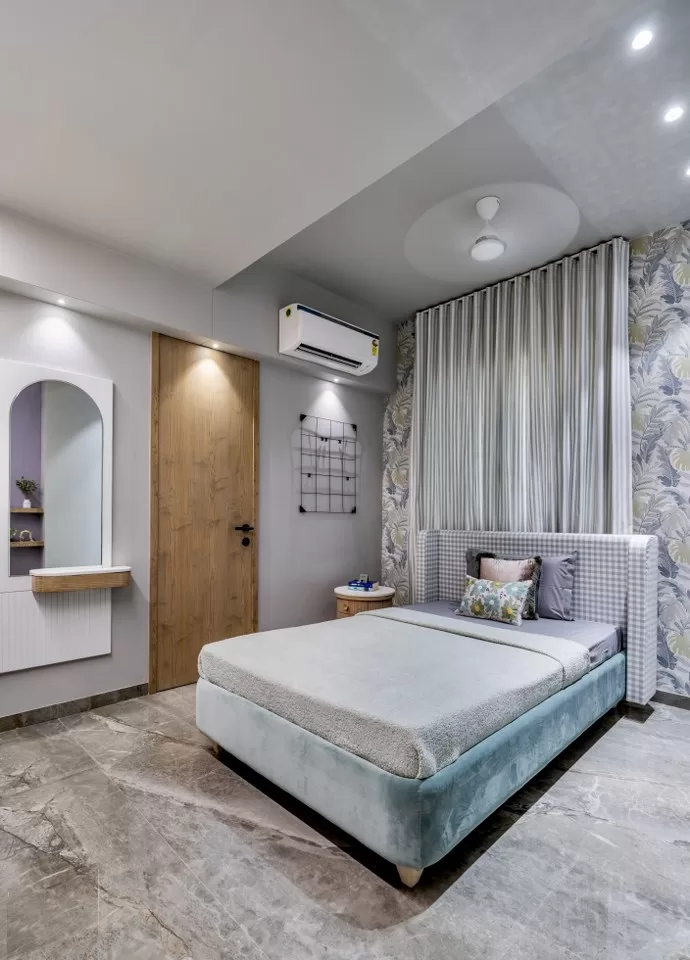 These colours, when combined, offer a sense of calm and femininity. Use of matt white PU as a neutral colour for furniture to balance the green and lavender and keep the room feeling light and fresh.
The interior design project aimed to transform the client's home into a personalized, functional, and aesthetically pleasing living space. By focusing on careful planning, creative design concepts, and meticulous execution, the project resulted in a home that reflects the client's unique style and enhances their quality of life.
Fact File
Designed by: Smayan Atelier
Project Type: Residential Interior Design
Project Name: Slate Serenity
Location: B-903/904 Shreenath Heights, Vadodara
Year Built: 2023
Duration of the project: 4 Months
Project Size: 1700 Sq.ft
Principal Architect: Ar. Shivangi Darji
Photograph Courtesy: Inclined Studio
Products / Materials / Vendors: Finishes – Wood, Veneer, Quartz Stone, PU Paint / Lighting – Litomatic & Geo Lighting / Furniture – DeModes-The Sofology / Flooring – Ispira Tile, Vendor – Ceramic Gallery Anand / Paint – Asian Paint / Artefacts – Harmony Arts, Westside, Ikea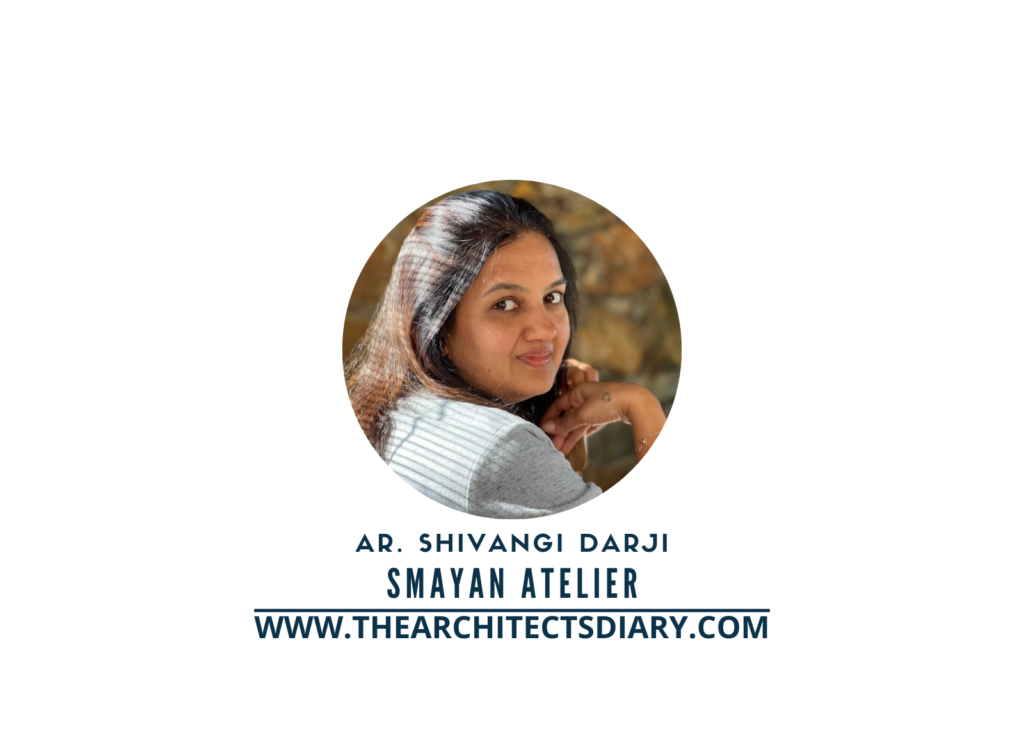 Firm's Instagram Link: Smayan Atelier
Firm's Facebook Link: Smayan Atelier
For Similar Projects >>> This Apartment is Designed to be Timeless, Subtle Yet Stylish with Coastal Vibes
The post A Sophisticated and Contemporary Design that Seamlessly Integrates with Urban Lifestyle | Smayan Atelier appeared first on The Architects Diary.