Step into an enchanting realm of design innovation and artistic expression at Abhi's Salon. Our visionary interior concept is entails around a salon that has an intricate dance between muted base colors and vibrant highlights, mirroring the essence of ombre hair color and highlights. A symphony of carefully selected elements awaits, each contributing to a multisensory experience that transcends the ordinary.
A Salon that has an Intricate Dance Between Muted Base Colors and Vibrant Highlights | The Archville Studio
Visit: The Archville Studio
Picture yourself surrounded by blush-colored walls that exude an aura of serenity, a canvas upon which the story of transformation unfolds. The plush blush-colored seating cradles you in comfort, inviting you to relax and unwind.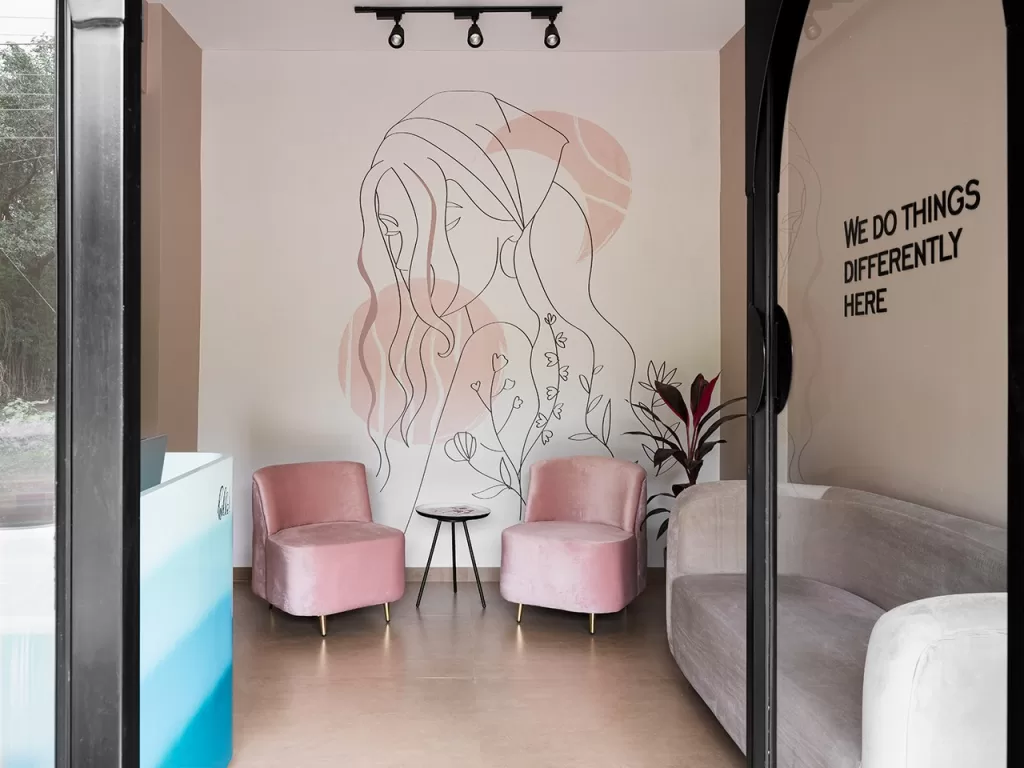 The mirrors are strategically placed like portals to new perspectives. These island mirrors, thoughtfully positioned, provide an intimate and enchanting view from any vantage point, ensuring that every moment spent in the salon is an immersive escape into beauty.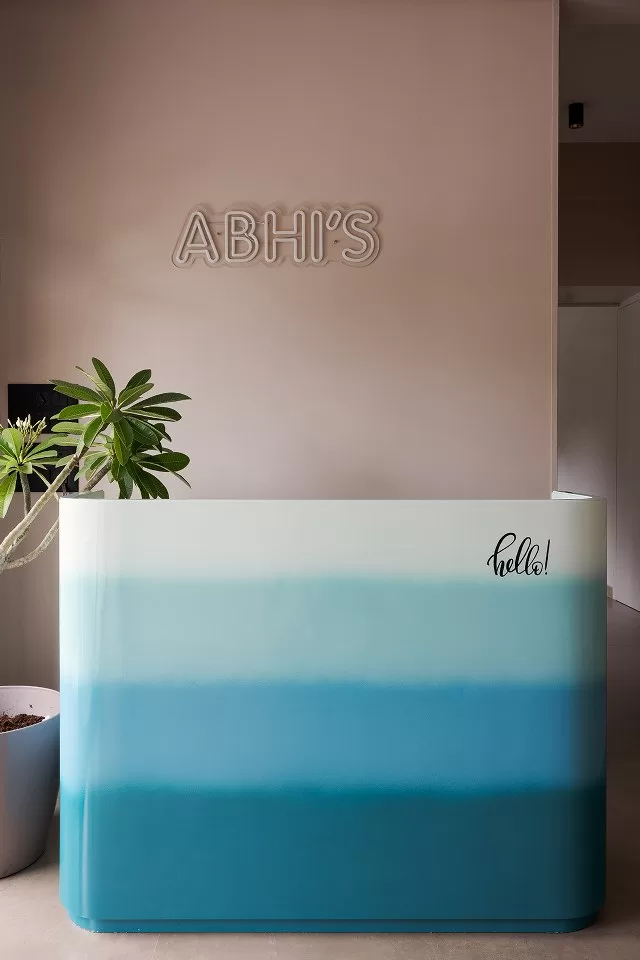 And then, there's the furniture – a seamless fusion of beige tones that speaks of timeless elegance. The understated luxury of each piece melds effortlessly with the surroundings, creating an ambiance that feels simultaneously opulent and familiar. Amidst this tapestry of subtlety, the display units stand like pillars of modernity.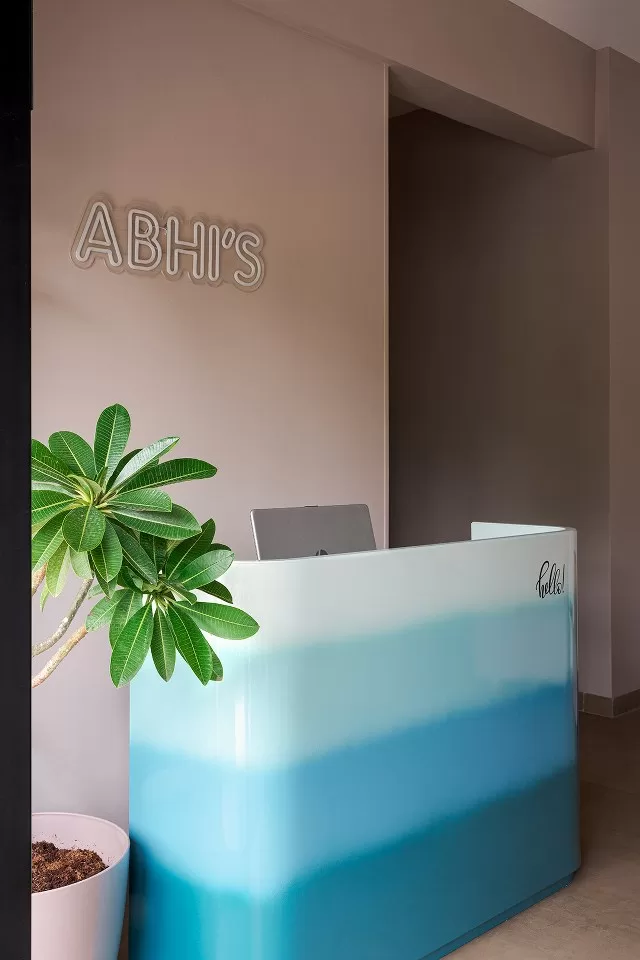 Their black hues create a striking contrast, allowing your handpicked products to take center stage. The salon's bespoke interior design showcases customized wallpapers in muted tones, each with its own unique purpose.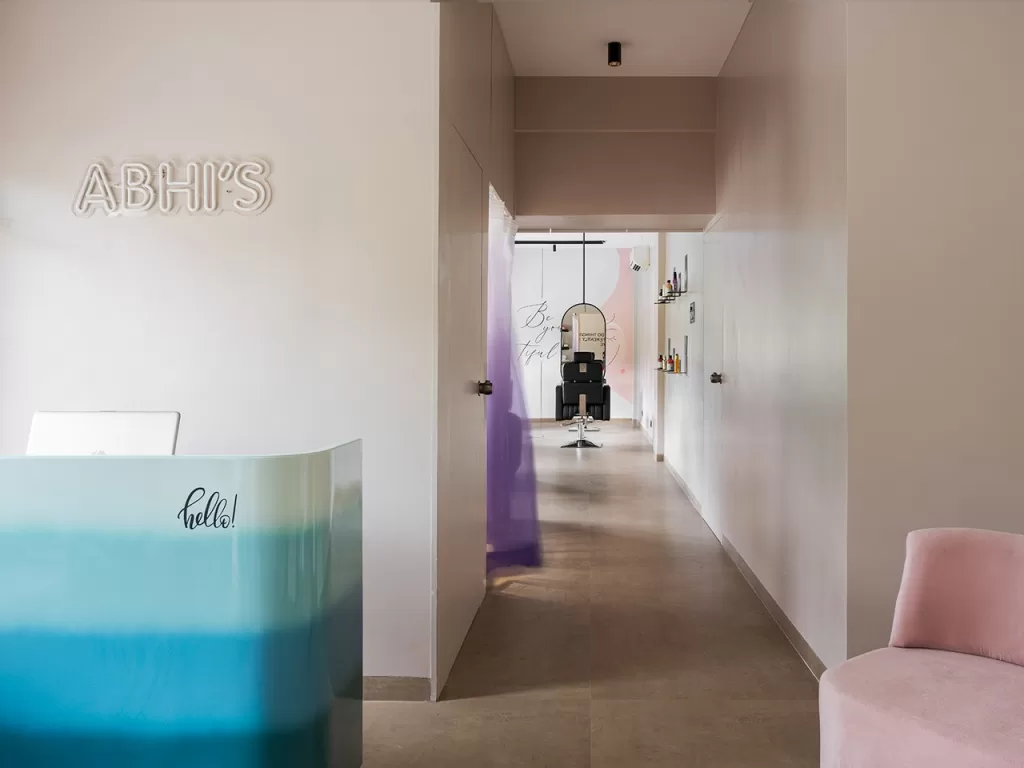 At the entrance, an abstract artwork of women with hair highlights welcomes guests, setting the stage for individualized beauty. In the island mirror area, a captivating focal point boasts the phrase "Be- you-tifull," cleverly intertwining positivity and beauty.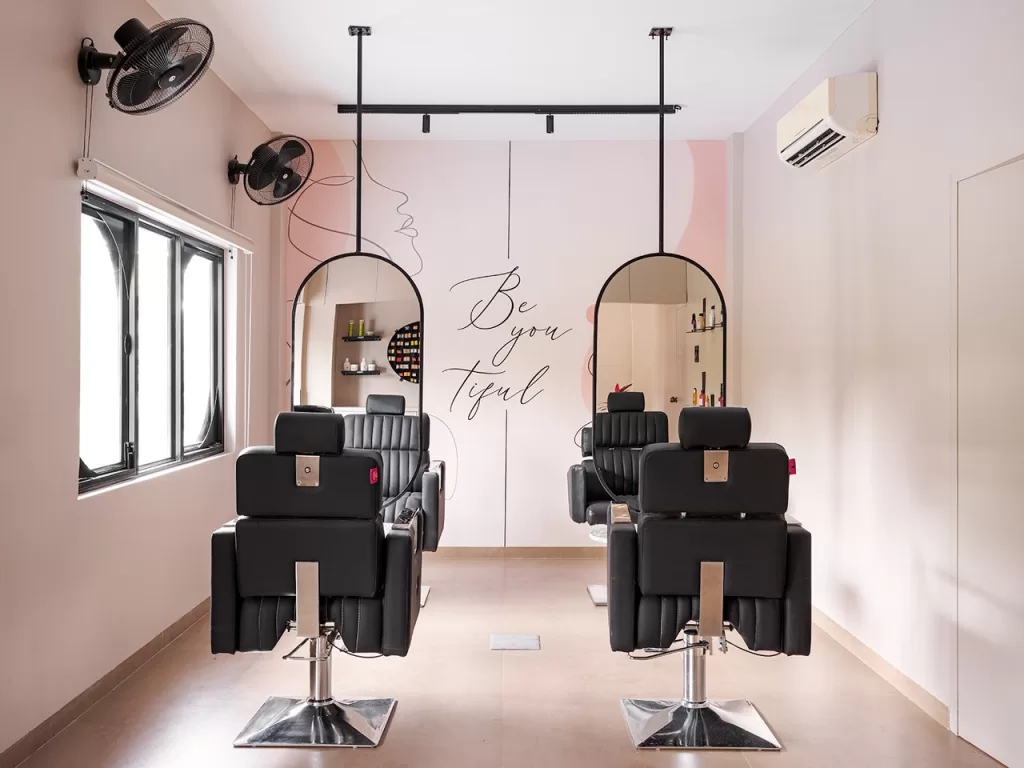 These thoughtfully designed wallpapers not only elevate the salon's aesthetics but also embody its ethos of celebrating uniqueness and self-expression.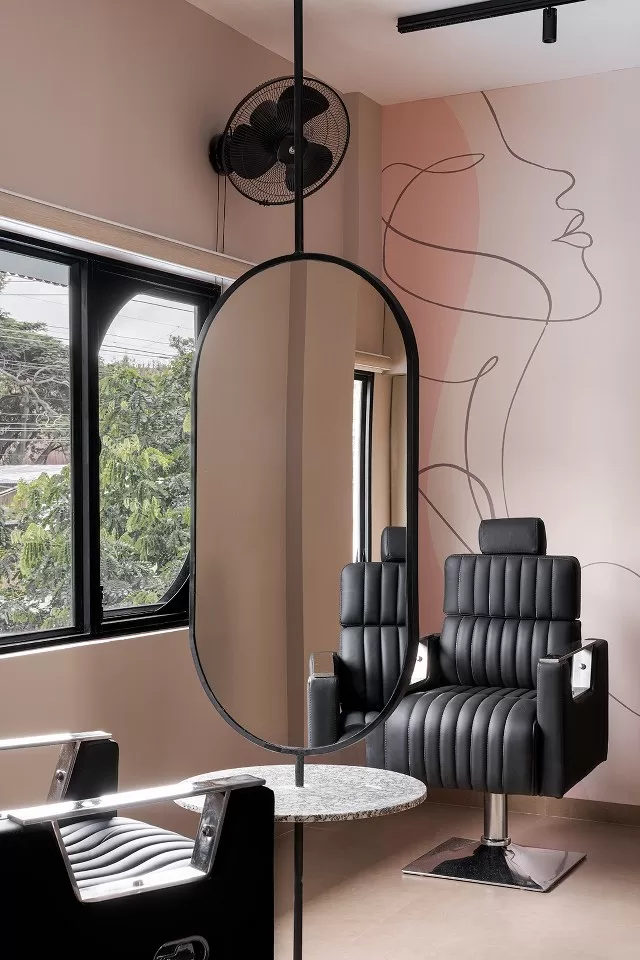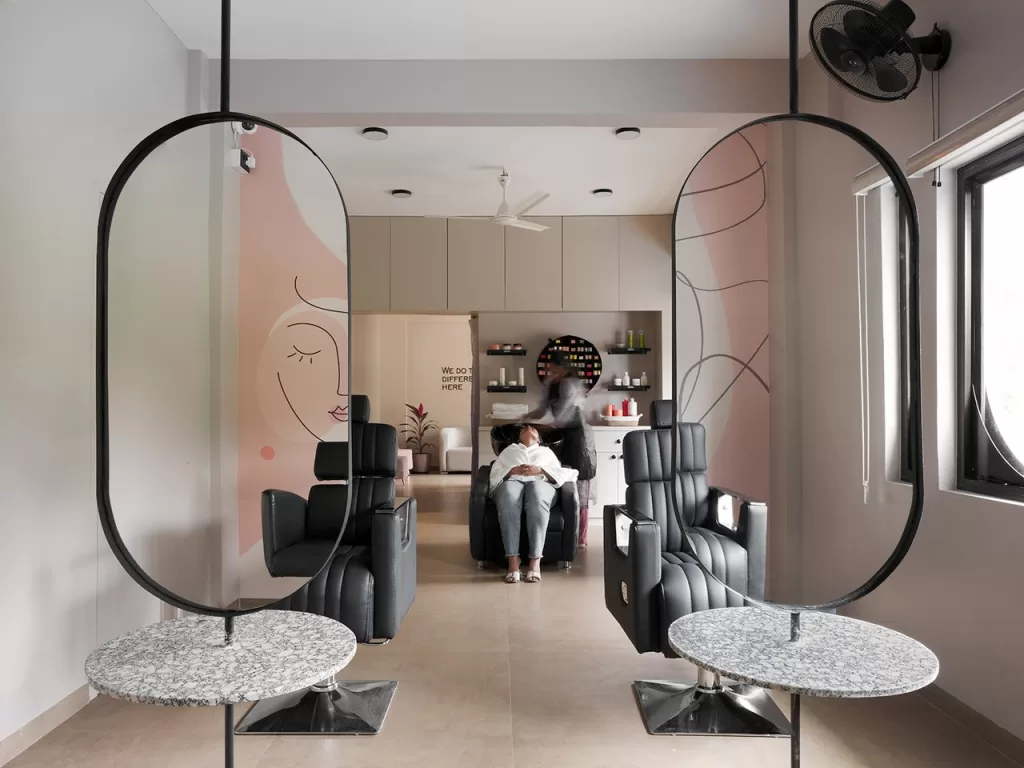 Yet, the true marvel lies in the ombre effect that permeates the entire salon. Shades of blue, lilac, and purple cascade in a fluid, mesmerizing pattern – an artistic representation of hair's journey, a testament to your mastery.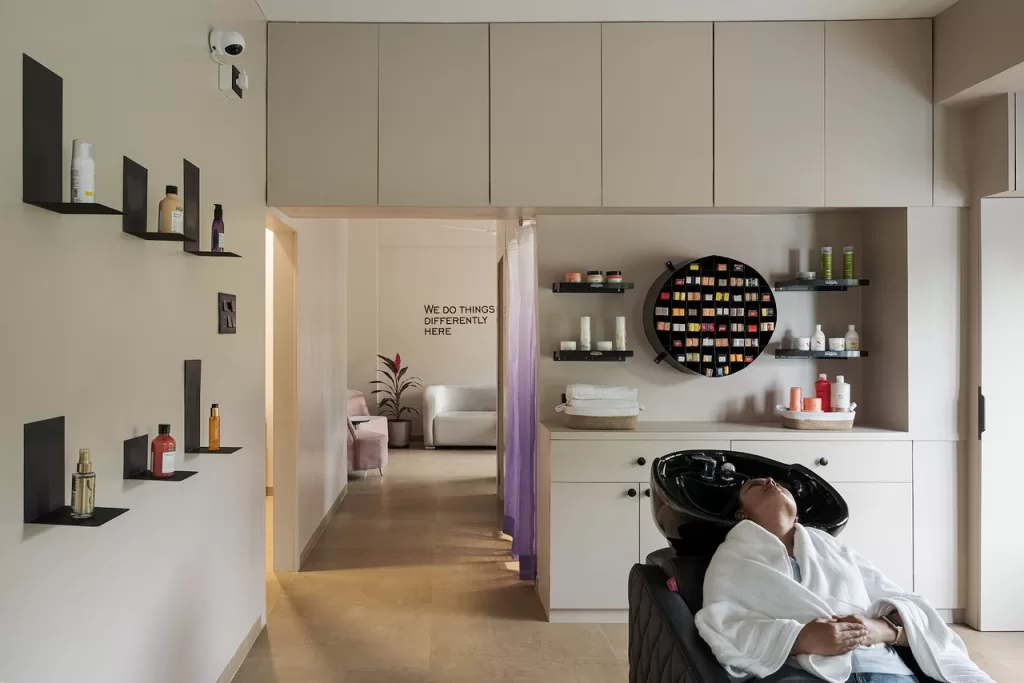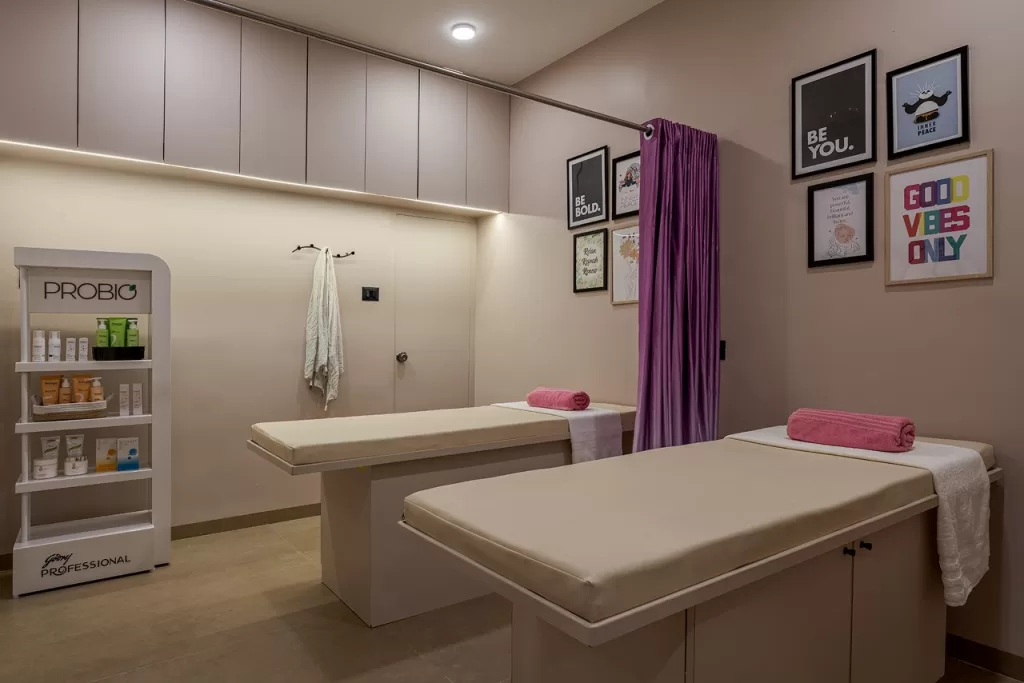 This ombre narrative, woven into every salon corner, encapsulates the heart and soul of your craft, inviting clients to explore the limitless possibilities within their hair.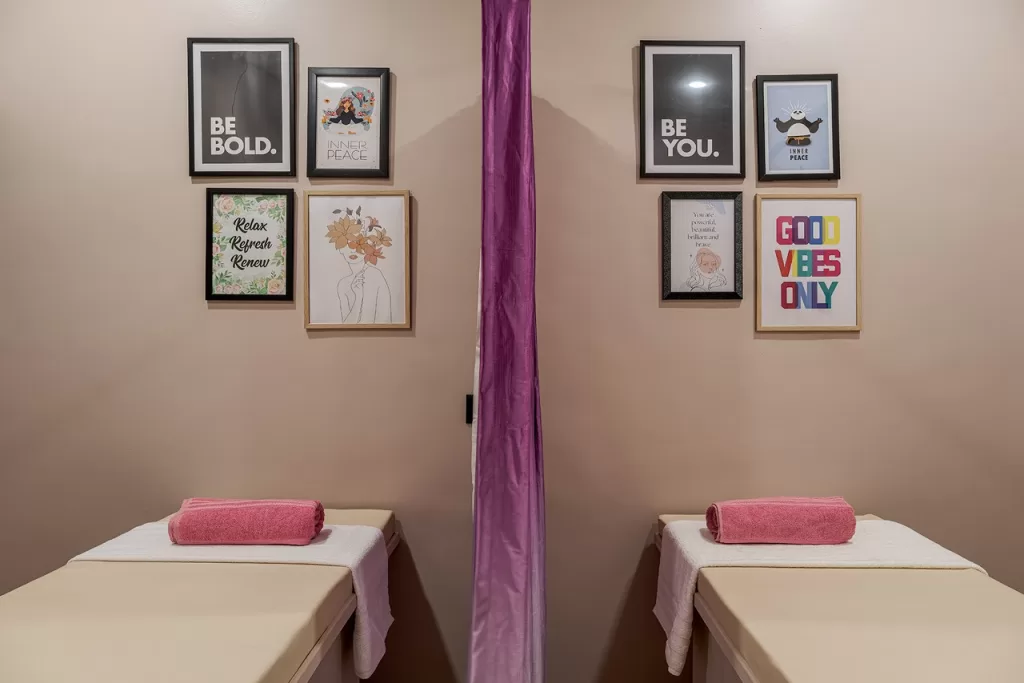 This project is more than just design; it's an ode to transformation, an homage to artistry, and a sanctuary for those seeking an experience that transcends the ordinary. Prepare to be whisked away on a journey where elegance, innovation, and the art of hair converge in a harmonious crescendo.
Fact File
Designed by: The Archville Studio
Project Type: Salon Interior Design
Project Name: Abhi's Salon
Location: Satara, Maharashtra
Year Built: 2023
Duration of the project: 4 months
Project Size: 850 Sq.ft
Principal Architect: Ar. Priti Dhumal
Team Design Credits: Ar. Gaurangi Pitale & Ar. Apurva Yadav
Photograph Courtesy: Ar. Pranit Bora
Products / Materials / Vendors: Finishes – Royal Touch, Marino / Lighting – Vihaan / Sanitaryware – Jaquar / Paint – Asian Paints / Wallpaper – Sarda Furnishes / Hardware – Hafele.
Firm's Instagram Link: The Archville Studio
For Similar Project>> Prettyy360º, A Beauty Salon That Combines Elements Of Vintage And Modern Styles
The post A Salon that has an Intricate Dance Between Muted Base Colors and Vibrant Highlights | The Archville Studio appeared first on The Architects Diary.