Discover the epitome of luxurious living at "1203 – One Panchvati", a residential masterpiece that encapsulates elegance and comfort in every inch. With a lavish carpet area spanning an expansive 3000 square feet, this architectural marvel stands as a testament to opulence and sophistication. Interior priced at 82 lakhs, it's an exclusive opportunity to indulge in a lifestyle of grandeur. Completed in 2021, the project seamlessly blends contemporary design with functional aesthetics, setting a new standard in modern living.
A Residential Masterpiece that Encapsulates Elegance and Comfort in Every Inch | Arris Studio
Visit: Arris Studio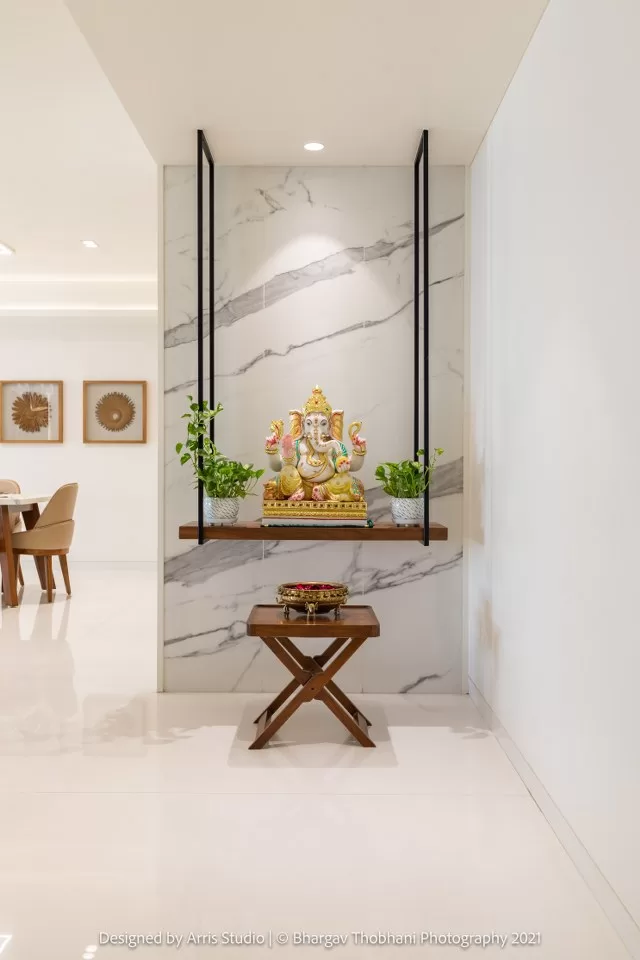 A Grand Welcome
The entryway of "1203 – One Panchvati" offers a glimpse into the lavishness that lies within. A graceful Ganesh idol extends a warm and auspicious welcome, promising a life of prosperity within these walls. Satvario tiles grace the wall, their intricate patterns adding an air of timeless beauty. A wooden bench and a meticulously crafted wooden shelf not only serve practical purposes but also infuse the space with an inviting charm.
Elegance Unveiled in Living, Dining & TV Room
Continuing the theme of sophistication, the living, dining and TV room seamlessly integrate to create an expansive living space. The continuous pattern of Satvario tiles underfoot provides a sense of unity and refinement.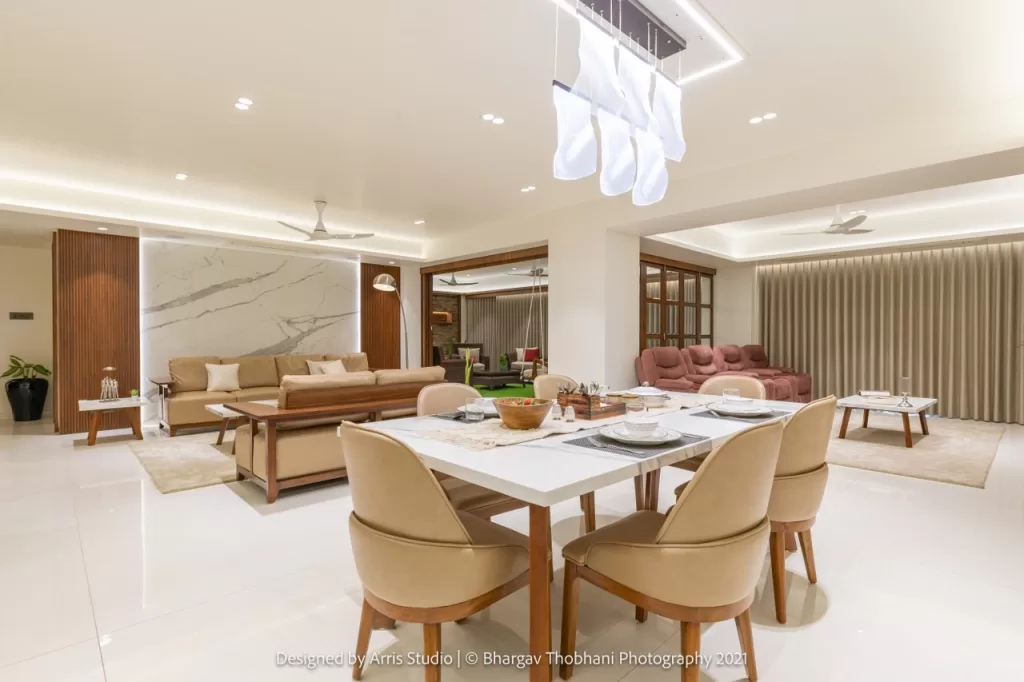 A customized sofa invites relaxation while the centralized AC ensures comfort throughout. The hanging light above the dining table adds a touch of contemporary elegance, illuminating gatherings with a warm glow.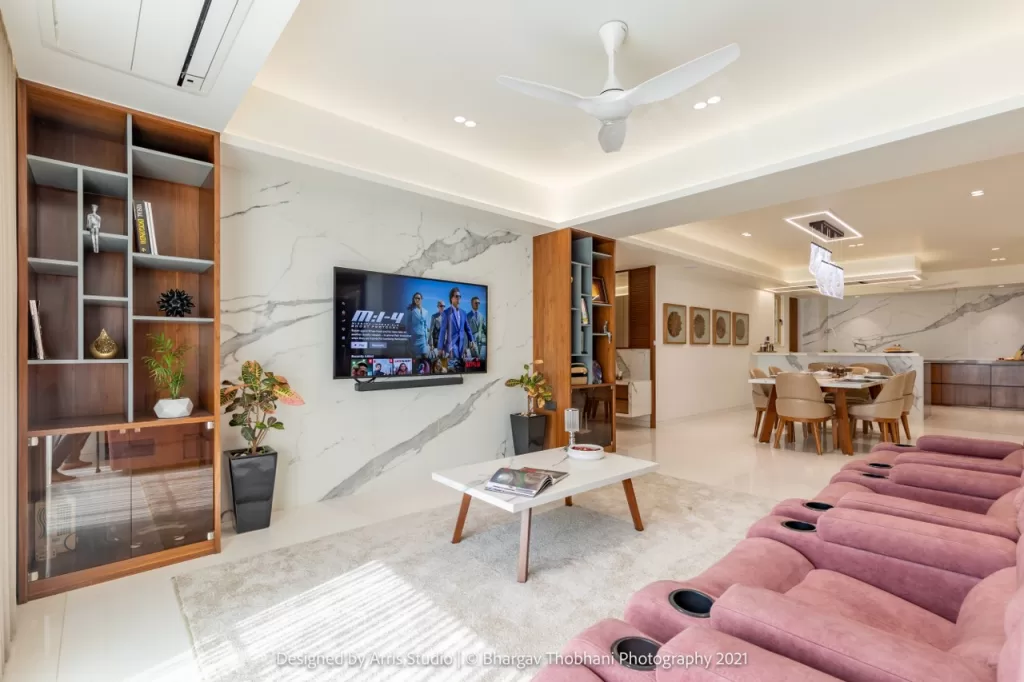 The connected balcony space blurs the boundaries between indoor and outdoor living, inviting a seamless flow of nature and light. A floor lamp and a recliner strategically placed within the room cater to moments of solitude and relaxation. A decorative shelf adds a personal touch, showcasing cherished mementos and artworks.
The Heart of Culinary Excellence: The Kitchen
The kitchen is a culinary haven defined by exquisite details. Veneer shutters add a touch of sophistication to the cabinets, while the Kalinga counter offers both functionality and aesthetic appeal. An island chimney serves as a focal point, combining utility with contemporary design.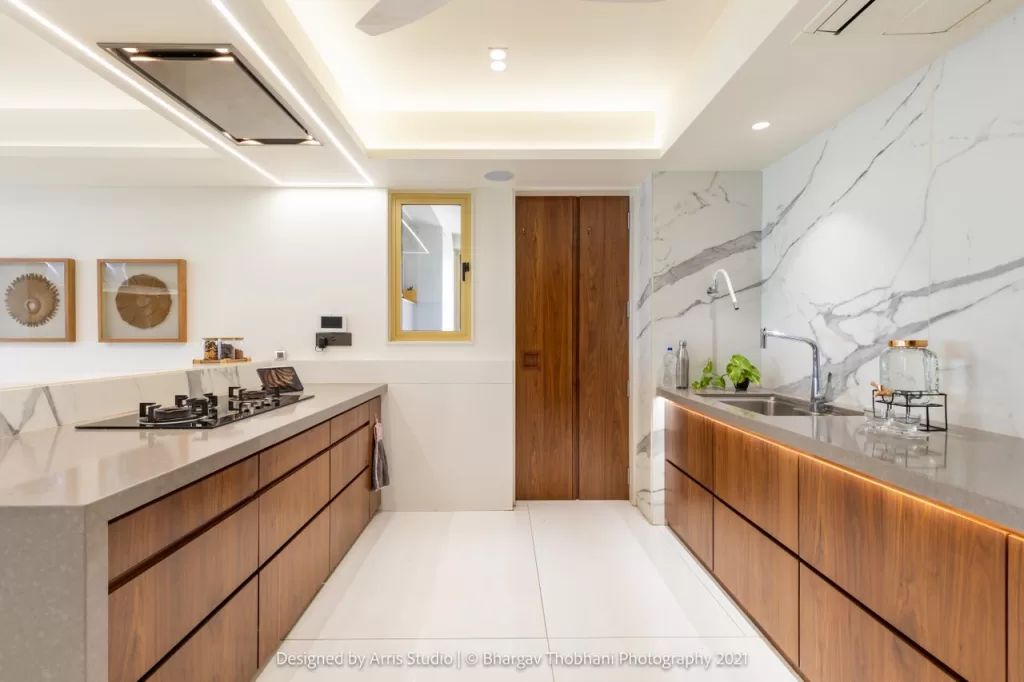 Indirect lighting casts a warm glow, making culinary pursuits a visual delight. Satvario tiles, echoing the theme of elegance, tie the design together seamlessly.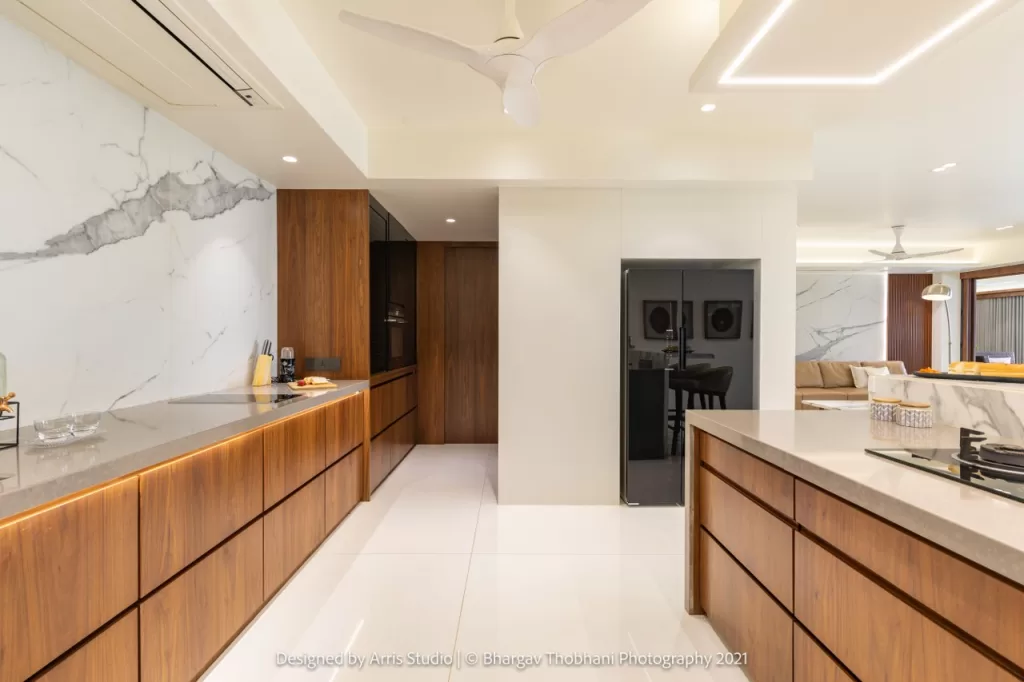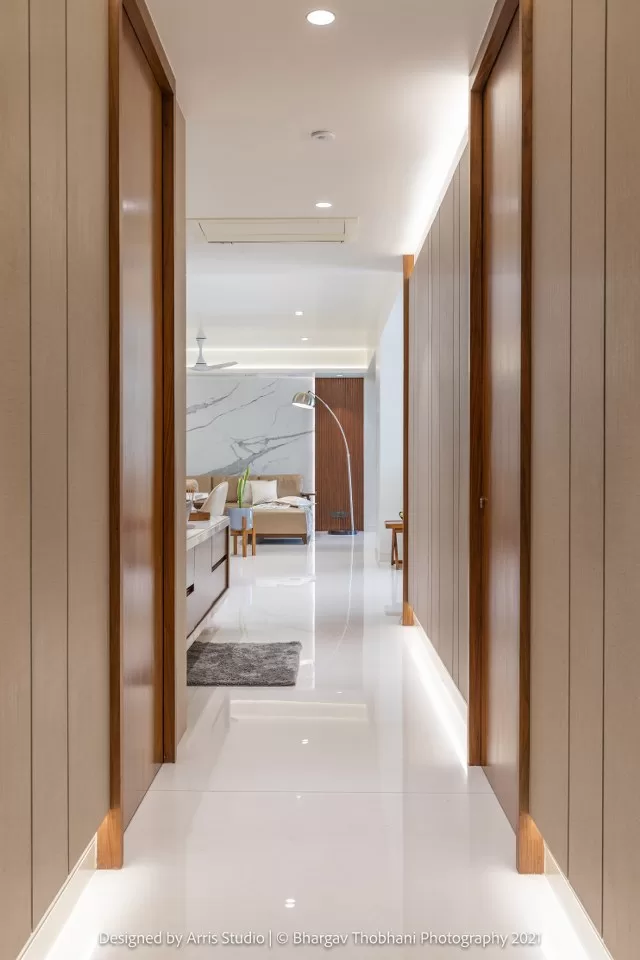 Mastering the Art of Comfort: The Master Bedroom
The master bedroom is a haven of comfort and style. A bronze mirror exudes sophistication while a veneer belt on the ceiling adds a touch of luxury. A swing and hidden doors for both the dressing area and the bathroom offer an element of surprise and indulgence.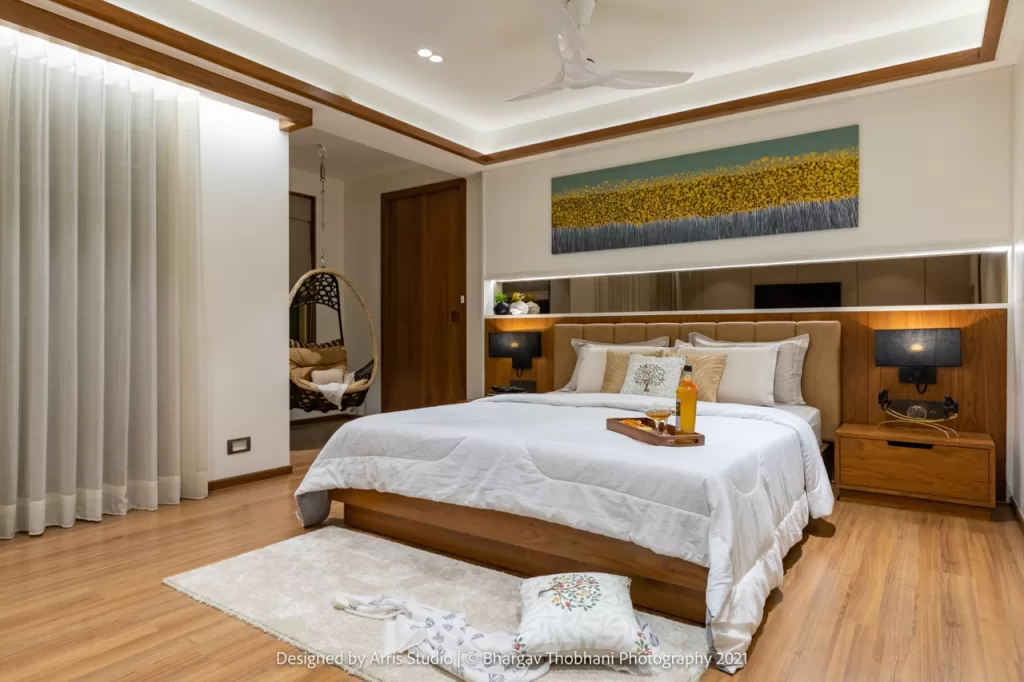 Personalized Retreats for Every Resident
The son's bedroom is a haven for study and relaxation, featuring veneer elements and a study table for focused pursuits.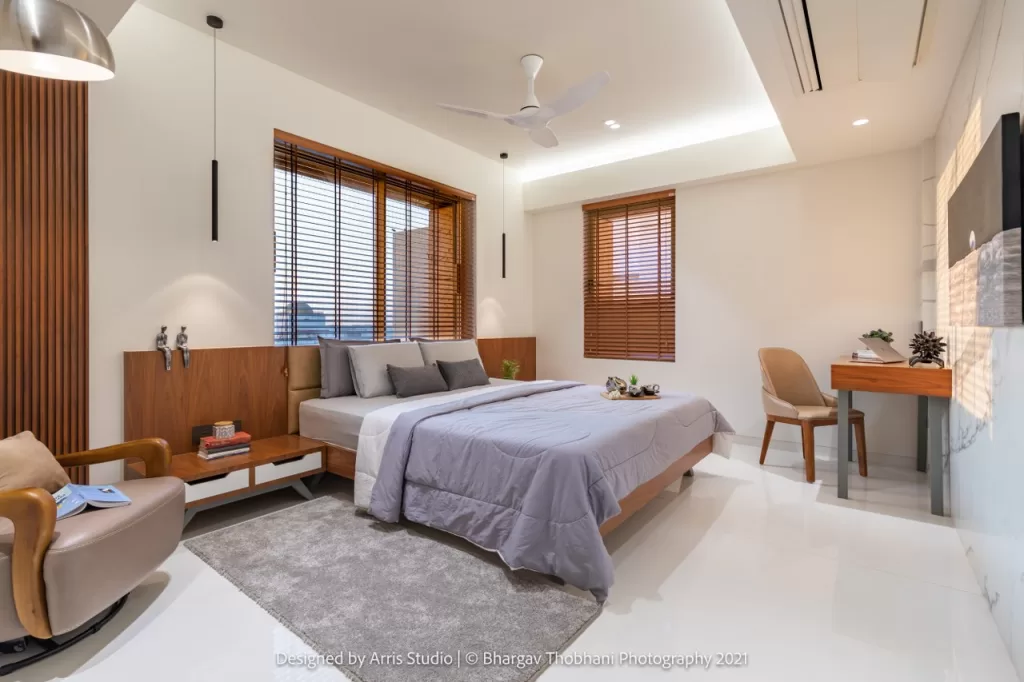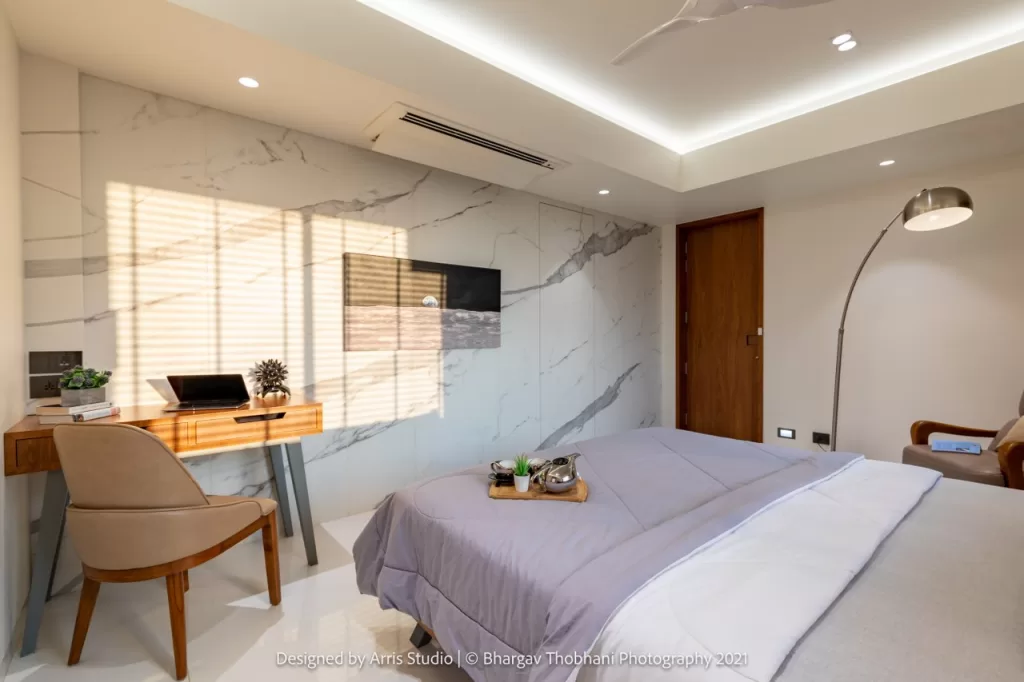 The daughter's bedroom is characterized by a low-height bed and a decorative hanging light, creating an inviting ambiance for rest and study.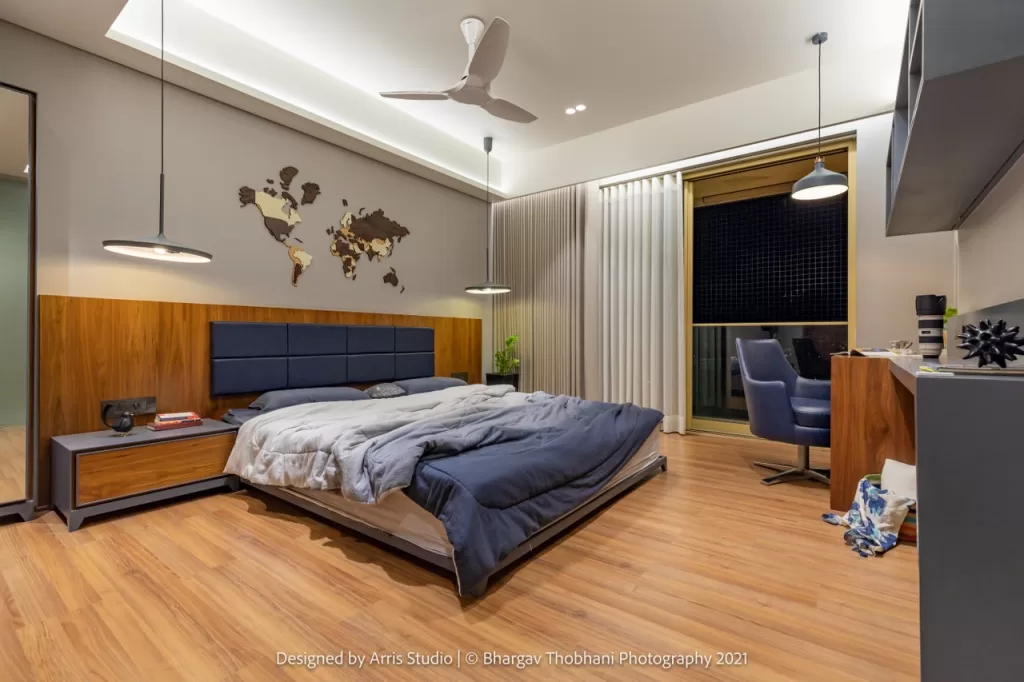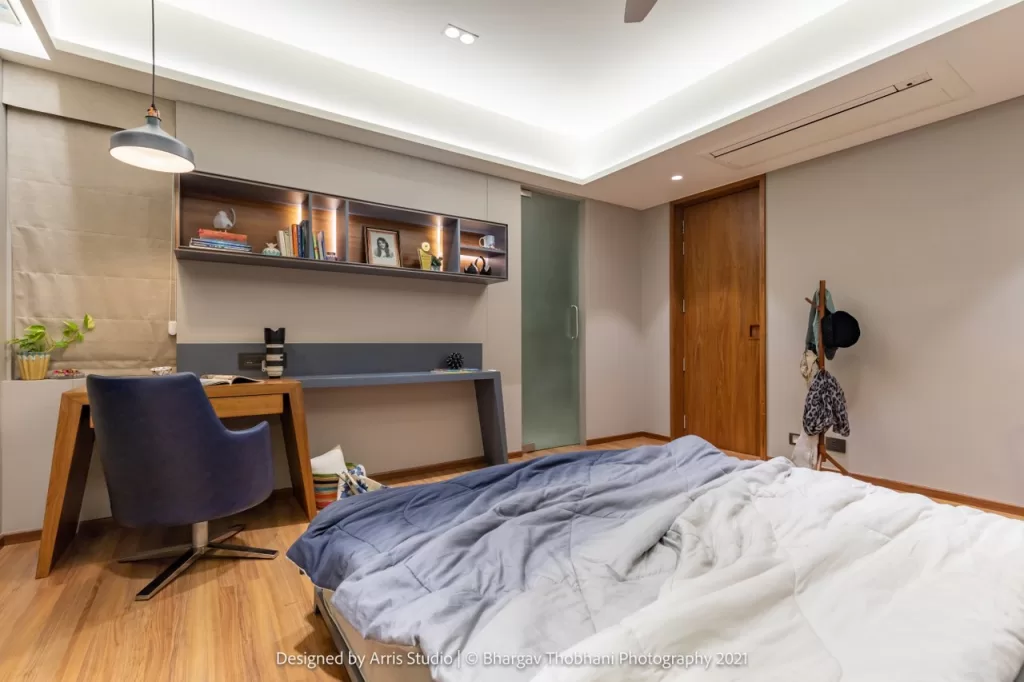 The parents' room embraces shared living with twin beds and smart storage solutions. The stone laminate wardrobe and the veneer hidden bathroom door reflect a blend of practicality and elegance, while a glass door leads to a tranquil mandir space with a sloping ceiling.
Balcony Oasis
The balcony is transformed into a tranquil oasis, adorned with meticulous design elements. An artificial lawn underfoot provides a touch of greenery while a water fountain mounted beneath a Buddha statue adds a serene and soothing ambiance.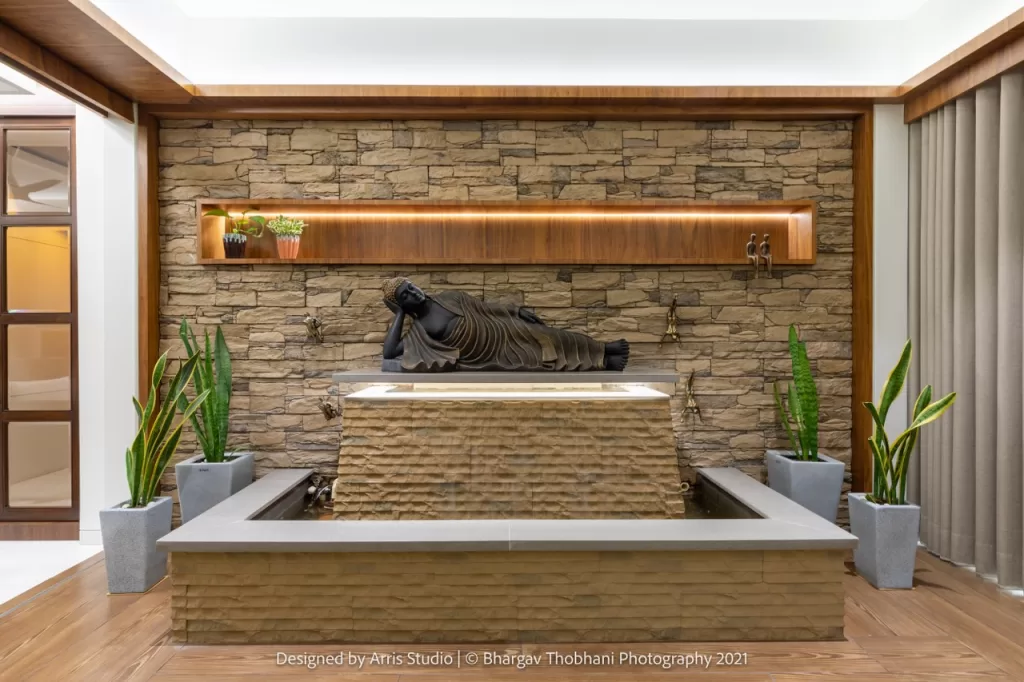 A stone wall adds an earthy touch, juxtaposed with the modernity of a glass partition that elegantly connects the balcony to the living area. A swing offers a charming spot for contemplation and relaxation, capturing the essence of peaceful retreats.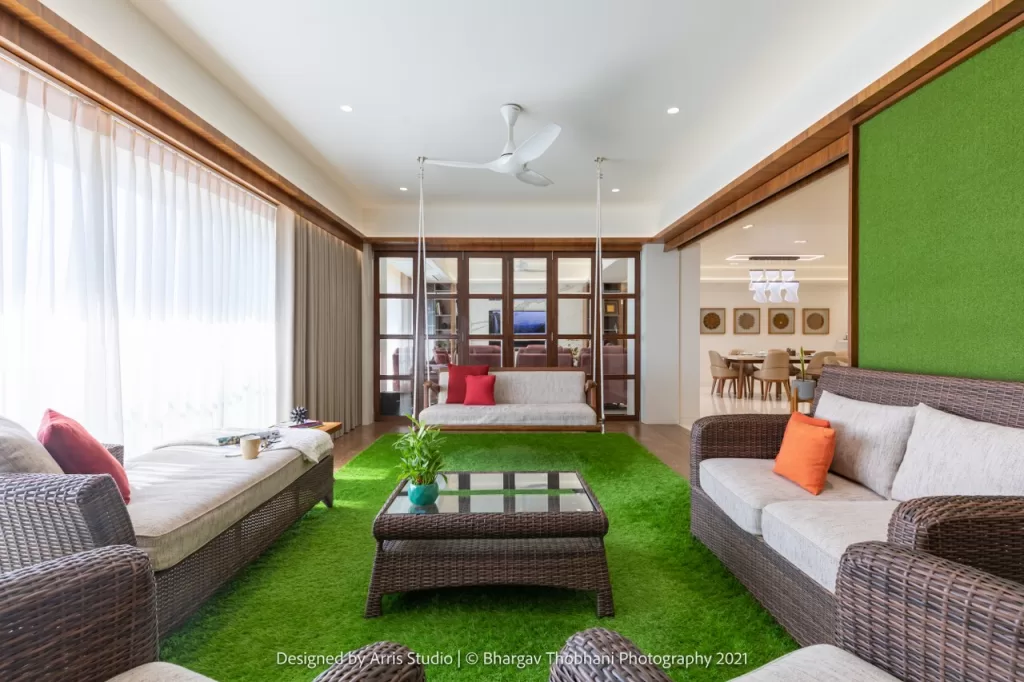 "In One Panchvati," every detail is an expression of luxury and thoughtful design, creating a home that transcends the ordinary and sets new standards for contemporary living.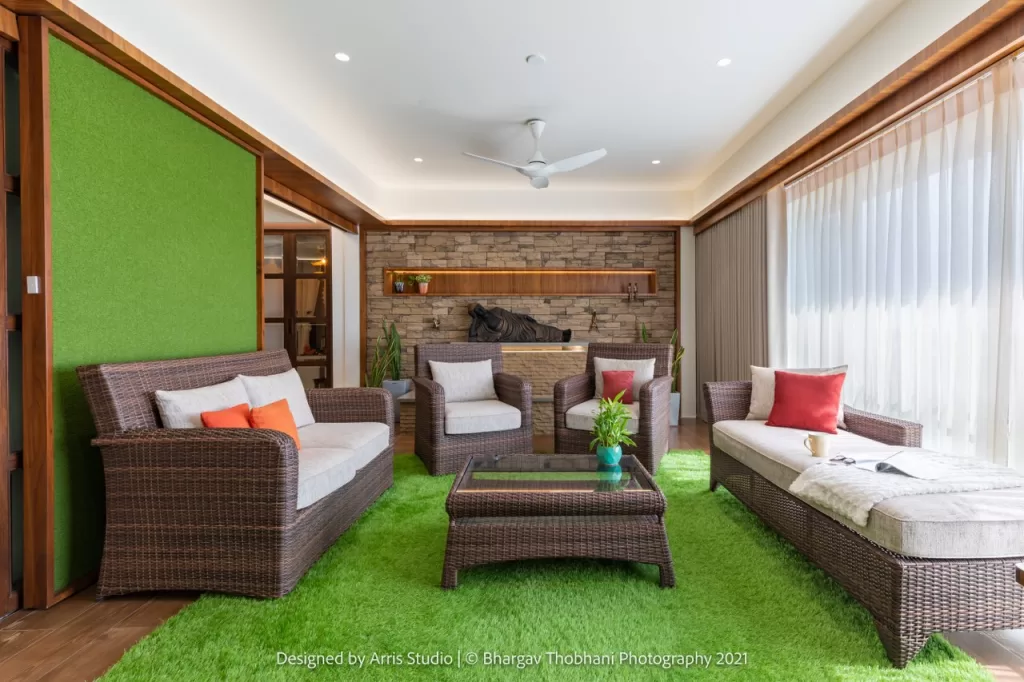 Fact File
Designed by: Arris Studio
Project Type: Residential Interior Design
Project Name: One Panchvati
Location: Rajkot, Gujarat
Year Built: 2021
Duration of the project: 6 Months
Built-up Area: 3000 Sq.ft
Project Cost: 82 Lakhs
Principal Designers: Ar. Neil Marsonia & Pranay Dholakia
Team Design Credits: Amit Parsania, Vensi Vadodariya & Nandni Kalariya
Photograph Courtesy: Bhargav Thobhani
Products/Materials/Vendors: Finishes – Veneer, Lacquer & Tile / Wallcovering / Cladding – Simpolo Tiles Lighting – Lafit / Sanitaryware – Kholer / Furniture – Home Plus / Flooring – Ibis Tiles / Kitchen – Veneer Paint – Asian Paints / Artefacts – Customized / Hardware – Hettich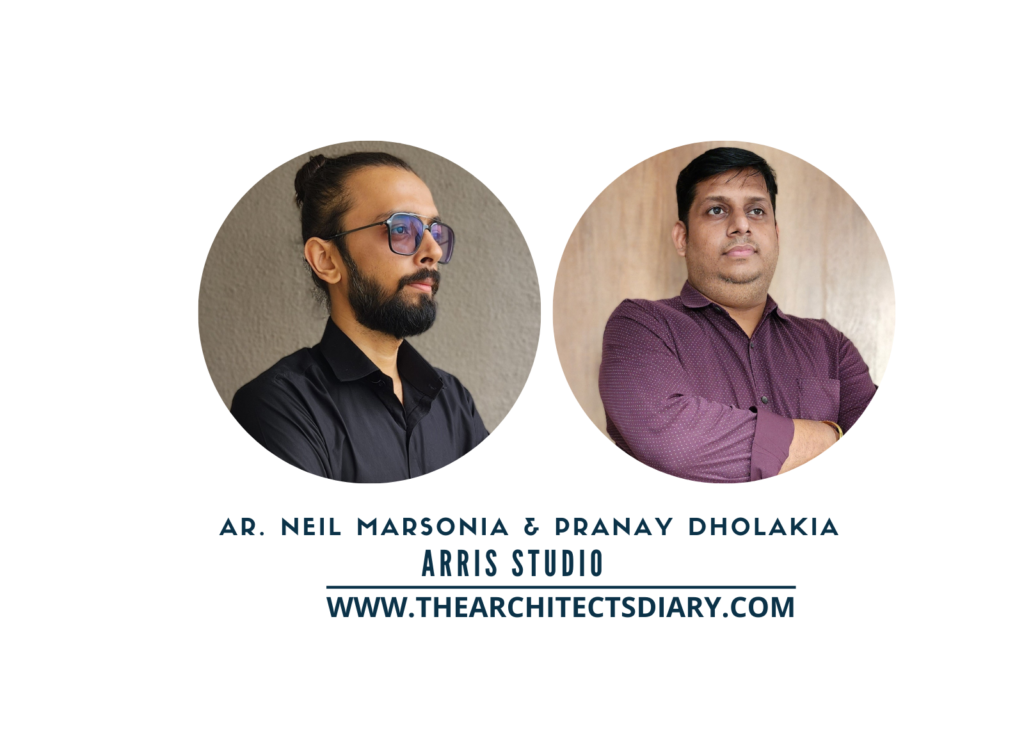 Firm's Instagram Link: Arris Studio
Firm's Facebook Link: Arris Studio
For Similar Projects >> This Apartment is Designed to be Timeless, Subtle Yet Stylish with Coastal Vibes
The post A Residential Masterpiece that Encapsulates Elegance and Comfort in Every Inch | Arris Studio appeared first on The Architects Diary.