Often we come across spaces that are a direct implication of our thought process – our much-anticipated ideas and well-considered thoughts. These spaces reflect our best-produced ideologies and principles, after filtering out the ones that don't do enough justice. Our workstead is our frontrunner that represents our hardwork, a reminder of time and beyond.
A Productive Working Space that Resonates With the Firm's Ethics | Shreesh Design Studio LLP
Visit: Shreesh Design Studio LLP
Shreesh Design Studio is an interior designing firm located in Rajkot, Gujarat. Lead by a father-son duo, the practice recently expanded its physical domain. The intent behind it is not only to accommodate and provide a productive working space that resonates with the firm's ethics but to exhibit, rather proudly, the dual design approaches that can be gracefully aced by the firm. One of the aspects that the principal designers, Haresh and Dishit Parsana, take pride in is their contradicting design thinking and their way of executing the same.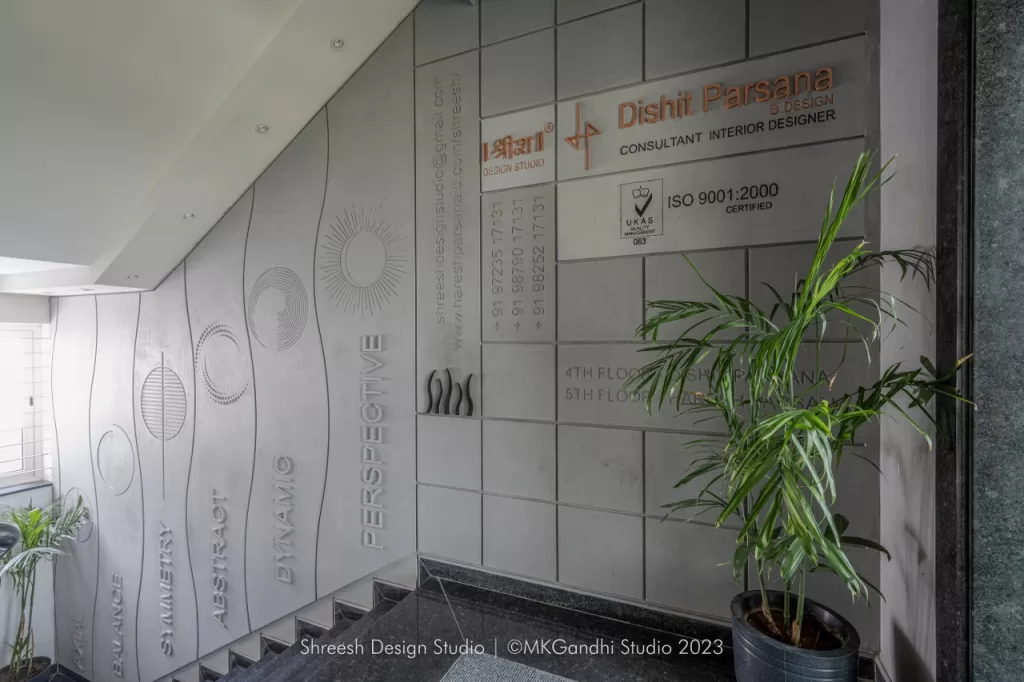 One maestro conducts himself through styles that are absolutely plush and sophisticated, reaching the heights of styles that are comparatively extroverted. The other established name is indulging in spaces that are personal and expressive through minimal mediums and sit well with change in times. Together, this brainchild of Shreesh Design Studio is a homage to differing beliefs that soundly exist with each other.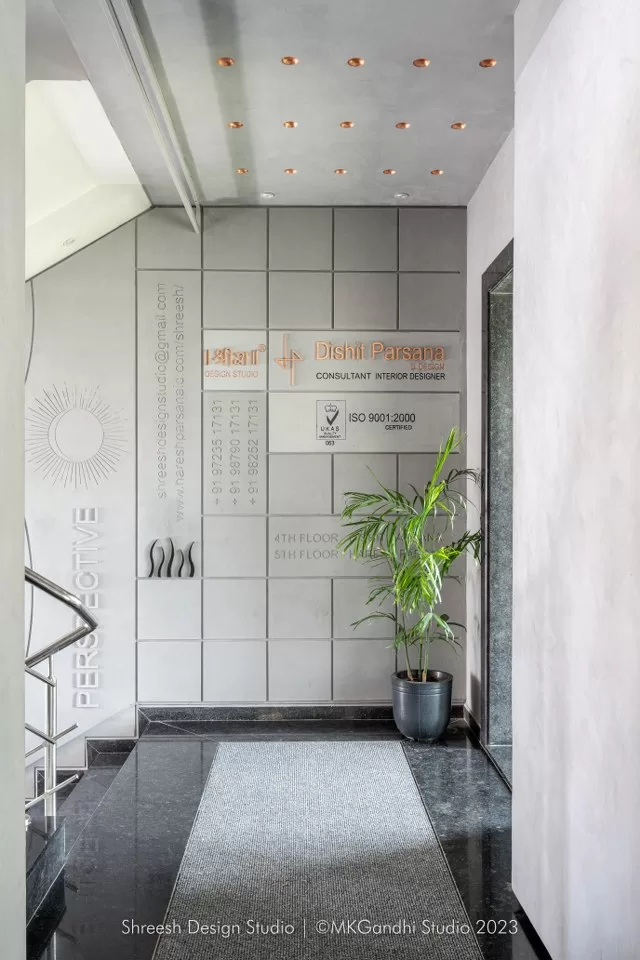 Spread across three storeys, the office space is a confluence of private cabins, working stations, meeting areas, conference rooms, and inserts to rewind and reconnect. Stationed from level four to sixth, one starts to see a hint of everything that the studio stands do, works for, and strives for.
As one transcends from one step to another to reach the door, the walls have a visual narrative of the strong foundation on which Shreesh Design Studio is laid. Set in a tone of grey, this wall comprises of terminologies representing the design style of the studio through symbols representing the terminologies, engraved on a minimal and modern material spread.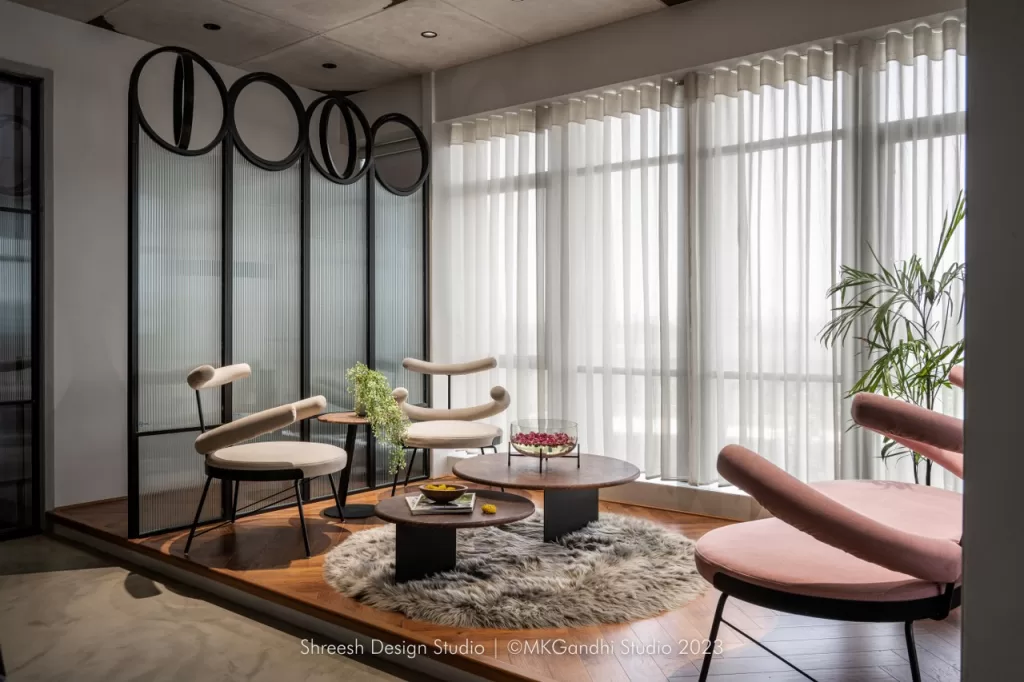 Upon entering, an inviting waiting area greets one with elemental lounge chairs in the shade of faint pink. A brief gaze around the space shows two private cabins, an uninterrupted open space shared between a workstation, a discussion area, and a semi-leisure nook.
The cabins and the waiting area are elevated from the floor a tad bit to differentiate their purpose. The gentle penetration of rays only makes the area more welcoming for visitors.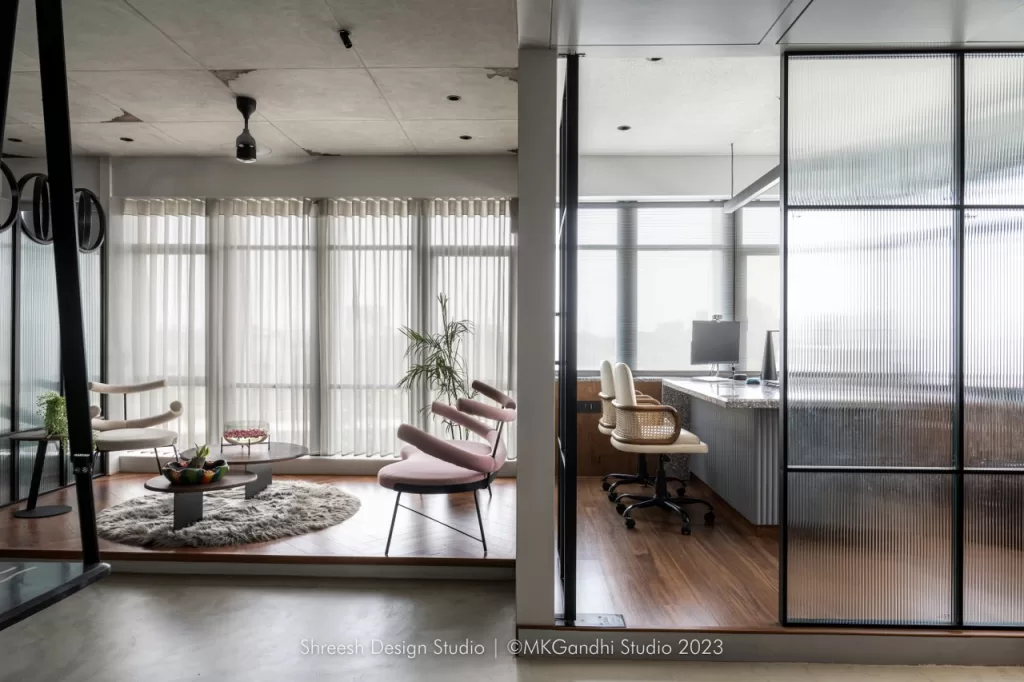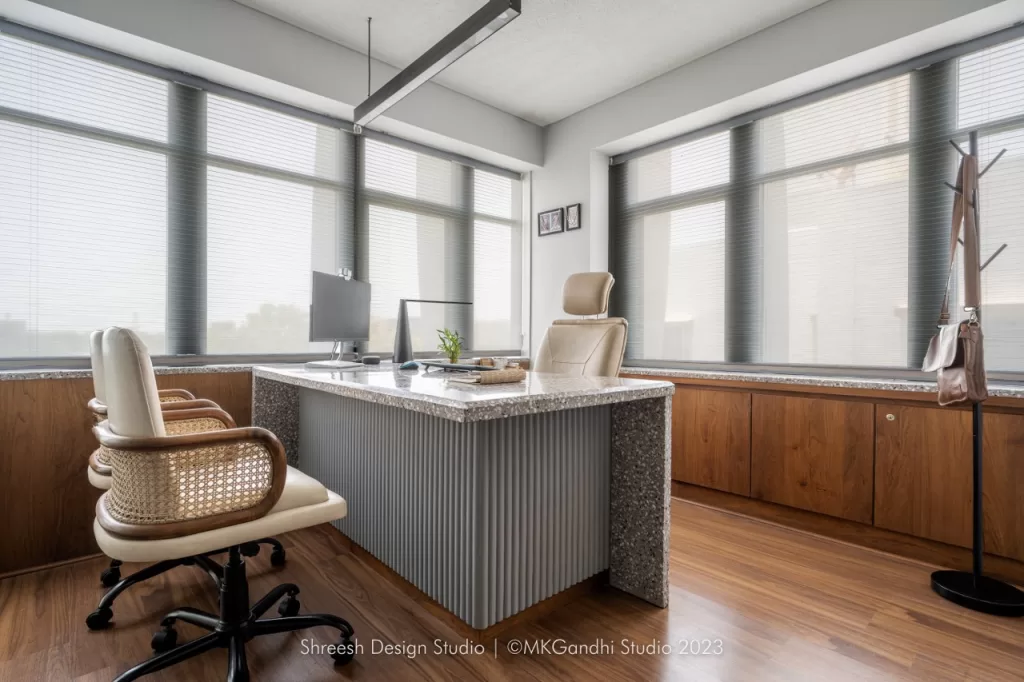 The cabins are an embodiment of metal frames and fluted glass, posing as impactful factors of privacy and semi-transparency.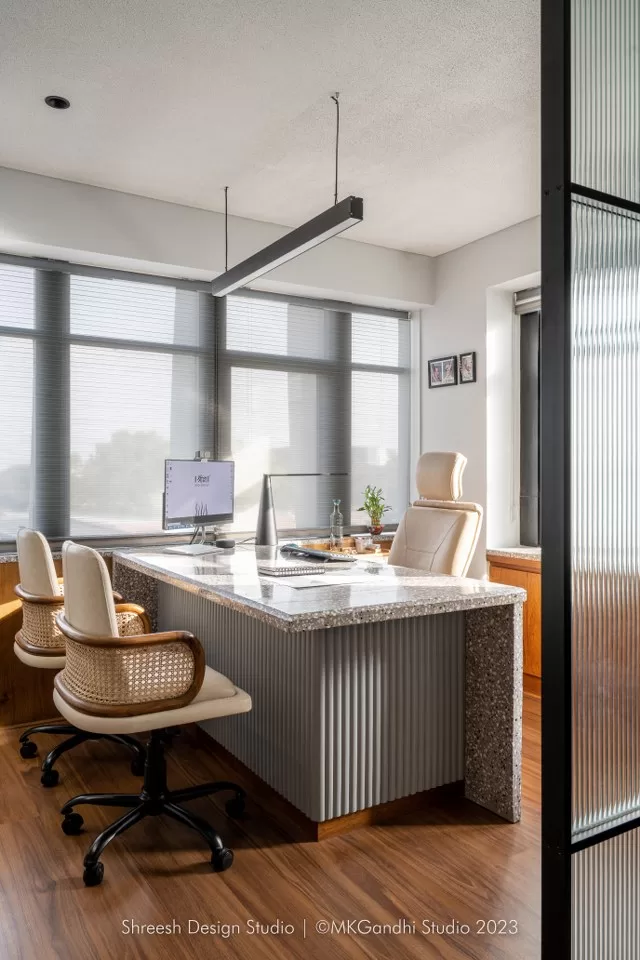 Next to the cabin, an open workstation endures itself for all the employees of the studio. This particular zone is adorned with a brick wall, with the studio's many ongoing works and its process on display, facing a swing hung from leather straps.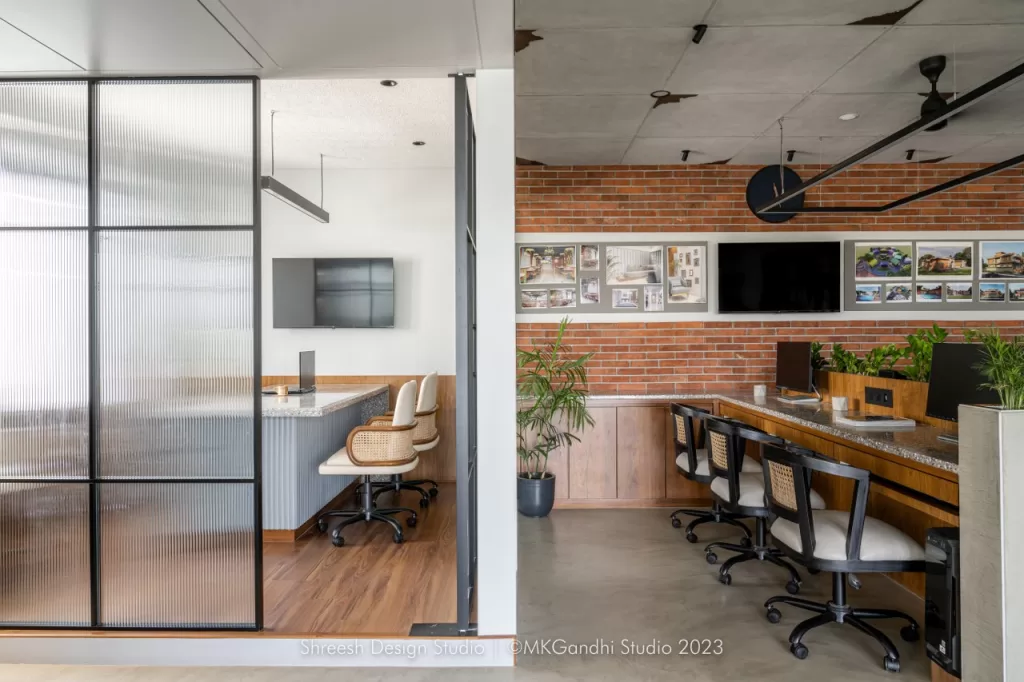 The swing, although a traditional insert is crafted here with terrazzo and red gemstone, together acting as a space to take a pause during work hours. This breaks the monotony of fixed workstations and provides a boost to the work culture of the studio.
A brainstorming zone is set up at the center of the spread, to share ideas and brew some ground-breaking styles among intricately sketched setups.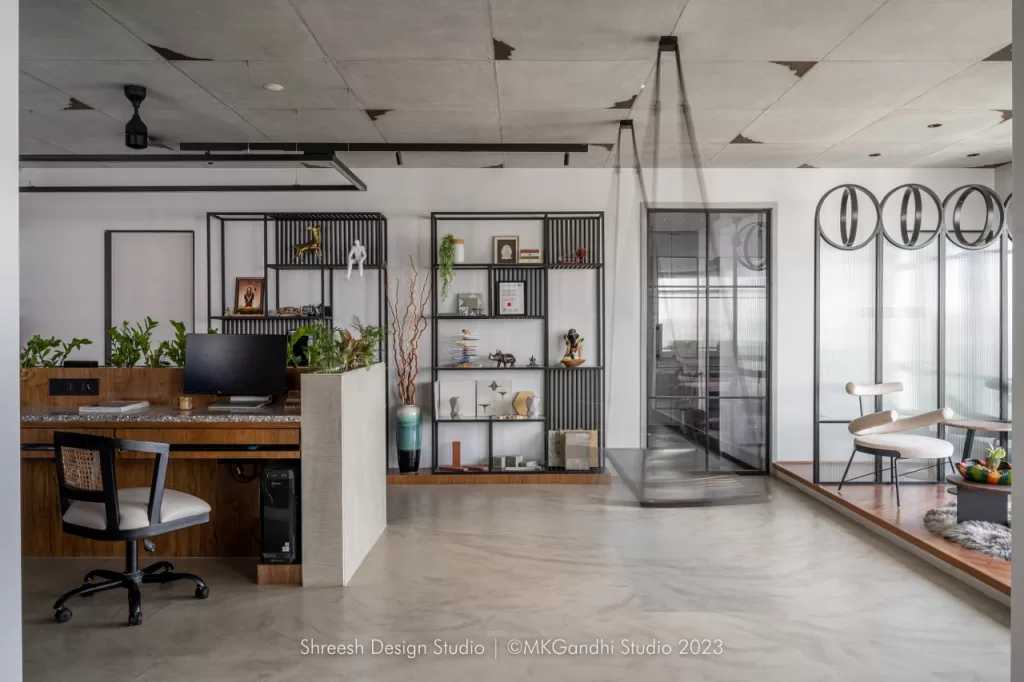 Coming on the fifth floor, a mirror of Haresh Parsana's design philosophy, shows fringes of absolute poshness in this setting. Upon stepping in, there is a sweet surprise on the left, a C-shaped staircase seeds from the ground, bathed in a dollop of natural light.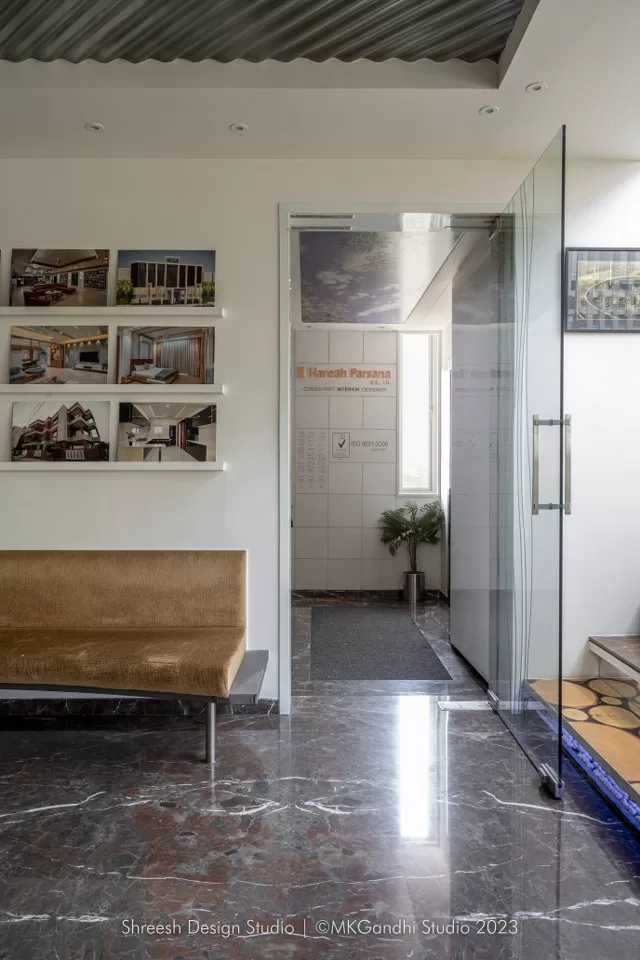 The fifth level houses private cabins, a workstation, and a heaven for both the designers and their clients – a material library. The waiting area faces the many achievements established by the firm over the years. A cut let's you peek into the principal designer's office through the waiting area.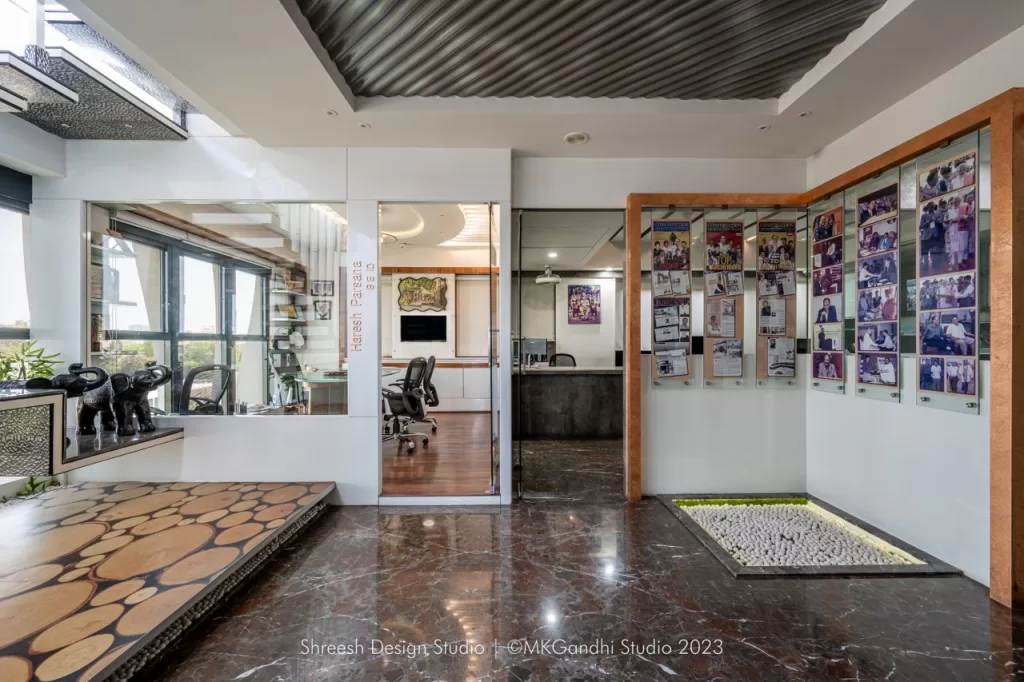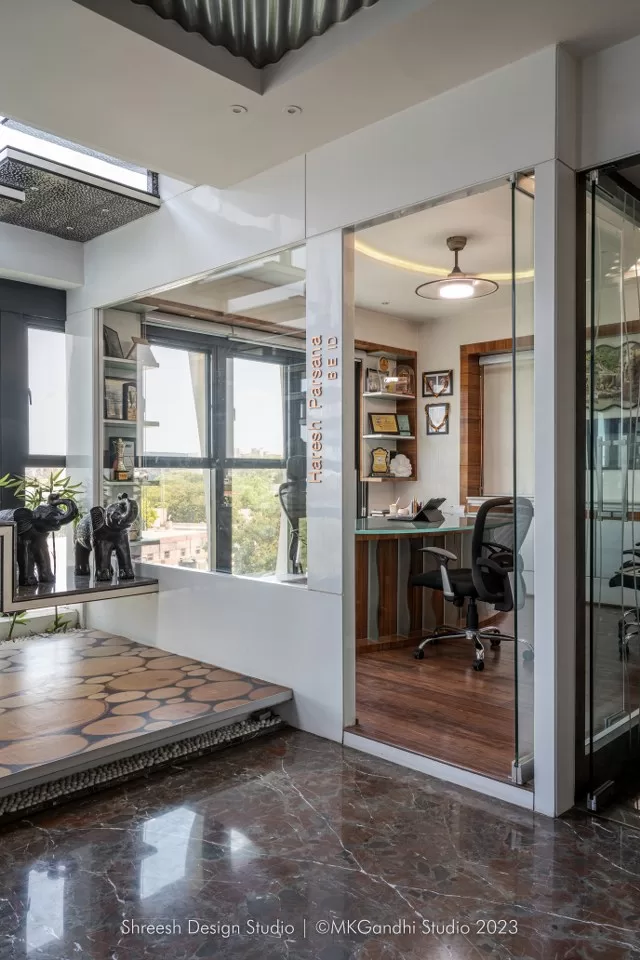 The staircase is undoubtedly a star element. One of the steps artfully stretches itself to become a showcase piece, a place where people can spend a minute or two to admire their surroundings. The Buddha statue gracefully commemorates the background of stone stairs and metal rods supporting it.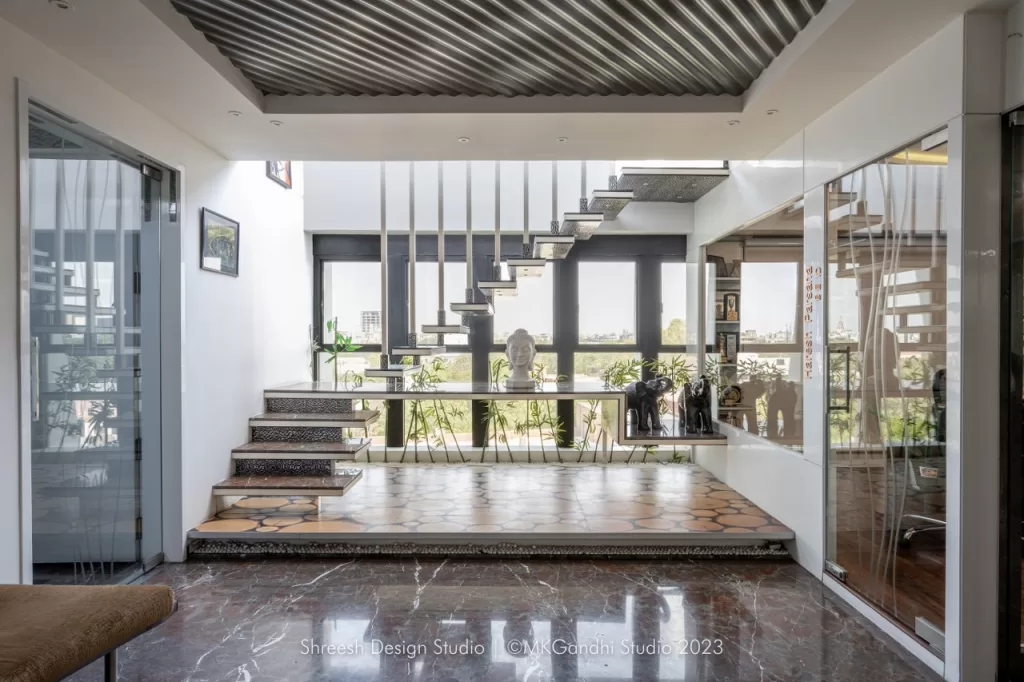 The flight of stairs leads to a conference area with an open seating area. The conference room is an informal sauna, opening up thoroughly to an oval-shaped water body. Crossing over through a petite bridge, the seating is supported through an onset of pergolas.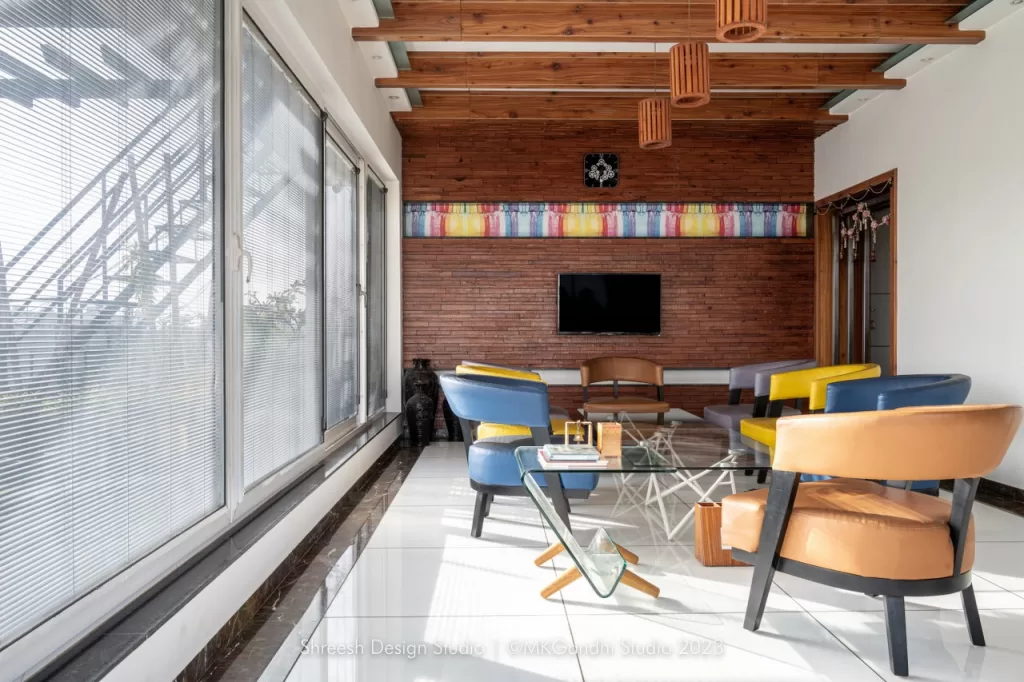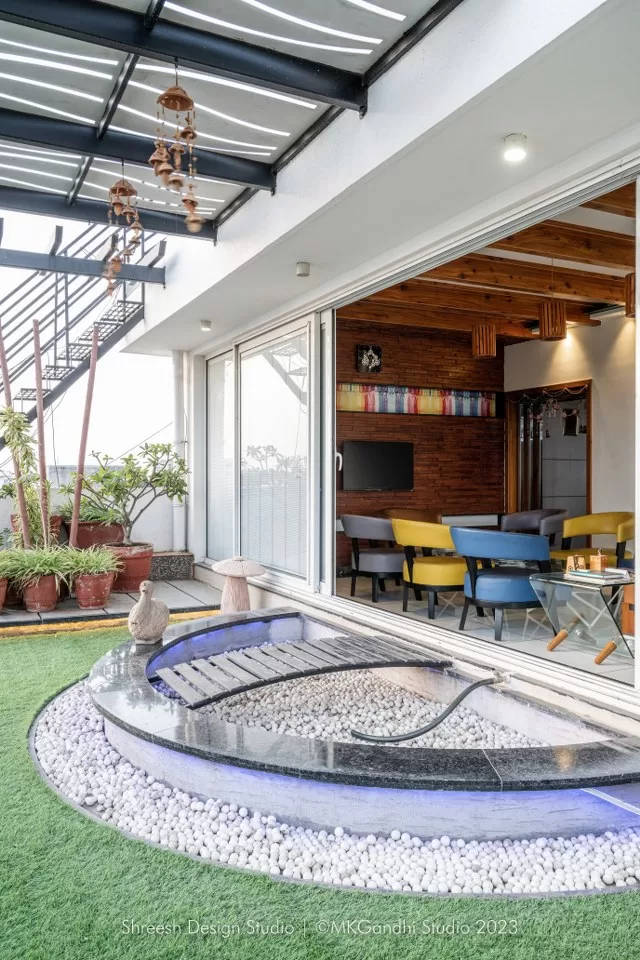 The CNC work over the pergolas is engraved with the logo of the firm – recurringly organic waves. This logo has been incorporated through intimate and stated details. From the CNC pergolas to being studded on the stone swing, to being impressed on the glass doors and concrete panel.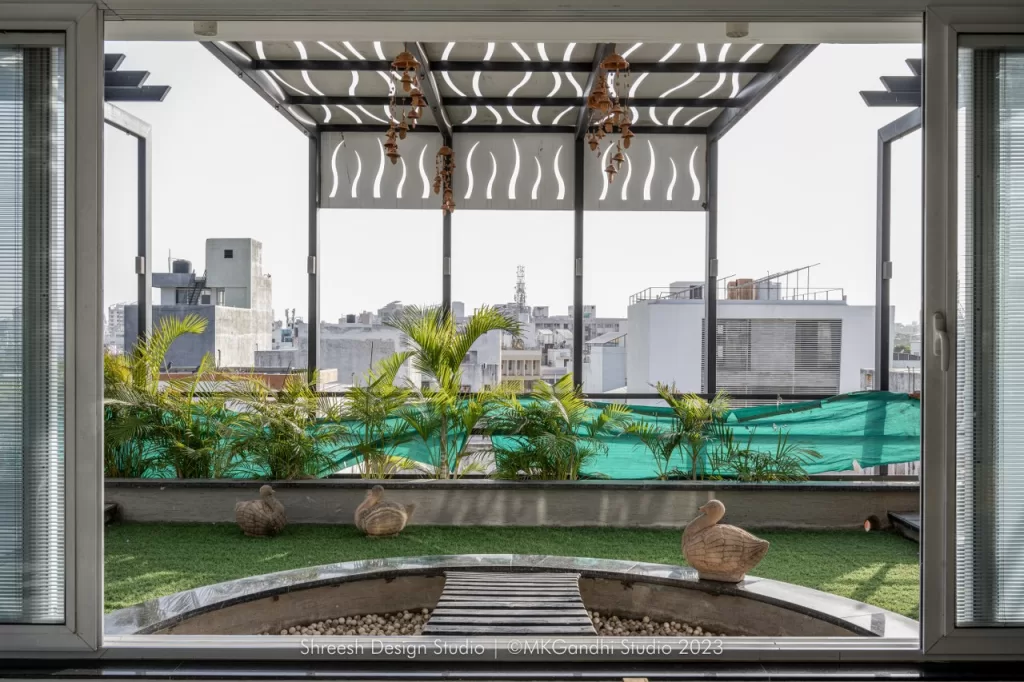 These details are an effective means to ingrain the sense of intricacy and belonging one looks for in the place where they work on their dreams.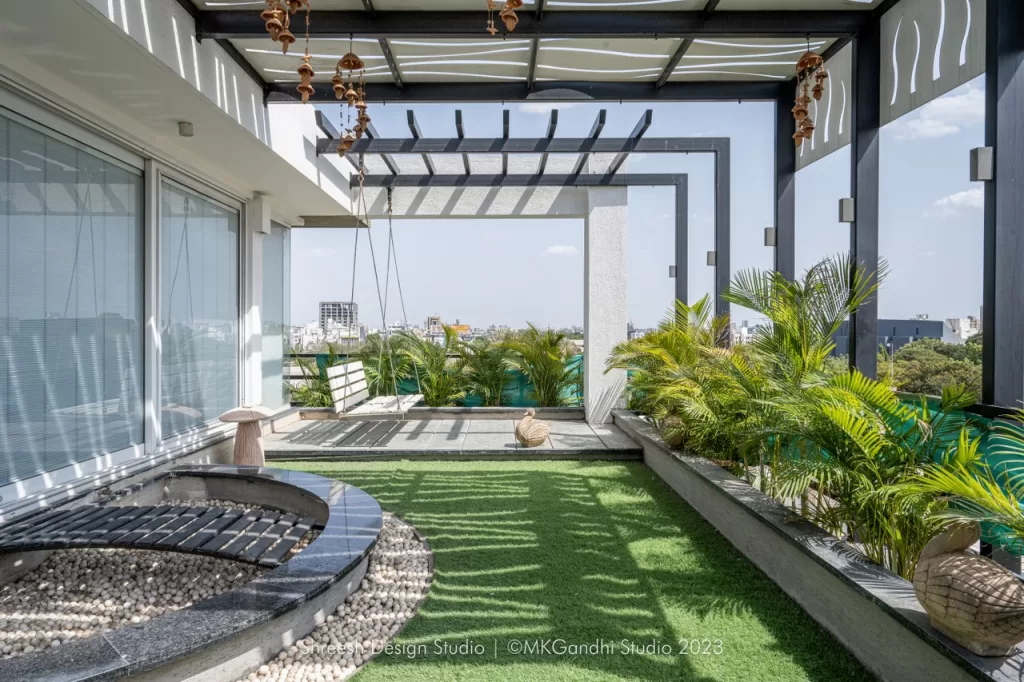 The seating was consciously crafted to rewind while watching the sunset on the horizon. Shreesh Design Studio accumulated the best of its stories and disguised them into stated physical forms, that channel their passion for their work and art through spaces that are loyal, sincere and ever-lasting.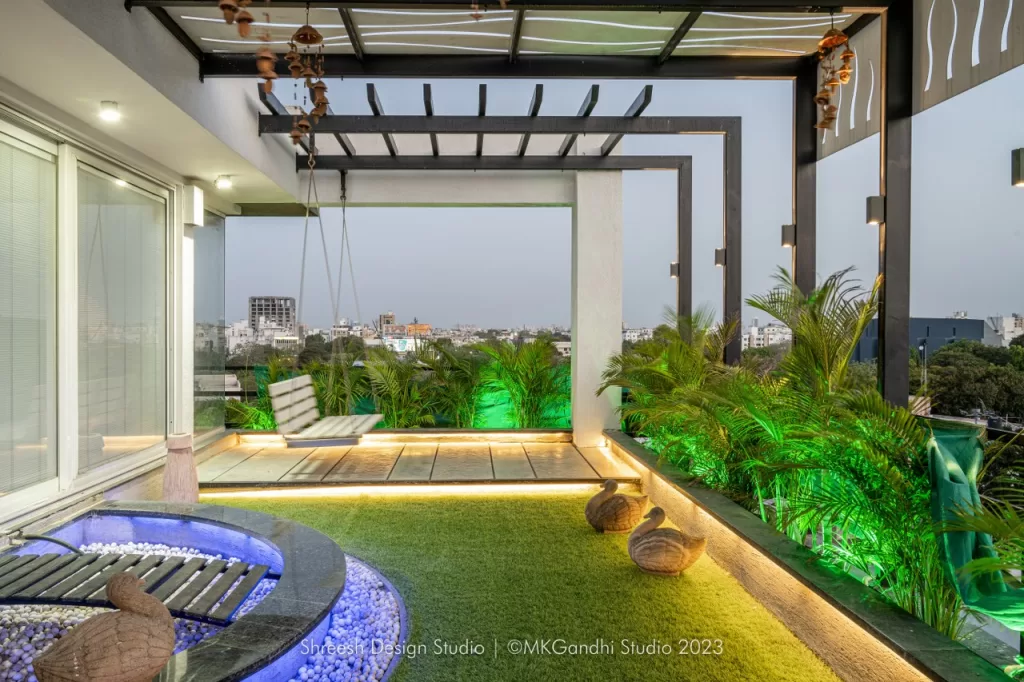 Fact File
Designed by: Shreesh Design Studio LLP
Project Type: Office Interior Design
Project Name: Headquarters
Location: Rajkot, Gujarat
Year Built: 2022
Duration of the project: 10 Months
Plot Area: 200 Sq.yard
Built-up Area: 4000 Sq.ft
Project Size: 2500 Sq.ft
Principal Designers: Dishit Parsana & Haresh Parsana
Team Design Credits: Manoj Vyas, Rushi Tank, Kishan Rathod, Devanshi Vyas & Ayushi Lahothy
Text Credits: Nishal Sevak
Photograph Courtesy: Murtaza Gandhi
Products / Materials / Vendors: Wallcovering / Cladding – JJ Bricks / Construction Materials – Translucent concrete / Doors and Partitions – Tej Glass / Windows – Tej Glass / Flooring – Micro Concrete and Italian Marble / Paint – Asian Paints / Hardware – Kich, Hettich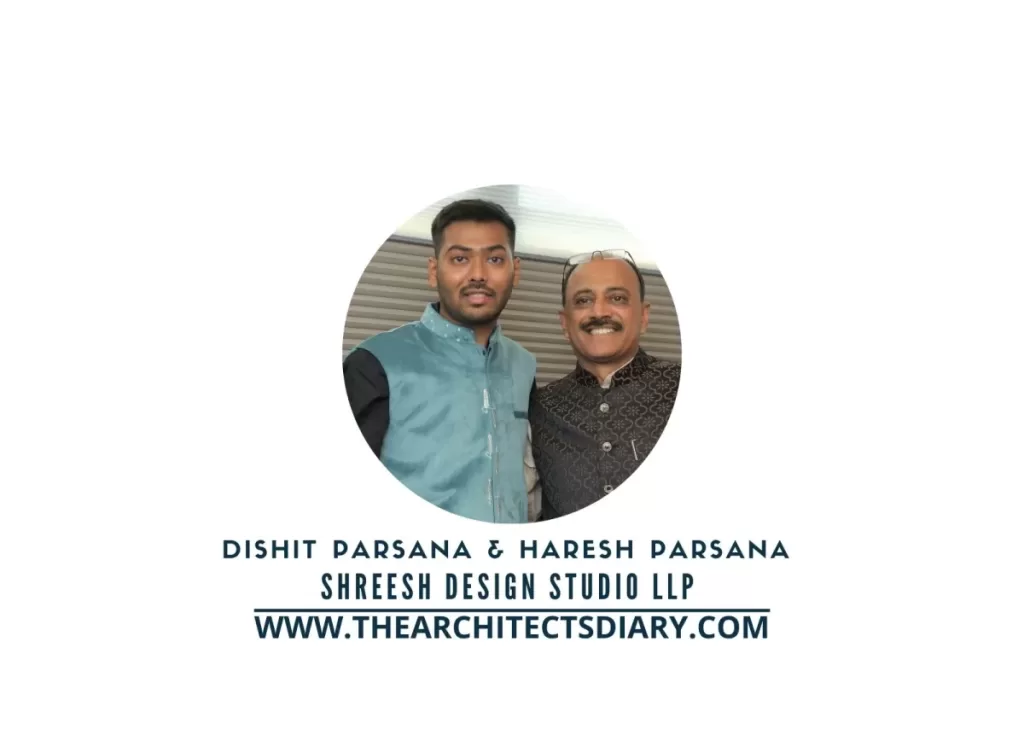 Firm's Website Link: Shreesh Design Studio LLP
Firm's Instagram Link: Shreesh Design Studio LLP
Firm's Facebook Link: Shreesh Design Studio LLP
For Similar Project >> A Space that Exudes Sophistication and Elegance, While Maintaining Functionality and Efficiency
The post A Productive Working Space that Resonates With the Firm's Ethics | Shreesh Design Studio LLP appeared first on The Architects Diary.