'Hygge' embodies the essence of creating a warm atmosphere and cherishing the simple joys of life. In this context, we designed a neat and minimalistic 4bhk home design , adhering a cosy and comfortable ambiance. To achieve this, we carefully selected materials like limo-coat, wood, and natural stones, infusing each space with a sense of warmth. for a family in Ahmedabad to their request for a simple, while also incorporating.
A Neat and Minimalistic 4bhk Home Design , Adhering a Cosy and Comfortable Ambiance | Woodpeckers Studio
Visit : Woodpeckers Studio
The house features various colours in different areas, adding a touch of fun and liveliness to the overall design. Upon entering the drawing room, one is greeted by an Ofsted framed wall adorned with clay panelling painting in cotton white, beautifully highlighting the artwork and creating a focal point.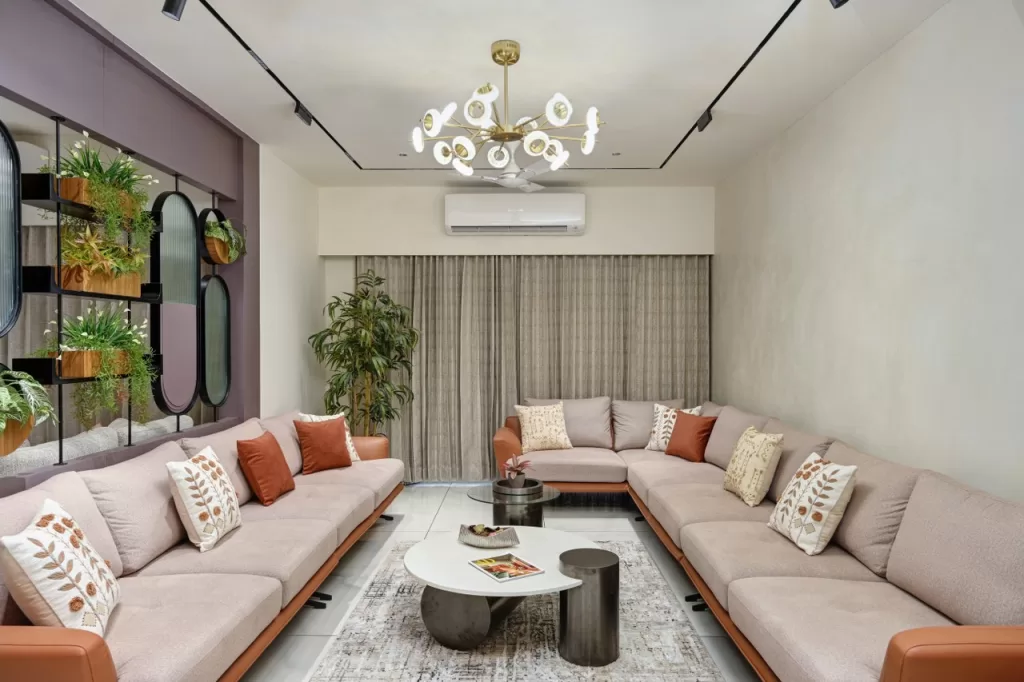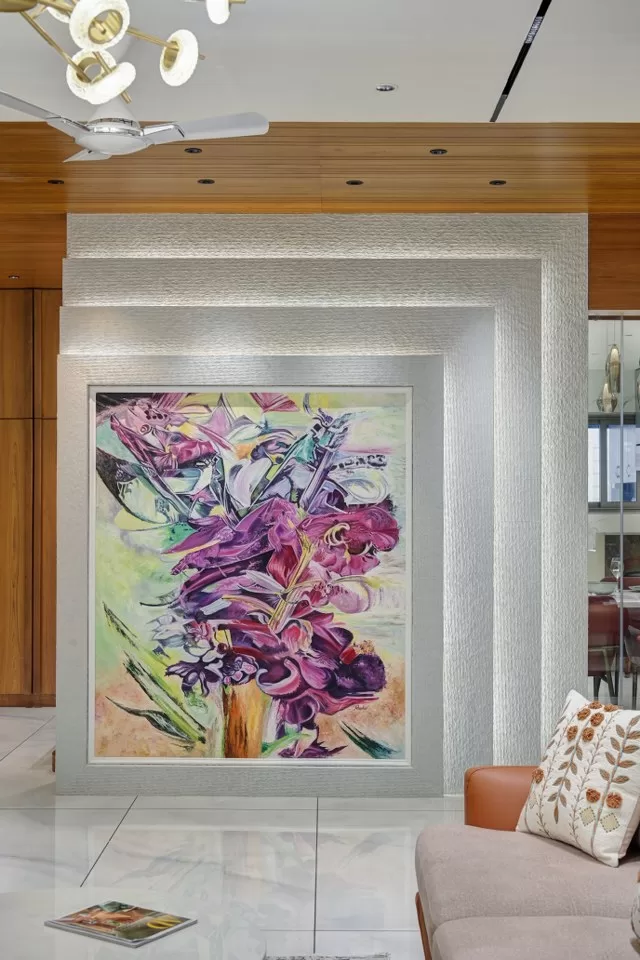 The common area follows an open floor plan, offering flexibility to create divisions as needed based on functionality.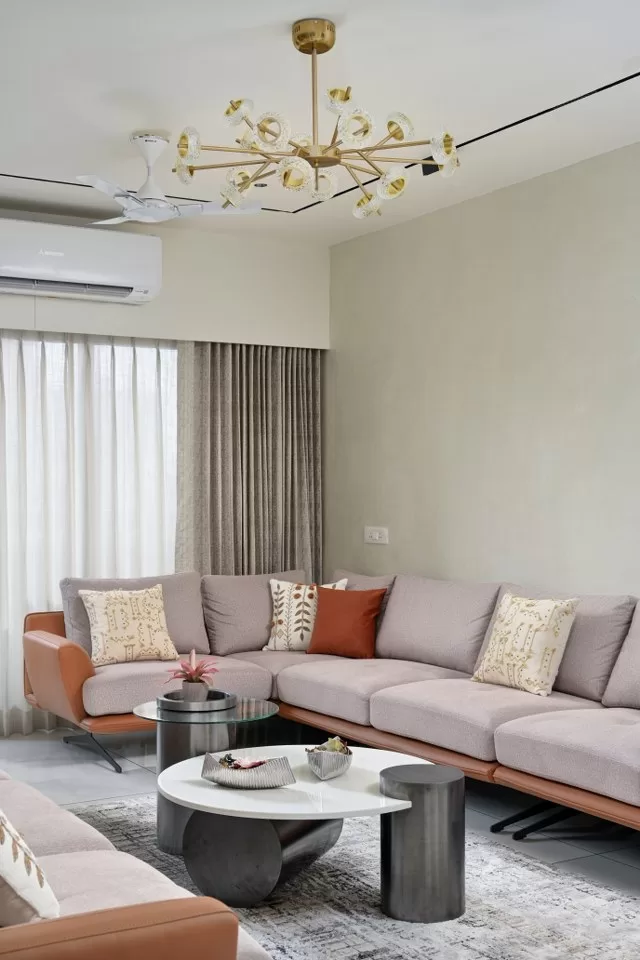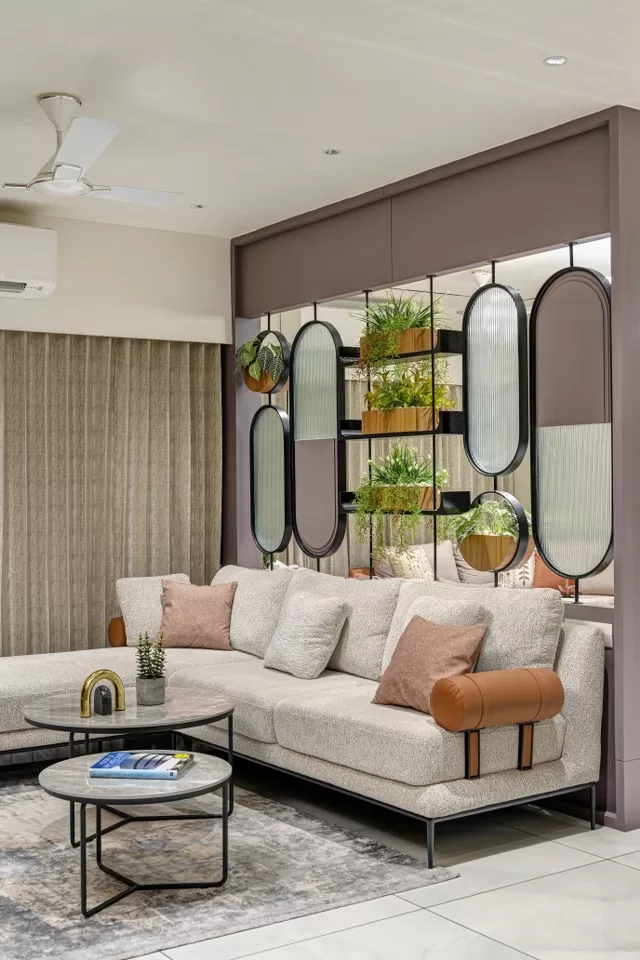 A customized metal partition screen with planters separates the drawing room and living room, while a backdrop of fluted polished Ghana teak wood panelling enhances the entire space.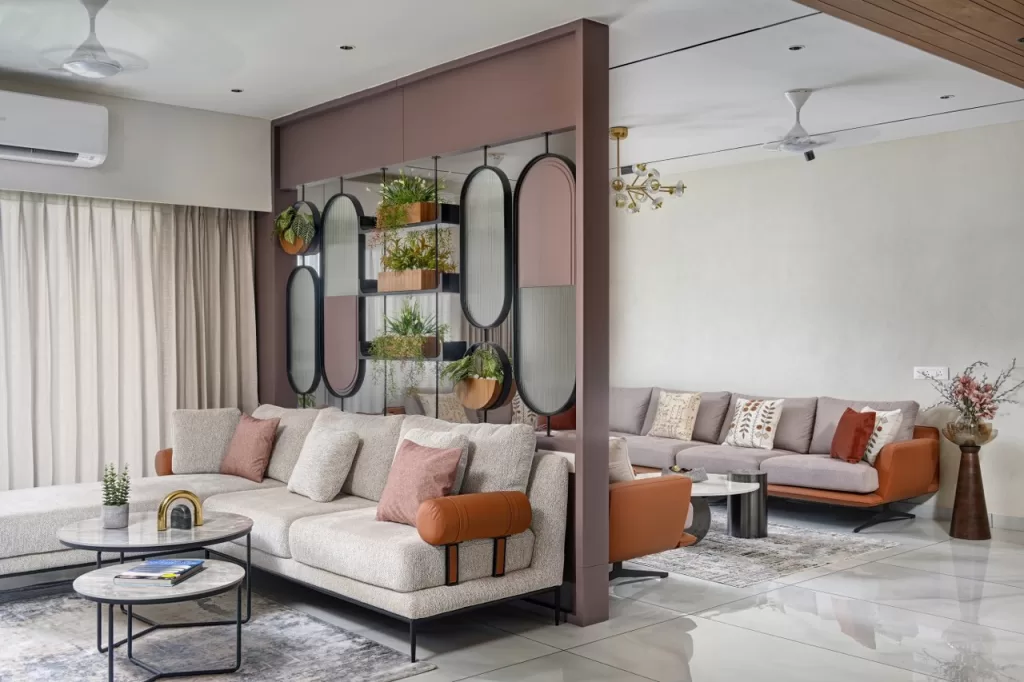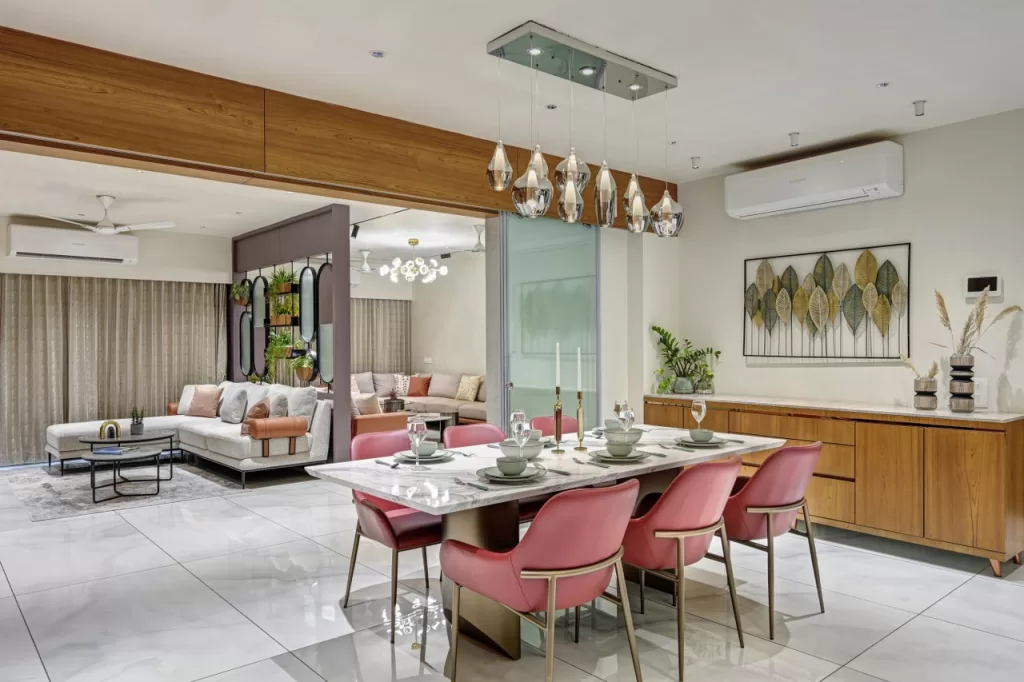 A glass partition elegantly divides the dining and living areas, providing the option to open or close the space as required.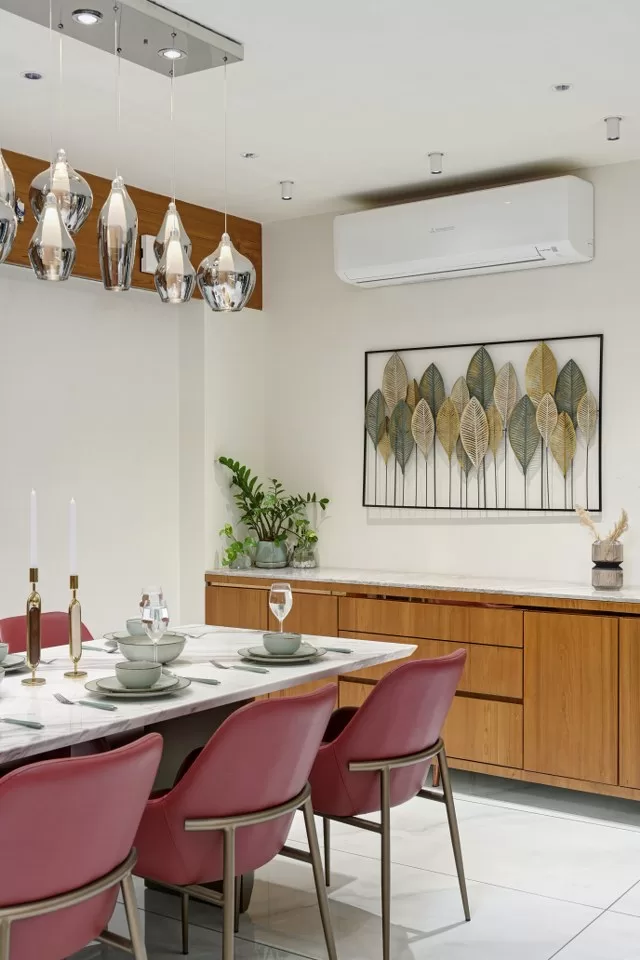 The kitchen and dining area share similar colour schemes, incorporating sea pine, plums, and blacks to create a harmonious blend.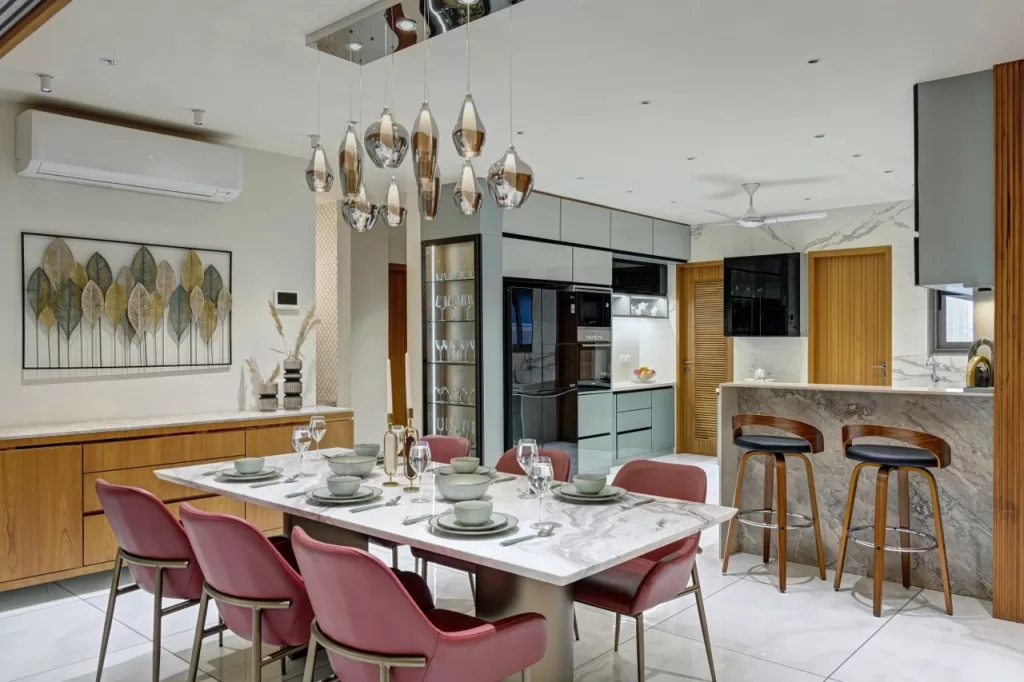 The kitchen is equipped with modern modular features, fulfilling the client's desire to enjoy cooking and hosting guests. To add charm to the dining area, we included a show-stopper crockery unit, visible from the dining space.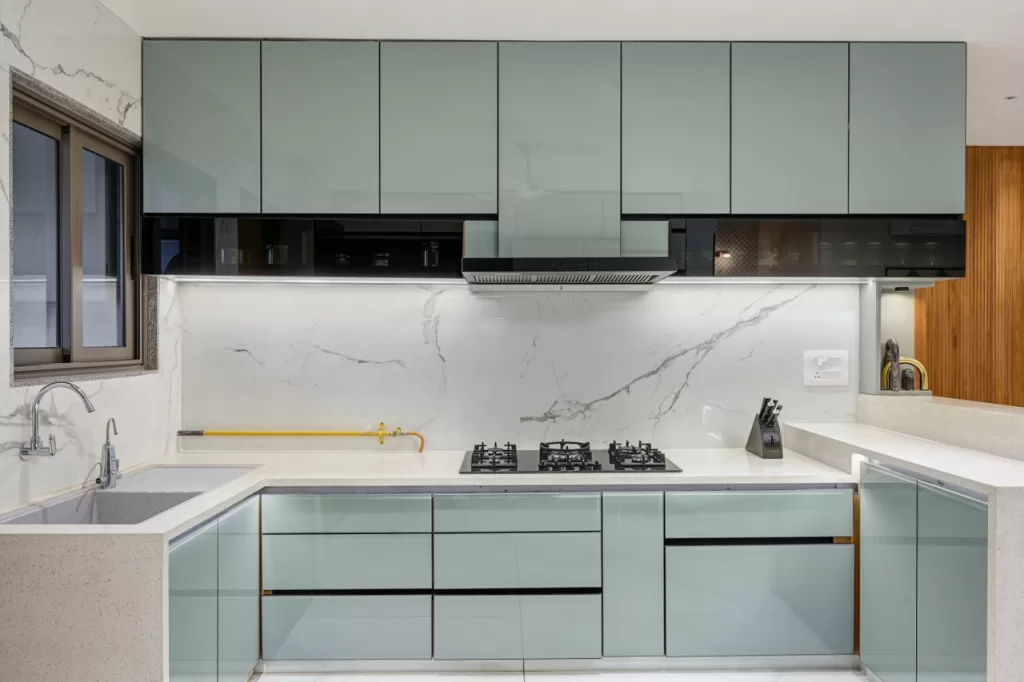 The son's bedroom is kept simple and minimal, featuring back wall cladding using veneer and Italian marble, and a seamless backdrop for the bed with a concealed window.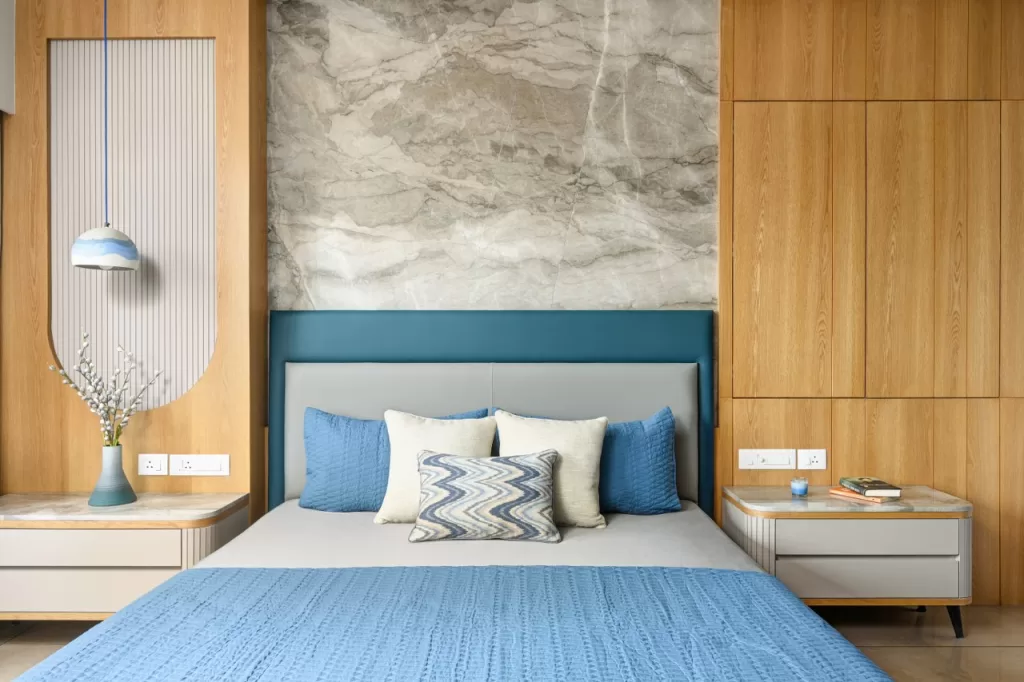 Hints of tan, grey, and blue create a pleasing colour scheme, complemented by a TV unit with a customized curved staggered shelf in mdf and metal, adding a unique touch to the room. Ombre tones of blues and greys are used in artefacts and furnishings, to bring the space into unison.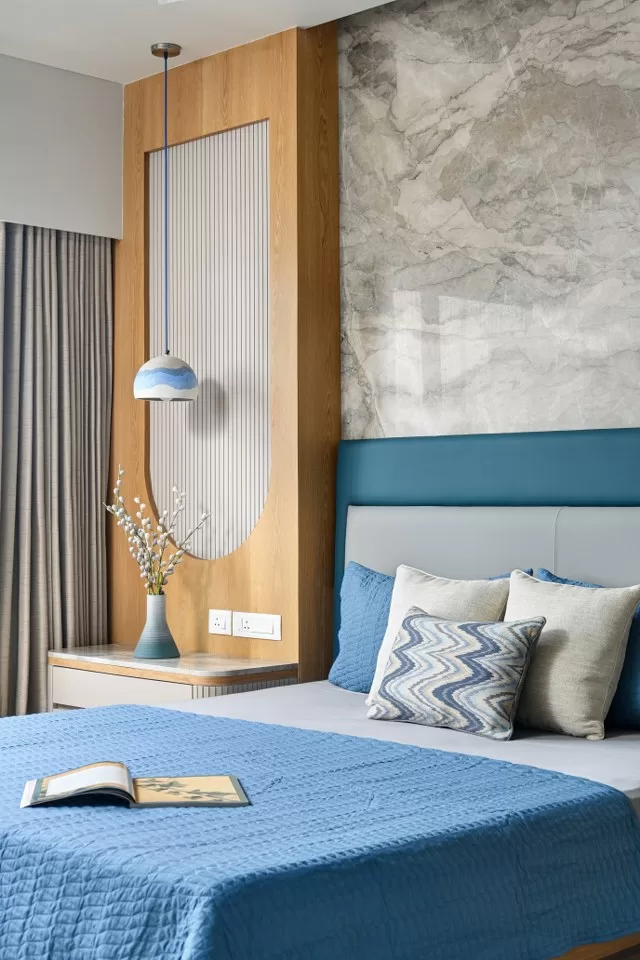 The home boasts two master bedrooms, each exuding its unique character. The parents' bedroom embraces tones of greenish grey and mauve, with a limo-coat finished back wall, adding a layer to the space.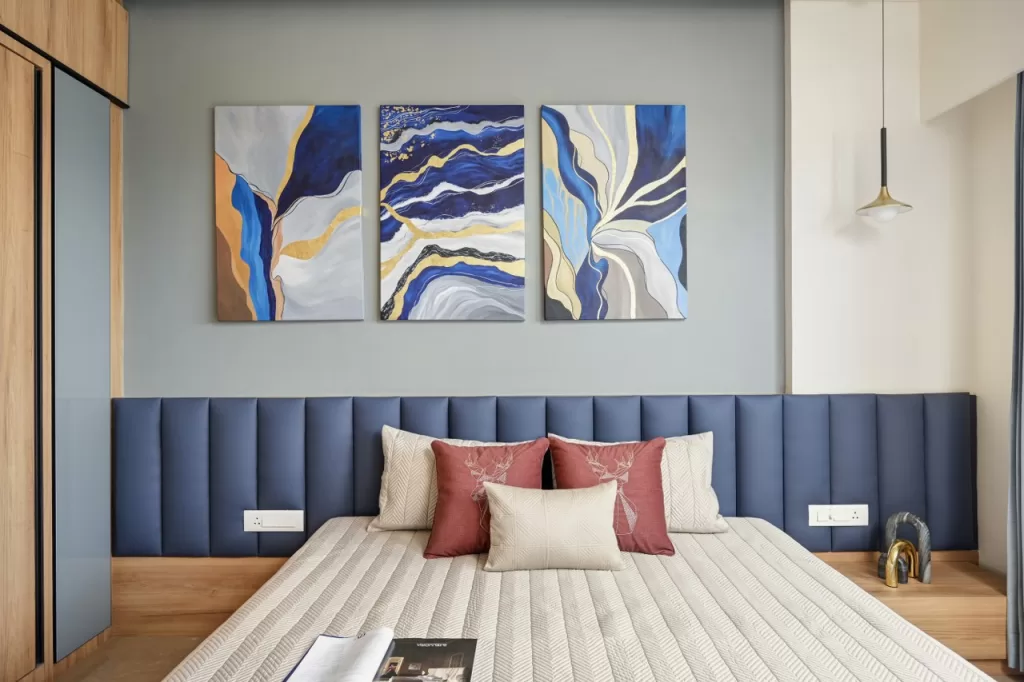 In the grandparent's room, we blended the classic combination of indigo blue with grey, accentuated by terracotta red upholstery to infuse liveliness into the space. The quilt's diagonal pattern adds a subtle layer of sophistication to the room.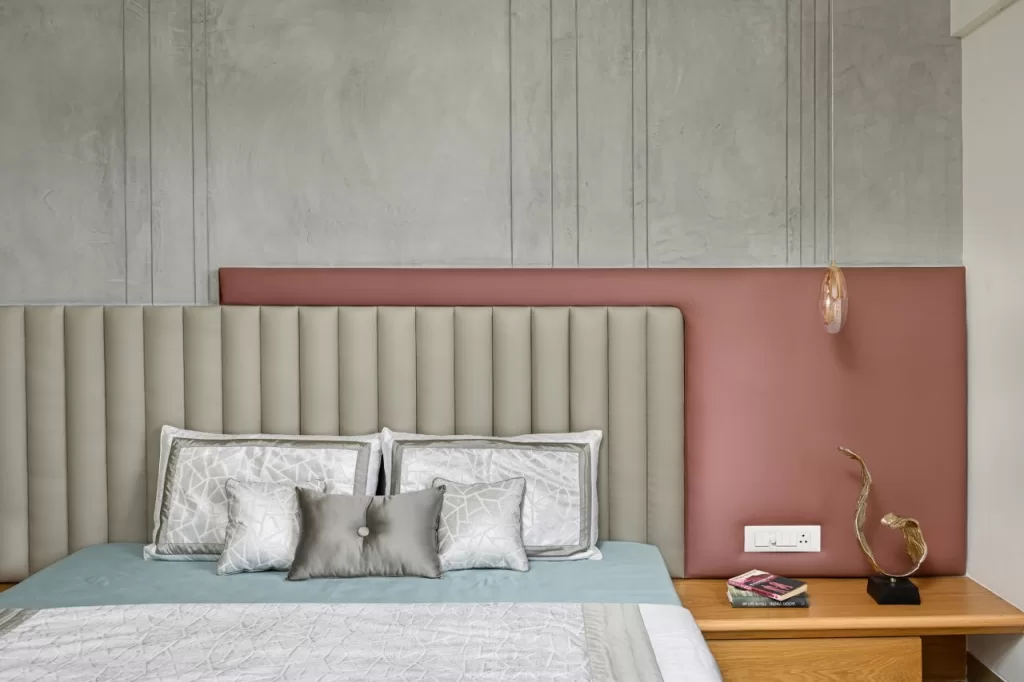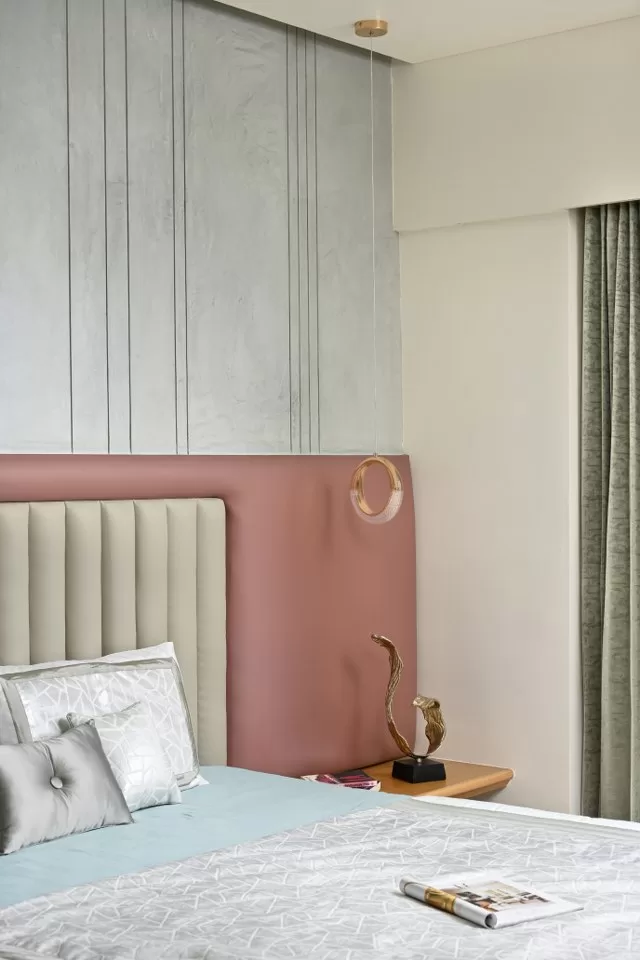 Lastly, the fourth bedroom serves as a study room or guest bedroom. Given the family's background in academics and medicine, a study space was a must.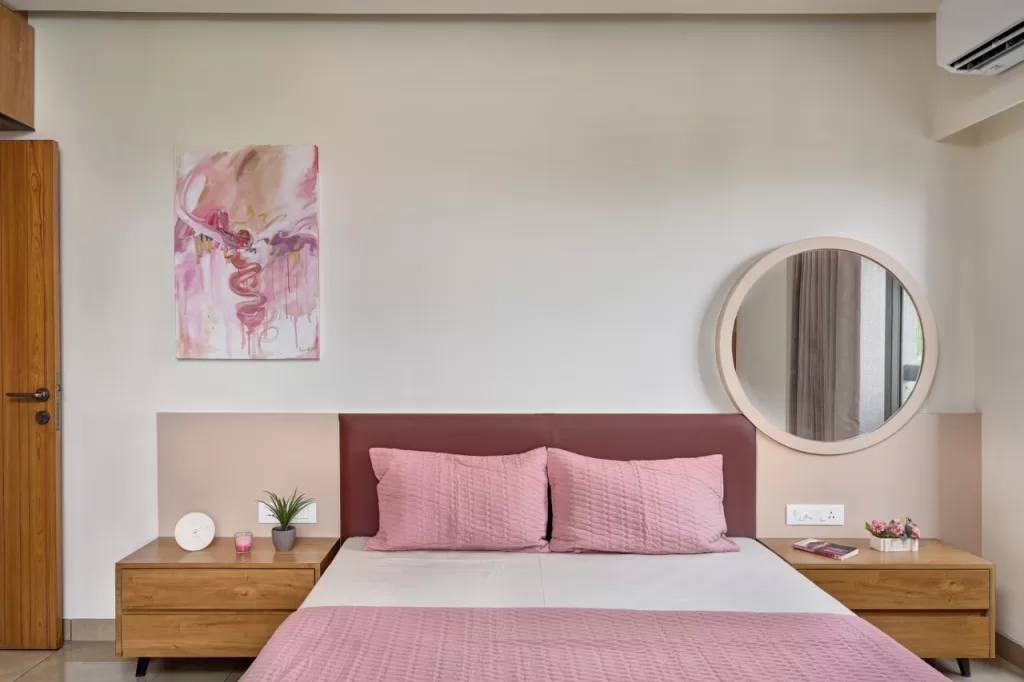 The room features beige, pink, and maroon colour tones, and a customized study table with corner storage for books was designed to cleverly conceal the architectural column corner.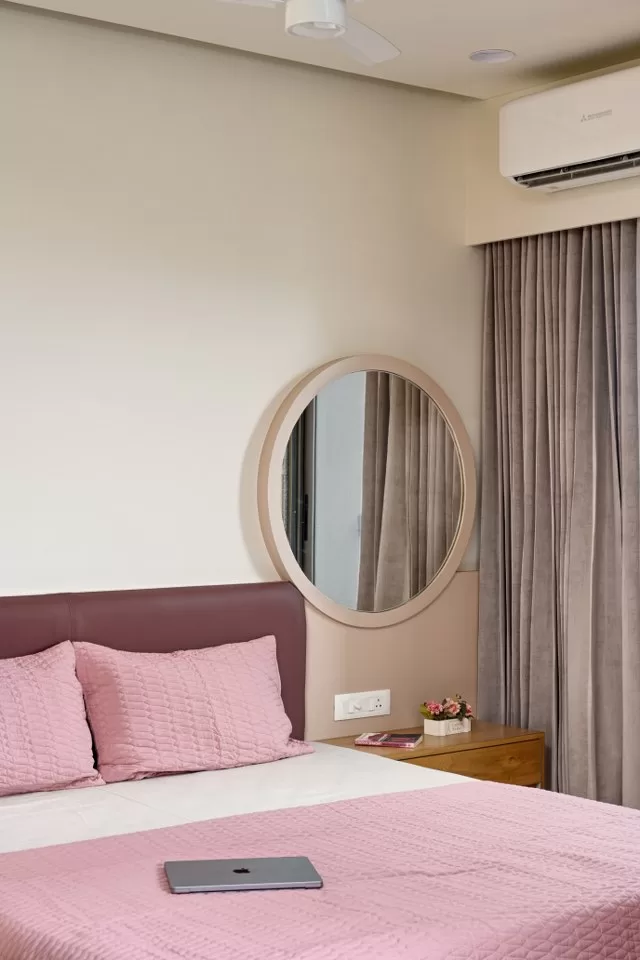 To ensure there is an abundance of natural light, all the rooms are equipped with large sliding windows, creating a harmonious connection with the outdoors. Overall, this 4bhk home beautifully encapsulates the concept of 'Hygge,' offering a comfortable and inviting living space for the family.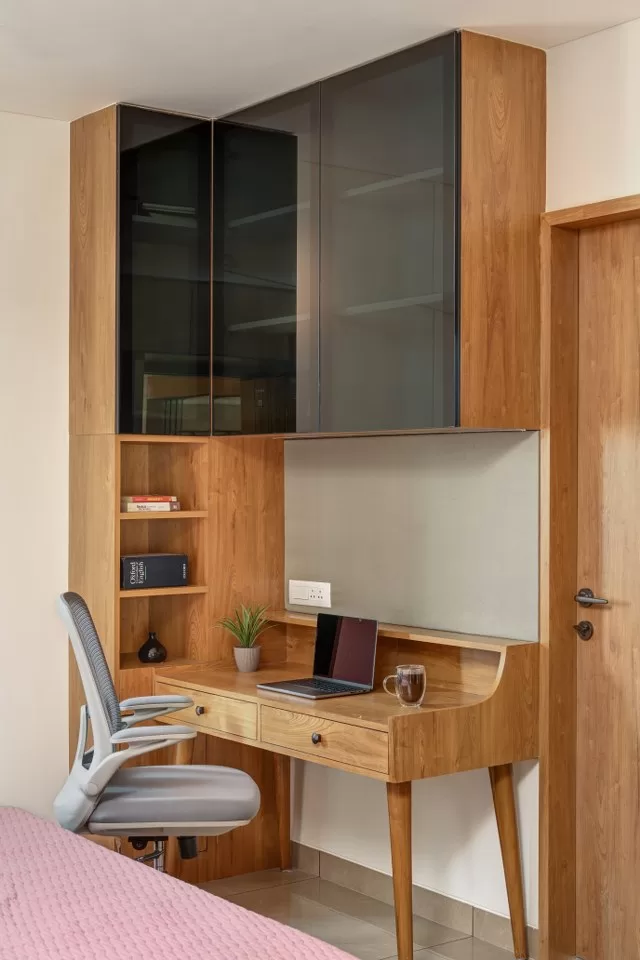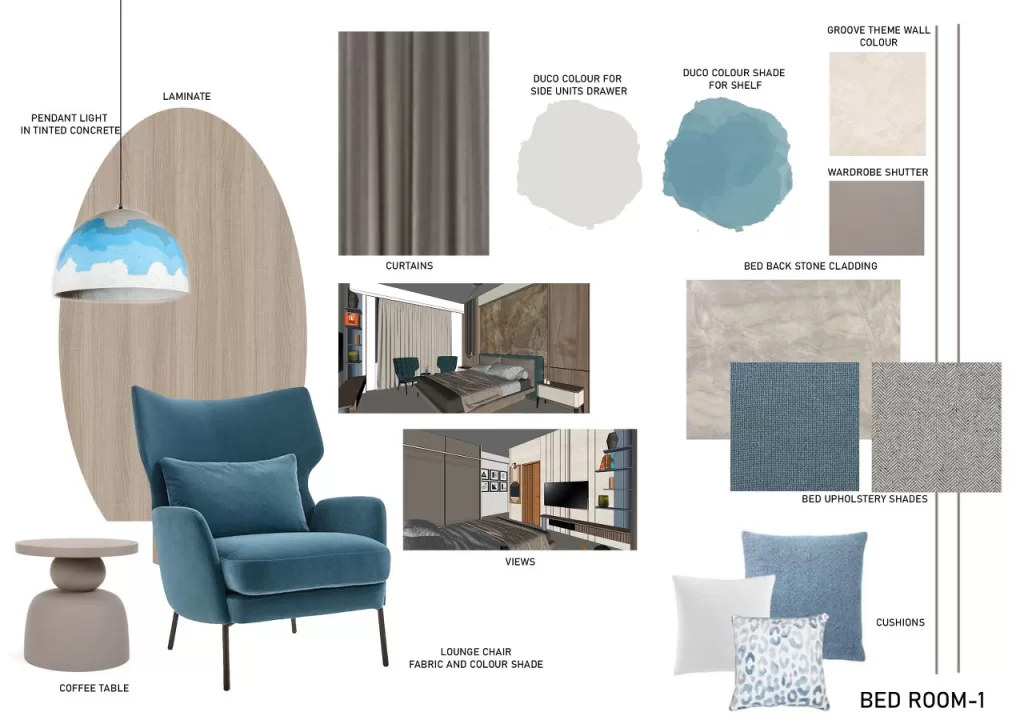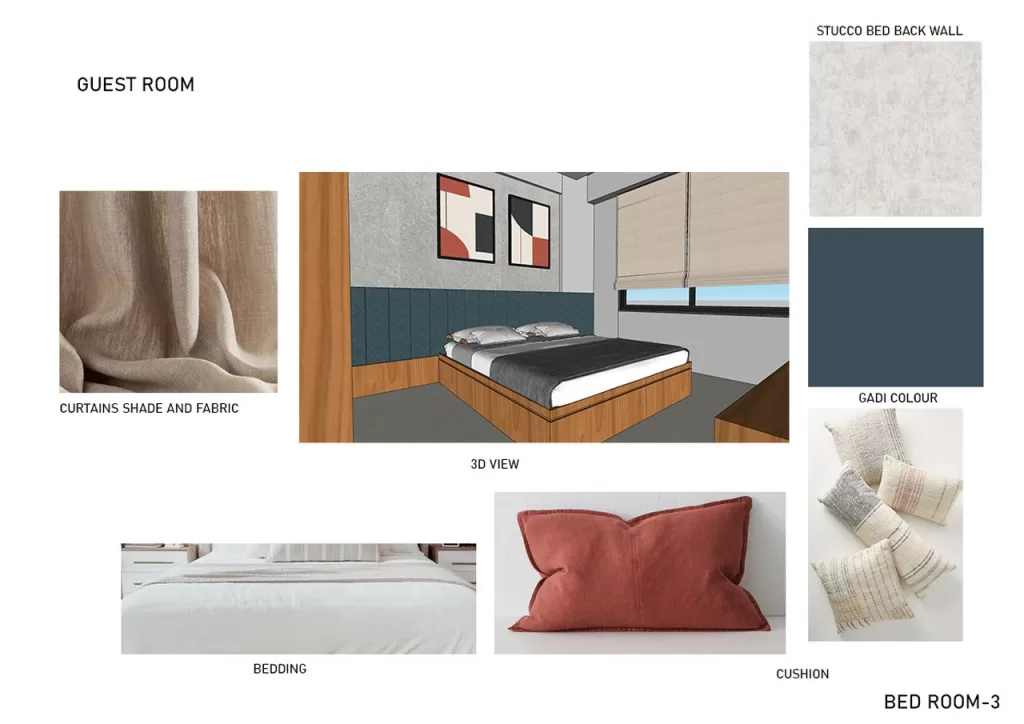 Fact File
Designed by: Woodpeckers Studio
Project Type: Residential Interior Design
Project Name: The Hygge
Location: Ahmedabad, Gujarat
Year Built: 2023
Duration of the project: 1 Year
Project Size: 2200 Sq.ft
Project Cost: 90 Lakhs
Principal Architects: Ar. Vatsal Patel & Ar. Aishwarya Patel
Team Design Credits: Devendra Kumavat
Photograph Courtesy: Rockbrand Inc
Products / Materials / Vendors: Wallcovering / Cladding – Mcm cladding / Lighting – Geolighting, Lafit Doors and Partitions –custom made / Furniture – Woodmount by Mahavir furniture / Kitchen –Bosch Paint – Asian paints / Artefacts – Drappe shoppe, Raiff.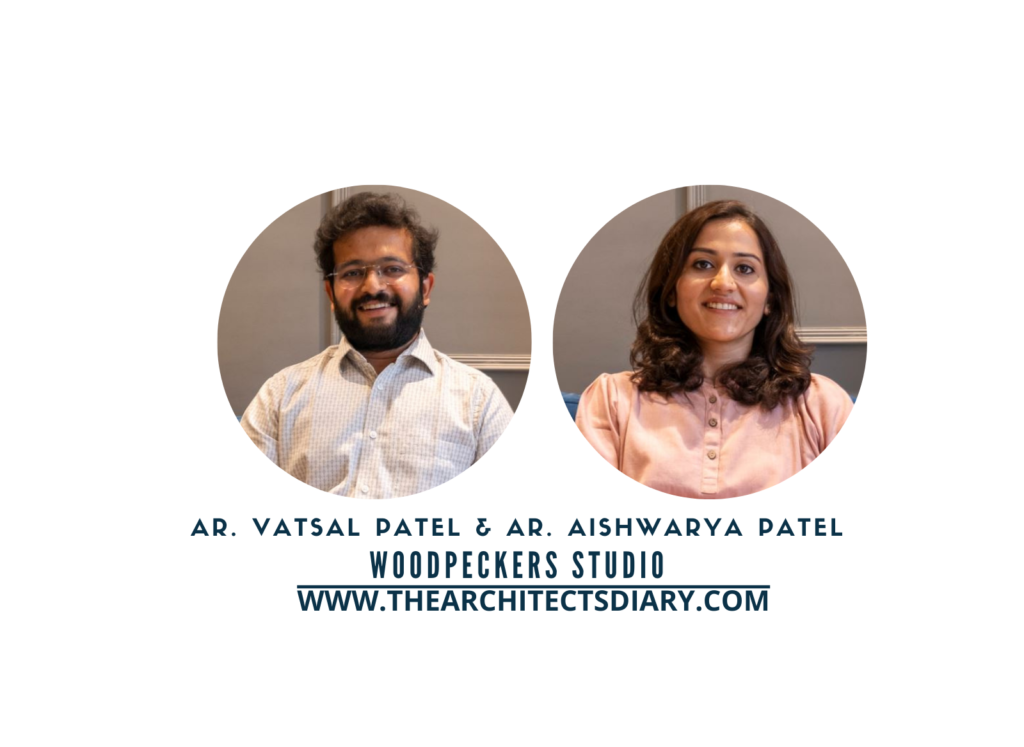 Firm's Website Link: Woodpeckers Studio
Firm's Instagram Link: Woodpeckers Studio
Firm's Facebook Link: Woodpeckers Studio
For Similar Projects >> Apartment Interior Design With Warm Earthy Palette Of Materials, Textures, And Colors
The post A Neat and Minimalistic 4bhk Home Design , Adhering a Cosy and Comfortable Ambiance | Woodpeckers Studio appeared first on The Architects Diary.