This interior project exclusively designed, is customized for client Mr. Vinit Phalnikar and his family (4 people in all). A Mumbai apartment that aims to create a visually stunning and inviting space within a 2BHK house of 870 sq.ft located in the heart of Lower Parel area at Lodha Park Kiara. This project focuses on creating a truly luxurious living room that exudes elegance, sophistication, and comfort. The design for both bedrooms and living room revolves around a combination of opulent materials, exquisite furniture pieces, refined color palettes, and strategic lighting to create a luxurious and stylish living space.
A Mumbai Apartment that Aims to Create a Visually Stunning and Inviting Space | Design Storie

Visit: Design Storie

The living room serves as the centerpiece of the house, showcasing a sophisticated and welcoming ambiance. This living room is designed to have a warm and inviting atmosphere with a neutral color paleoe and colour pops of red and blue as its foundation. The walls are painted in a sop shade of textured pearl white by Mecasa, providing a soothing backdrop for the room.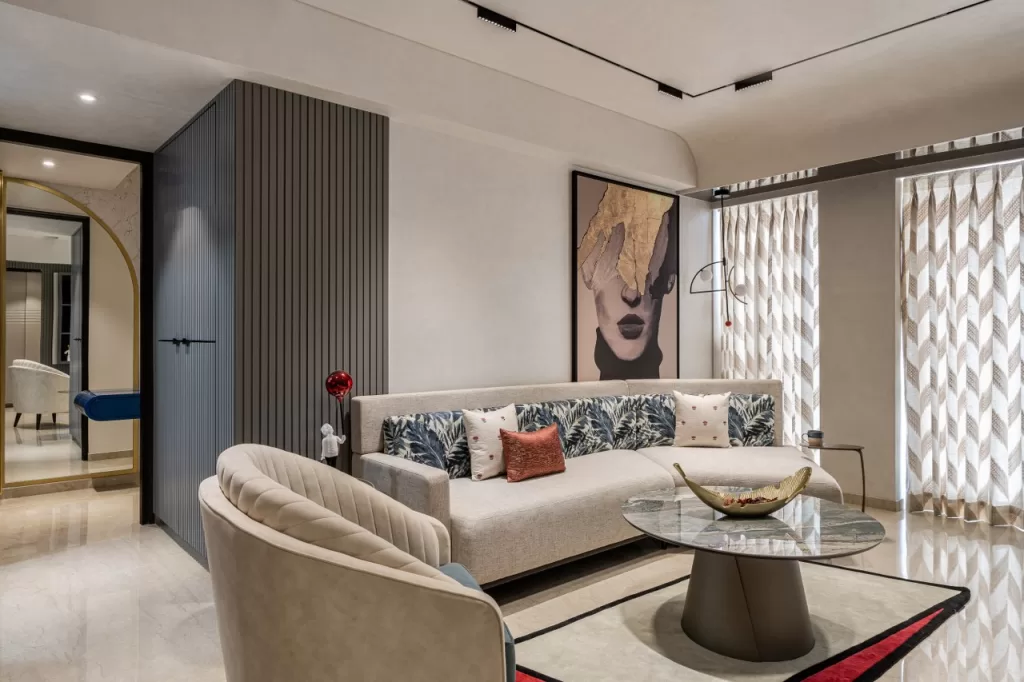 It features a plush dining table set – Ceramic Alabastron with base in granite and dining chairs in eco-leather seat finish from Cattelan Italia sourced from & more stories with a customized comfortable angled-L shape sofa seating design from blue loft company, lounge chair from Table Kursi bespoke furniture, a combination of exquisite lighting fixtures from The white teak company, and tasteful decor accents from project blue home décor and the white teak company. The furniture pieces boast elegant designs, with attention to detail and craftsmanship. The beige flooring marble adds a touch of elegance to the room. A plush solid coloured rug with a red border from Hatsu is placed in the center, defining the seining area and adding warmth underfoot.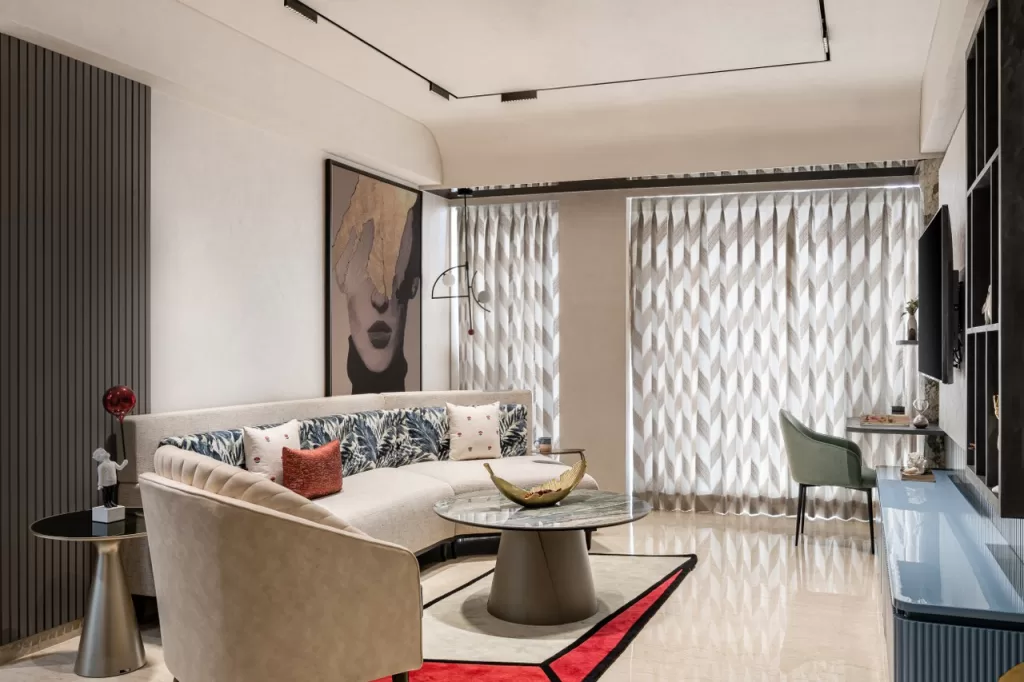 An angled L-shape sofa design customized by Blue Loc offers a versanle and space-efficient seining arrangement that can maximize the seining capacity of the room while unliving corner areas effectively. The design is based on personal preferences and the dimensions of the living room with a split window access on the corner. The sofa features modular seining sections with two layers of backrests. It is upholstered in plain and printed fabrics allowing for customization to match the room's style and color scheme.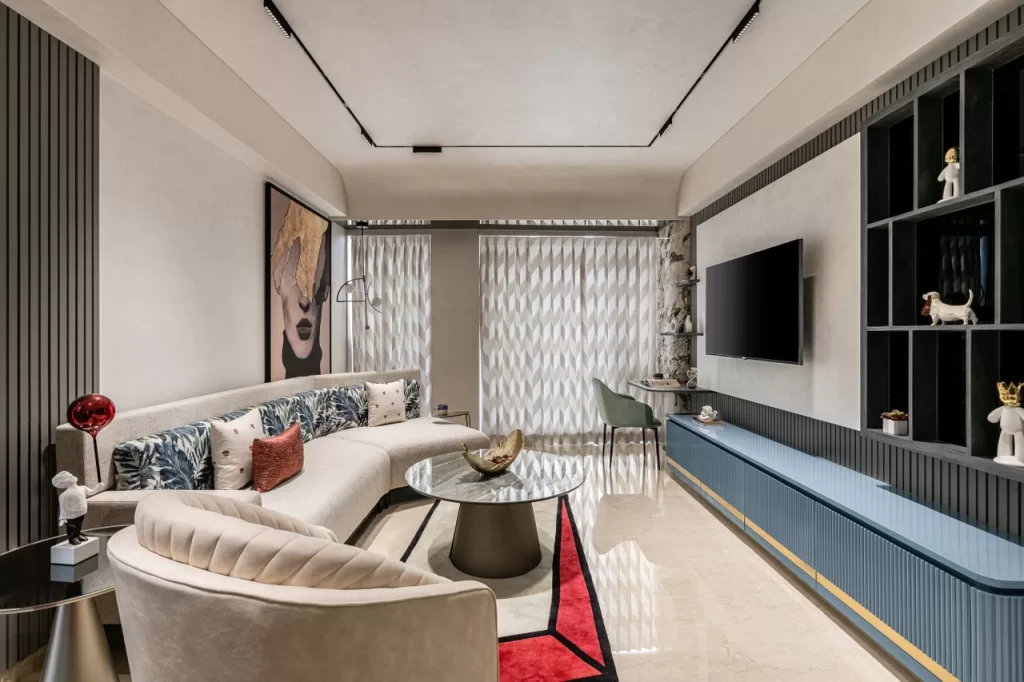 It provides for maniple seining areas, allowing for comfortable conversion and accommodating more guests. It is complemented with accent pillows, throws and a plug-in table to enjoy the morning coffee sizing beside the window and to create a cozy and inning atmosphere. Overall, this customized sofa design in a living room provides a stylish and functional seining arrangement that maximizes space enolization and enhances the overall asthenic appeal of the room.
The though fully detailed study corner design in living room beside the window combines functionality with asthenic appeal. It features 3 plugged-in shelves designed to gradually increase in length and width with each of their sides overlapped with curved backlit Patagonia marble on one end and another overlapped with curved TV panel. The last shelf extends outwards to form a study table ledge wide enough for using a laptop. Accompanied by a customized comfortable chair designed by Blue LoC, the study corner aims to create a dedicated workspace that blends harmoniously with the surrounding decor.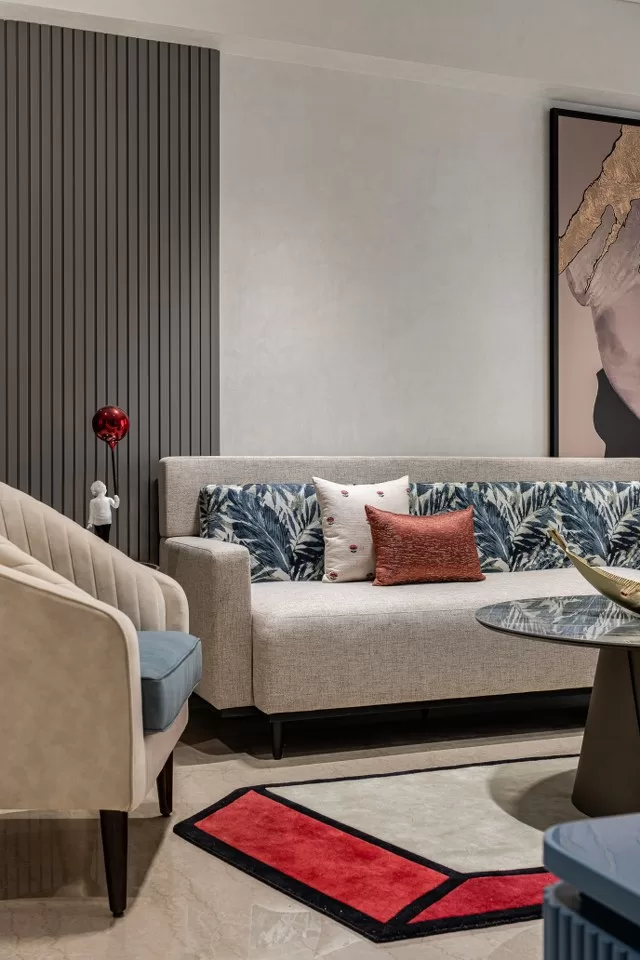 The dining area is designed to create a perfect balance between inmate dining experiences and a welcoming atmosphere for entertaining guests. Fixed mirror flushed within slated panelling is though fully placed opposite the dining area to double up the space visually by reflecting natural light to the kitchen area which was otherwise, previously in darkness. The dining area features a barnful skyline round ceramic cadel, an Italia table from '& more stories' that serves as the centerpiece. Whether it's a sleek and modern design or a classic farmhouse style, the table is chosen to match the overall asthenic of the room.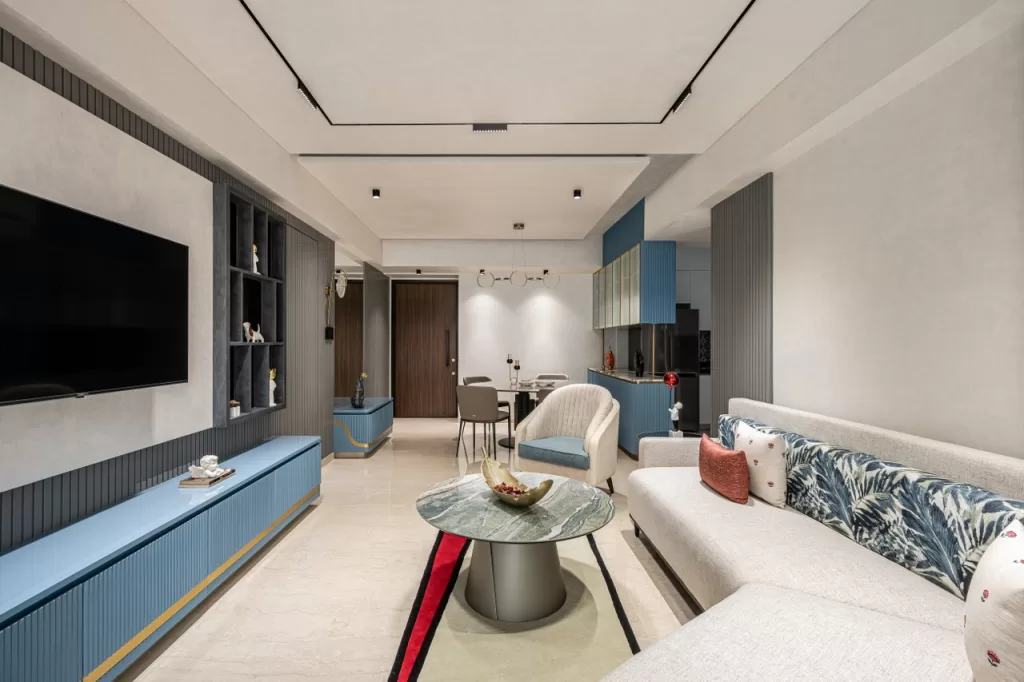 Surrounding the table are a set of carefully selected Cadel an Italia dining chairs from '& more stories. These chairs are not only comfortable but also stylish, with upholstery that complements the overall color scheme and design theme. Their arrangement promotes easy conversation and a cozy dining experience. To add a touch of glamour and sophistication, a stunning pendant light from The white teak company hangs above the table, casing a warm and inning glow. It not only illuminates the dining area but also serves as a statement piece, adding a touch of luxury to the space.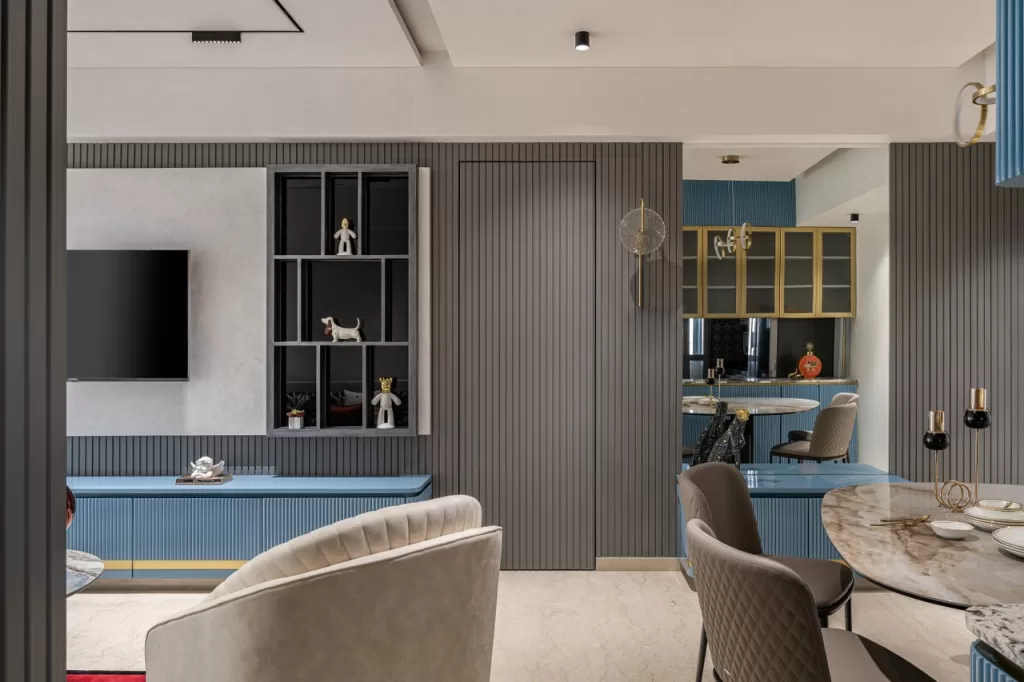 Fluted hidden cabinets act as storage partition between kitchen and dining area, providing both storage and display space for bar booles, decorative objects and cutlery and also act as a convenient serving stanine during gatherings.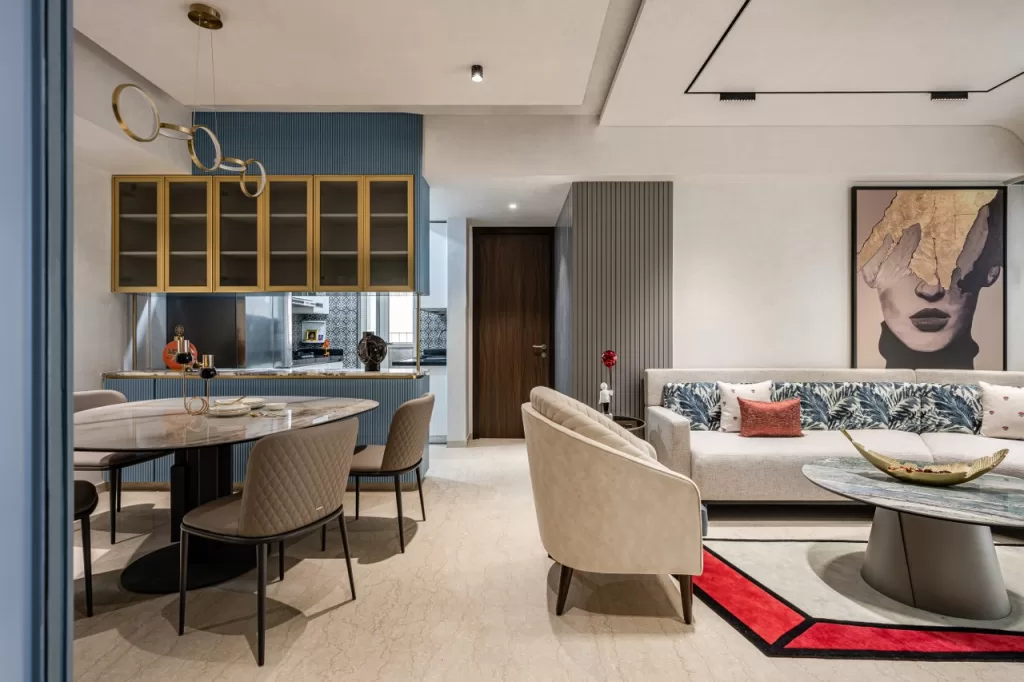 A unique and eye-catching Ceramic marble-top centre table with base in Titanium along with brushed bronze finished side tables from Cattelan Italia sourced from & More Stories are thoughtfully selected to be placed on a neutral tone rug from Hatsu to further enhance the luxurious feel of the space. Soft, luxurious textiles are used for headboards, draperies and curtains sourced from The Pure Concept Living and decorative beddings and cushions from Luxury Homes, add a tactile element to the room. The color palette is carefully chosen to reflect a sense of luxury. Rich, neutral tones like pearl textured wall colours by Mecasa, warm creams, and soft beige flooring marble form the base, while accents of vibrant pops of colors like red and blue along with metallic gold are introduced for a touch of glamour. The selection of colors aims to create a harmonious and visually pleasing atmosphere to keep the audience engaged and feel enchanted.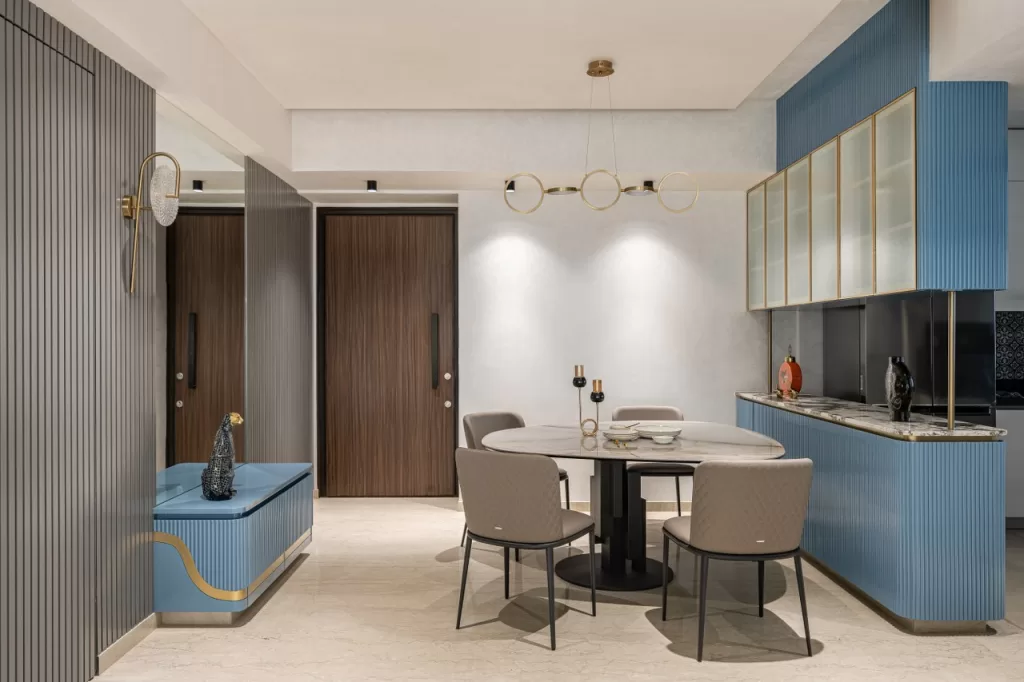 The lighting design plays a crucial role in enhancing the overall ambiance of the house. A combination of ambient and task lighting and accent lighting sourced from The White Teak Company are strategically placed to create a warm and inviting atmosphere. Automated lighting control, motorized window treatments, and state-of-the-art audiovisual systems are seamlessly integrated while maintaining the overall luxurious ambiance.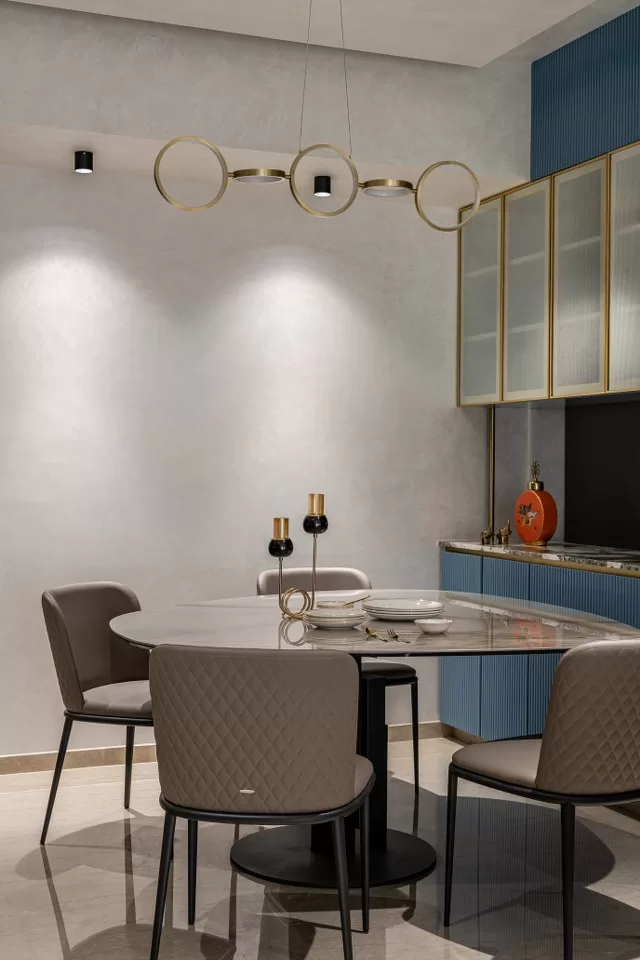 Both the master bedrooms create a serene and cozy retreat, combining elements of modern styles. The color paleoe is specifically chosen to be sop and neutral, with shades of white, cream and beige as the base, complemented by accents of earthy tones like warm browns in parents' bedroom and sop greens, pinks and powder blues in kids' bedroom.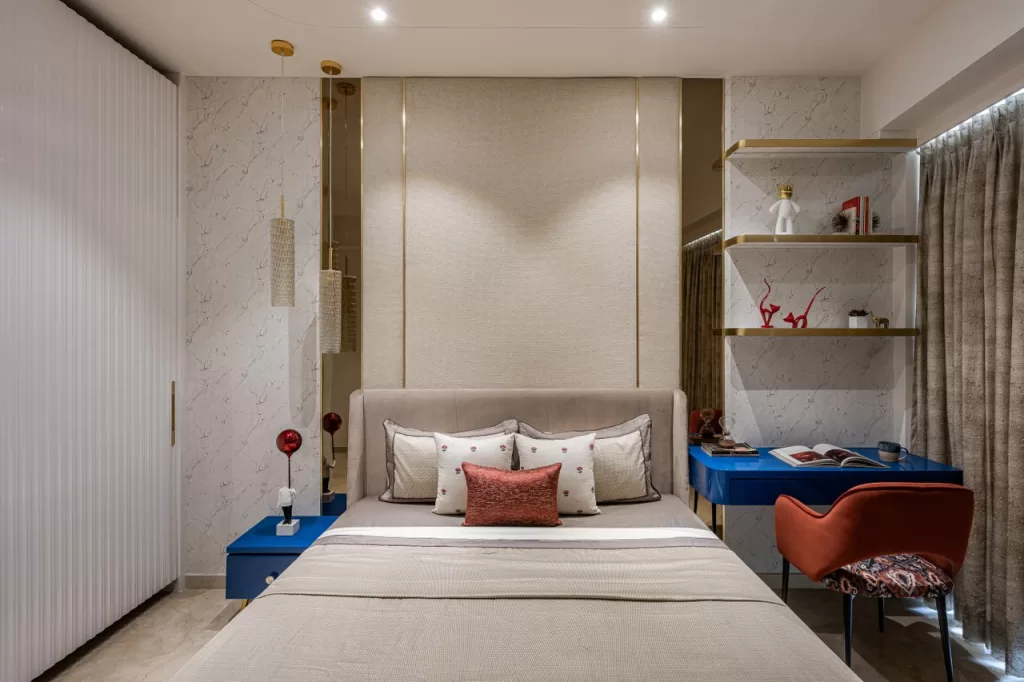 The focal point of parents' bedroom is a comfortable upholstered bed with a taped wall-scale headboard, dressed in crisp bedding with subtle texture. Side table with sleek, minimalist designs and bright blue in colour flank the bed on one side and an extended floating work desk on the window side, providing storage and surface area for bedside arsenals.
The cozy work desk by the window features an upholstered and pardoned armchair in a bright tangerine and blue tones customized by blue loc. The space feels inviting and well-lit, with natural light during the day and sop, warm lighting in the evenings.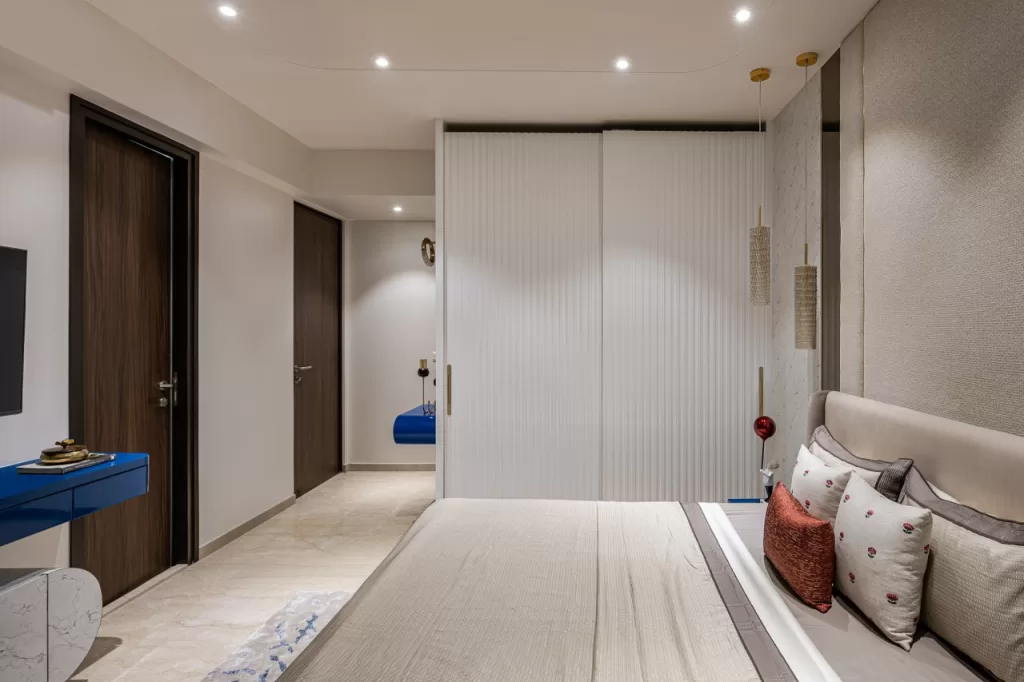 add warmth and texture, a plush area rug with an organic paoern anchors the room. Additionally, a simple, yet elegant, dresser with a storage drawer and cabinet positioned against a wall upon entering the bedroom, offers functionality while maintaining a clean asthenic.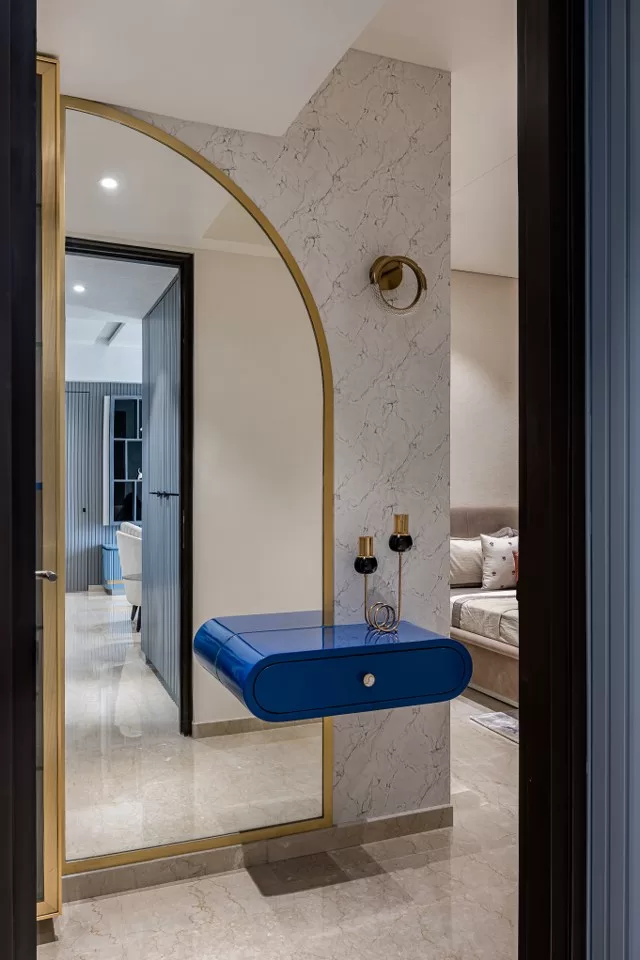 Space-saving murphy bed with fizzing's from Hafele and with sofa below is provided in the kids' bedroom
due to the ergonomics of the small room with an existing angled exterior wall and minimum floor space.
Kids' bedroom interiors look amazing with clean and stacked storages against walls, open shelves for
books and artefacts and furniture that don't come in the way of their work area.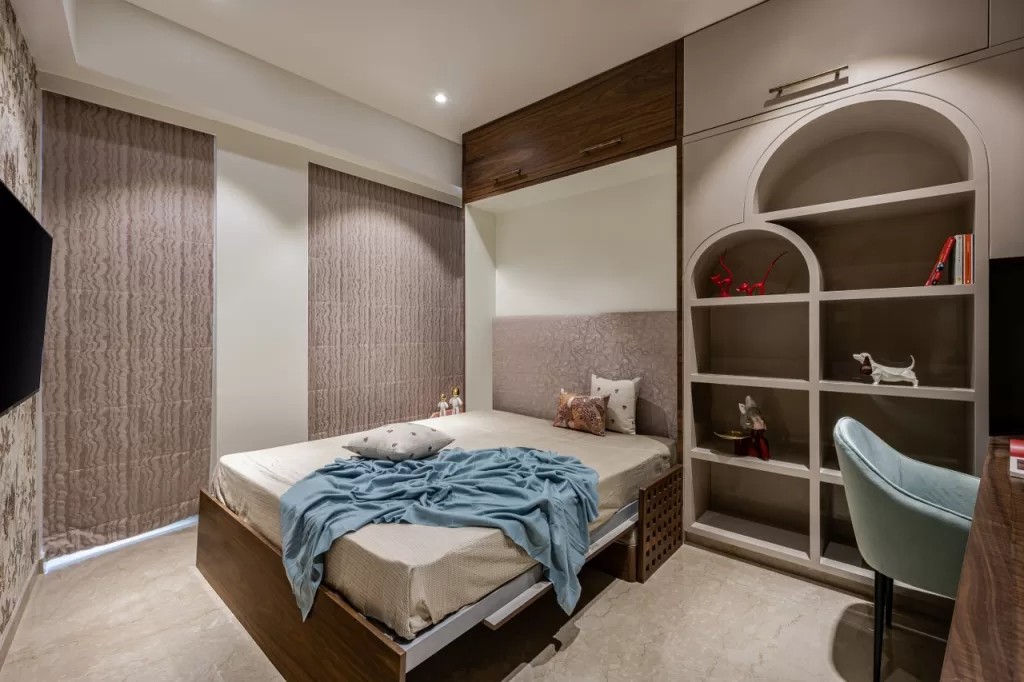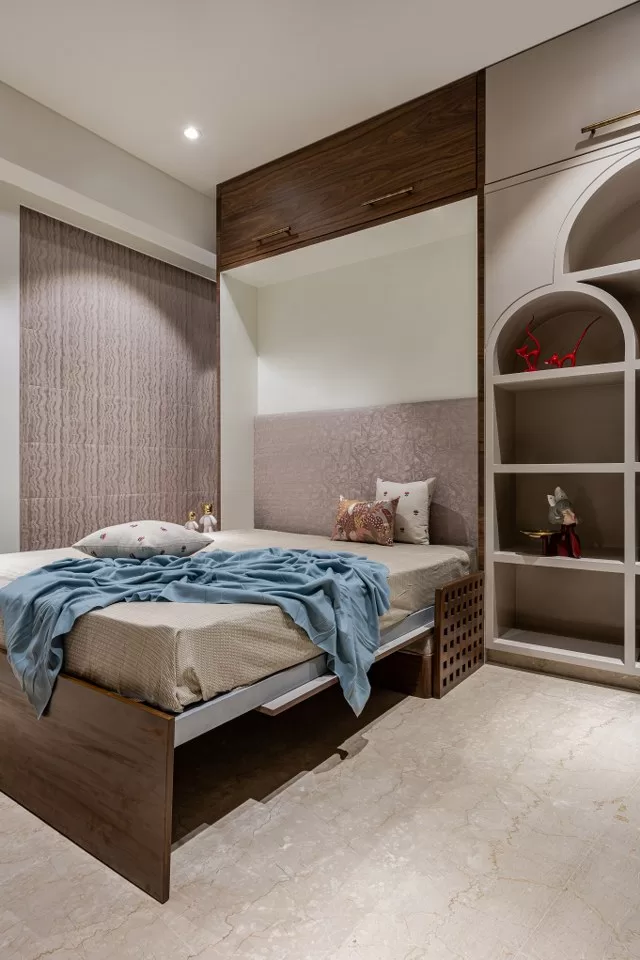 Ensuring that there are separate chairs and a shared study table ledge for the twins' homework, this bedroom interior was though fully designed to instill a reading and a drawing habit in the twins who prefer to learn and study together.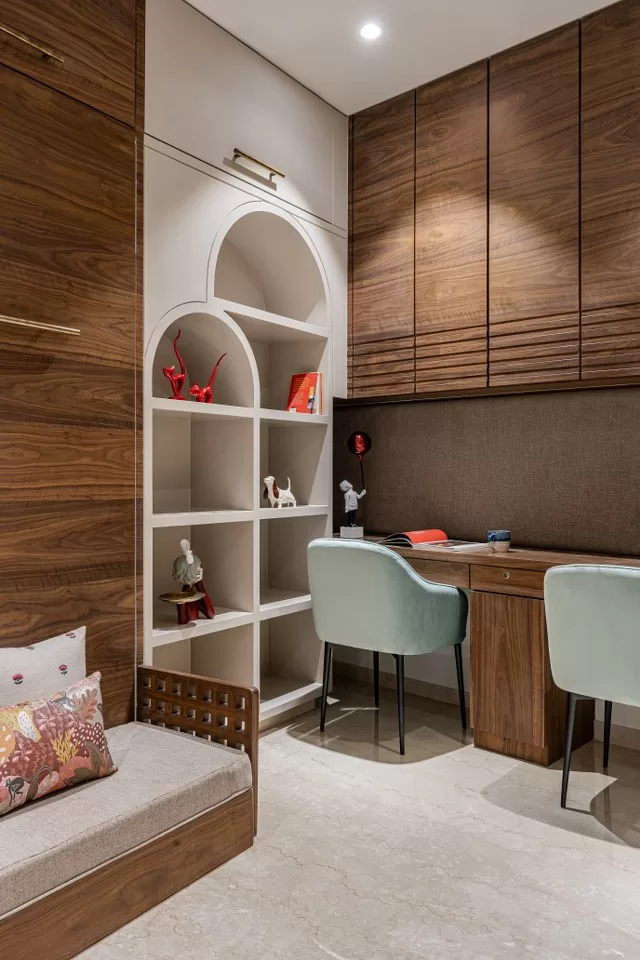 Overall, this interior design project for the luxurious 2BHK house in Mumbai aims to create a peaceful and a lavish living space that reflects the homeowner's taste and lifestyle while maximizing comfort and functionality.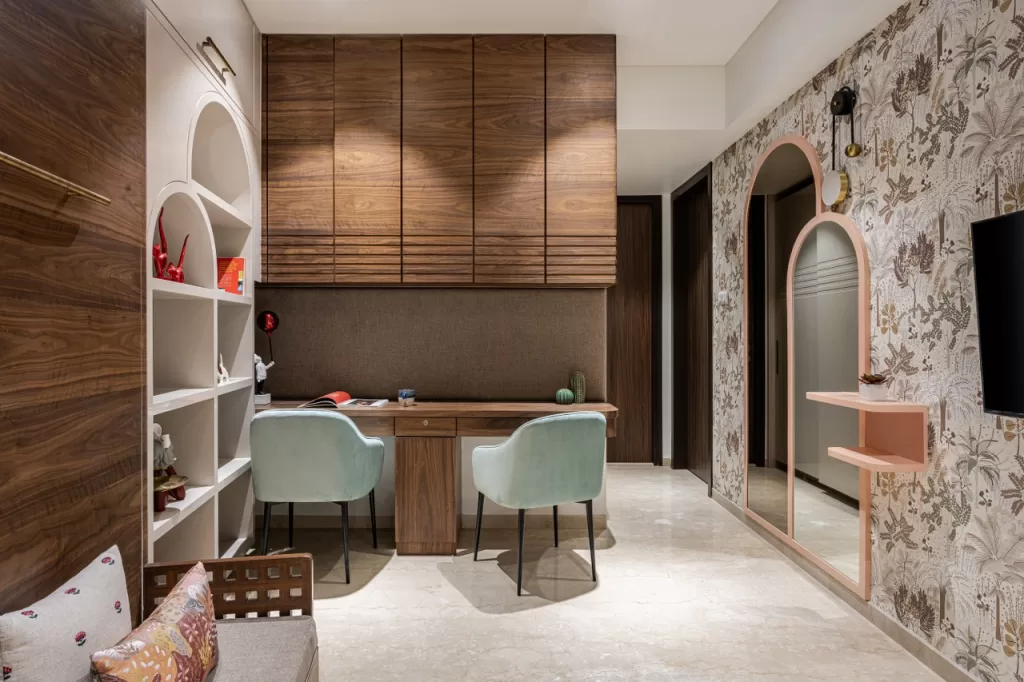 Fact File
Designed by: Design Storie

Project Type: Residential Interior Design
Project Name: The Enchanted House
Location: Mumbai, India
Year Built: 2023
Duration of the project: 6 Months
Project Size: 870 Sq.ft
Project Cost: 75 Lakhs
Principal Architect: Ar. Janvi Mehta
Design Credits: Ms. Mansi Doshi (Interior Designer)
Photograph Courtesy: Noaidwin Sttudio (Instagram)
Photograph Courtesy: Noaidwin Sttudio (Website)
Products / Materials / Vendors: Finishes – Texture paint from MeCasa / Wallcovering / Cladding – Jainuine marble, Powai / Construction Materials – Marble, plywood + veneer /PU paint / textured paint / lamination on veneers, slated wood, bronze tinted mirrors / Lighting – The White Teak Company / Doors and Partitions – Customized by team on site / Sanitaryware – Builder fitting / Facade Systems – Builder fitting / Windows – By Builder / Furniture – Coffee table, Dining table, side tables in living room by Cattelan Italia, Customized Sofa and study chairs by Blue Loft furniture, Mumbai, / Flooring – Marble already provided by builder / Kitchen – Hafele kitchen provided by builder and wall between kitchen and living room broken down and blue cabinets made on site / Artefacts – By Stylist Shreya Bhimani / Wallpaper – iDecorwala / Hardware – Hafele / Rugs – Living room rug from hatsu, Master bedroom 1 rug by Mirzapur rugs Kitchen countertop and wall cladding – Classic Marble Company – Kalingastone
Firm's Website Link: Design Storie

Firm's Instagram Link: Design Storie

Firm's Facebook Link: Design Storie

For Similar Projects >> A House Fostering a Modern Atmosphere and Offering Ample Space
The post A Mumbai Apartment that Aims to Create a Visually Stunning and Inviting Space | Design Storie™️ appeared first on The Architects Diary.