A space as colorful as the minds of its users. The main concept behind this design was to integrate the renowned Indian Education system of the Gurukul with a modern and integrated approach towards primary education. The structure was required to be fabricated as mobility of the structure was also of a major concern. Thus, the end result was a Modernized Gurukul, conceptualised to design this colourful pre-school in Gujarat.
A Modernized Gurukul, Conceptualised To Design This Colourful Pre-School In Gujarat | Shreesh Design Studio
VISIT : Shreesh Design Studio
The structure can be dismantled and rebuilt elsewhere as required. Each classroom acts as an individual entity in the form of blocks. The blocks have been placed in the Centre of the site in a circular fashion thereby making the central Amphitheatre the focal point.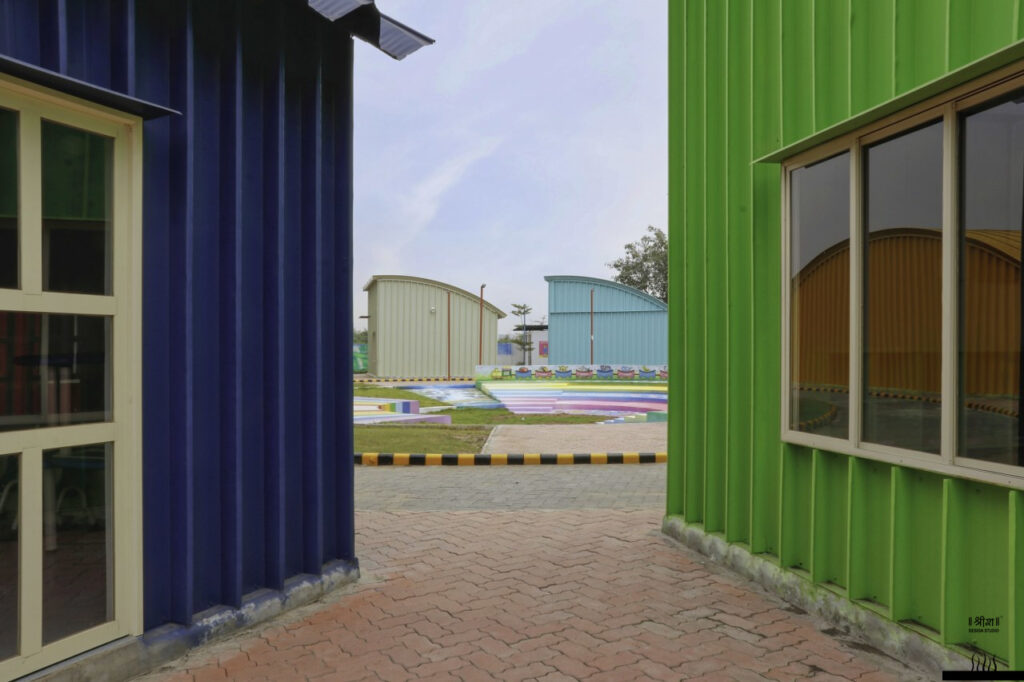 Bright and contrasting colors have been used on each and every block in the site which adds a whimsical feeling.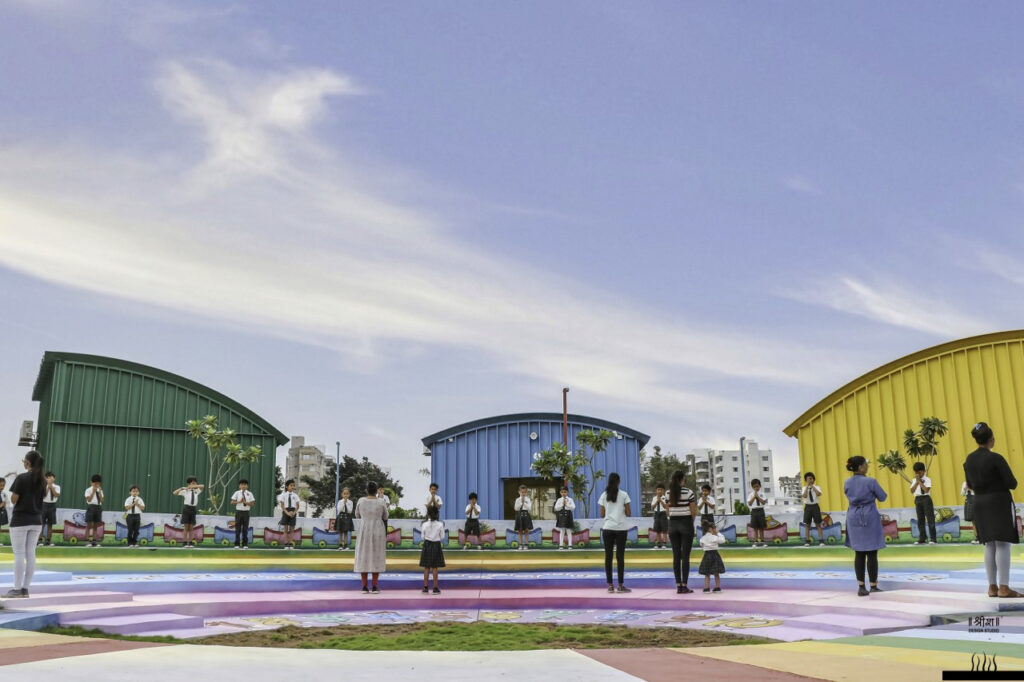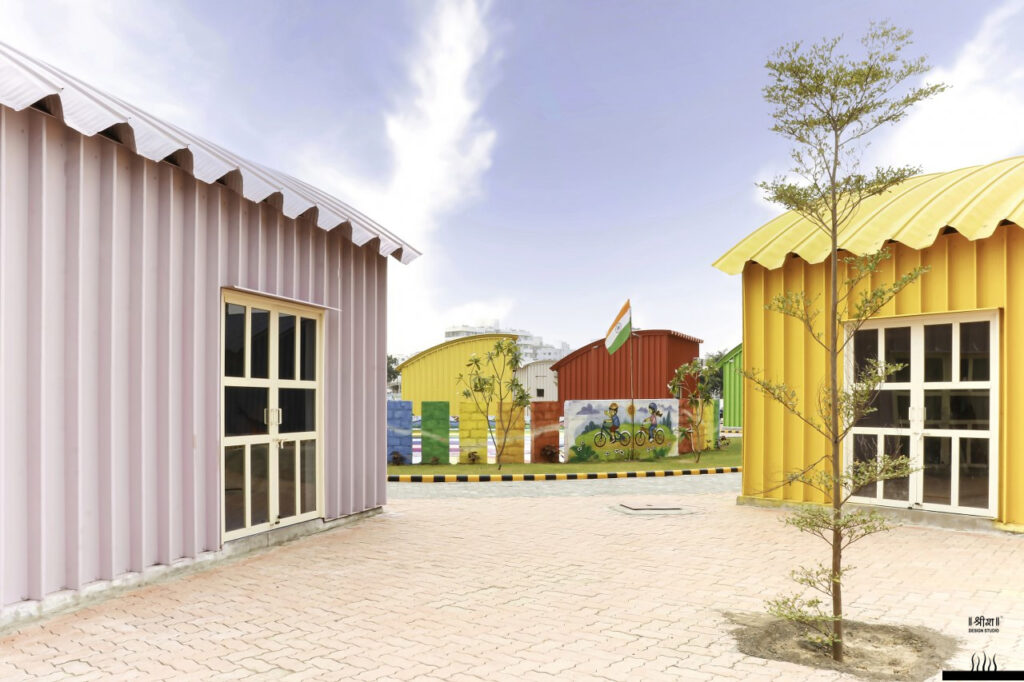 Circulation in the site is placed in a concentric fashion. The passage created around the central- amphitheater acts as the main circulation pathway and can be used by the students as a cycling track as well. The subtle tone acts in such a manner so as to not depose the overall cohesiveness of the blocks and other features.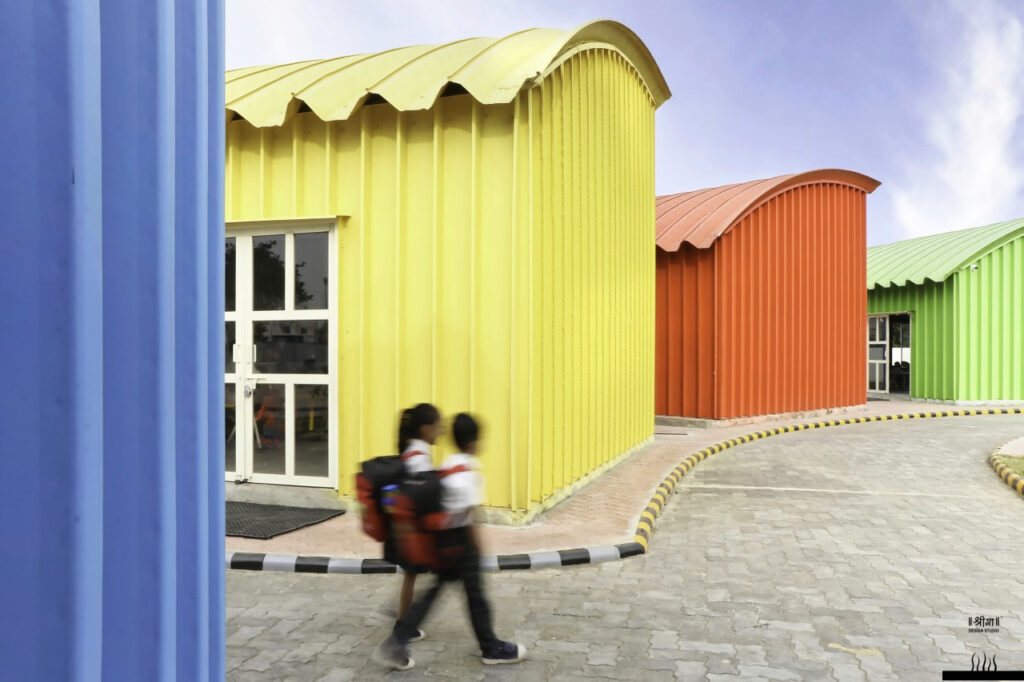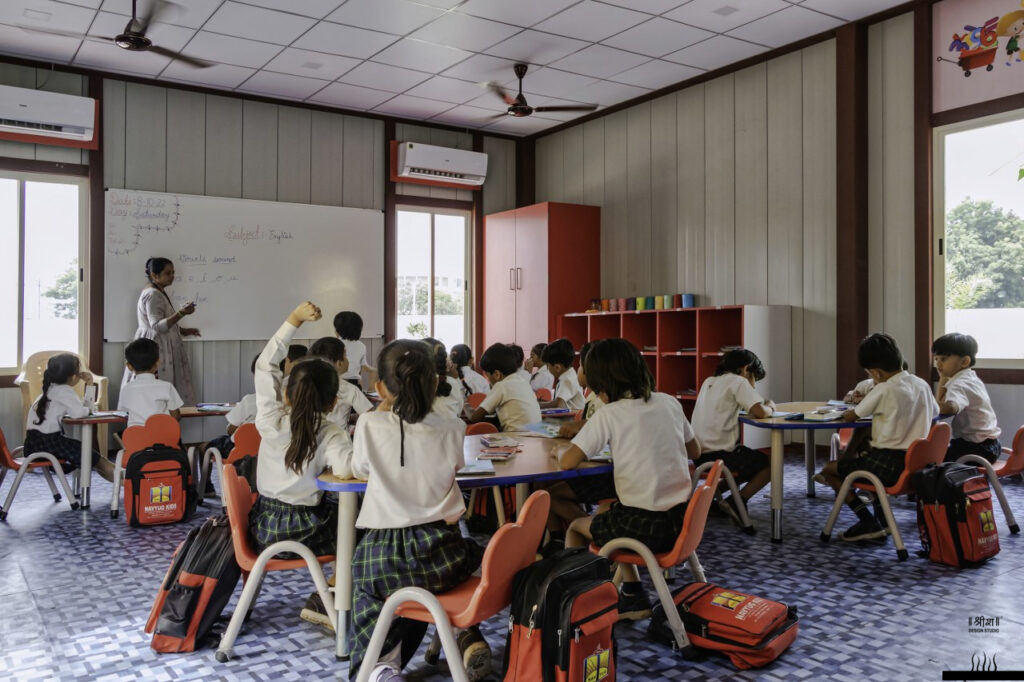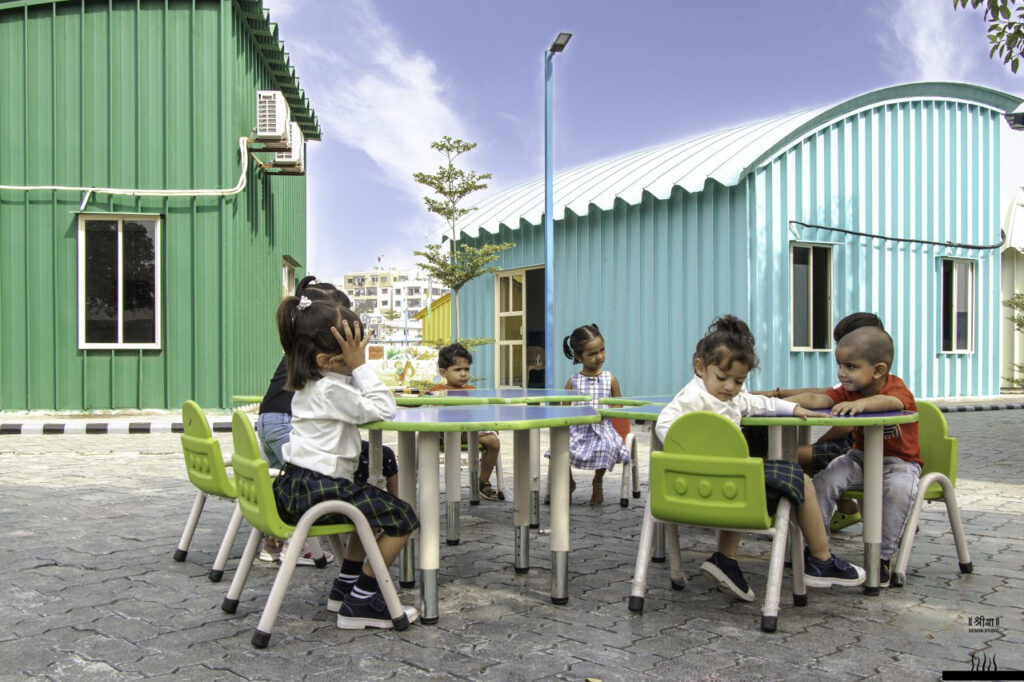 Various tactile elements have also been introduced in the form of sand pits, swimming pool and landscaping.
The uses of barricades are kept to a minimum in these spaces so that students can feel a sense of cohesiveness and openness during playtimes and they can have an unrestricted access to all areas.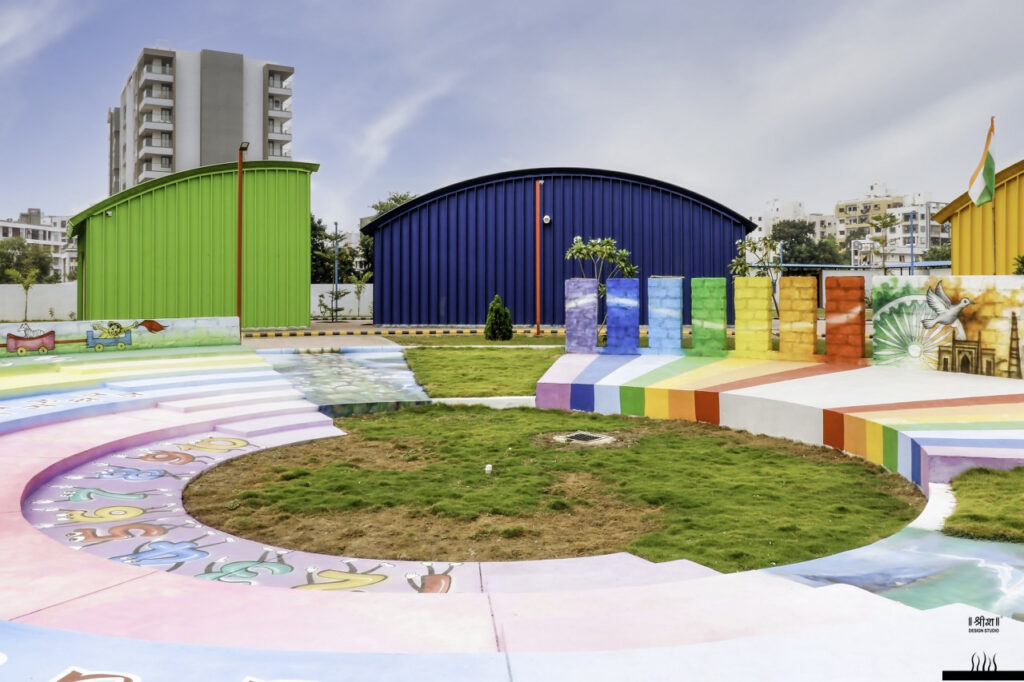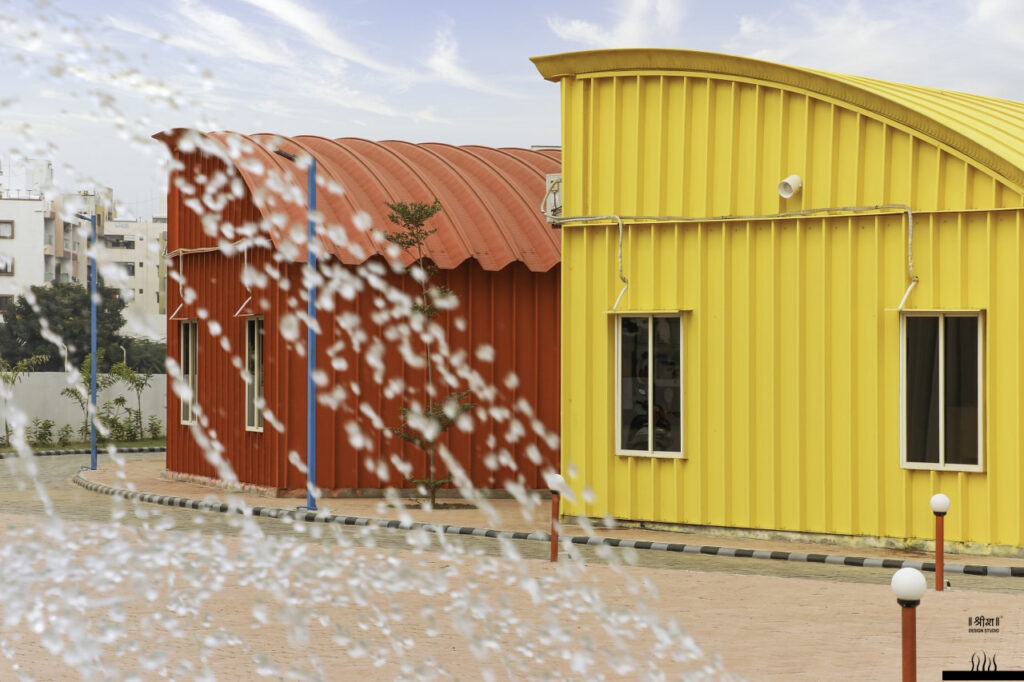 A fountain has been placed at the entrance of the site that acts as a calming and serene element and adds to the tactile experience in the site. Each and every constituting element is placed so as to induce maximum functionality and style. The project was completed in 4 months.
FACT FILE
Designed by : Shreesh Design Studio
Project Type : Institution
Project Name : Pre-School
Location : Ramoji Farm, Canal road, Morbi, Gujarat
Year Built : 2022
Duration of the project : 4 Months
Plot Area : 66,061 Sq.ft
Built-up Area : 11,333 Sq.ft
Project Size : 66,061 Sq.ft
Project Cost : 3 CR
Principal Designers : Dishit Parsana & Haresh Parsana
Team Design Credits : Rushi Tank, Kishan Rathod, Devanshi Vyas & Ayushi Lahothy
Photograph Courtesy : Smit Mehta
Products / Materials / Vendors : Construction Materials – Proflex / Facade Systems – Proflex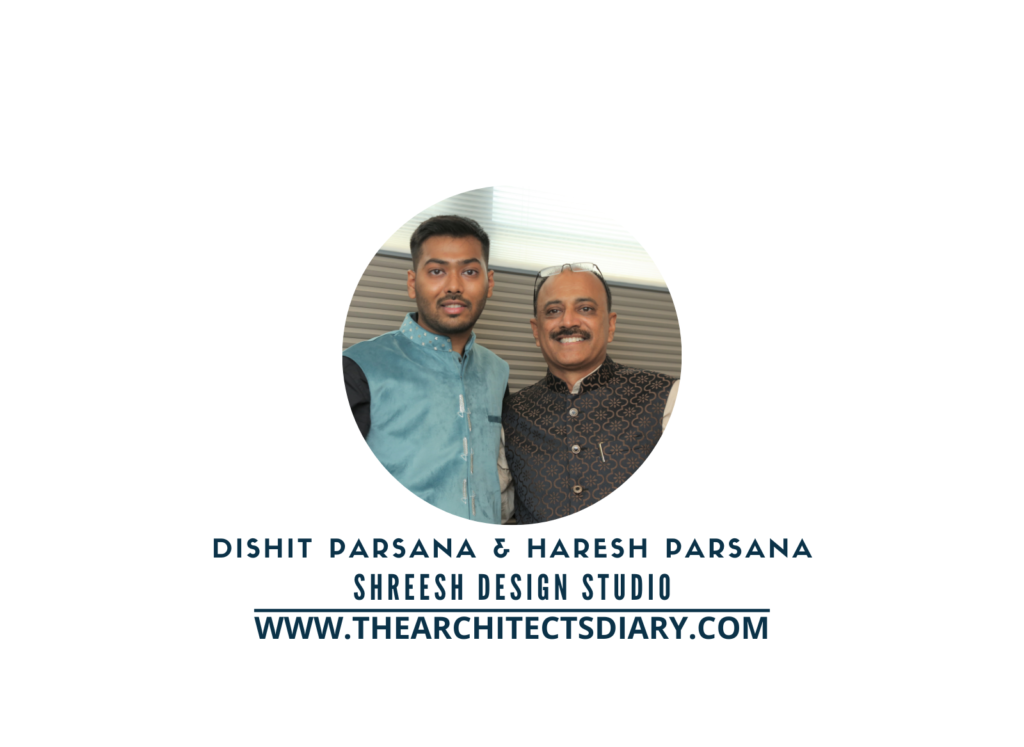 Firm's Website Link : Shreesh Design Studio
Firm's Instagram Link : Shreesh Design Studio
Firm's Facebook Link : Shreesh Design Studio
For Similar Project >> WARM, PLAYFUL AND HEALTHY ENVIRONMENT FOR THE YOUNG SCHOOL CHILDREN


The post A Modernized Gurukul, Conceptualised To Design This Colourful Pre-School In Gujarat | Shreesh Design Studio appeared first on The Architects Diary.