It is located in the legal district of Mumbai, Fort. The client was sure from day 1 as to the look and feel of his office. The building where the office is situated is a very old heritage structure, around 90 years old. Trying to incorporate the culture of the building as well as the client's profession was extremely interesting. As it is a lawyer's office, using darker tones and finishes was something we thought would work really well to get a certain seriousness and maturity to the space. Moulding, tan leather furniture and a few gold accents were used. Our take on this project was a modern twist to a British Victorian style lawyer's office.
A Modern Twist To A British Victorian Style Lawyer's Office | The 24th Studio
Visit : The 24th Studio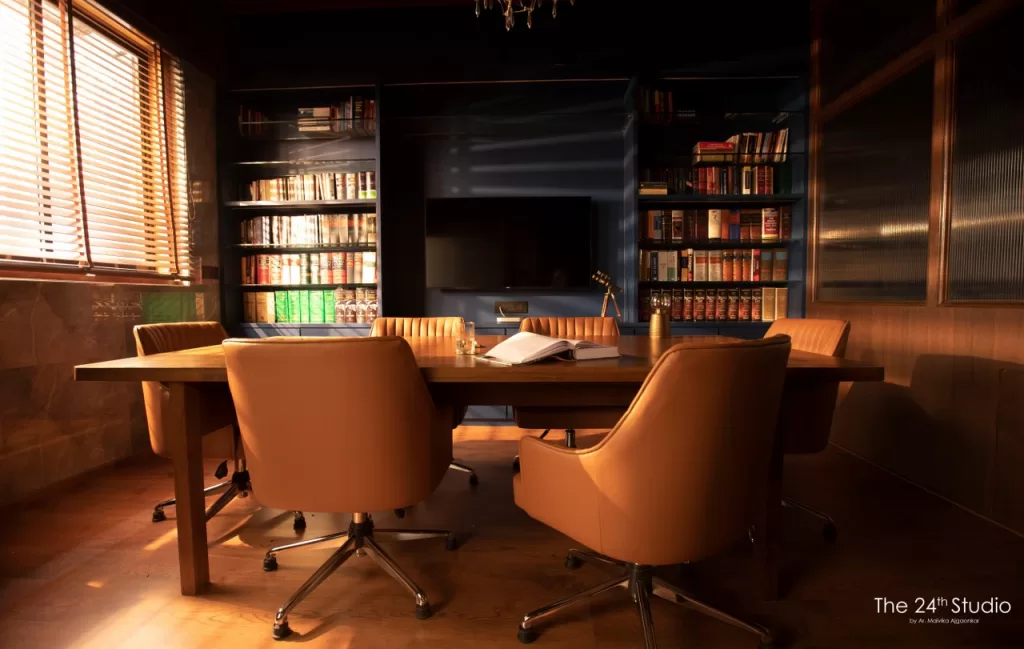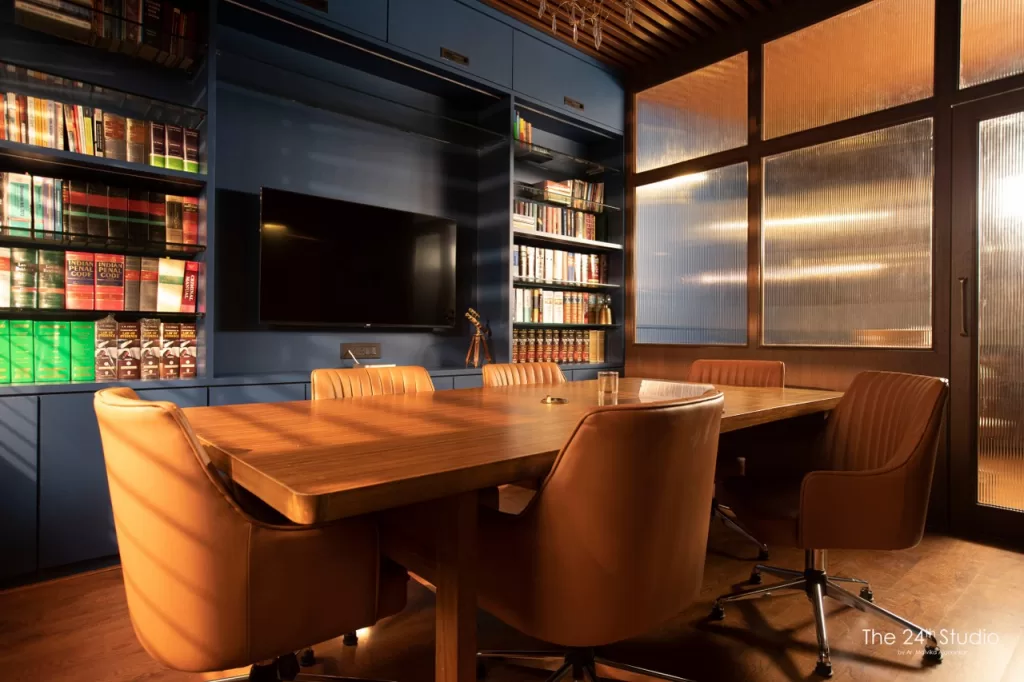 The most favourite part of the office for my team would be the lighting of this project. The lighting of it could be controlled depending on the client's requirement, whenever and however necessary.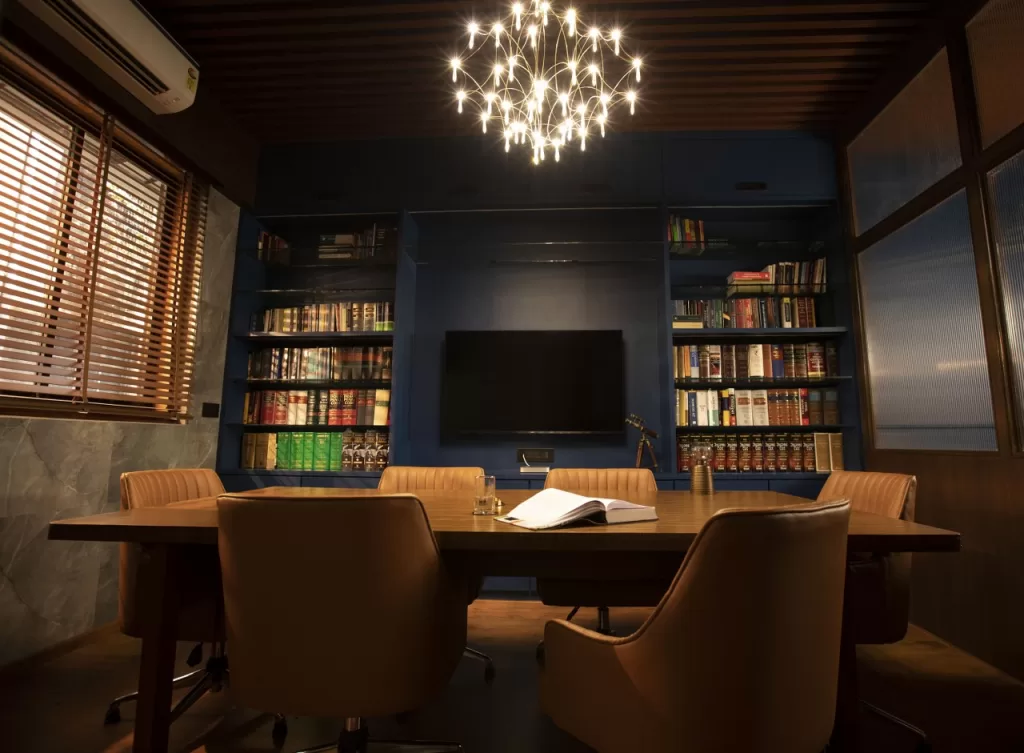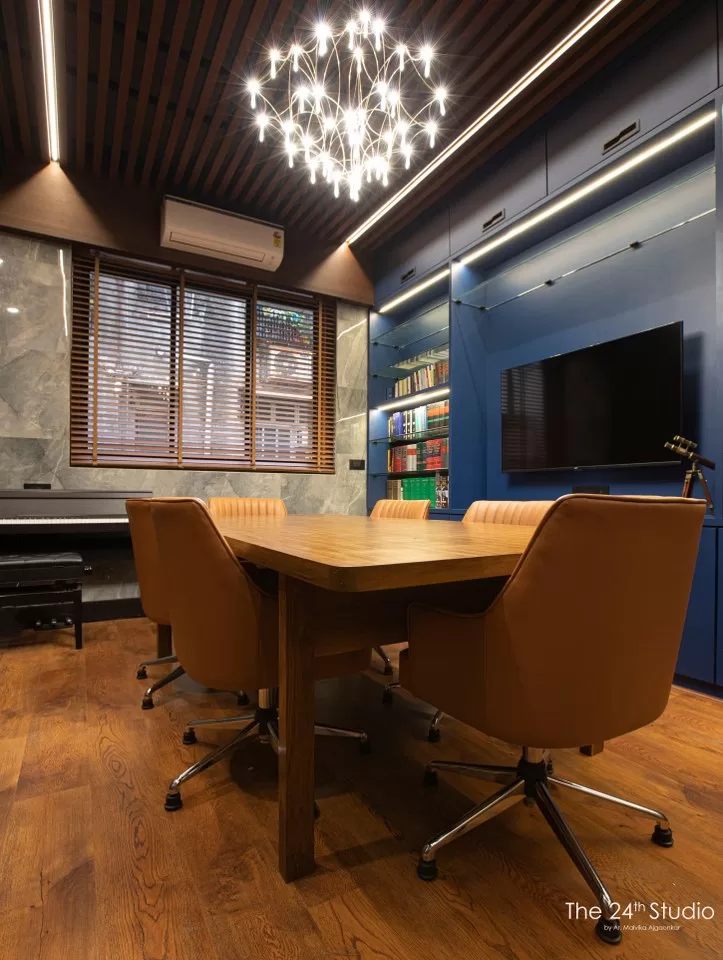 There was a major setback in this project- the lack of natural light. As you know, Fort is known for it's vintage skyline, same goes for the lack of side margins in a few places. Our building was surrounded by old structures from 3 sides, which caused a little bit of hesitation to go for darker colours and finishes.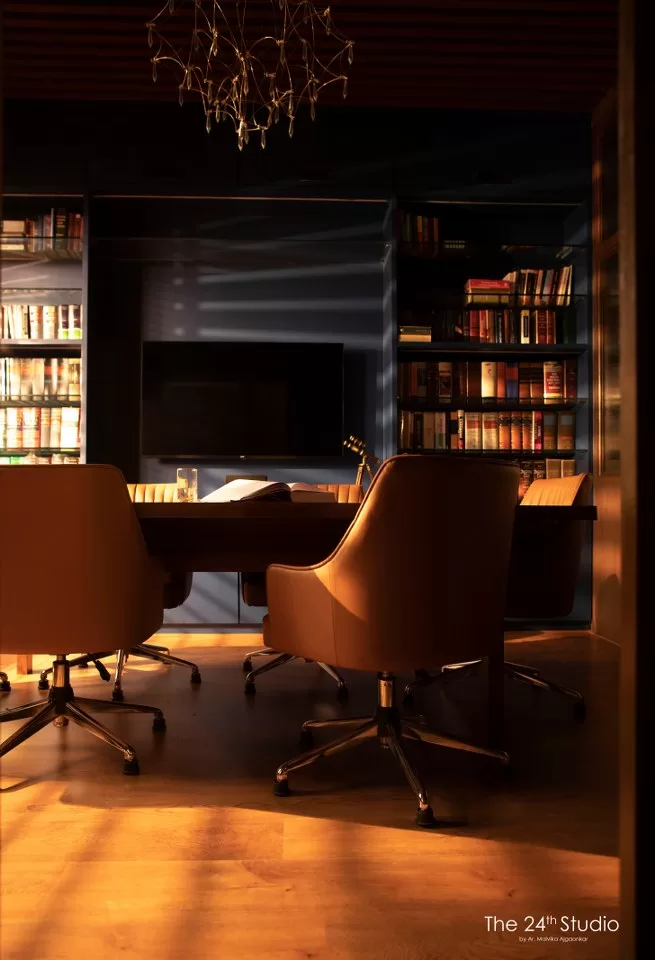 The process of this project was very interesting, Aditya came to us with a note saying, "I don't want a mundane work office. I want to feel like it's my own Chamber."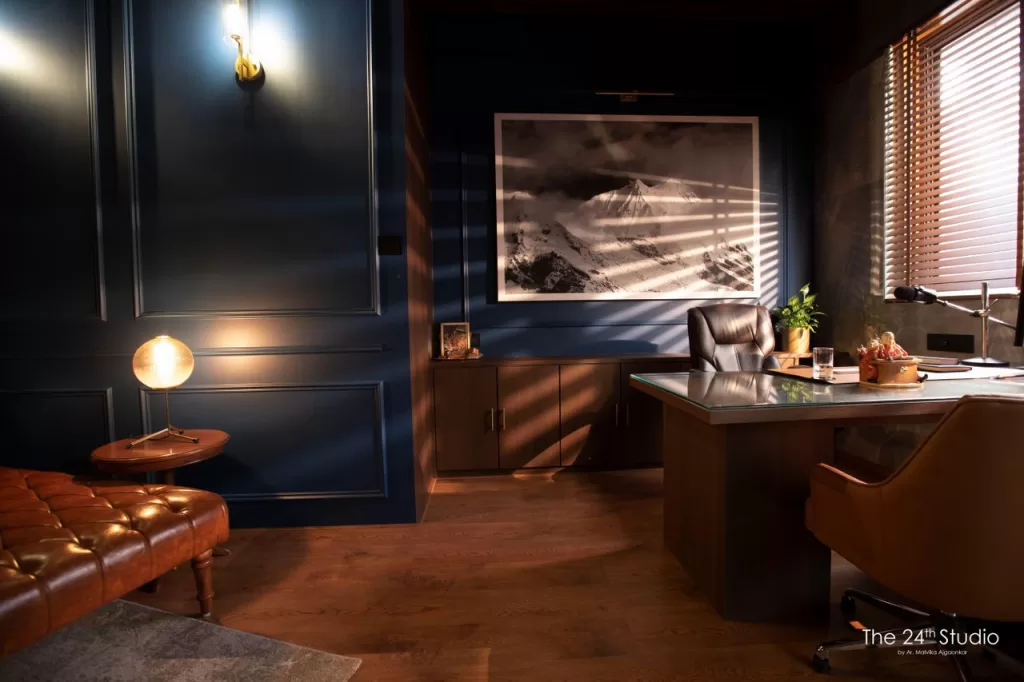 We started brainstorming the concepts with the initial idea of going extremely vintage and replicating the feel and thought of a Victorian British Lawyer Chamber. Once we started coming up with drawings and 3D visuals, the client had started liking our modern take on his vintage thought. The Baffle ceiling was something which added that oomph to this project. We then prepared the drawings, elevations etc for site.
After a point, the wall finishes were to be finalized, the colours, mouldings etc, and that is when we had a very tough time convincing the client about the right shade of BLUE. We sampled around 10-12 shades to get the right one, thanks a lot to a very patient painting team.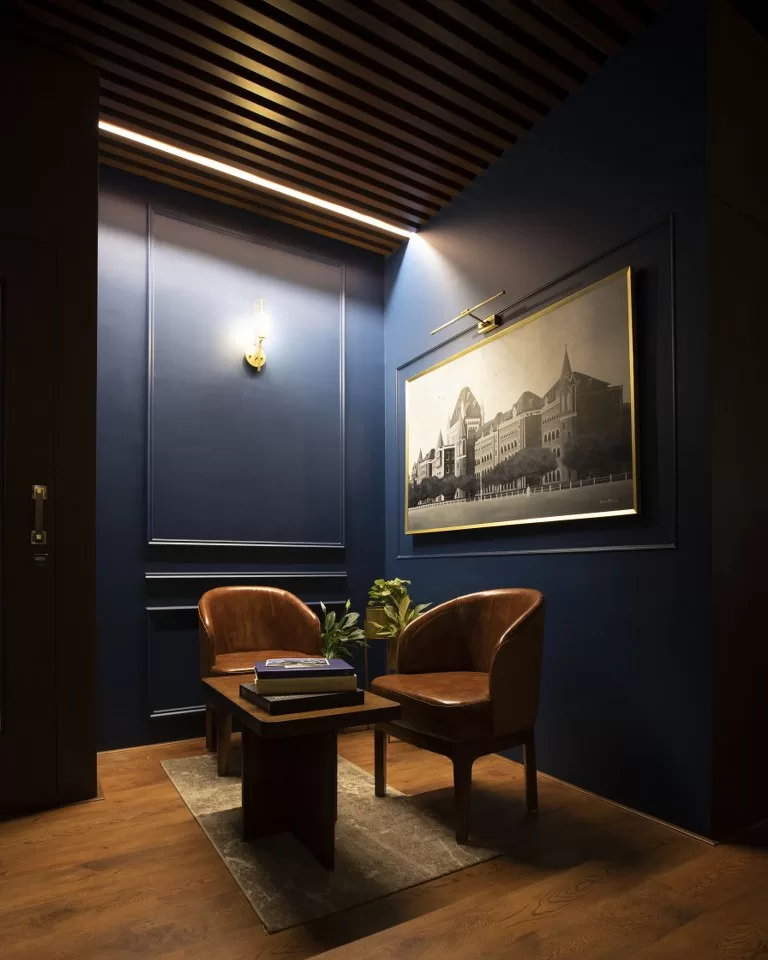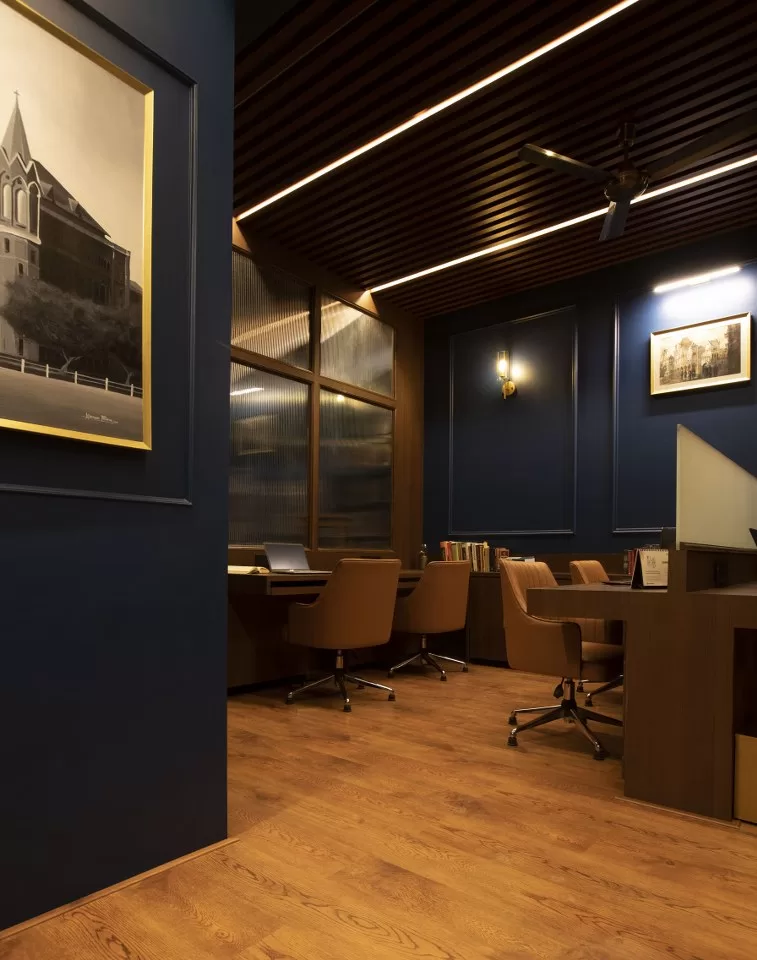 We then went ahead with it and after the entire wall was painted, we asked Aditya for his approval, and since then the only thing he says to me is "The entire blue colour palette is off your design. I don't want you to use this blue anywhere, it is only meant for my office."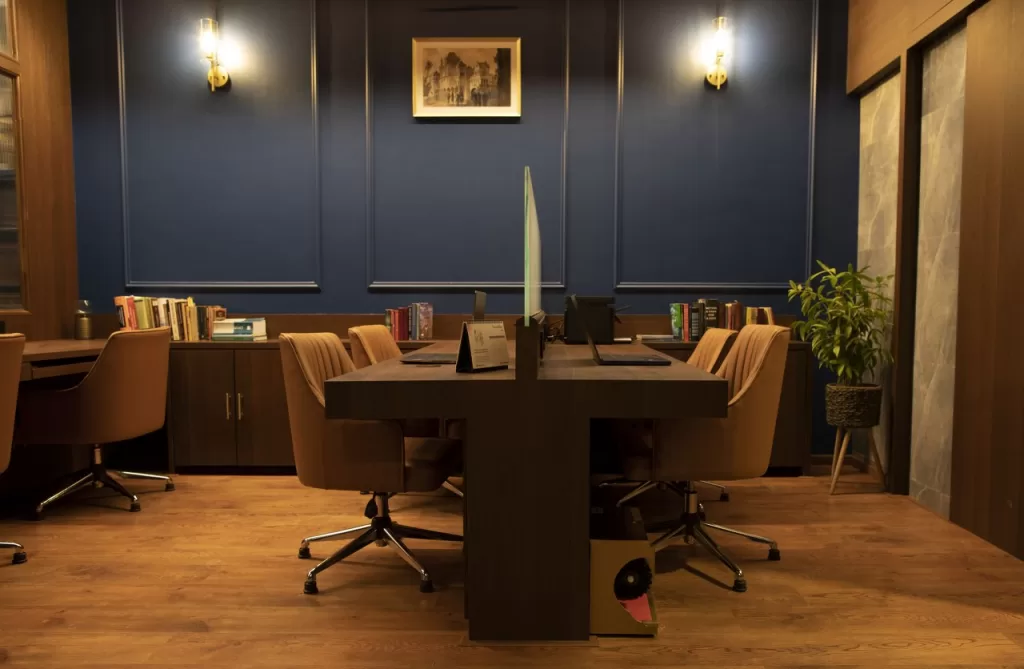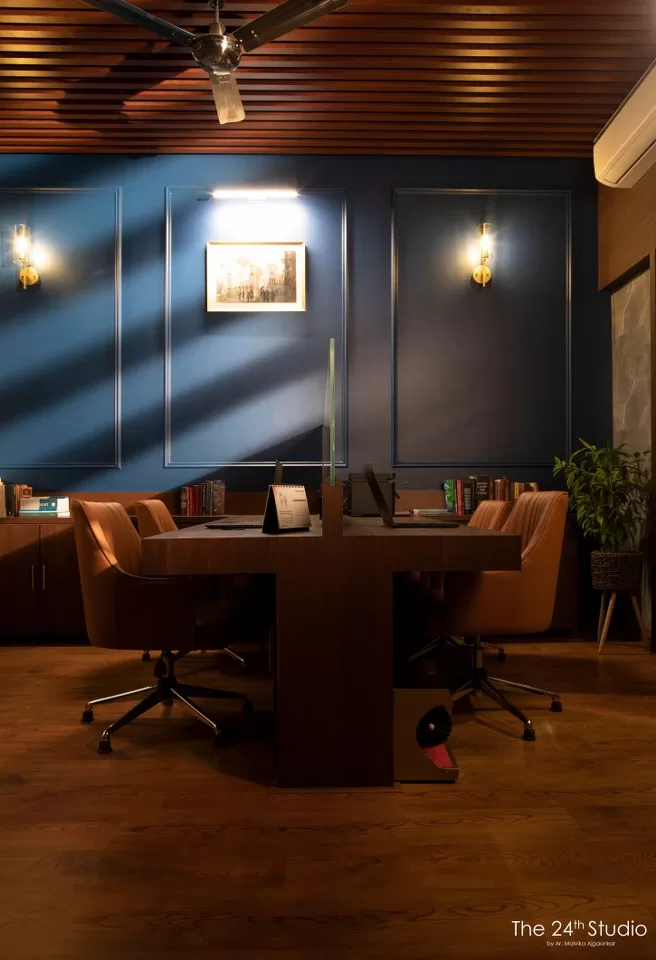 This project was just such a great experience and I have learnt so much from it. I would like to thank Aditya and Adrika for being the perfect clients and especially for their positive involvement making this project so special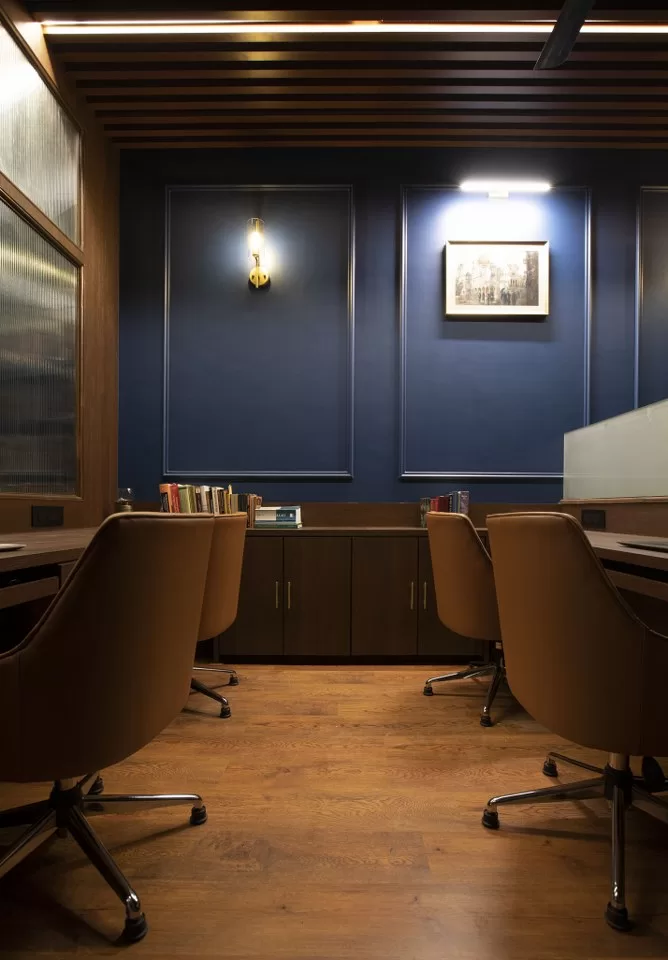 Fact File
Designed by : The 24th Studio
Project Type : Office Interior Design
Project Name : The Chambers
Location : Fort, Mumbai
Year Built : 2023
Duration of the project : 4 months
Project Size : 900 Sq.ft
Principal Architect : Ar. Malvika Ajgaonkar
Team Design Credits : Jayanta Roy
Lighting Designers : Mr. Tapas Chakroborthy
Project Managers : Mr. Shaufiq Sayed
Photograph Courtesy : Harshwardhan J Patil
Products / Materials / Vendors : Lighting – Zeus Lights / Flooring – Easy Classic Collection- Denver Oak / Paint – Asian Paints / Artefacts – Vriksha Nursery
Firm's Instagram Link : The 24th Studio
For Similar Projects >> A Workspace Design For An Up And Coming Hair Colour Brand – Birds of Paradyes
The post A Modern Twist To A British Victorian Style Lawyer's Office | The 24th Studio appeared first on The Architects Diary.