Notion
The line is the clearest and most defining feature of an interior design in the contemporary style. A modern-style home that has strong visible lines and has monochrome accents whether they be linear top or bottom lines or curved shapes. The empty space on walls, in between furniture pieces, and above in higher sections becomes just as significant as the spaces occupied by objects. Less is more in contemporary interior design. Every piece shines out as distinct and individual in this setting.
A Modern-Style Home that has Strong Visible Lines and has Monochrome Accents | Sculpt Design Studio
Visit : Sculpt Design Studio
Realization
A room done in a contemporary style looks great when there is a liberal use of, stone, and transparent or opaque glass. Our team has richly used textured textiles in basic hues for window coverings, pillows, or rugs to soften and warm up a space. Since they confound the plain space that is essential to a contemporary-style home, fussy designs have been avoided. Often, prints with two tones look good. In addition, overcrowding contemporary-styled spaces with collections or excess furniture is avoided. In contemporary home design, open space is frequently just as significant as the furnishings you use.
The living room's interior is a universal synthesis of decency, nobility, sublime sophistication, and pragmatism with contemporary materials and cutting-edge design concepts. It is furnished with attractive accessories, lovely furniture, high-quality materials, and decor, which give it a neat and elegant character.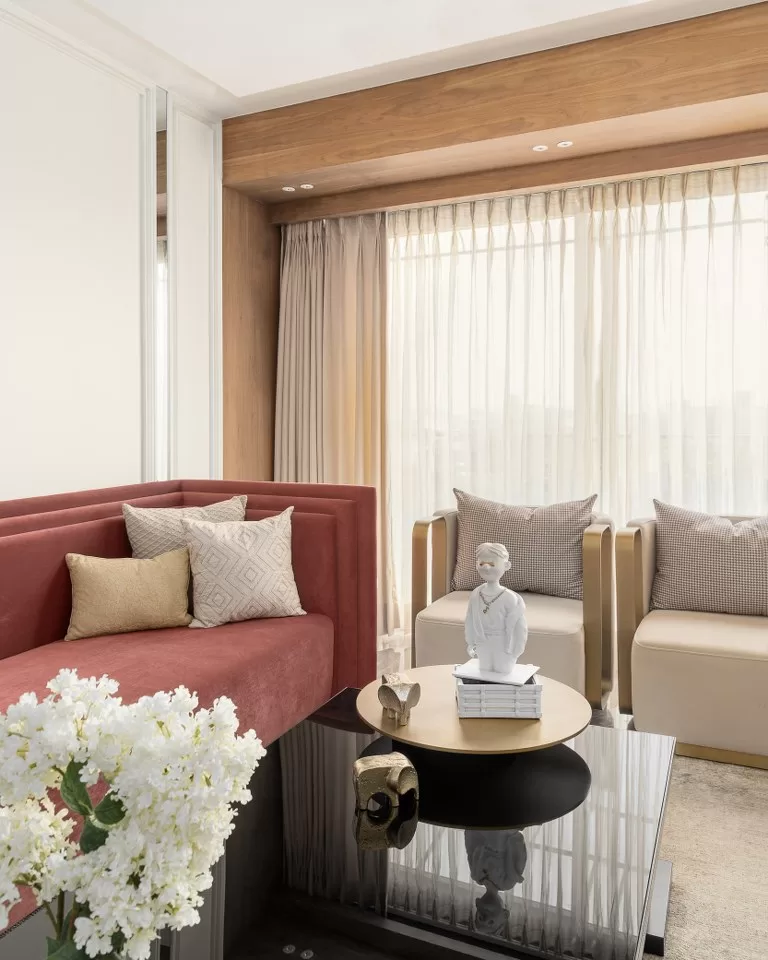 The major material used to highlight the wall is rough-finished stone, which provides the wall with more texture along with its muted color palette. The room has a natural palette with harmonious color combinations.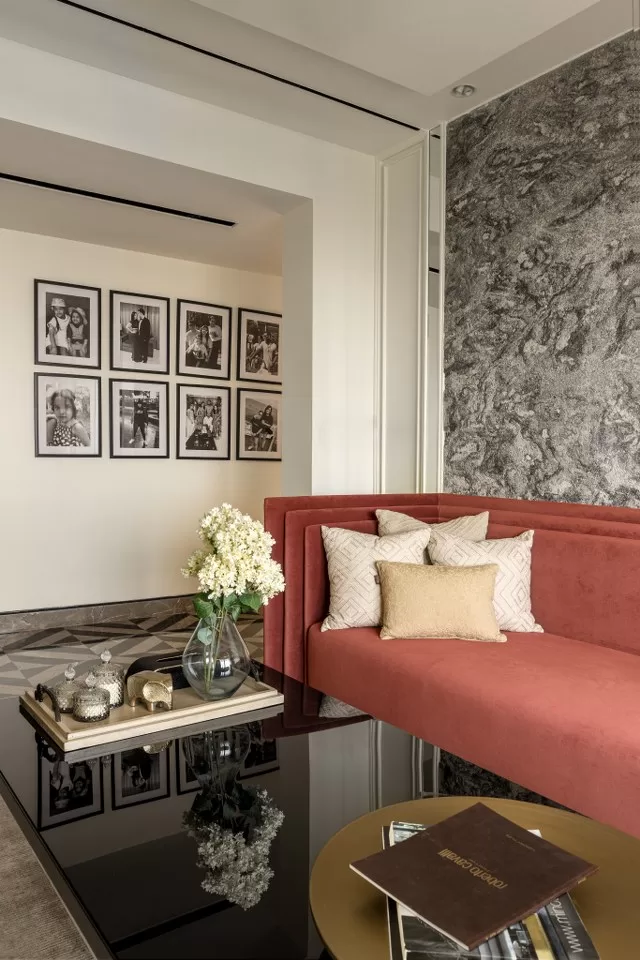 Off-white, cream, and beige colors make up the main color scheme, and we added rust upholstery to the sofa to break up the monotony of the room. Even though the area is minimalist, it is created to look luxurious.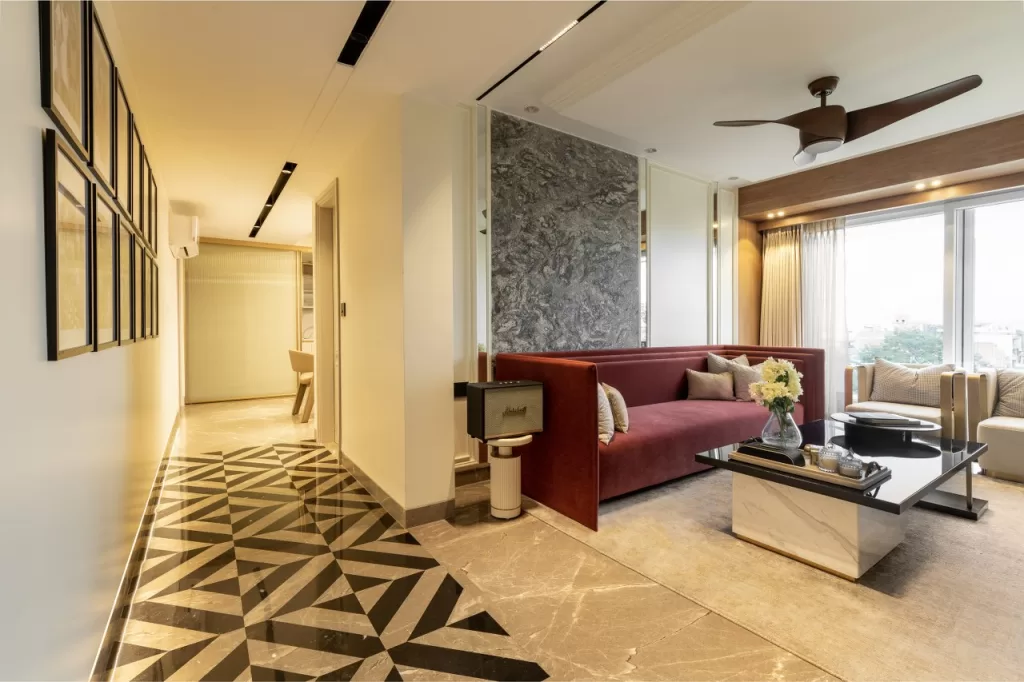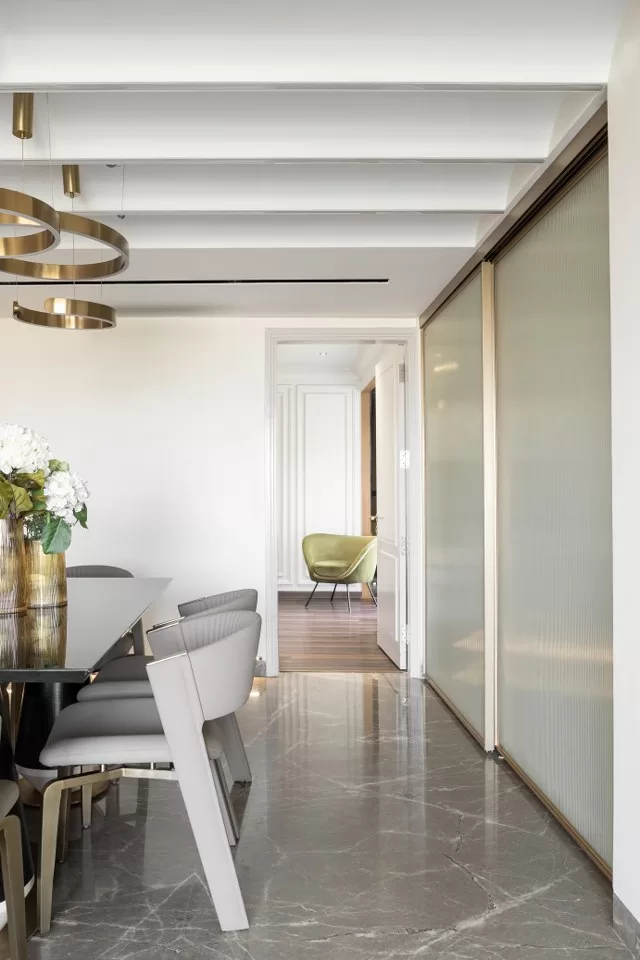 The beautiful bedrooms with a grey theme have enhanced the entire sleeping area. The contemporary step moldings with scooped flutings enhance the wall's design.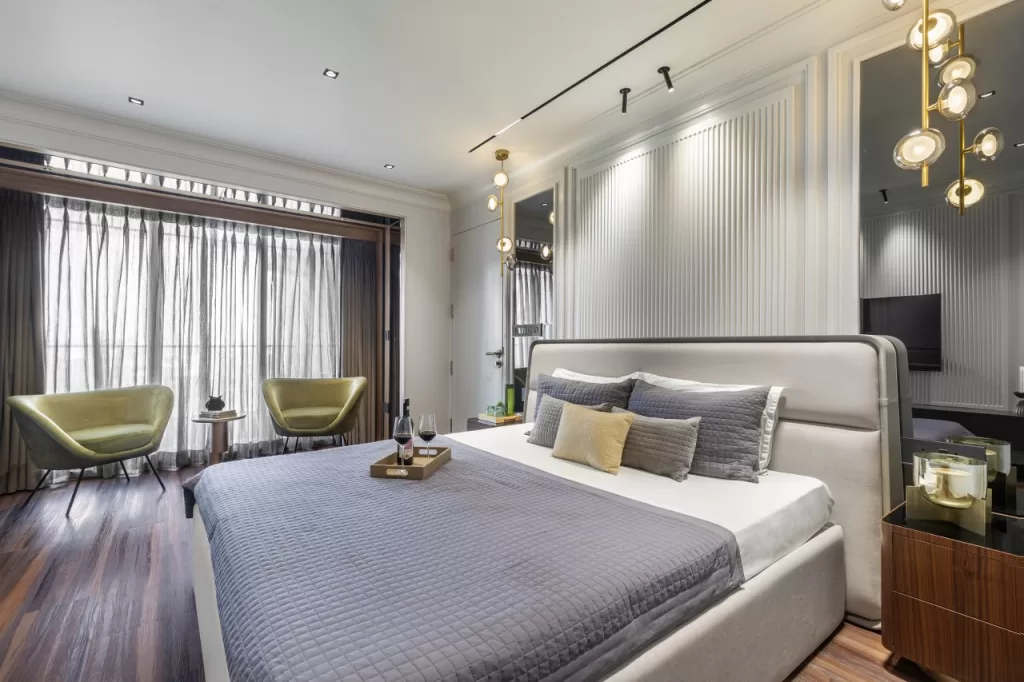 To emphasize the overall design, gorgeous bedside metal pendant lights are installed in front of grey mirrors.
Mirrors next to windows and behind lights helped the room feel lighter and airier by reflecting light. The stunning grey headboard for the bed and the lovely green accent chairs really made the bedroom pop.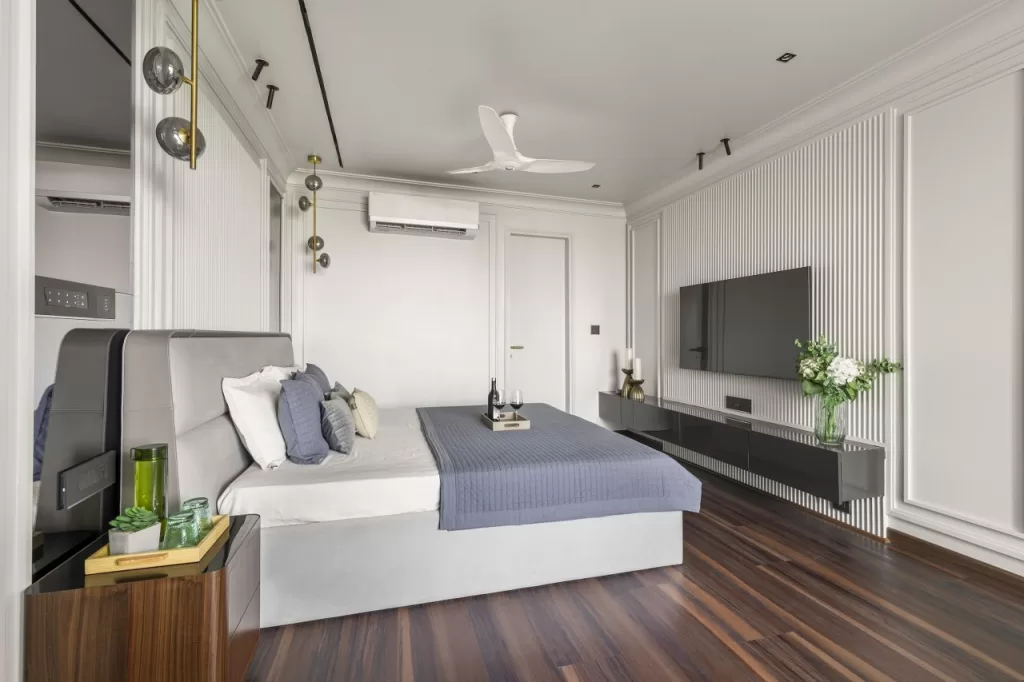 The minimalist bedroom was created with a carefree aesthetic and a laid-back appearance, making it resemble the bohemian design approach. Every personal room in the house is created to represent the owner's personality while maintaining a simple aesthetic of the entire residence.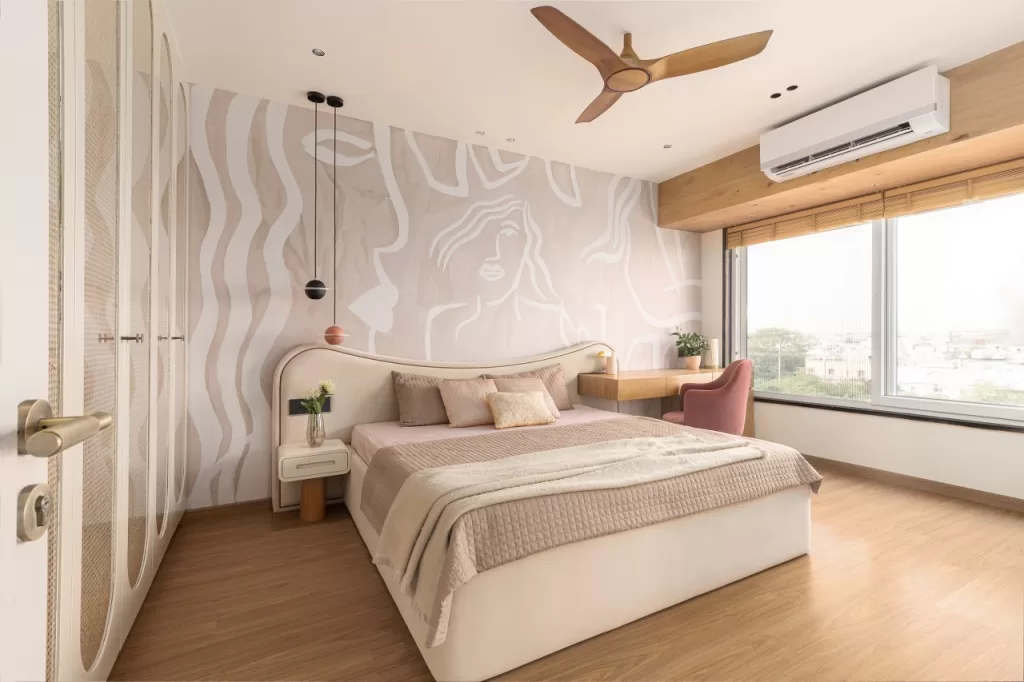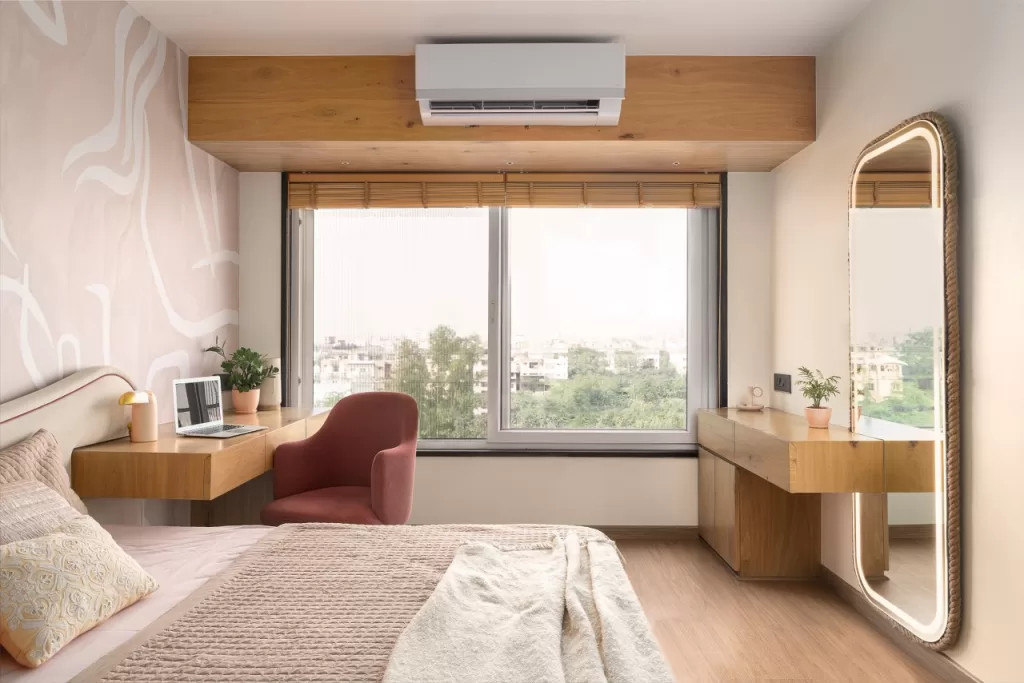 A tranquil sanctuary influenced by bohemian aesthetics is filled with textured neutrals and a variety of materials. The backdrop of the wall is a stunning, vibrant shade of pink, adding to the bedroom's overall aesthetic.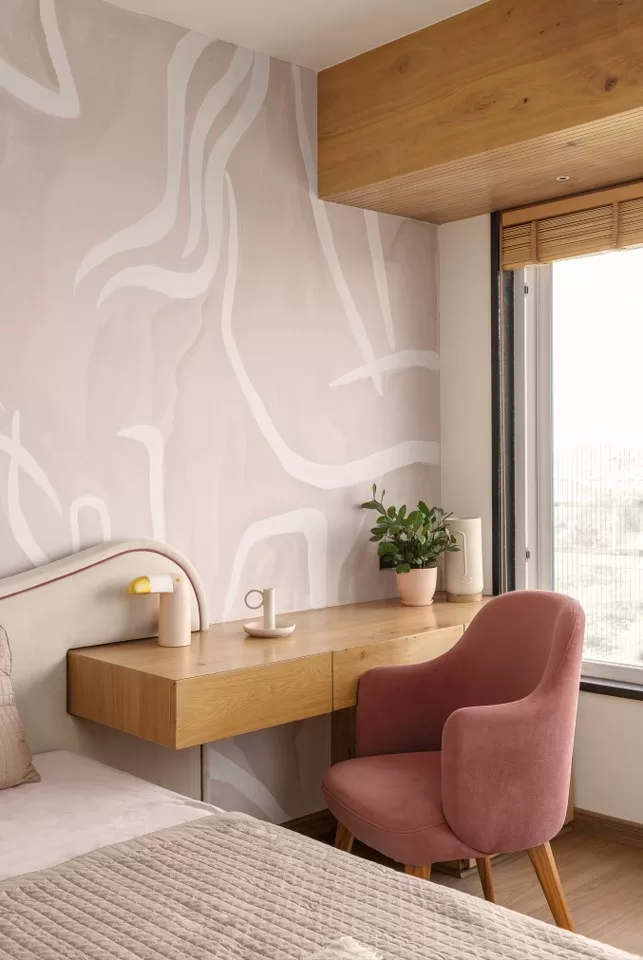 With the use of natural wood, off-white upholstery, and cane-sandwich wardrobe shutters, the warm and natural material palette is clearly defined.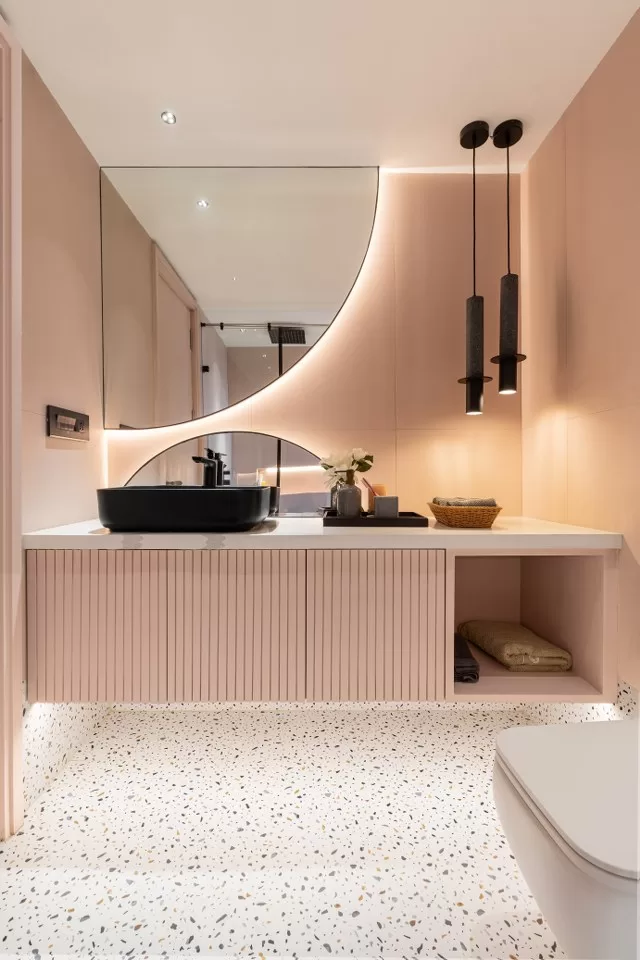 An ideal illustration of a daring bedroom features a terracotta ceiling, the same bed finish, a concrete-textured back drop, and charcoal grey flutters on top of the texture paint.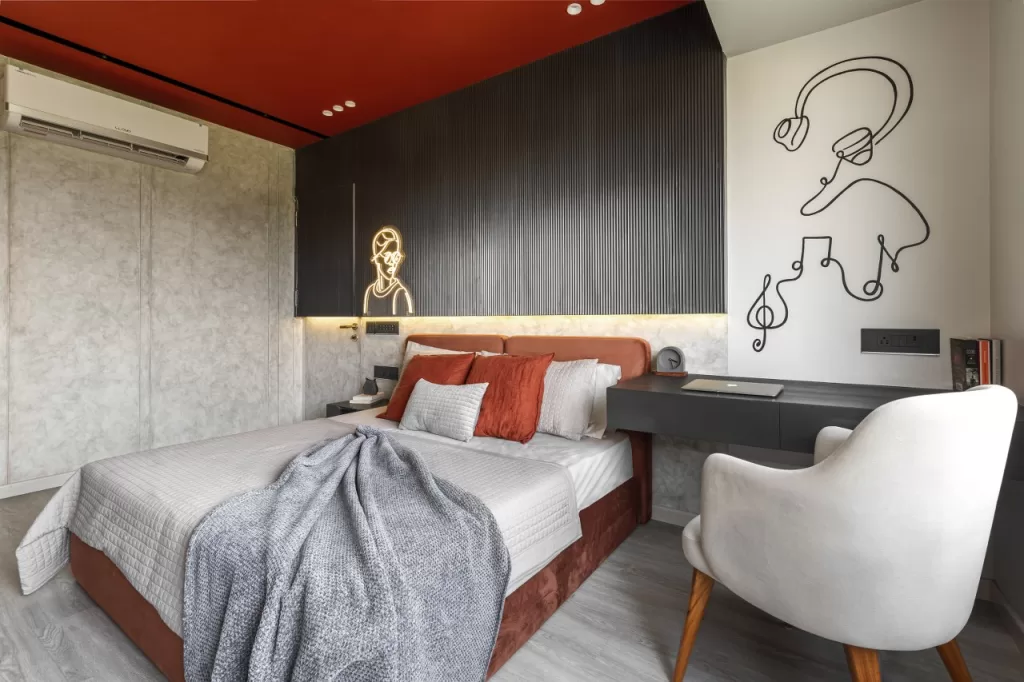 The shelf, which is ideally positioned, the light artwork on the bed back, and the beautiful line drawing above the study table all contribute to the room's overall aesthetic. The bold and eclectic personality of the user is defined by the overall environment.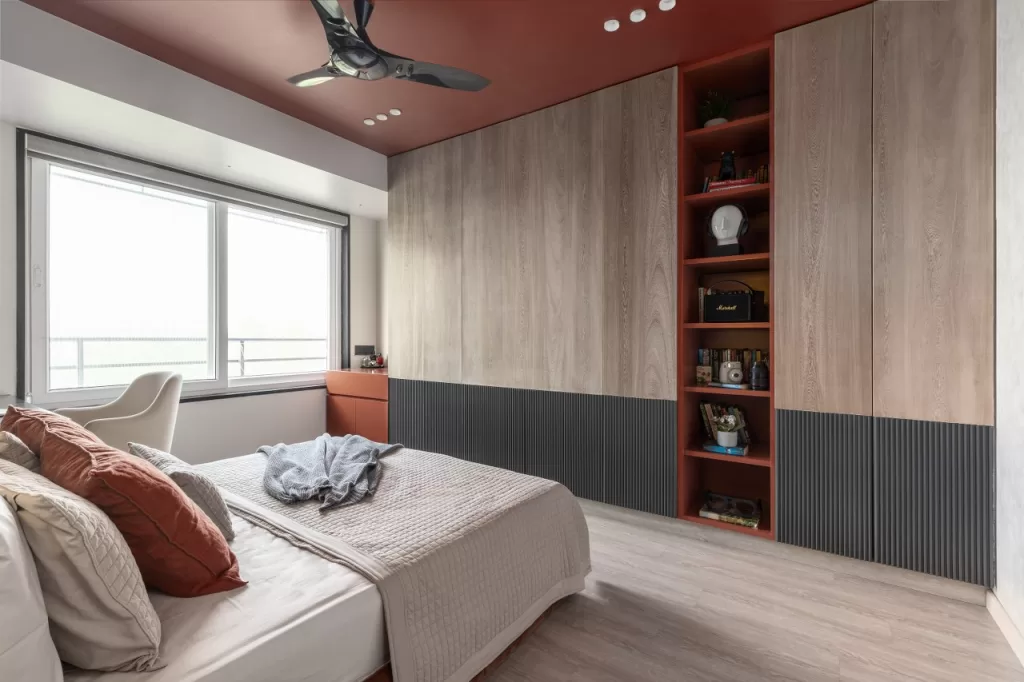 Because of the room's limited space, the wardrobe adjacent to the shelves is another interesting aspect of the area. It is made to look like a wall paneling.
Fact File
Designed by: Sculpt Design Studio
Project Type: Apartment Interior Design
Project Name: The Humble Abode
Location: Rashmi Apartment, Pitampura, New Delhi
Year Built: 2022
Duration of project: 8 Months
Project Size: 1600 Sq.ft
Principal Architects: Chirag Gupta & Ar. Vardha Aggarwal
Design Credits: Ruchira Grover
Photograph Courtesy: Takenin Studio
Products / Materials / Vendors: Lighting –Claro Lights / Sanitary ware – Kohler / Furniture –Klismos Furniture Pvt Ltd / Flooring –Stonex / Rugs – Jaipur Rugs / Pu Paint –Sirca / Wall paint- Asian Paints / Artifacts – Pure Home Living, White Teak,Table Twist / Texture Paint –San Marco / Hardware – Hafele Furnishings- Spread spain, Floor furnishings.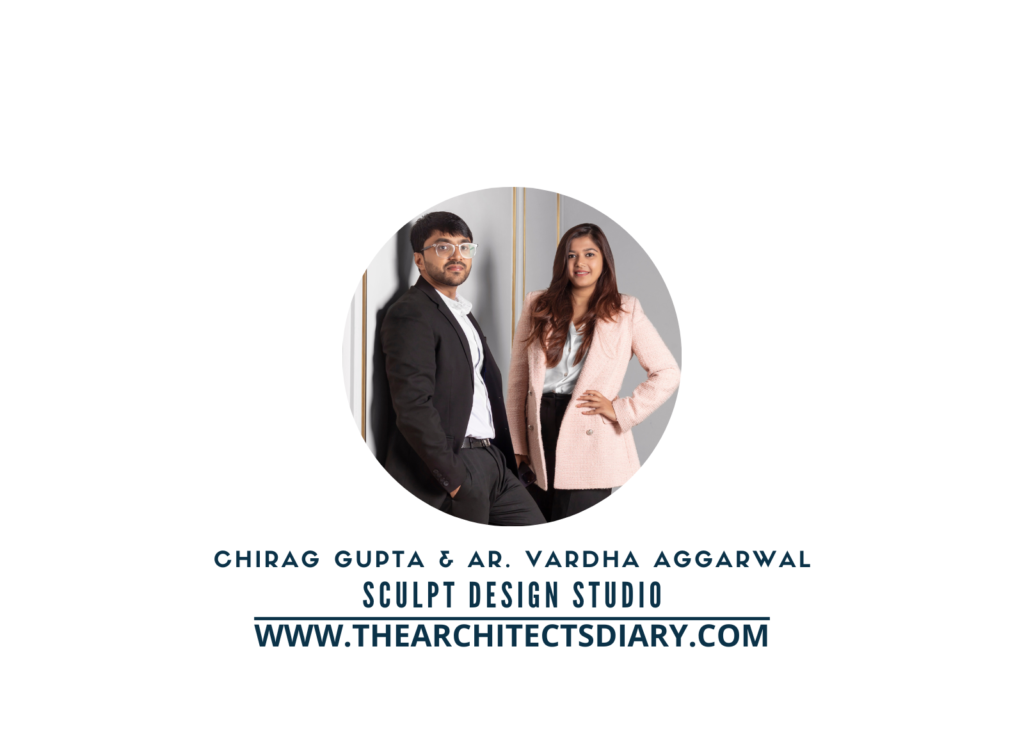 Firm's Website Link: Sculpt Design Studio
Firm's Instagram Link: Sculpt Design Studio
Firm's Facebook Link: Sculpt Design Studio
For Similar Projects >> A Warm and Welcoming Space that Emanates Positivity, Characterized by a Blend of Soothing Pastel Tones
The post A Modern-Style Home that has Strong Visible Lines and has Monochrome Accents | Sculpt Design Studio appeared first on The Architects Diary.