Pamposh Penthouse expresses its love for eclectic living in this modern art deco interior design in New Delhi.
A Modern Art Deco Interior Design Instance | Design Deconstruct
Our vision based on the client brief was of a party pad. Something different from what we usually do. Involving a lot of art deco elements and to keep the styling and look young and vibrant.
Design Context 
We had the structure available to use, and we had ideas of making entertainment area by combining the dining area, but decided against it as a sit down dining was needed. We had a free hand in terms of design, though 3d renders were shared and approved by the client. He loved the initial renders and told us to go ahead with our vision even if despite certain changes. We envisaged a cool, welcoming ambience with a lot of visual elements. Truth be told we did not hold ourselves back from being subtle and understated.
We had the flooring available to use when we got hold of the project. The ceiling height was not substantial, so we decided to go ahead by using some neat coves. Drops were used only where necessary for the air conditioning and other conduiting. We have also used steel accents on the ceiling of the entertainment lounge, to add a more visible detail.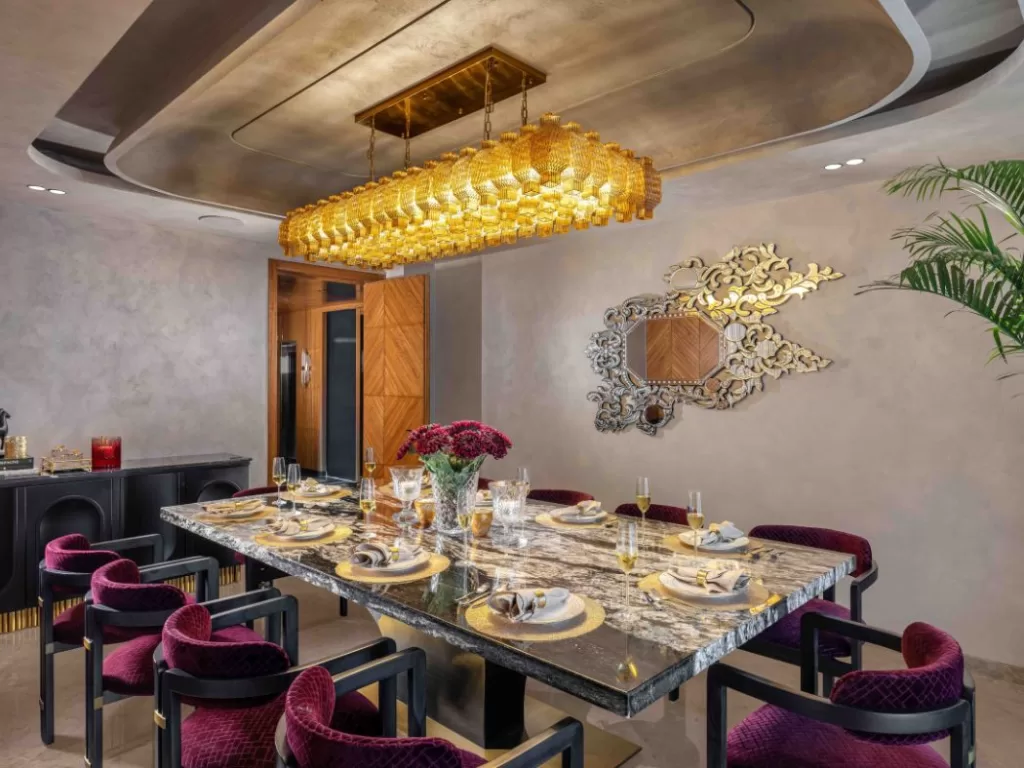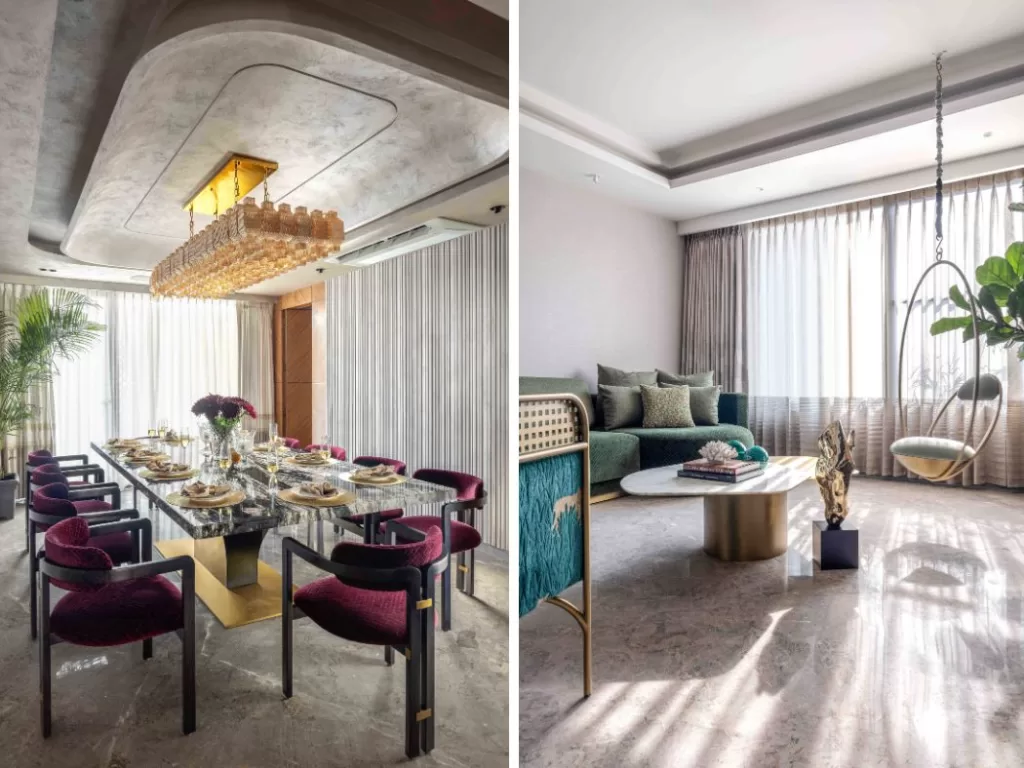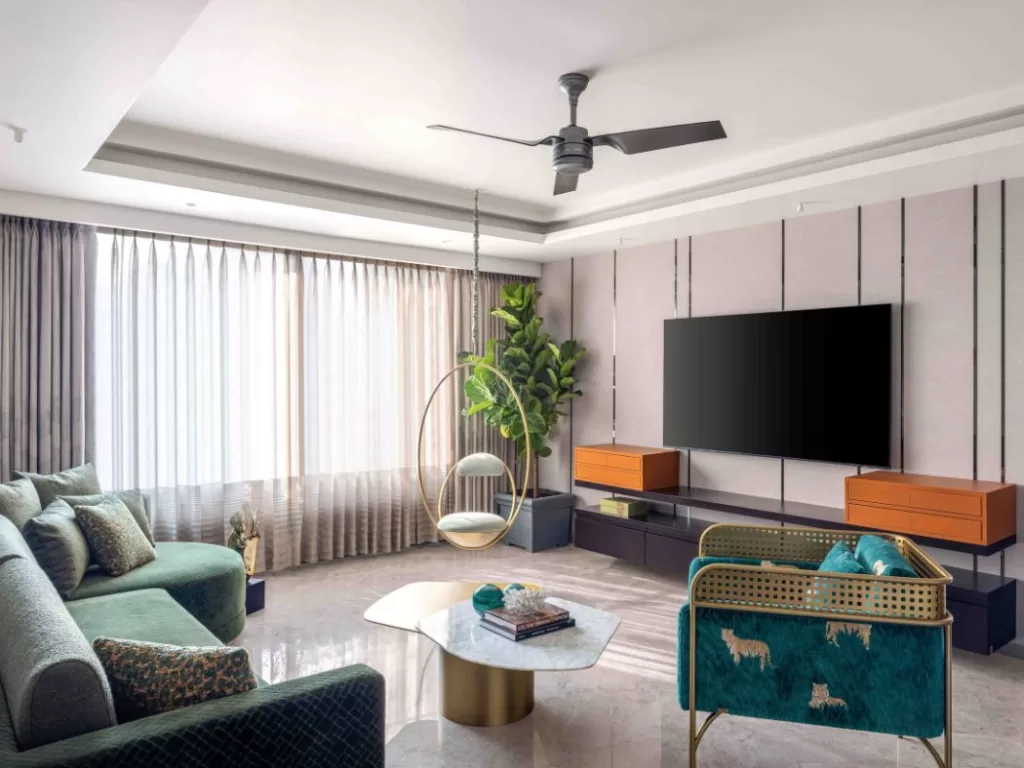 Material Exploration
All the surfaces are in marble and semi precious stone, this adds class and they age better than other surfaces. For the upholstery on the furniture we have primarily used high quality velvets and leather. Most of the light fixtures have been curated locally because of time constraints. Another important trick was to make sure that the layout was such that it looks completed yet has movement spaces.
We have been thoughtful about space planning. This is a penthouse which will primarily be used for hosting small gatherings of close friends and family like watching the cricket matches or for unwinding over the weekend. The terrace has a beautiful pool with a lounge next to it. All the spaces are more about the quality of design rather than the number of people that it can entertain. At any given point any common area of the space can entertain a max of 7-8 people. 
Challenges Faced
Only one, getting everything done in 2 months, including the site work and the production of furniture, as well as sourcing of other materials.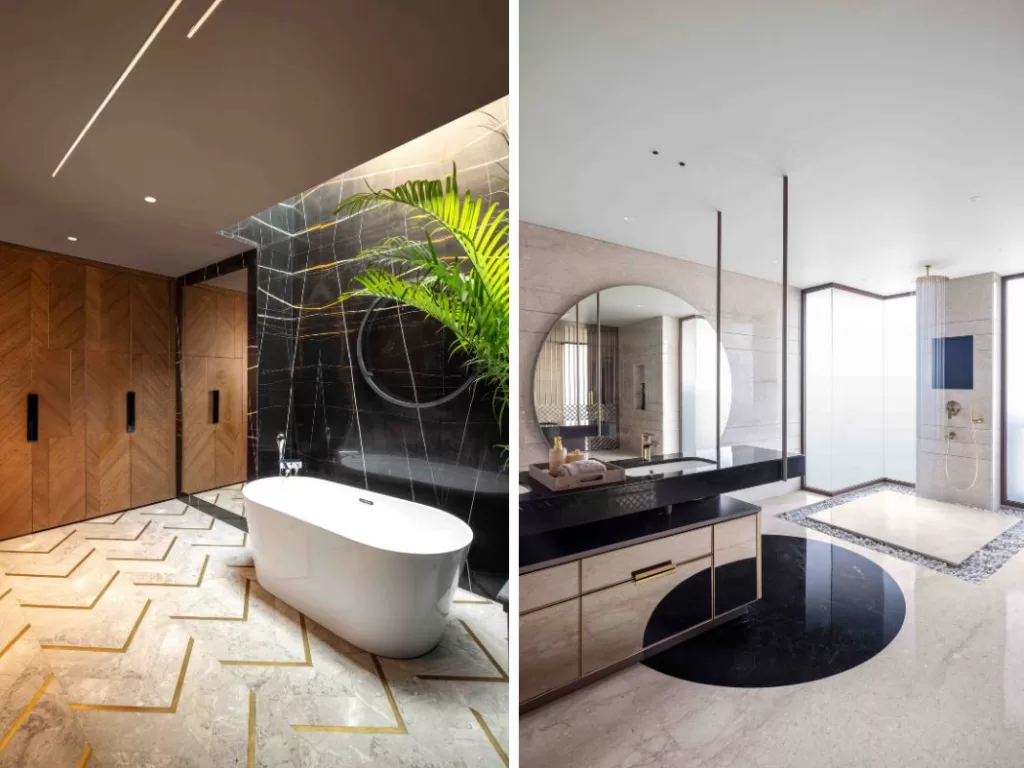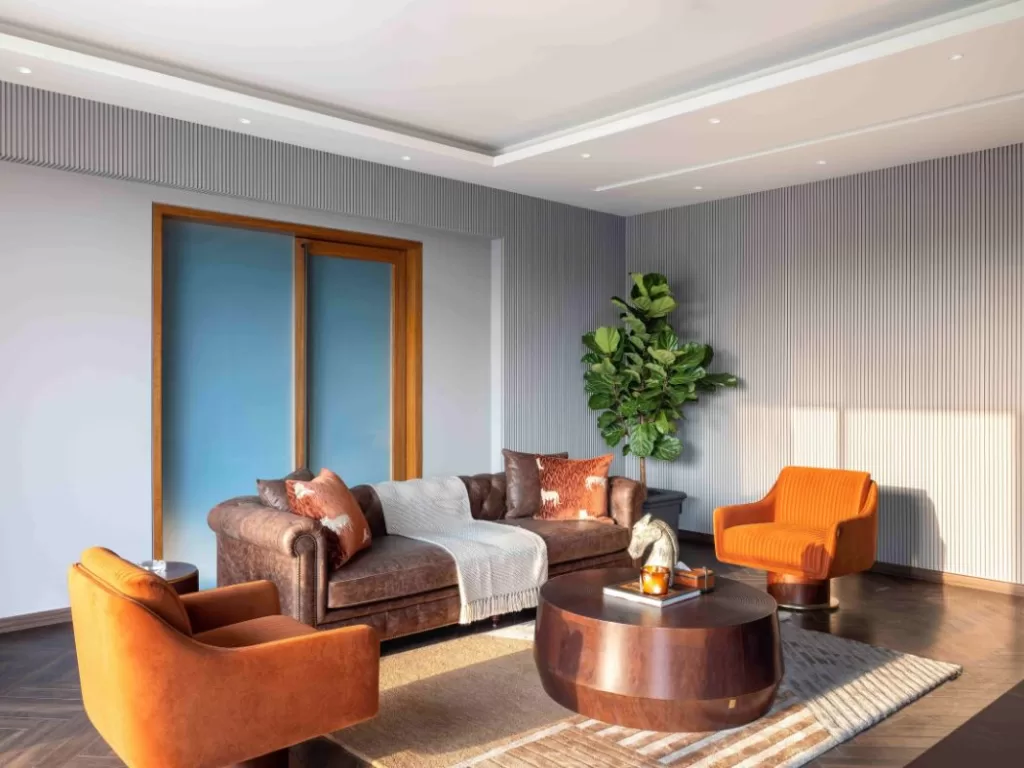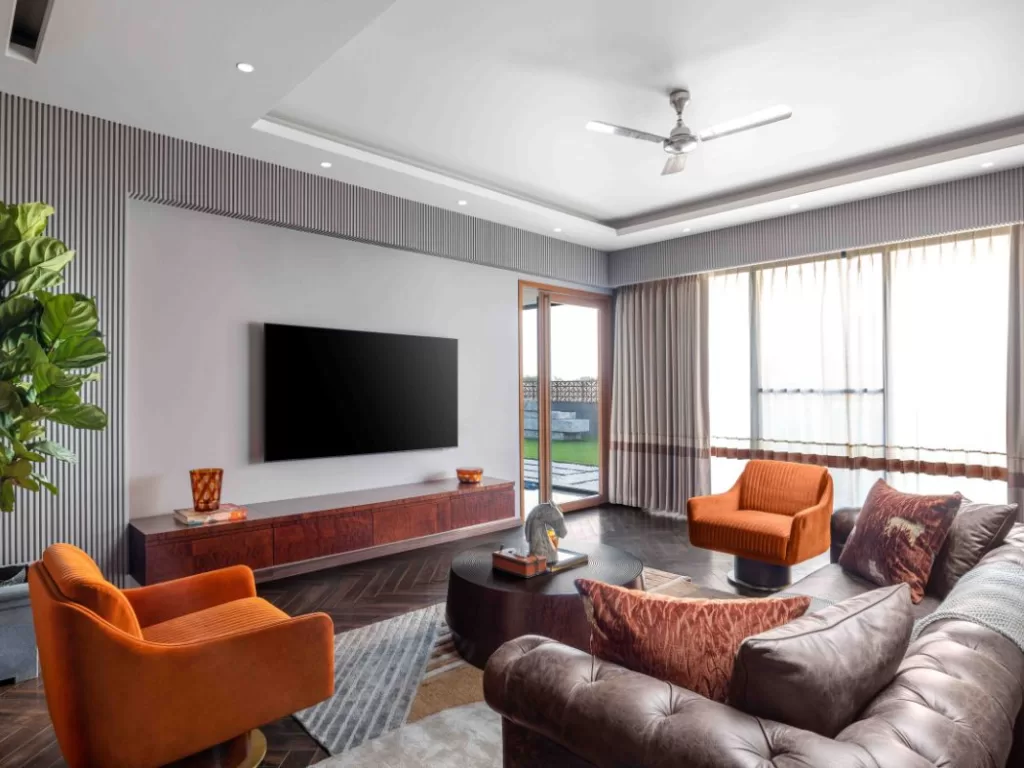 Show-stopping element
The bar is inspired by a small accessory we saw in London this yea and it shows a shelf of books in the front in hues of blue.
Walkthrough
The project has a separate access with a separate lift designator, which goes straight to the penthouse. On the ground floor, we have our entrance lobby, which is just like a welcome area here to greet the guests or in case someone is supposed to wait for that. Then once we head upstairs, we enter into the lift lobby, which has access to the residential parts, that is, the bedrooms and the kitchen and the dining and the entertainment area. Apart from this, we also have a terrace, which has an outdoor pool, an outdoor sitting area, an outdoor bar, as well as another lounge on the terrace with a private spa.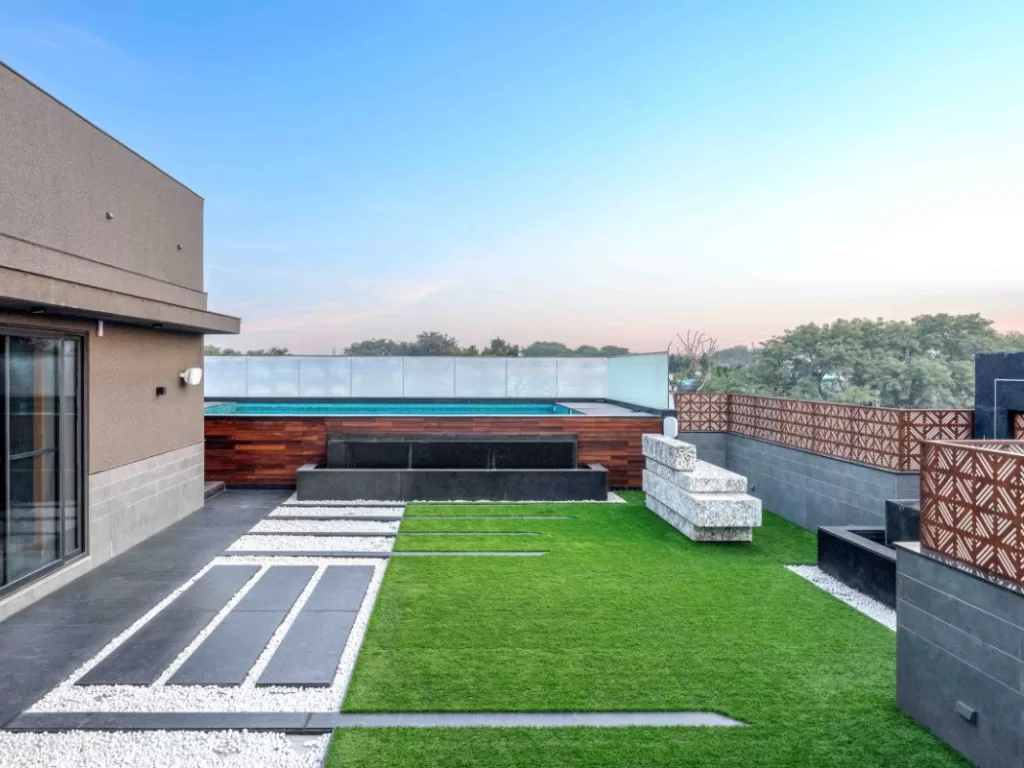 Now coming to the entertainment room. The entertainment room is majorly designed around watching television, especially football games, cricket, et cetera, all of that, along with special emphasis on the bar, since the client, he likes to have a drink from time to time, along with his friends. 3s We had a lot of focus on the television on the bar, and it was supposed to be a very comfortable area where you can just relax and chill out for a longer duration, especially during the night. Right next to it, we have a dining area, which has a dining table for eight people. Other than that, we have a private lounge, which is right amongst the three bedrooms, and one of which is the master bedroom. The other two are actually guest rooms. Then we have an internal staircase which leads to the terrace.
Fact File
Designed by: Design Deconstruct
Project Type: Residential Interior Design
Project Name: Pamposh Penthouse
Location: Greater Kailash, New Delhi
Year Built: 2023
Duration of the project: 3 Months
Built-up Area: 11,000 sqft
Project Size (in sq. ft.):  9,500 sqft
Principal Designers: Monica Chadha & Rishabh Kapoor
Team Design Credits: Samir Arora & Niharika Srivastava
Photograph Courtesy: Atul Pratap Chauhan (Instagram link)
Photograph Courtesy: Atul Pratap Chauhan (Website link)
Products / Materials / Vendors: Furniture Crew, Dialogues by Nirmals, A-Class Marble, Shades of India, White Teak, MeCasa/ Wallcovering / Cladding – Marble, Wood Paneling, Leather Paneling / Lighting – Chandelier: White Teak / Furniture –Furniture Crew / Flooring – Italian Marble / Paint – Texture Paint: MeCasa / Acoustics Consultants – Sound n Style / Interior Styling – Monica Chadha
Material Palette of the project: Wood, Marble, Suede Fabric, Metal accents, Leather.
Color Palette for each area/space: Hues of Blue with Grey for the Living/Bar area. Private Lounge consists of all things green with undertones of tan leather.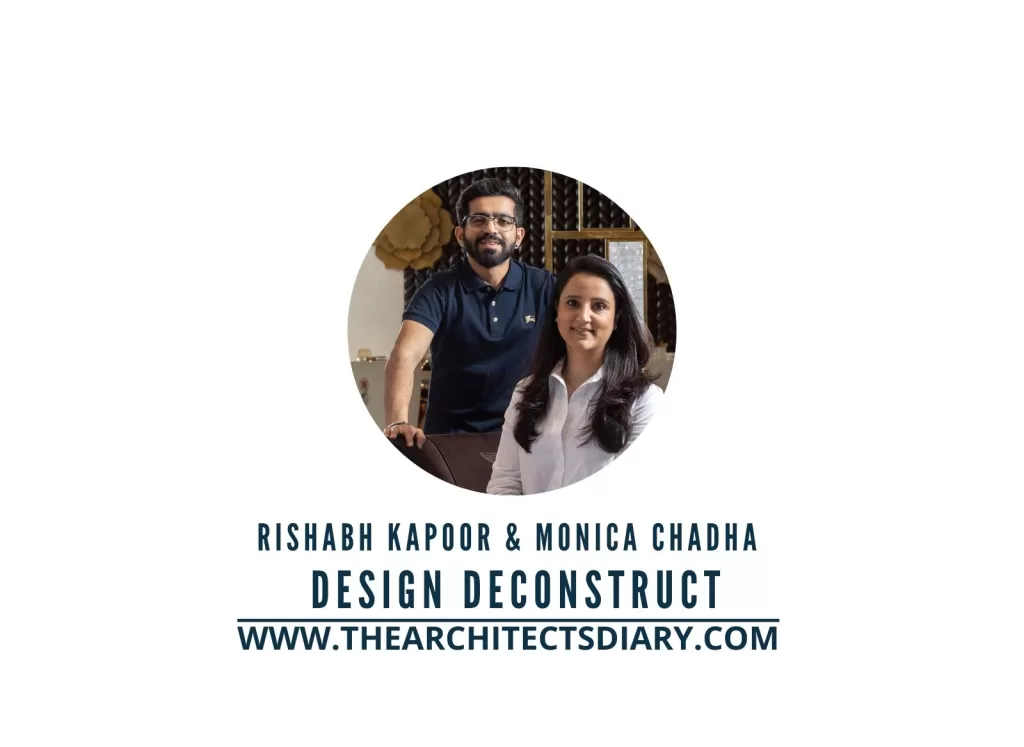 Firm's Website Link: Design Deconstruct
Firm's Instagram Link: Design Deconstruct
The post A Modern Art Deco Interior Design Instance | Design Deconstruct appeared first on The Architects Diary.