Less is more may sound like a cliché, but with the minimalist design trend that's the essence. The design approach was keeping in mind Minimalism. It aims for simplicity and objectivity. The Best Elements of Minimalistic Design used are limited color palate, white spaces, flat textures and patterns. Patterns were used extensively with fluted panels, textured white veneer and metallic textured oak veneer and mirror. This beautiful spacious and airy 900 sq. ft, 2 bedroom apartment is nestled amidst the heart of Wadala offering 180-degree panoramic city views. The apartment design is inspired keeping in mind the client's taste for having a minimalist home with warm earthy tones and exquisite use of wood and veneer throughout the house.
A Minimalist Home With Warm Earthy Tones And Exquisite Use Of Wood and Veneer | Designza Studio
Visit : Designza Studio
The main entrance door of the house is pristine white door with brass accent handles. The stylish and contemporary wallpaper design that showcases gorgeous water color effect stripes against a plain background; the perfect pairing with Dark veneered TV paneled wall.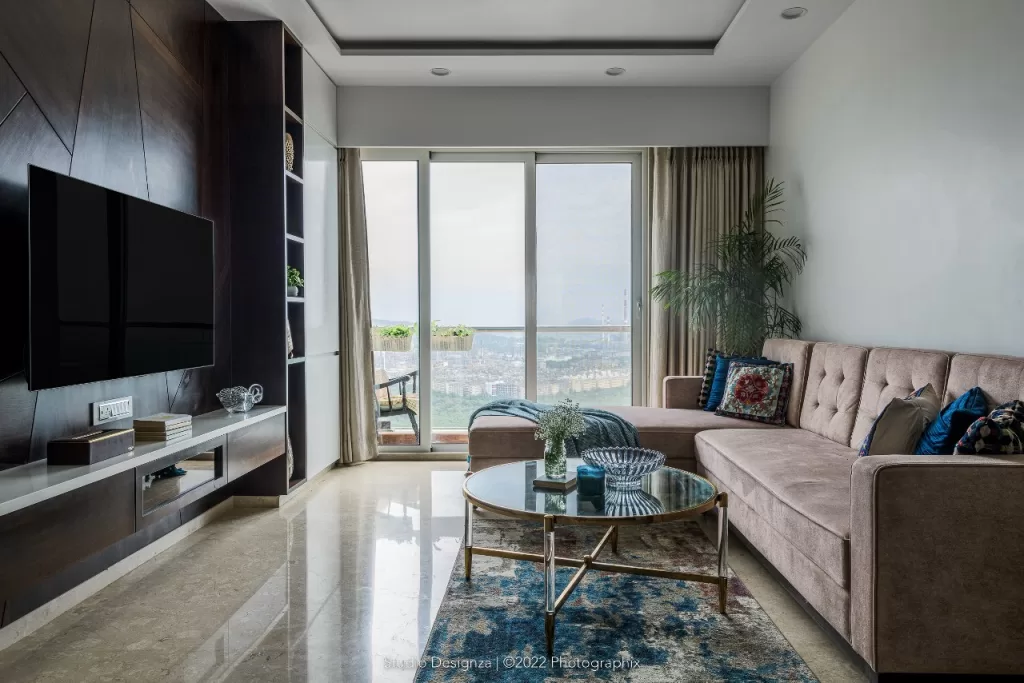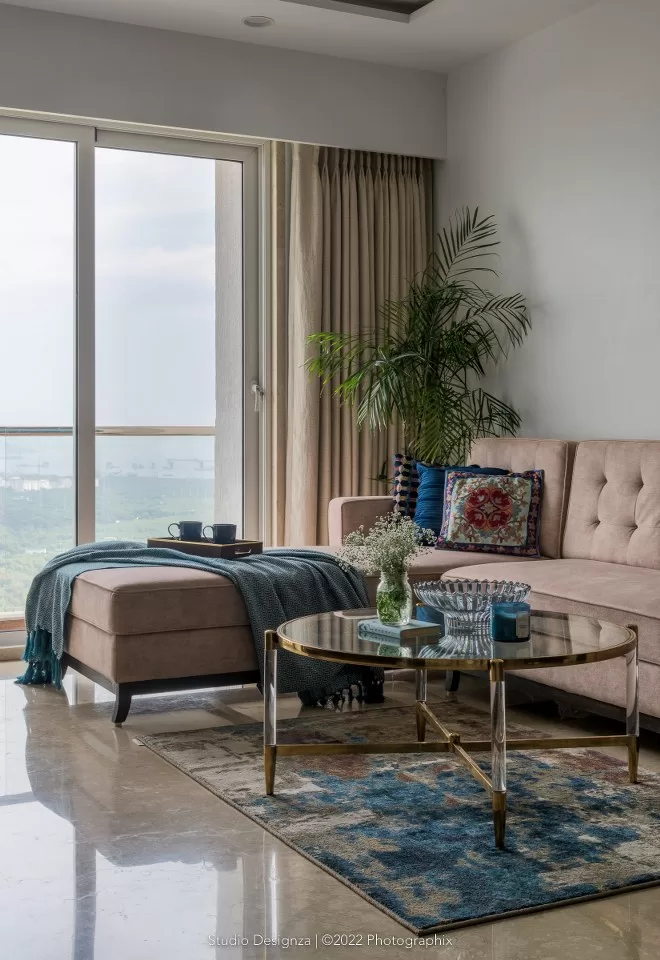 A grey and blue abstract printed rug used near the L-shaped sofa sitting has a beautiful blend of patterns, textures and colors giving the home a modern and elegant touch.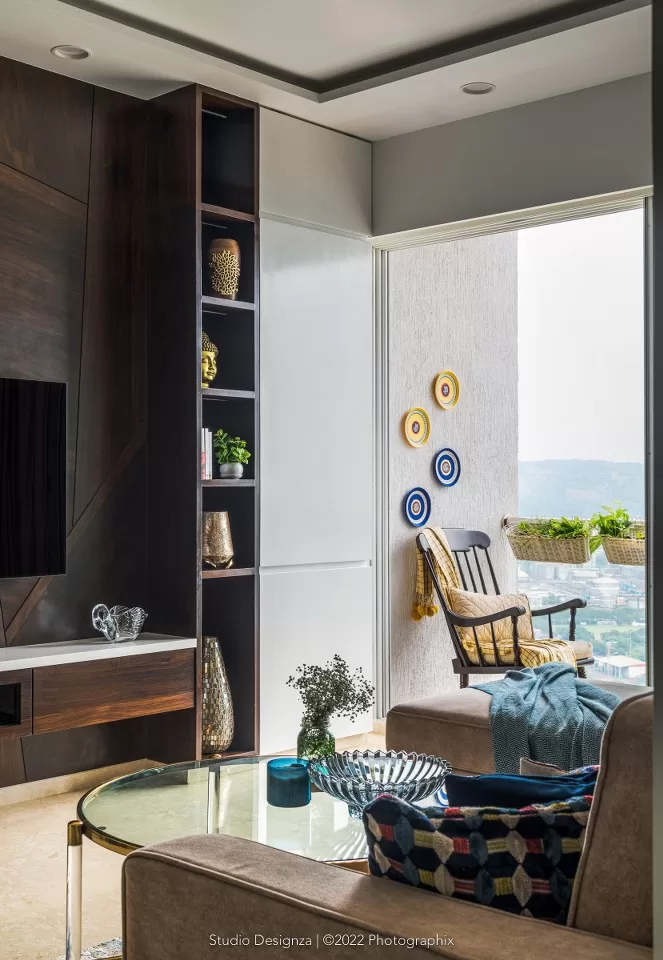 The Tv Panel designed with random grooves creates a dramatic effect with minimalistic approach. The beveled tinted mirrors form a welcoming backdrop to the dining area adding depth to the wall.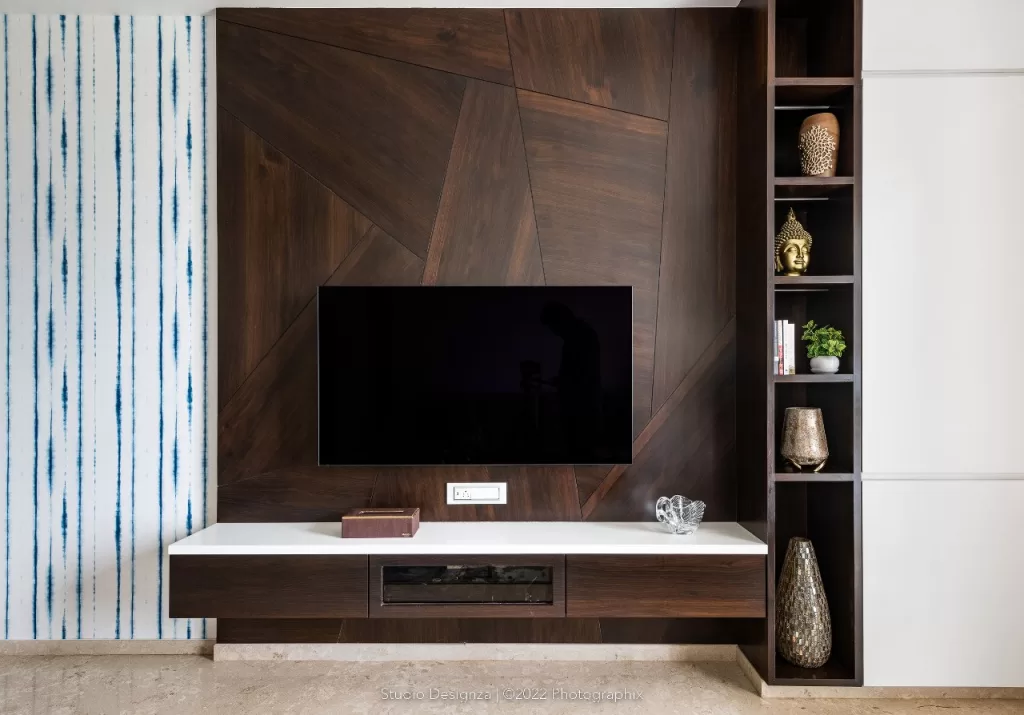 The sideboard showcases natural wood grains, clean lines and midcentury inspired tapered legs. The carved handles and curves add third dimension to the soft closing drawers giving a very subtle look.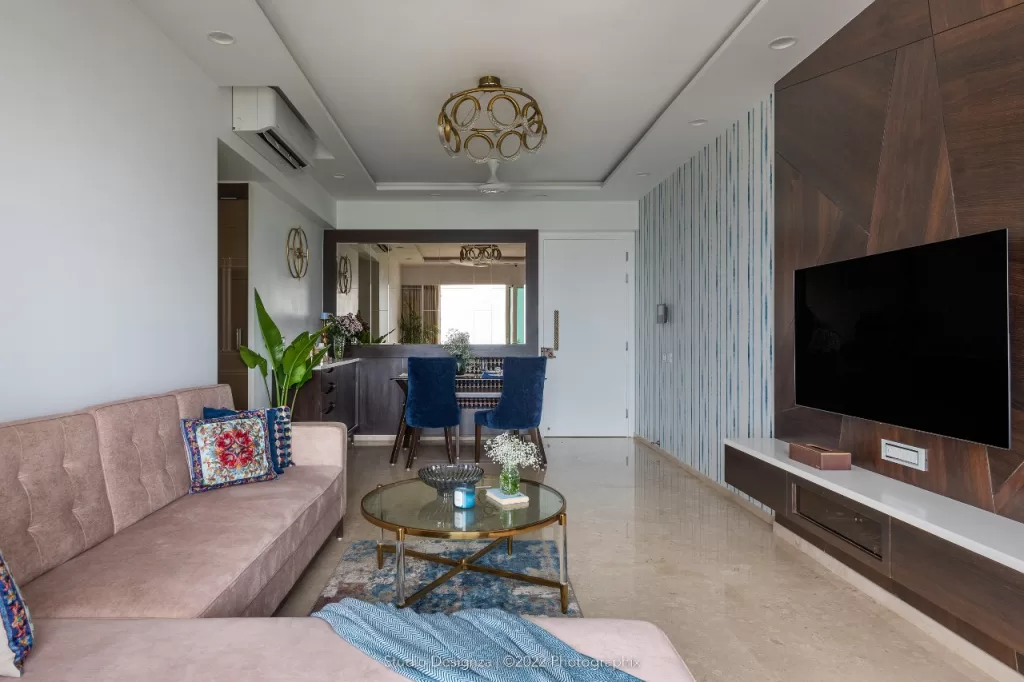 To pop the color, one item was used in bright color –blue dining chairs and the bench with geometric patterned upholstery from Ddecor .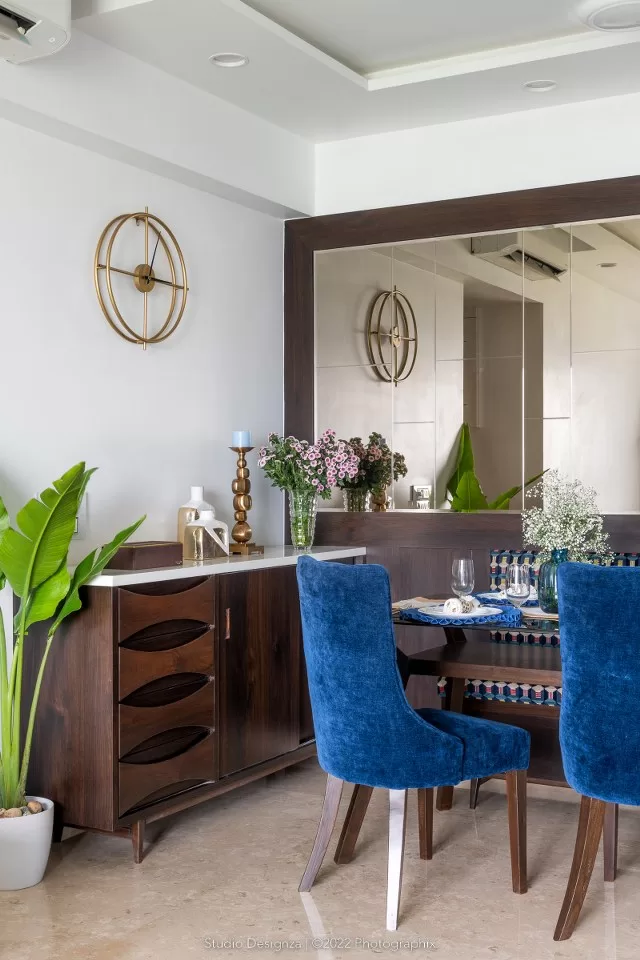 The modular kitchen is finished with anti-scratch acrylic shutters and tapered profile brown tinted glass shutters .The sage green subway tiles add a color tint to the muted color scheme of the kitchen. This shade of green adds a touch of freshness to the kitchen while acting as cool and calm accent.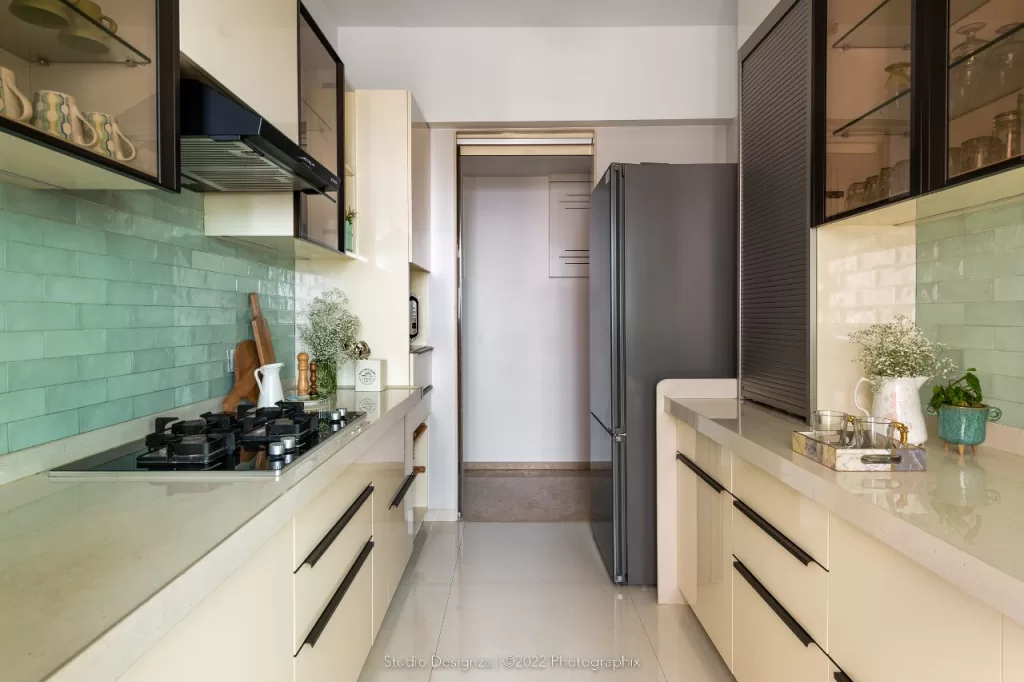 Multifunctional and maintenance-free kitchen with modern storage systems that is customized to suit the specific needs of the client. The counter length provides ample working space. This is a perfect combination of a modern and minimalistic kitchen with ample utility space
The master bedroom has the concept of minimalism portraying different textures and finishes. The yellow color textured wall adds a dynamic backdrop to the bedroom.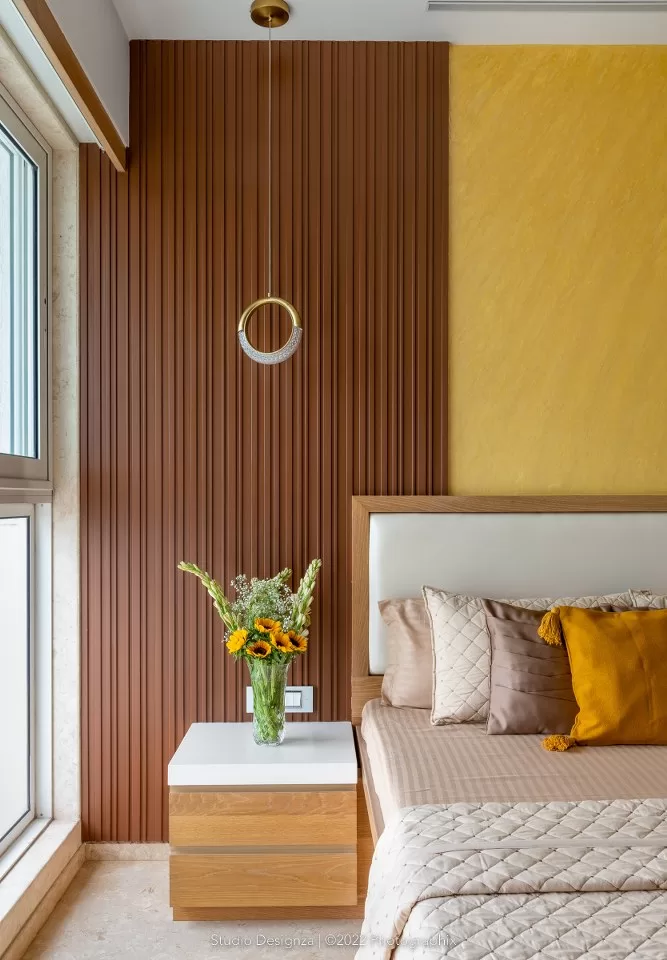 The fluted TV panel with metallic veneer finished niches with simple decorative objects is key to a standout design scheme.
The dresser with a mirror has storage behind the mirror with two drawers below. Veneer finished wardrobe complete the look of this elegant master bedroom. The wardrobe handles were customized on site to add to the minimalistic look.
The common bedroom is finished in white veneer with gold accent adds elegance and glamorous effects into this bedroom. The white wall creates a perfect calming, pure soothing effect in the room.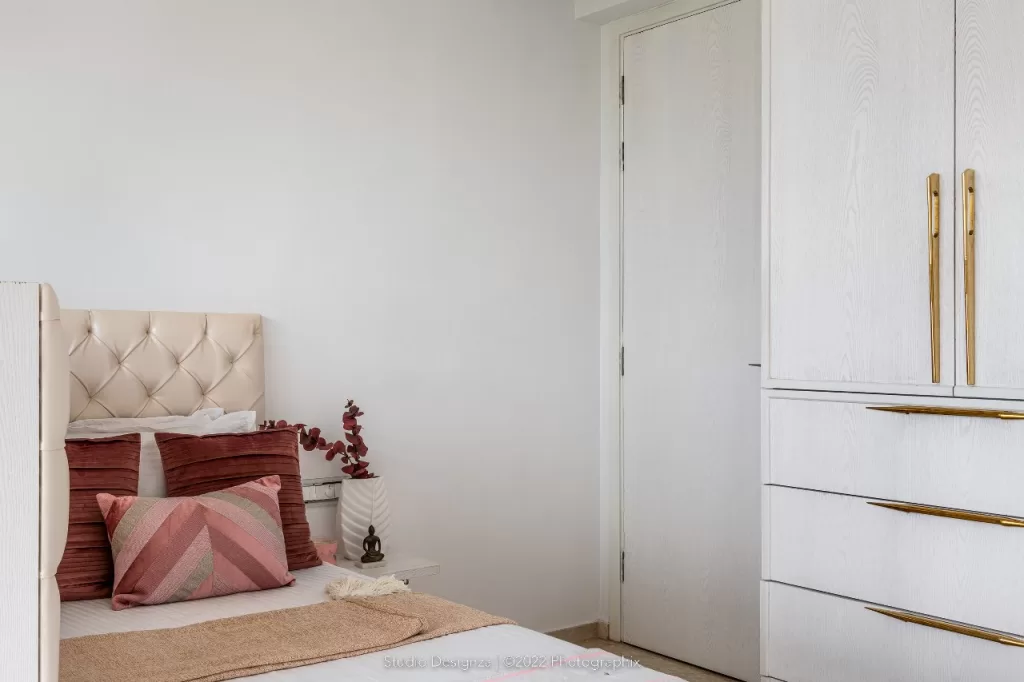 A small puja area is created with a single bed headboard dividing the two spaces elegantly. To maintain the concept of minimalism and serenity an all-white look of the bedroom was maintained.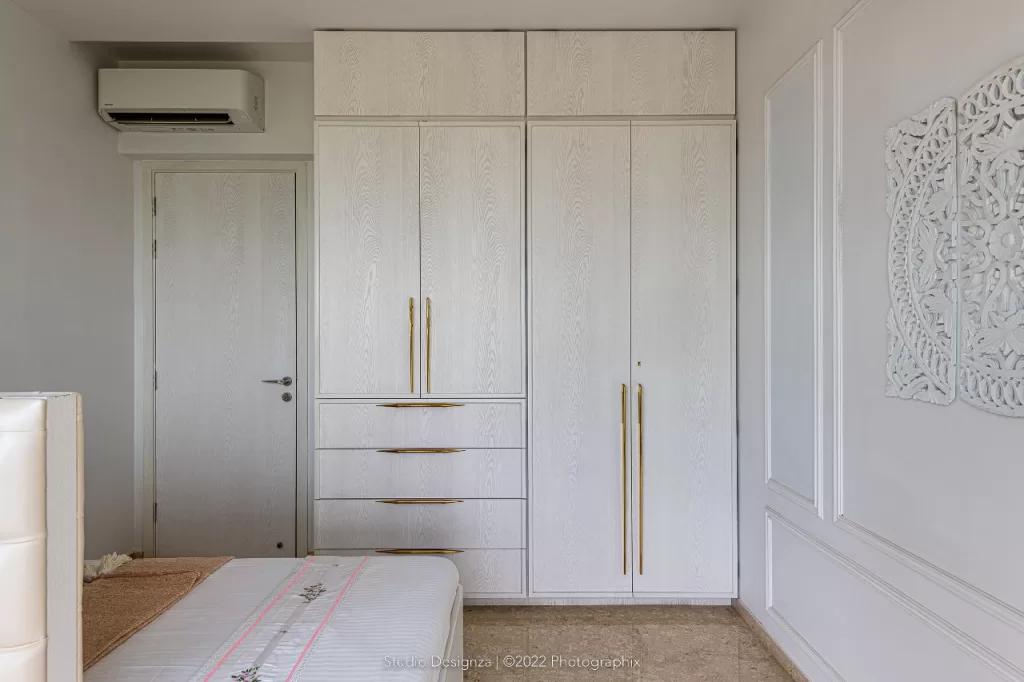 Fact File
Designed by : Designza Studio
Project Type : Residential Interior Design
Project Name : 2BHK Aeon
Location : Wadala East, Mumbai
Year Built : 2022
Duration of the project : 6 months
Built-up Area : 902 sq.ft
Principal Architect : Ar. Manpreet K Rekhi
Photograph Courtesy : Aaditya Kulkarni
Products / Materials / Vendors : Finishes – PU Matt finish, metallic veneer / Paint –Asian paint / Wallcovering / Cladding – wallpaper ,Mirror panelling with bevelling / Lighting – Hybec, The White Teak Company / Sanitaryware – Toto / Facade Systems – Glass facades given by the builder / Flooring – Italian marble / Kitchen – Saviessa / Kitchens – Acrylic with tapered profile brown tinted glass / Artefacts -Address home, Mason home / Wallpaper – Nilaya by Asian paints / Hardware – Hettich & Hafele Furnishing – Ddecor.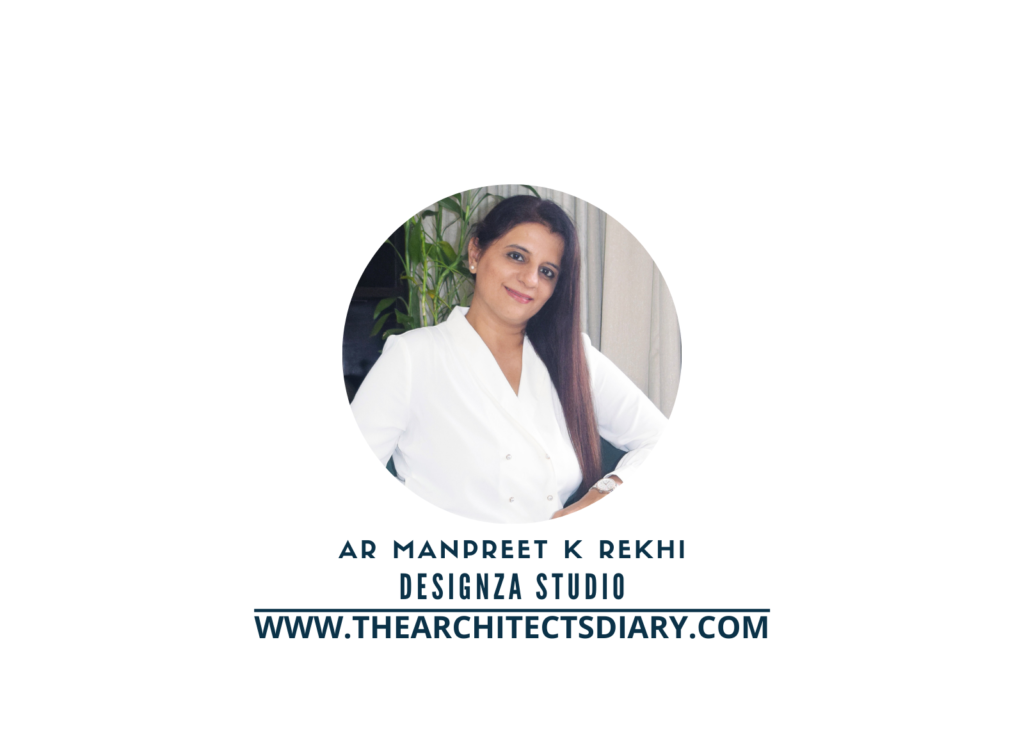 Firm's Website Link : Designza Studio
Firm's Instagram Link : Designza Studio
For Similar Projects >> Refreshing Outdoor Spaces Creating A True Urban Oasis
The post A Minimalist Home With Warm Earthy Tones And Exquisite Use Of Wood and Veneer | Designza Studio appeared first on The Architects Diary.