Mr. Shah's residence is an adaptation of a minimal house design theme by Studio VPA in Diwalipura, Vadodara.
A minimal house design with an unforgettable blue door | STUDIO VPA
Visit: STUDIO VPA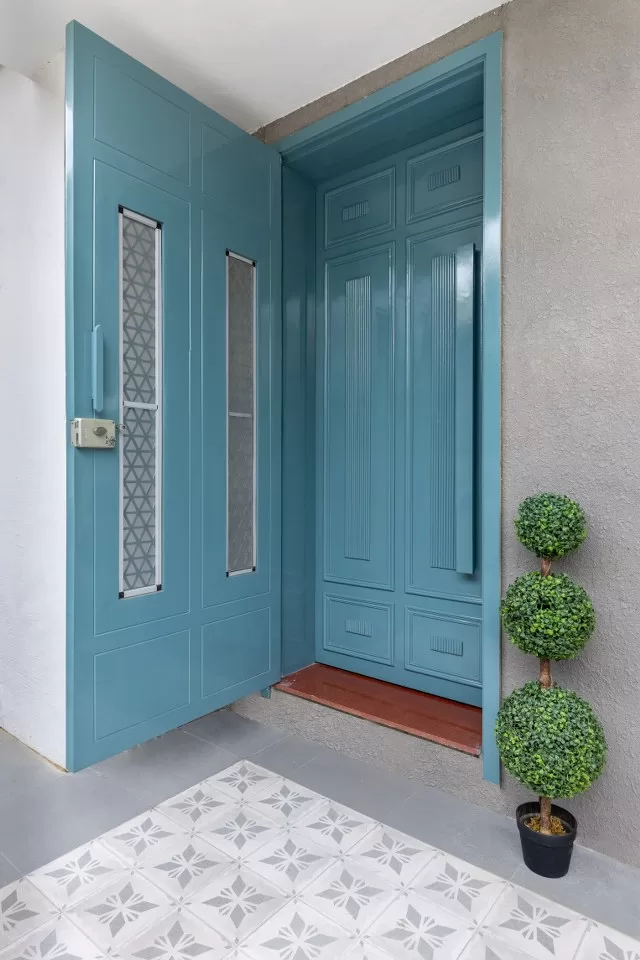 Minimal house designs have been one of the trending topics for the past few years, Studio VPA seems to have adopted the theme for Mr. Shah's residence. The design of the entire home is based on individual beliefs that reflect the client's unique identity and bring forth the ethical essence of Mr. Shah's style.
FOYER ENTRANCE
The main entrance door is a major highlight of the house including a safety door in a striking blue color. Where, the safety door consists of a sonic pattern jail, and the main door has a long handle to give a different look. Both the doors are in PU finish to further emphasize the blue color and to make it stand out from other elements in the surroundings.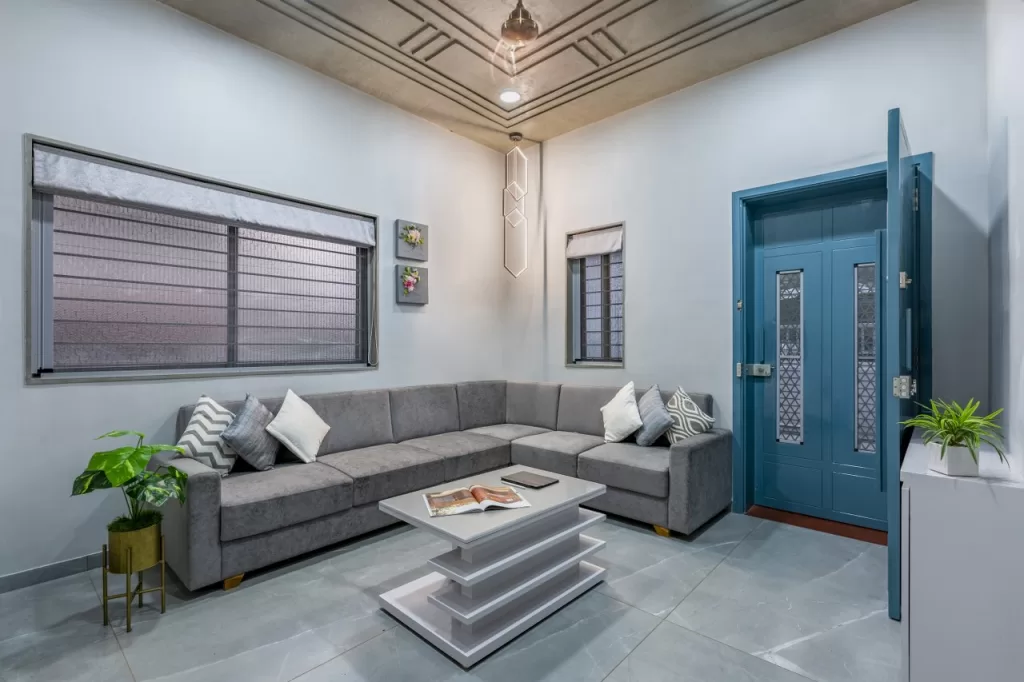 LIVING
Step into the vibe of relaxation with our stunning contemporary living room's neutral color palette makes this space a pleasant experience. To add some touch of color, we utilized the main door's blue color perfectly for this minimal house's interiors. Further, we added a simple pattern to the ceiling in an exposed textured impression that offers a contrast in the minimal living room.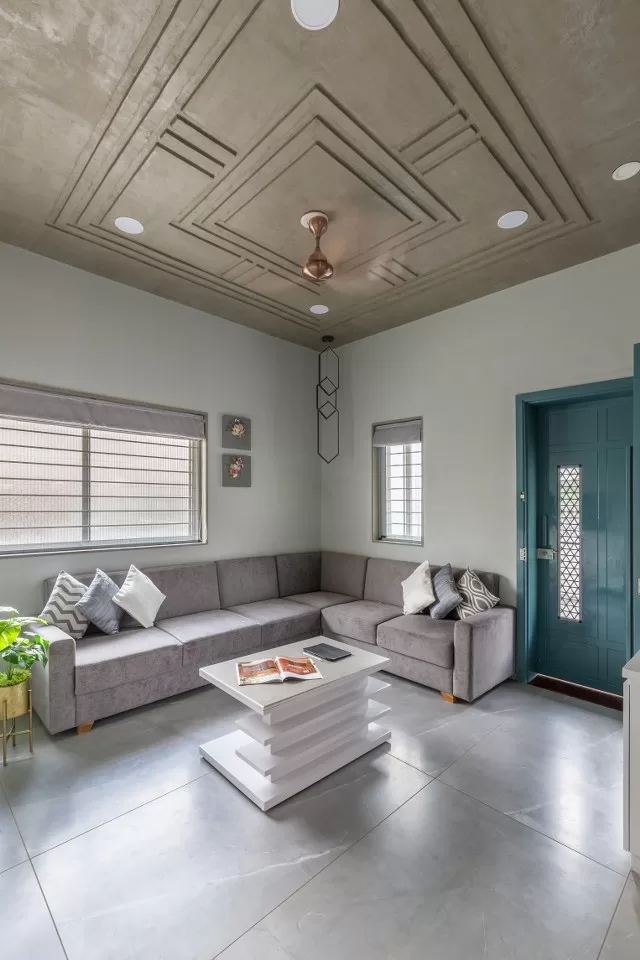 Also, the use of sleek contemporary hanging lights makes the space elegant, and adding small elements like customized frames made by our staff, and planters makes spaces lively.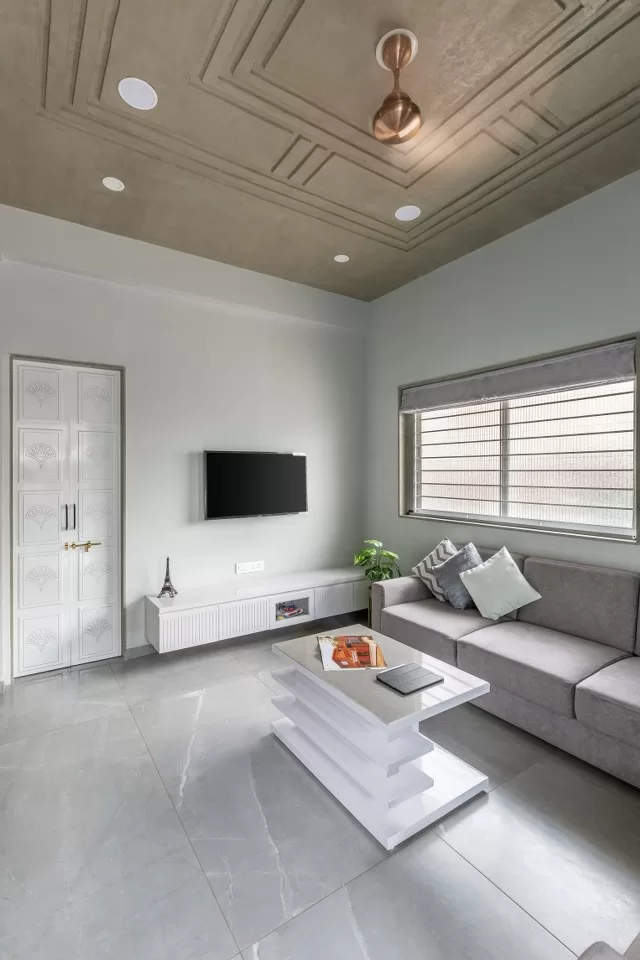 Additionally, a simple TV unit design in the living room played in a combination of lower drawers with grooves on it, again in PU finish. It also consists of a simple and minimal sofa set with a modern center table design.
POOJA
The Puja area is quite simple as well as minimal. Lower drawers for storage and lamps give life to this beautiful space.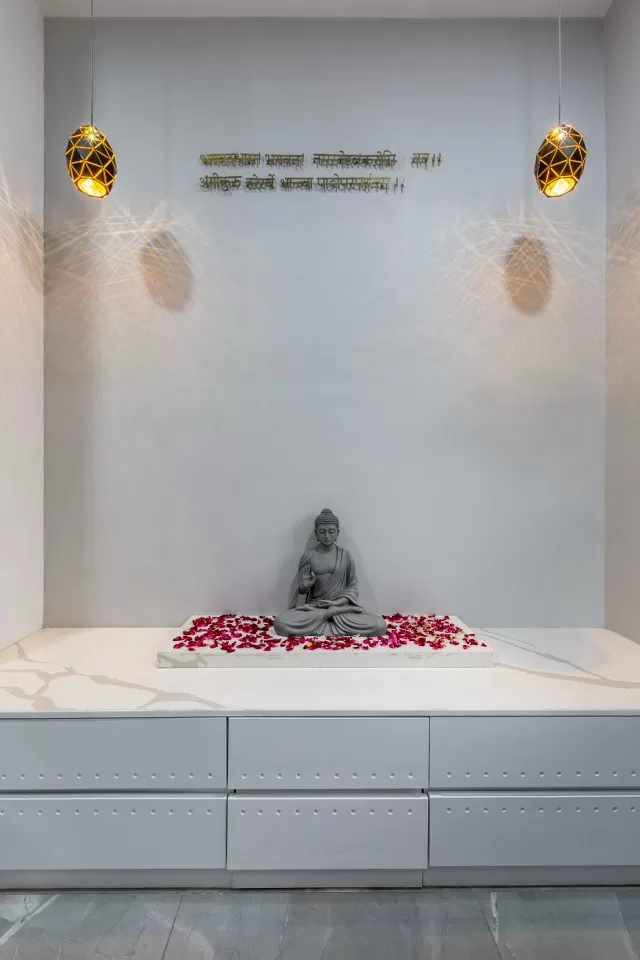 KITCHEN
The kitchen is designed in a clean, vivid space using the color white and contrasting it against greys. Again, in PU finish, that is easy to clean and scratch-free.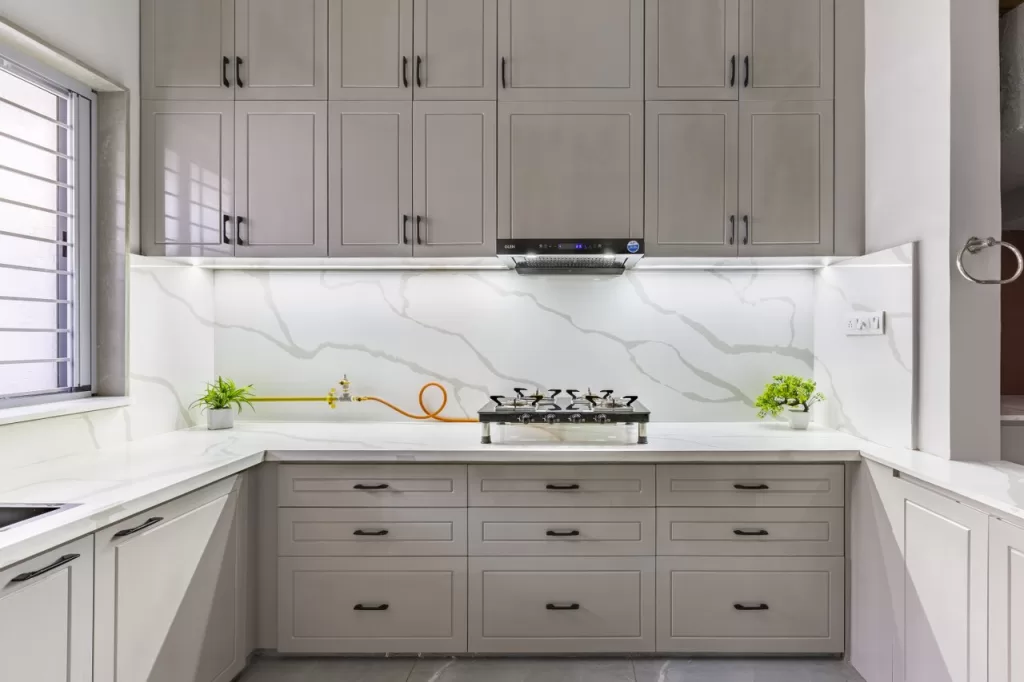 SECOND KITCHEN
This versatile kitchen is used for online classes. This is a stylish focal point compared to other areas. It has lower storage in PU finish. A big opening to the sun source and adding some elements like lamps, and frames.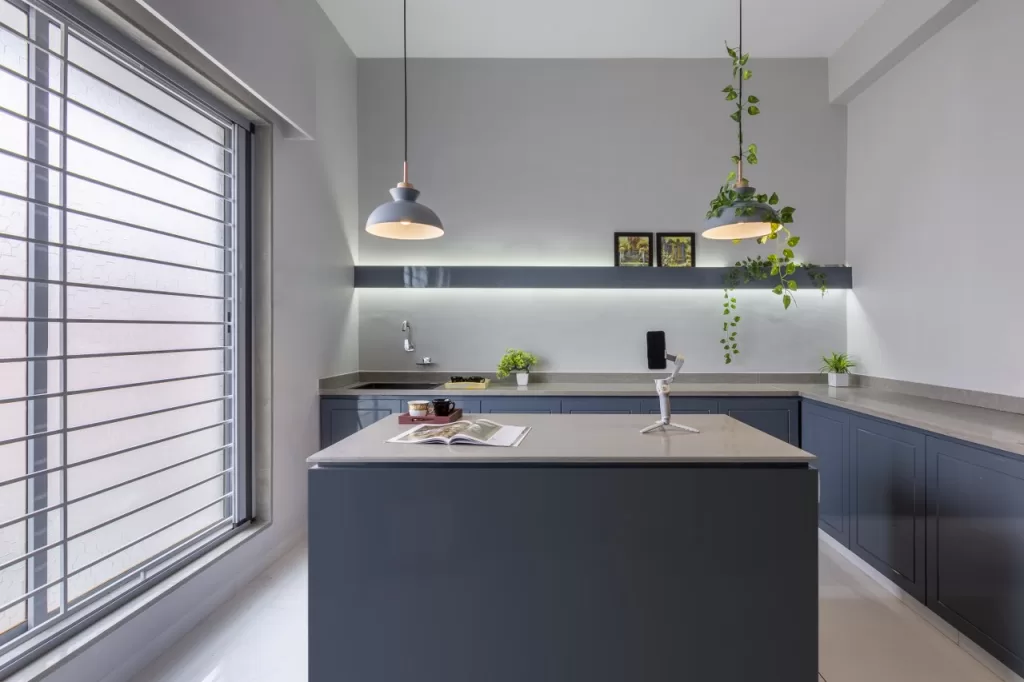 DINING
Coming to the dining area, the area was not enough, so we decided to keep a round table with only two chairs. Along with a metal partition to keep it simple and clear yet contemporary look for the house.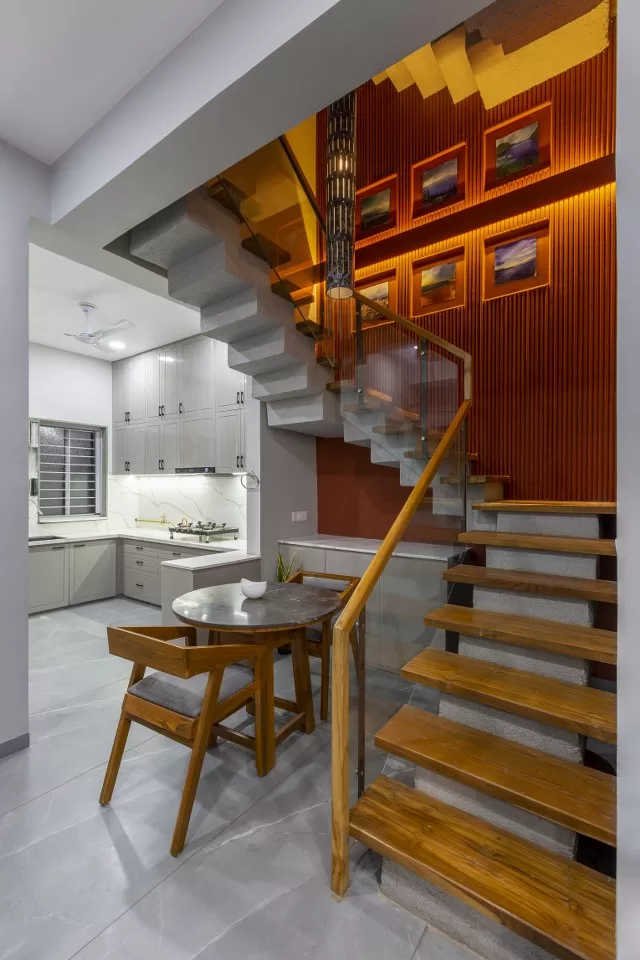 STAIRCASE OTS
The dog-leg staircase has been carefully designed and detailed and this area is the major focal area of the whole house. In the staircase, the kaditappa staircase was planned from the beginning of the project which was in exposed concrete RCC in impressions.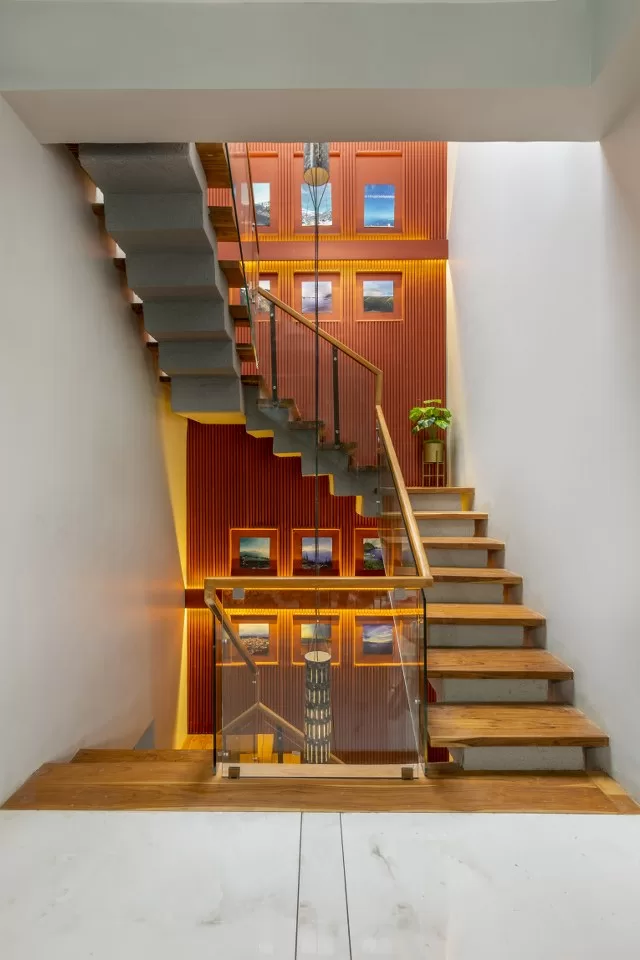 The steps have teak wood treads and RCC texture finish risers with a glass railing. In addition, the back wall lights highlight the decor frames on it and louvers on the wall attract the visitors the most.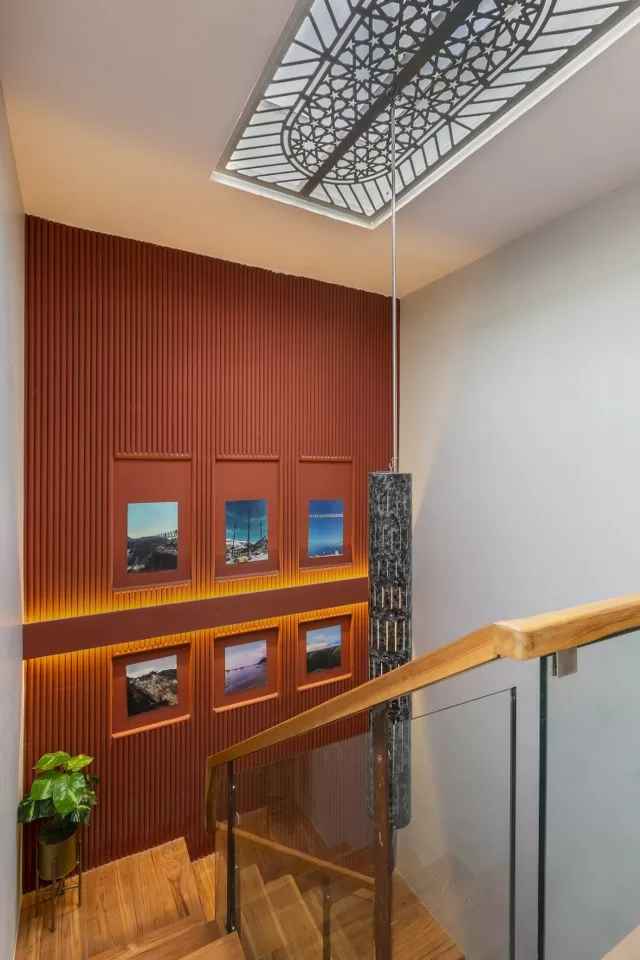 Additionally, the OTS is an excellent source of natural light, right up to the staircase. We gave it a new vision by using cinnamon jails and glass. The center of attraction is this customized metal chandelier which is right underneath the open-to-sky skylight.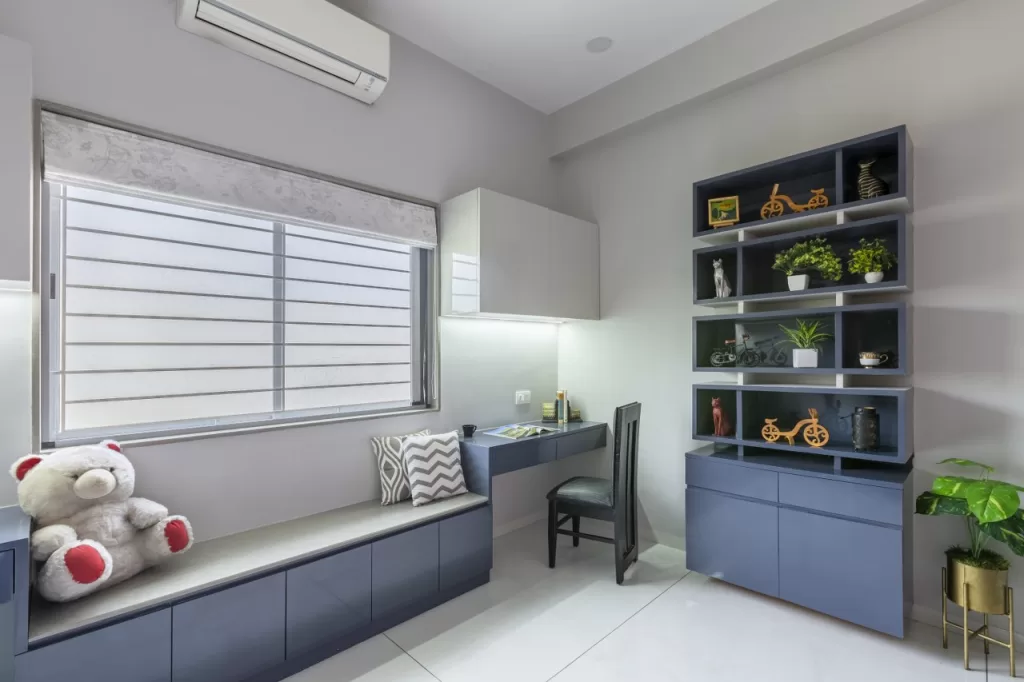 BEDROOMS
A careful space, to escape from the humdrum of daily life, filled with custom pieces to continue the minimal house design theme. The bed, bedside tables, and a playful palette were chosen by the architect and client for the furniture of this room.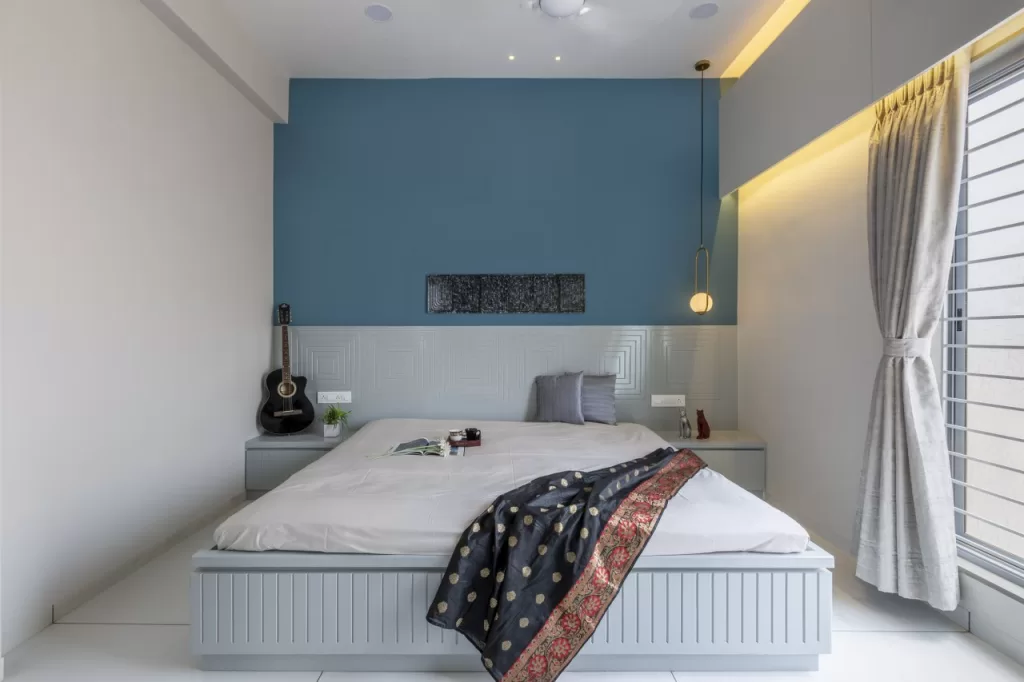 Fact File

Designed by: STUDIO VPA
Project Type: Residential Interior
Project Name: Mr. Shah Residence
Location: Diwalipura,Vadodara
Year Built: 2022
Duration of the project: 8 Months
Plot Area: 1150 sq.ft
Built Up: 2070 sq.ft
Project Cost : 35-40 Lac
Principal Architects: Ar. Vaibhav Patel
Team Design Credits: ID Tranika Jain
Photograph Courtesy: MrShubhamalokar
Products/Materials/Vendors: Finishes – PU / Wallcovering / Cladding – BERGER / Construction Materials – ULTRATECH / Lighting – NIRVANA / Doors and Partitions– Plywood custom made / Sanitaryware – Cera / Facade Systems – RCC & Stone / Windows– Aadharsh – Abhi Traders / Furniture– Custom made on site / Flooring– D esigner bath studio / Kitchen– stone Jain marble / Paint– Berger paints Artefacts– Design decor / Hardware – Hetich
Firm's Instagram Link: STUDIO VPA
Firm's Facebook Link: STUDIO VPA
For Similar Projects >> A Captivating Family Home, Seamlessly Blending Tradition and Modernity | Studio Deshi
The post A minimal house design with an unforgettable blue door | Studio VPA appeared first on The Architects Diary.