The Clients, who are transformer wheel manufacturers, came with a very crisp brief. They wanted a functional Factory office near their production facility, from where they could oversee and manage their production area. While the aesthetics were important, their priority was an office was minimal, functional and budget friendly office design. While designing the architecture of this 1435 sq. ft. office, our main focus was on functionality and ease of movement.
A Minimal, Functional And Budget Friendly Office Design | HV ASSOCIATES
VISIT : HV ASSOCIATES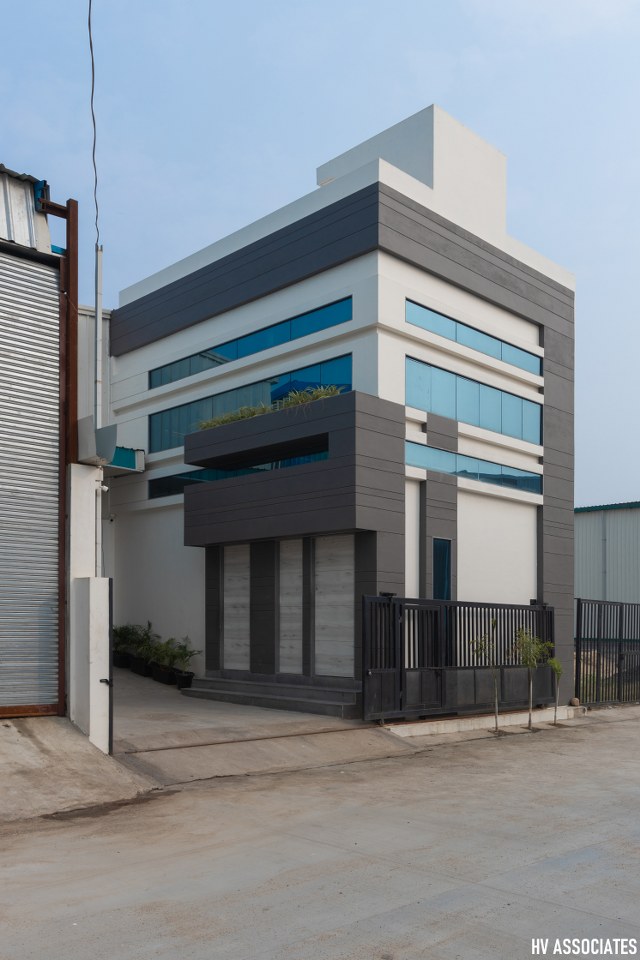 The Architectural Layout and Elevation : The architectural elevation has been designed, keeping in mind, simple aesthetics and client budget. Instead of heavy material cladding, horizontal grooves in plaster have been purposefully incorporated, to give a contemporary feel. Planters add a green element and break the monotony of grey and white.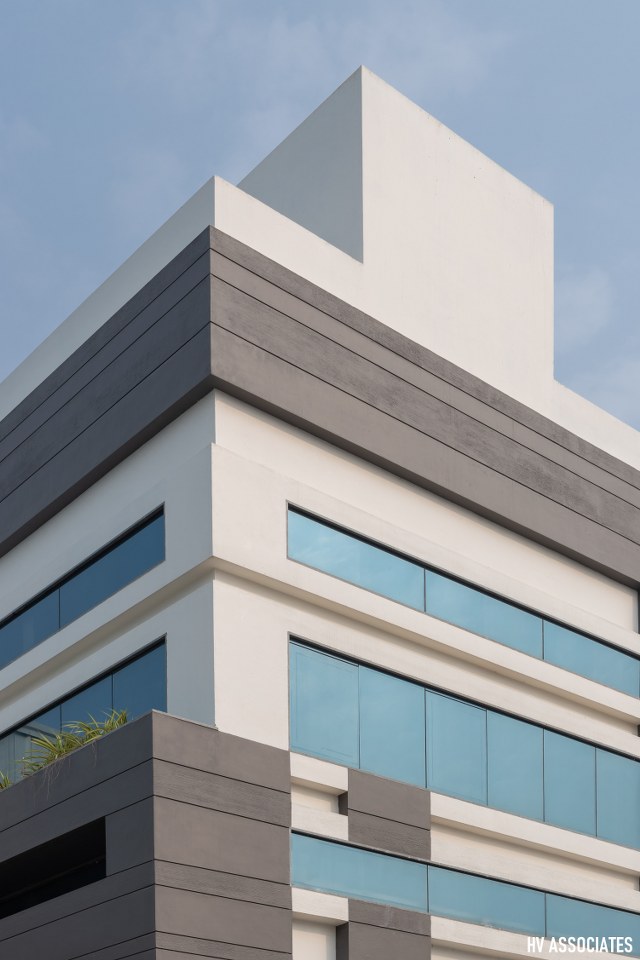 The long slit windows not only give the elevation a character, but also, provide ample daylight to staircase and workstation areas. The client happily states, that they don't need any artificial light during the day time, which previously, was a big concern.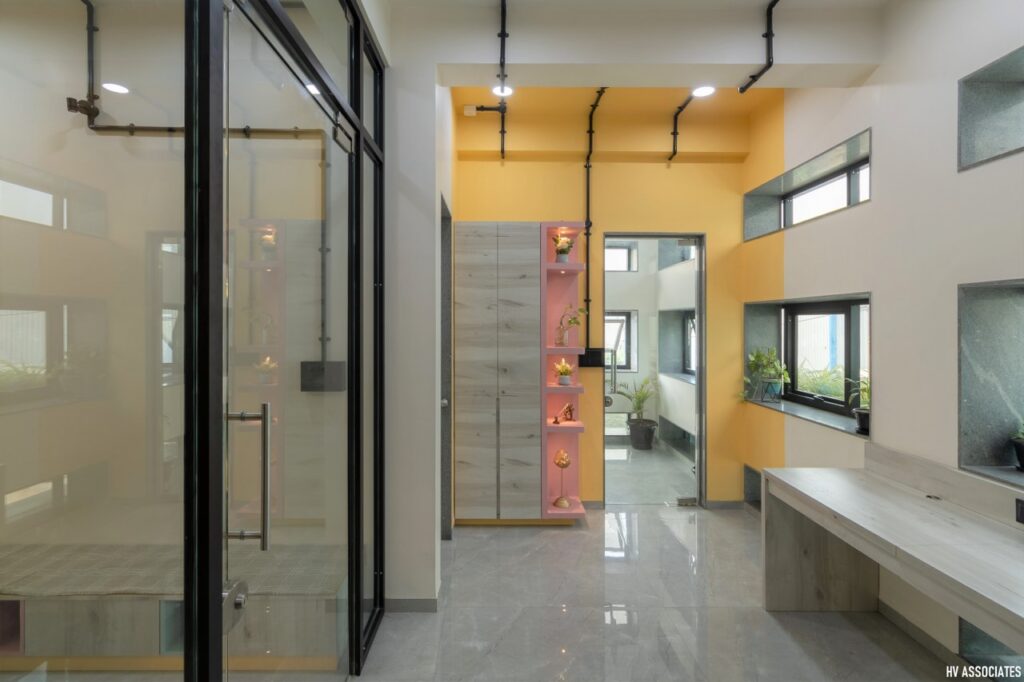 The Interior Design:
The Ground floor has been reserved for the laboratory and storage area, while the First-floor acts as their staff office. The layout of the staff office has been kept simple and clutter free to accommodate at least, three staff members.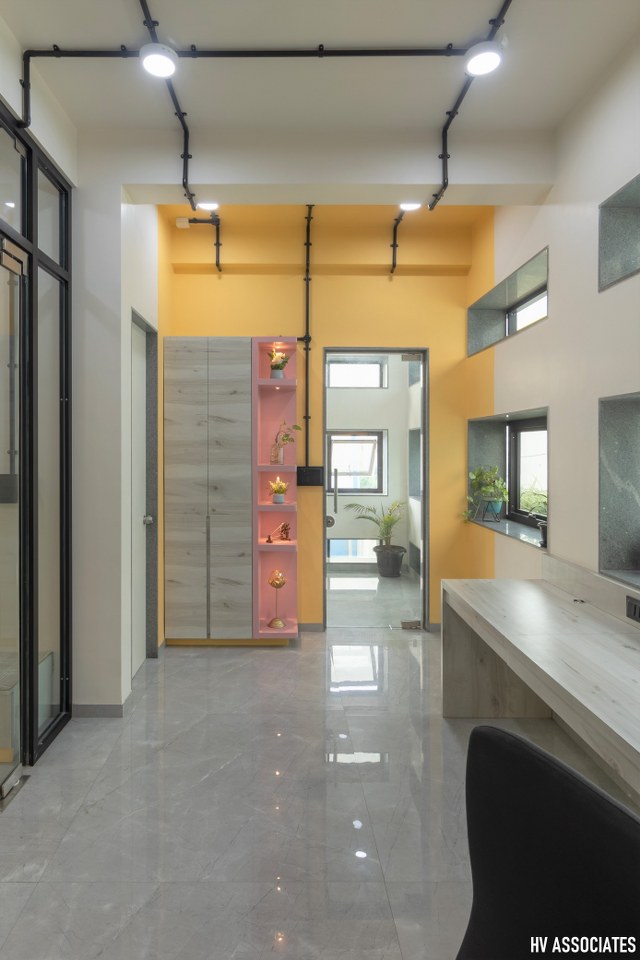 As you climb the first floor, you enter the foyer area leading you to workstations and the main cabin. Both the areas overlook the production facility through a long window opening which allows them to supervise the production work. A small pantry and toilet have been provided for daily needs.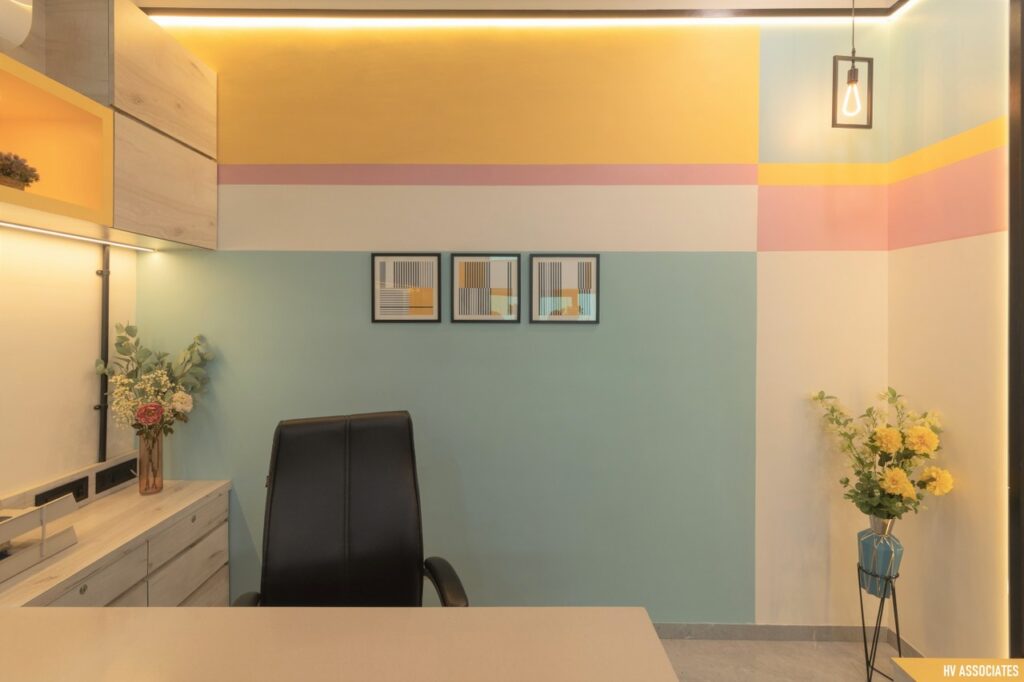 Complimenting the architectural elevation, the interiors of the office have been kept minimal and contemporary yet playful in terms of colour scheme. The exposed ceilings give a raw look to the factory office and help in enhancing the volume of the space.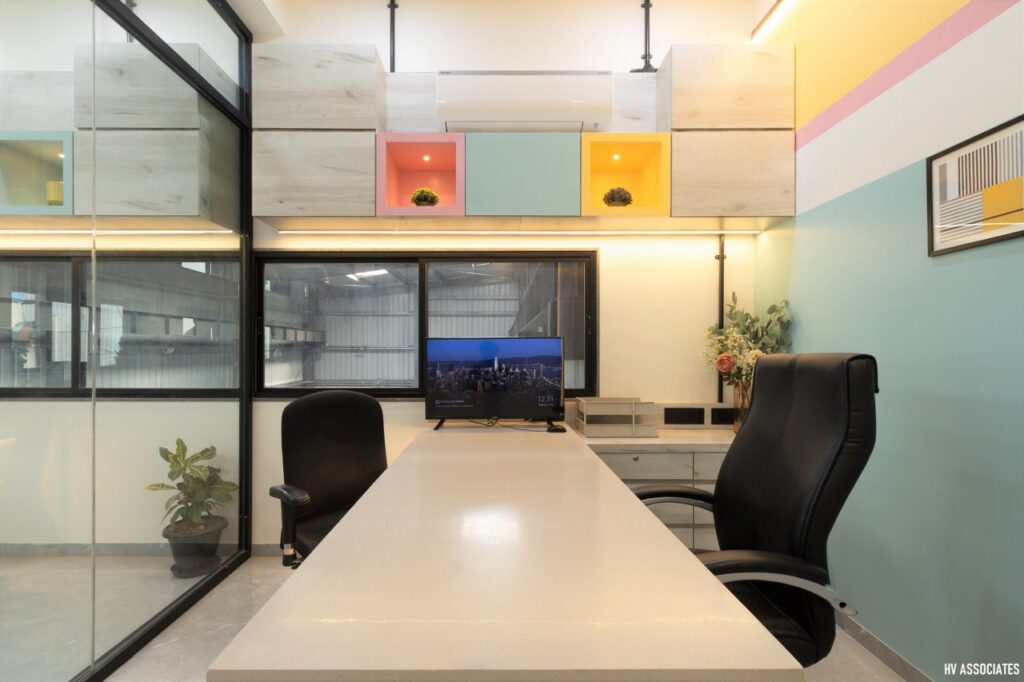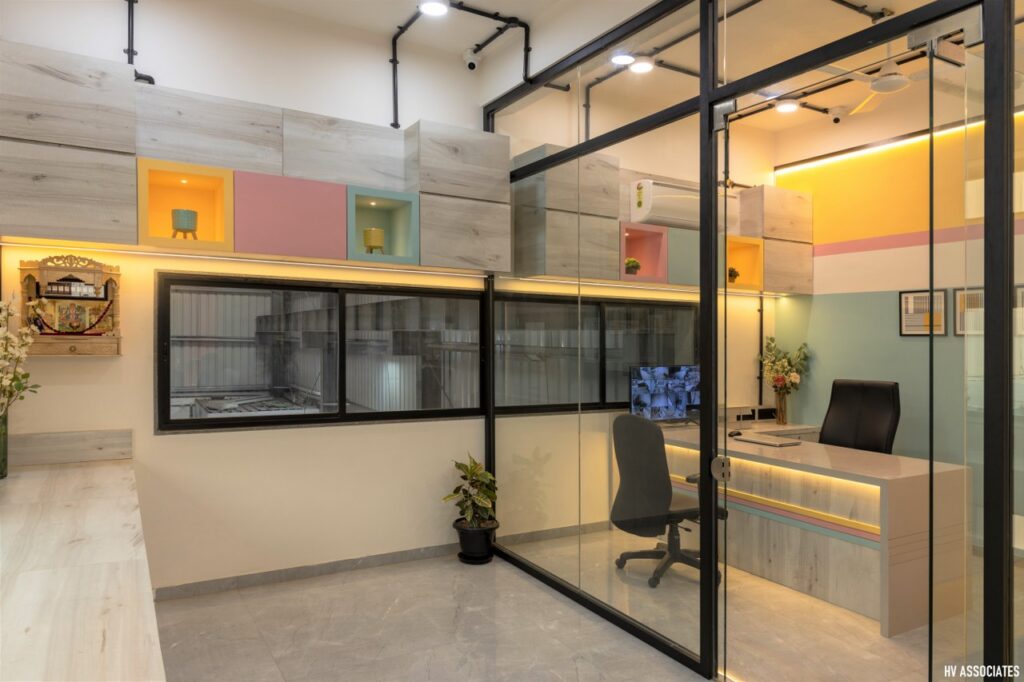 The use of panelling has been, purposefully, avoided to give an open feel. The workstation consists of a simple working ledge with an overhead storage cabinet making the area clutter-free and well composed. The furniture has been designed in soothing laminates with indirect lighting to add some drama.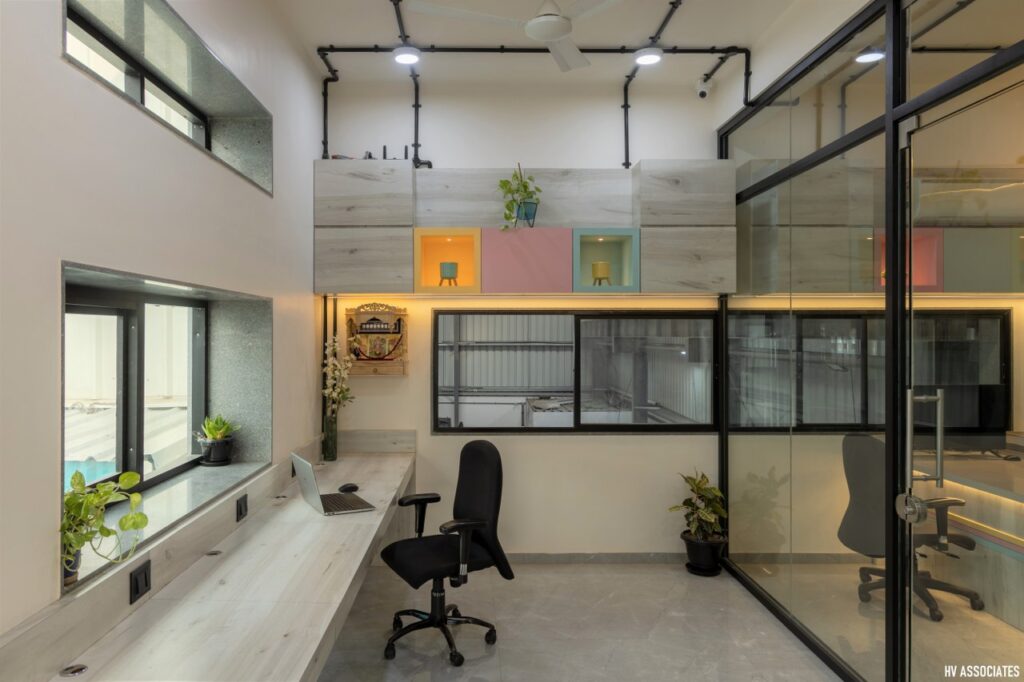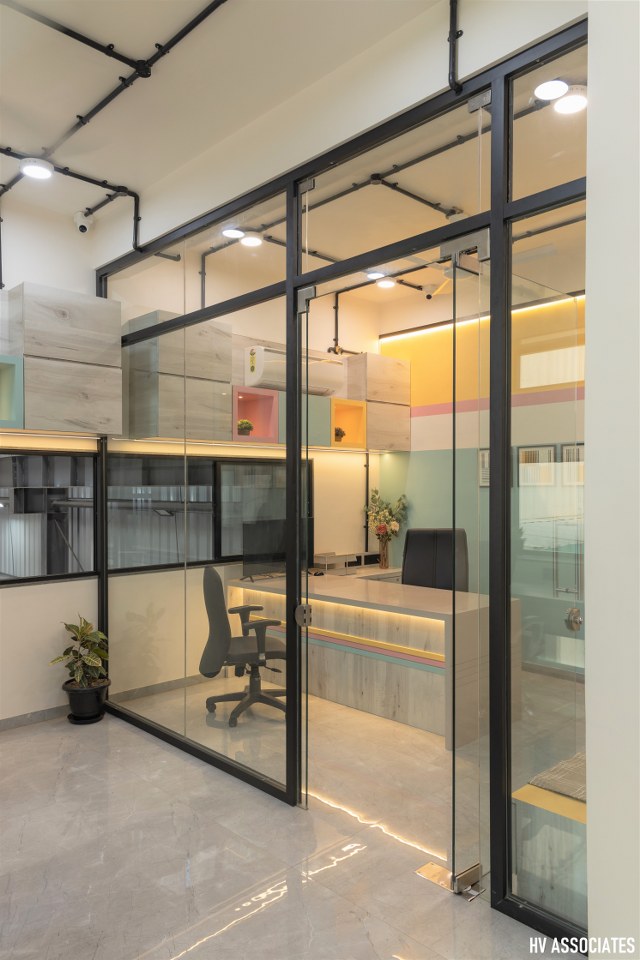 Since the logo of the company was in black and yellow, we tried to maintain those colours with adjoining white walls. In addition, pastel pink and blue shades are used as they complement well with the theme.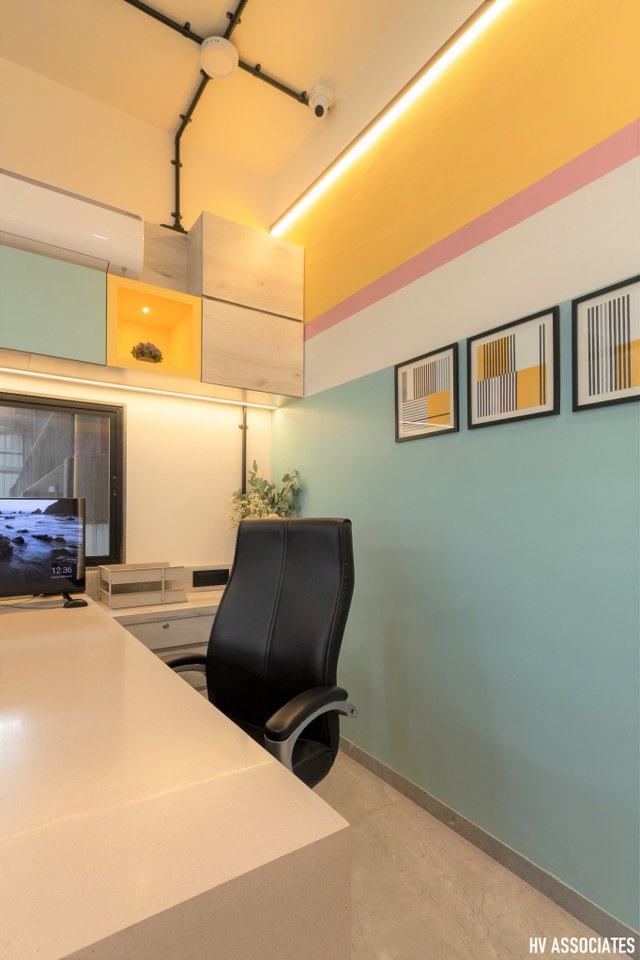 Since the journey to the office starts from the staircase, we wanted to treat it as a welcoming element. A wooden handrail with profile light adds a little charm to an otherwise, basic granite staircase flanked by walls on either side.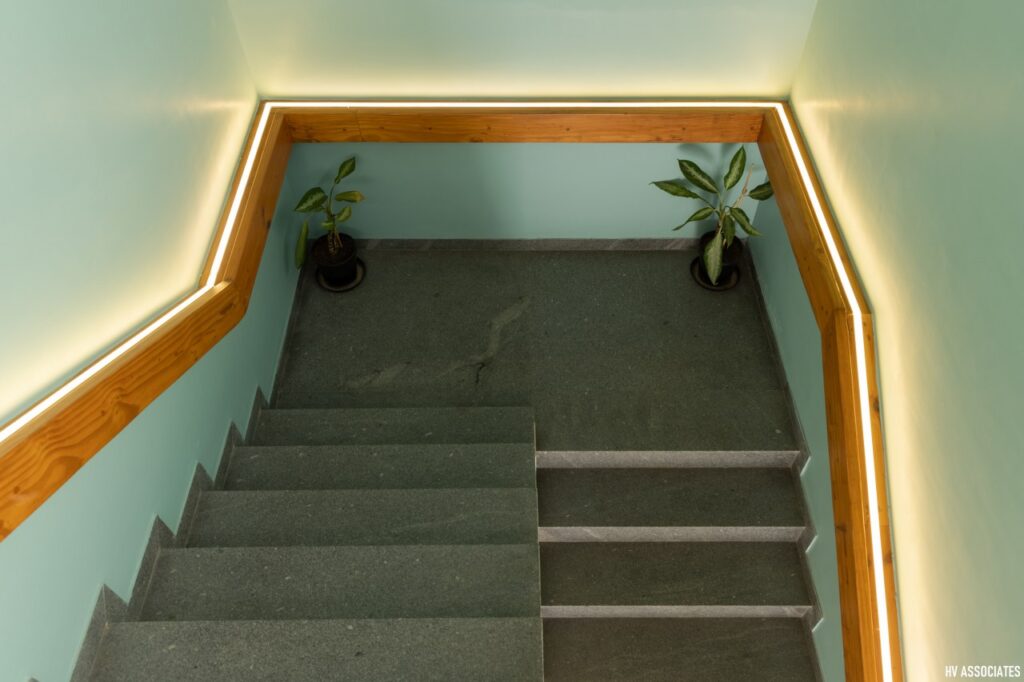 The colour blocking on the walls has been designed to make it more playful. This colour blocking, then becomes the overall theme, as you climb up the workstation and cabin area.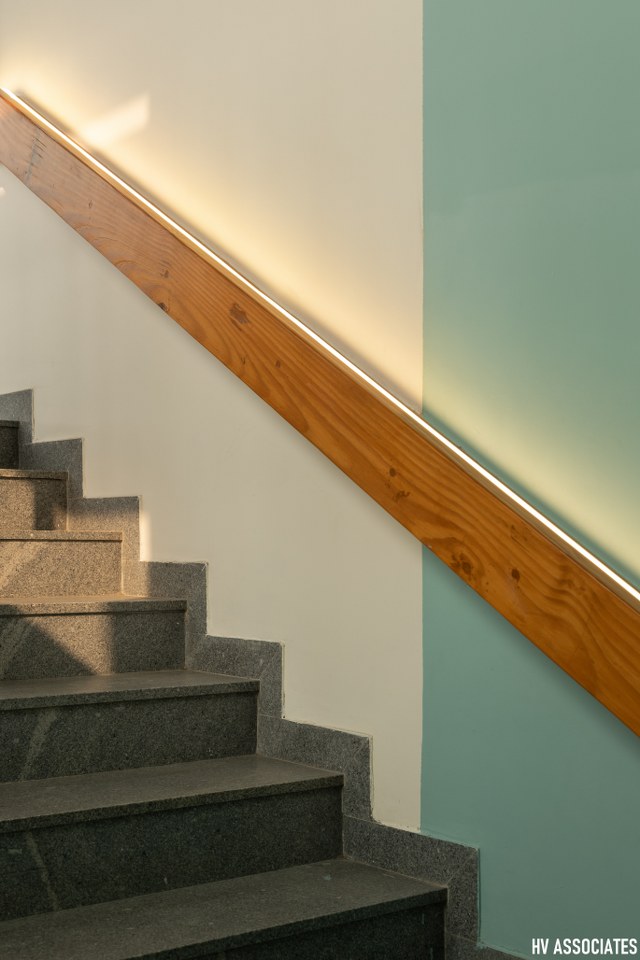 The overall décor has been kept minimal with abstract wall paintings and some planters & flowers making the work environment feel refreshing and lively.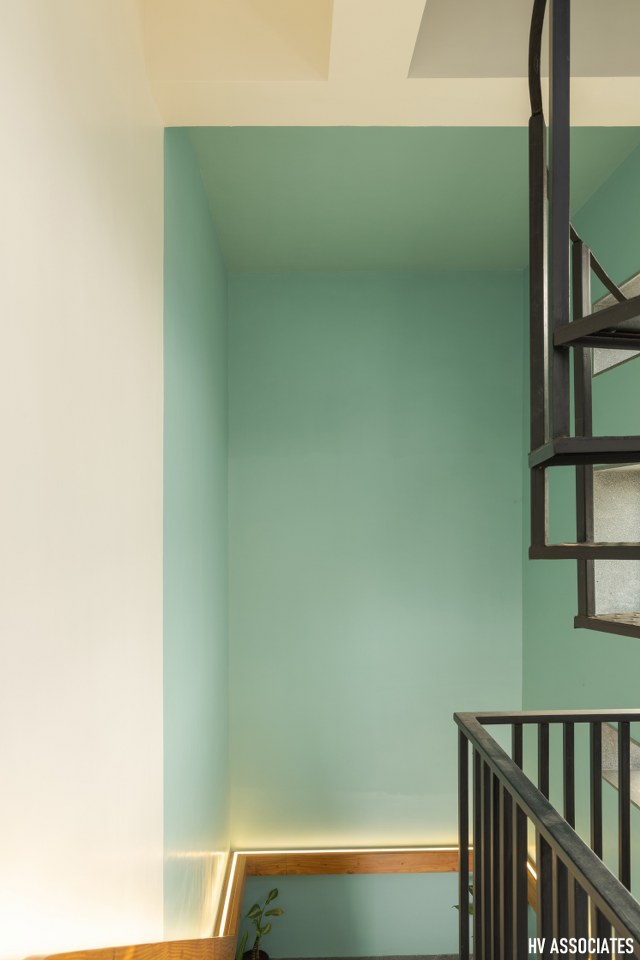 FACT FILE
Designed by : HV ASSOCIATES
Project Type : OFFICE ARCHITECTURE AND INTERIOR
Location : SHAH INDUSTRIAL ESTATE, KOTAMBI, VADODARA, GUJARAT, INDIA
Project Name : A SMALL WORKPLACE WITH PASTEL TOUCH
Year Built : 2021
Duration of the project : 8 MONTHS
Plot Area : 3272.31 Sq.Ft / 915 Sq.Ft (FOR OFFICE USE)
Built-up Area : 1435 Sq.Ft
Project Cost : 35 LACS
Principal Architect : AR. VIBHA CHAUHAN
Photograph Courtesy : The Space Tracing Company
Products / Materials / Vendors : Wallcovering / Cladding – TEXTURE IN PLASTER / Lighting – AVON LED LIGHTS / Doors and Partitions – SAINT GOBAIN GLASS WITH ALUMINUM PARTITION / Sanitaryware – CERA / Windows – SAINT GOBAIN GLASS / Furniture – HANDMADE FURNITURE BY LOCAL CARPENTERS Flooring – VITRIFIED TILES BY AGL TILES / Paint – ROYALE PAINT BY ASIAN PAINTS / Artefacts – HOME, WESTSIDE / Hardware – GODREJ.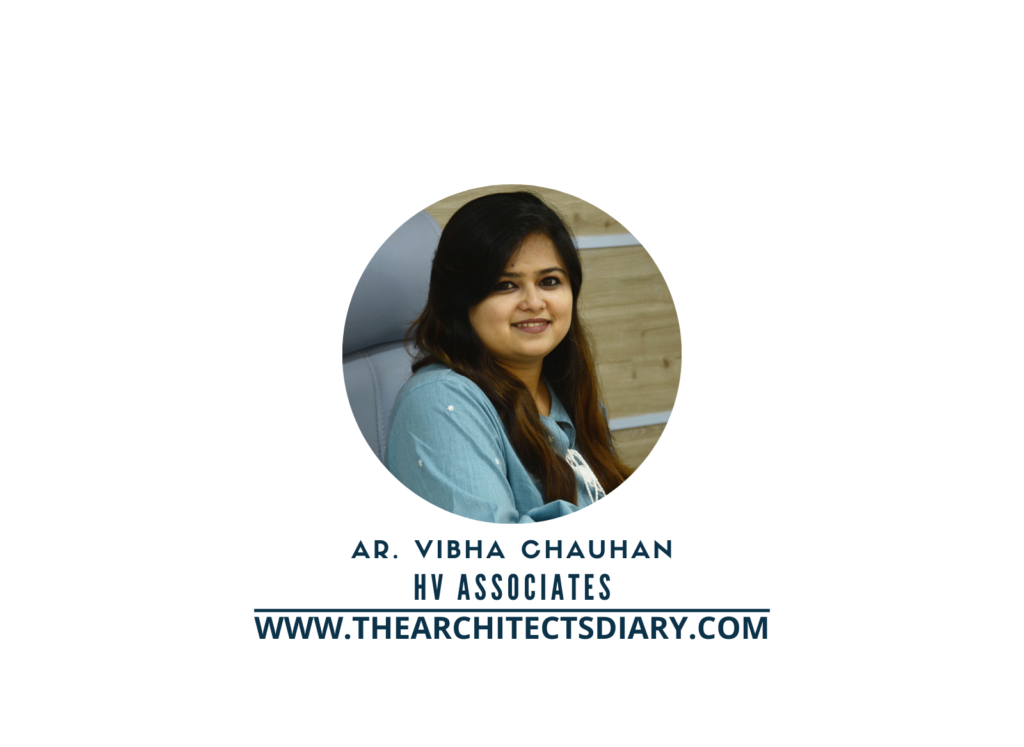 Firm's Website Link : HV ASSOCIATES
Firm's Instagram Link : HV ASSOCIATES
Firm's Facebook Link : HV ASSOCIATES
For Similar Projects >>> OFFICE SPACE DESIGNED FOR ACME WITH A MODERN TAKE ON FUNCTIONALITY AND EXPERIENCE
The post A Minimal, Functional And Budget Friendly Office Design | HV ASSOCIATES appeared first on The Architects Diary.