The site was in raw condition when we had received it, not much civil changes were done. The clients are insurance surveyor thus they have varied of clients from different fields so they specifically did not want any theme which would go along the office, instead they wanted a space where just entering into the office would create a good impression on their different clients with keeping the work ambiance in mind. A minimal and warm office space that follows simple design methodology.
A Minimal And Warm Office Space That Follows Simple Design Methodology | Matters of space
Visit: Matters of space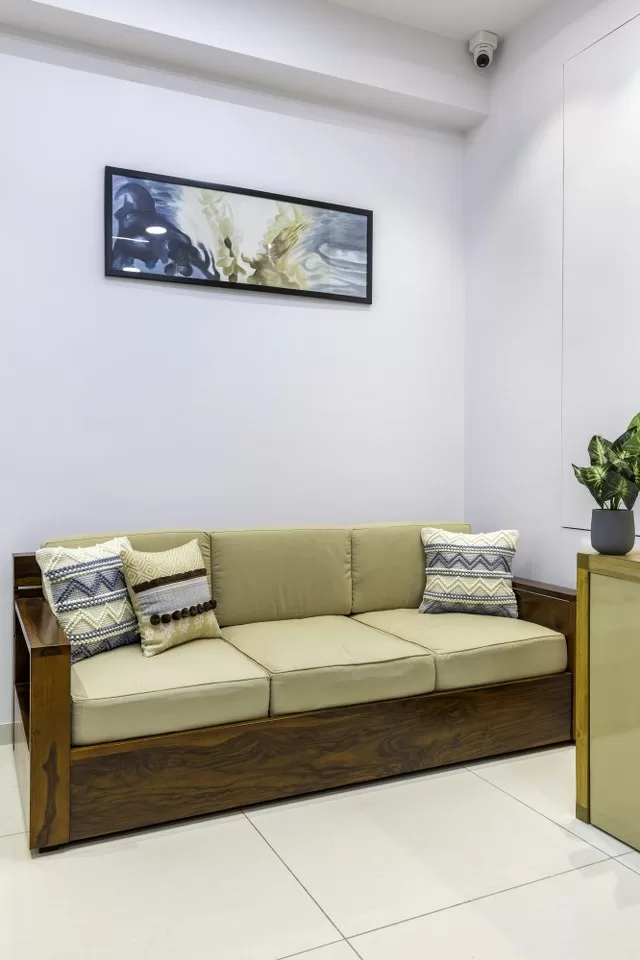 An office design can have a significant impact on the productivity of employee as well as owner. While designing the office there are several elements that we needed to consider. This includes the color scheme, lighting, furniture and layout. These elements can significantly impact the atmosphere and productivity of the office. The lighting further highlights the material palette that we choose for the design where in integral part of the furniture is finished in a combination of beige with grey laminate, wood on table top.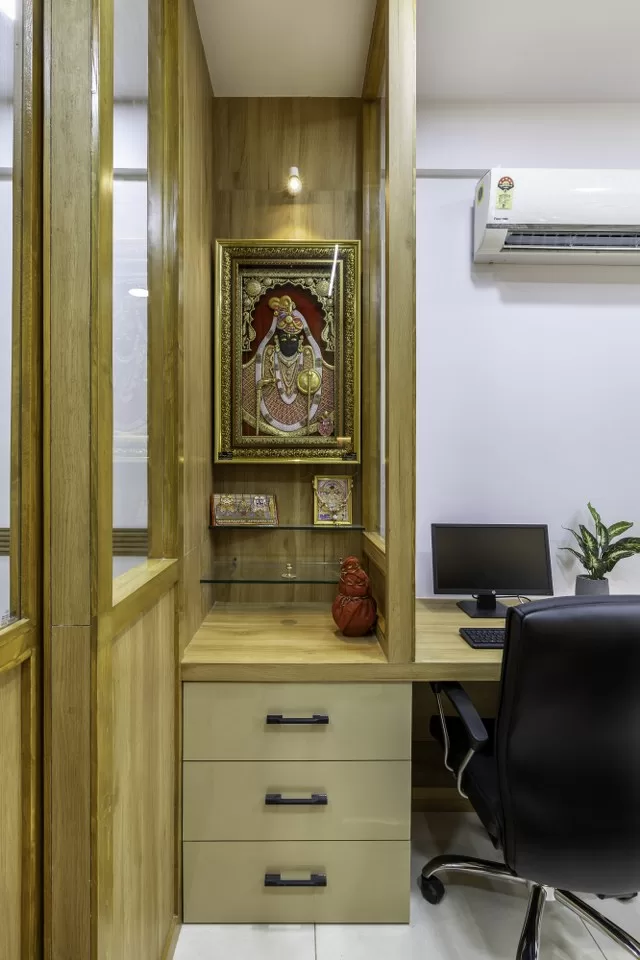 We divided the space into 3 parts – workstation, cabin and pantry that lead to toilet. Creating linear staff seating resulted in a lot on space for other things like staff area for 4, pantry for snacks, enough file storage. We chose glass partitions with solid partitions for the cabin as it would divide the whole space and had made the office look bigger while creating a sense of privacy between cabin and staff area.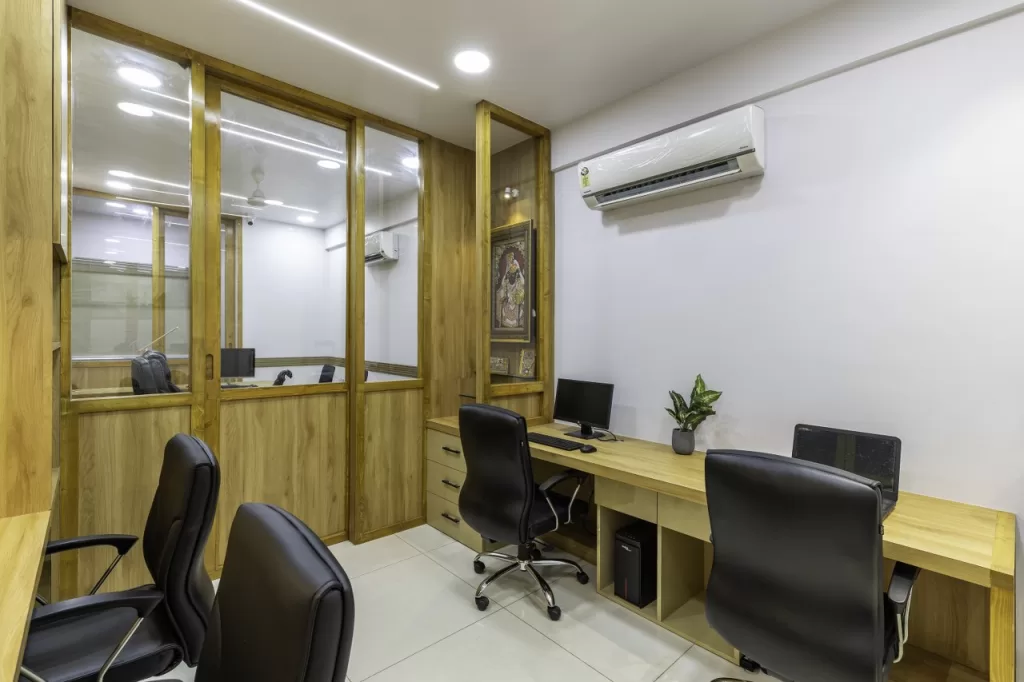 A fluid transaction of spaces by sliding doors is establishing transaction between owner and employee. The waiting area should be welcoming and comfortable seating, appropriate lighting and attractive painting. The liner seating for staff and upper storage above the workstation. The staff area table is brown wooden table top, upper head storage in back painted glass and wood.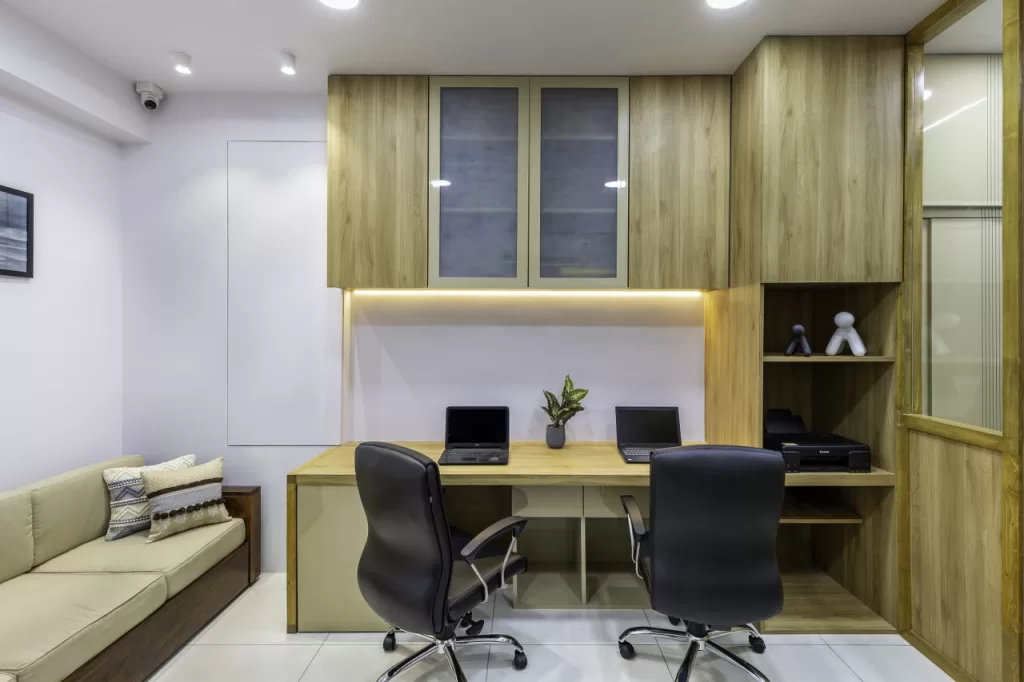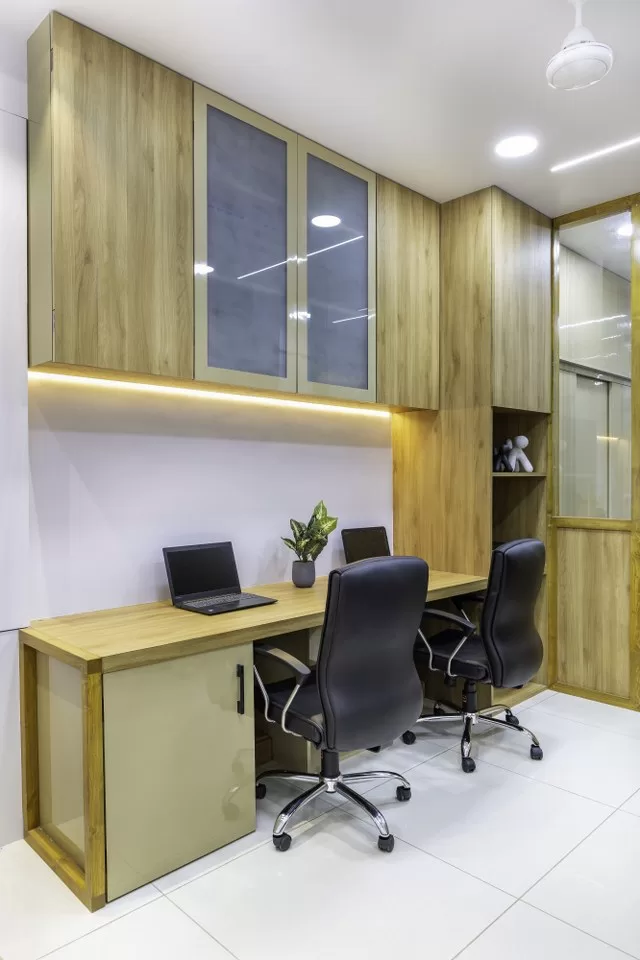 The cabin has been organized so as to accommodate a minimum 3 to 5 persons and each space has been detailed out for efficient and comfortable usage. It has been placed in a way to get maximum daylight. It has been designed with great precision of details every detail of the furniture has been worked upon so as to form a coherent interior.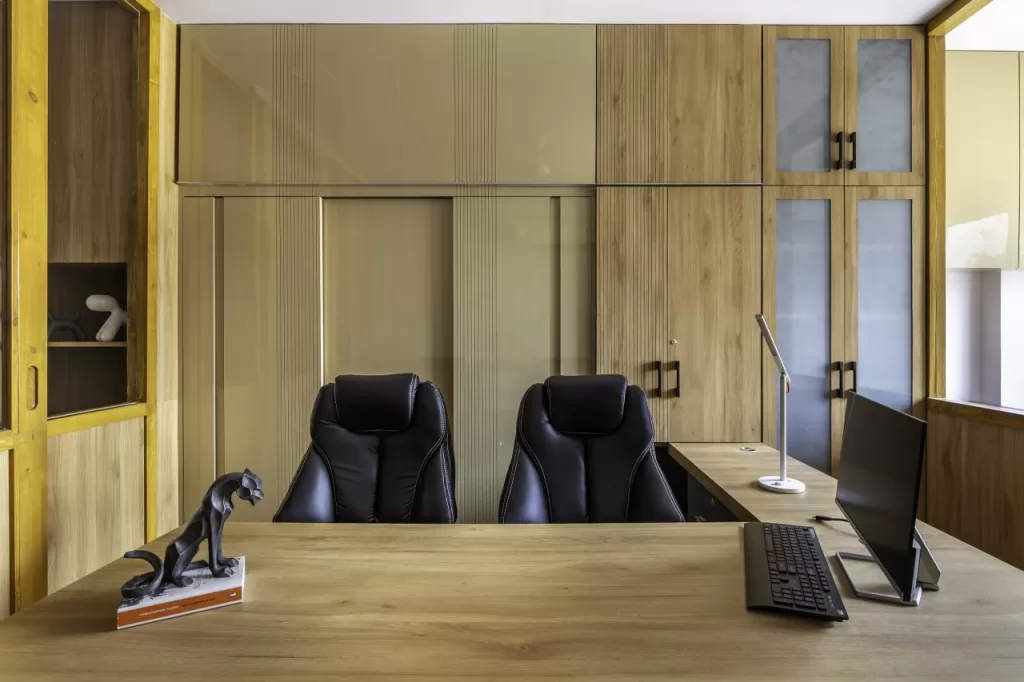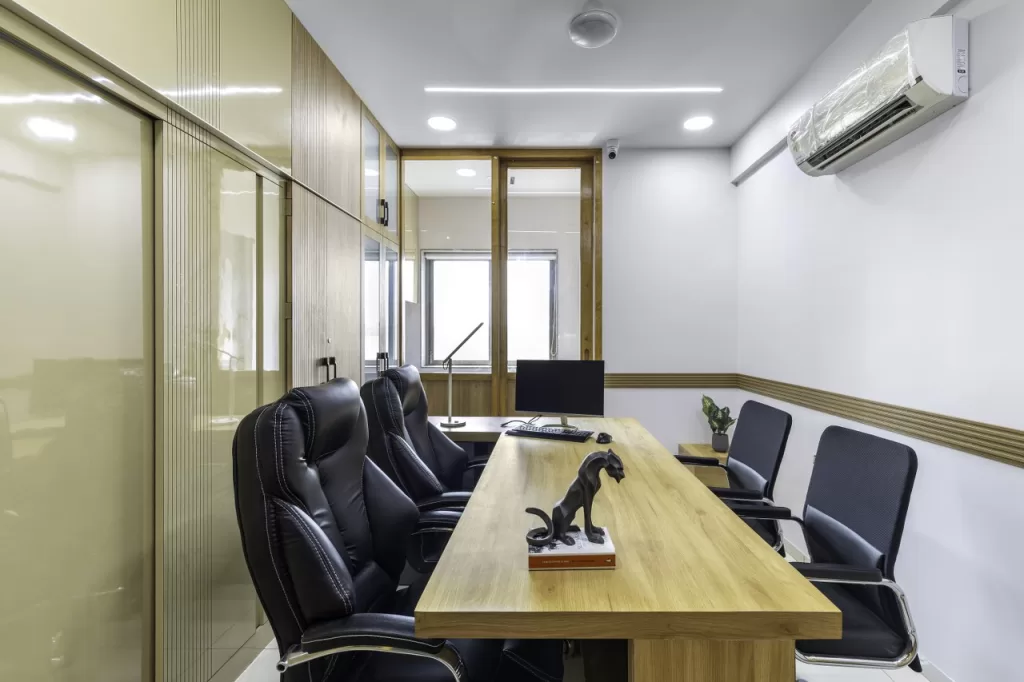 The office is high on storage. The complete wall behind the executive table acts as filling system divided according to the needs and sizes of the files The sleek wardrobe breaks the solid structure and giving it more open look . It adores the cabin, utilizing every inch yet allowing it to be look breathable. A very simplistic material palate, but it reflects the thought "Simple can be beautiful ".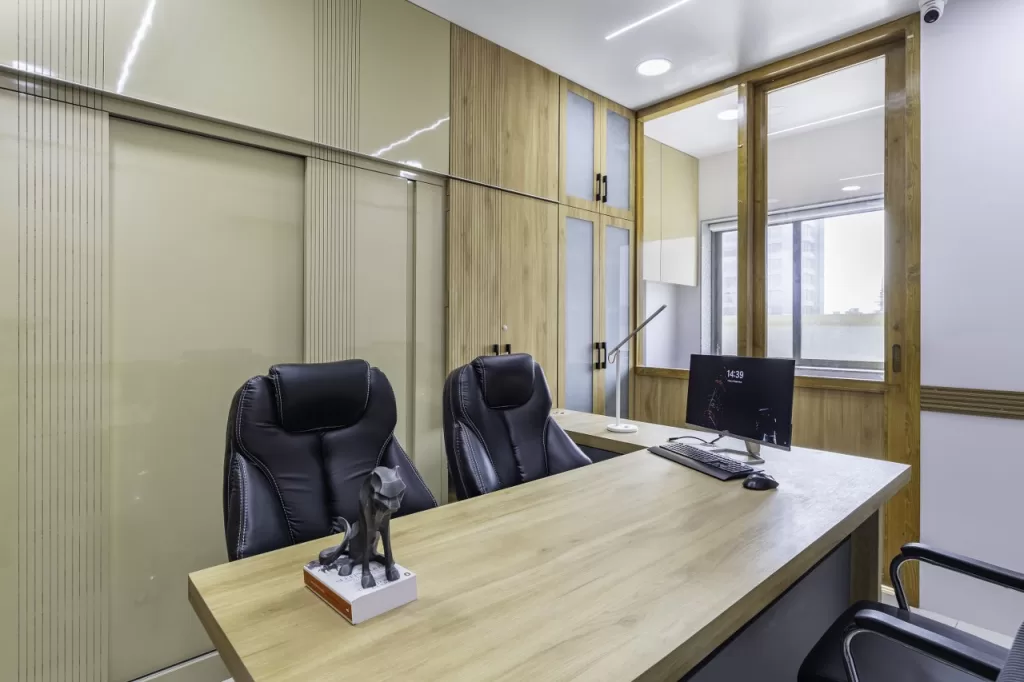 Pantry lead to toilet. A well designed space filled with great snacks and refreshing beverages and extra file storage.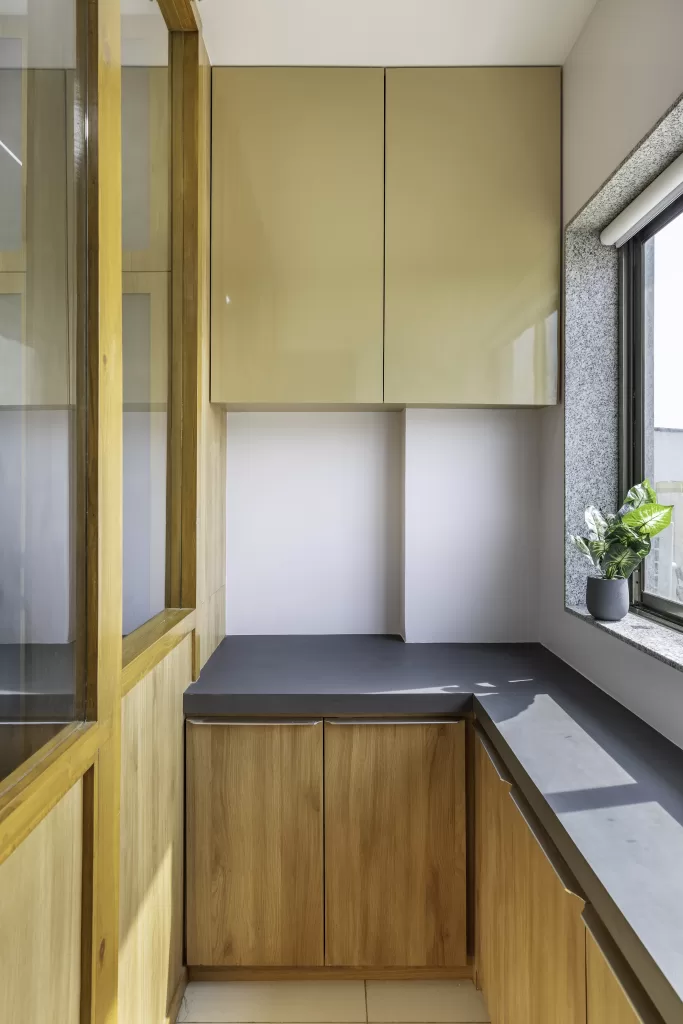 We had created and planned every material before our site started. We created details, drawings and 3d views for not just us and clients but also for the people working on it. Sometimes it's very easy for a person who has designed it to understand, but for someone who actually makes it on site it's very difficult, so the 3d views helped us in it.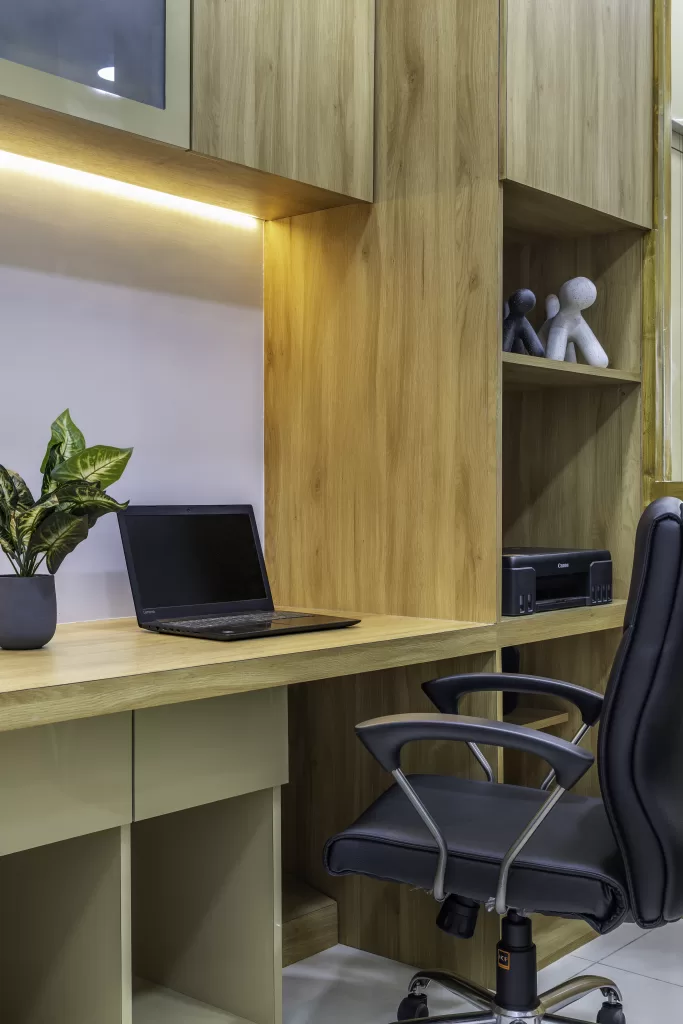 Fact File
Designed by: Matters of space
Project Type: Office Interior Design
Project Name: Office 332
Location: Vadodara, Gujarat
Year Built: 2023
Duration of the project: 3 Months
Project Size: 341 Sq.ft
Project Cost: 10.5 lakh
Principal Designer: Apoorva Jain
Photograph Courtesy: Pixellus Photography
Products / Materials / Vendors: Finishes – laminates – royale touch / Sanitaryware – Cera / Furniture – Inhouse, chairs – geeken, HOF / Paint – Berger / Hardware –haffle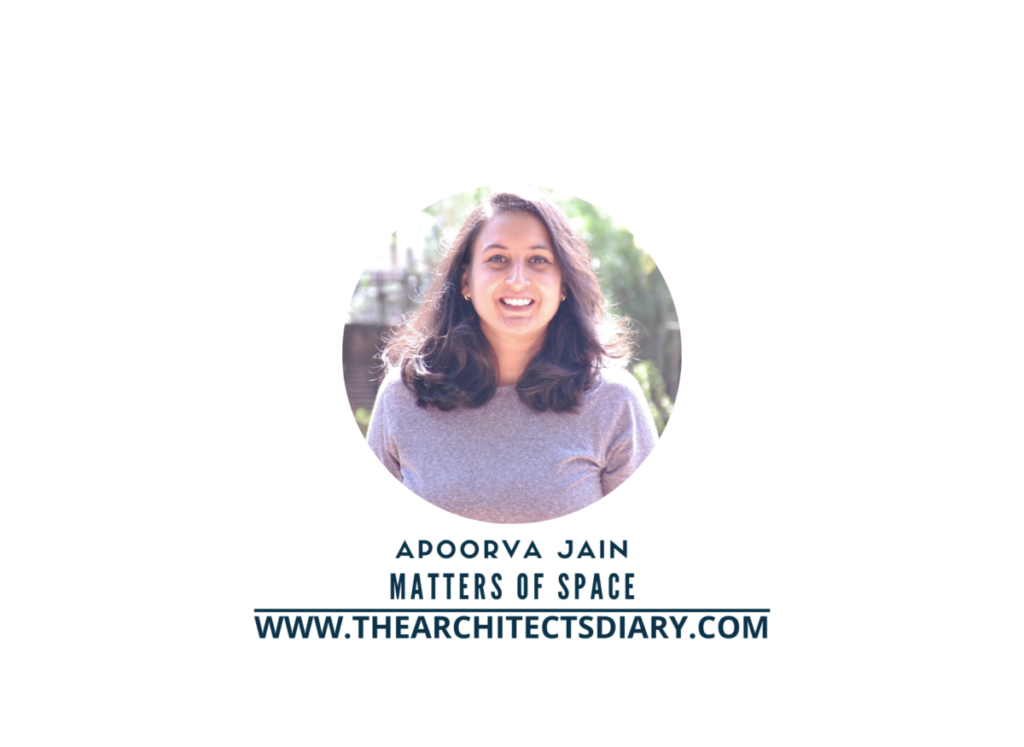 Firm's Instagram Link: Matters of space
For Similar Projects >>> This Mumbai Office is a Dashing Representation of a Fashion Fiesta
The post A Minimal And Warm Office Space That Follows Simple Design Methodology | Matters of space appeared first on The Architects Diary.