Riwaas comes with a mission of elevating spaces with luxurious, richly layered furnished interiors along with turnkey solutions. We do more than arranging chandeliers and tufted settees to somebody else's preconceived pattern of symmetry. It is about bringing forth the real diamond that shines within us all — authenticity. The authentic design is a canvas for creativity, inspiration, and exploration — and all three are the context and the story that forms the real footing in the art of luxury interiors.
A Luxurious Home With Comfort, Functionality And Richly Layered Furnished Interiors | RIWAAS
visit : RIWAAS
We believe firmly that the depth of detail is what pushes design boundaries further to the sources of authenticity. Hence "customised design" has the magic power in both luxurious residential and commercial interiors that are created according to the client's needs and taste; from tailored furniture and art to custom flooring and window treatments and much more.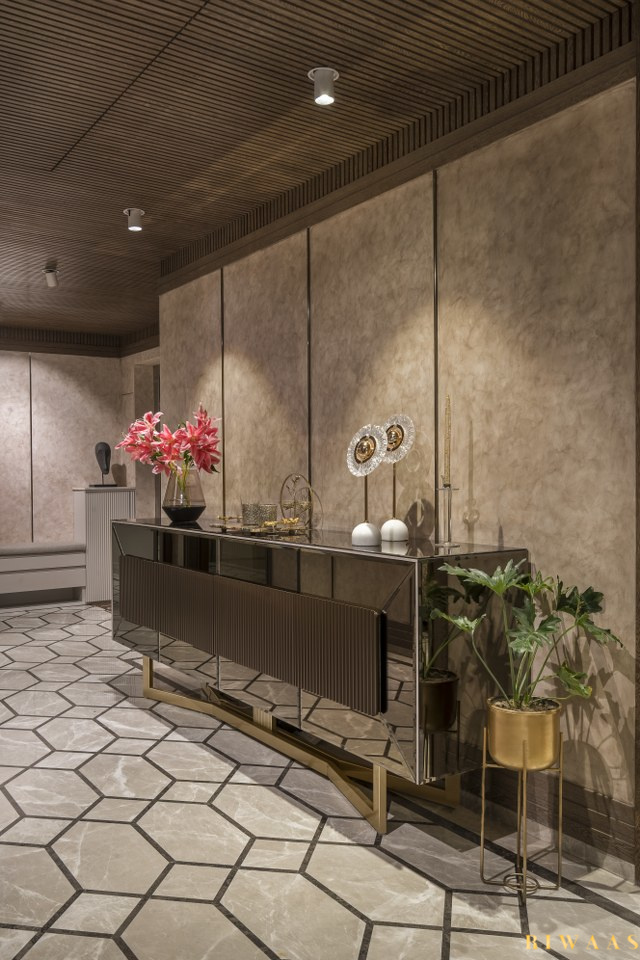 The client loves self indulging into some entertainment from time to time his TV viewing experience and needed a dedicated space for it. "We curated a lounge out of the cosy living area. Striking glossy finished marble, accentuated with steel finished in gold that blends in perfectly well with the white cabinets thus forming a gorgeous backdrop behind the television.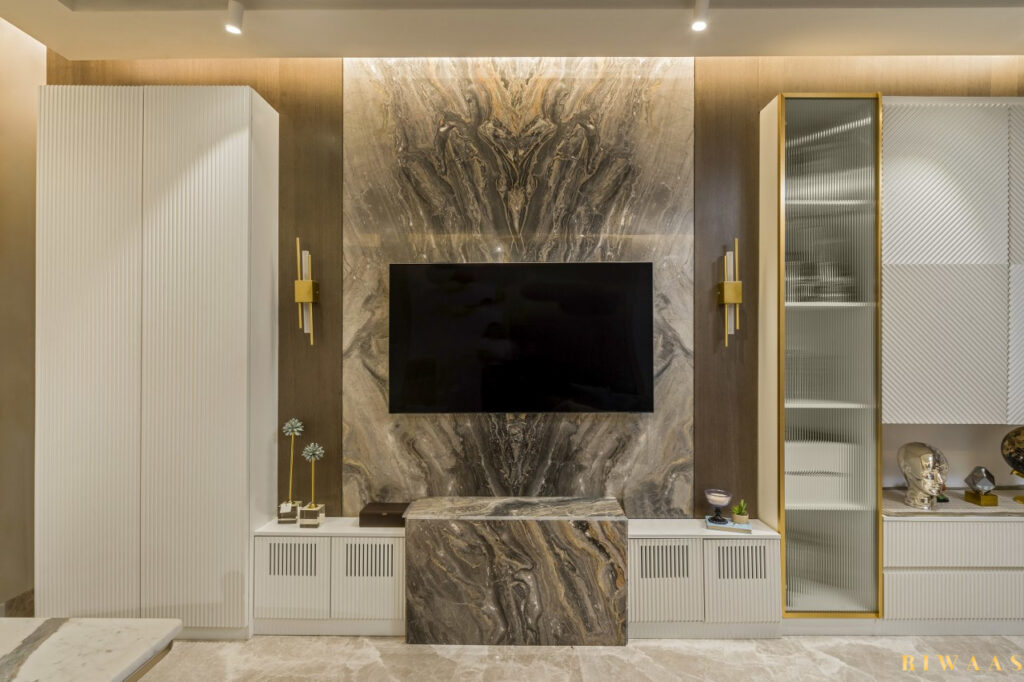 The living room which encourages conversations is built on the idea of formal seating. The design team has played with colour to add character to the otherwise muted tone. A dedicated work space in your home helps you set aside household distractions and focus on work.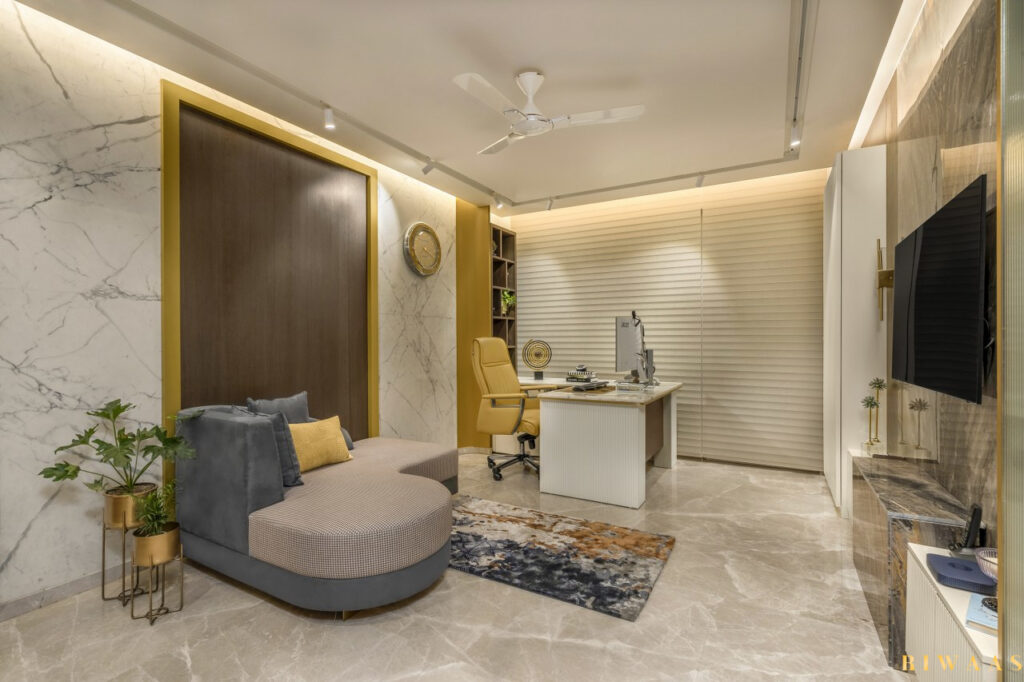 It's decor is in line with the rest of the place, which has a minimalist feel with a strictly white and gold palette and strategically placed accents of colour throughout. The marble effect rug and the pop of yellow are there to add a splash of playfulness. The mood for the office is Modern, warm, and clean-line design, with total custom details and finishes.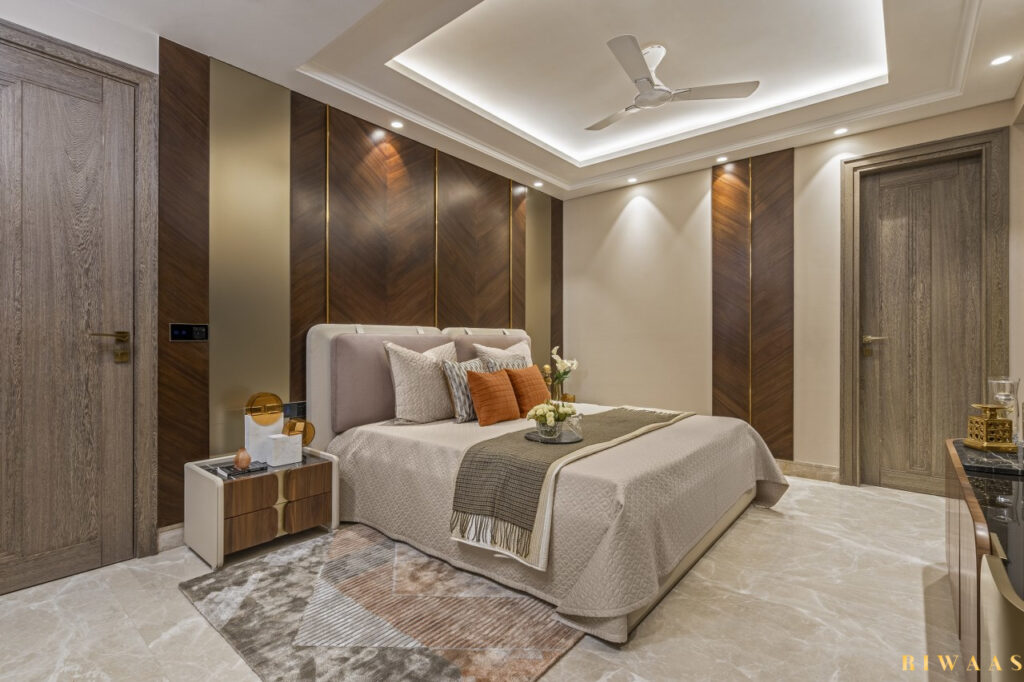 The room opens to a double cushioned queen-sized bed with beige and neutral tones with backdrop dipped in wooden texture outlined with gold panels. Marble top side tables encompassed in wood.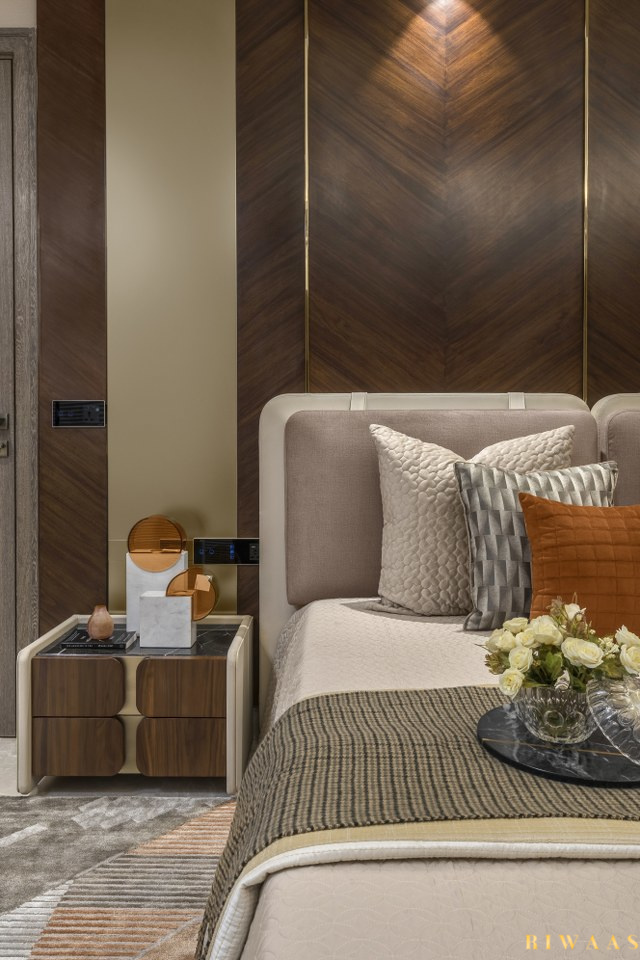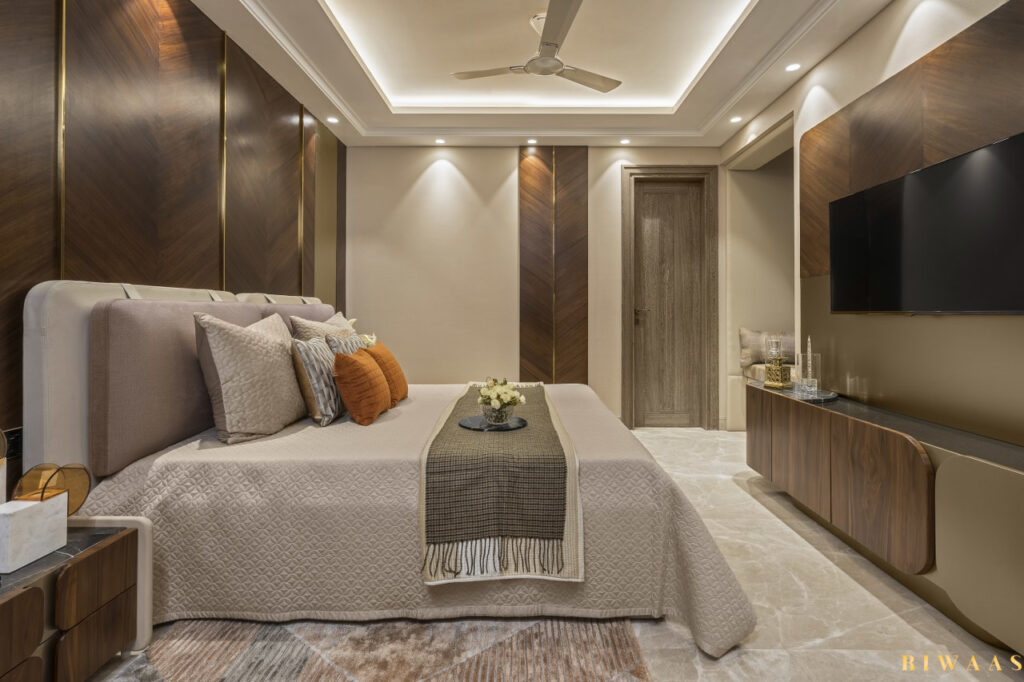 A wall panelling done in a combination of wood and brass adds a rich layer to the room. A sleek TV unit with a dresser alongside completes the picture. Overall, employing a design that is easy on the eyes, the room still manages to impress with minimal design elements.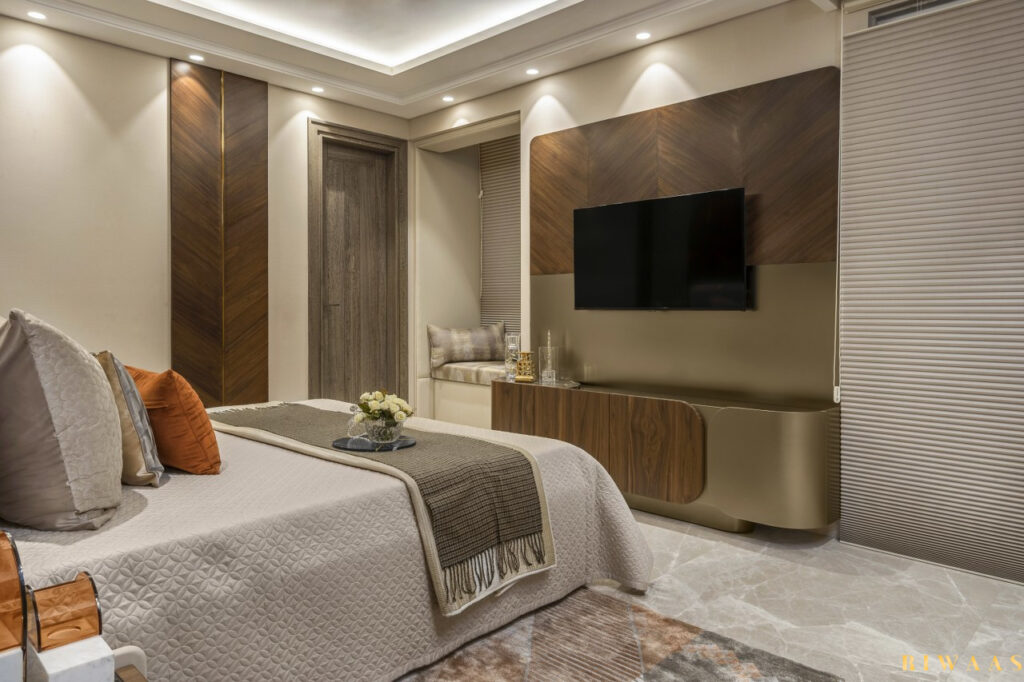 The luxurious 4 bedroom apartment is set across various themes for each room, designed as per the need of the resident, where each room gives out a true sense of the space.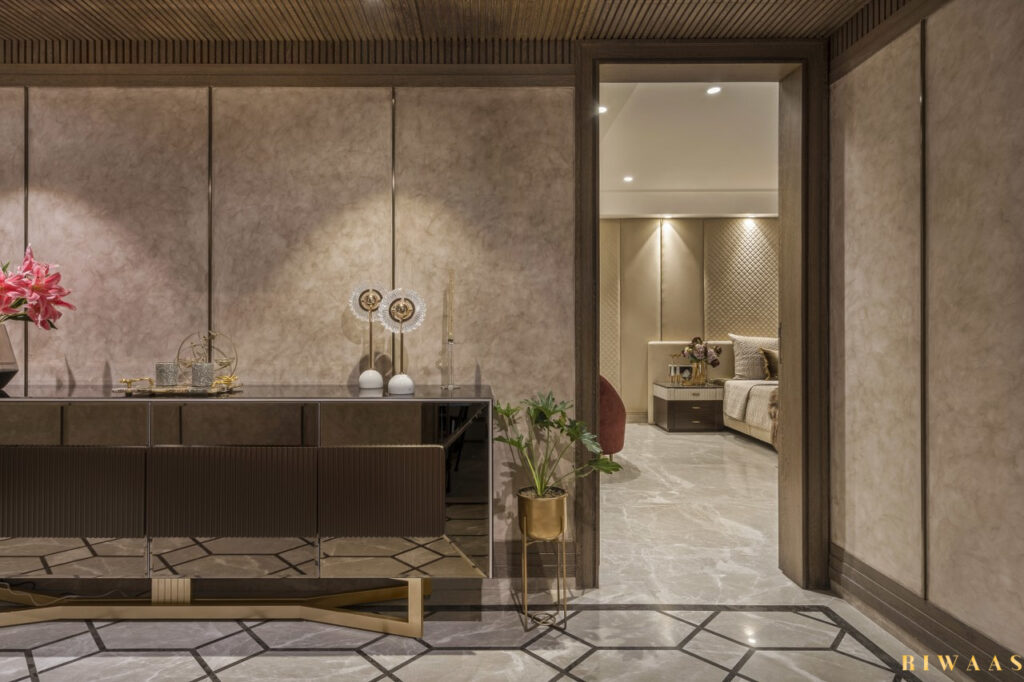 As evenings get darker earlier and the leaves start to turn, there is something so satisfying about drawing the curtains, lighting the lamps and tucking yourself away in a cosy room.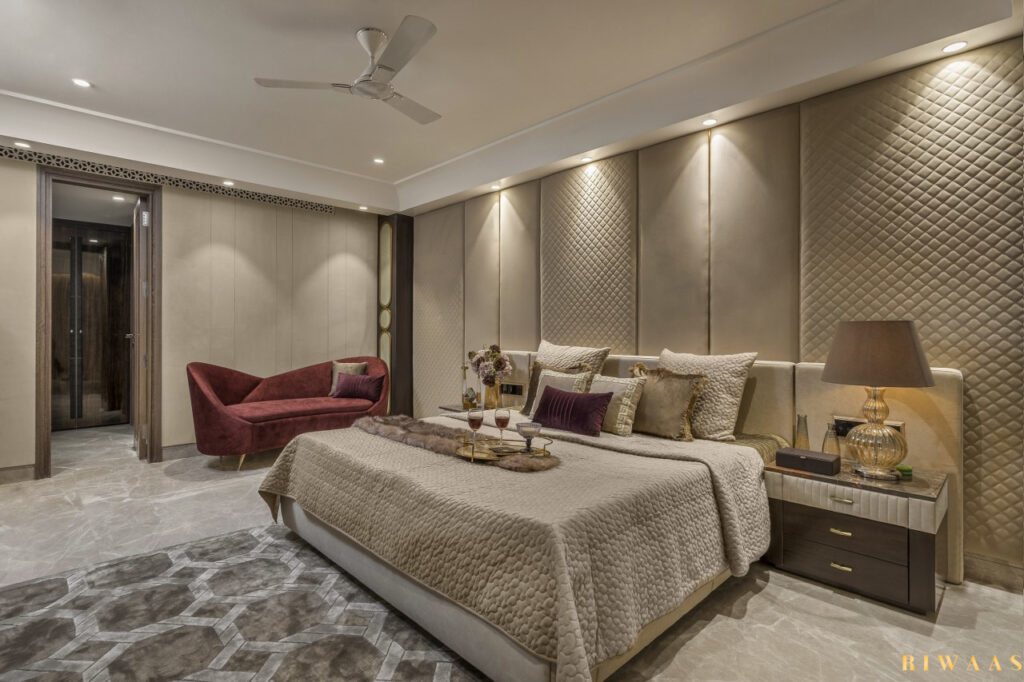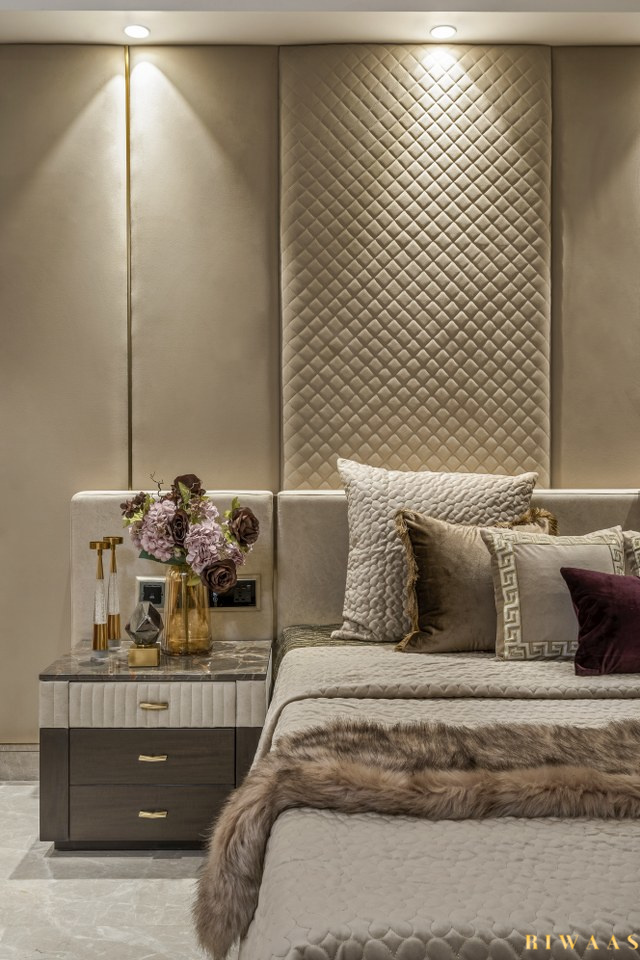 Even better if that room is painted in a colour reminiscent of those outside – rich browns, muted beige and a pop of maroon. The suede textured and geometric patterned wall panelling alongside muted curtains and contrasting rug transports you into sophistication of natural colours.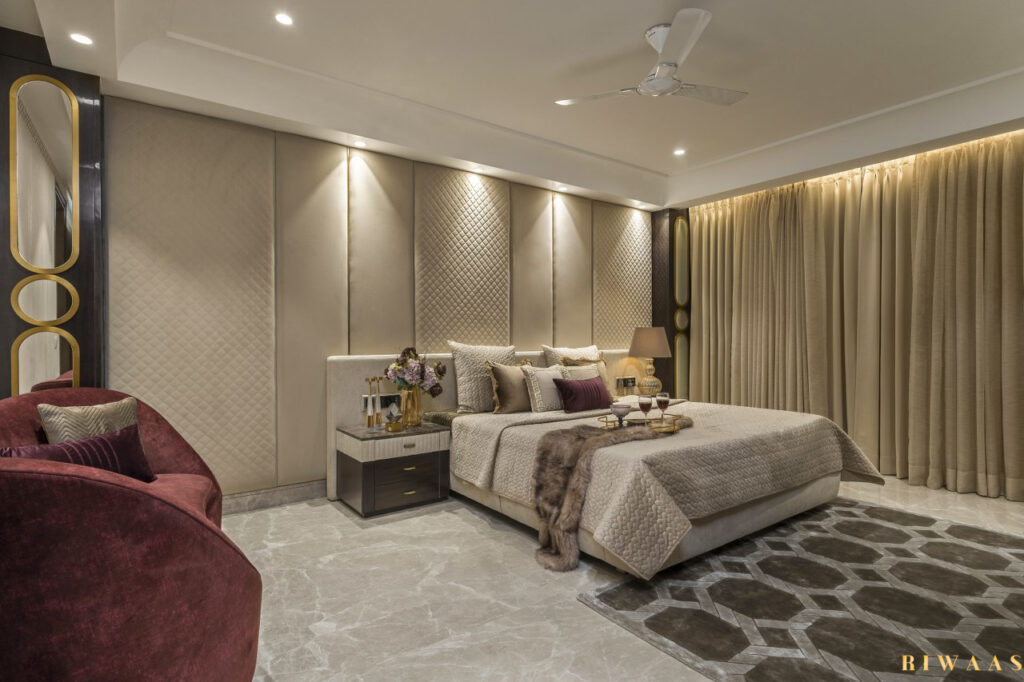 The power colour holds in design is immeasurable. A sight to sore eyes is this soothing bedroom with a touch of aqua. The bedroom promotes rest and relaxation while being energising enough for those mornings when you need help getting out of that cosy bed.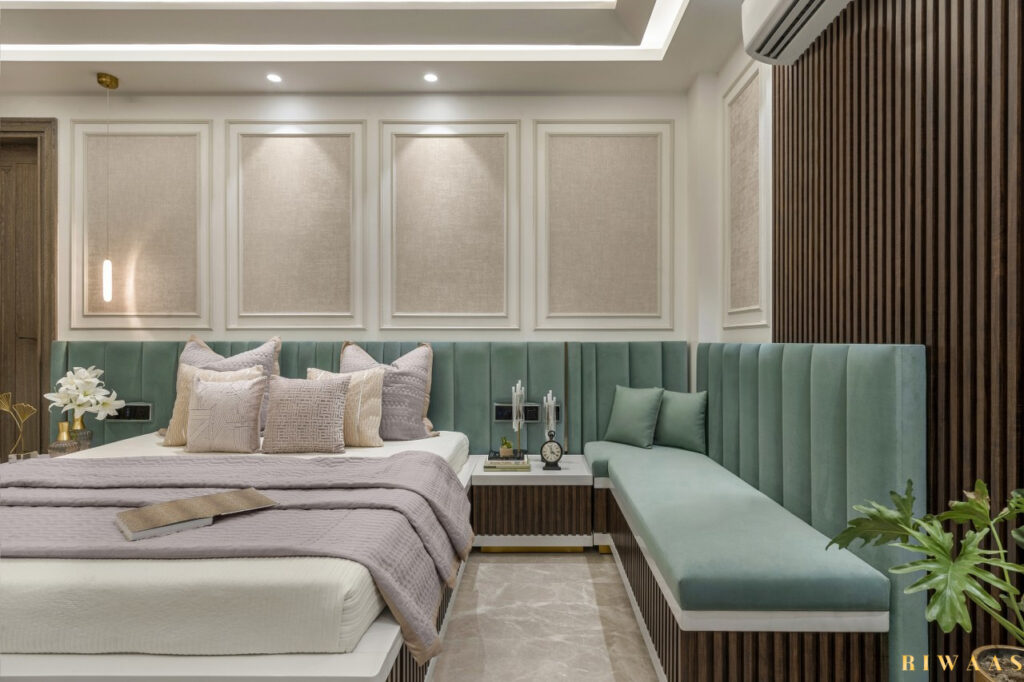 Soft lighting, the framed textured backdrops and the adjustable wooden panelling is an embodiment of tranquillity. Soft upholstery, tufted aqua side seating and welcoming headboard injects elegance, warmth and poetry into the bedroom.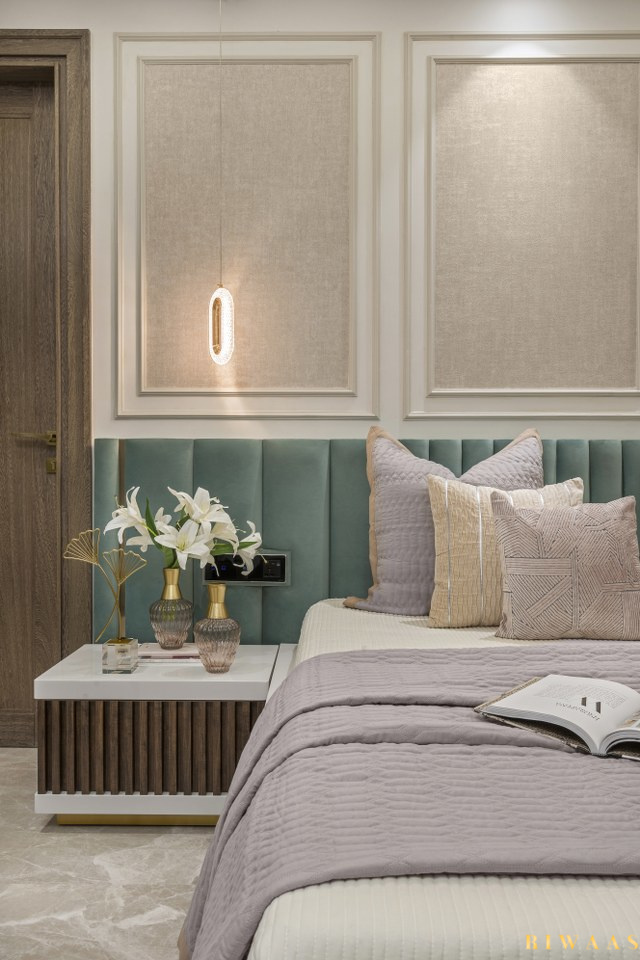 Suffused with warm wood panelling, marble flooring and a punch of blue furnishing keeps this bedroom into a dominatingly warm yet vibrant category. Soft metallic accents to add a bit of a golden touch for a modern luxe feel which directly compliments the lighting fixtures and adds quintessential luxury design accents.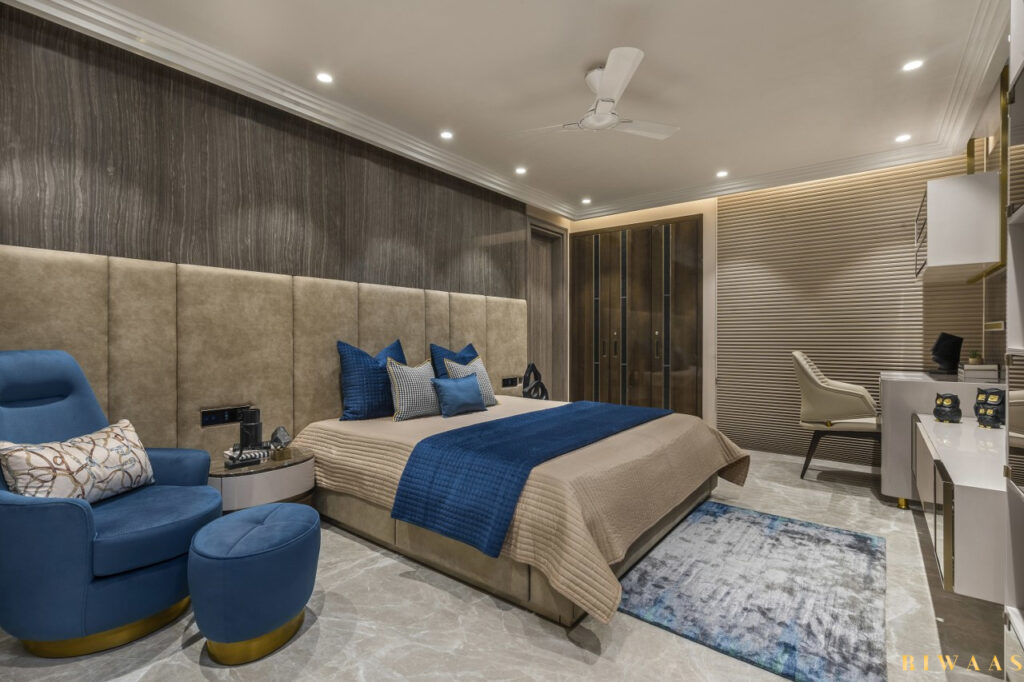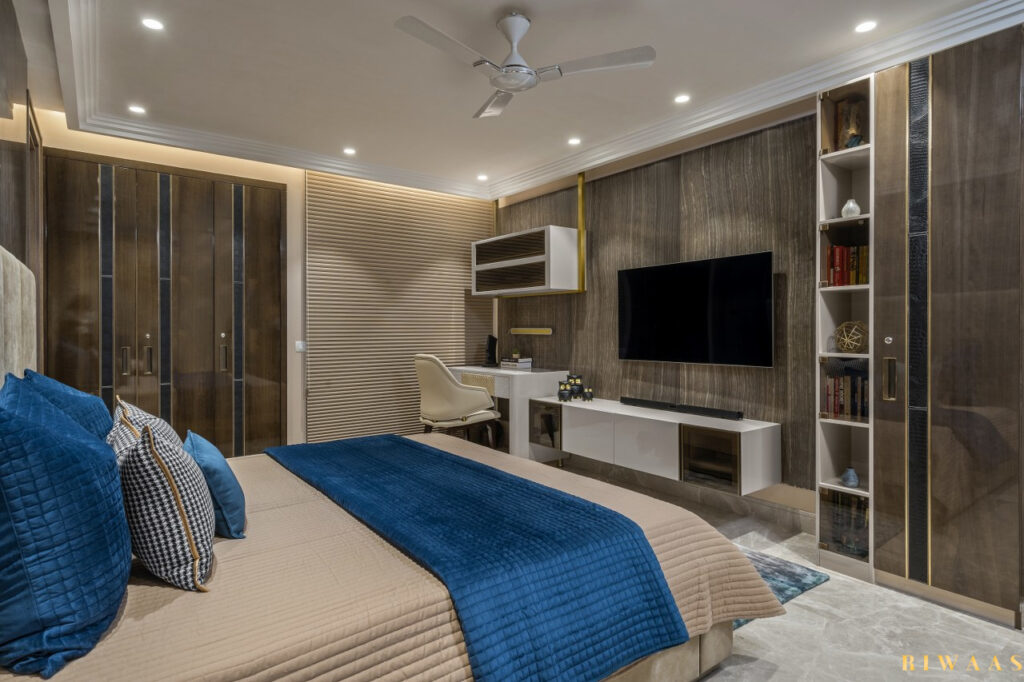 Our brand stands firmly with an ability to be innovative, providing a space, like in this case, A Luxurious Home With Comfort, Functionality And Richly Layered Furnished Interiors. The individuality extends as we take pride in establishing deep commitments with our clients, with thorough research and analysis thus resulting in a Design that resonates with its context and time.
The bathrooms are fuss-free, yet elegant and intimate, with a neutral palette. One of the features that sets Riwaas apart is the complete in-house capability to execute all the designs that the team comes up with.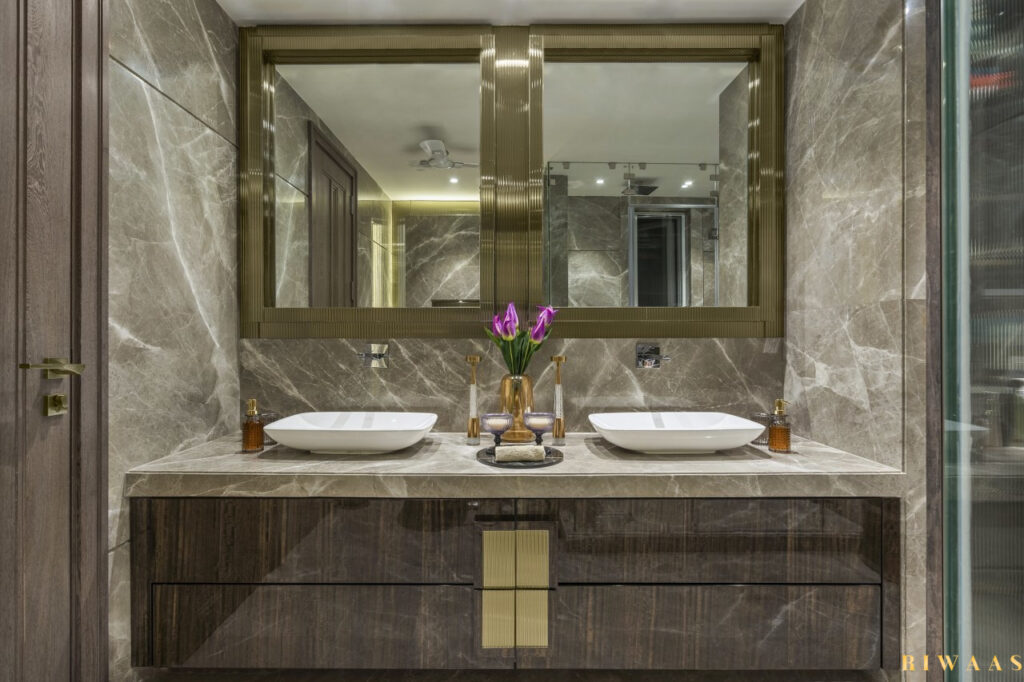 A large team of site professionals including Interior designers, Interior decorators and Architects along with the manufacturing support allows the company to handle multiple projects with utmost level of perfection. We aim to explore opportunities for master planning projects whereby we can create a harmonious balance between living spaces and the surrounding environment.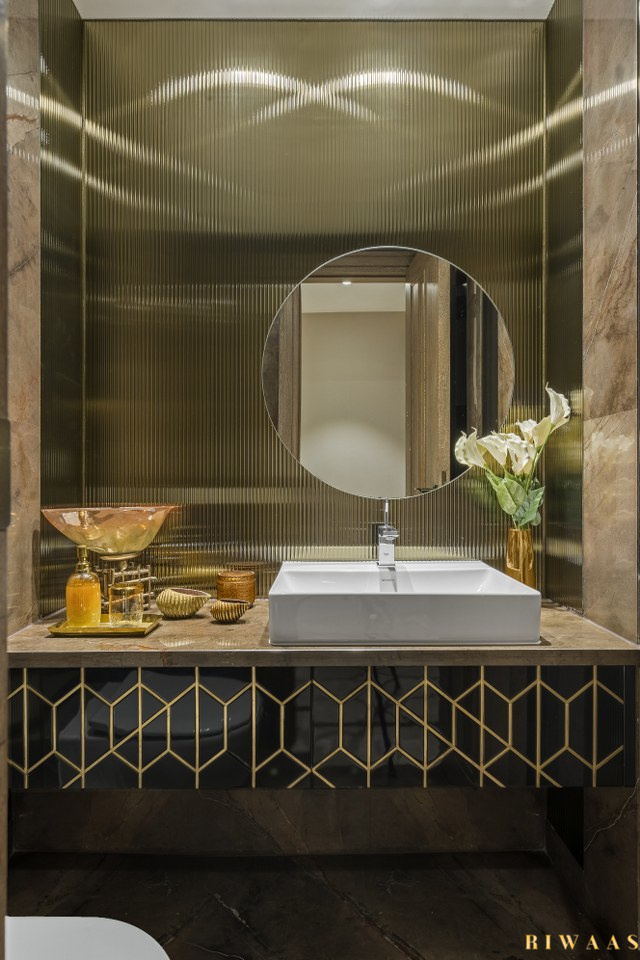 FACT FILE
Designed by : RIWAAS
Project Type : RESIDENTIAL INTERIOR
Project Name : The Modern Abode
Location : VASANT VIHAR, NEW DELHI
Year Built : 2022
Duration of the project : 7 MONTHS
Plot Area : 600 sq. yards
Built-up Area : 20000 sq.ft
Project Size : 3000 Sq.ft
Principal Designer : RIYA VERMA
Photograph Courtesy : TARANG GOYAL
Products / Materials / Vendors : Wallcovering / Cladding – Duro for veneer, warwick for fabrics / Doors and Partitions – In house production / Sanitaryware – Grohe / Furniture – In house production/ Flooring – MARBLE / Paint – MiCasa / Wallpaper – Artisan / Hardware – JB gupta.
Firm's Website Link : RIWAAS
Firm's Instagram Link : RIWAAS
For Similar Project >> A BUNGALOW DESIGNED WITH THE THOUGHTFUL BLENDING OF STYLES IN CONTEMPORARY SETTINGS
The post A Luxurious Home With Comfort, Functionality And Richly Layered Furnished Interiors | RIWAAS appeared first on The Architects Diary.