The fusion design is brought to life through the use of natural materials like wood, cane, bamboo and stone, creating a sense of harmony. Introducing Japandi 101- A hybrid design of Japanese Nordic style that incorporates hints of Scandinavian influence.
A Hybrid Design of Japanese Nordic Style that Incorporates Hints of Scandinavian Influence | Local Dots
Visit: Local Dots
The colour palette is dominated by various shades of brown, creating a warm and inviting atmosphere. To further enhance the tranquillity of the space, soft greens and natural tones are used, providing a soothing visual experience.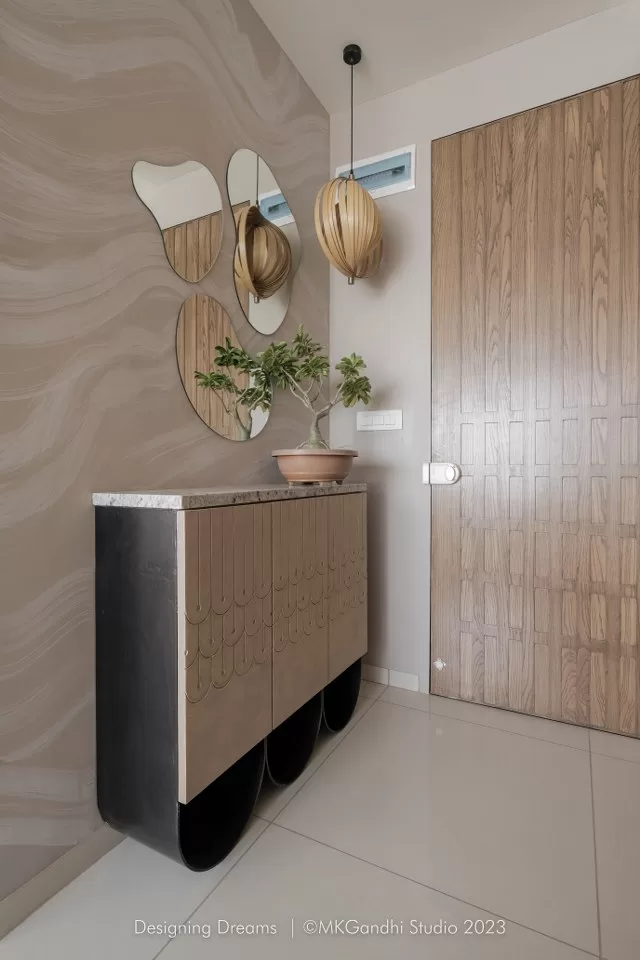 In the foyer, the abstract mirror arrangement not only adds a touch of elegance but also promotes positive energy flow according to vastu principles. The beigy-white wall texture adds a soft and calming backdrop, allowing the bonsai in front to shine and not look overboard.
In the living room, we embrace a "less is more" approach, focusing on quality and purposeful items. The circular ceiling creates a captivating focal point, enhancing the grandeur of the space. The free-flowing design prioritizes the allowance for natural light, ventilation and easy movement in different areas.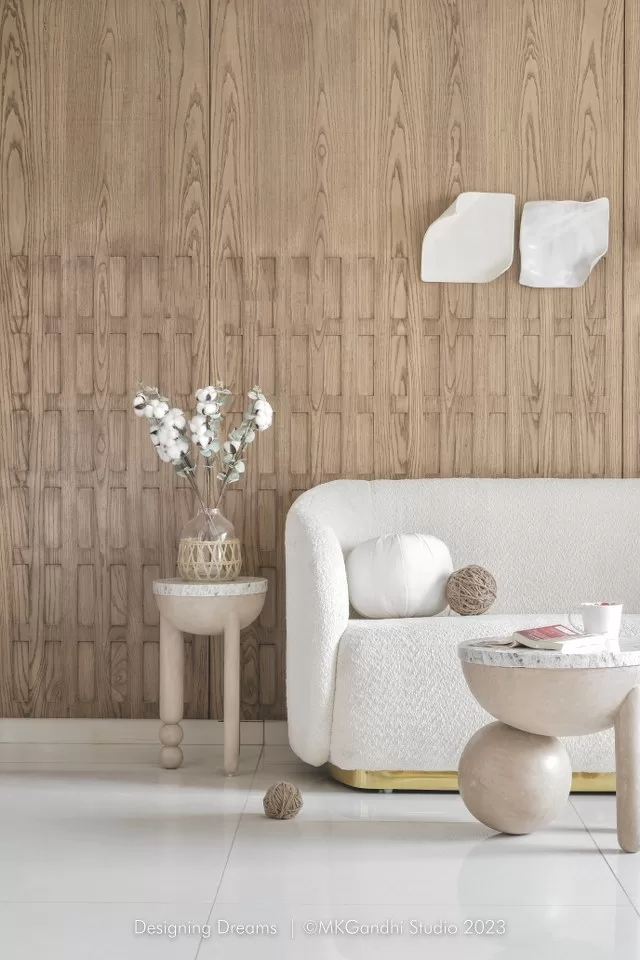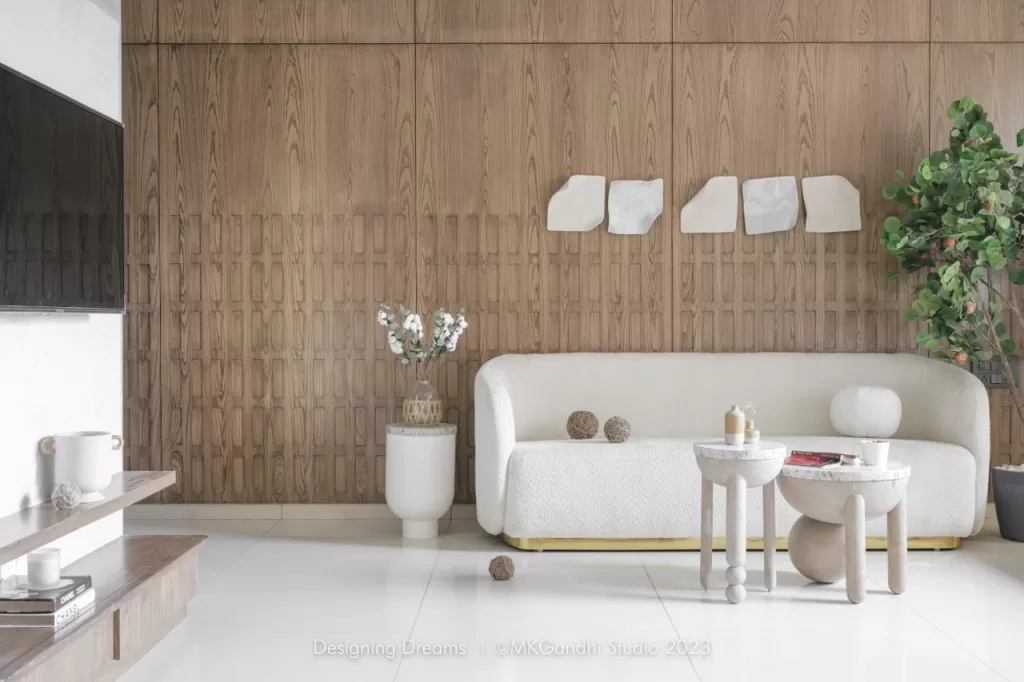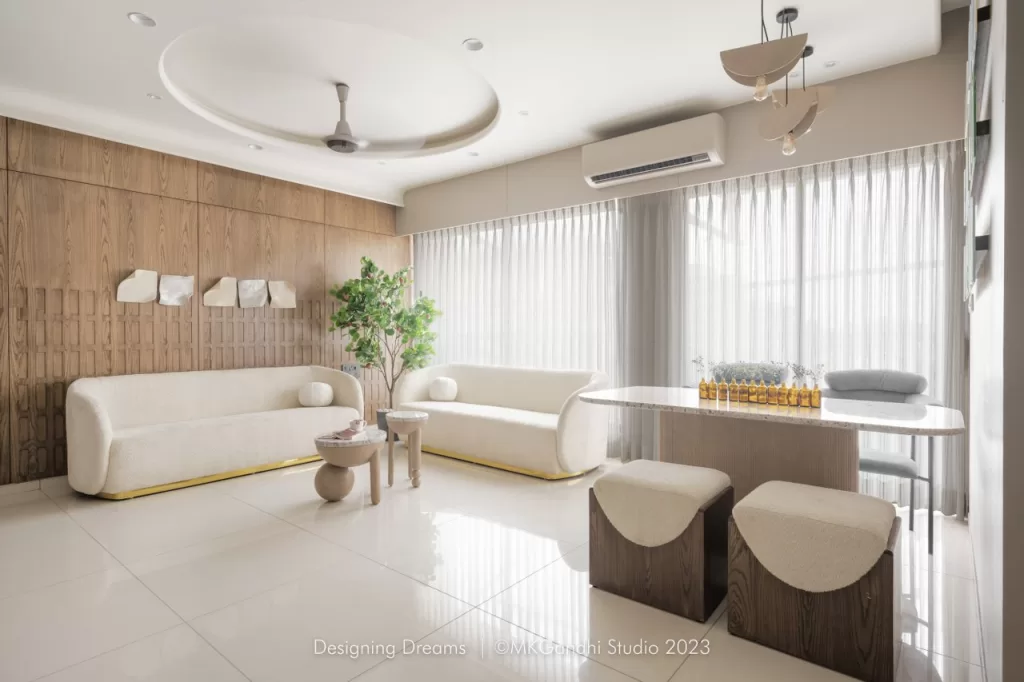 Luxurious sheep fur material in sofa upholstery with asymmetrical ceramic plates hanged on warm wood back panelling and statement houseplant in terracotta pot creates a wabi-sabi vibe.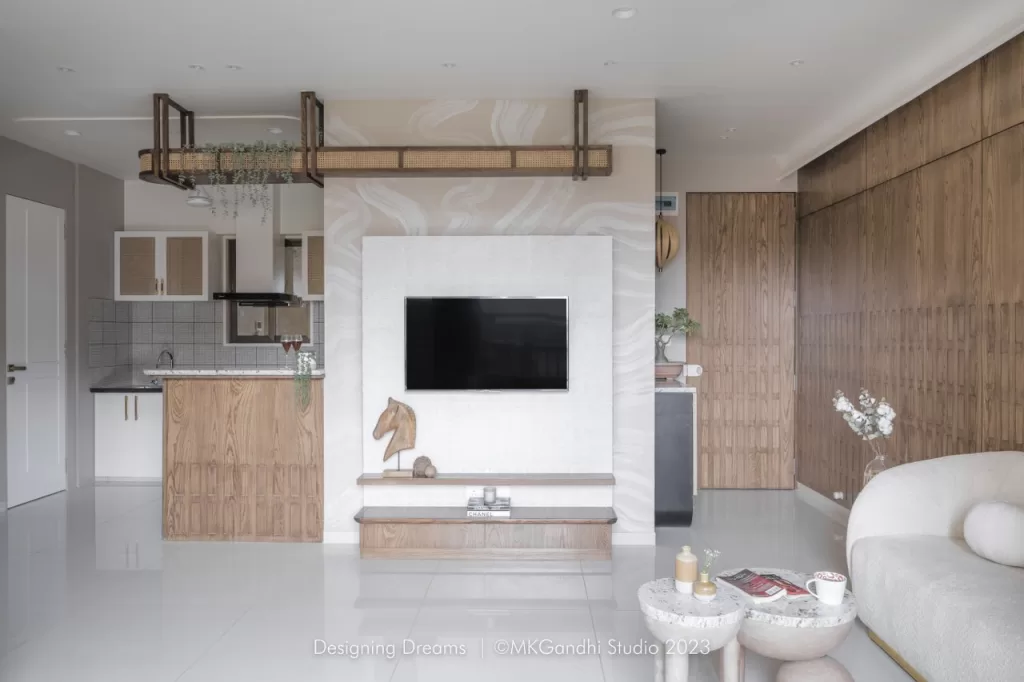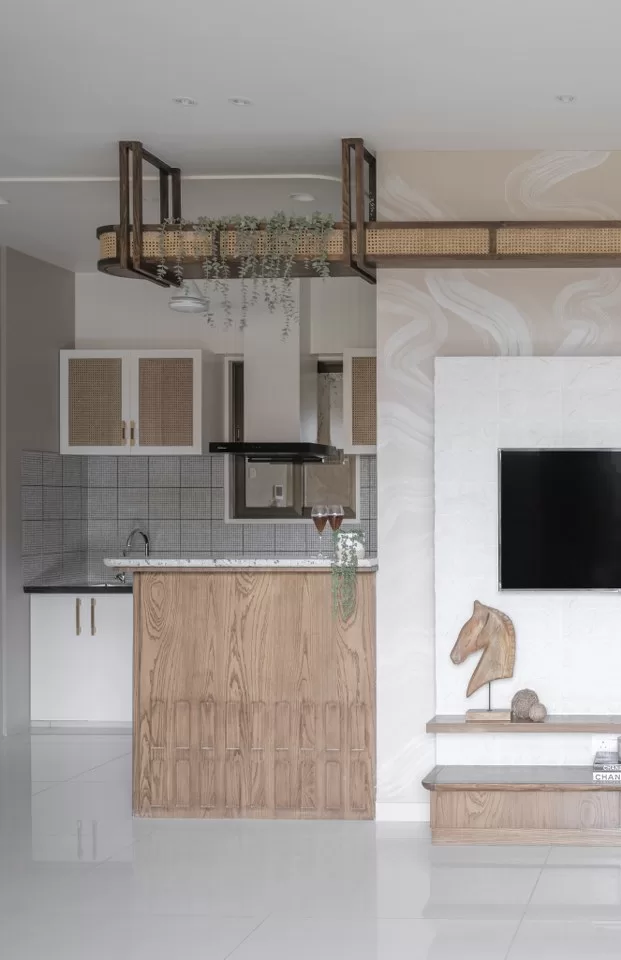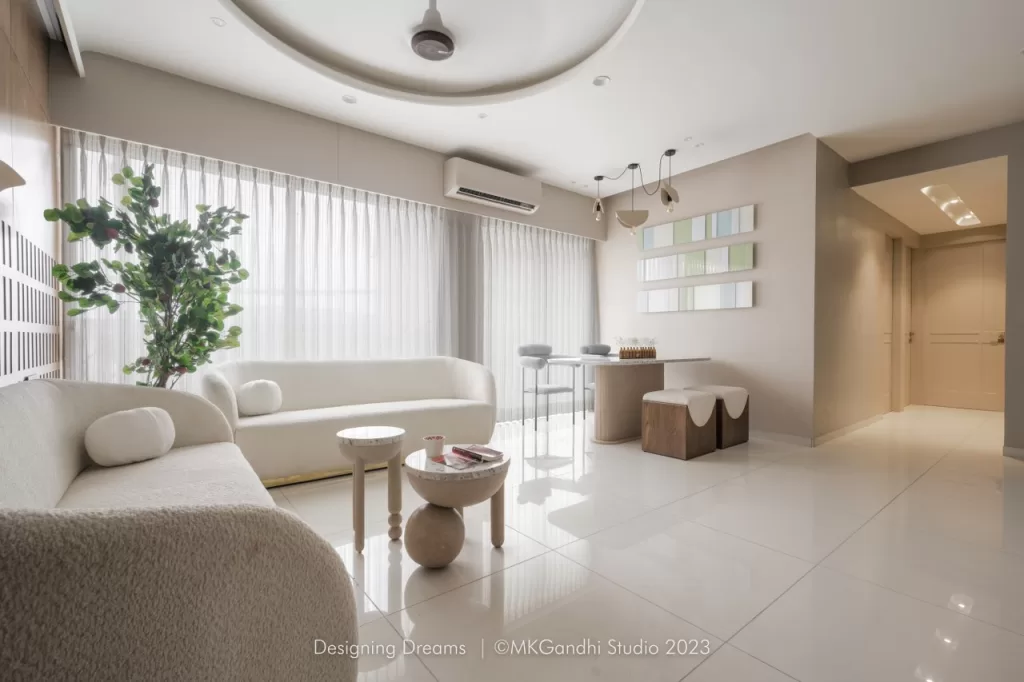 The dining area is elevated with custom hanging lights over the stone top table imparting an element of sophistication and allure. Two miniature futons are added to the set inspired from Japanese dining seating.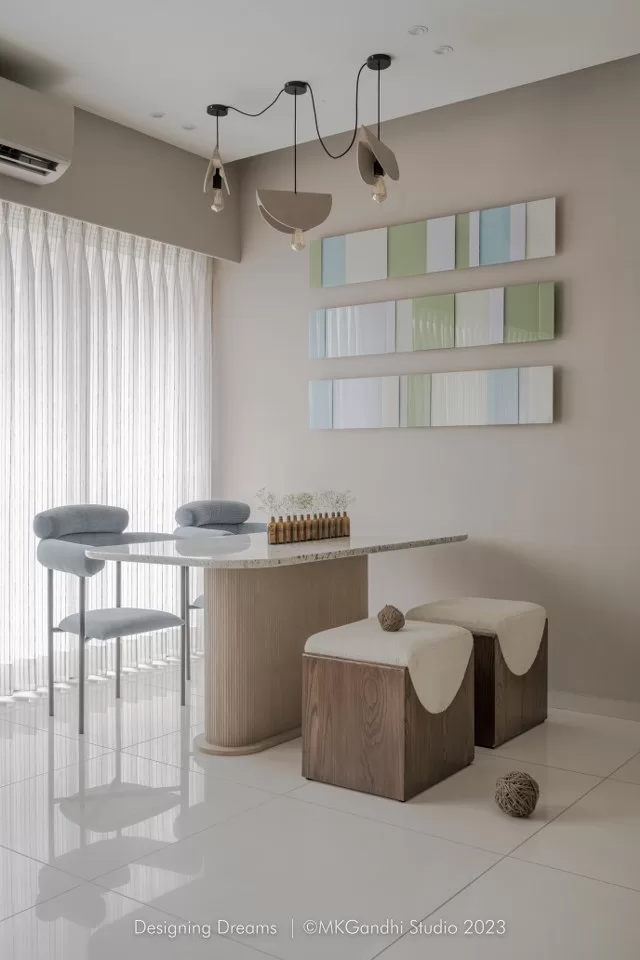 The kitchen design has a striking monochromatic palette of white and black, creating a bold and contemporary look. A tasteful pop of colour through the accents of red and yellow gently breaks up the monotony of a neutral palette without looking out of place. This combination of unglazed ceramic pots, books and cane shutters bring a sense of balance and visual interest to the space, resulting in a kitchen that is inviting.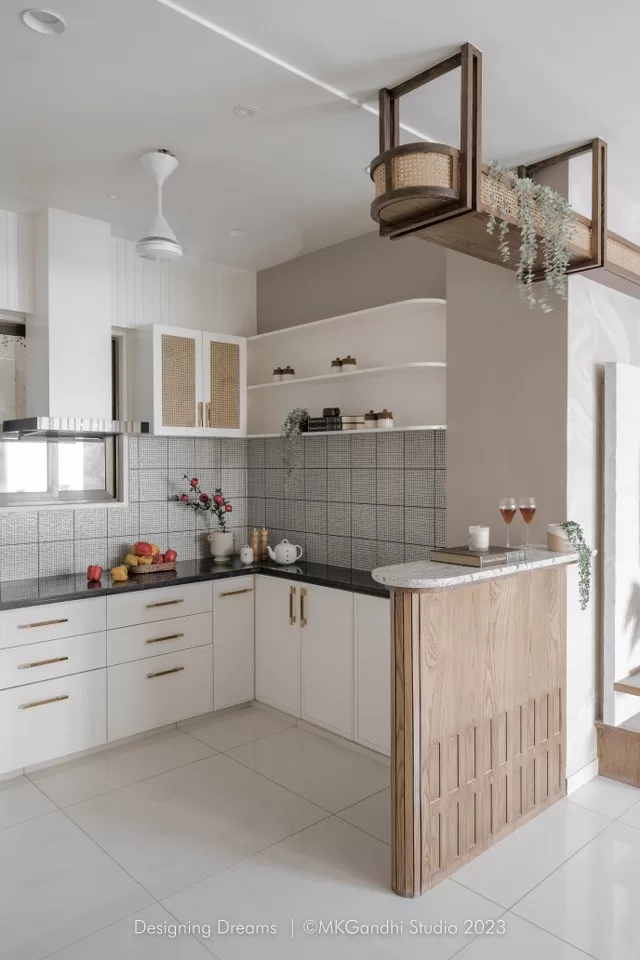 For the kid's bedroom, the warm white wall panel creates a welcoming and bright atmosphere. Captivating curved bed back design inspired by waves, crafted from bamboo material with combination of linen beaded cushions gives a playful touch.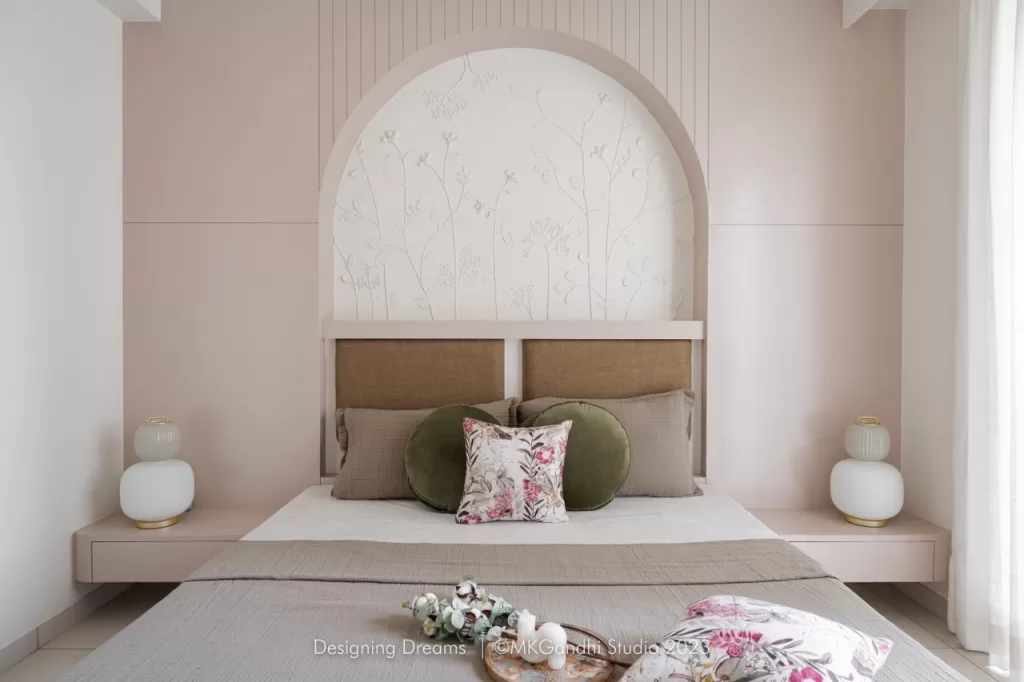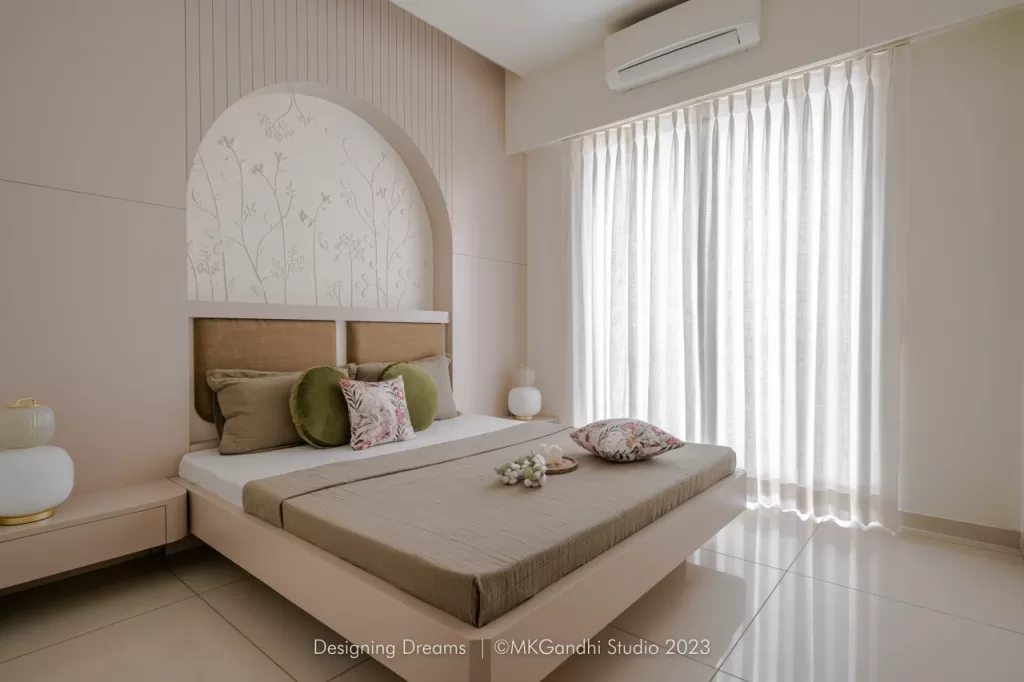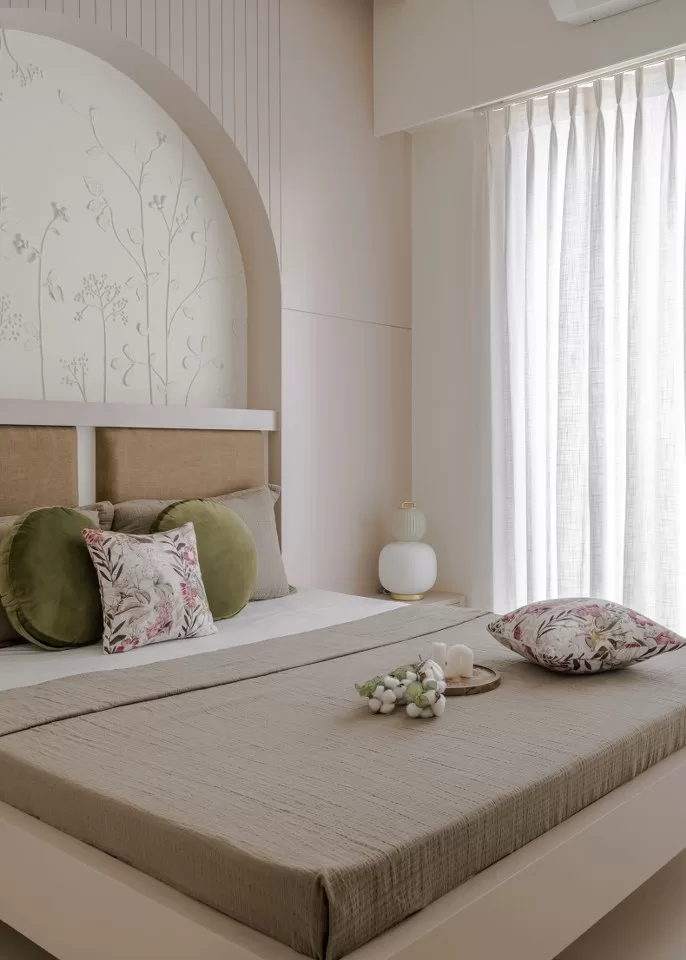 The guest bedroom truly captures the essence of the flat, serving as its heart. The curved wall adorned with fine floral wall art is an absolute showstopper, evoking a sense of artistry. The addition of muted green bed back, cushions and bedside lamps not only enhances the ambiance but is functional as well.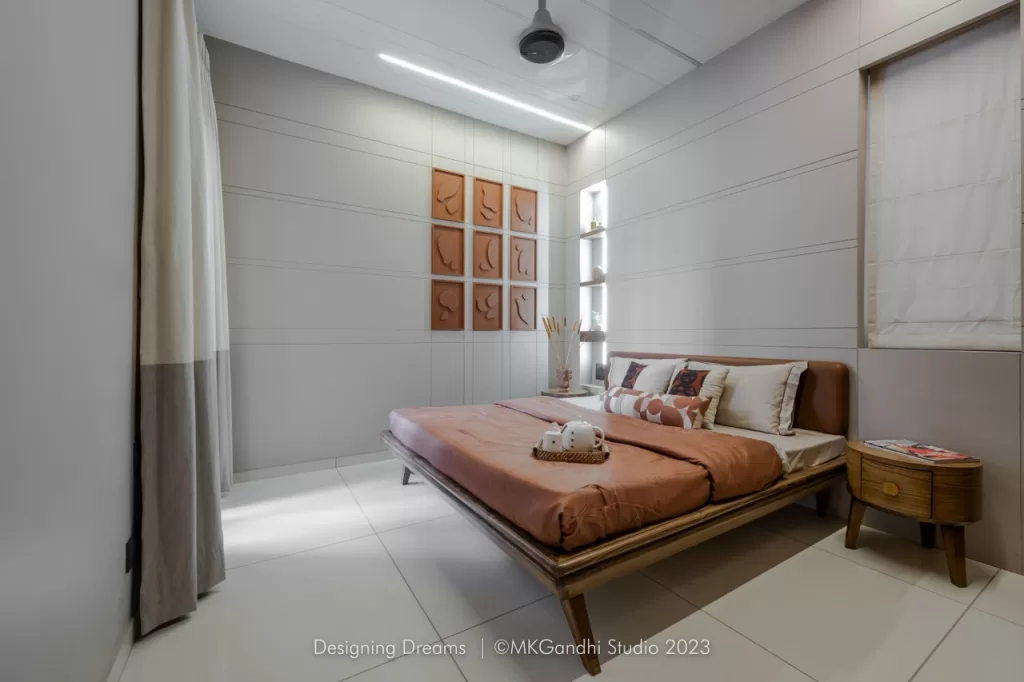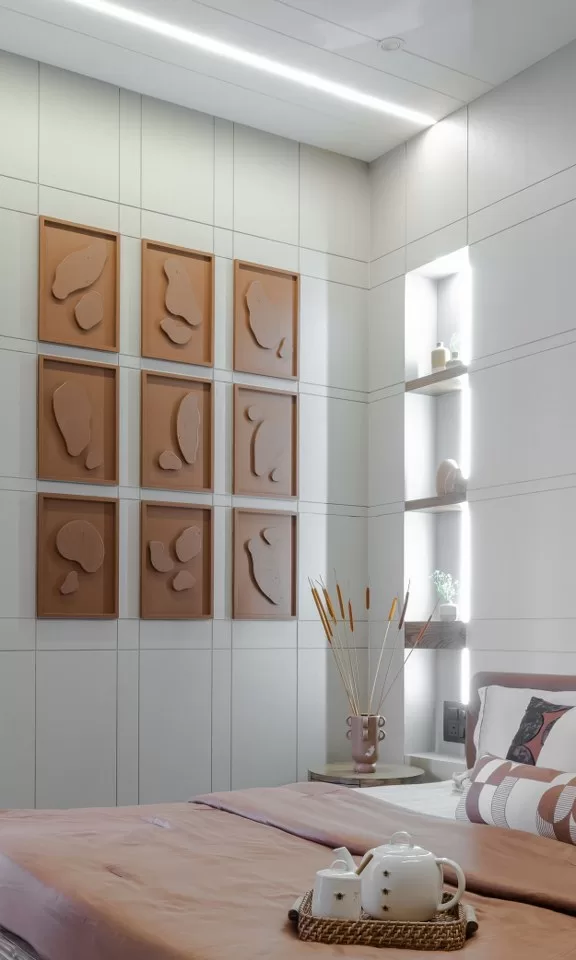 The master bedroom is a blend of rich earthy tones with soothing beige and cream shades. Low-profile bed back and side tables are designed to emphasize a sense of peace and serenity. To add a touch of texture, the wall has been adorned with stone-mud finish frames.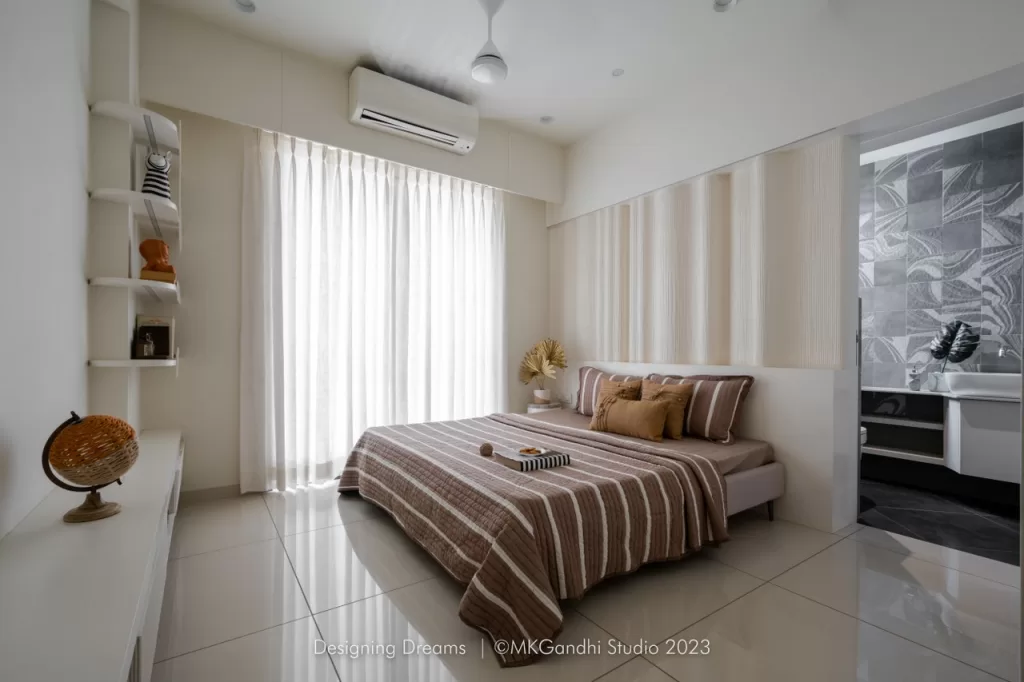 This combination of colours like chocolate brown, natural toned wood materials, and design elements result in a bedroom that is a sanctuary for relaxation.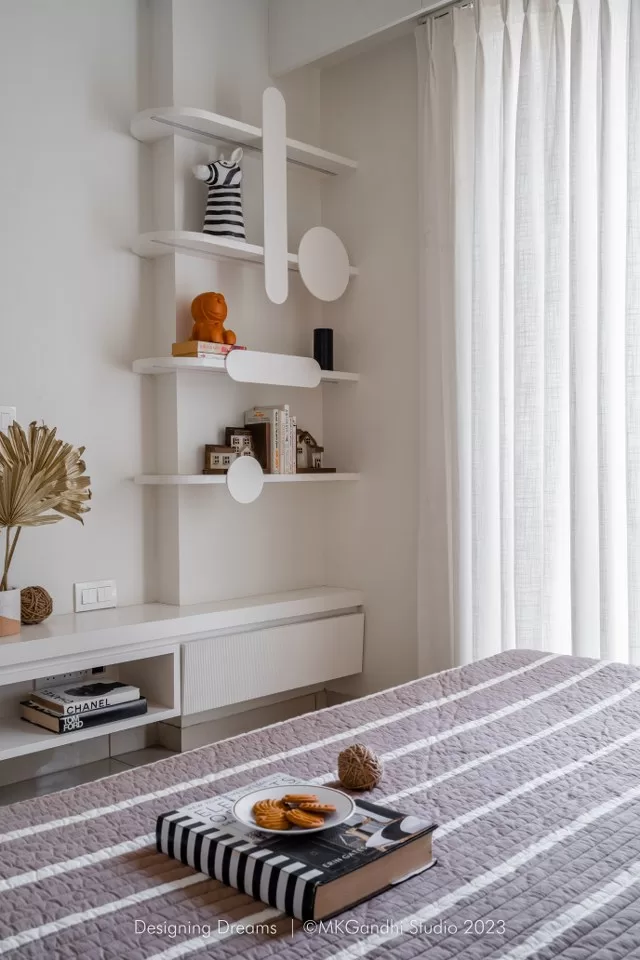 In conclusion, the design focuses on achieving a perfect balance between functionality, coziness, and serenity. By incorporating clutter-free elements and gentle curves, the space ensures a smooth and uninterrupted flow, creating a harmonious environment.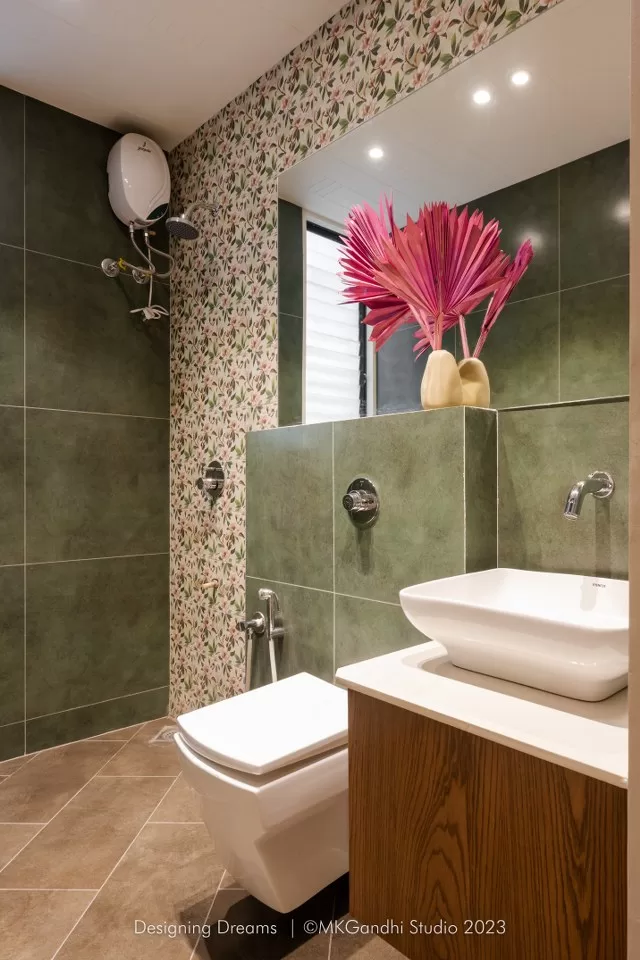 Fact File
Designed by: Local Dots
Project Type: Residential Interior Design
Project Name: Japandi 101
Location: Vadodara
Year Built: 2023
Duration of the project: 6 Months
Project Size: 950 Sq.ft
Project Cost: 17 Lakhs
Principal Architect: Ar. Sushma Shah
Photograph Courtesy: Murtaza Gandhi
Products / Materials / Vendors: Lighting – ikea / Sanitaryware – jaquar / Paint – Asian paints / Artefacts – ikea, nestasia, marks and spencer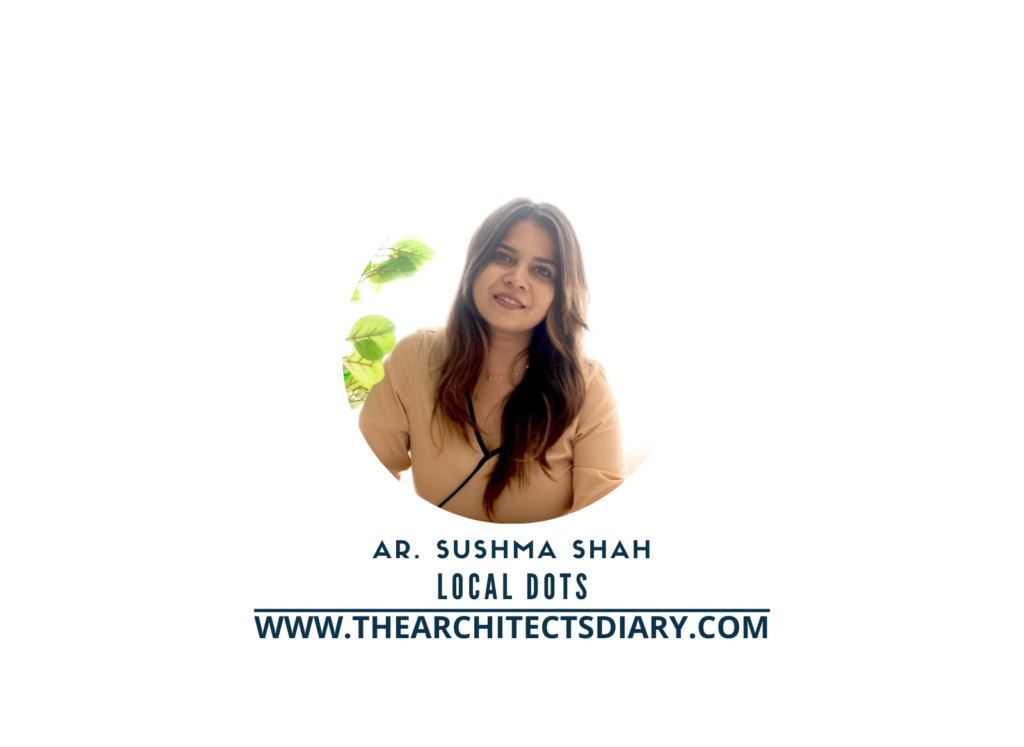 Firm's Instagram Link: Local Dots
For Similar Project>>> 4500 sqft Luxury Apartment Reflects A Vibrant Mix Of Cultures
The post A Hybrid Design of Japanese Nordic Style that Incorporates Hints of Scandinavian Influence | Local Dots appeared first on The Architects Diary.