'Dream House', is the word we began with, while designing this house and it is a pleasure to state that we accomplished this process because this is the same word the resident lauds for. In the realm of architectural design, a house that stands as a canvas for artistic expression where creativity knows no bounds is an apt example. Likewise, is the idea that is the timeless allure of modernity that unveils a treasure trove of design ingenuity.
A House that Stands as a Canvas for Artistic Expression Where Creativity Knows no Bounds | Quartet Architects
Visit: Quartet Architects
Entrance has a striking continuous wood stripe ceiling that gracefully guides visitors towards the door. This unique feature creates a harmonious connection between the outdoors and the interior, infusing warmth. Upon entering, a stunning foyer comes into view, defined by three circular cutouts in the wall. These elegant circular partitions serve as both an aesthetic statement and a functional element, allowing glimpses into the inviting living room while maintaining a sense of privacy.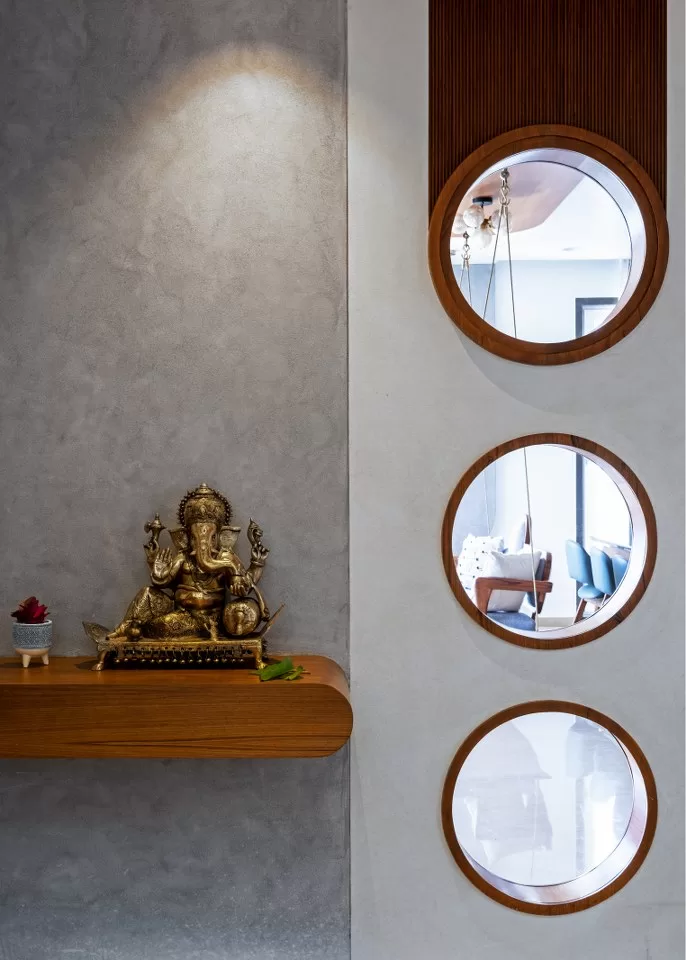 Within these pristine walls, one room has been transformed into a modern temple space, bathed in golden tint. The door adorned with intricate bells welcomes visitors with a sense of sacred serenity. It's a space that resonates with spiritual elegance and contemporary charm. The overarching theme of this house is a seamless fusion of white and wood. Rich textures and veneers have been meticulously selected, creating a visual tapestry that exudes opulence and spaciousness. This harmonious combination brings a sense of tranquility and warmth to each corner.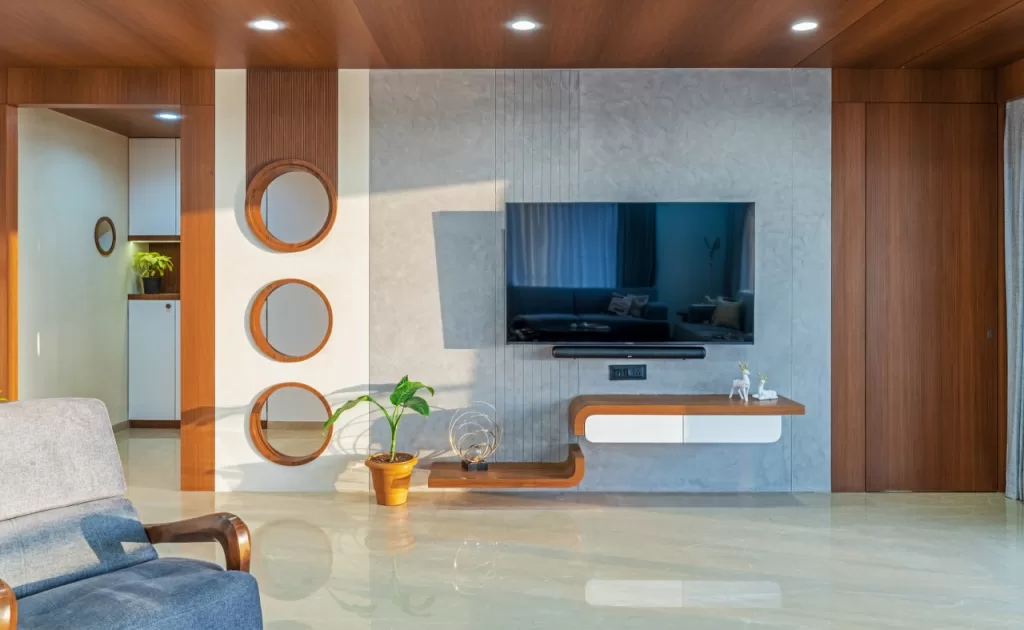 The passage within this residence is a delightful journey fulfilling the client's desire for a bohemian-inspired composition on the doors. The intricate paintings on the doors feature a captivating blend of curvilinear shapes, achieving a harmonious balance in their geometry. The pastel color palette chosen for the paintings infuses the passage with a soft, calming ambiance. Adding to the charm of this space is a unique ceiling light fixture that draws inspiration from circular motifs, aligning perfectly with the overall design concept. Not only does this invite glow but also contributes to the chronological narrative of the entire space, creating a truly immersive experience for all who pass through.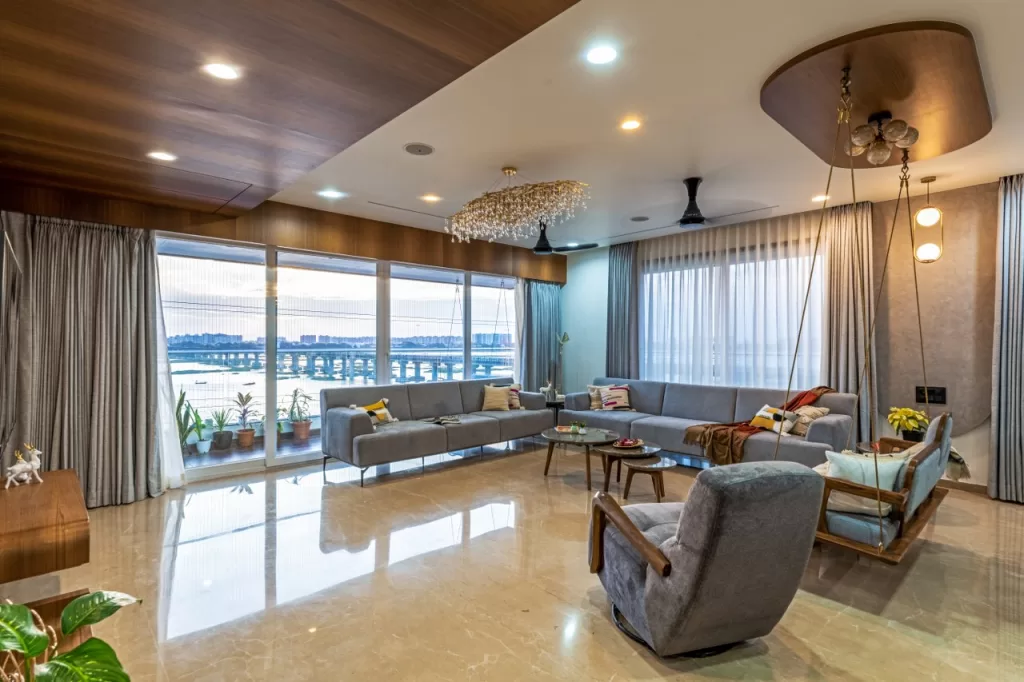 The living room and dining area are a testament to the art of open design. The full height windows seamlessly welcome the river view by expressing serenity but expelling coziness. No partitions disrupt the flow, allowing these spaces to breathe and expand, creating an illusion of grandeur.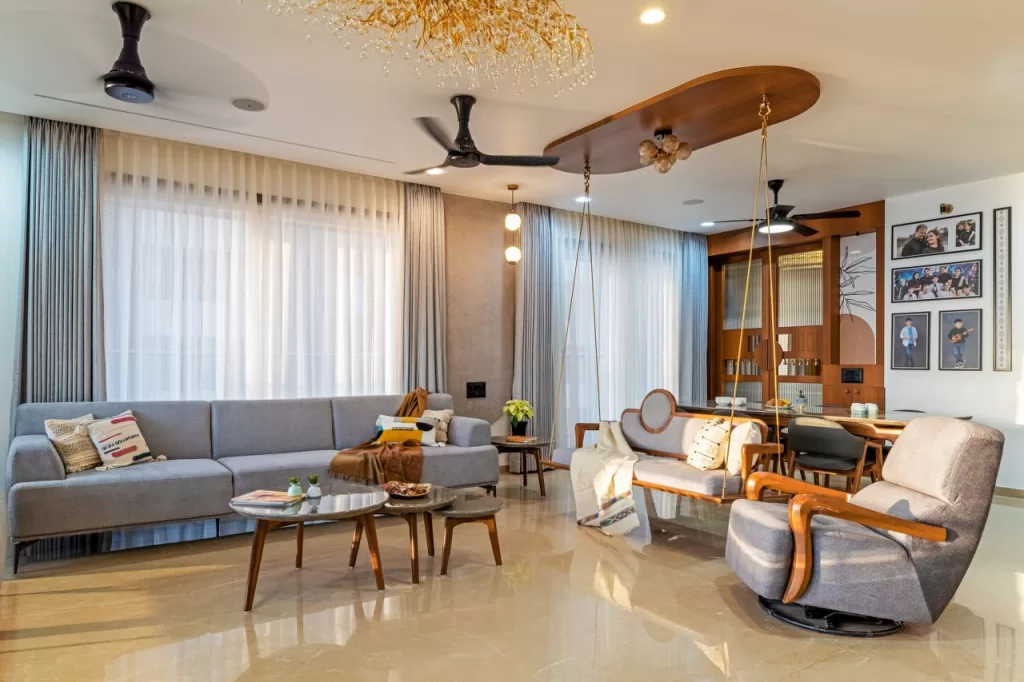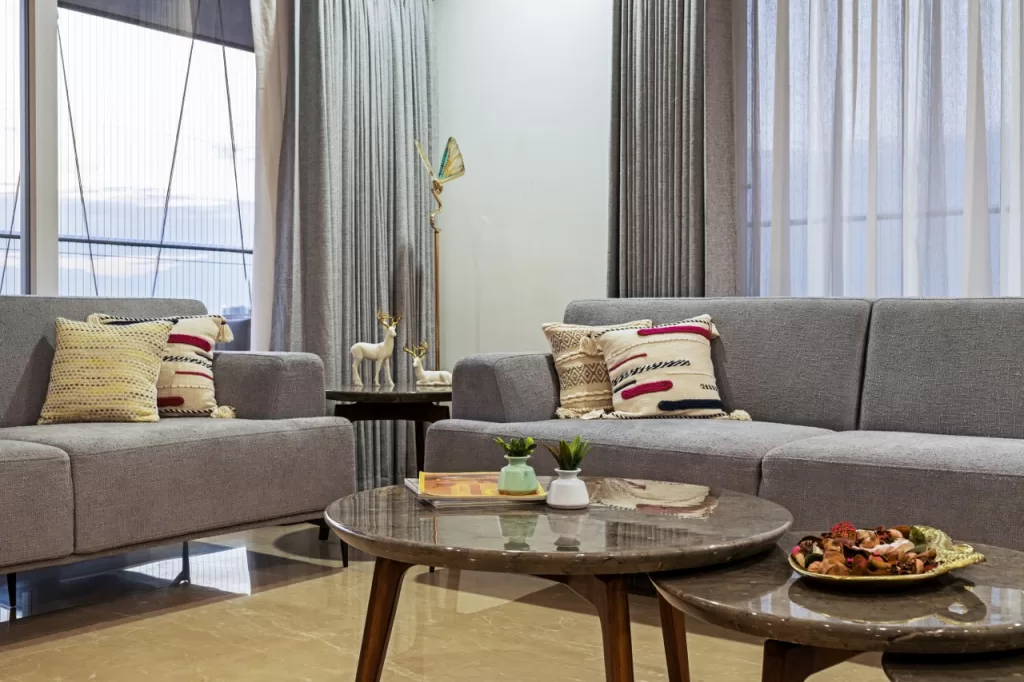 It's a canvas for versatile living, where intimate gatherings seamlessly transition to grand soirées. Kitchen, takes on a modern persona with its modular design. Immaculate in its appearance, it's been pre-designed, a testament to both functionality and aesthetics. It effortlessly integrates into the design language.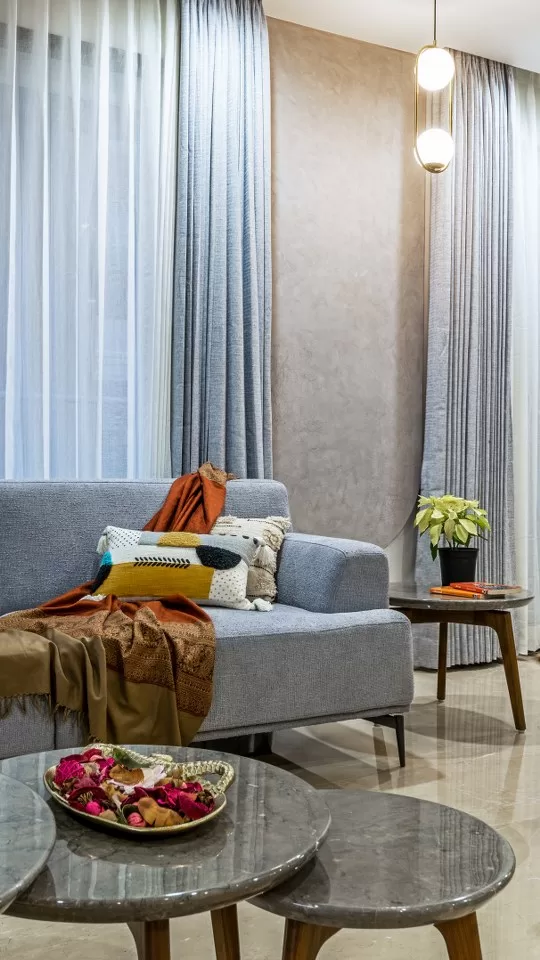 Within the white and wood palette, fabrics, paintings, and glass accents play a pivotal role as captivating accents. These elements add depth and character to the composition.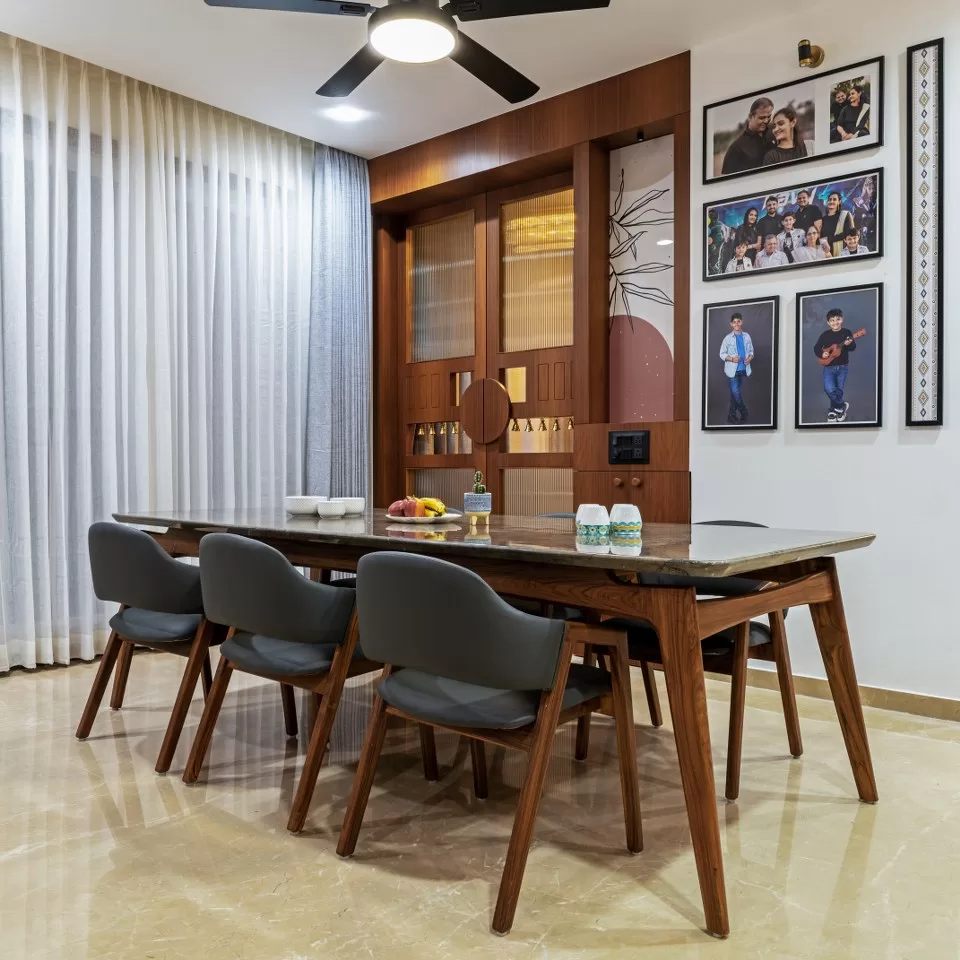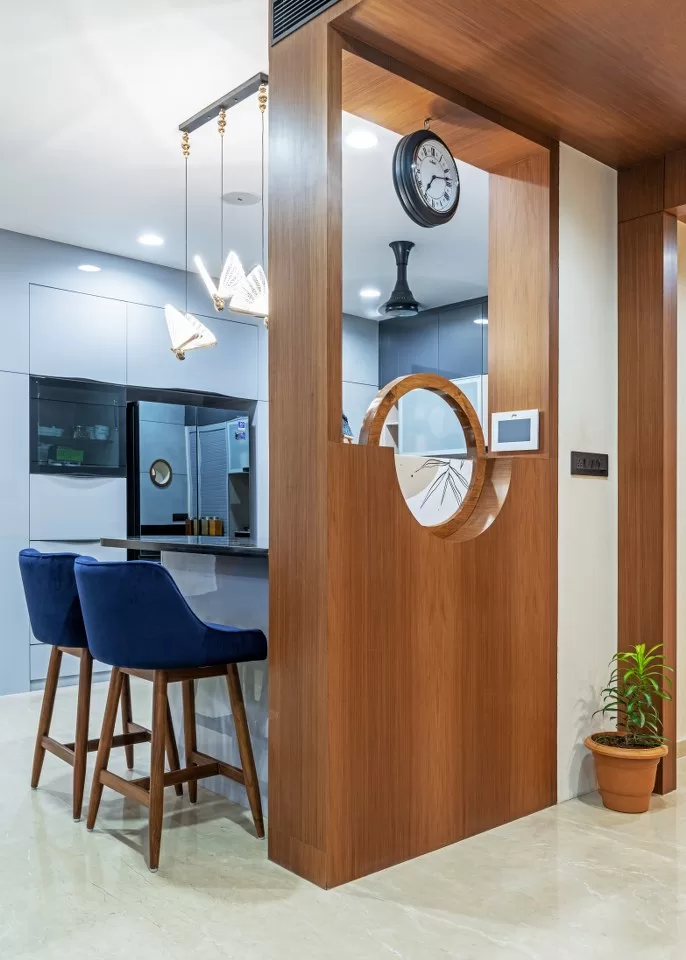 The furniture within this residence is a symphony of geometric shapes, predominantly circles. The manipulation of these shapes within rectangular spaces adds a dynamic and artistic dimension. Each piece, from swings to center tables, dining sets to breakfast nooks, is bespoke and crafted to amplify the theme.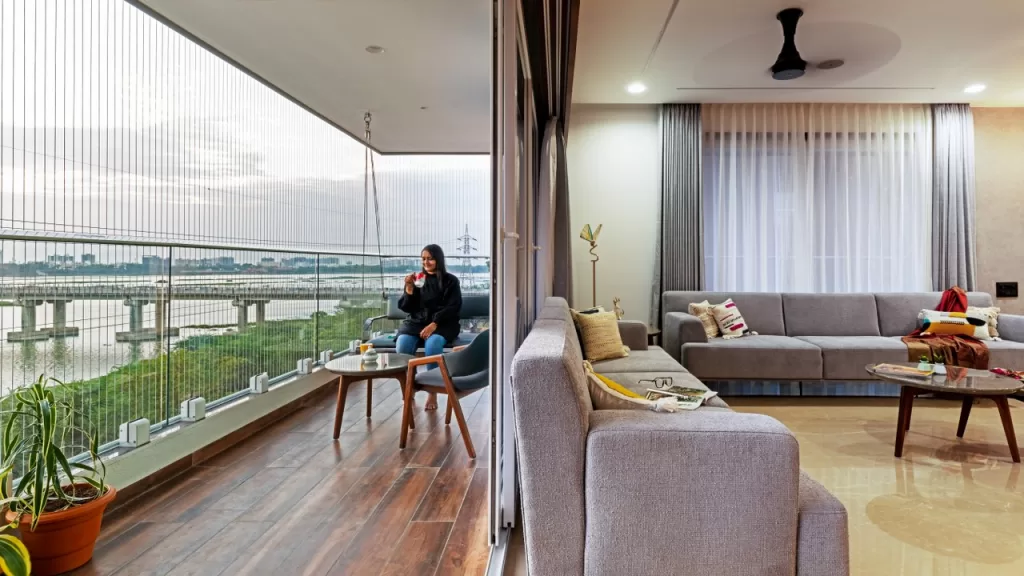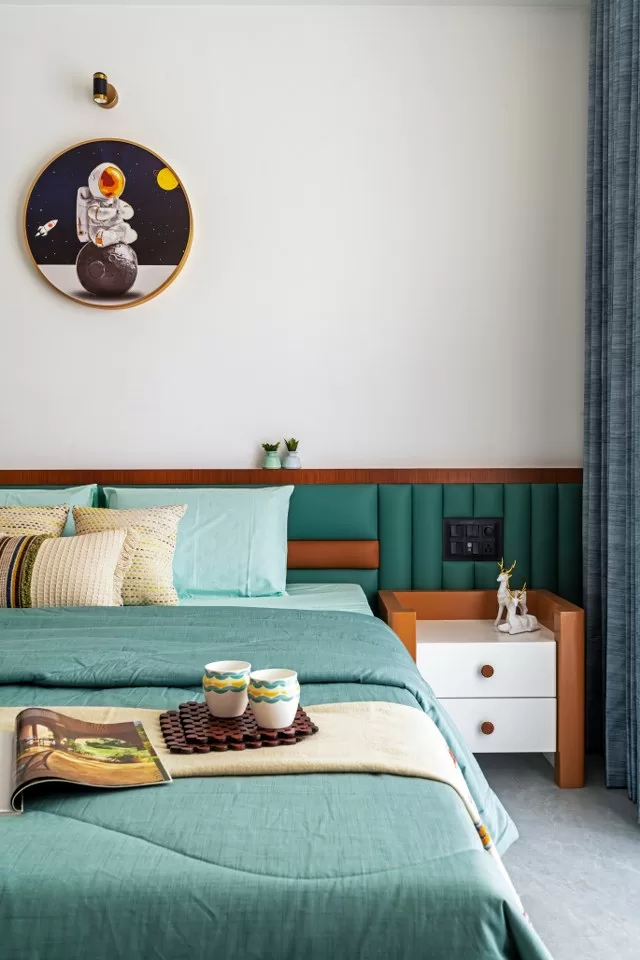 In the selection of lighting fixtures, a golden touch reigns supreme. These fixtures not only illuminate the space but also contribute to its character, adding an element of opulence to the overall design. Expounding the shades of brown, these lights bring the briskness to the space. And finally, the interplay of lights casts a magical spell, transforming the atmosphere from dawn to dusk.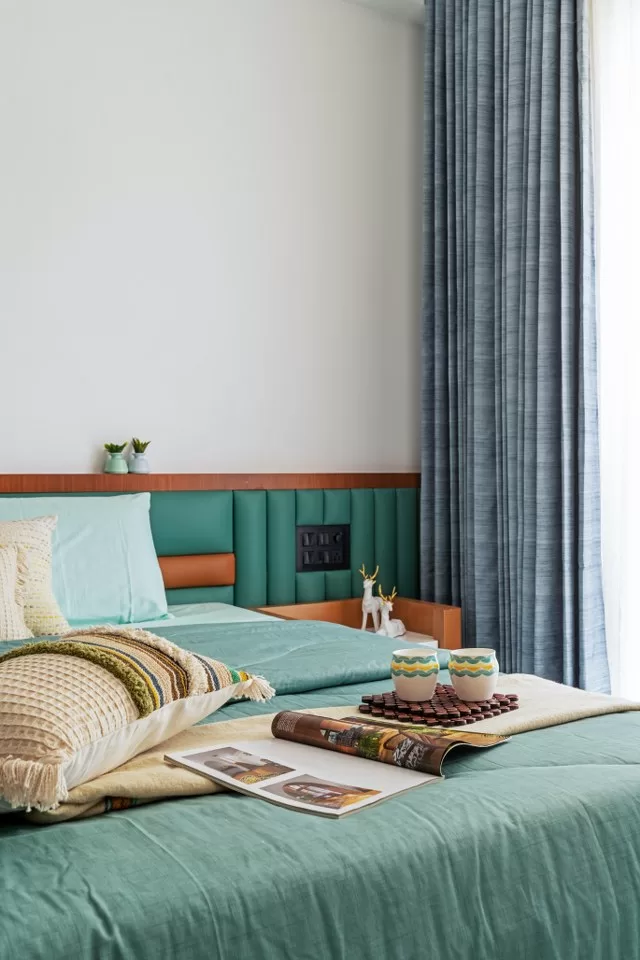 From space to volume, from floor to fabrics, from colors to cues, from lounge to lights, It is a house that tells a story of a conscientious journey. It's intriguing that this home represents a thoughtful journey in design and life rather than being only a physical construction.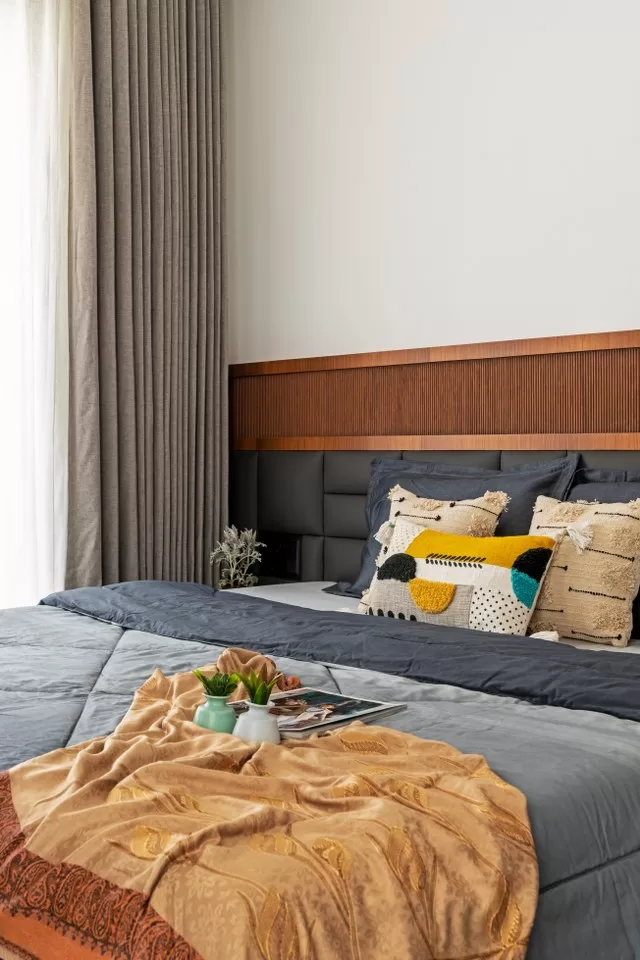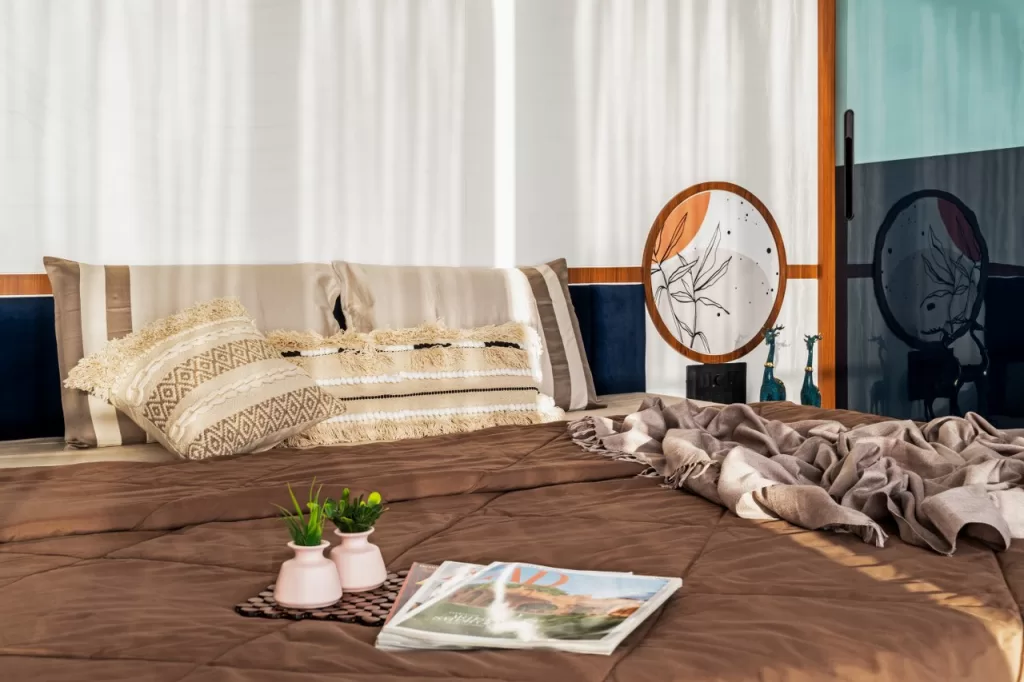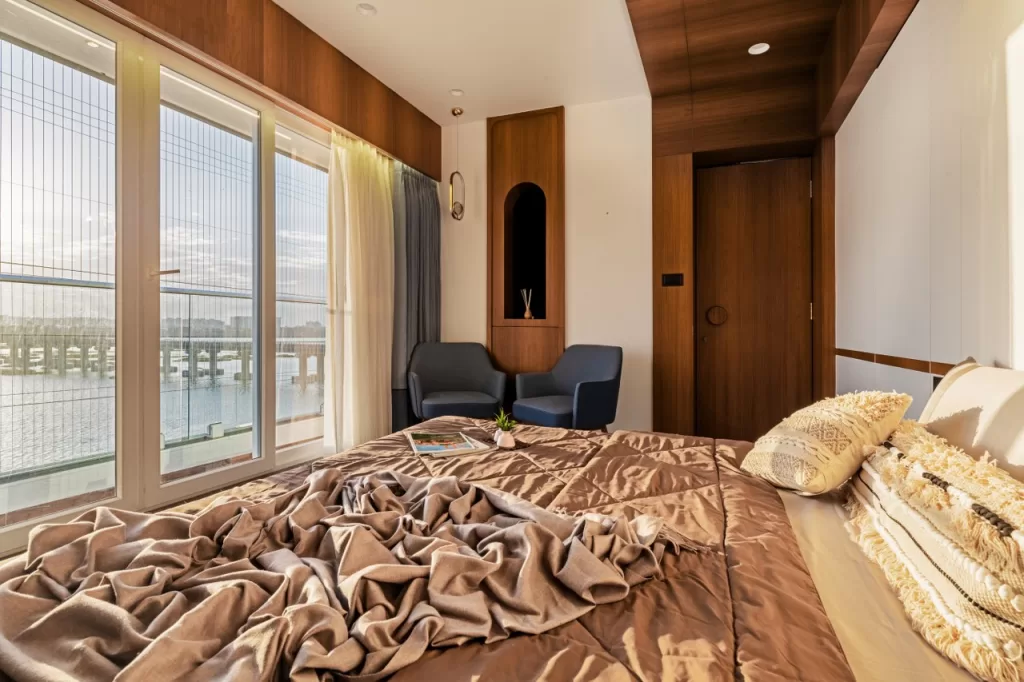 Every component has been carefully chosen to create an experience of abundant and mindful living in addition to offering a place to live.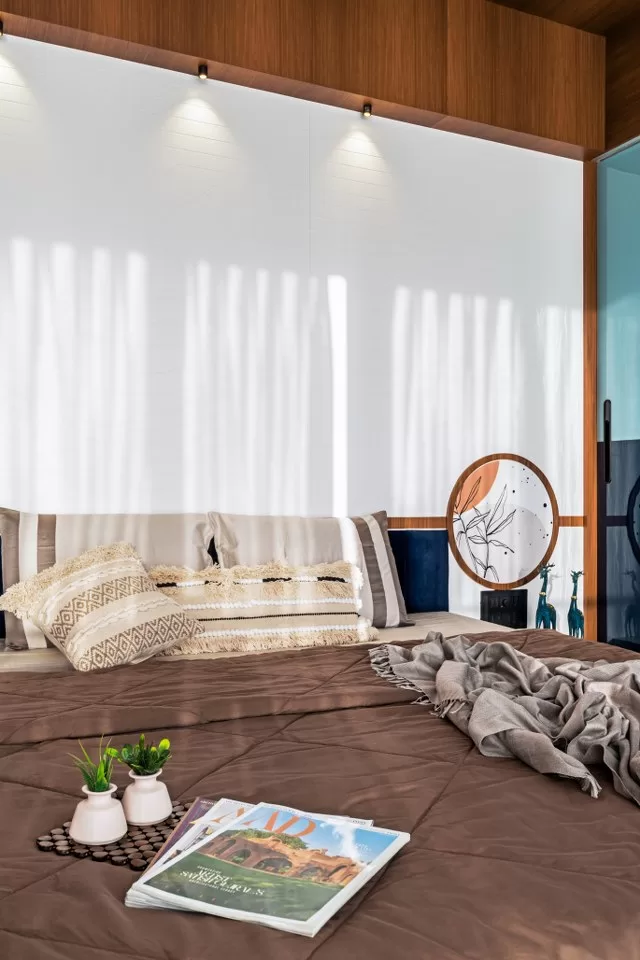 The balcony of this residence offers a serene oasis that seamlessly extends the design concept from indoors to outdoors. The focal point of this outdoor space is a single, striking semicircular element that immediately captures attention. Its natural green and pastel shades echo the colors found on the door paintings. This element not only serves as a visual centerpiece but also provides a space for accommodating small planters, infusing the balcony with a touch of nature.
Fact File
Designed by: Quartet Architects
Project Type: Residential Interior Design
Project Name: Siddhivinayak
Location: Surat
Year Built: 2023
Duration of project: 8 Months
Project Size: 2000 Sq.ft
Project Cost: 75 Lakhs
Principal Designer: Ar. Pritesh Sheta
Design Credits: Ar. Jemisha Dungrani
Photograph Courtesy: Studio 2:3
Products/Materials/Vendors: Wall panelling – HDF/Veneer and PU / Lighting – Onoff, Surat / Paint – Asian paint/texture paint / Artefacts- mango, Surat / Hardware- Hettich / Acrylic prints – Hobby India Home Decor – D'decor, Asian paint fabrics / Modular kitchen – Livspace / Modular beds – Jalaram furniture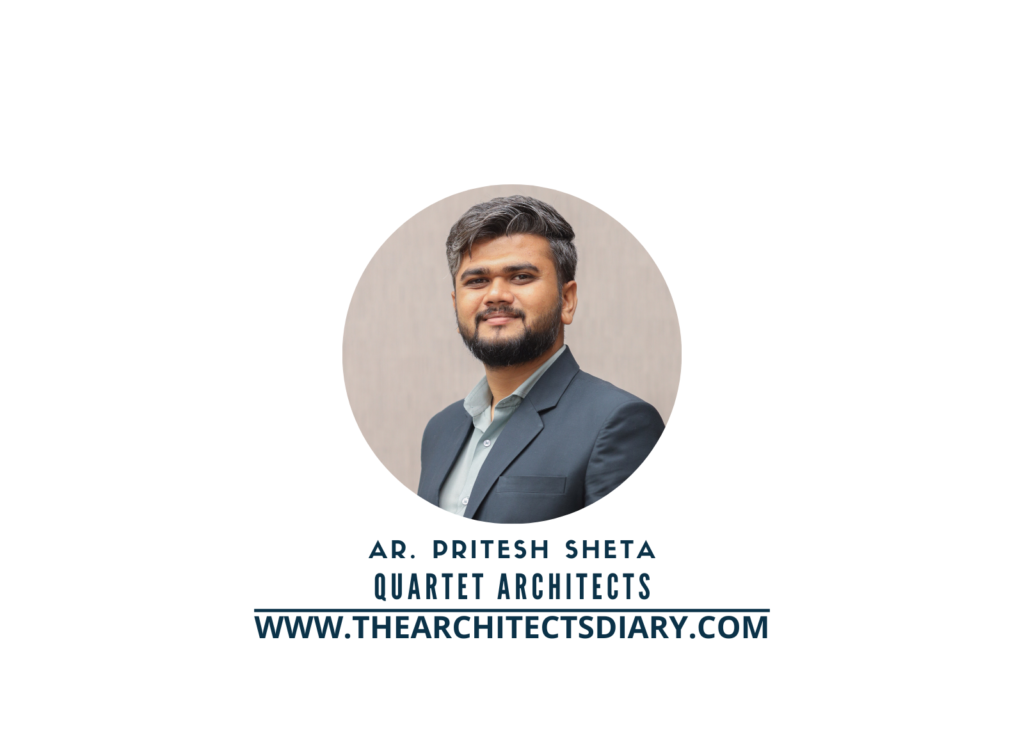 Firm's Instagram Link: Quartet Architects
Firm's Facebook Link: Quartet Architects
For Similar Projects >> Barkat House Is A Reflection Of Modern Contemporary Design Blended With Timeless Elegance
The post A House that Stands as a Canvas for Artistic Expression Where Creativity Knows no Bounds | Quartet Architects appeared first on The Architects Diary.