With grey exteriors, subtle tones and inspiring elevational details, this house in Kerala is noteworthy in all design aspects.
A house in Kerala Perched in Natural Habitat | Zherow Architects
Design Ideology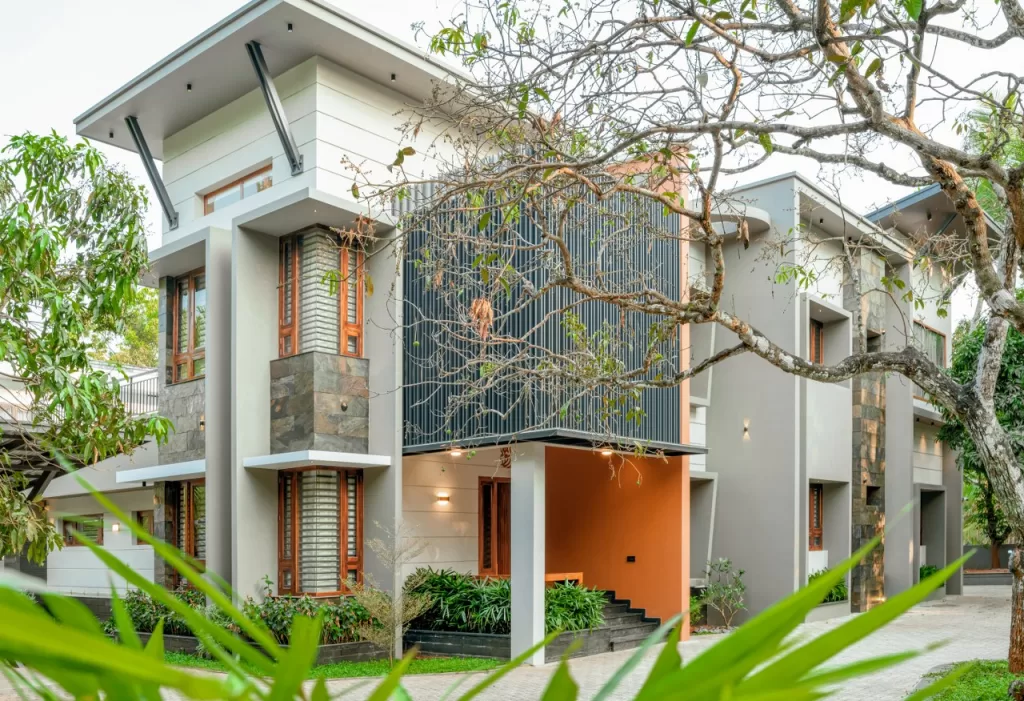 Nestled in the picturesque Villiappally region of the Calicut district, FM House stands as a contemporary
testament to the ever-evolving tastes of its occupants.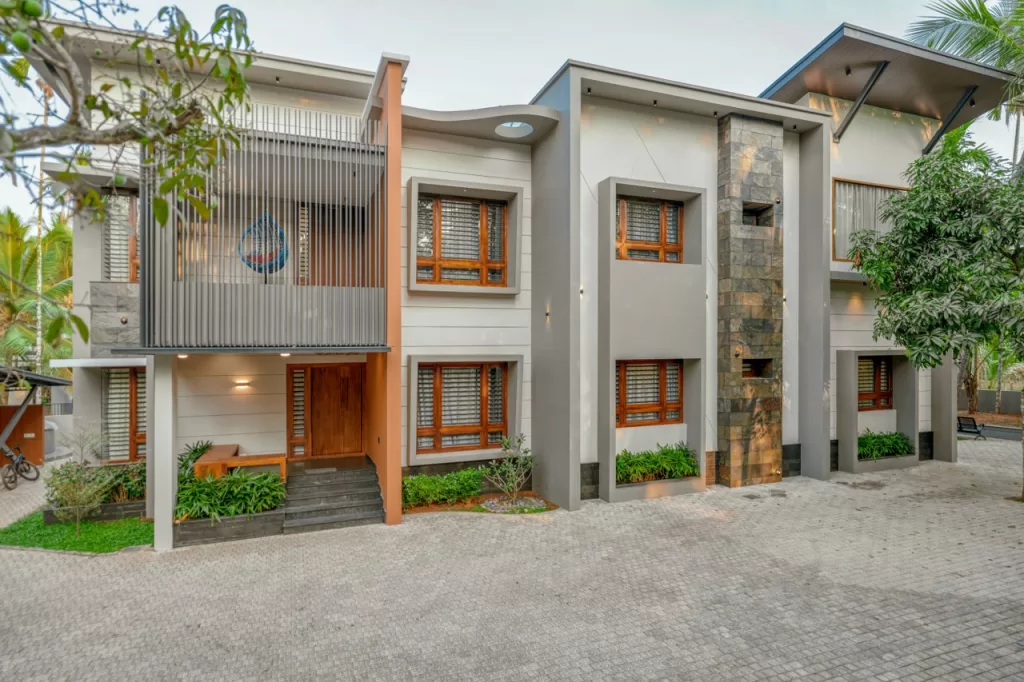 The modern single-story design strategically aligns a linear layout with juxtaposed volumes, seamlessly harmonizing with the natural landscape.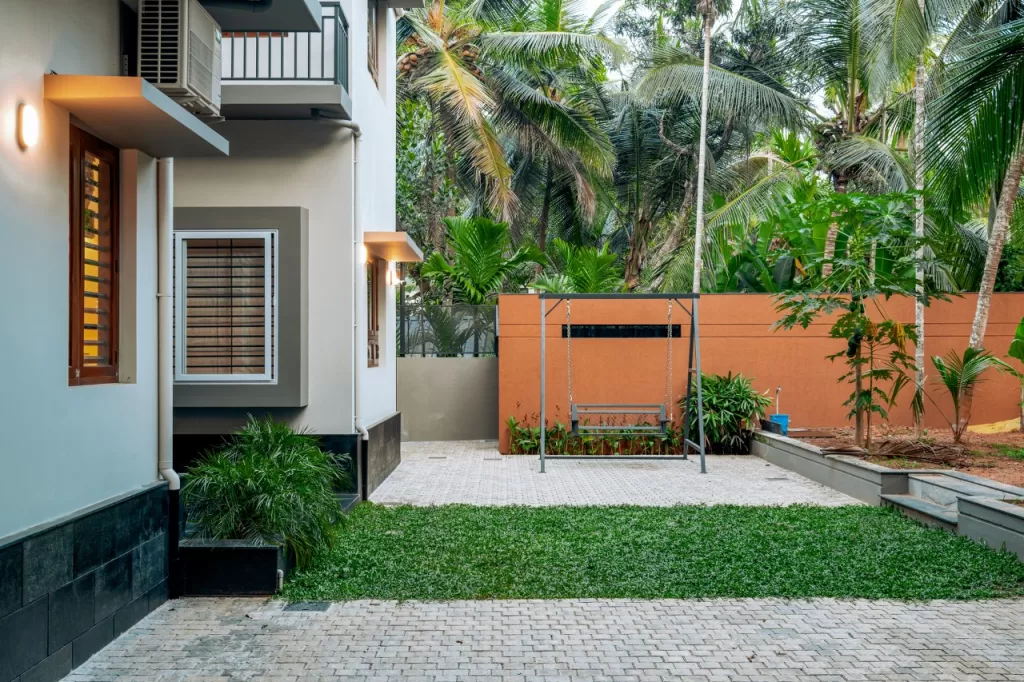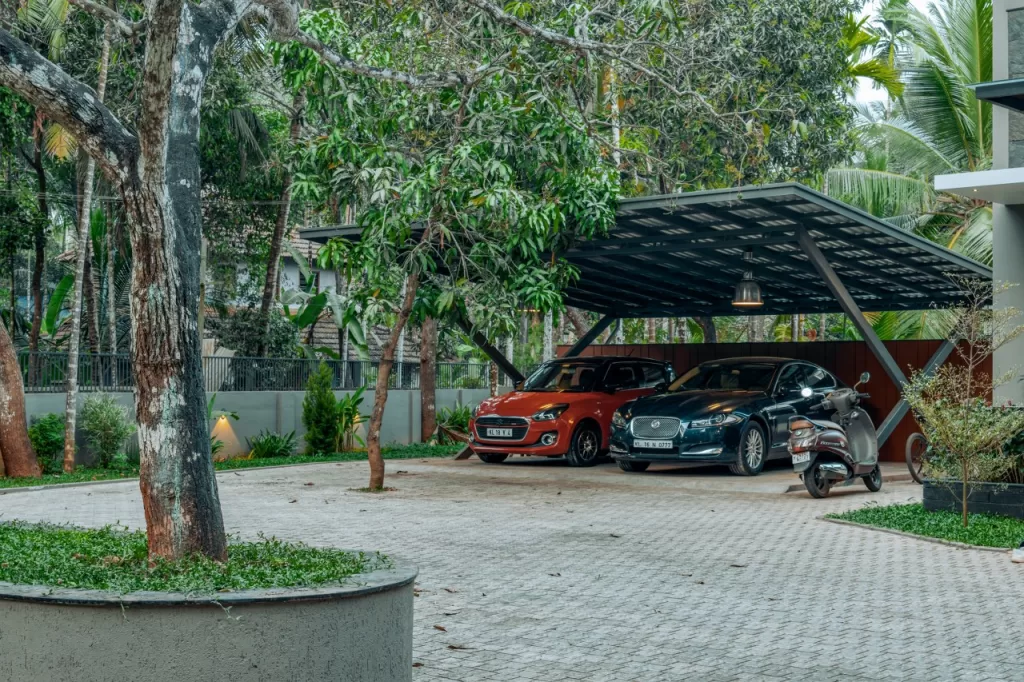 Upon passing through the gates, a spacious plot greets the visitors formerly occupied by the
owner's previous residence.
In response to Kerala's flooding, Zherow Architects conceived a home that combines modernity with a profound connection to its surroundings.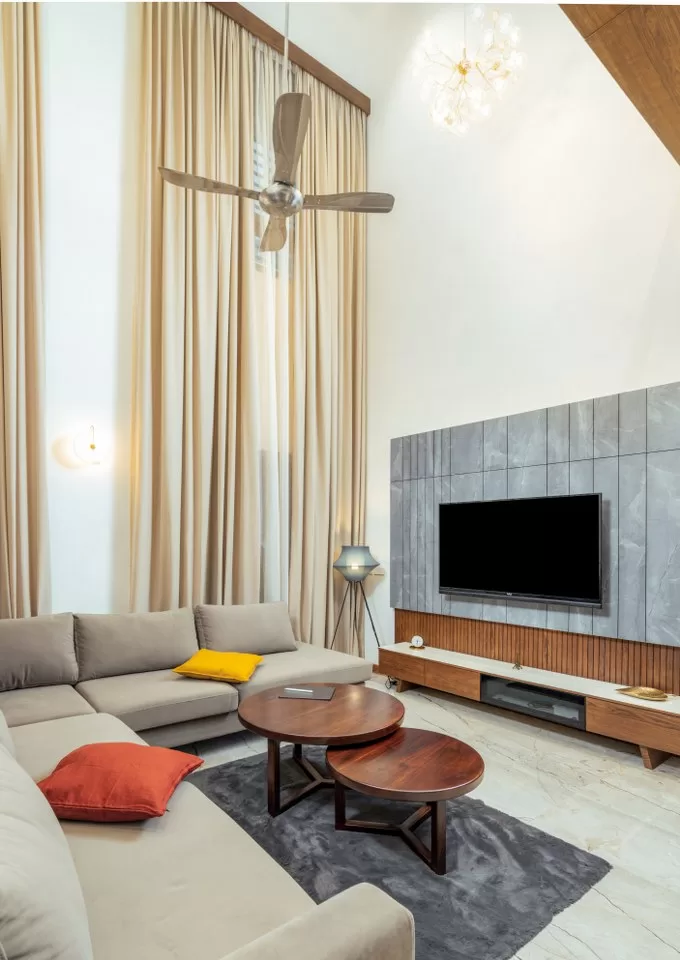 The foyer, with its terraced plantation, ushers you into a double-height living that sets the tone for its understated yet elegant interiors.
Beige-colored sofas and fluted tiled walls of the TV unit take centre stage in this inviting space.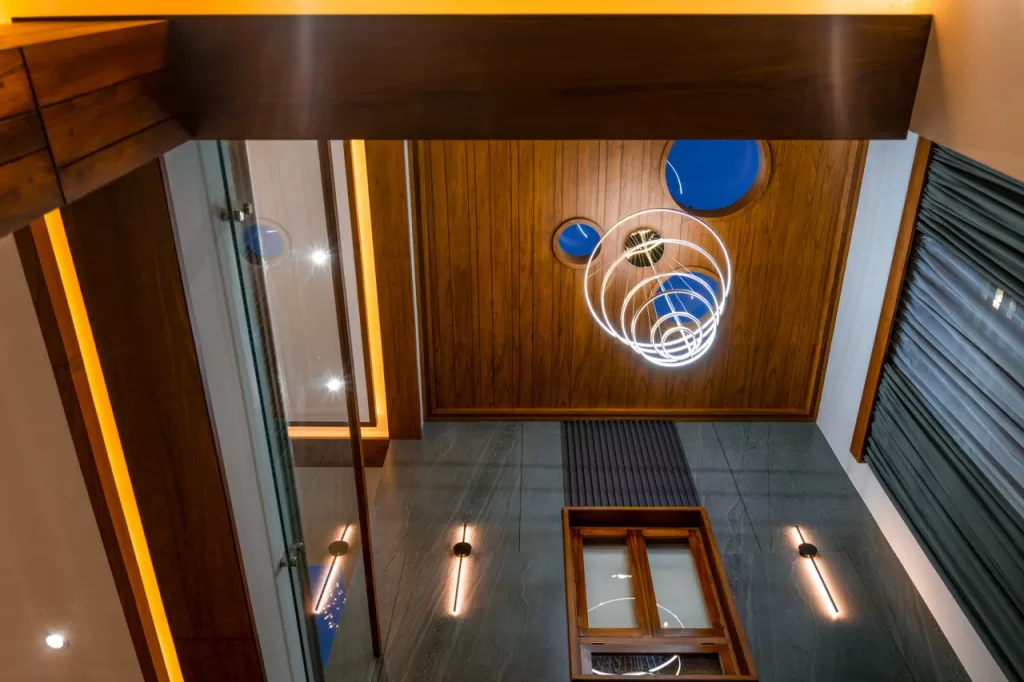 Connection between courtyard and dining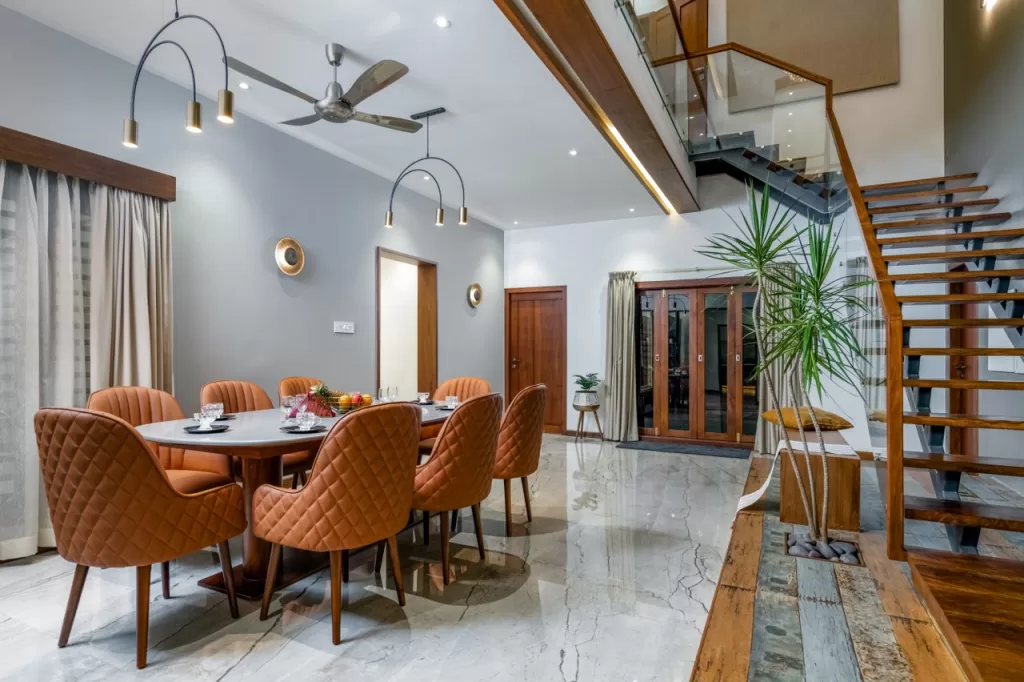 As you journey through a corridor, your attention is captivated by an enchanting courtyard, seamlessly
blurring the lines between indoors and outdoors with lush vegetation.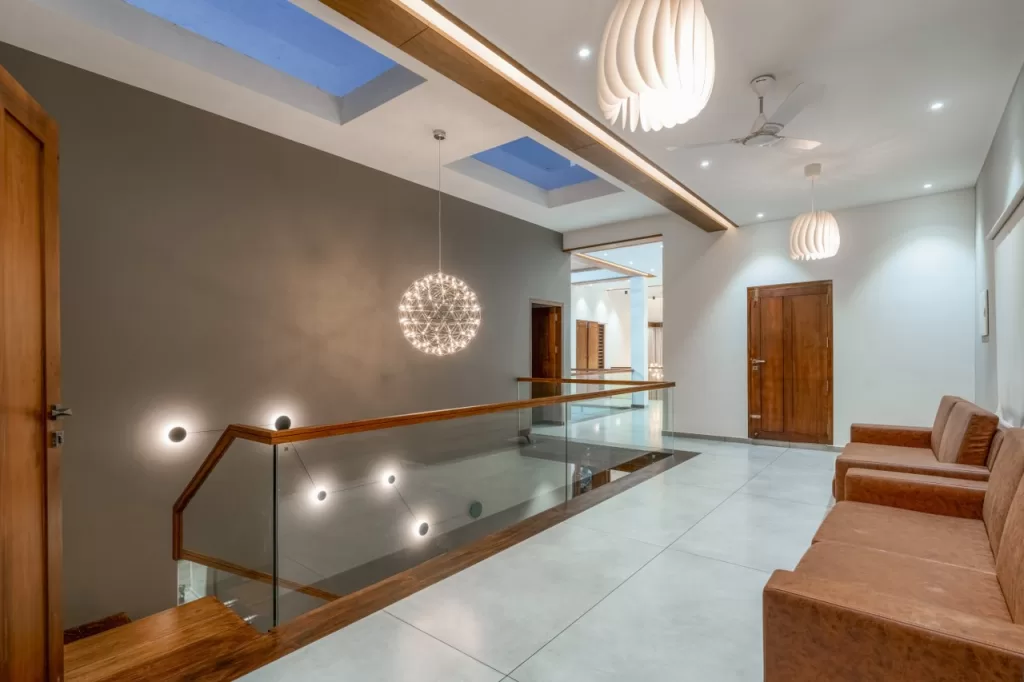 This contemporary interpretation of traditional courtyards in orthodox-designed homes in Kerala stands as an inviting space for leisure activities.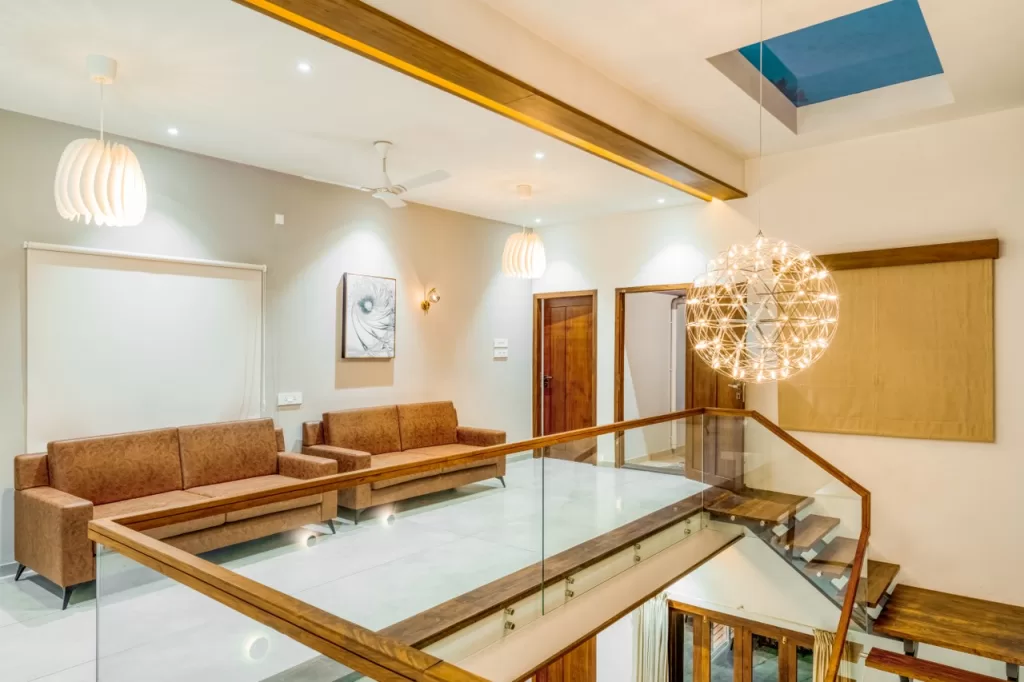 Its double-height ceiling exudes grandeur, adorned with a chandelier and circular skylights that offer an ever-changing view of the sky.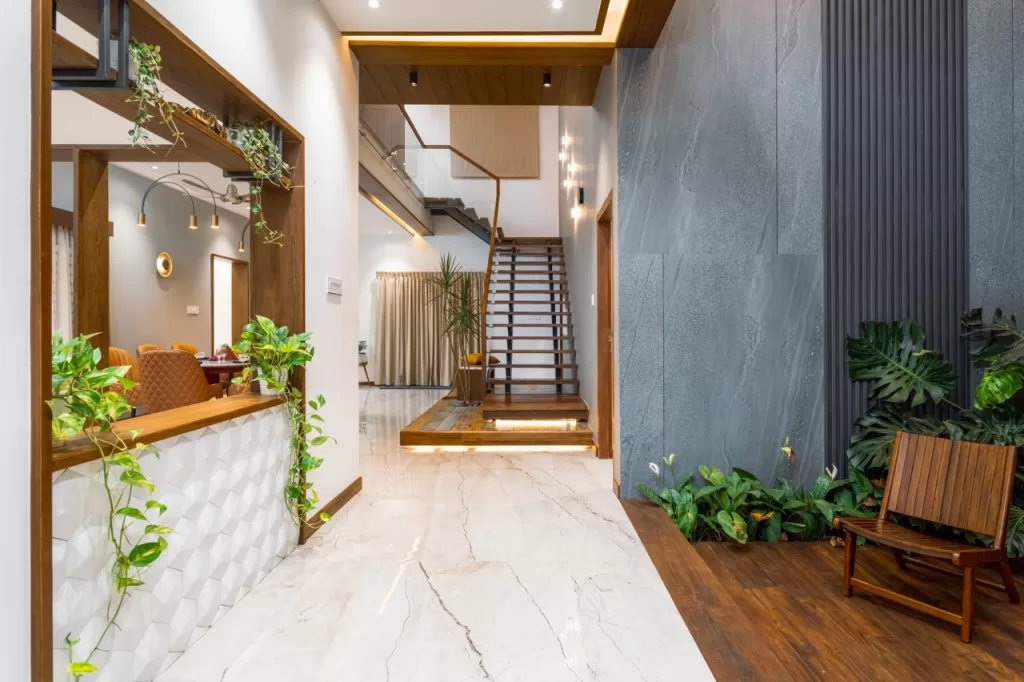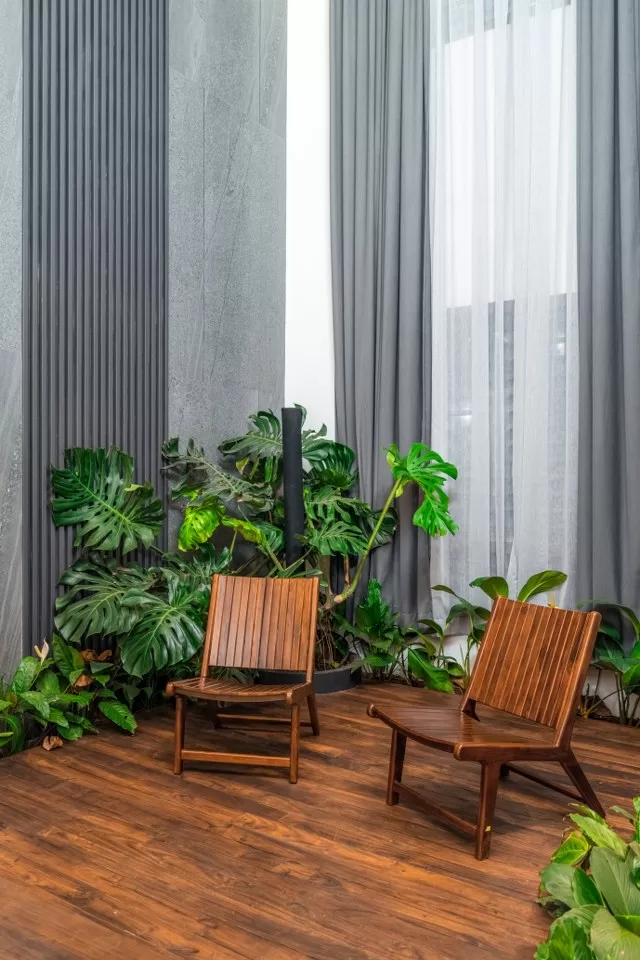 Overlooking this serene scene, a central dining area becomes the heart of the house. Adhering to a warm
color palette of tan hues, it features plush chairs and a quartz stone tabletop.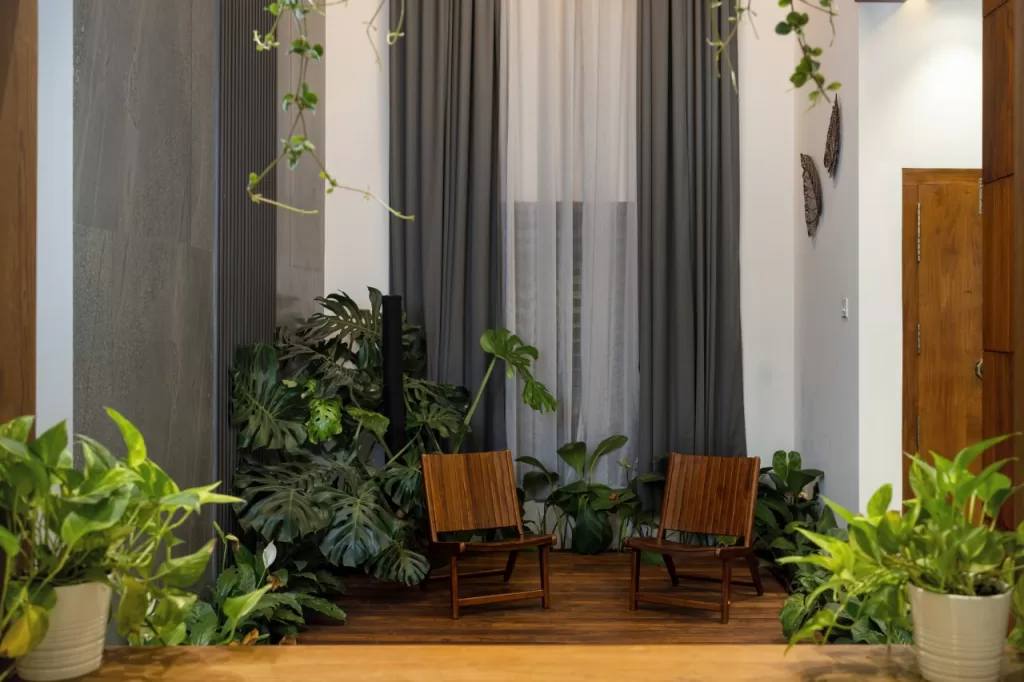 All the selections were exquisitely customized by the architecture firm itself. Surrounding this central space are three bedrooms and a kitchen.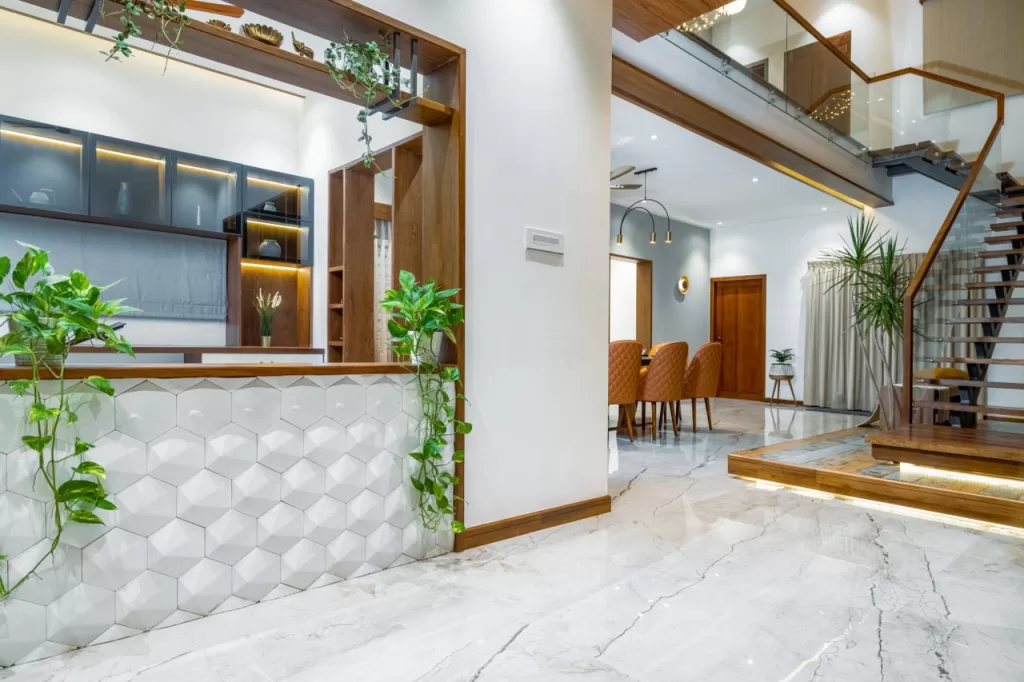 The placement of children's and master bedrooms is towards the front and share a common washroom. The children's bedroom radiates innocence with its light blue colors, while the master bedroom exudes a palette of greys and browns, accentuated by wooden flooring.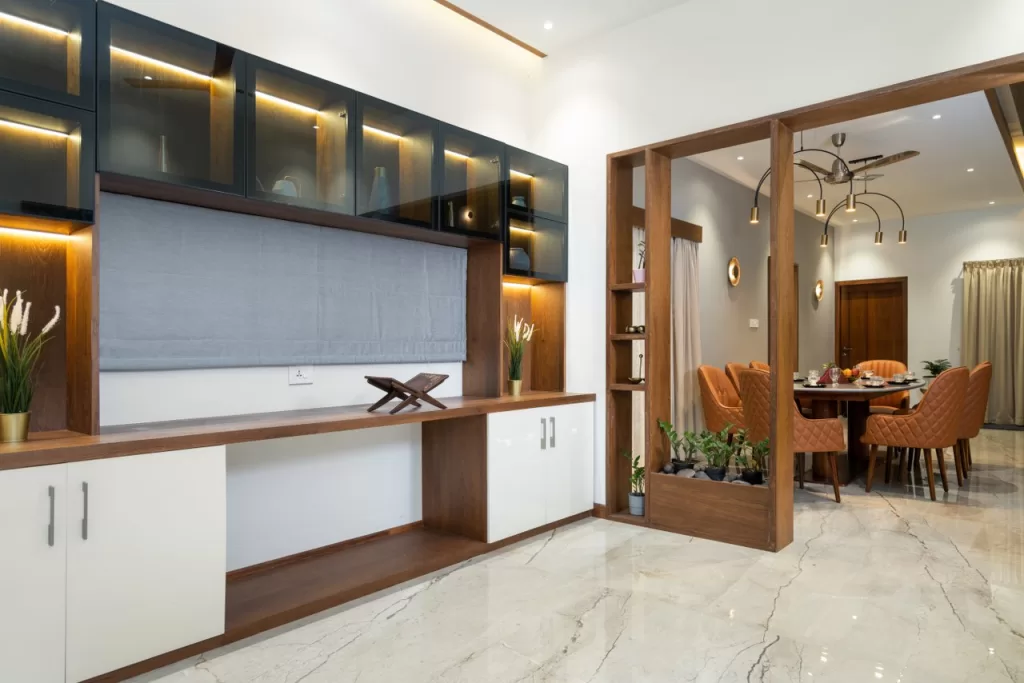 The kitchen with its minimal design features a quartz stone counter with shutters crafted using a lacquered glass finish.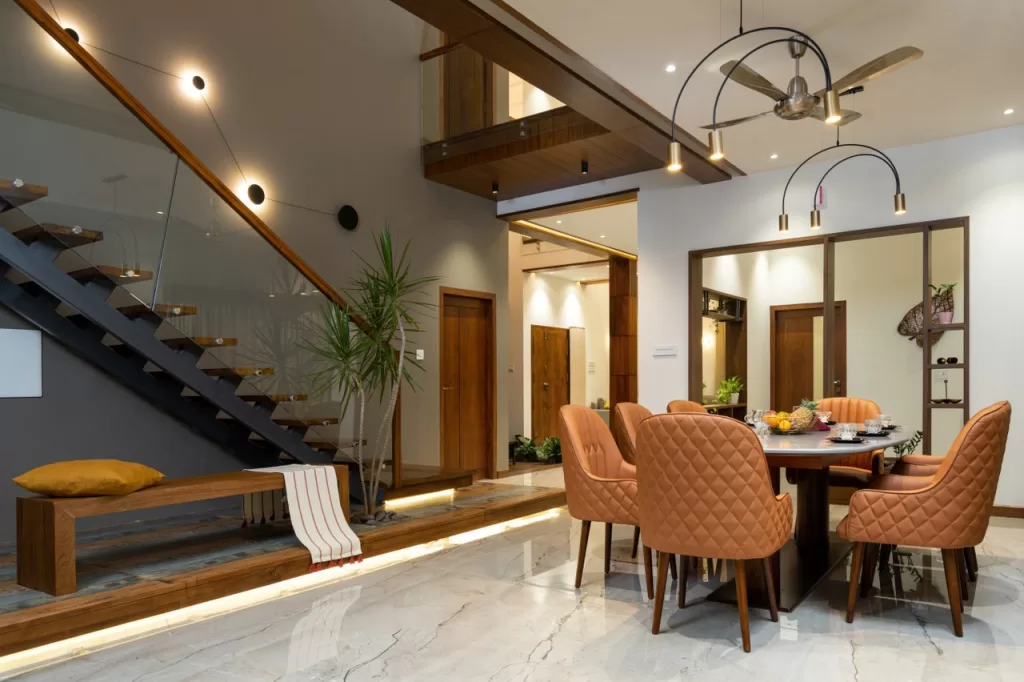 Stairwell Shenanigans
A remarkable staircase showcasing fine craftsmanship faces the dining area and is light up by a rectangular skylight.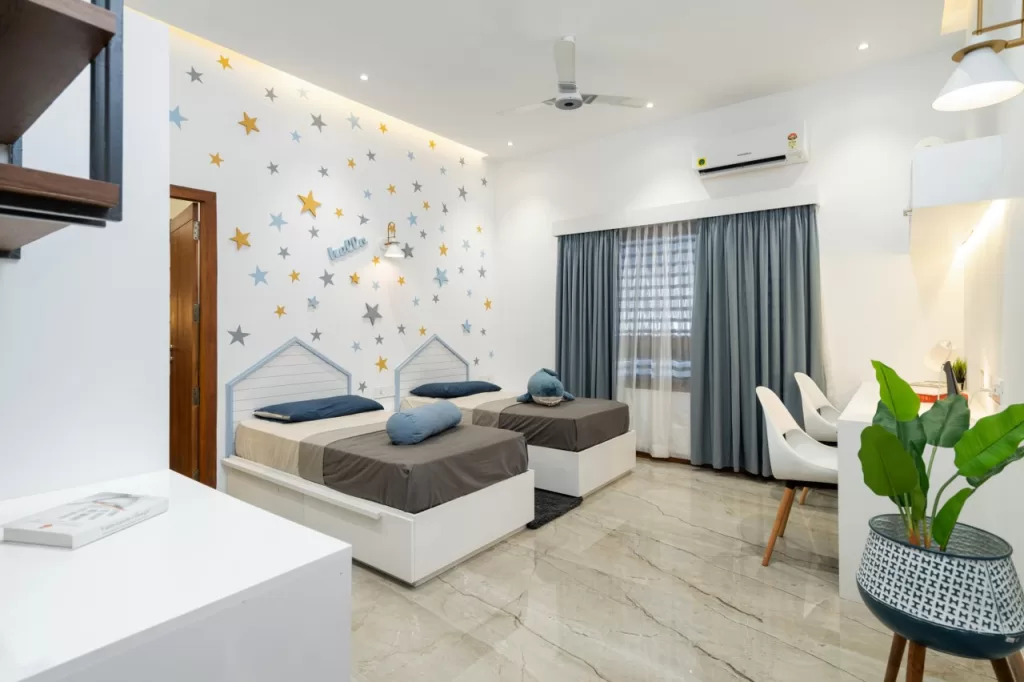 This staircase departs from the conventional approach of using RCC, boasting a unique construction created from GI GP I-Section. It uses wooden treads that appear to float towards the first floor, where two more bedrooms and terraces await.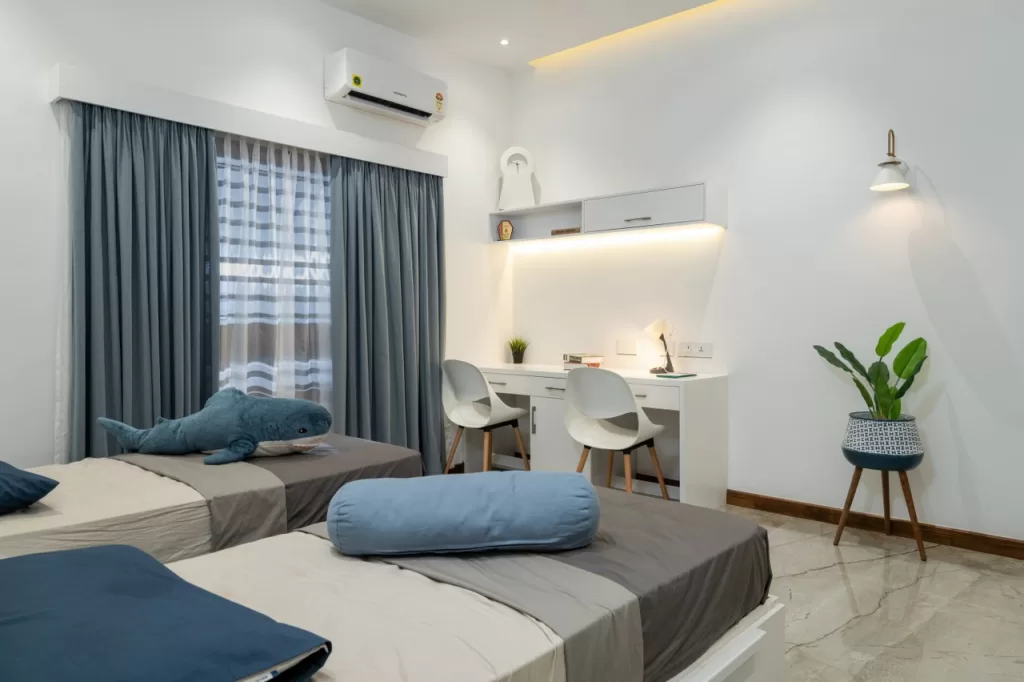 In crafting this residence, Zherow Architects have embraced a design philosophy deeply rooted in
functionality.
Through thoughtful calibration, the entire project achieves a delightful balance of colors and materials. Abundant apertures throughout the house emphasize both natural light and aesthetics.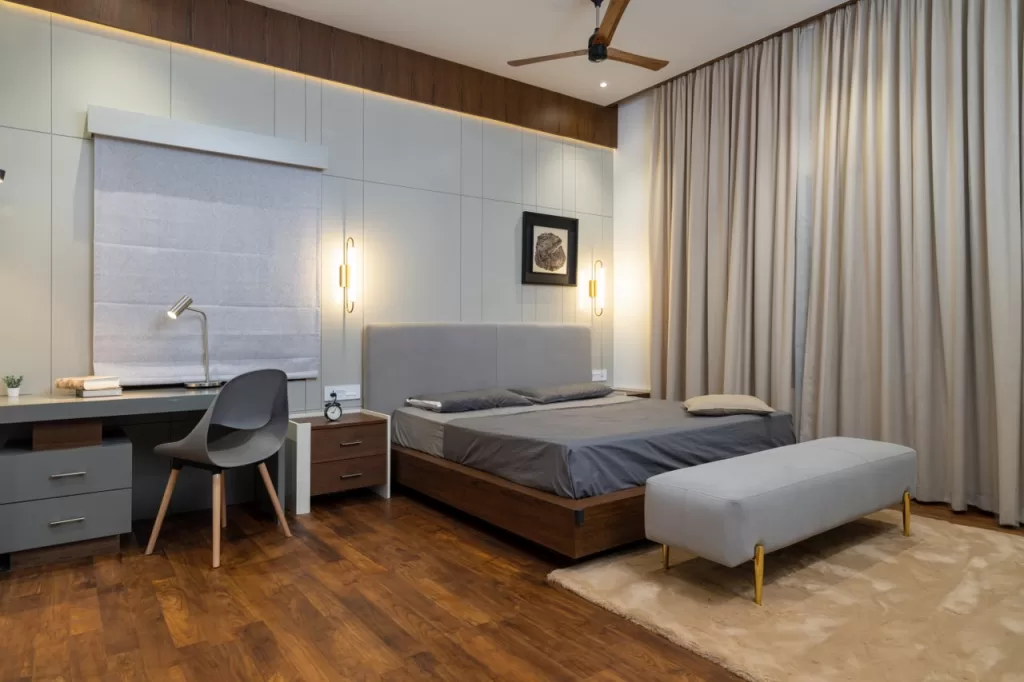 With corner windows in the living area and bay windows in the bedrooms offering distinct vistas. Wooden skirting and fluted wooden panels frame unique views in each space, elevating the overall architectural allure.
Living spaces outlined
Shades of grey, tan, and saffron primarily adorns the interior and exterior spaces, while the ceilings feature gypsum with veneer and plywood borders. With chandeliers gracing the living room, courtyard, and staircase, lighting takes centre stage.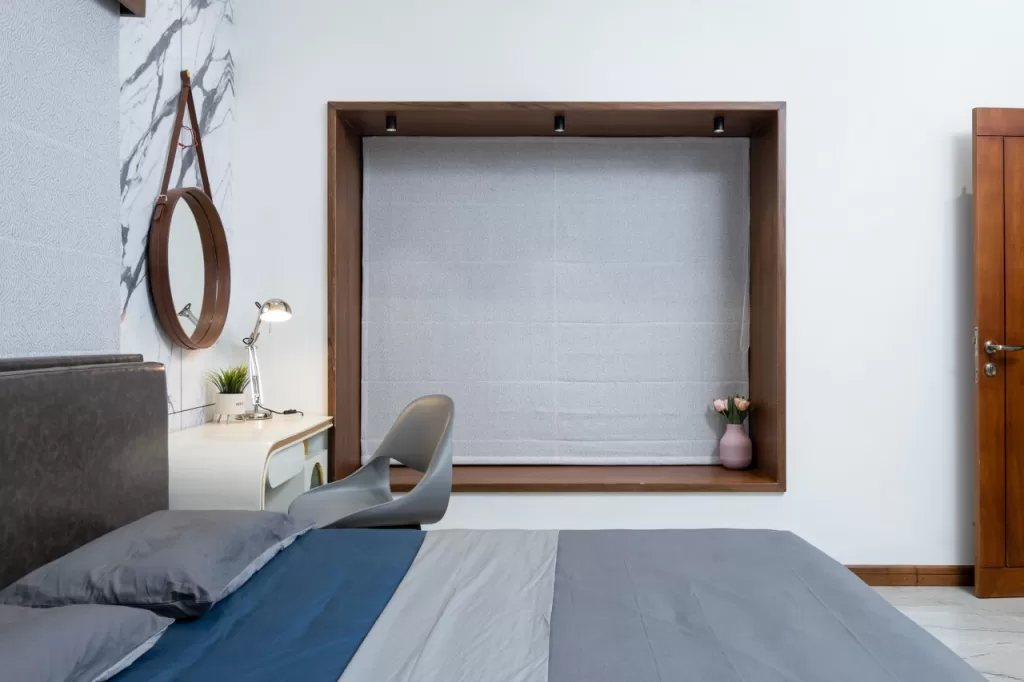 It is strategically placed to accentuate various activities and enhance the livability of different spaces. The landscaping takes a modest approach by adorning the periphery of the site, it engages inhabitants through multiple convivial nodes. An industrial parking accommodates the entrance, while a swing at the rear of the property offers a moment of respite.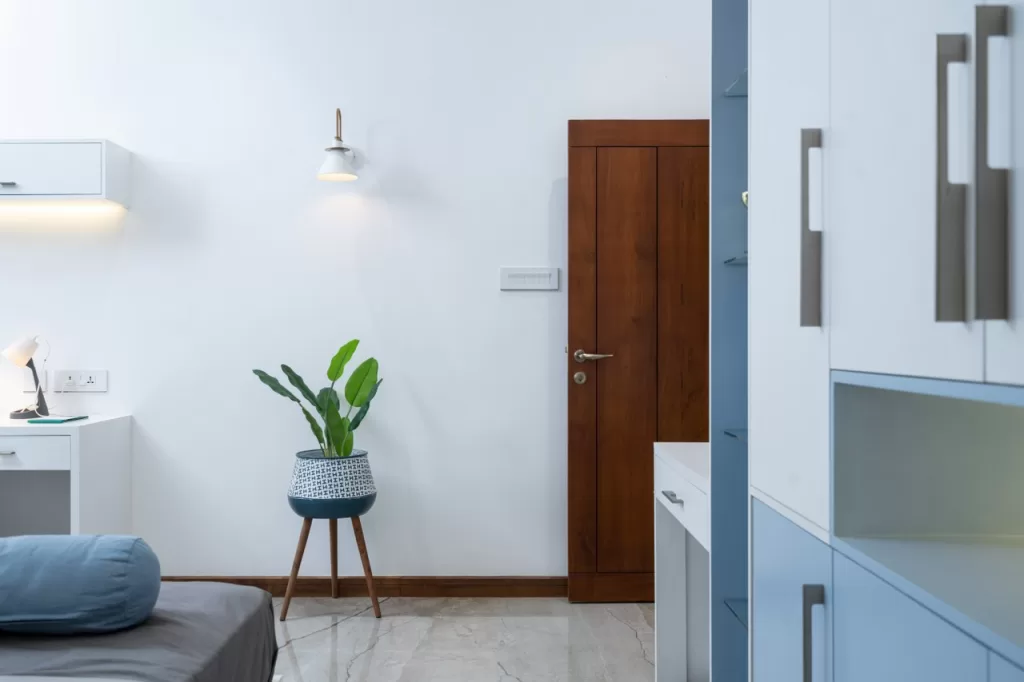 The design of the FM House not only showcases a harmonious fusion of modern aesthetics and environmental consciousness but also places a strong emphasis on spatial connectivity. The firm's meticulous attention to detail is evident in the innovative use of materials, the strategic placement of skylights and windows, and the open courtyard, all of which contribute to a dynamic and holistic living experience.
This design approach enables the house to adapt and evolve with its inhabitants while consistently offering a serene and sophisticated ambience.
Fact File
Designed by: Zherow Architects
Project Type: Residential Architecture and Interior
Project Name: FM House
Location: Orkkatteri
Year Built: 2022
Duration of the project: 2 Years
Project Size: 3800 Sq.ft
Principal Architect: ER Mohammad Ajmal.K , ER Ashhar NK & ER Ajmal Abduilla.PV
Team Design Credits: Roshan PV
Photograph Courtesy: Akhil Komachi
Products / Materials / Vendors: Wallcovering / Cladding – MARBLE GALLERY – CALICUT , PEEKEY INSTORE- CHOKLI / Construction Materials – LOCAL PLACES / Lighting – DIERA LIGHTS, KANNUR / Sanitaryware – MARBLE GALLERY, PEEKEY INSTORE / Windows – TEAK AND UPVC / Furniture – HIDESIGN, CALICUT / Flooring – MARBLE GALLERY – CALICUT, PEEKEY INSTORE- CHOKLI / Kitchen – CHILLUMEDA, KALLACHI / Paint – JOTUN INDIAArtefacts – STORIES / Wallpaper –STORIES / Hardware –CHILLUMEDA, KALLACHI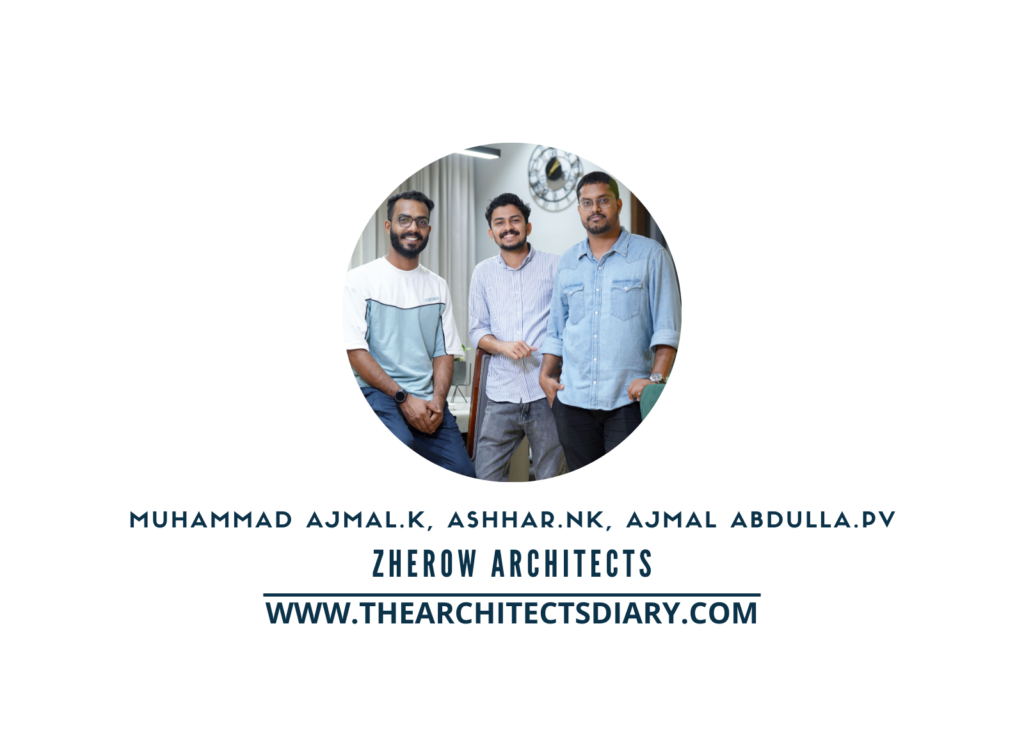 Firm's Instagram Link: Zherow Architects
For Similar Projects >> A Lavish Home that Combines Luxury, Greens, and Simplistic Elegance | AH Architects & Maatiscape Architects
The post A house in Kerala Perched in Natural Habitat | Zherow Architects appeared first on The Architects Diary.