We had to design this house for a family of 4 who started with very humble beginnings. Though luxury is what they all like to soak in, they love to make their family and friends a part of their journey and celebrations. Their brief was very clear – they wanted a residence that was spacious, chic and smart. They wished to have a house having modern amenities, technology and designed with Vastu principles. This was their dream home, that they could use to the best of it's ability.
A House Having Modern Amenities, Technology And Designed With Vastu Principles | NIRMANAM DESIGN STUDIO
VISIT : NIRMANAM DESIGN STUDIO
We were given two plots of 2,700 sq.ft each. We designed the built form in one and a garden in the other. The built form comprised of 4,265 sq.ft. of area in which a foyer, drawing room, dining, kitchen, powder toilet, 1 bedroom on ground floor, Pooja area, master bedroom with attached dress area, two bedrooms for two sons, Jacuzzi, entertainment area, a deck and a long balcony were carved out.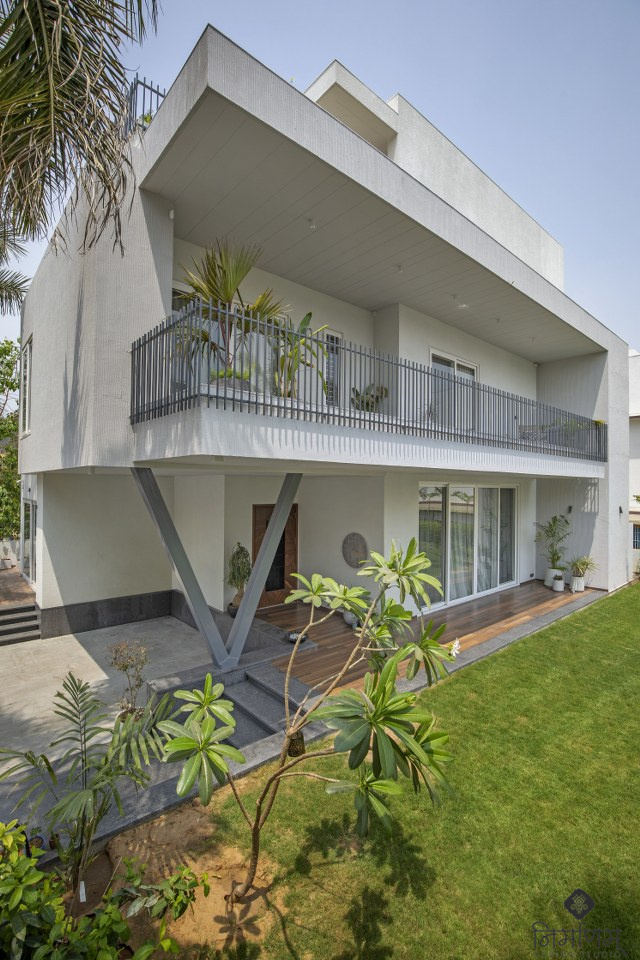 Visual connectivity, plush modern aesthetics and exploring volumes – these were the key factors while designing this house. Indoor-outdoor connectivity was a strong binding element. We placed the built form in a way to have the view of the house while sitting in the garden. Hence the idea was to make it look as appealing, minimal and contemporary as possible. Vice-e-versa, the view from the dining area towards the garden was invigorating.
The garden view added a lot of aesthetic value and visual appeal. Hence, our ideology revolved around capturing the same while carving out the spaces. The house was designed keeping in mind various important Vastu principles.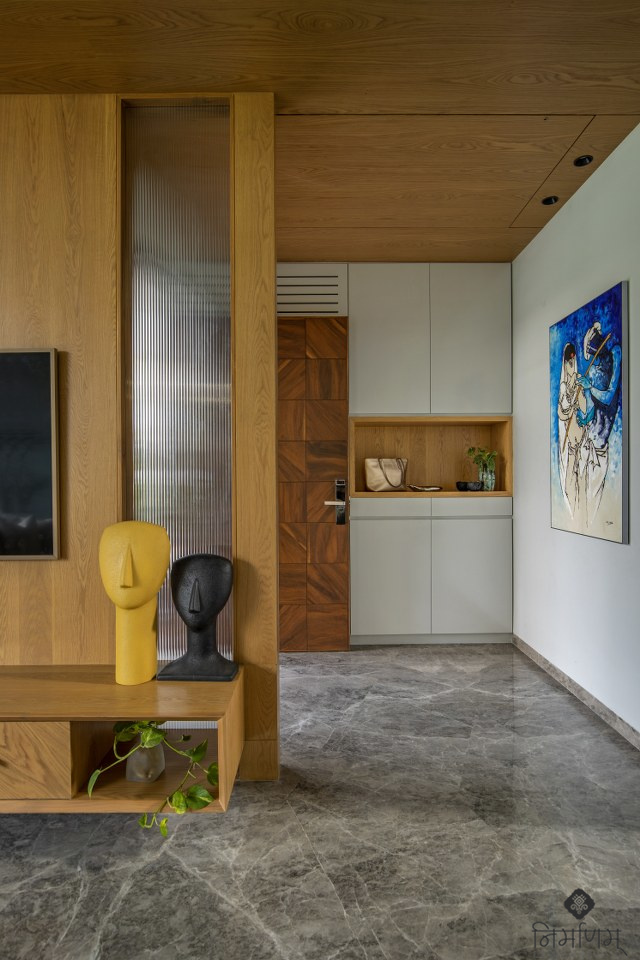 The entrance foyer is adorned by a beautiful Radha-Krishna painting depicting love and togetherness. Veneer ceiling, storage unit with slits in shutters (to act as air vents for electrical gadgets within) and a partition with TV on the other side encompass the cosy space. Yellow COB lights add the required illumination and drama to the space.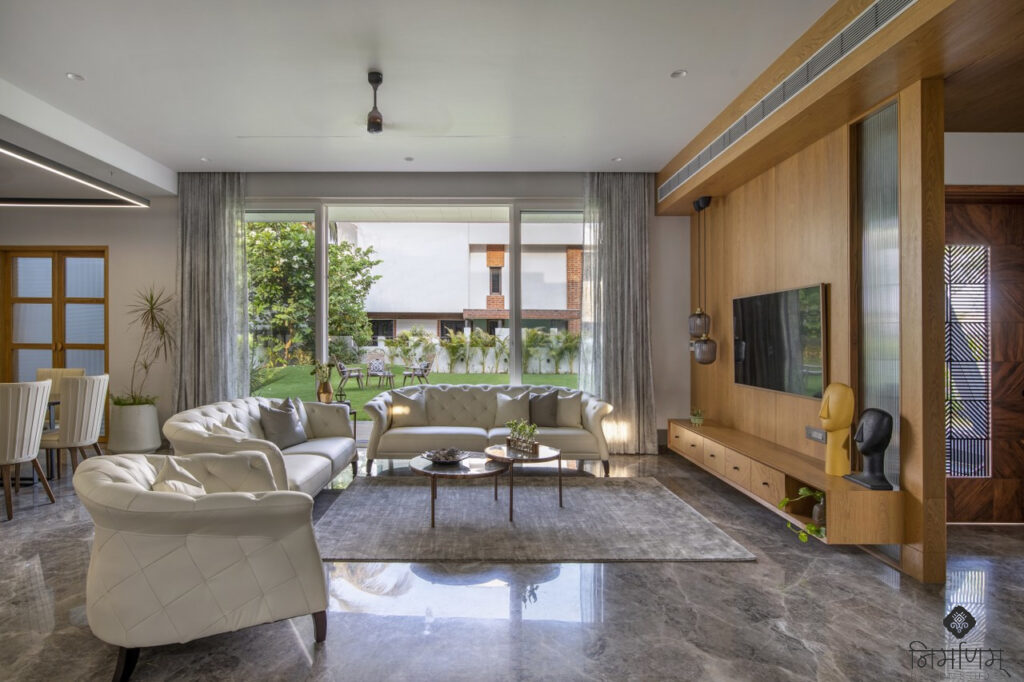 This leads to the living, dining and kitchen – which are all inter-connected to make the space look bigger and clutter-free. A sleek customised swing sways in the living room. While some of the furniture pieces were bought out, most of them were designed on site. The large opening of the living room draped by beautiful sheer curtains overlook the beautiful and lush garden space.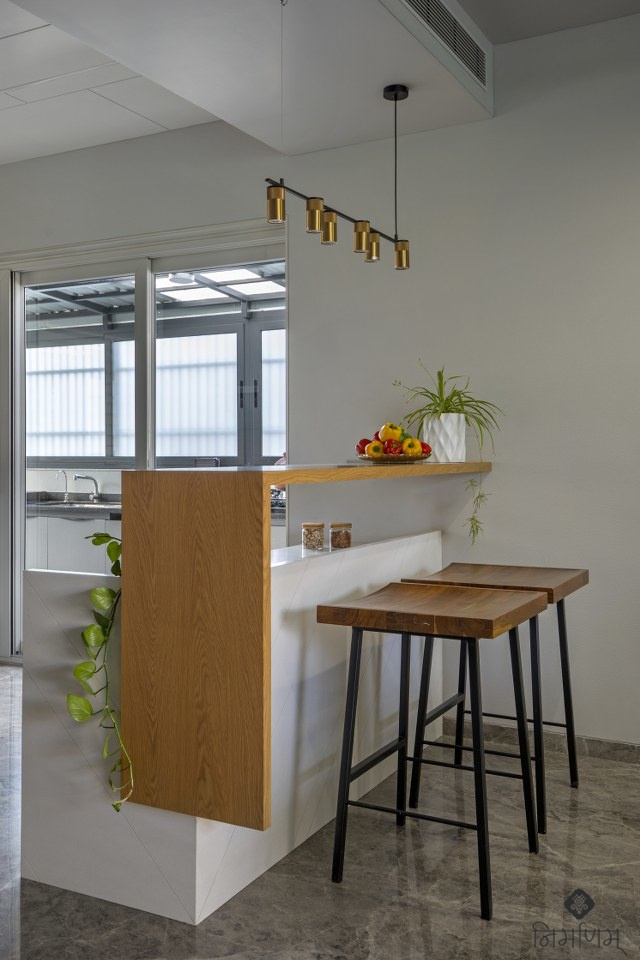 A 'V' shaped metal column at the entrance was a strong infusion and substitute for a heavy looking RCC column. An outdoor kitchen, storage area and service area were also designed.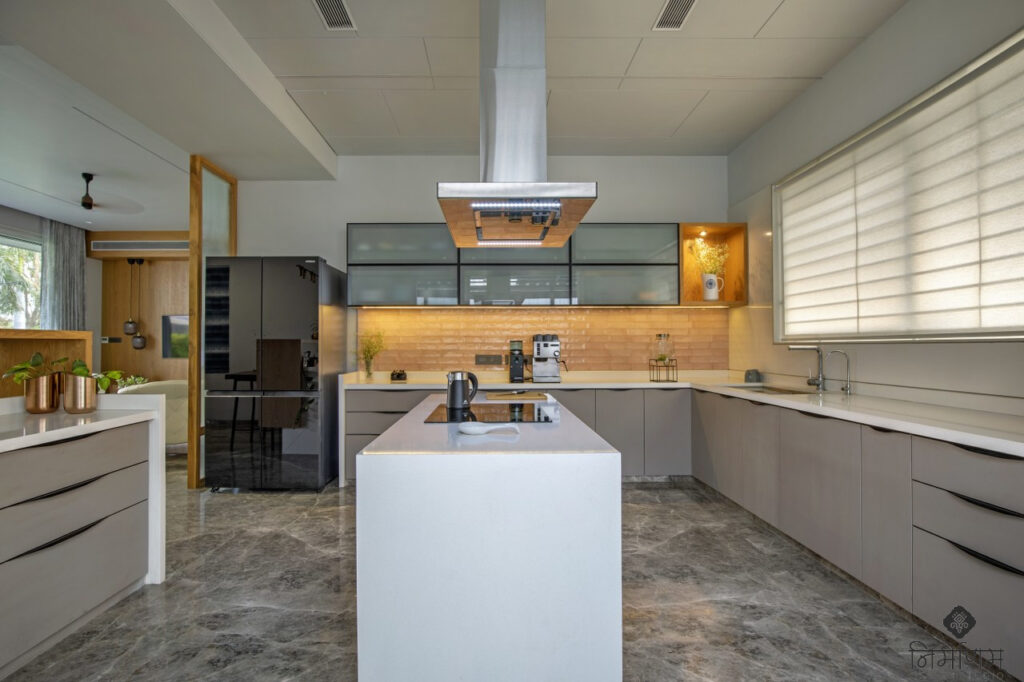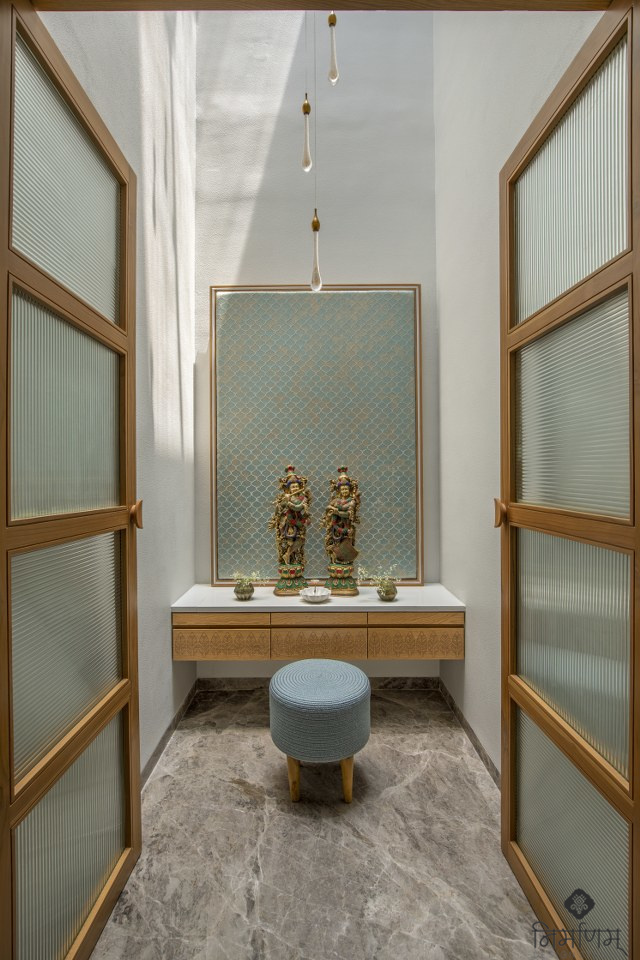 Double doors in wood and fluted glass lead to the double heighted Pooja room. The sky-lit area has been kept subtle with a fabric panelling to act as a back drop. An adjoining bedroom near the entry foyer for the parents has been neatly tucked with grey aesthetics.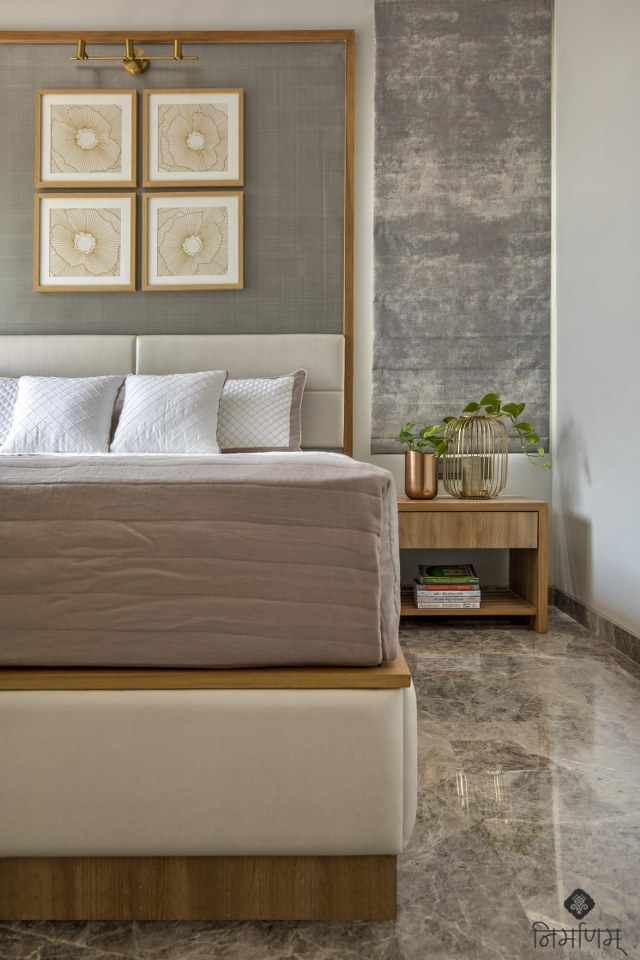 A glimpse of the wooden staircase leading to the upper private spaces adds an element of interest. It further accentuates in the evenings due to the setting sun peeping in from glazed facade.
Master bedroom has been designed keeping in mind luxury and grandeur. The backdrop has been created using cement sheet and veneer with brass inlay and a reverse light. A minimally designed TV unit sits across the bed. An olive couch and bed stool add as accent pieces.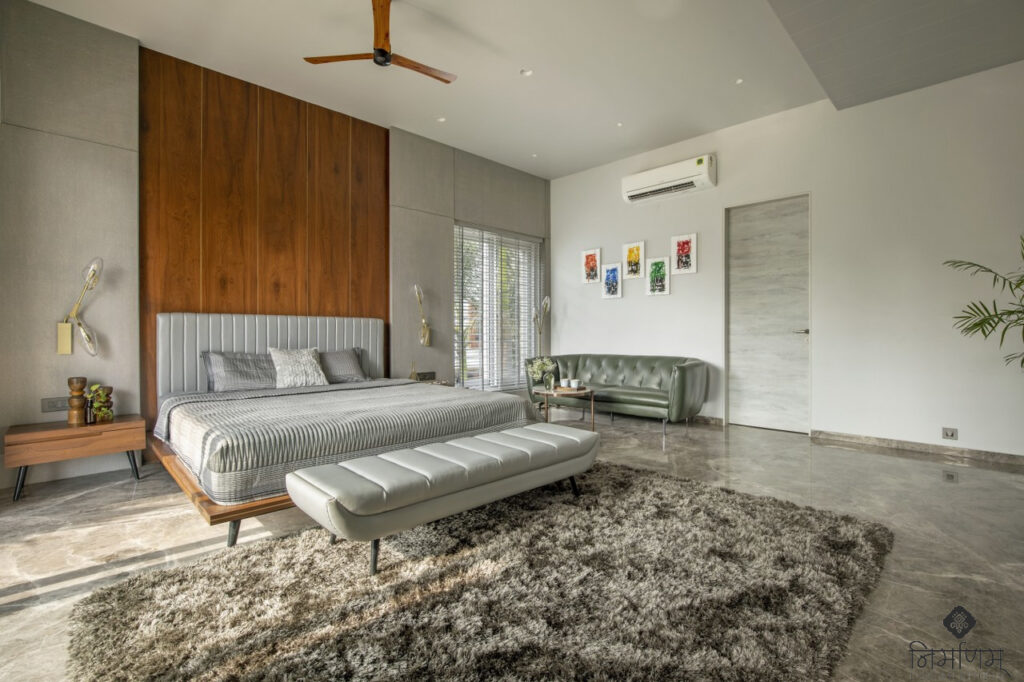 The dark grey bedroom with black MDF panelling for bed-back has its own magical vibes. The requirement for this room was specific- no whites, only dark grey shades for walls and furniture. The lights were kept low – all yellow COB's were used. We used a glass partition to separate the room from attached bath and dress area. This added a whole new dimension to the space.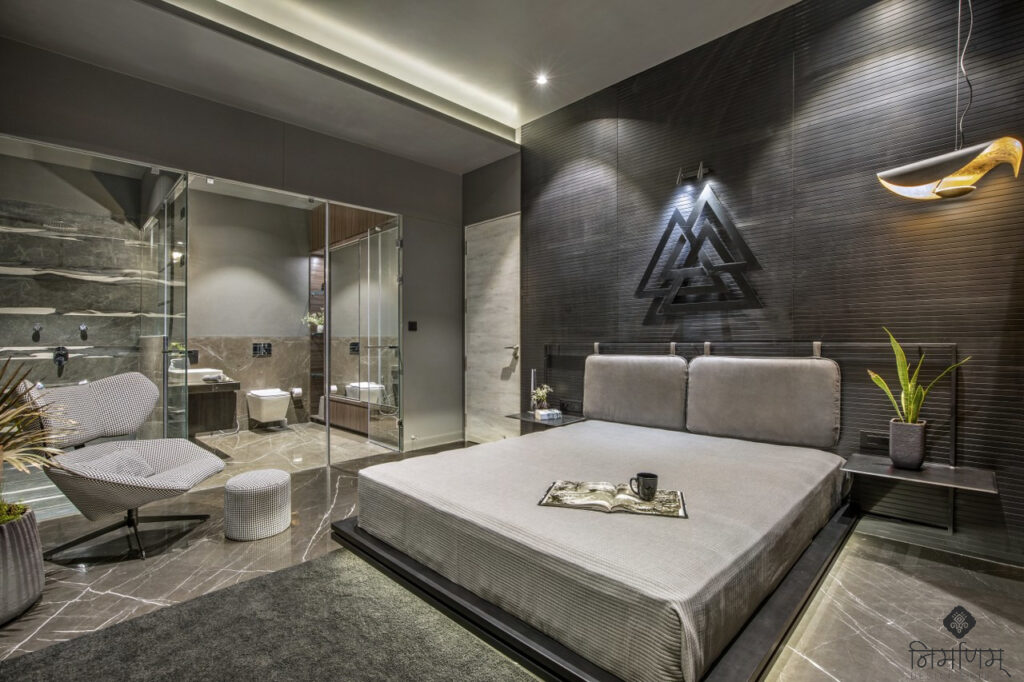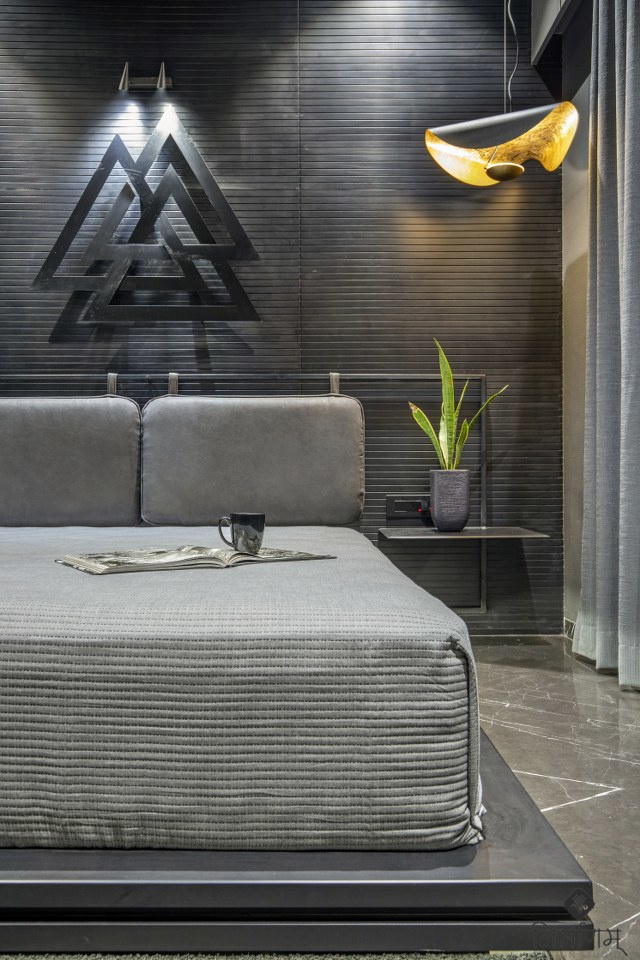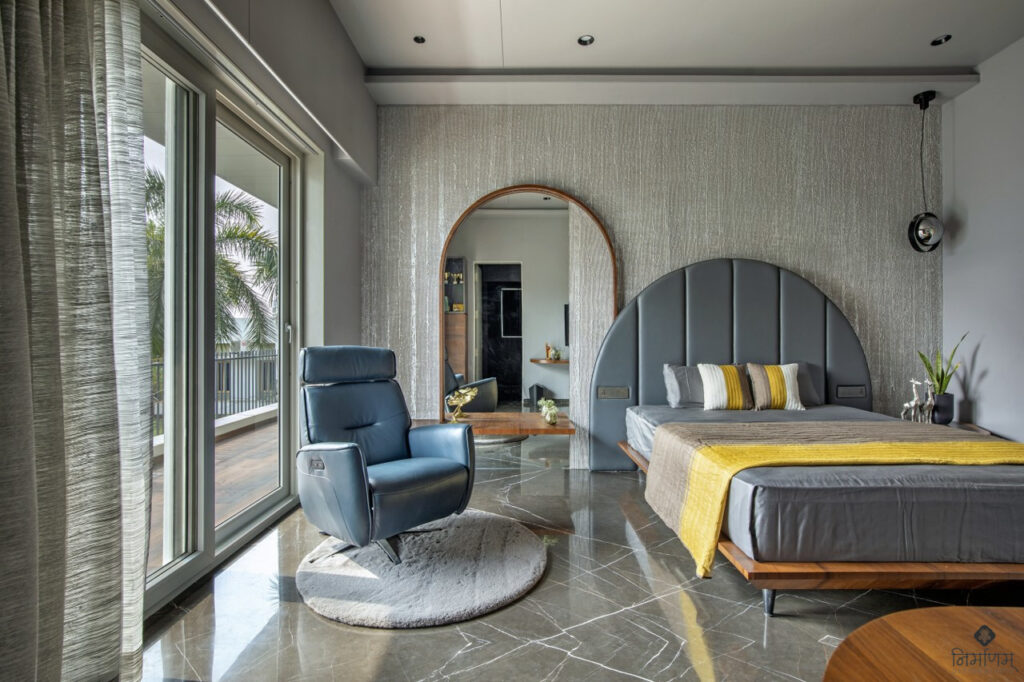 Another bedroom with an arched mirror overlapping the arched headboard belongs to the younger son. This room has been beautified with textured wall behind the bed, a beautiful canvas painting with yellow accents and a large opening that opens up into the first floor deck area overlooking the garden. A recliner chair was added to suffice the son's need.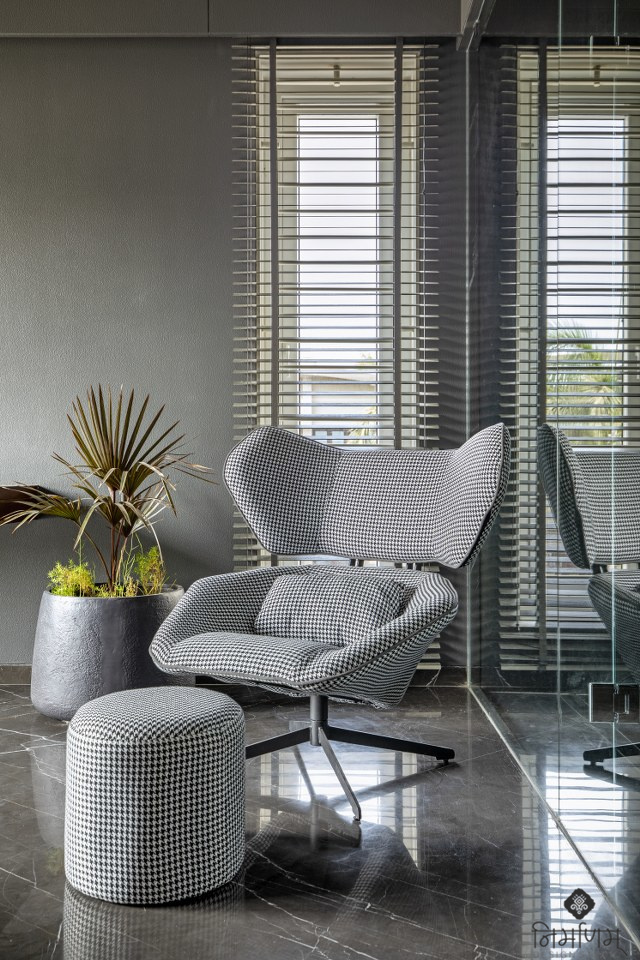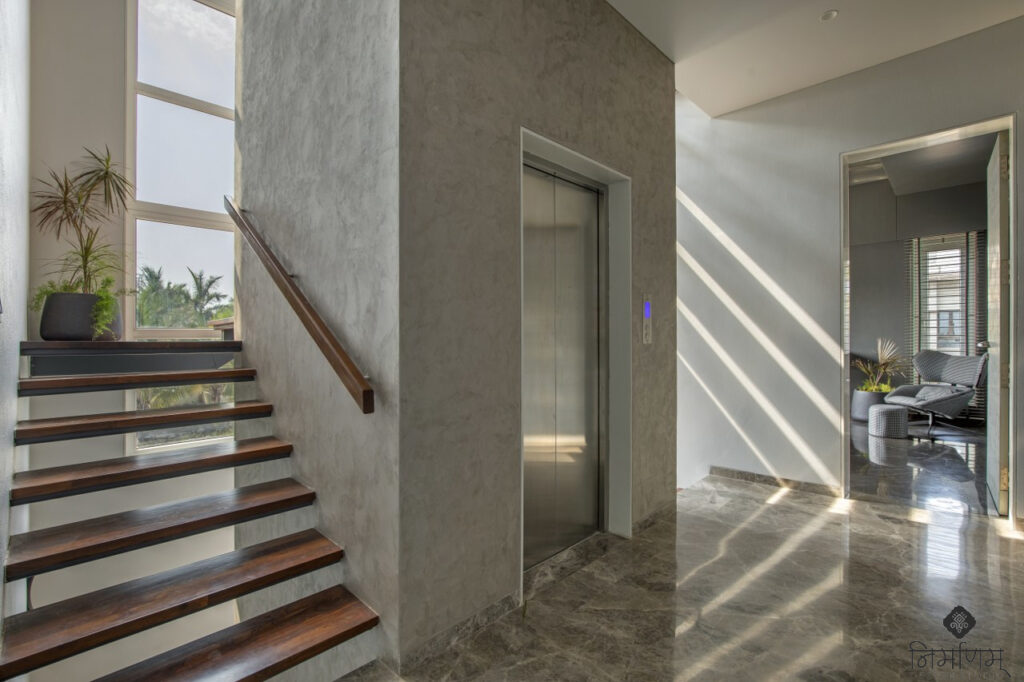 The second floor comprises of recreational areas. The home theatre area was designed to accommodate all the close family and friends. The canvas painting at the rear wall was selected keeping in mind the social gatherings. The bought-out piece of sage green sofa was our go-to spot. Other furniture pieces were designed in line with that.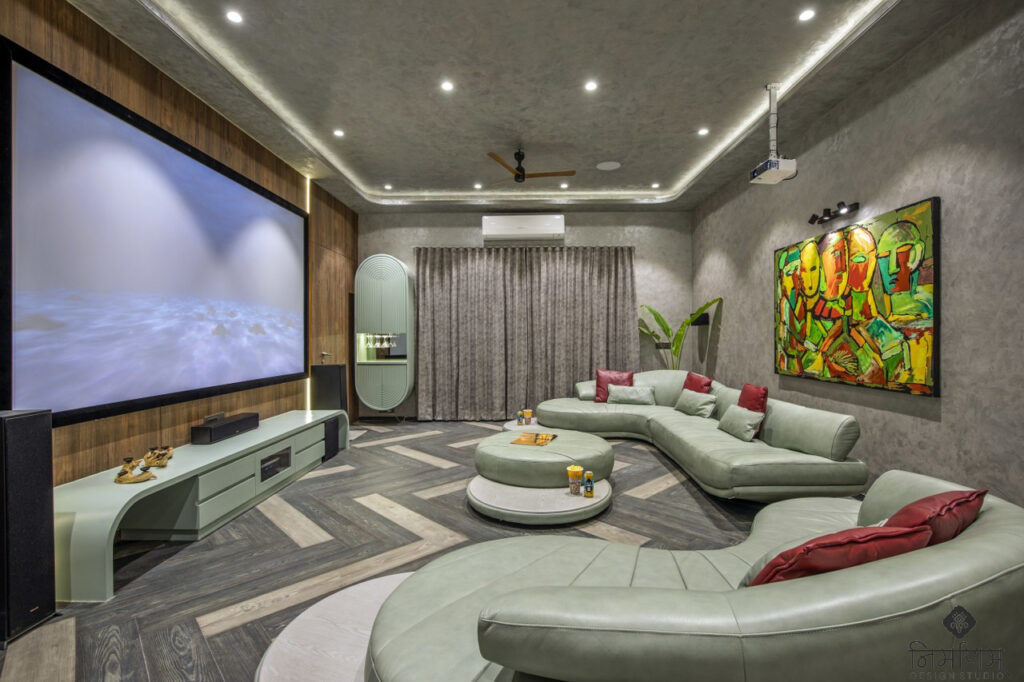 The outdoor terrace area accommodates customised seating area, a counter made in Italian marble, metal chairs and metal artwork. Rust-orange tile inserts were added in the flooring pattern. This colour was again reflected in the upholstery and the Italian marble we selected for the counter.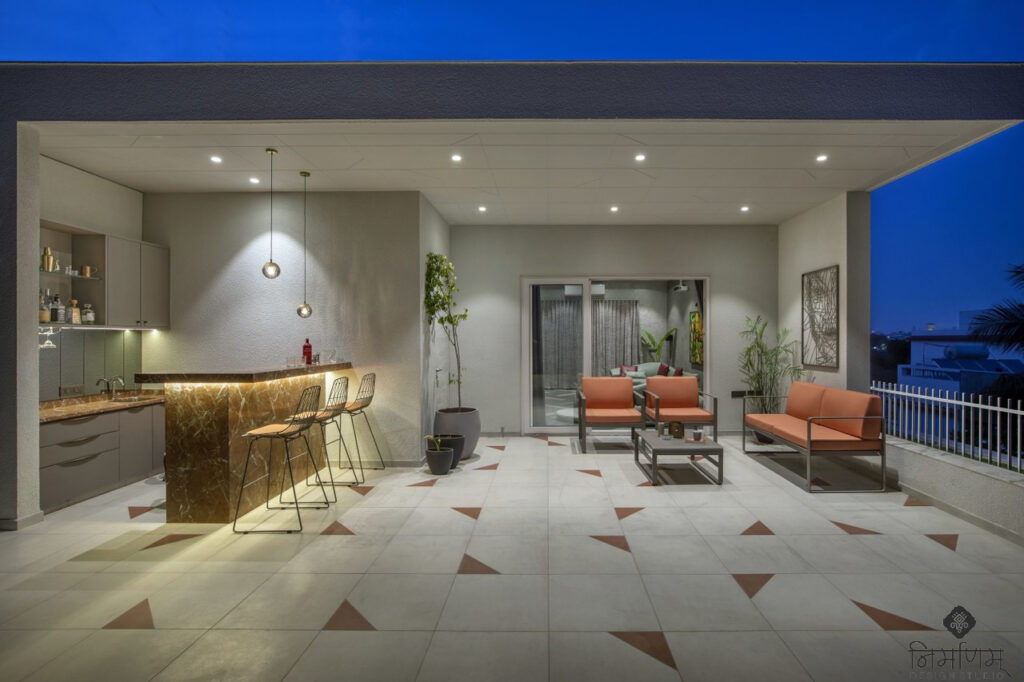 A terrace adjoining the entertainment area was designed with a serving counter, storage facilities and a powder toilet for guests. All these were sp read across 3 floors connected via a large lift and staircase.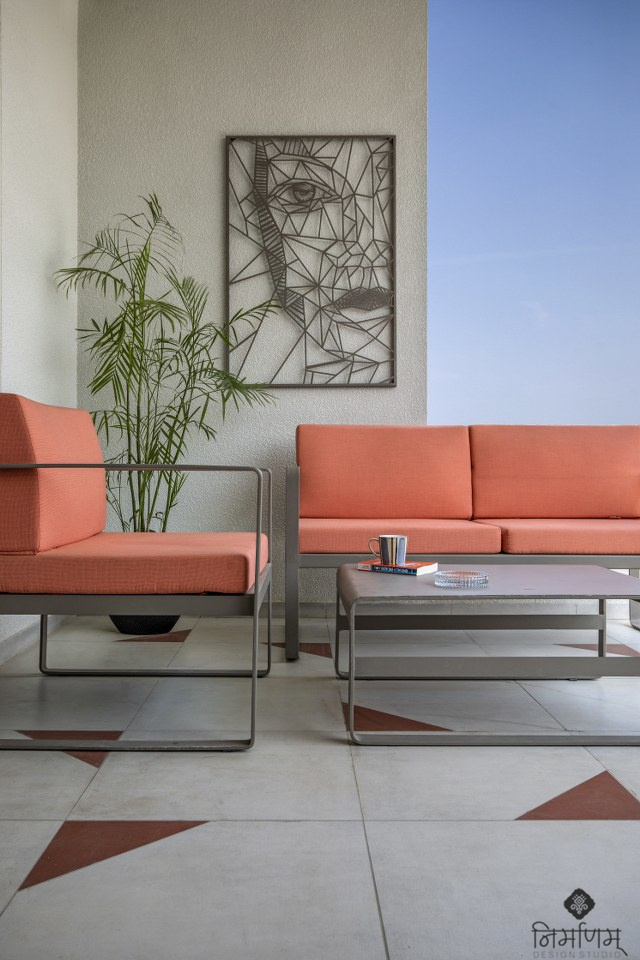 The sky-lit jacuzzi space with shower, w.c, basin was designed to give a calm and soothing vibe. We added a number of green plants to bring the outside in. Blue and white patterned tiles were used to add a morccon vibe. The walls were adorned using a mild texture effect. TV and AC were added to suffice the client's needs.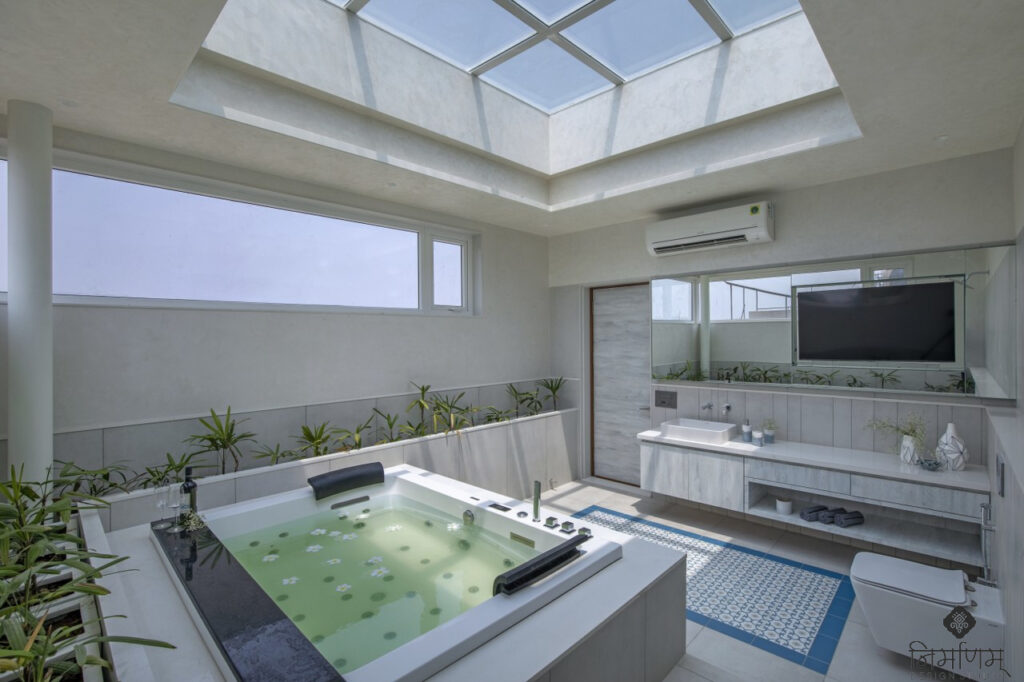 In the interiors, the grey-white spider web Italian marble was selected at a very early stage. It became the main canvas and other elements revolved around it. We decided to make the bold pattern take the centre stage and other elements were kept subtle. A soothing white shade was selected for all the walls. Artworks were incorporated at strategic locations, to add the element of interest and beauty.
FACT FILE
Designed by : NIRMANAM DESIGN STUDIO
Project Type : Residential
Project Name : GANDHI'S RESIDENCE
Location : VADODARA, GUJARAT, INDIA
Year Built : 2021
Duration of project : 18 MONTHS
Plot Area : 5400 Sq.ft
Built up : 3969 Sq.ft
Project Cost : 5000-5500 Per Sq.ft
Principal Architects : AR. BHARGAV PANCHOLI & ID.DARSHANA VORA
Photograph Courtesy : Tejas Shah
Products/Materials/Vendors : Sanitaryware – Bravat, Cotto / Windows – Aluplast / Paint – Dulux ICI Hardware – Hafele.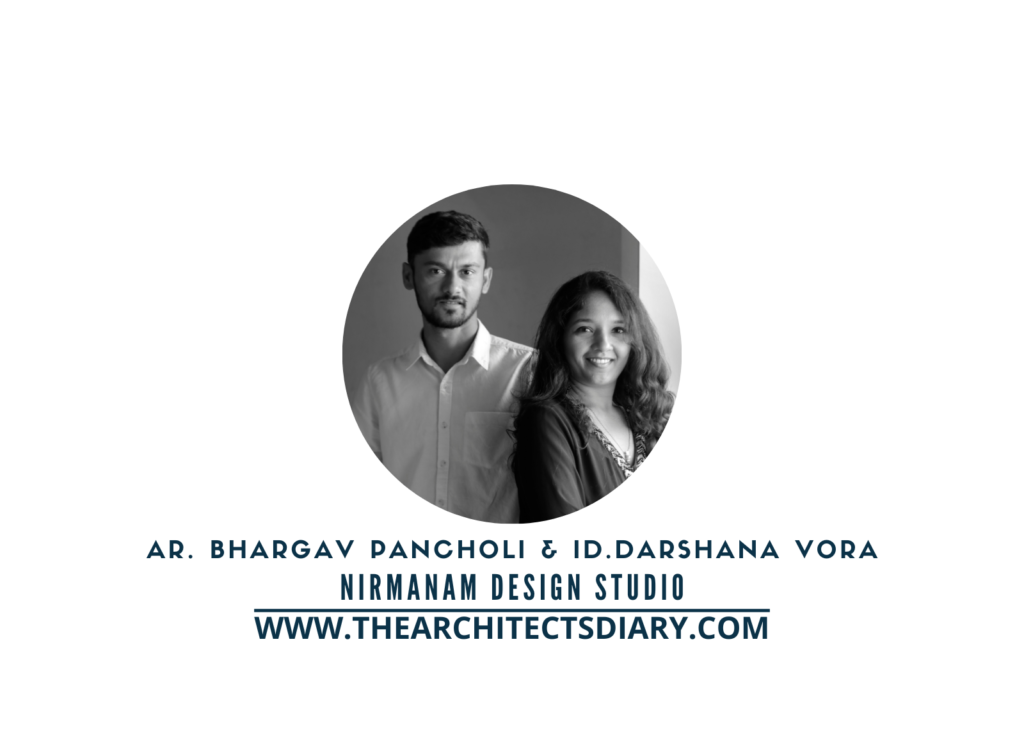 Firm's Instagram Link : NIRMANAM DESIGN STUDIO
Firm's Facebook Link : NIRMANAM DESIGN STUDIO
For Similar Project >> MODERN APARTMENT INTERIORS WITH BASIC MATERIALS

The post A House Having Modern Amenities, Technology And Designed With Vastu Principles | Nirmanam Design Studio appeared first on The Architects Diary.