As you enter the apartment, a veil of privacy gently welcomes you, drawing you into a realm where every corner holds secrets waiting to be unraveled. Step into a home where modernity meets the timeless allure of mid-century design.
Visit: Studio Priyanka Rajguru
The living room opens out before your eyes, displaying a perfect combination of artistry and expertise. A
delicate dance of light and shadow reveals a space meticulously divided, yet harmoniously connected.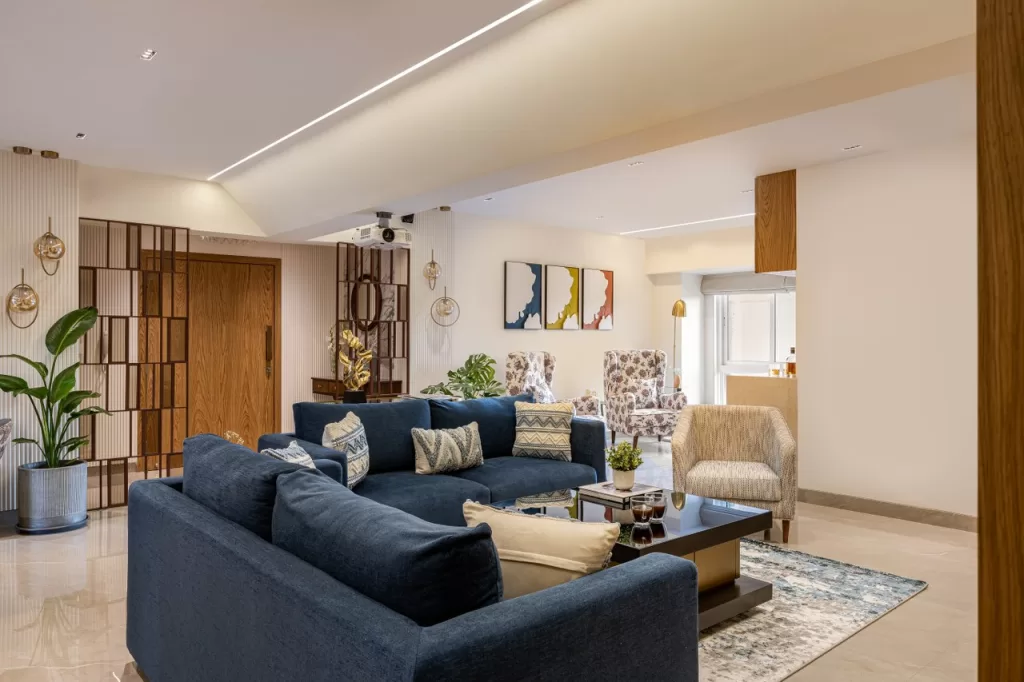 The bar, exuding sophistication, entices with its gleaming surfaces and seductive charm. Adjacent, the dining area beckons with a promise of culinary delights, its rustic floral accents evoking a sense of nostalgia.
Your gaze drifts toward the central seating area, a sanctuary of comfort and togetherness, accentuated by the warm hues painted across the room. Soft cushions comfort you as you recline in the window seating, casting your eyes upon a breathtaking vista that extends beyond the confines of the walls.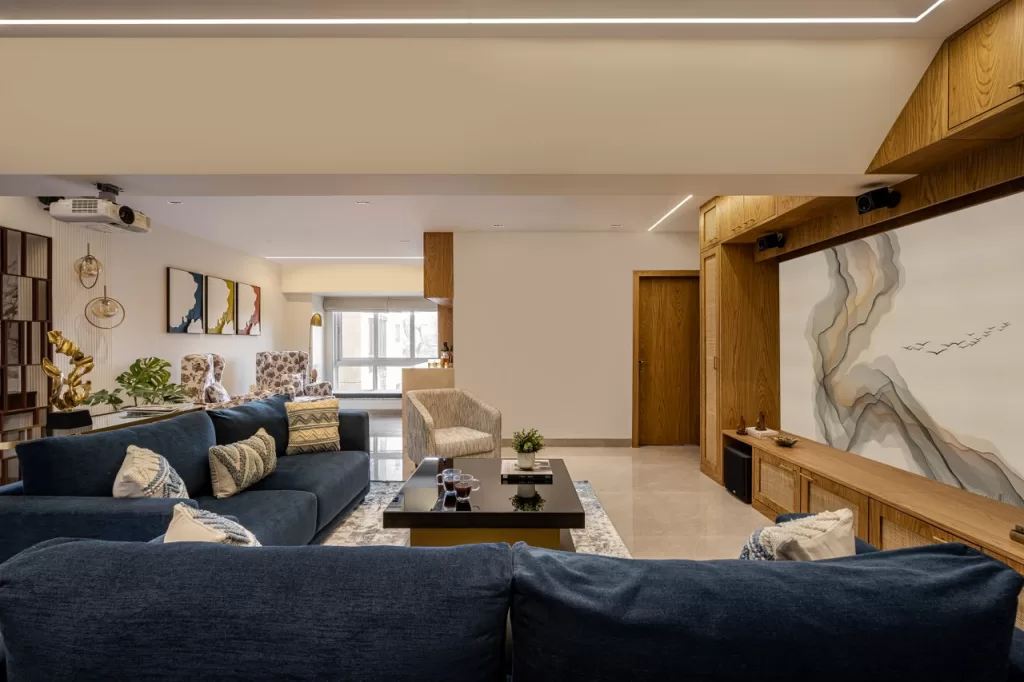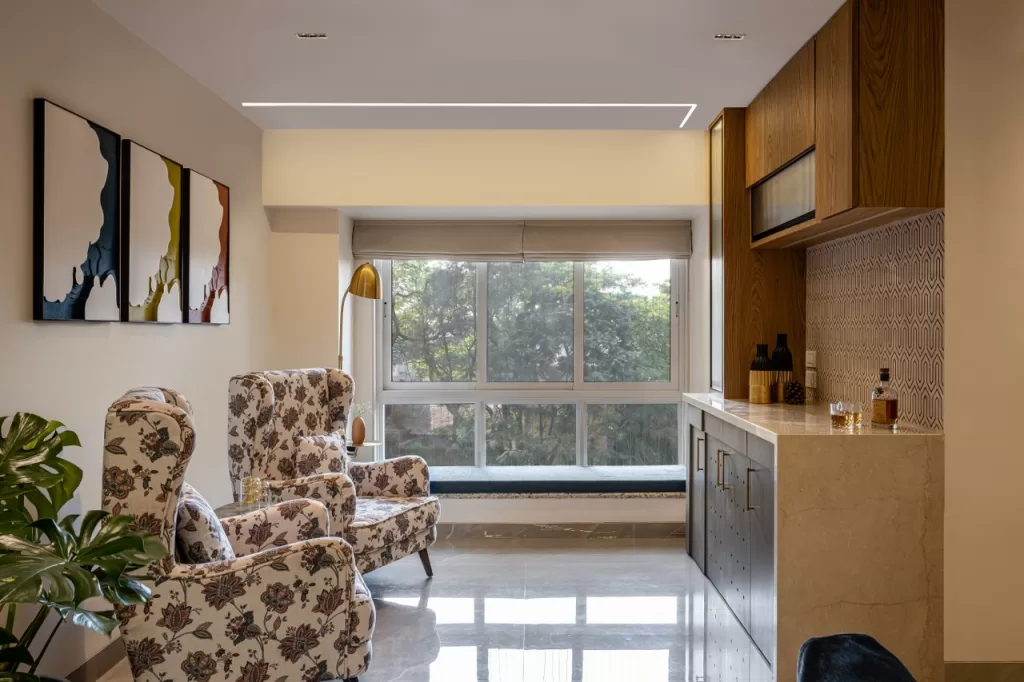 In a magical transformation, the projector wall comes alive, painting the room with immersive visuals that
transport you to another dimension. The interplay of veneer, rattan, and Indian stones creates an ensemble of textures, while the engravings on the marble bar evoke a sense of ancient mystique.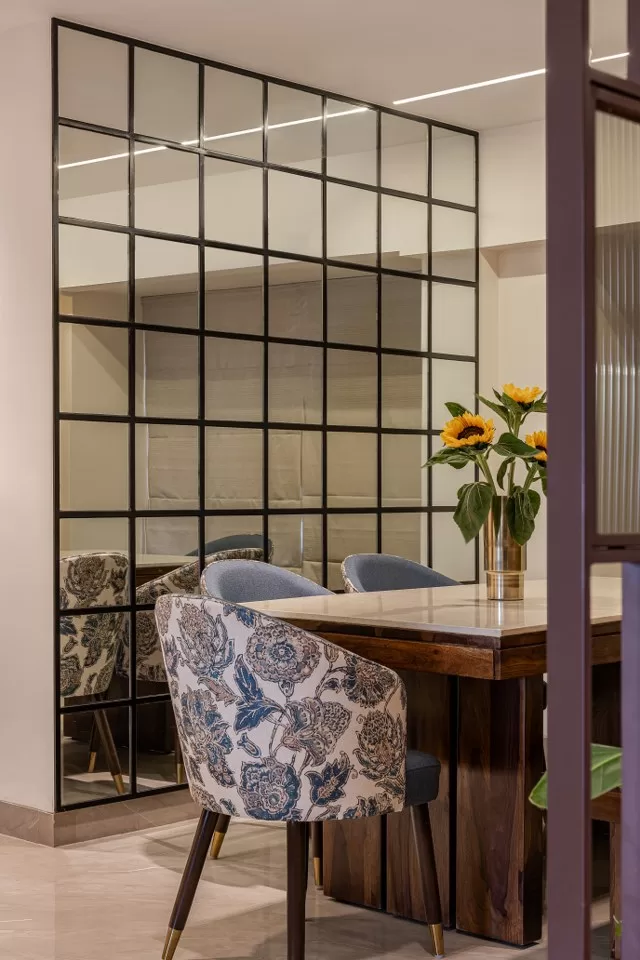 But the journey does not end there. Venture further into the master bedroom, a place where functionality and elegance come together to create the perfect ambience. The bed, adorned by captivating 3D engravings, sparks wonderful dreams.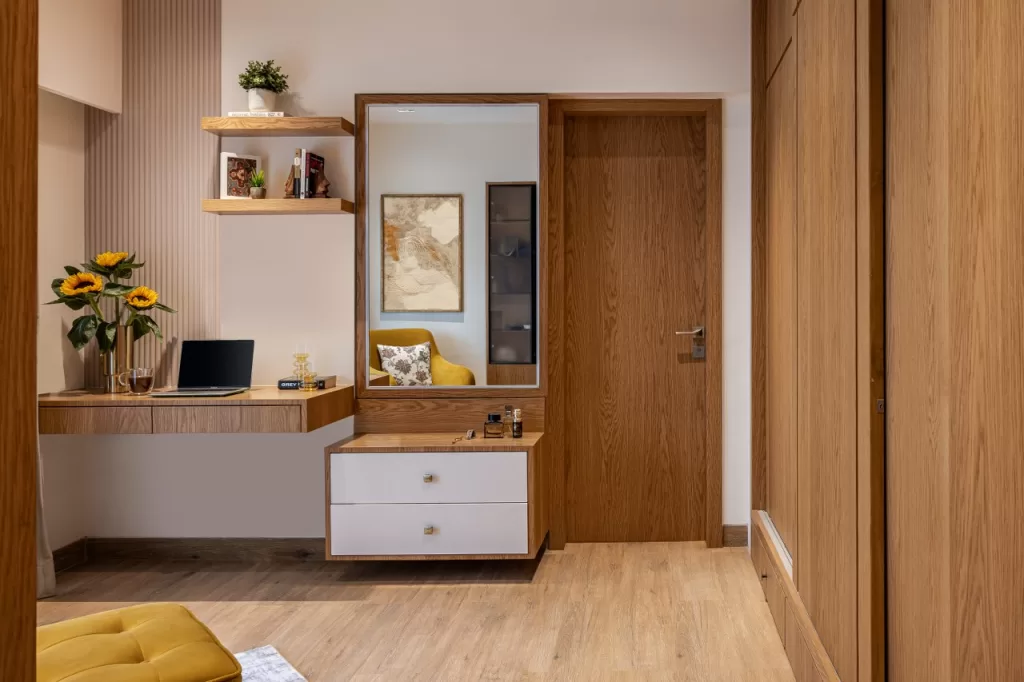 Plus, on the opposite side, a study area awaits, ready to explore the treasures of knowledge, while the dressing space exhibits an aura of beauty and self-expression.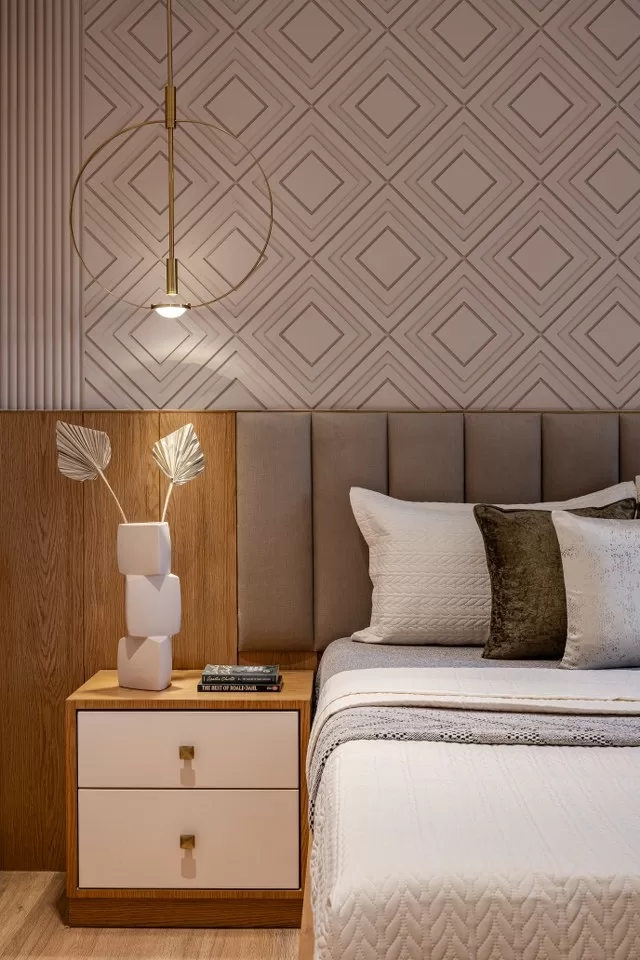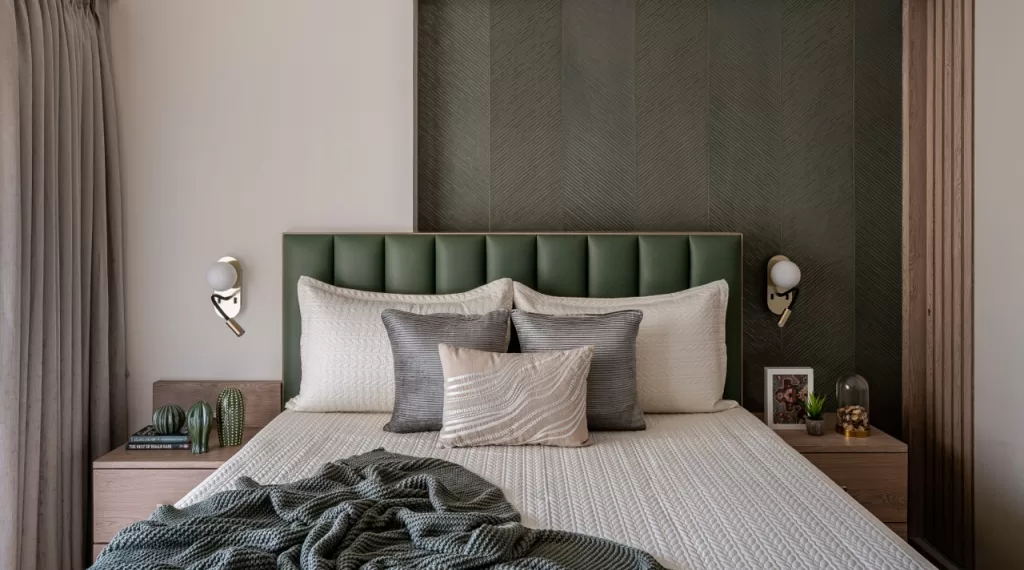 As you explore the guest and parents' bedrooms, you discover each has been designed with its unique palette, evoking emotions, and perpetuating serenity. Earthy tones intertwine with refreshing hues to create a tranquil atmosphere, offering comfort and solace to all who enter.
Finally, your journey leads you to the study & puja room—a testament to ingenuity and purpose. Its design perfectly reflects the essence of efficiency, utilizing every nook and cranny to maximize its capacity. Additionally, a playful bunk bed whispers of childhood dreams, while the cozy study corner offers itself as a retreat for contemplation, as sunlight cascades through the windows, casting ethereal shadows that waltz upon the sacred space.
In this newly designed interior, an enchanting story emerges. It is a narrative woven by the seamless transitions between spaces, where colors, textures, and energies come together, where drama and emotion converge, creating a symphony of beauty that resonates within the depths of your being.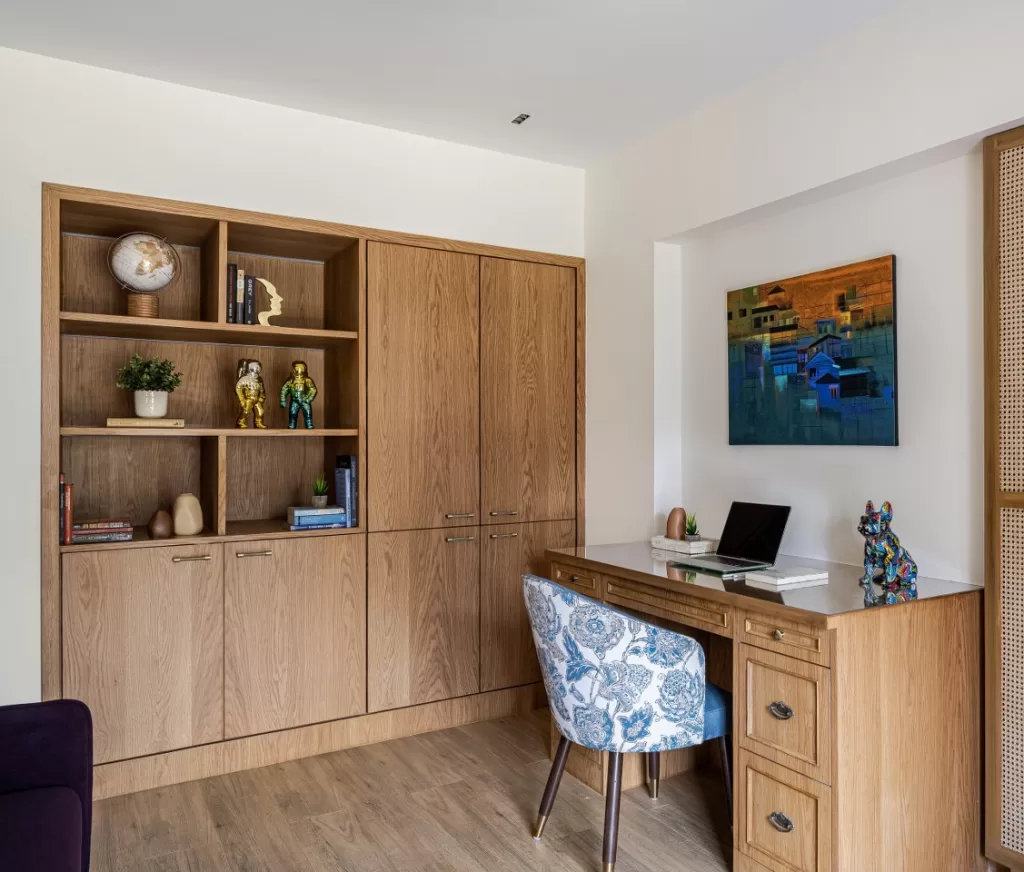 All in all, this home exudes a contemporary charm that harmonizes with the energies of the house, creating a serene and aesthetically pleasing environment for the residents to enjoy.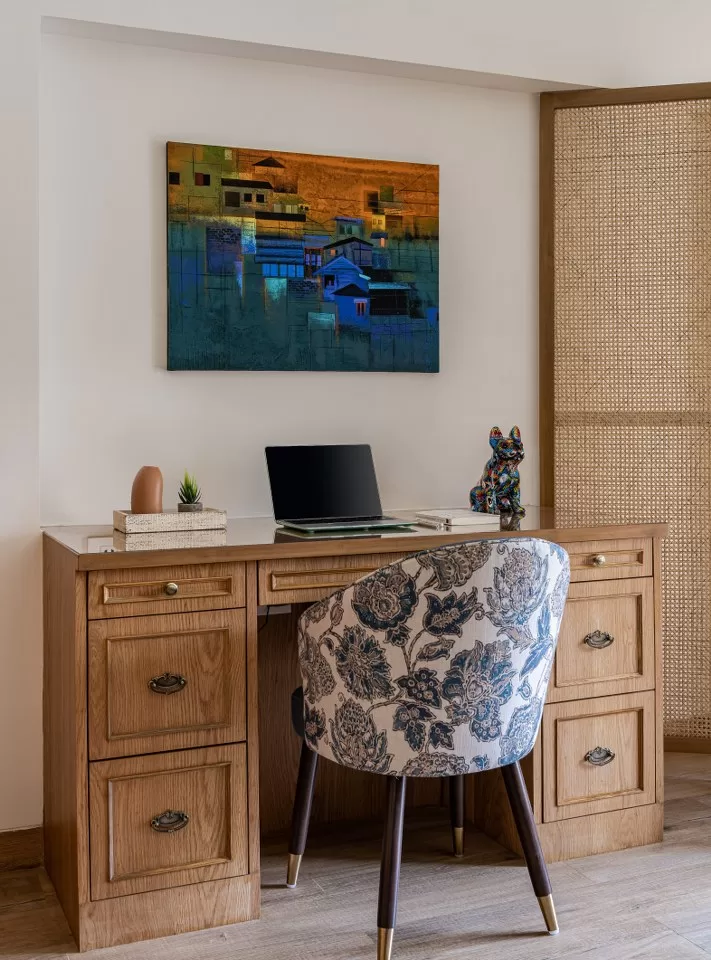 Fact File
Designed by: Studio Priyanka Rajguru
Project Type: Residential Interior Design
Project Name: Mélange home
Location: Nahar, Mumbai
Year Built: 2023
Duration of the project: 10 Months
Project Size: 2300 Sq.ft
Project Cost: 1.2 Crore
Principal Architect: Priyanka Rajguru
Photograph Courtesy: Noaidwin Sttudio
Interior Styling: Studibwb
Products / Materials / Vendors: Wallcovering / Cladding – A to Z furnishing / Lighting – The white teak Sanitaryware – Kohler India / Paint – Asian paint / Wallpaper – A to Z furnishing / Hardware – Labacha, Haffle, Blum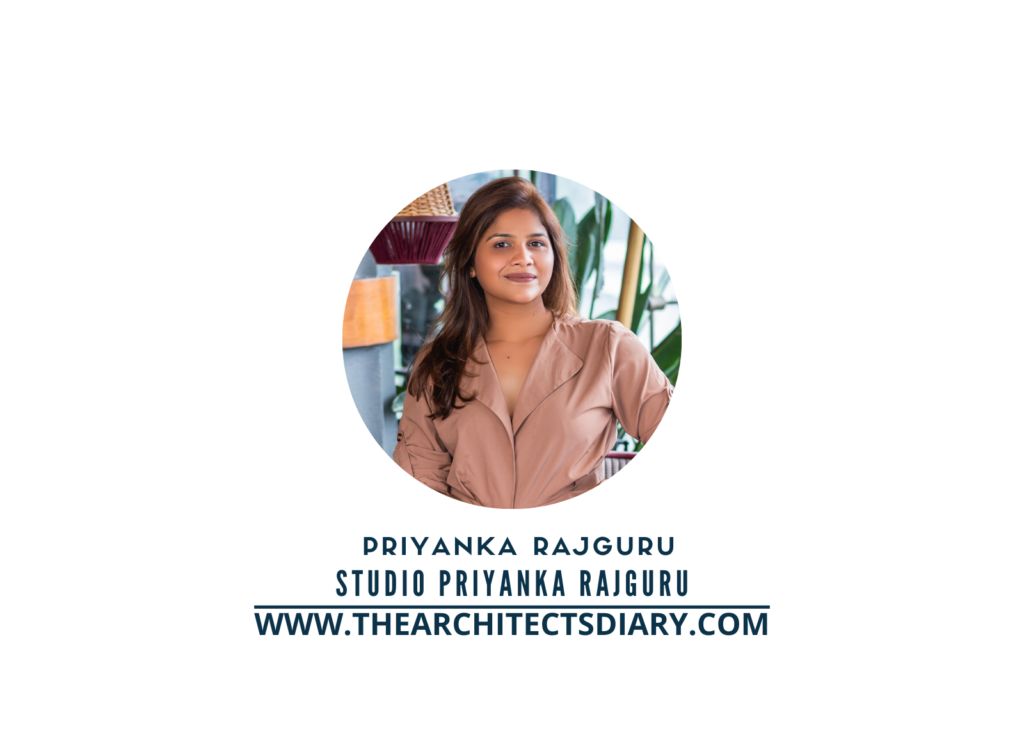 Firm's Website Link: Studio Priyanka Rajguru
Firm's Instagram Link: Studio Priyanka Rajguru
Firm's Facebook Link: Studio Priyanka Rajguru
For Similar Projects >> Apartment Interior Design With Warm Earthy Palette Of Materials, Textures, And Colors
The post A Home Where Modernity Meets the Timeless Allure of Mid-Century Design | Studio Priyanka Rajguru appeared first on The Architects Diary.