Located in the heart of Gurgaon – Palam Vihar, this home spans over an area of 800 sq yard floors in a 4-story building. The house is designed as per the lifestyle and requirements of our client, who is an airline pilot staying with his parents. A gleaming family home with ample storage and an uncluttered interior design was requested by the client.
A Gleaming Family Home With Ample Storage And An Uncluttered Interior Design | Megha Kedia Design
Visit : Megha Kedia Design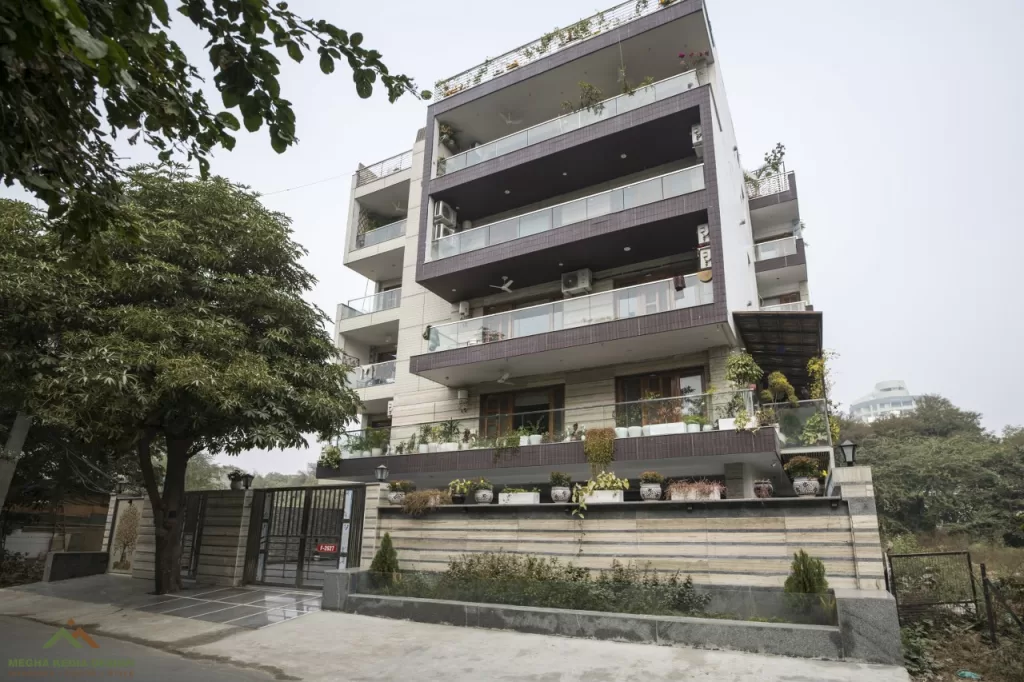 Vision: In this Indian contemporary design, our vision was to incorporate brightness, neutral colors, open spaces, and large windows, which are designed to maximize natural light.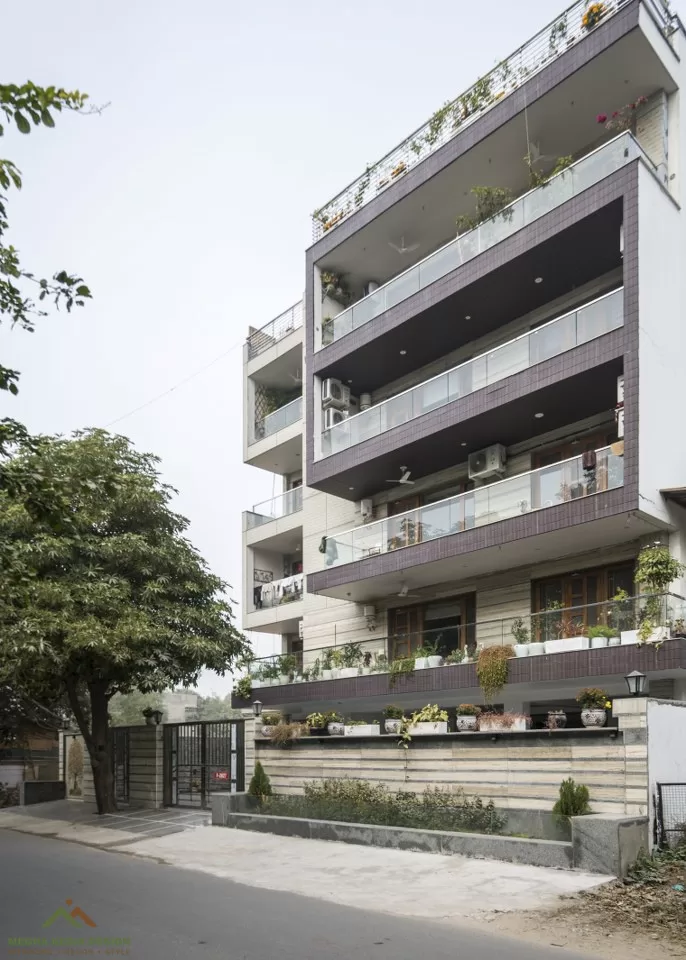 There are clean lines and natural materials like wood, veneers, etc featured in this home to evoke a sense of simplicity and comfort.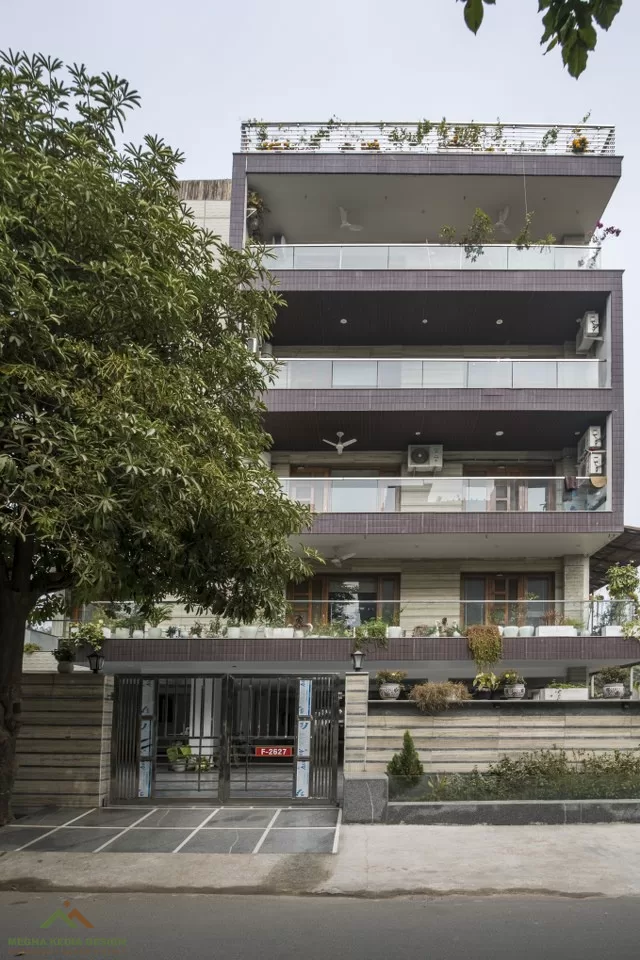 The design of furnishings and decorative objects are reflecting in its intended purpose, says Megha Kedia, the Principal designer of Megha Kedia Design.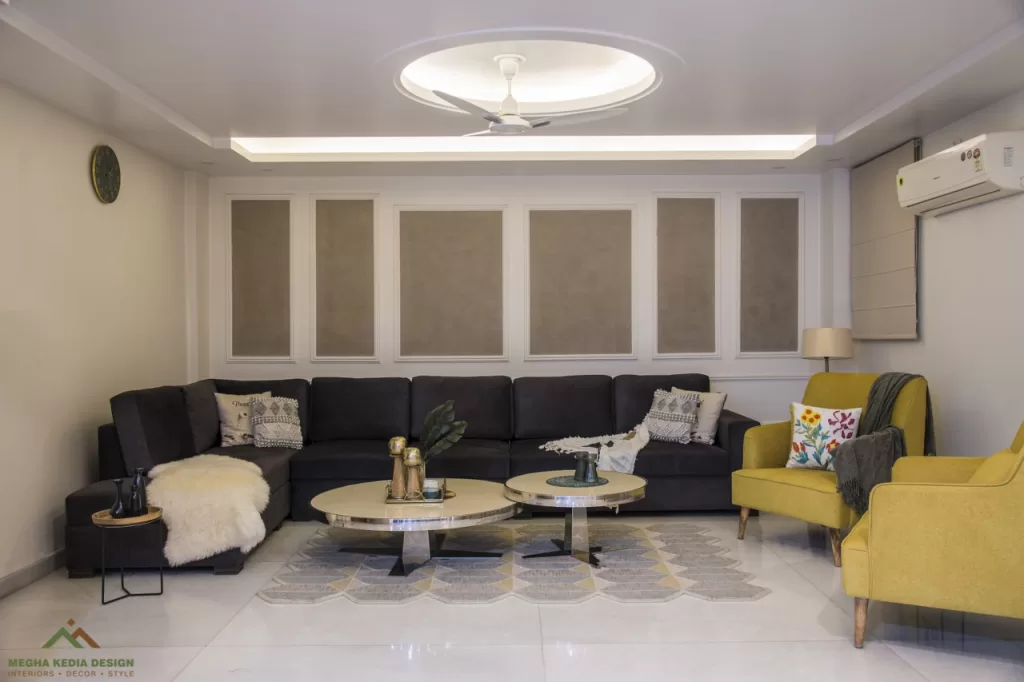 Living & Common Area: By focusing on color, space, and shape, this contemporary interior home is sleek and fresh. To achieve the look, we stick to some basic principles of using neutrals, wood, shades of grey, black & white to create a calming atmosphere.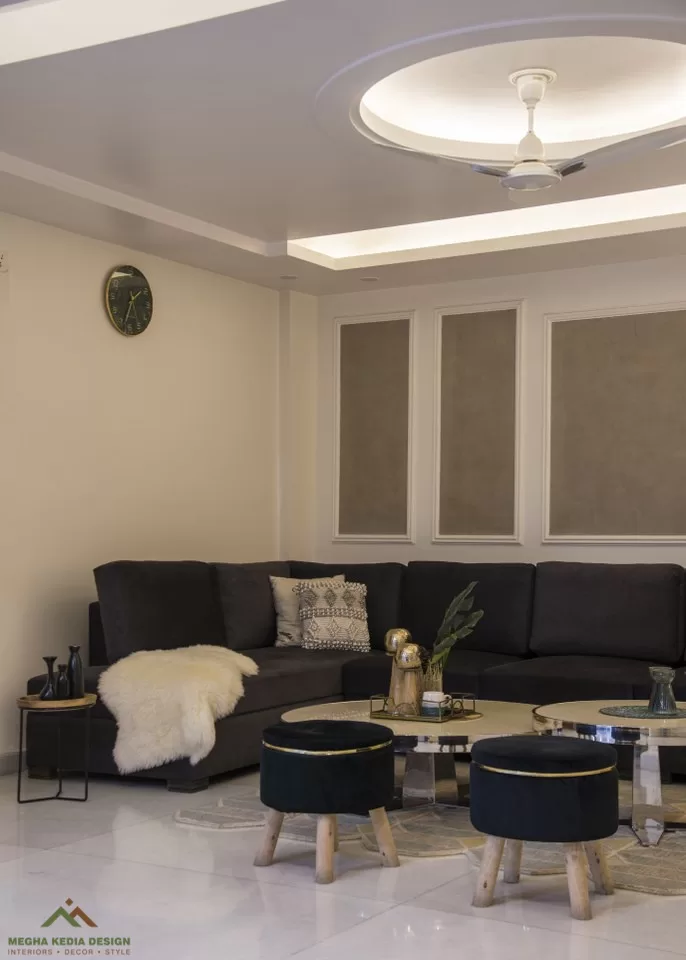 The palette is punched up and accented with bright and bold colors. With walls painted in a basic neutral, we have achieved a wonderful backdrop for bold-colored accessories especially highlighting the wall mural in the common area featuring the resting birds. Each piece stands out as individual and unique.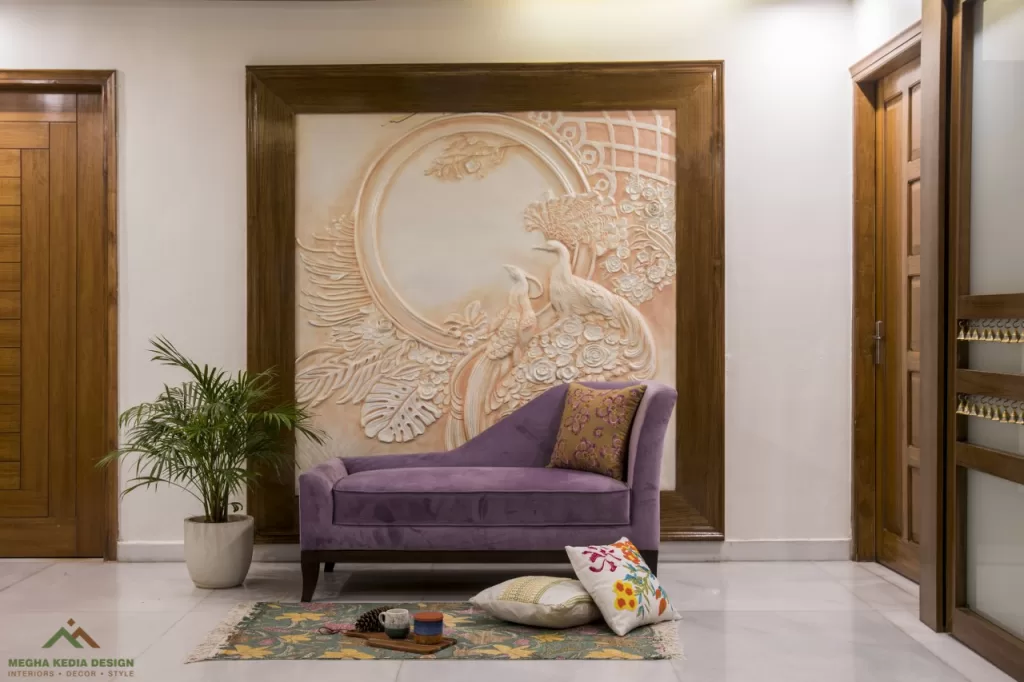 This home includes 4 bedrooms, a family lounge, an entertaining area, a formal living, and a dining room, with a kitchen and mandir.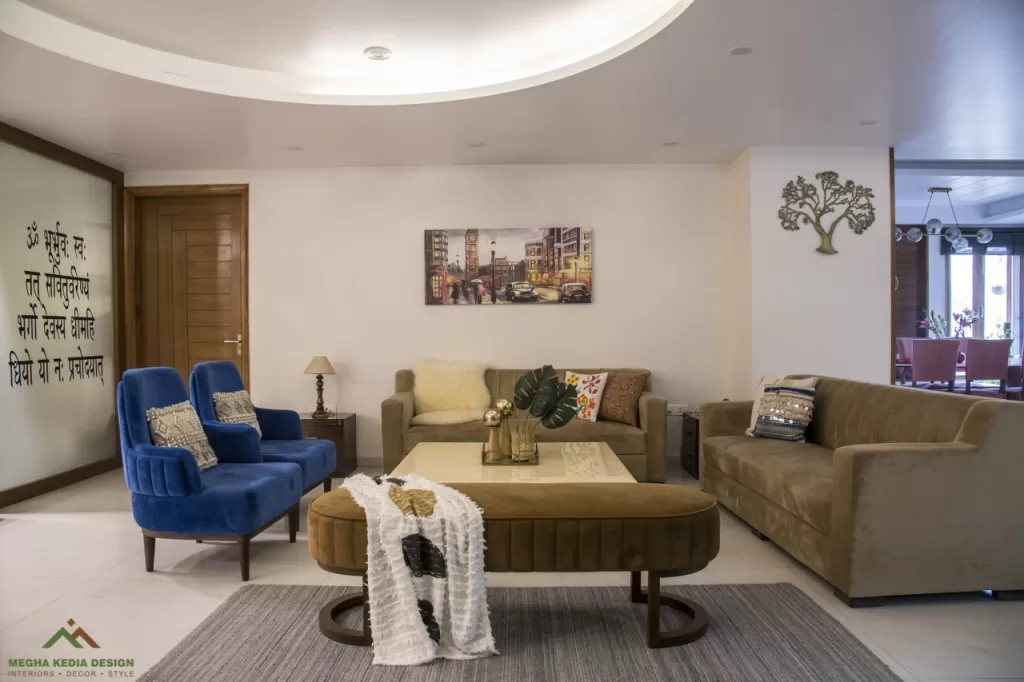 Mandir : Mandir is characterized by intricate designs and details, which makes it highly ornate. Incorporating large, open spaces that can easily be gathered for worship, the artisanal sliding door allows congregations to open for worship comfortably.
A backlit acrylic backdrop is adorned with personalized detailing, while a glass panel on the adjacent features the "Gayatri Mantra." This place is designed to create a sense of serenity and spirituality.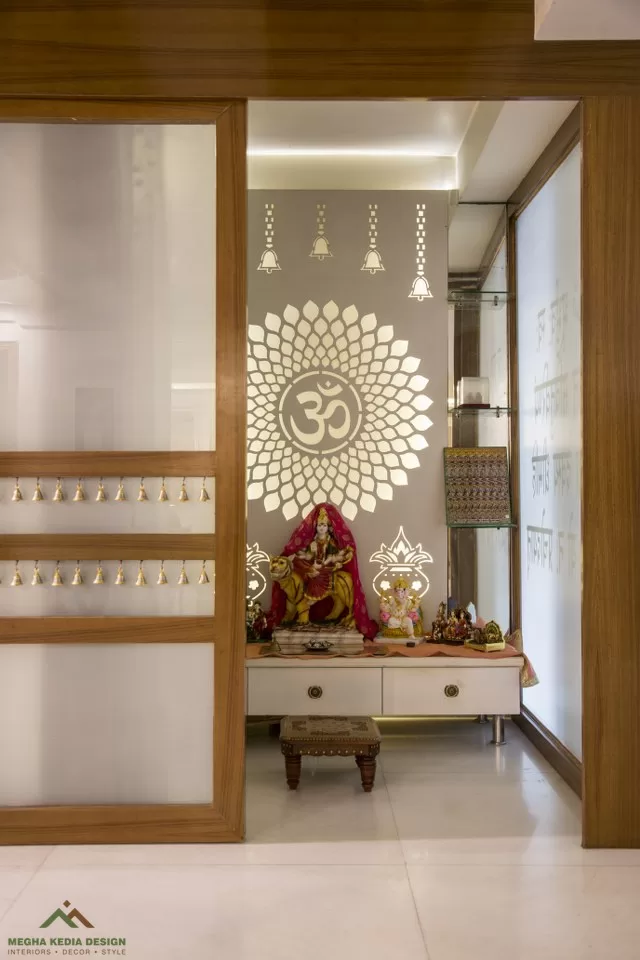 Dining : Onyx dining table and chairs with a lush & blush-colored look are featured in the dining area. The wall cabinet holds the maximum amount of crockery storage in the space without being bulky, with see-through glass doors.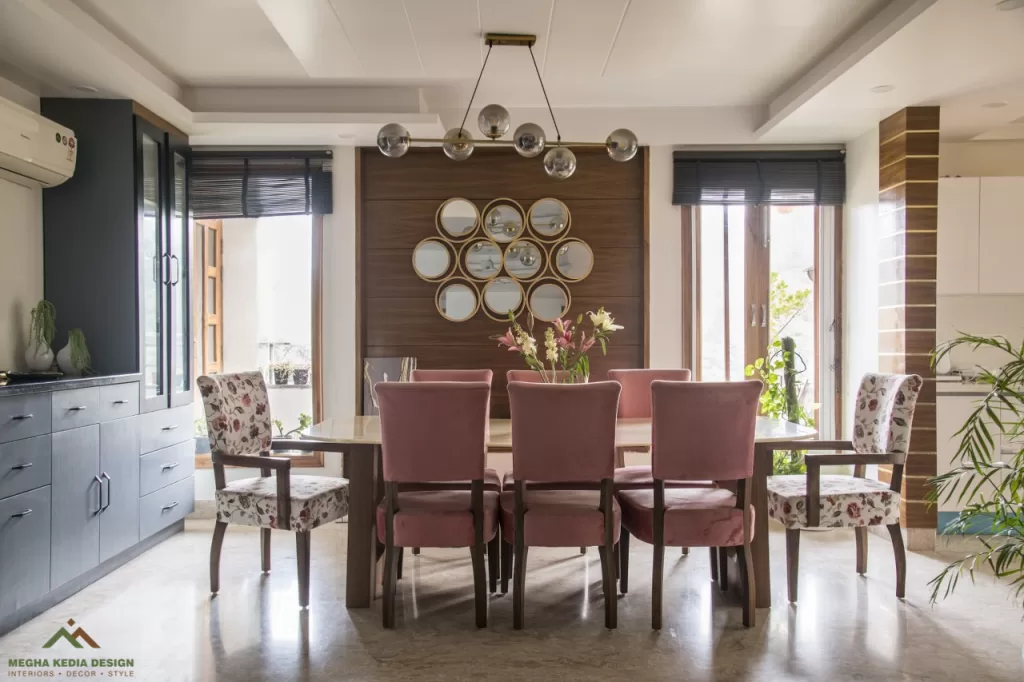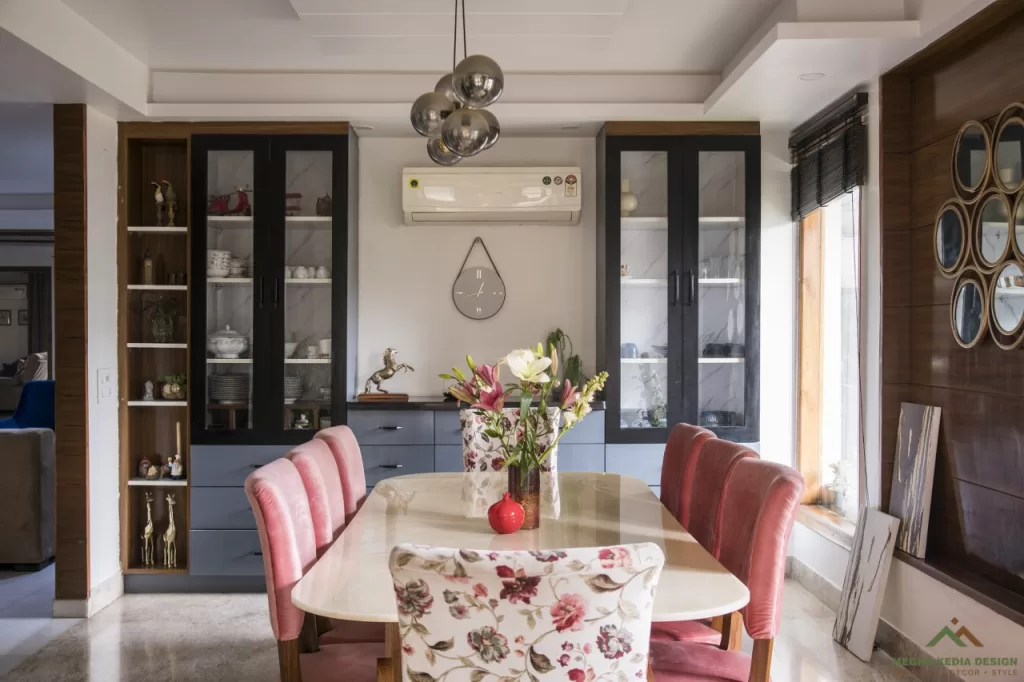 Usage of wood, brass & glass appears opulent as seen in the chandelier as well as mirror hung in the recessed niche adding swankness to the details.
Kitchen : With stylish appliances, Open layout and gorgeous details, this white & a bright modern look kitchen extends a traditional welcome to the homeowners and guests with fresh, easygoing style.
This design combines classic and contemporary elements for a fresh perspective, with scratch-resistant acrylic cabinets, sleek hardware, and a seamless look on the dado and counter top.
Daughter's Bedroom: A tree-shaped bookshelf tailored according to the personality of our client is one of the most distinctive elements of this bedroom, designed for a globetrotting lady who enjoys reading in the day to day life and resting under the tree.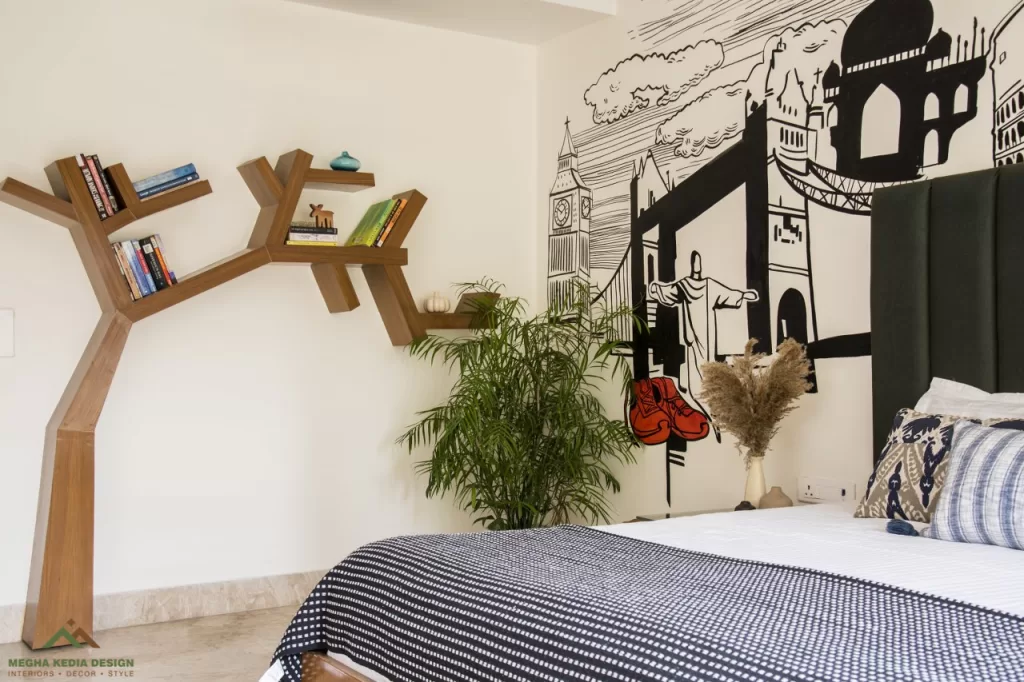 It's perfect for showcasing the book collection, displaying potted plants, or organizing your favorite decor items.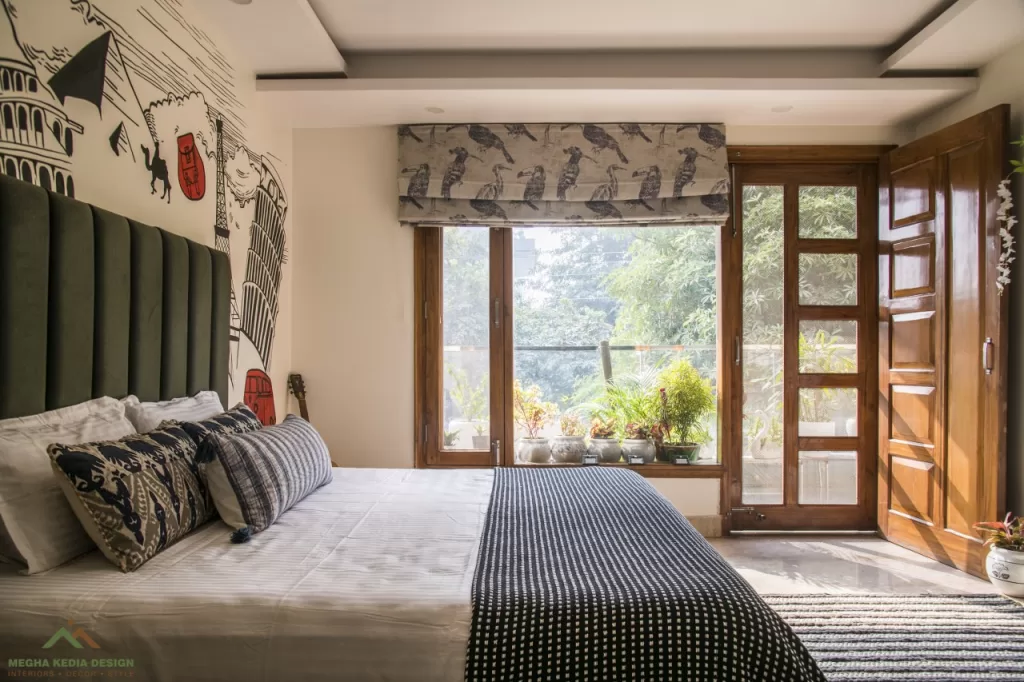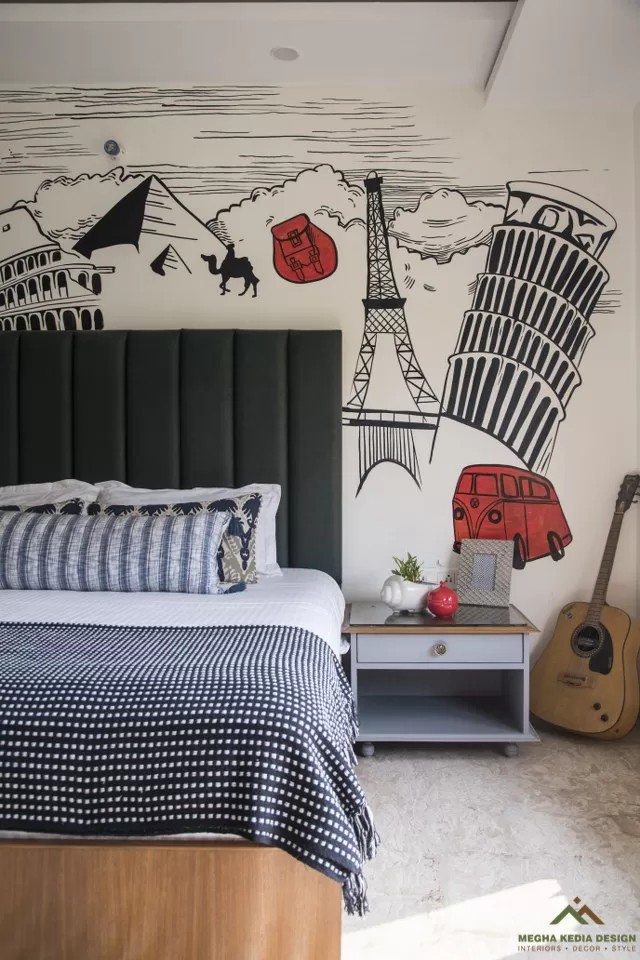 There are seven wonders of the world represented in the hand-painted wall, symmetrical lines are found in the furniture details, high ceilings, bare windows, and geometric shapes are found in wall art and sculpture.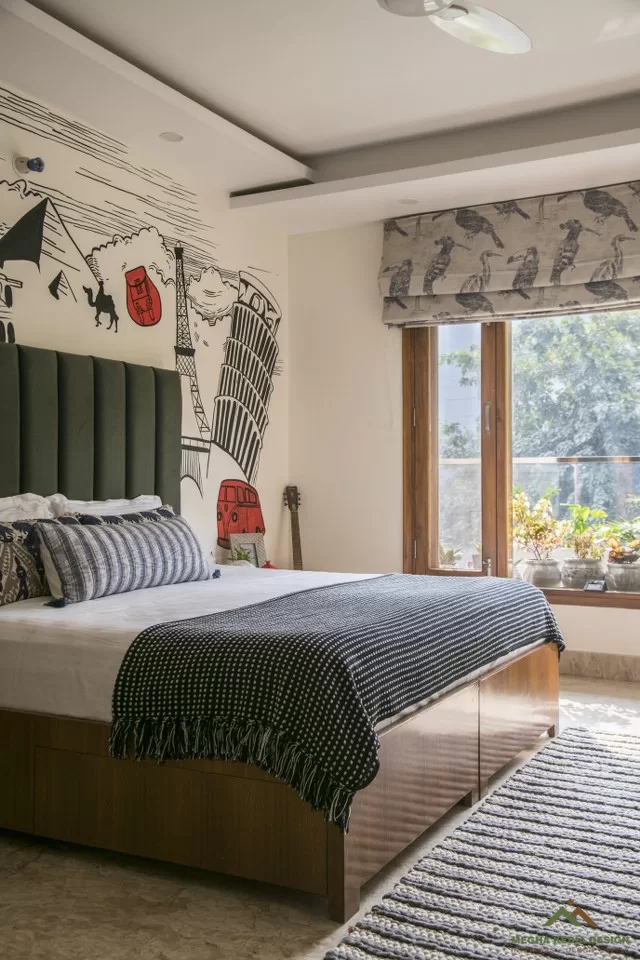 Guest Bedroom : There is a wooden bed set in the guest room with a custom made television cabinet, book and media storage unit along with a study unit.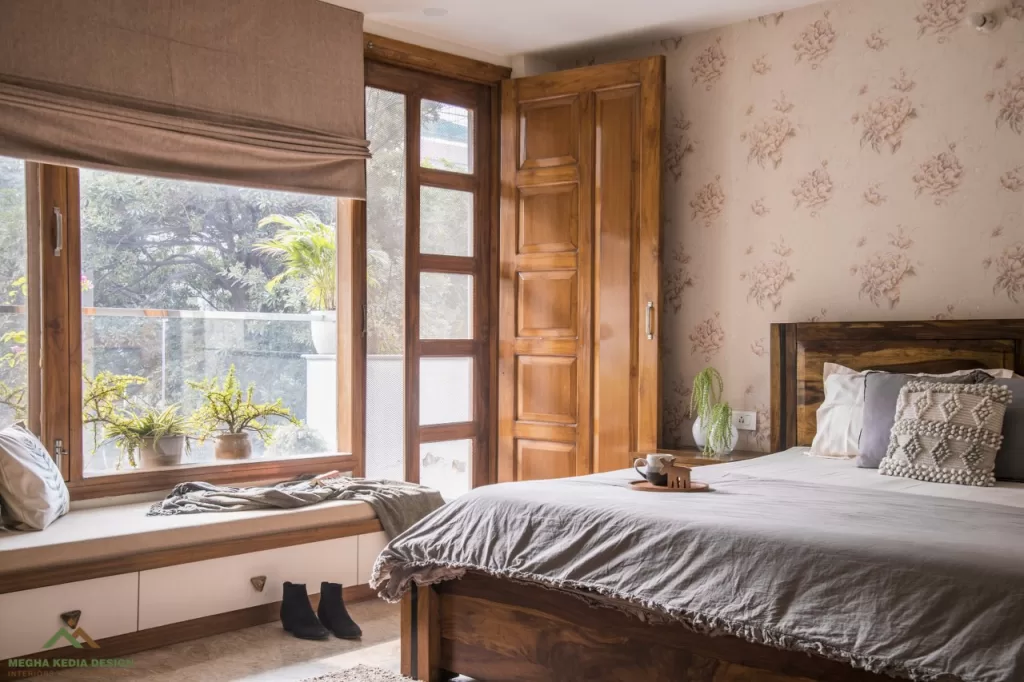 The sunlight pouring through its bay window adds tranquility to the winter afternoons and enjoy the breathtaking panoramic view of nature.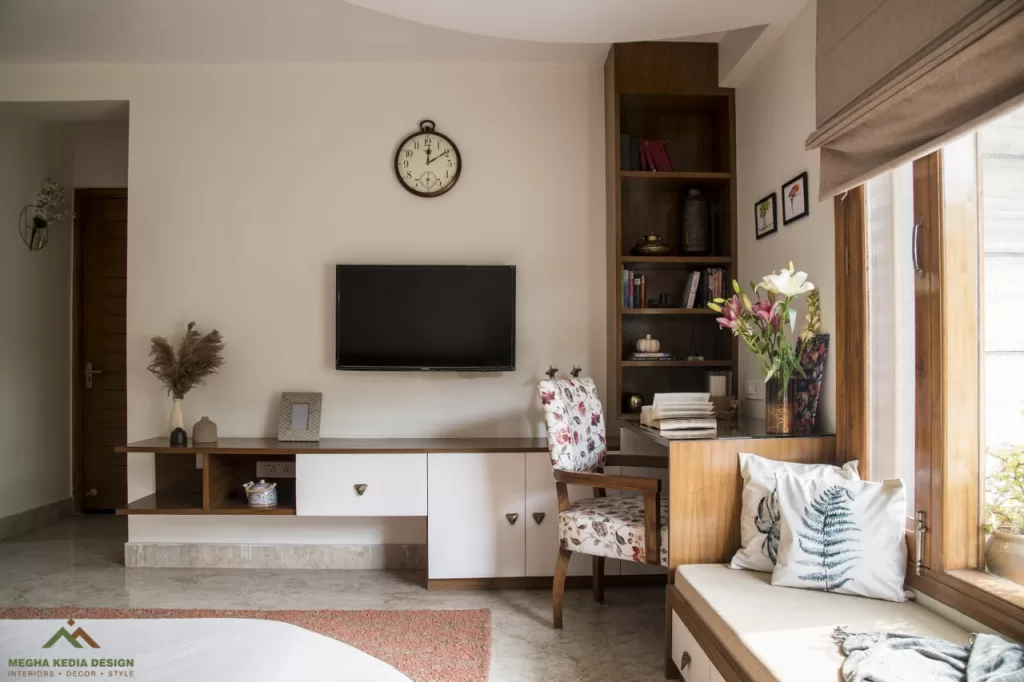 The bare space on bed back wall is done in blooming flower wallpaper adding softness through its shade of peach & beige applaud the overall look.
Master Bedroom: The master bedroom has a luxurious and sophisticated design, with the upholstered paneling on the headboard wall adding a textural element to the space. The use of brass inlay details and wood paneling creates a visual interest and elevates the overall aesthetic of the room.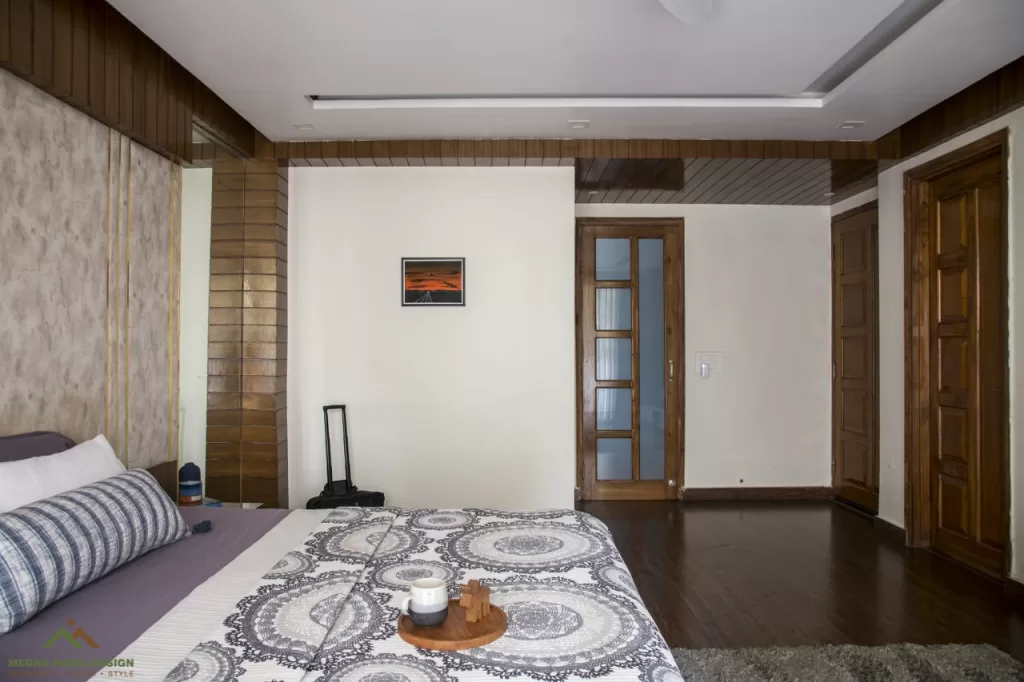 The bespoke curtains designed to complement the theme of the room help to tie the whole look together. A mirror in the room not only enhances the sense of space but also adds a touch of elegance and practicality. The TV unit in white PU with a veneer border and brass detail adds to the modern and sleek aesthetic of the space while providing a functional and practical feature for entertainment.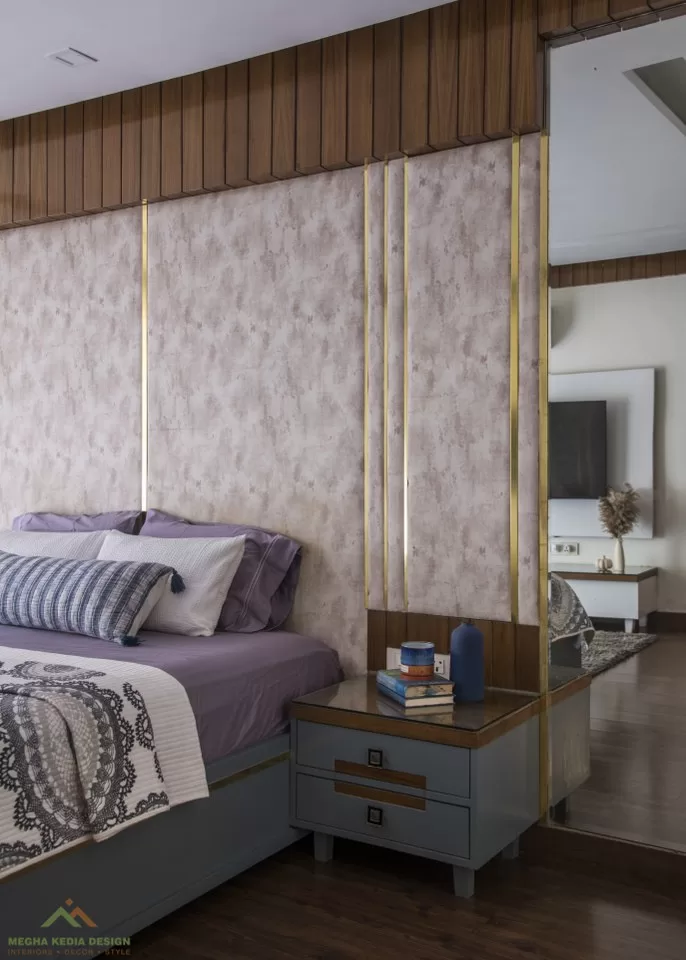 We've used smooth, clean, geometric shapes to elevate the look and feel of this bedroom, creating a stunning space that's perfect for rest and relaxation.
Lounge : This area is a great place to spend time with family and friends. The projector display makes watching movies or sporting events easy.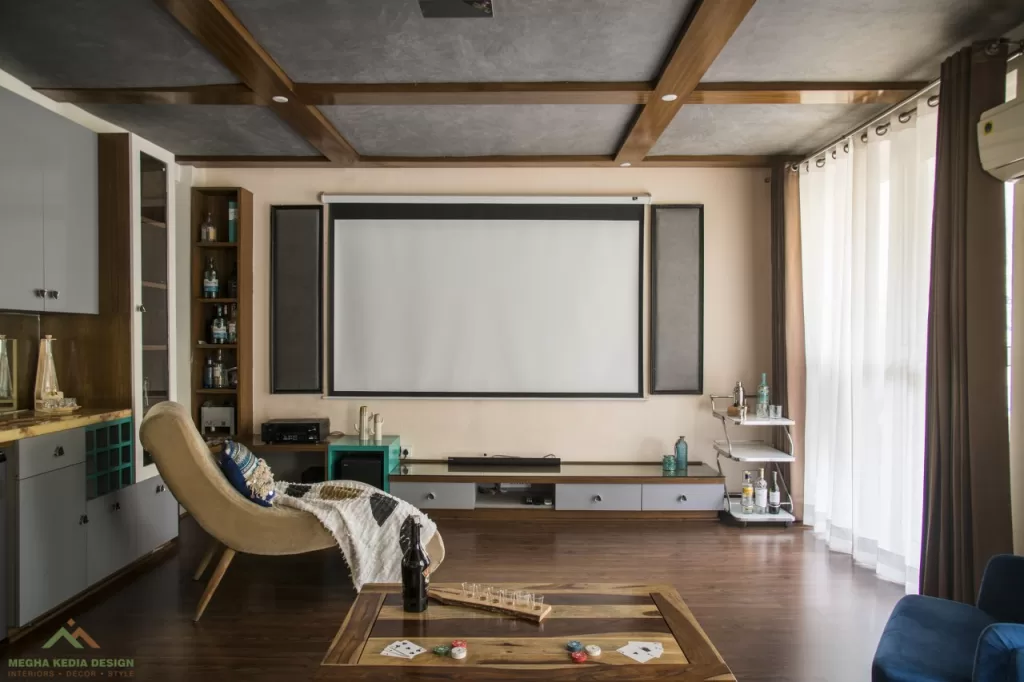 The Wooden beamed ceiling adds a rustic and cozy atmosphere to the room along with the acoustic panels in between the beams is a smart choice to control sound and ensure the room is acoustically balanced.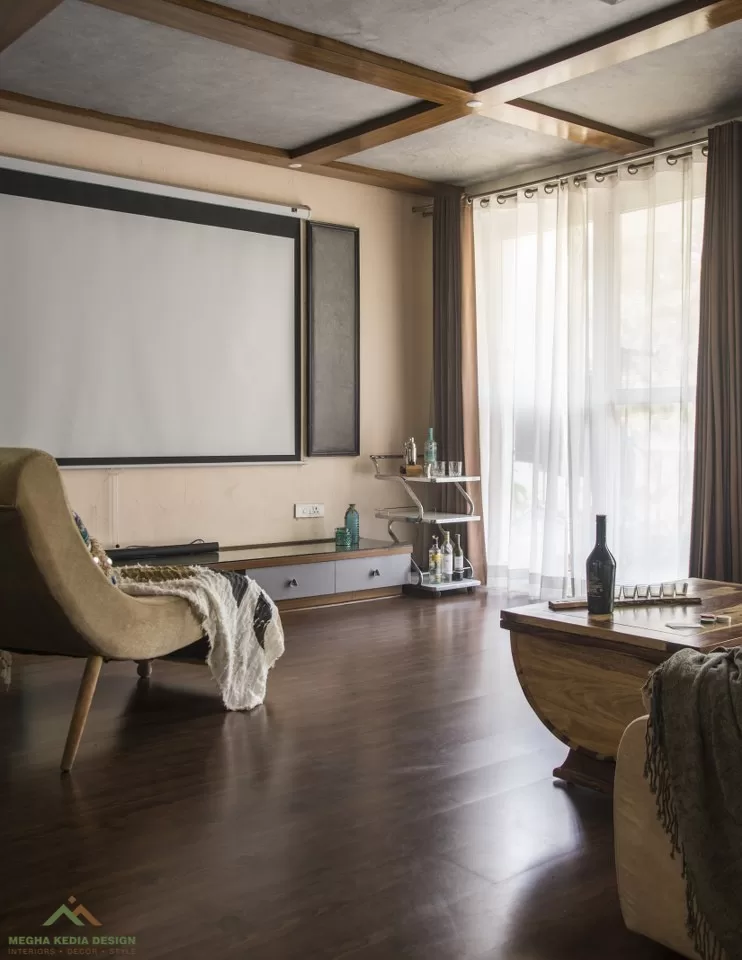 The recliner sofas with chaise provide plenty of comfortable seating for its users. We have designed bar cabinet with a mirror back and onyx countertop which is not only functional for storage but also adds a touch of luxury to the space.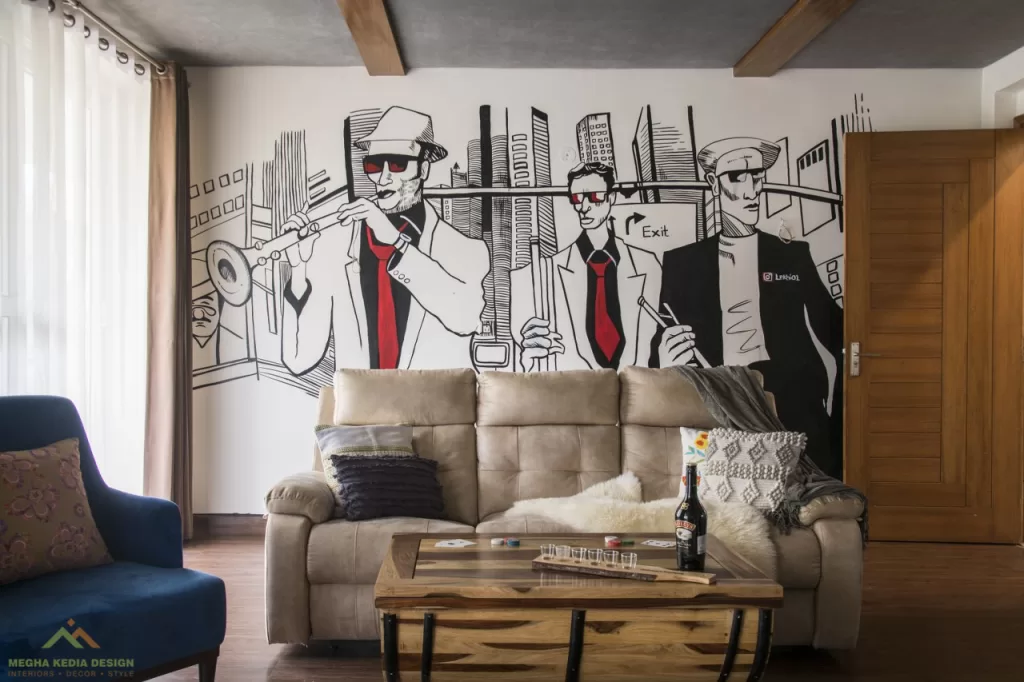 The laminated flooring from Pergo is a durable and easy-to-maintain option, and the windows from Fenesta are high-quality and energy-efficient. The hand painted wall adds a unique and artistic touch to the room, giving it a musical feeling that is sure to impress guests.
A neutral color palette has been used throughout, adding a pop of color to the wine rack and creating a well-equipped space for entertaining.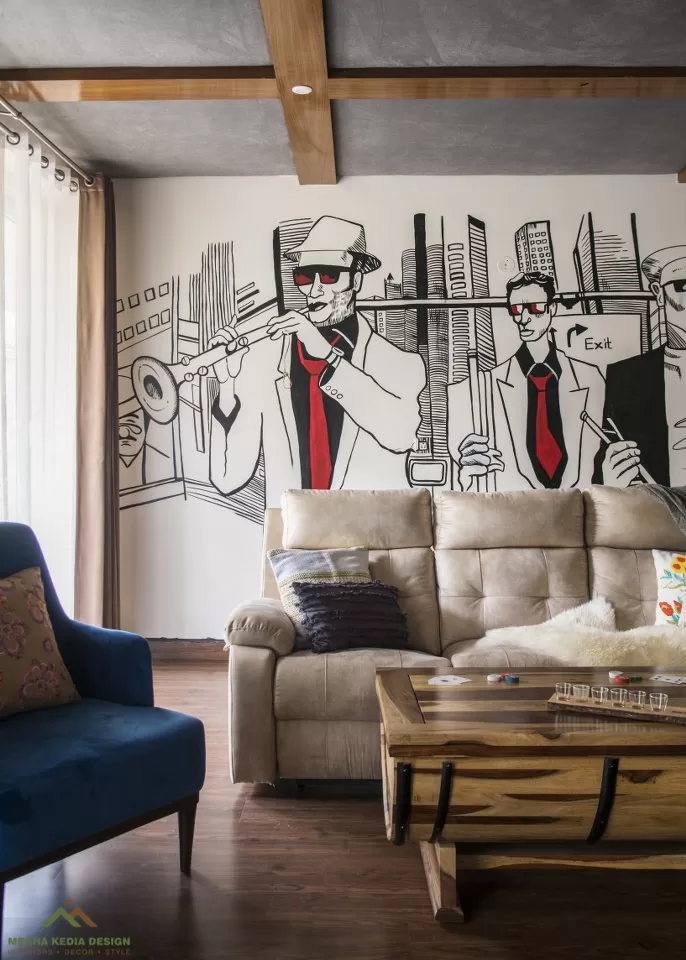 Parents Bedroom : The parent's room is designed to create a comfortable and elegant space with a modern look. Here, we used combination of sage and white which is trendy and a stylish choice, and the addition of wainscoting on the walls with wallpaper adds texture and interest to the room.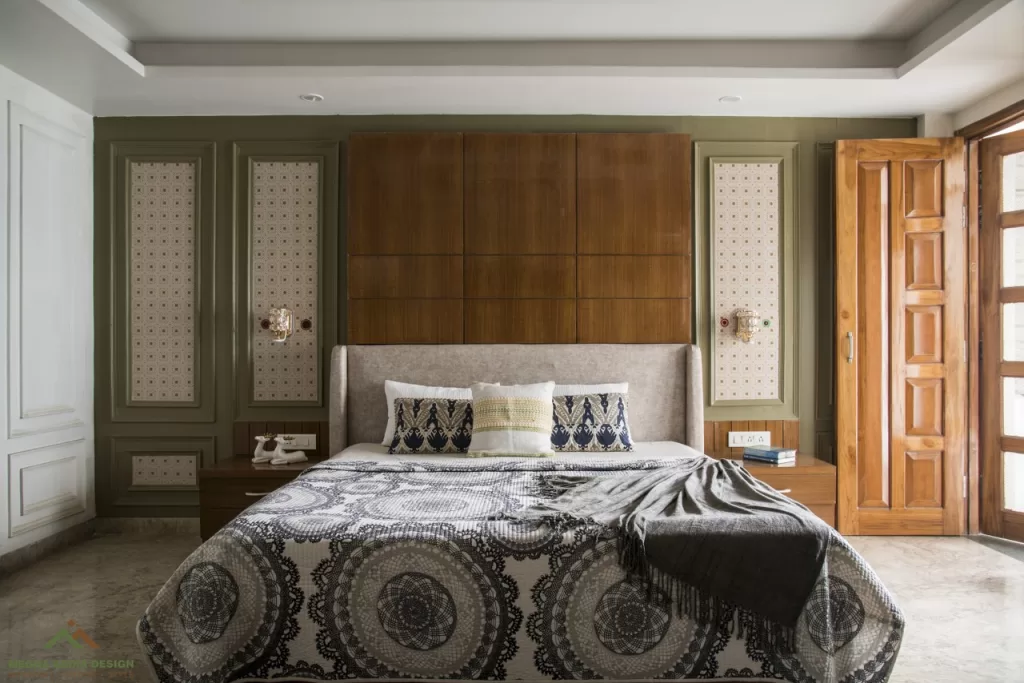 All the furniture is bespoke designed, use of veneer on the wall as a backdrop is a great way to add a touch of luxury and sophistication.
The fluted panel on the TV paneling finished in white PU along with the sleek cabinet for storage adds a modern element, and the functional working counter is practical and enhances the room's overall aesthetic.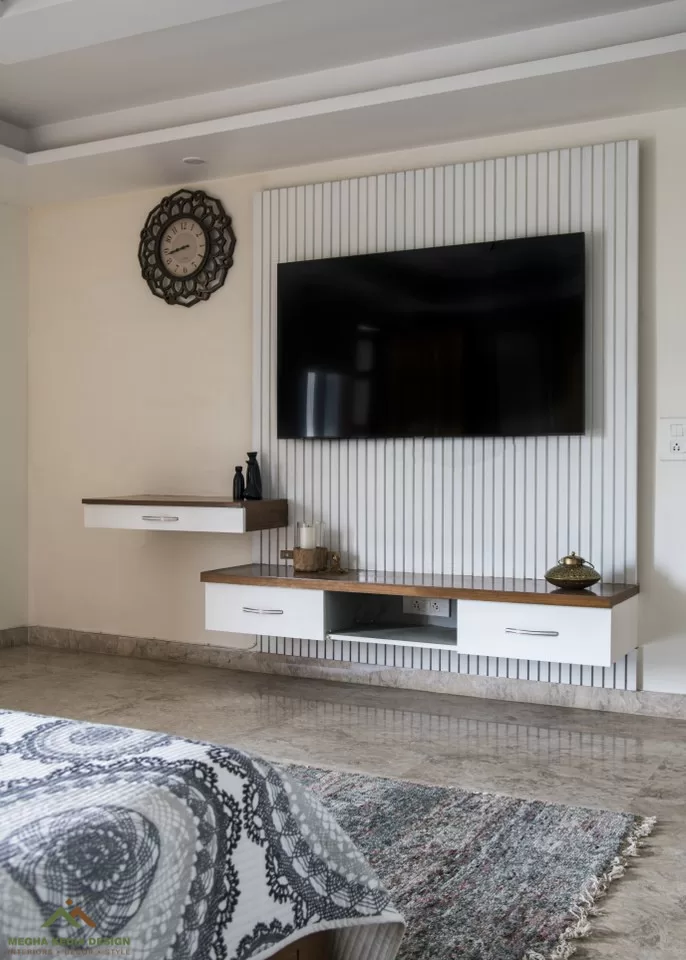 The space combines both style and function to create a comfortable and elegant environment for the parents to relax and unwind.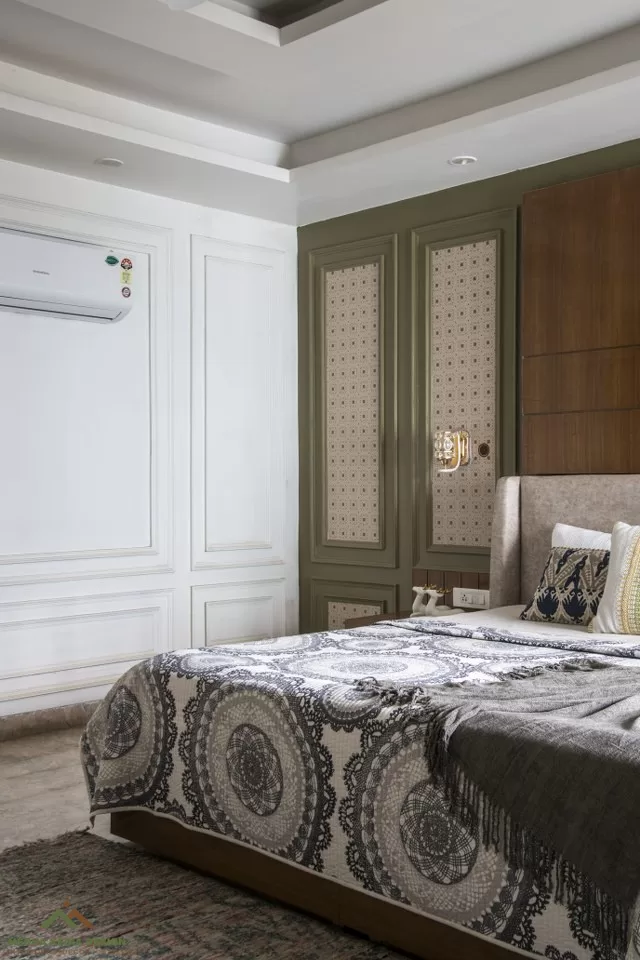 Fact File
Designed by : Megha Kedia Design
Project Type : Residential Interior Design
Location : Palam Vihar, Gurgaon
Project Name : The Avaitor's Retreat
Project Size : 7200 Sq.ft
Principal Designer : Megha Kedia
Photograph Courtesy : PerspectivesbyV
Firm's Instagram Link : Megha Kedia Design
For Similar Project >> The House Design Defined By Clean And Bold Lines
The post A Gleaming Family Home With Ample Storage And An Uncluttered Interior Design | Megha Kedia Design appeared first on The Architects Diary.