Deeming it just right, owners' experiences are as essential as exploring definite and ideal concepts. From the research to the programming phase, it's imperative to photograph and measure the existing area and relate it to the client's desires, needs, and inherent aesthetics. Once the entire floor plan is set, the following procedure is to flesh out every design component, from cabinetry details to a selection of colours, lighting, furniture, and fixtures. With plenty of visual communication, Noir Designs ensures every client recognises the design concept and what the finished end product would look like.
A Contemporary Home In Gurgaon With Earthy Colours And Customised Furniture | Noir Designs
visit : Noir Designs
A wall put together with brick tiles, pushed together to deliver a character that speaks for itself. Covered in white, this entrance area comprehends the energy of a young couple living with their furry member.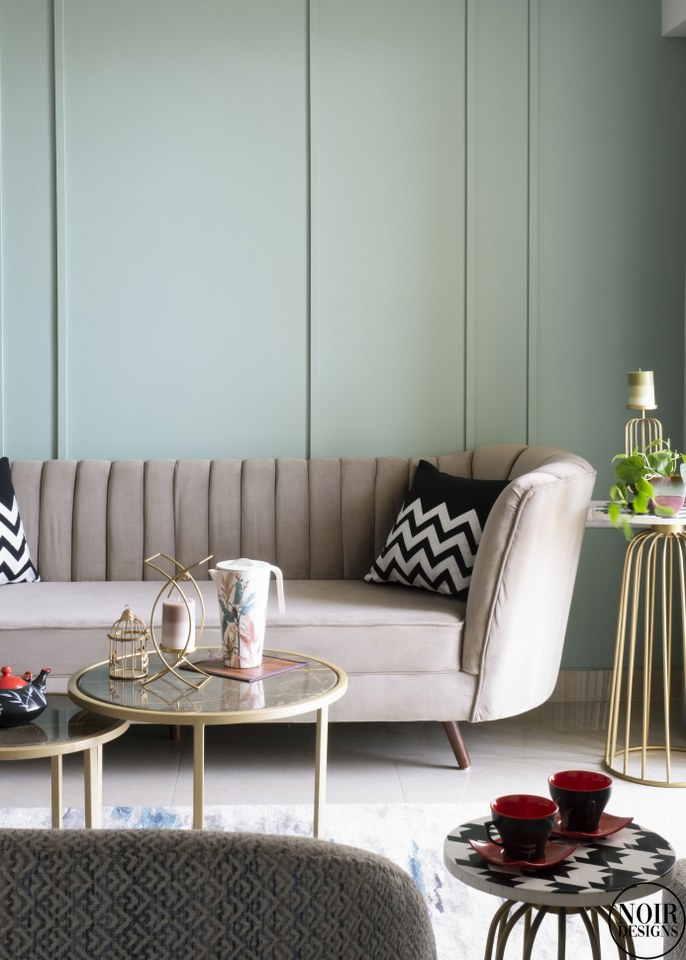 The living area is dipped in earthy colours, separated by wooden rafters/partitions at the block edge of the room. Crafting a common area's mood is one of the prominent challenges faced by every designer, but not us.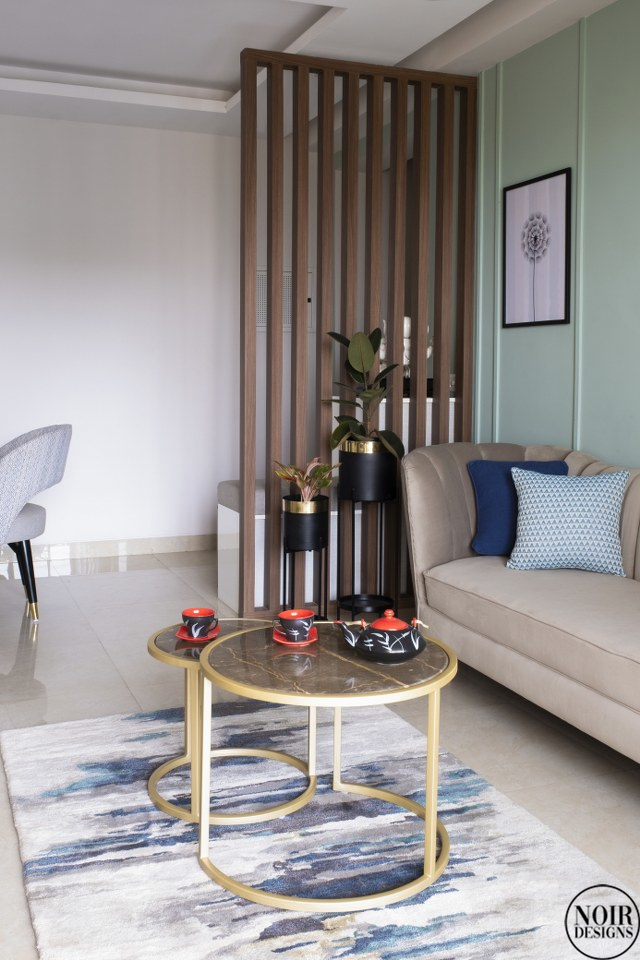 We absorb the residents' comradeship, humour, and warmth to create a realistic combination to caress their emotions when they gather together. Thus we planned a contemporary home in Gurgaon with earthy colours and customised furniture.
Having customised the entire furniture collection, we accentuated the dining area with a marble-top dining table and supplemented the living area with a marble-top coffee table. One of the challenging aspects of this area was to recreate the residents' aura, overtones, and undertones. As a consequence, we concocted natural-inspired hues, making for grounded and calm schemes.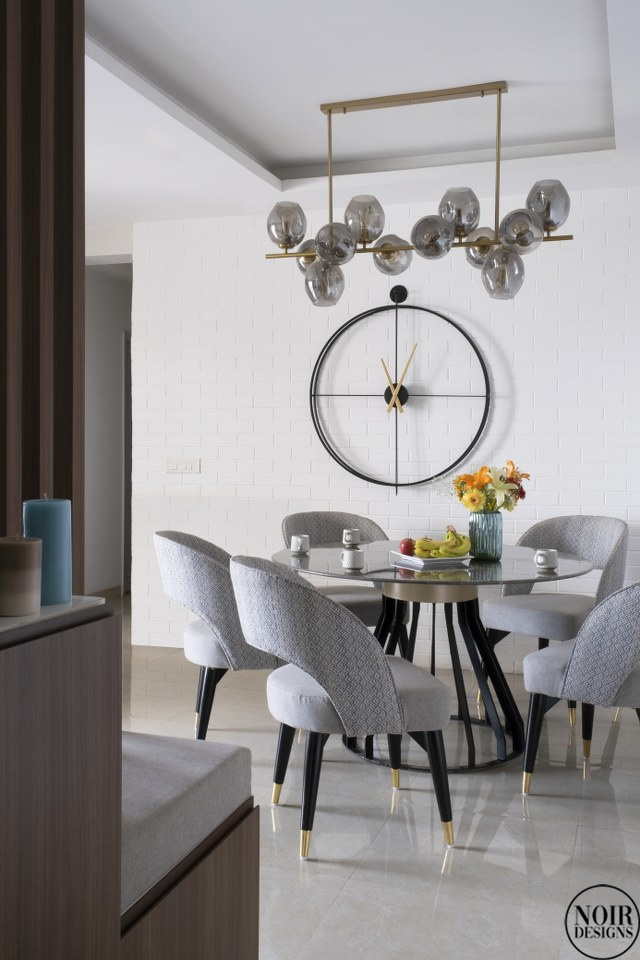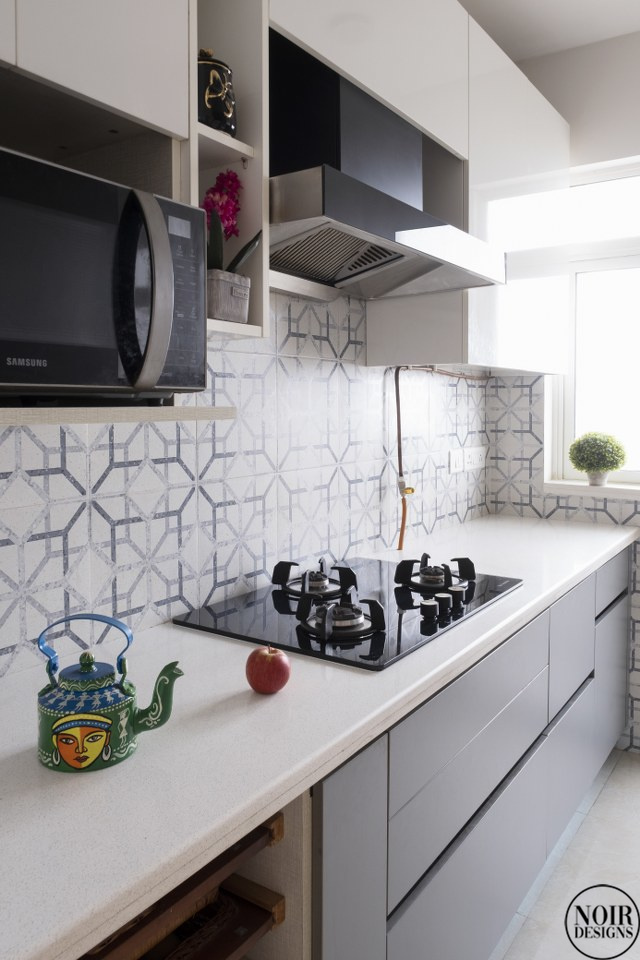 We chose versatile upholstered bedding for the residents. Sheltered, congenial, and snuggly are a few ingredients adding a layer of squishy support that the rest can't offer without awkwardly popping pillows. The upholstery approach is distinctive in its look, followed by POP (Plaster of Paris) moulding pushed against the wall at the back of the bed.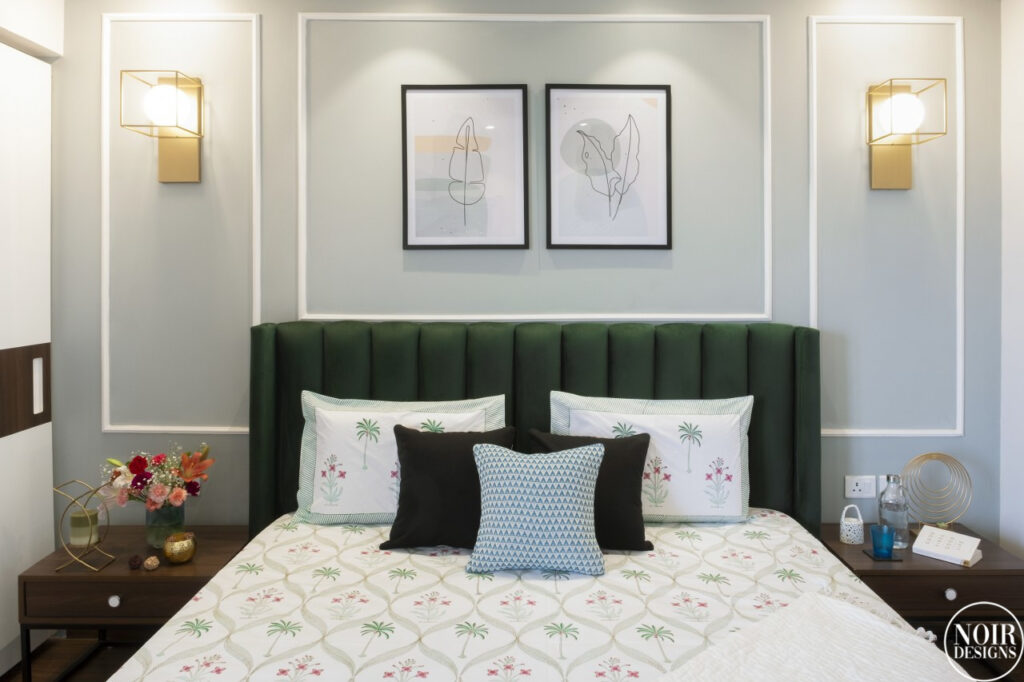 The wooden side tables with the metal base offer a European sensibility. The clean and organic structure of the room often creates an impression of space and authentic grandeur and is pleasing to the eye.
An earthy theme promotes kinship and association when it comes to designing an elder's bedroom. That's why we selected a comfortable cushioned headboard for their mother to unwind and sit back.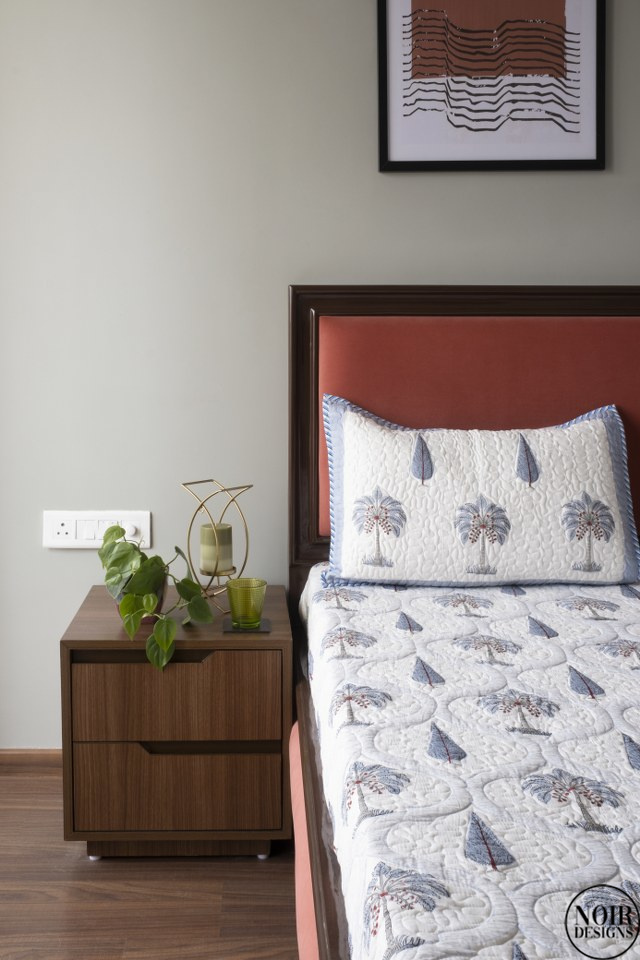 Conceptually, the design scheme expresses the correlation of structure to the personal setting, thus justifying an accent chair at the left end of her bed.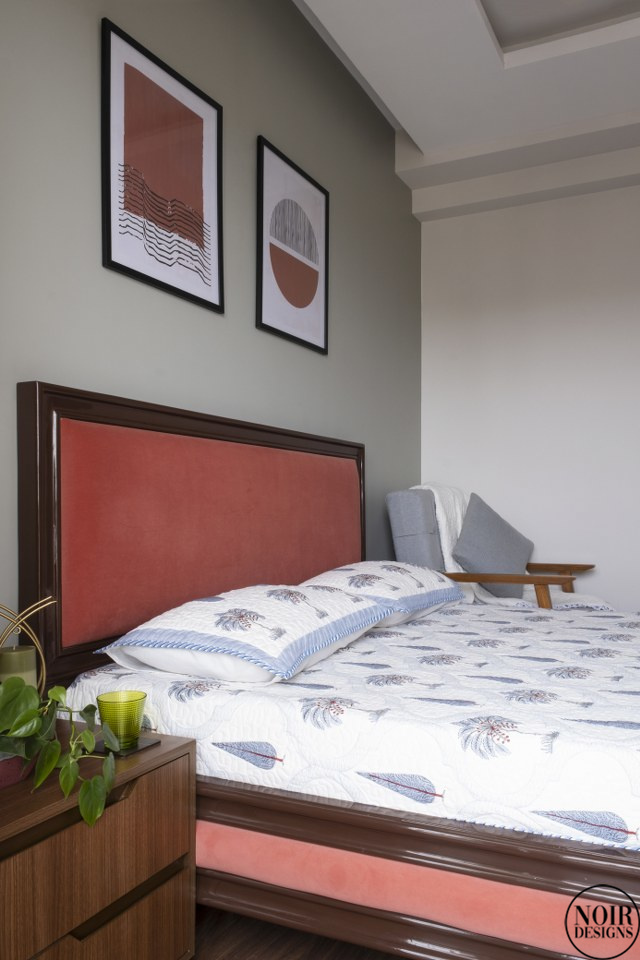 As contemporary or artsy potential structures appear, mixing the right combinations of tonalities and rich colours is crucial. And that is how we transformed an old structure into a reassuring, settling, and warm haven.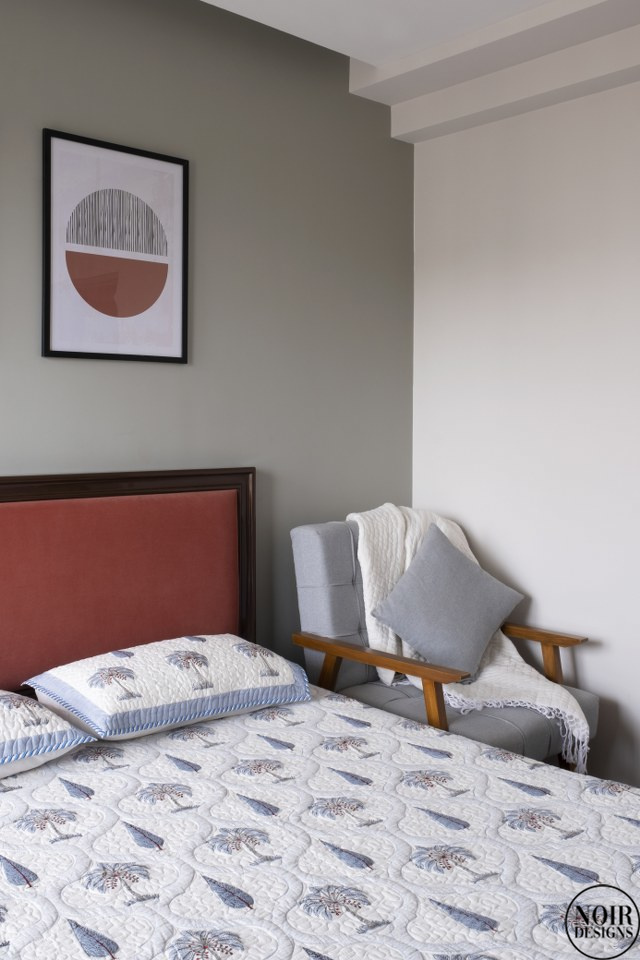 FACT FILE
Designed by : Noir Designs
Project Type : Residential
Project Name : Edges & Circles
Location : M3M Natura, Gurgaon
Year Built : 2022
Duration of project : 3 months
Built up : 1480 sq.ft
Project Cost : 30 lakhs
Principal Designer : Sahil Gore & Deepankshi
Team Design Credits : Sahil Gore
Photograph Courtesy : Inhouse photography
Products / Materials / Vendors : Wallcovering / Cladding – POP moulding & brickwall / Lighting – Philips Kitchen – Custom made / Paint – Asian Paint / Artefacts – various places- table & twist, homecentre / Hardware – hettich.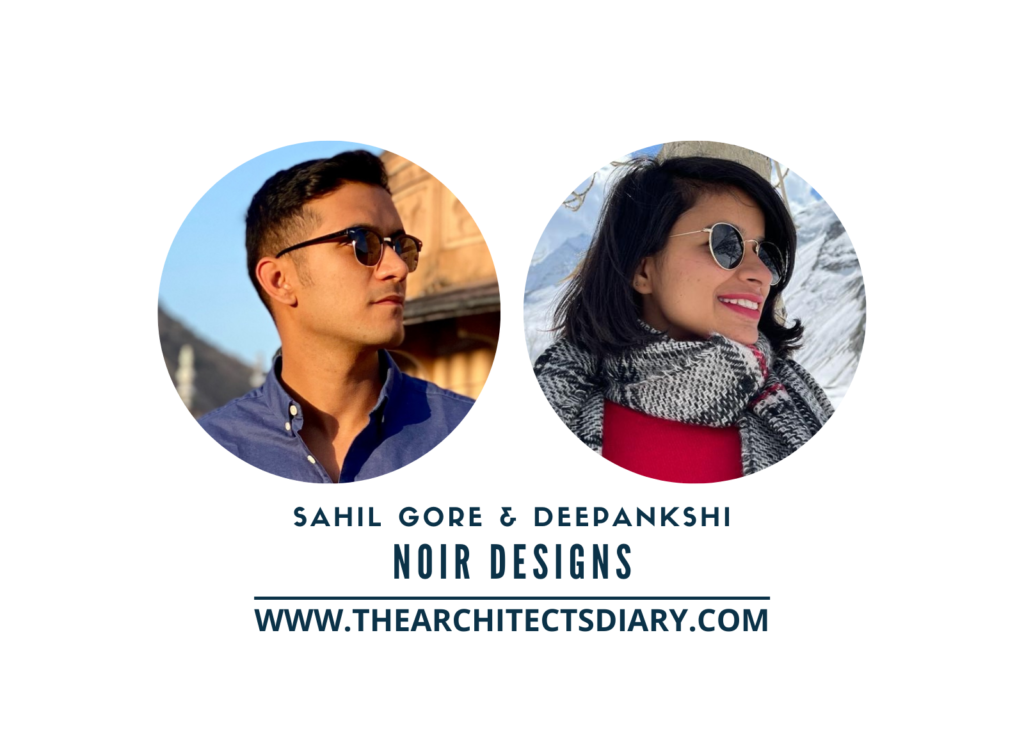 Firm's Website Link : Noir Designs
Firm's Instagram Link : Noir Designs
Firm's Facebook Link : Noir Designs
For Similar Projects >> AN ELEGANTLY STYLED APARTMENT DESIGN FOR A FAMILY OF EIGHT
The post A Contemporary Home In Gurgaon With Earthy Colours And Customised Furniture | Noir Designs appeared first on The Architects Diary.