A Contemporary Farm Resort extension designed by ABDS, where the project was essentially an extension of The Agro Resort which was designed by us some years ago. The requirement this time around was addition of a structure housing a conference hall, dining hall and ten executive rooms. Given the typology of the project and the abundance of green around the site, we wanted the new building to inculcate all the modern facilities but also complement the elegant vista of pre-existing buildings, thus, a contemporary approach was the way to go.
A Contemporary Farm Resort Extension Designed By ABDS | ajitbendre design studio
VISIT : ajitbendre design studio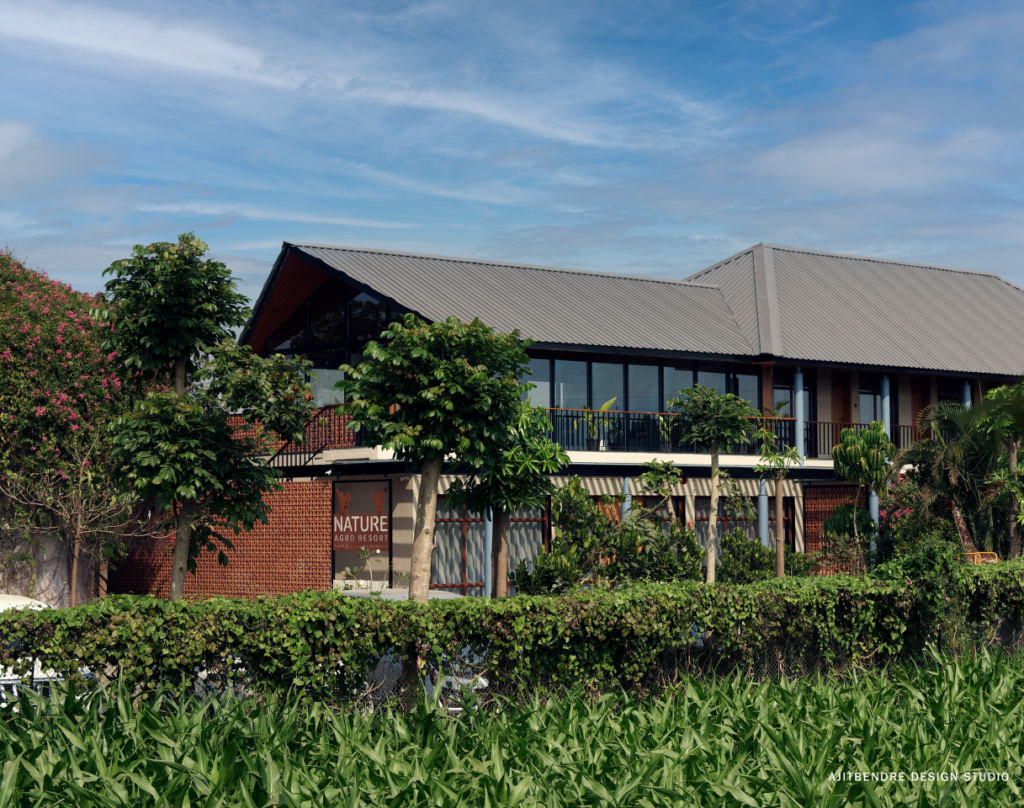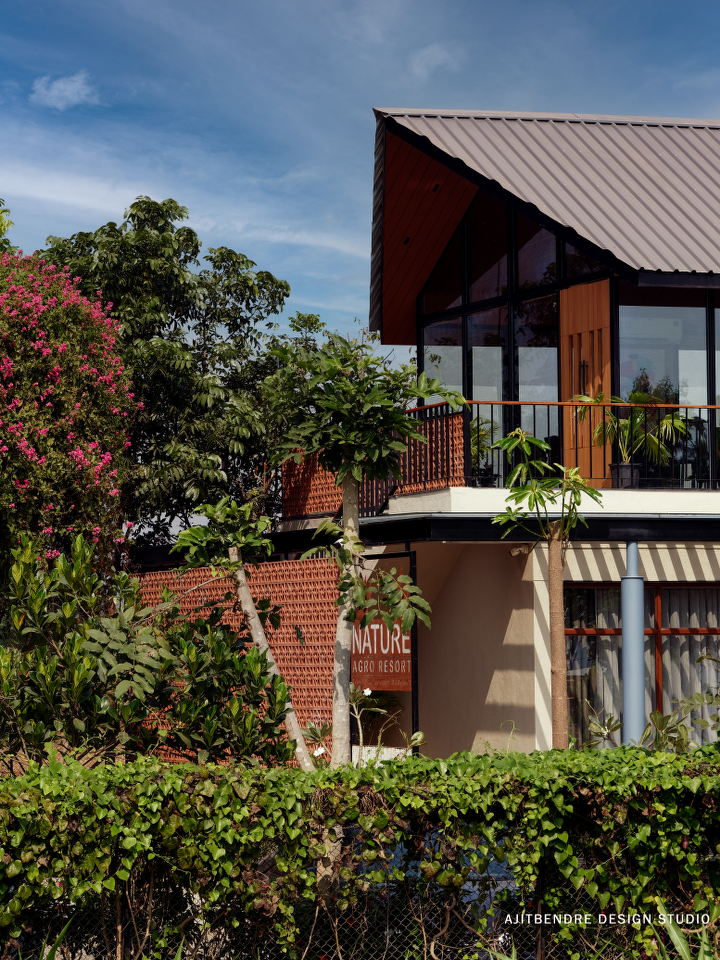 The freshly completed RCC and steel structure was constructed in a span of 150 days. It boasts of an impressive conference hall at the entrance with a dining hall above and executive rooms beside conference hall and dining hall at two levels.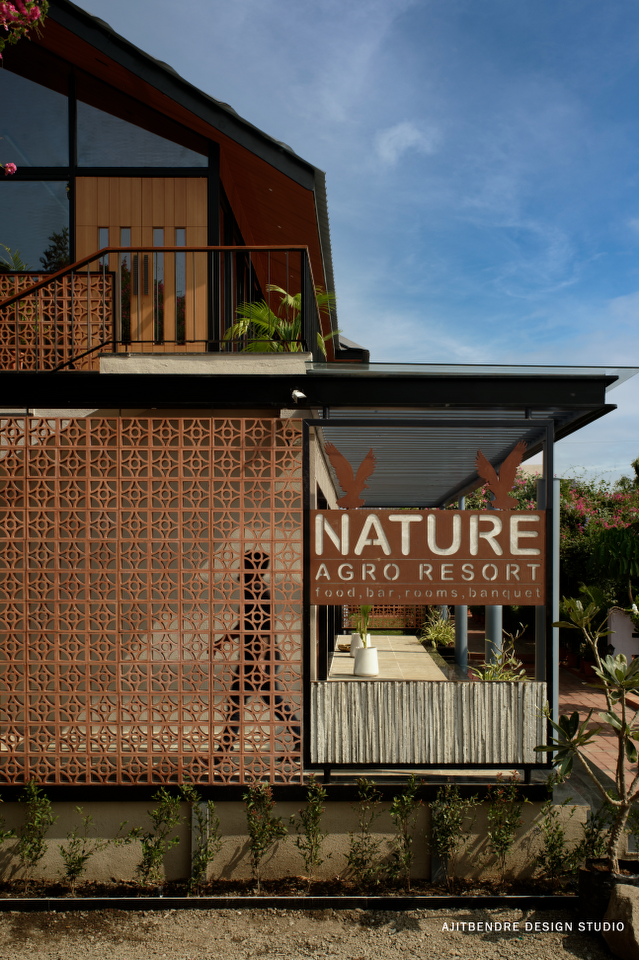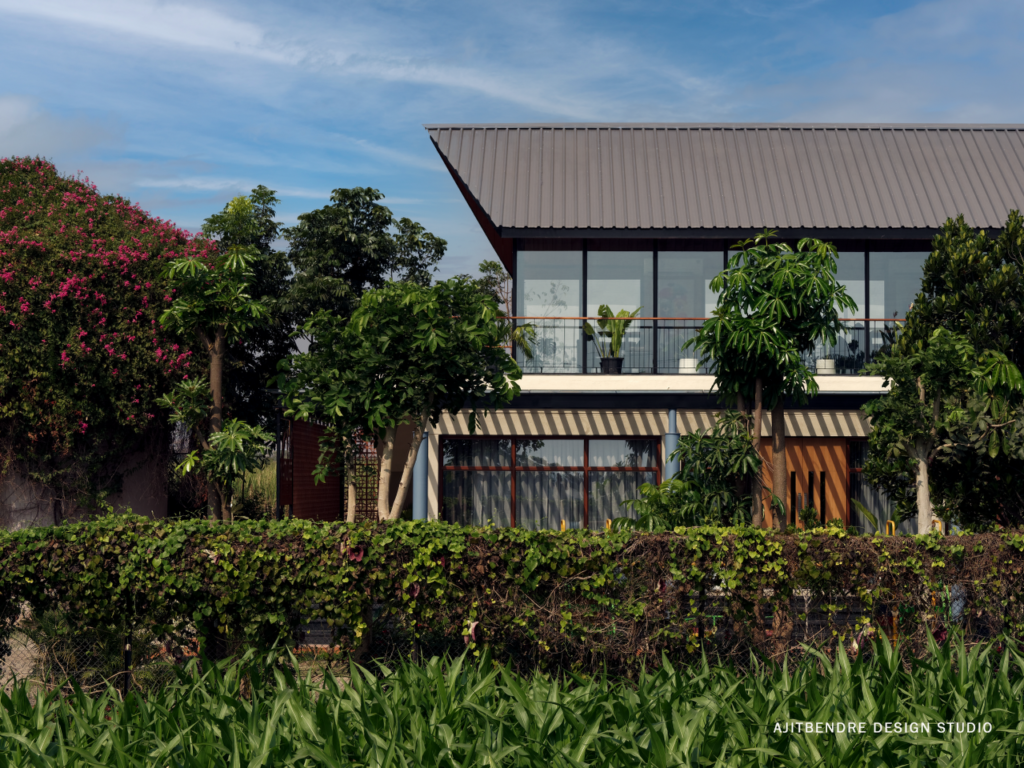 Staircase at both ends at east and west, one for public and another for services ensure the segregation of private and public zones.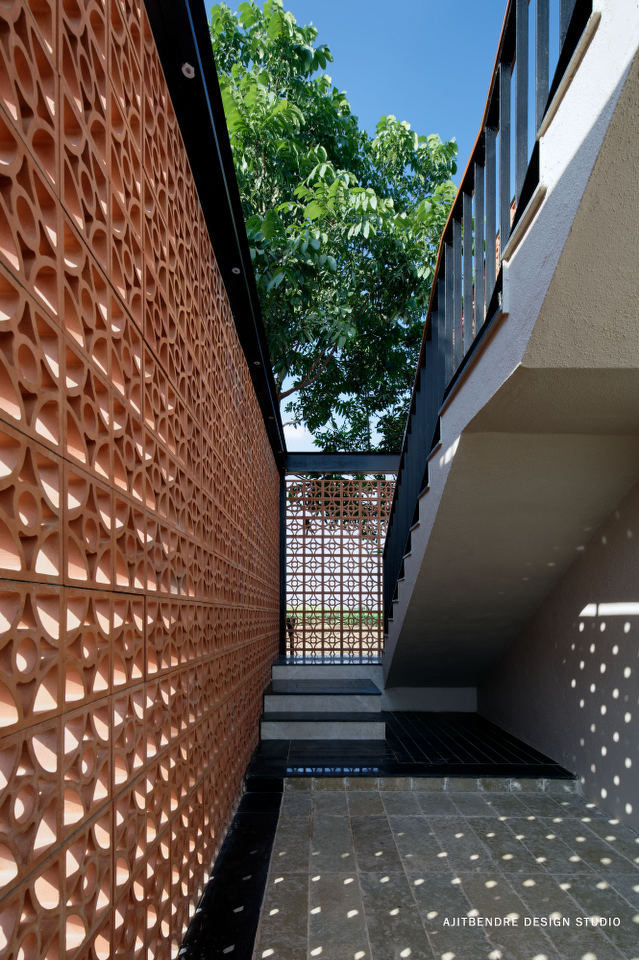 Acknowledging the contextual visuals of the resort, earthy tones were used on surfaces and materials like Shahabad stone was used for flooring along with granite, blending perfectly with the surrounding. The clay jalis decorating the western facade and stairs add to the antecedent style.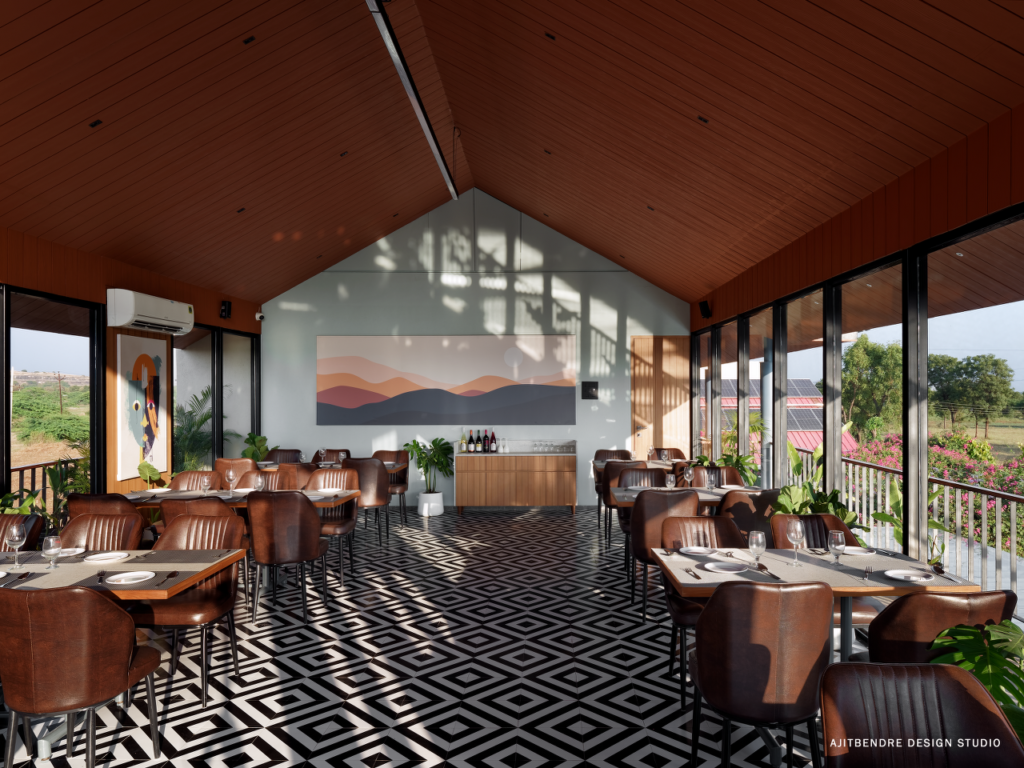 Metal pergolas with glass, a classic duo of materials are used along southern side serving as shading device which allow just the right amount sunlight at different hours of day.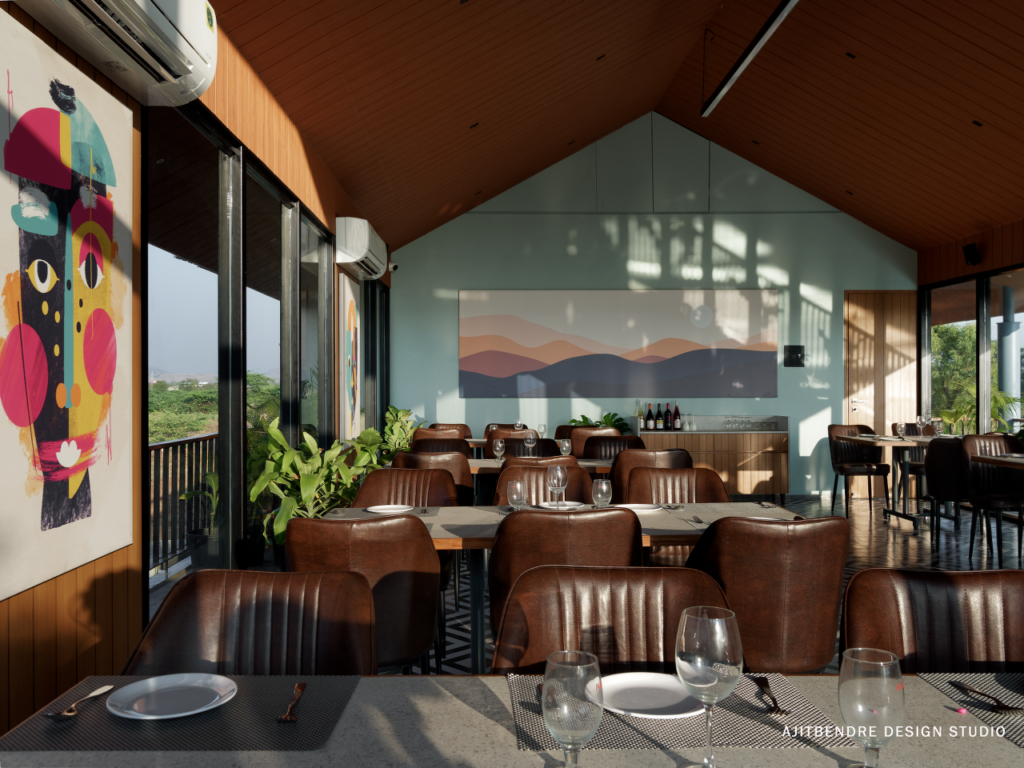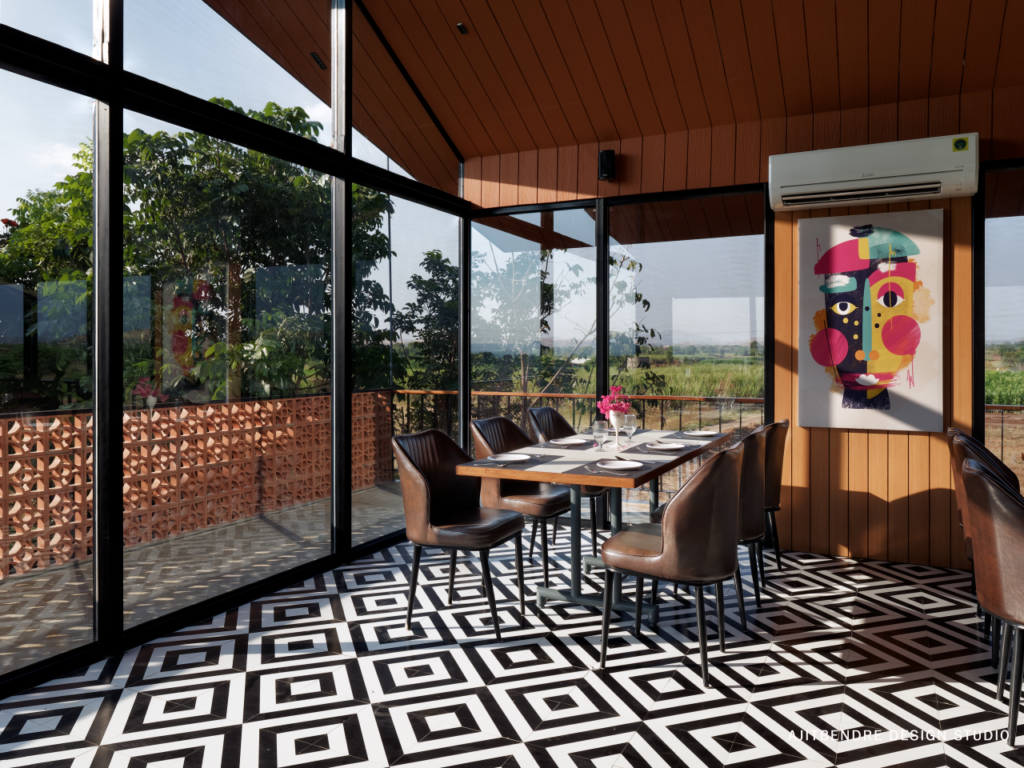 The immaculate dining area is a stunning display of contemporary workmanship as it combines a glass façade and aluminum frame with projected balconies and insulated metal roof covering to give a spectacular view of surrounding without the hindrance of direct sunlight.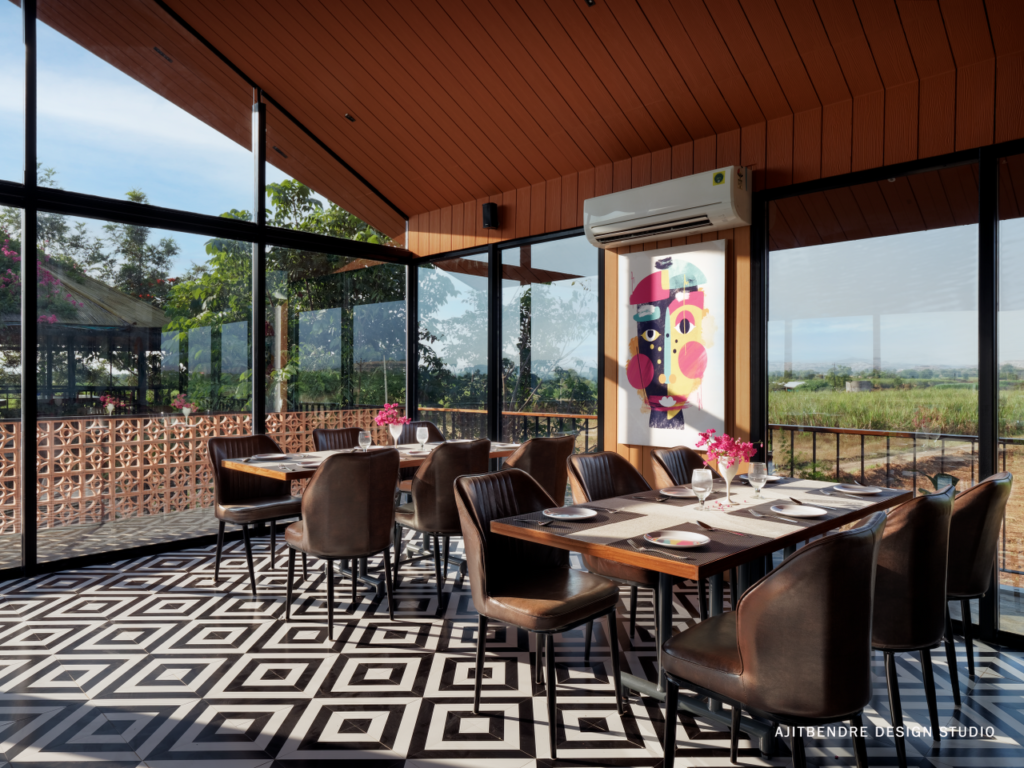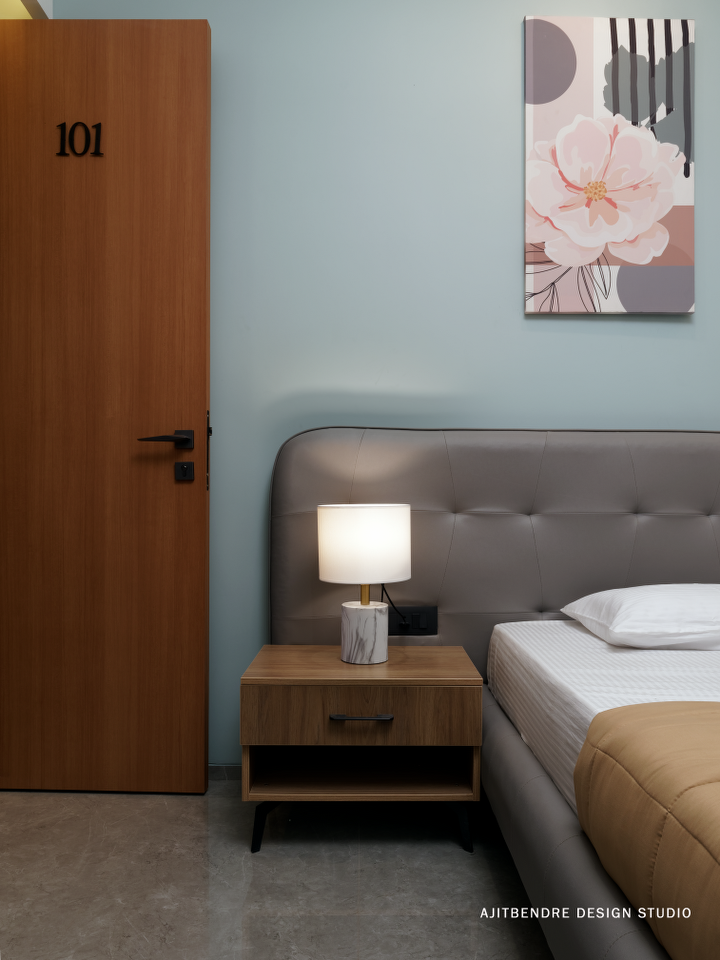 Eccentric elements like geometric tiles and dainty paintings in the dining area elevates the charm of the space. The executive rooms adhere to a minimal design with the use of marble finish tiles, subtle color palate with wood finished furniture's and ambient lighting.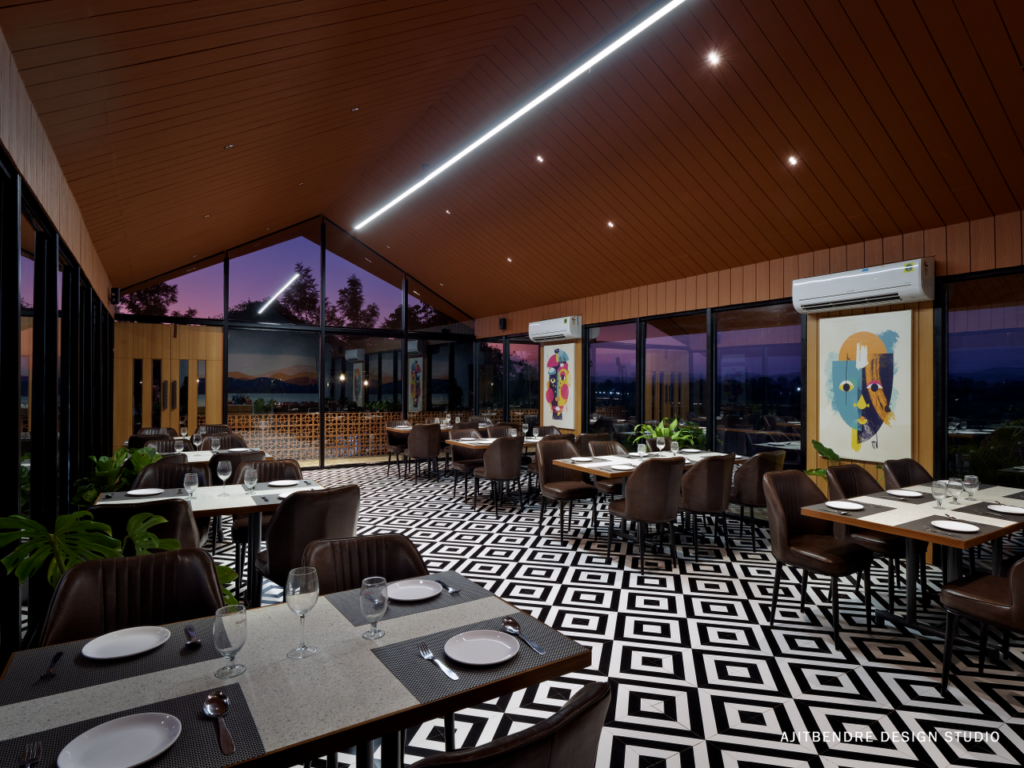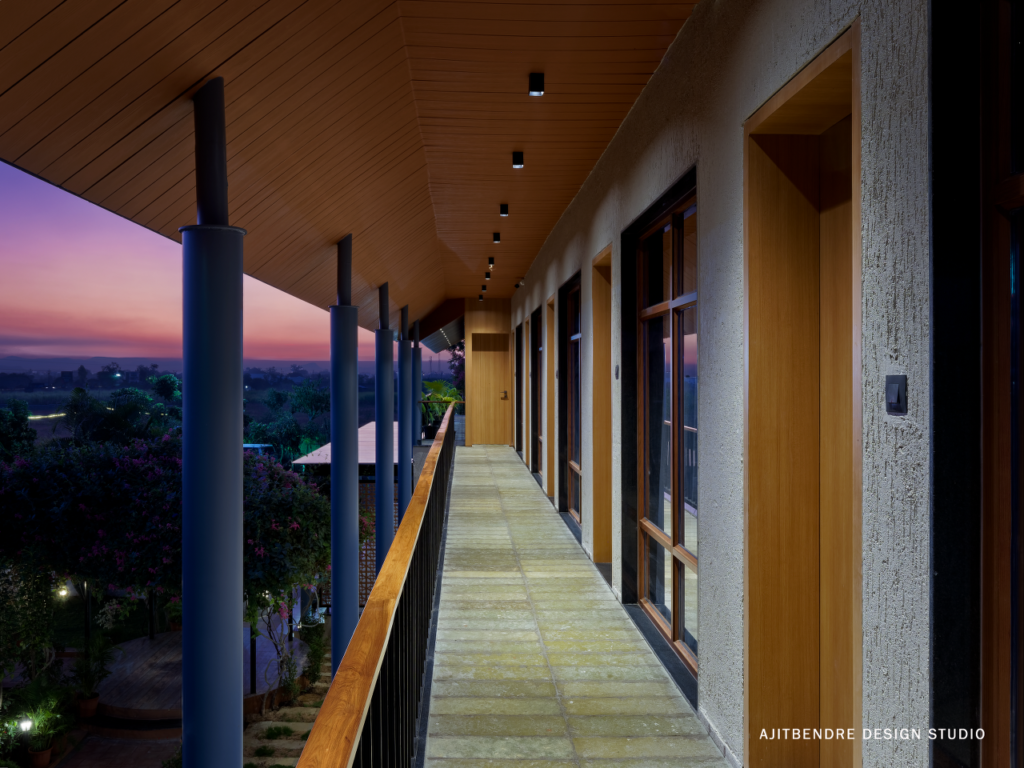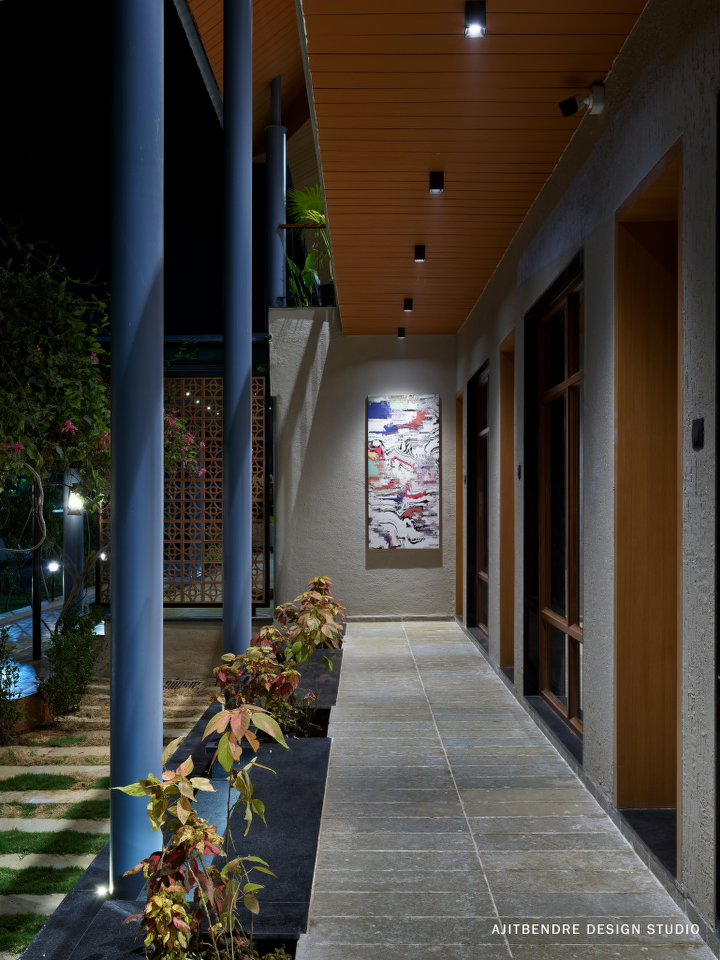 The play of columns supporting roof creates massive and well proportionate volume, which, along with the groomed landscape creates a picture that is sure to catch the viewers' eye from the overlooking highway.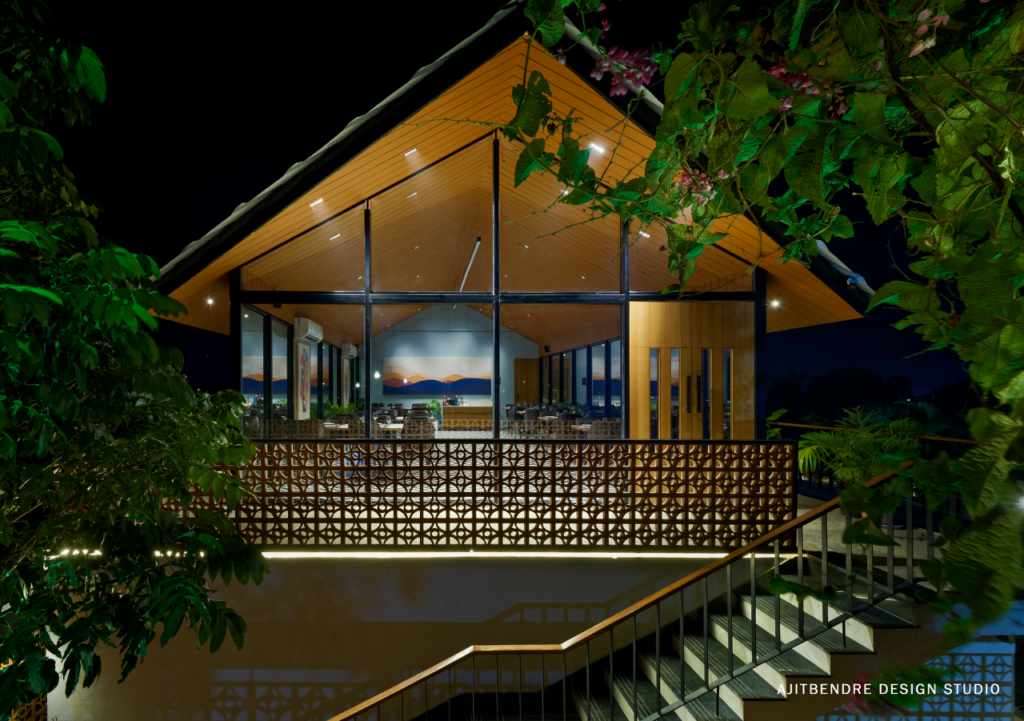 Earthy exteriors with a swash of blue for the structure's roof represents an independent design with a glint of unorthodox style.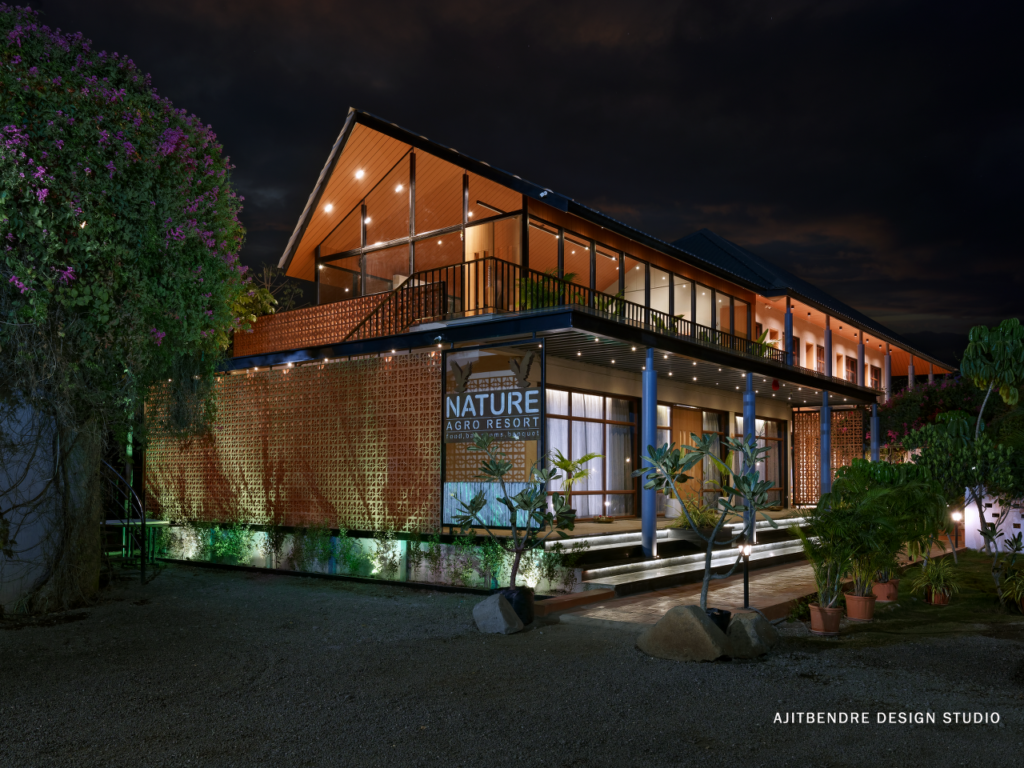 FACT FILE
Designed by : ajitbendre design studio
Project Type : Restaurant/Bar/Cafe
Project Name : Nature Hotel
Location : Sangamner, Maharashtra
Year Built : 2022
Duration of the project : 6 Month
Plot Area : 20000 sq.ft
Built-up Area : 6500 sq.ft
Project Cost : 1.2 cr
Principal Architect : Ar. Ajit Bendre
Team Design Credits : Ar. Disha, Kirti, Pranali & Rohan
Drawings : Kirti & Rohan
Photograph Courtesy : Hemant Patil photographer
Products / Materials / Vendors : Finish –Timex Veneer/ PU / Asian Royal Paint / Marino Laminate / Lighting – Unique light / Sanitaryware – Jaquar / Windows – Jindal / Flooring –Simpolo / Paint – Asian Royal Paint / Artifacts – Home Décor/ Mayur Artefacts, Pune / Hardware – Hafele / Fabrication Work – Sai Ashirwad Industries.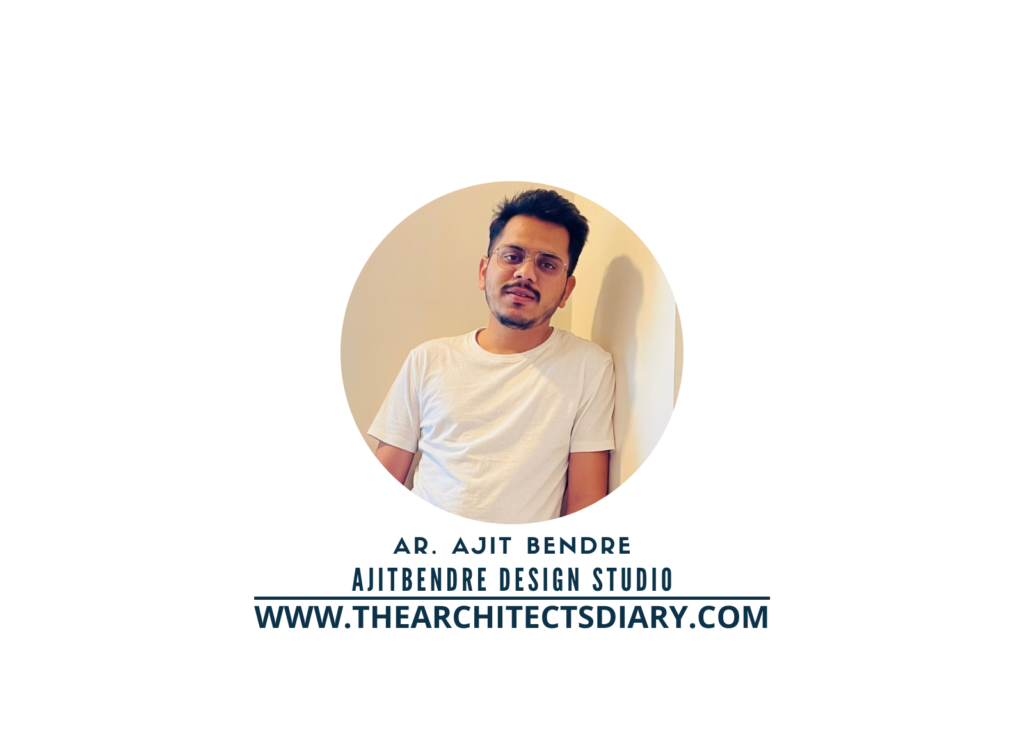 Firm's Instagram Link : ajitbendre design studio
Firm's Facebook Link : ajitbendre design studio
For Similar Projects >> 'SORGAM' RESTAURANT IN CHENNAI HAS A TRADITIONAL MENU AND A HEAVENLY AMBIANCE
The post A Contemporary Farm Resort Extension Designed By ABDS | ajitbendre design studio appeared first on The Architects Diary.