This office scape in Ahmedabad, Gujarat bathes in warm, mellow lighting for an inviting ambiance that comes steeped in contemporary glamour. Step into this space for an experimental riot that builds on travel installation as its primary concept along with reflecting functionality and experience, where the use of spatial elements, materials and finishes play a vital role in bringing the entire workspace together. DN Design Studio was approached by Ashok Jaiswal, owner of JPK Holidays to design the interior in the commercial zone of Ahmedabad.
A Clean, Minimal And Functional Office Interior For JPK Holidays | DN Design Studio
visit : DN Design Studio
The brief was to have a clean, minimal and functional office interior for JPK Holidays. We wanted the space to create an illusion of volumetric expanse in a decently palatial datum that means so much more than just incepting a sense of spaciousness in the area.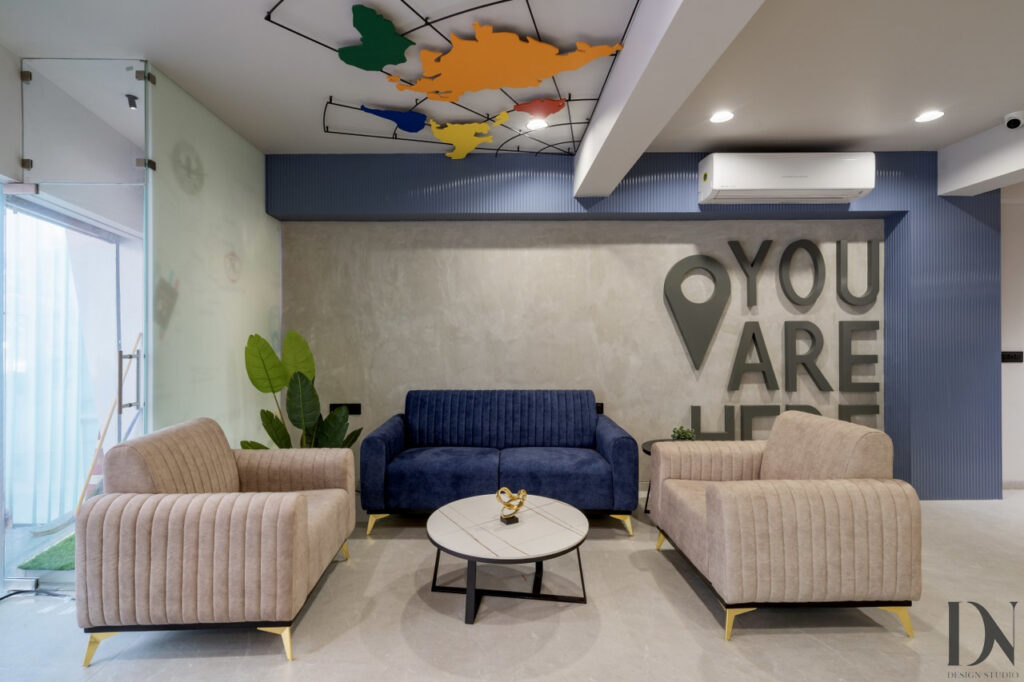 The entire interplay of volumes, textures, and materials comes to life when sunshine pours in through the windows. Overall, this office comes together as a combination of places with definite and distinctive material palettes, dotted with plants and greens that are contemporary and lavish.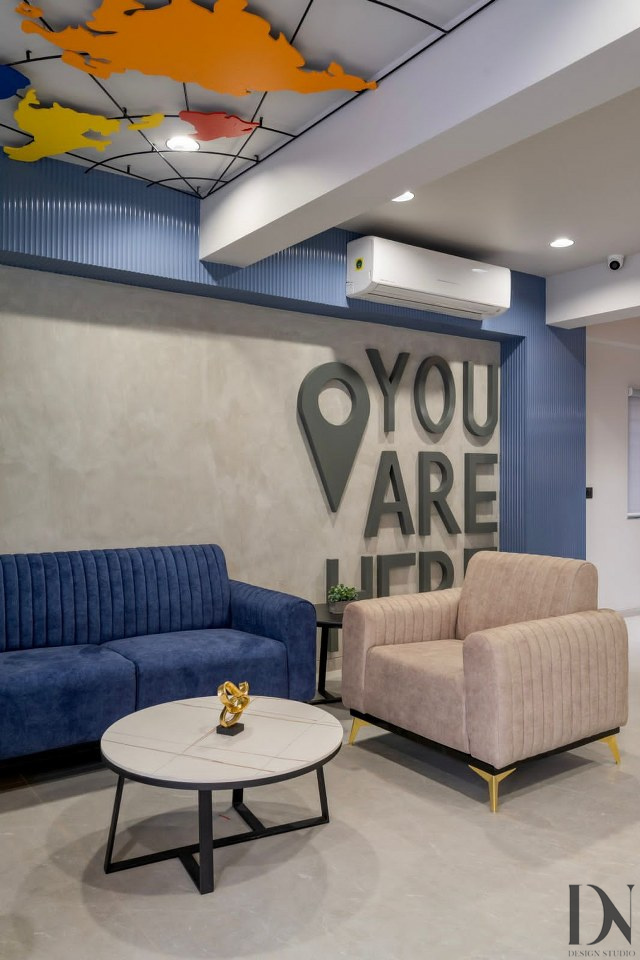 The overall outlook is knitted with functional design highlighted by custom made graphics and art pieces like the map of the waiting lounge is extruded from the ceiling with a web style fabrication of stainless steel flashed with bright zinc textures to make the space stand out while the window exhibit, includes a mannequin carrying a backpack complemented by a plane on the side, makes it quite an appealing visual for the travellers and the passage with black and white photographs of exotic experiences that a traveller goes through.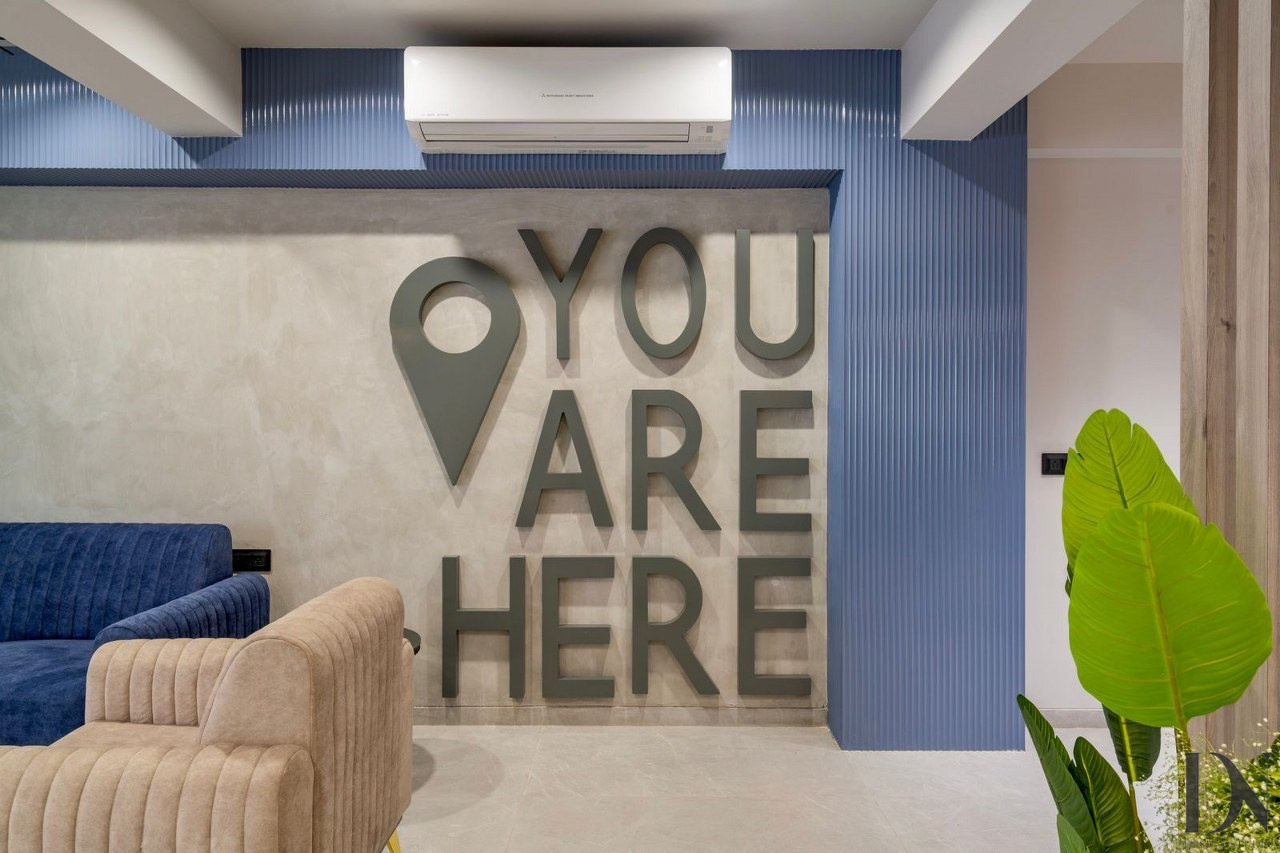 Every space has a unique character that redefines luxury The partition walls are mostly glass, making the workspace feel interconnected despite the functional separation of the spaces.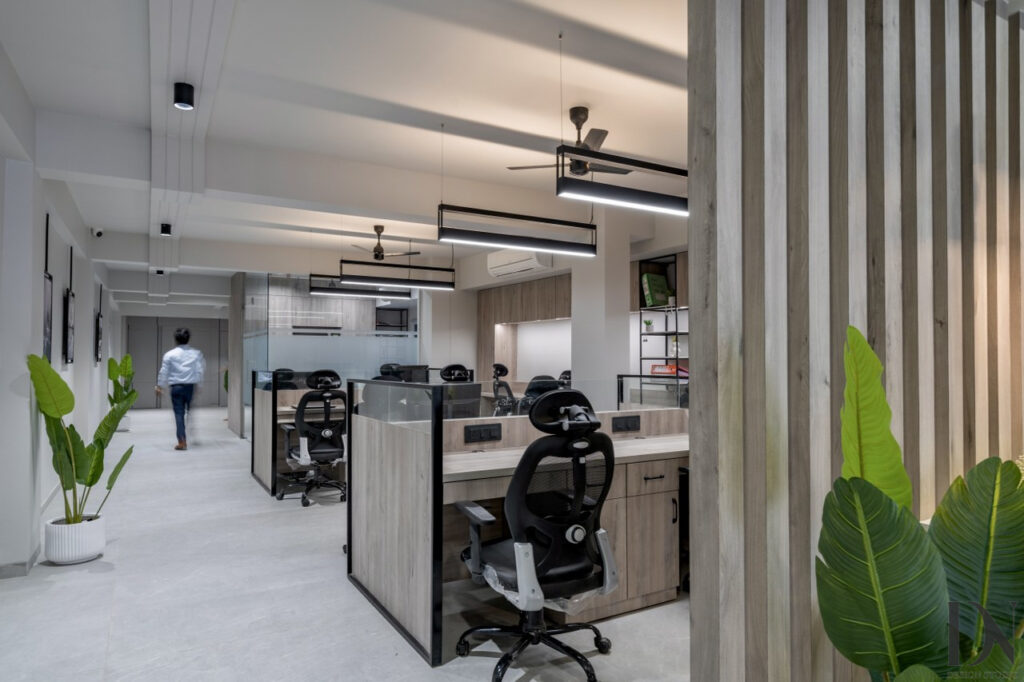 The abstraction of plans, elevation and patterns related to travel is composed and made out in walls, ceiling and installation that are specifically placed to enhance the ambience.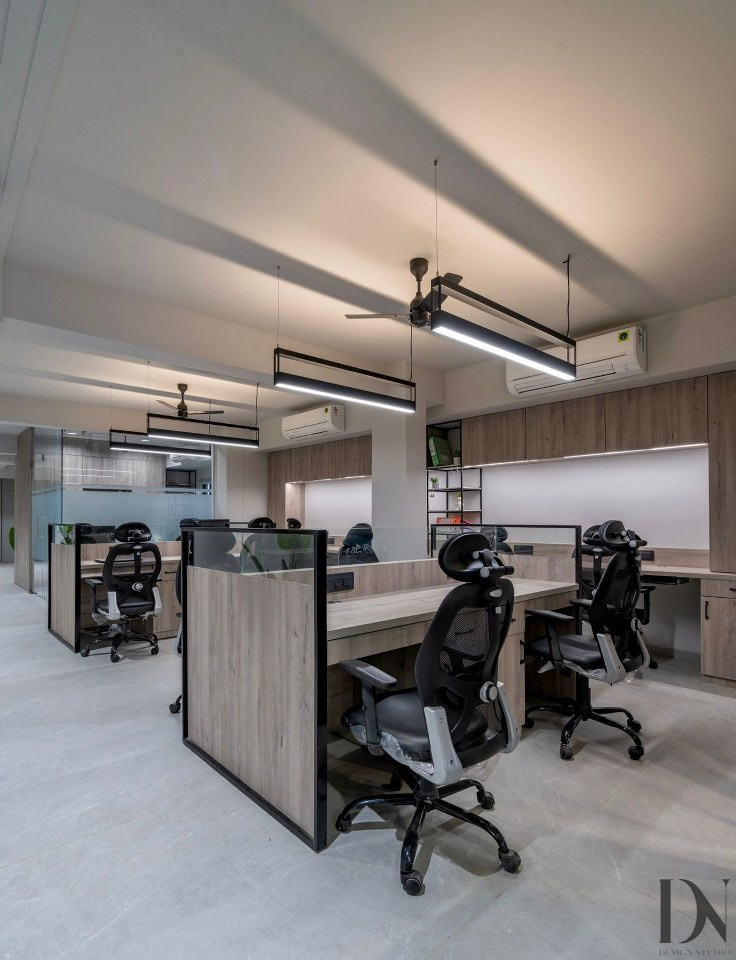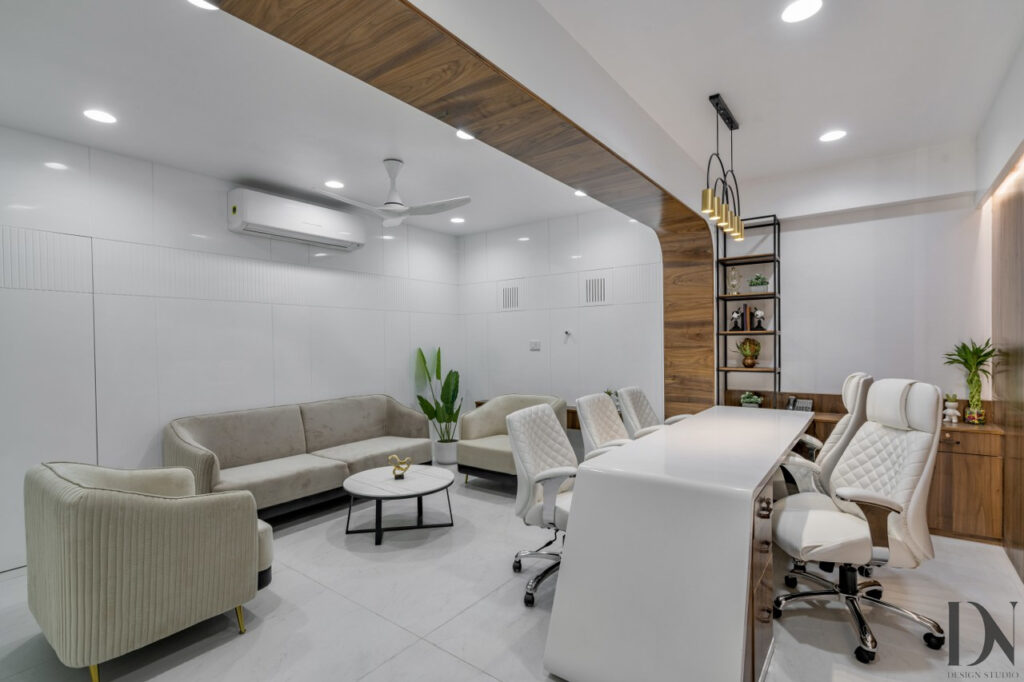 The inspiration board consisted of a montage of space that used subtle tones as backdrop to vibrant colour which acted as an accent. Dhruvi Bagrecha & Nirja Shah, principal designers have tried to fulfil all the requirements with a minimal design approach.
The conference room, being a collaborative space, has been accented with a concrete finish travel mural supported by a statement wooden-concrete wall that merges with the angles of the conference table, that centres the entire area beautifully.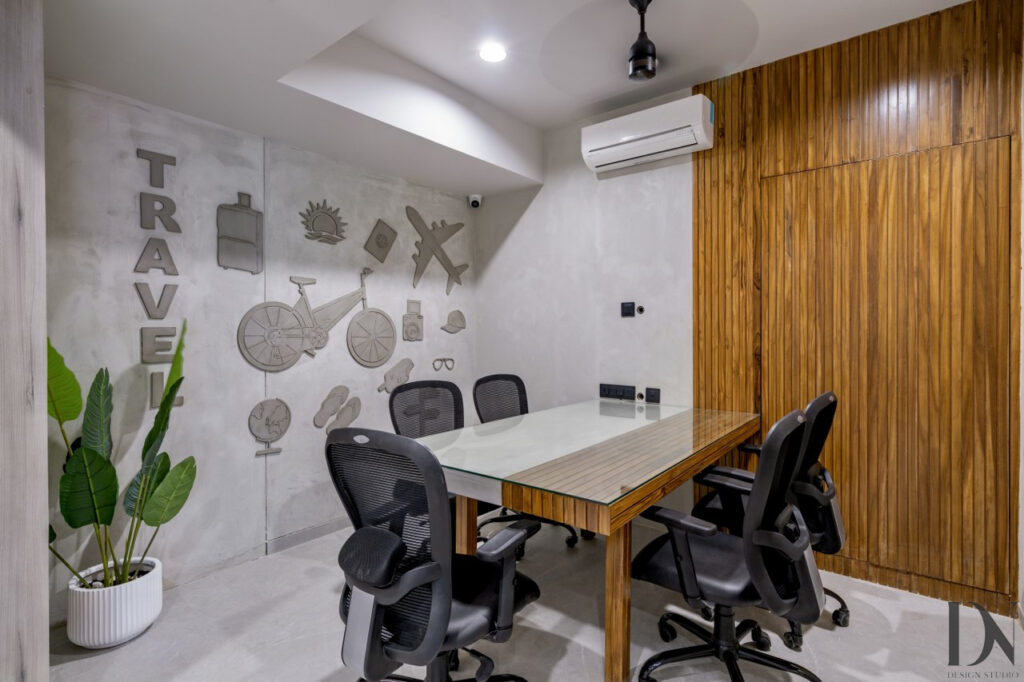 Overall, the interiors are intended to reflect JPK's vision as a company and as an organisation. The client and users will only complete the interior design as they interact with the space, with functionality and form coming together with a growth-oriented outlook.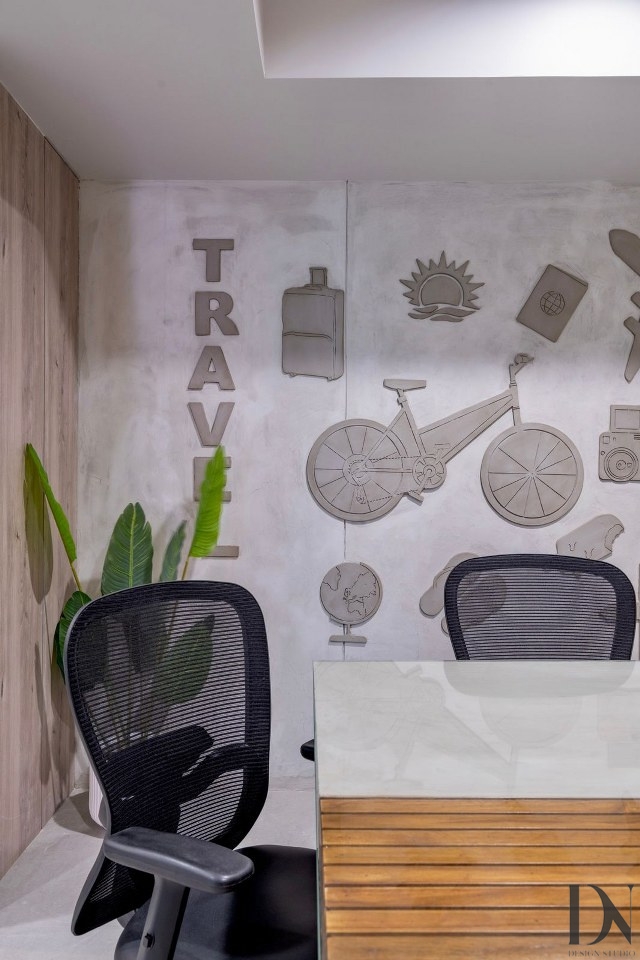 FACT FILE
Designed by : DN Design Studio
Project Type : Office Interior
Project Name : The Travel Office
Location : Ground Floor, Shailya Hospital, Stadium Road, Navrangpura, Ahmedabad
Year Built : 2022
Duration of the project : 4 months
Built-up Area : 3500 sq.ft
Project Size : 1710 sq.ft
Principal Designer : Dhruvi Bagrecha
Team Design Credits : Sakina Sabuwala & Yug Punjabi
Photograph Courtesy : Inclined Studio
Products / Materials / Vendors : Finishes – Matte, PU, Cement Finish / Lighting – Shalin Lights, Ahmedabad / Sanitaryware – Jaguar / Partition – Art and Glass Aluminum fixtures / Artifacts – 079 Decor, Ahmedabad / Flooring – Simpolo.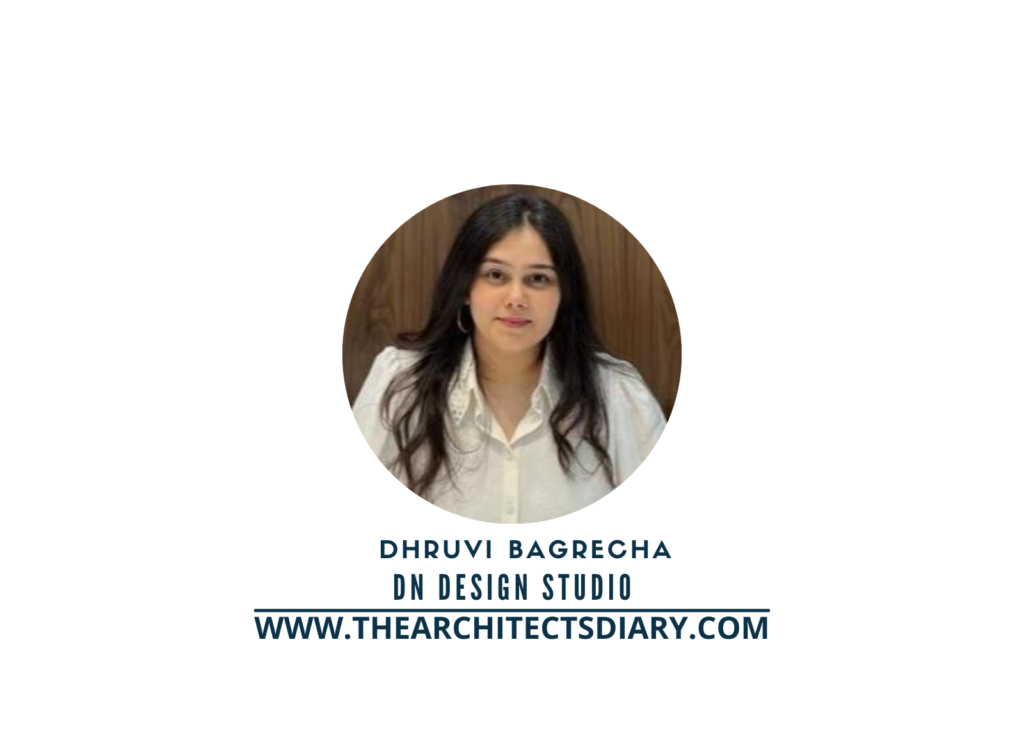 Firm's Instagram Link : DN Design Studio
For Similar Projects >> CONTEMPORARY OFFICE SPACE DESIGNED FOR THE IT PROFESSIONALS
The post A Clean, Minimal And Functional Office Interior For JPK Holidays | DN Design Studio appeared first on The Architects Diary.