PROJECT BR has 3 side surroundings of neighbouring homes with less than 10′ between the walls, yet the client wanted every room to be filled with natural light so we had to come up with a blend of modern spaces with natural light and ventilation, which took us a few brain-storming sessions with the team but we ended up pulling off the requirements with flying.
A Blend Of Modern Spaces With Natural Light And Ventilation | Anamedesigns
Visit : Anamedesigns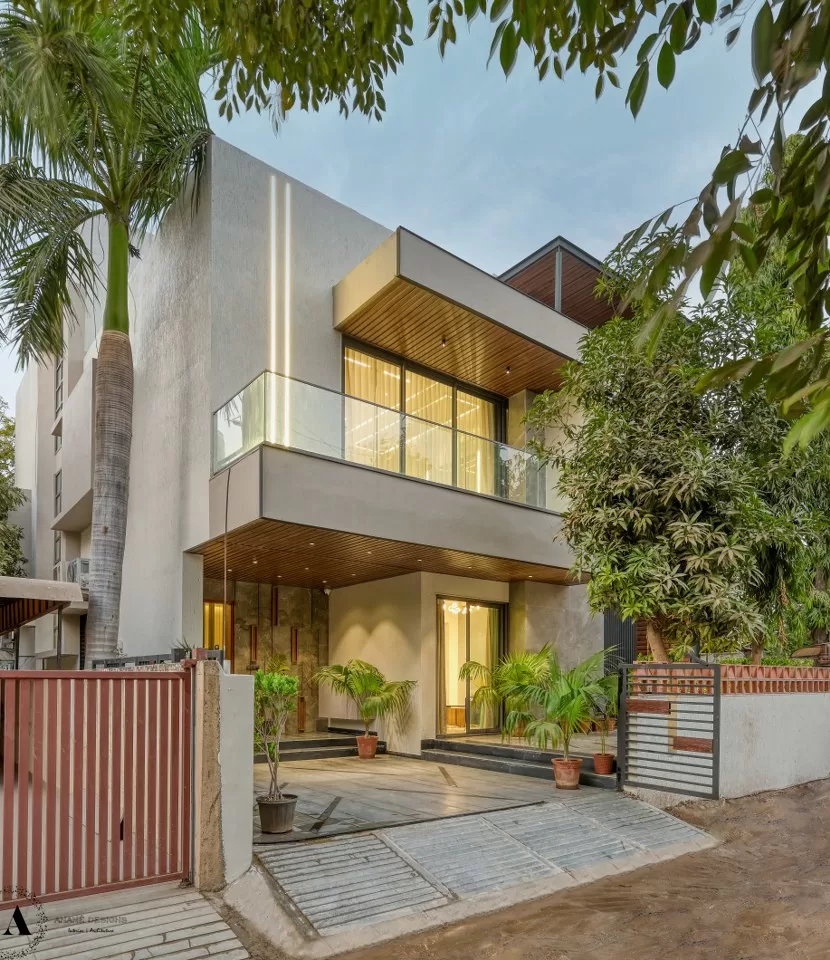 Every room in the Project BR is designed in a way that you don't feel leftover with lights.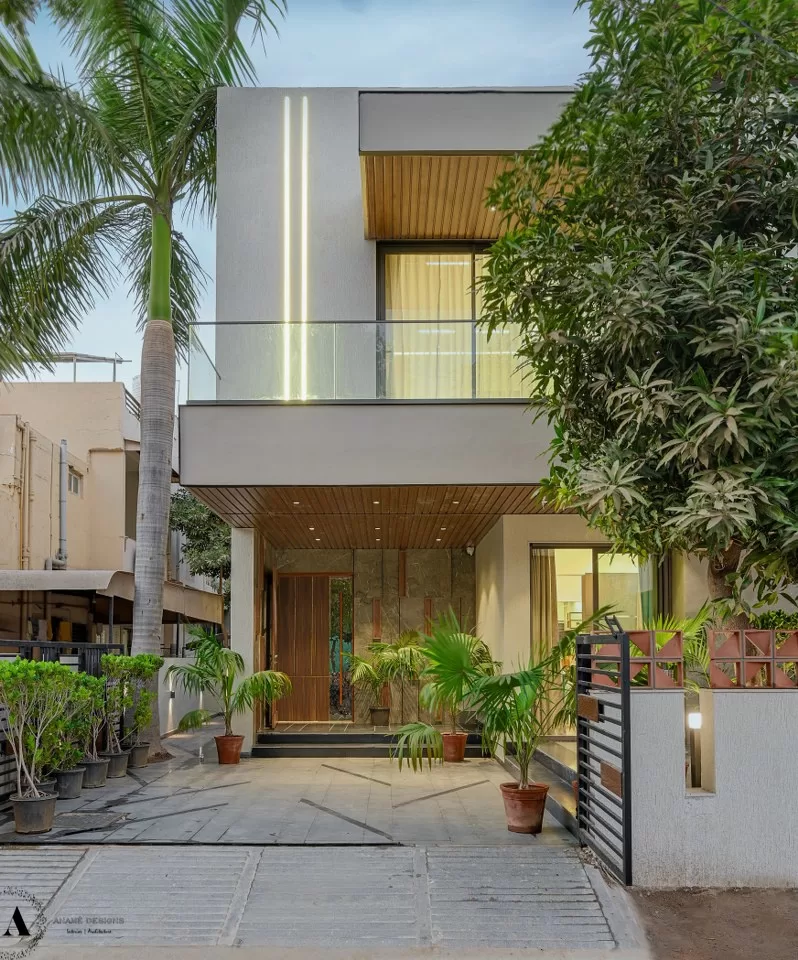 Natural air circulation and blend of lights are utilized wisely in this project to provide grandeur.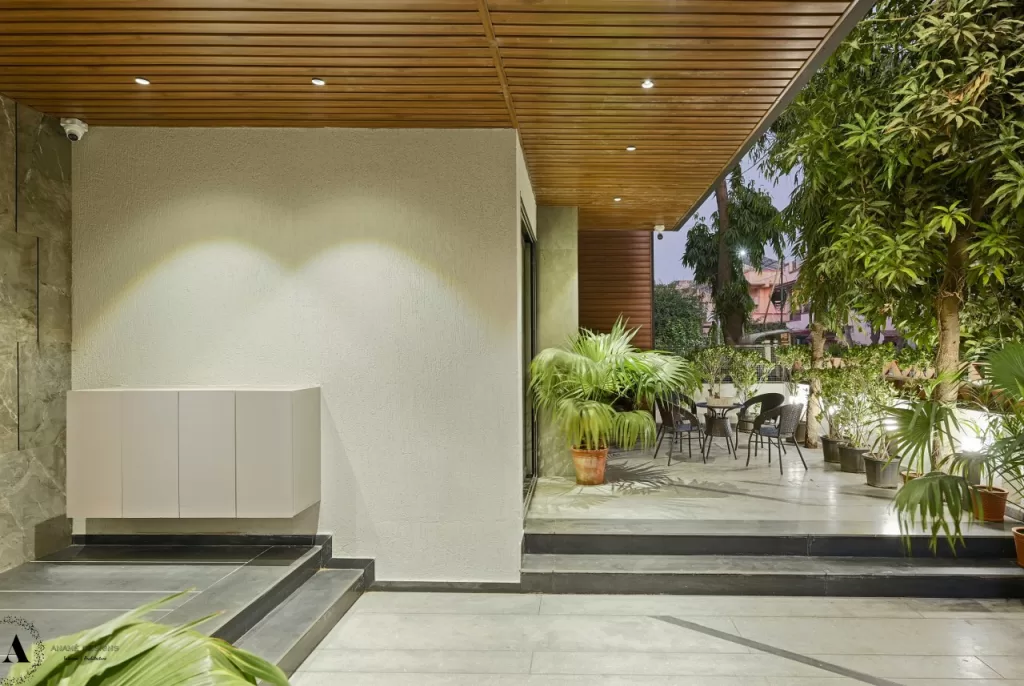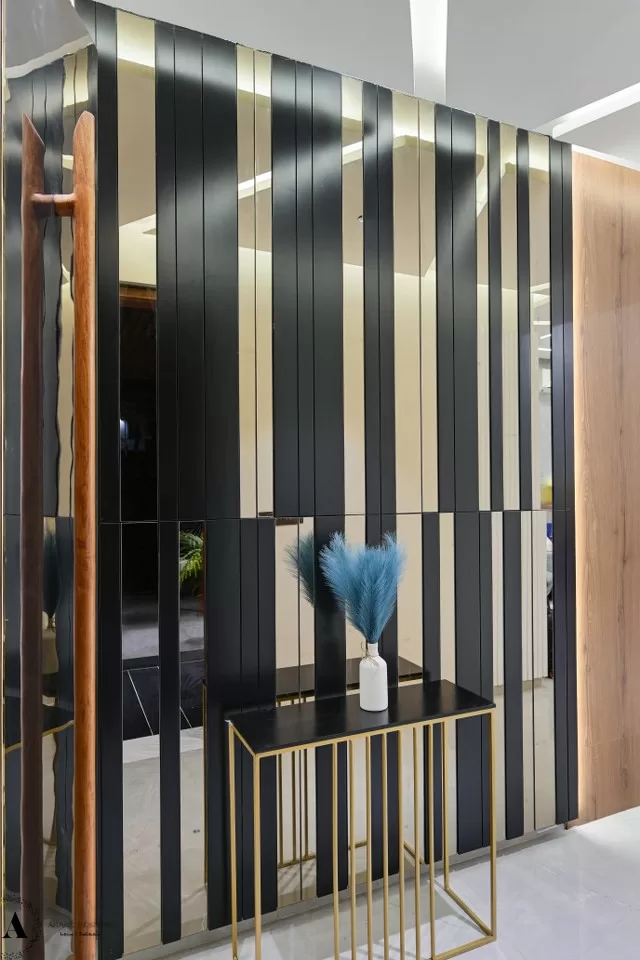 When it comes to designing a luxurious room, one of the most popular color combinations is blue and grey. This color duo can create a relaxing and sophisticated ambiance that is perfect for any space.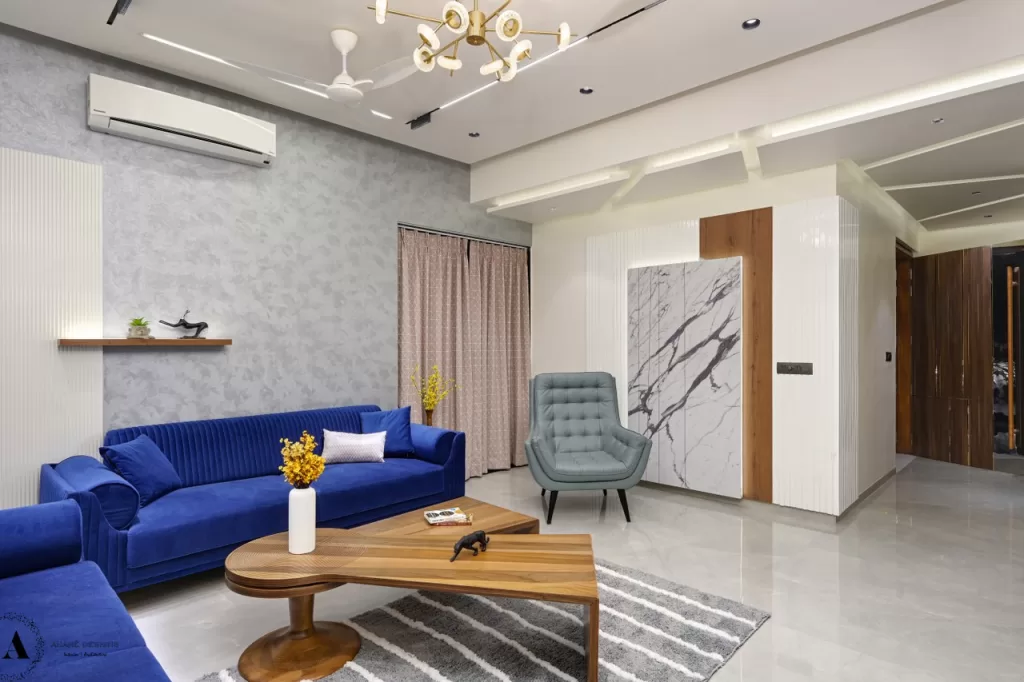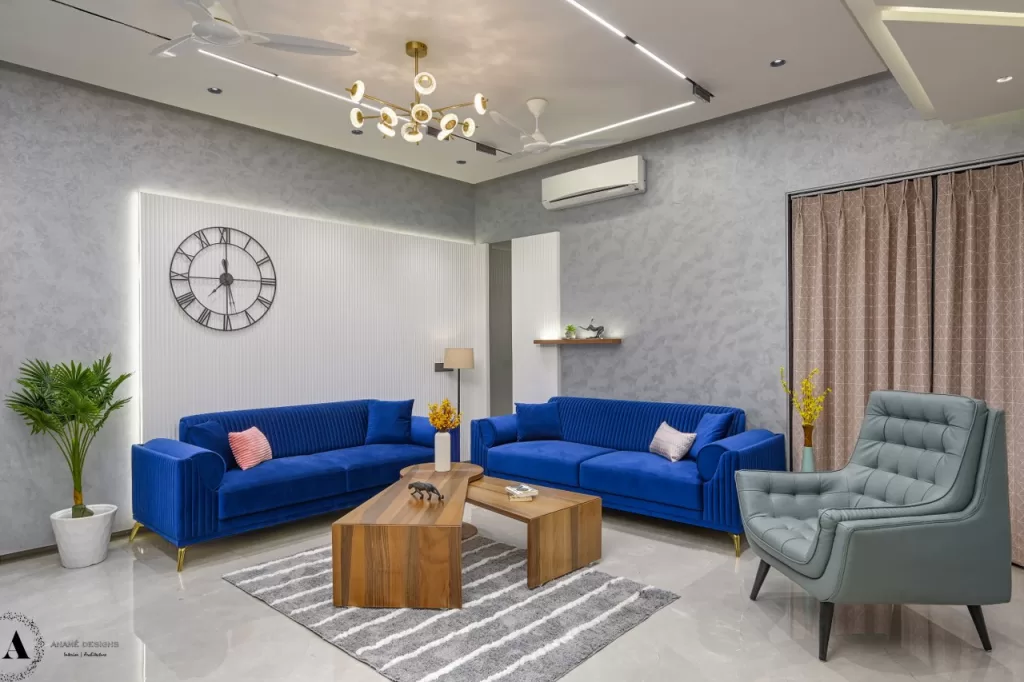 In this article, we'll explore the elements of a luxurious room decor that uses blue and grey, including the furniture, accessories, and lighting.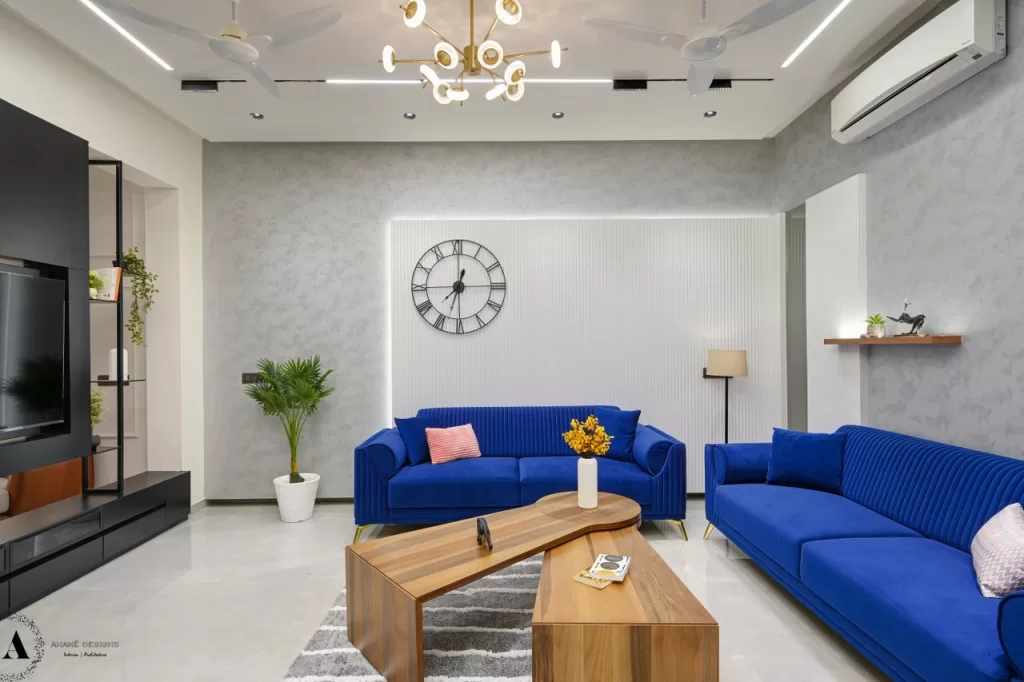 When it comes to a modern and sleek interior design style that incorporates the use of glass in furniture pieces such as wardrobes, TV units, and even walls. Glass is a versatile material that can create a sense of openness and airiness in a space, and it can also reflect and amplify light to brighten up a room.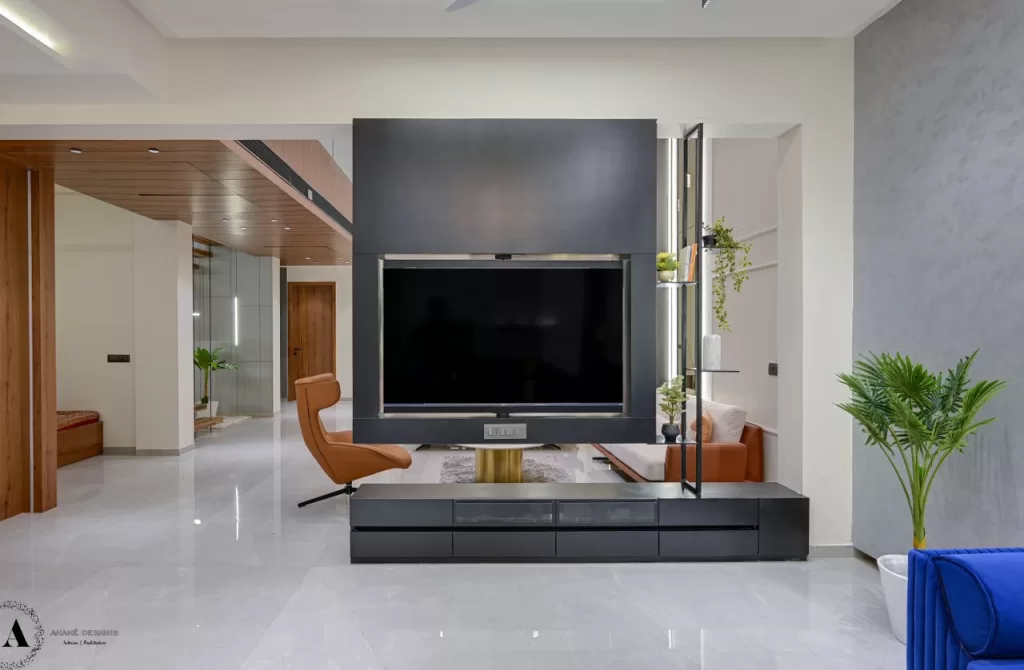 Here we have used a Glass TV unit which is adding a modern touch to the room. Glass walls are used to divide spaces while maintaining an open and connected feeling, and they are also used as a statement feature in a room, allowing natural light to flow through and creating avisually stunning effect.
A double height living room is often considered a luxury feature because it creates a sense of grandeur and spaciousness that is not typically found in standard-sized rooms.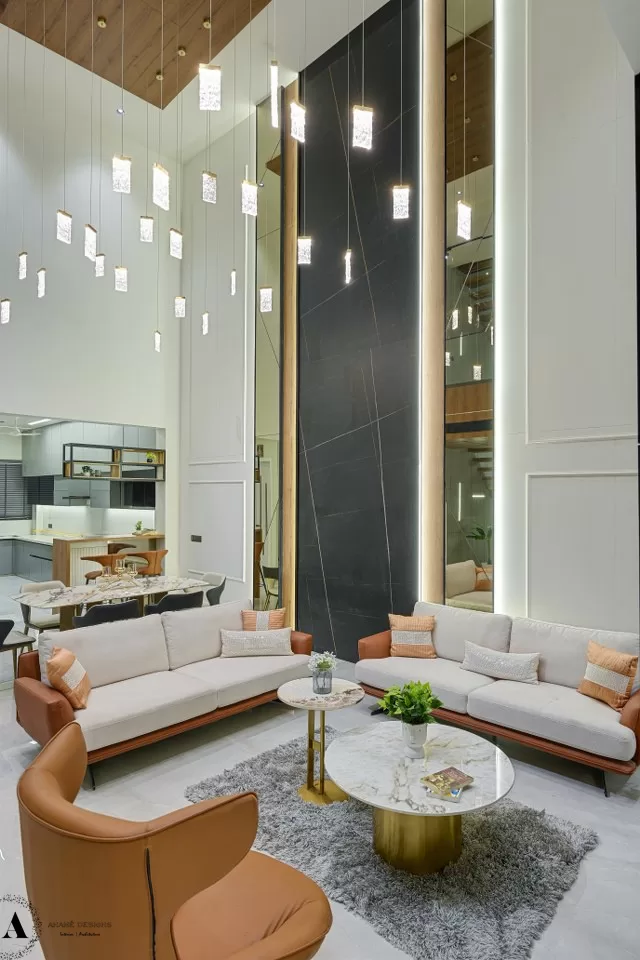 The extra vertical space adds to the visual appeal of the room so we have used thick wooden ceiling adding 27 hanging light to differentiate from the chandelier , lights make it look larger and more open even In such a big room.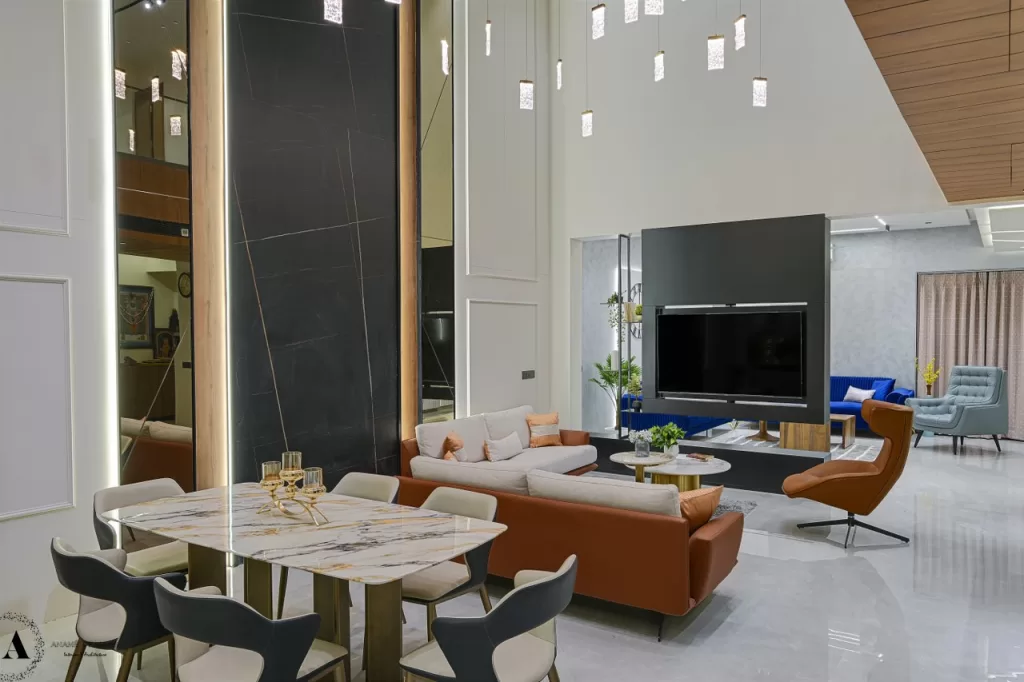 Italian dining table set adds the glory in the room by bringing in class element highlighting the perfect Italian craftsmanship in the corner of the luxurious room providing pleasure and pride to the family on everyday meal.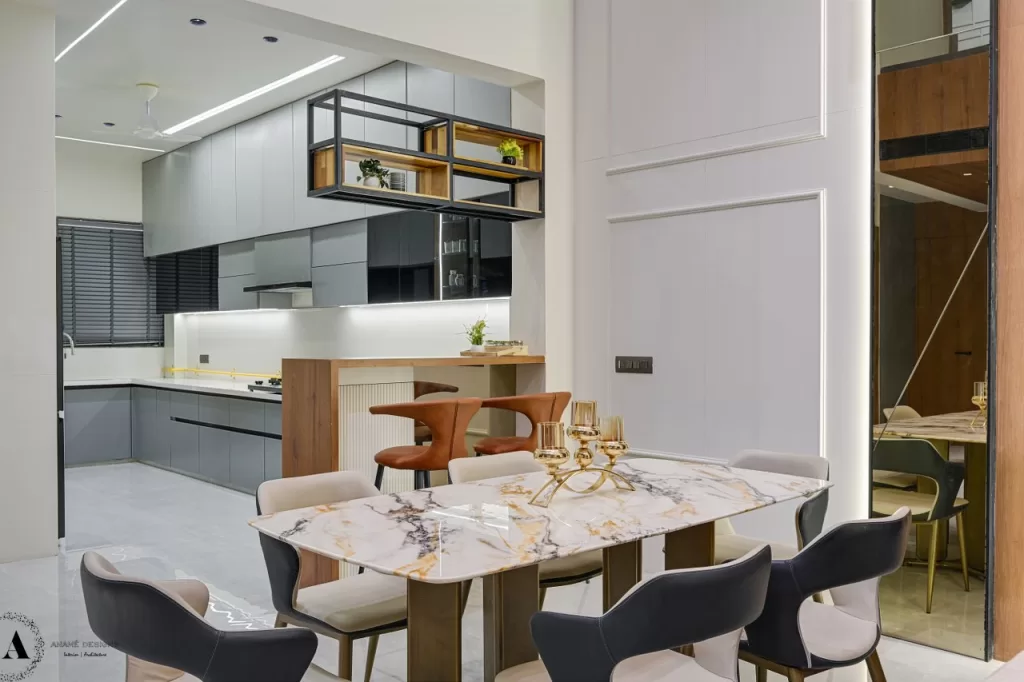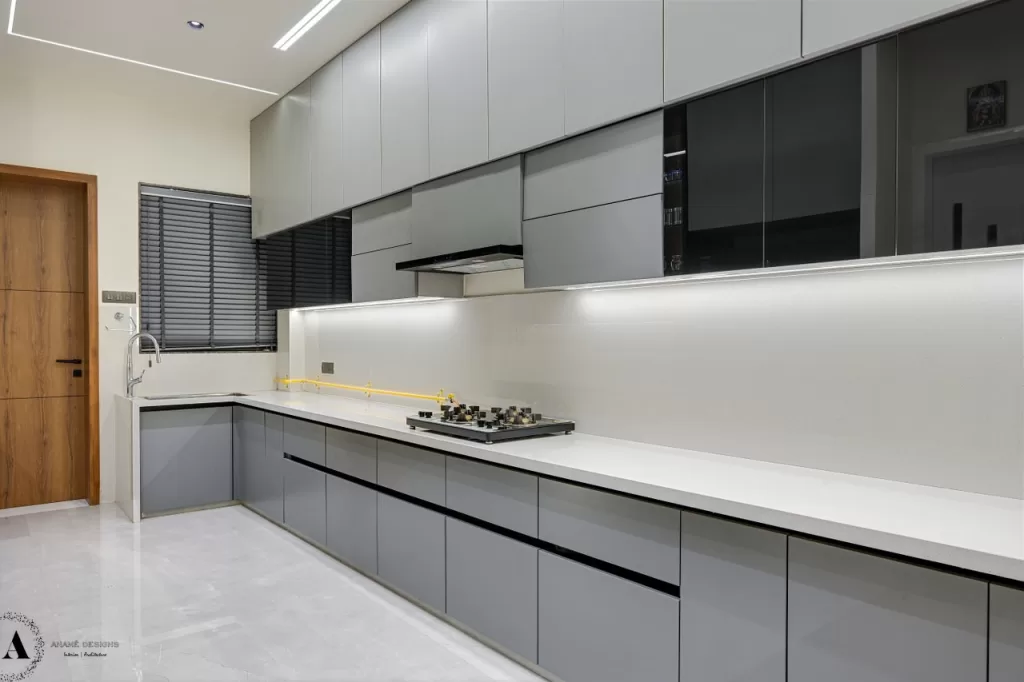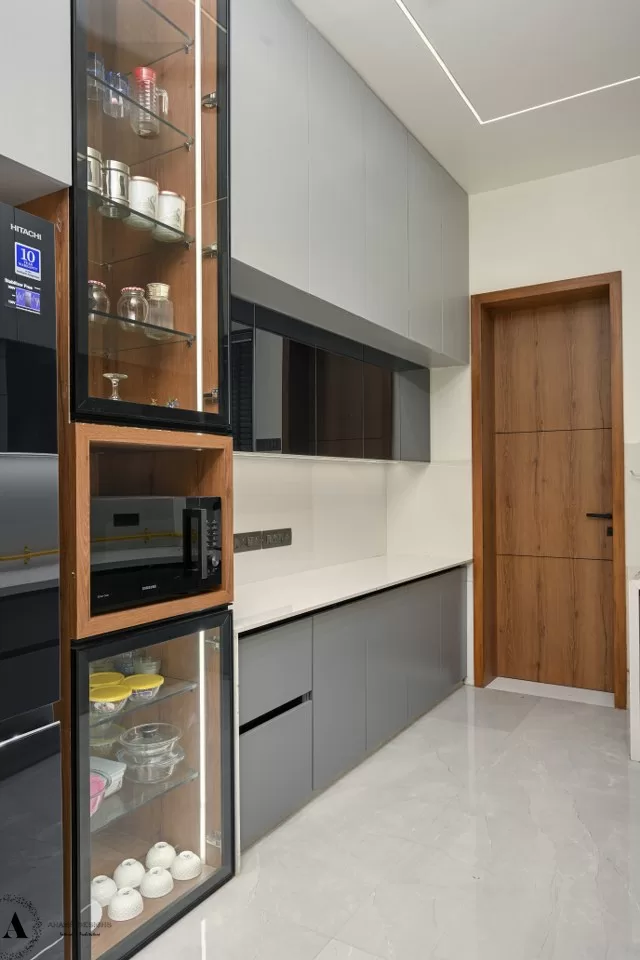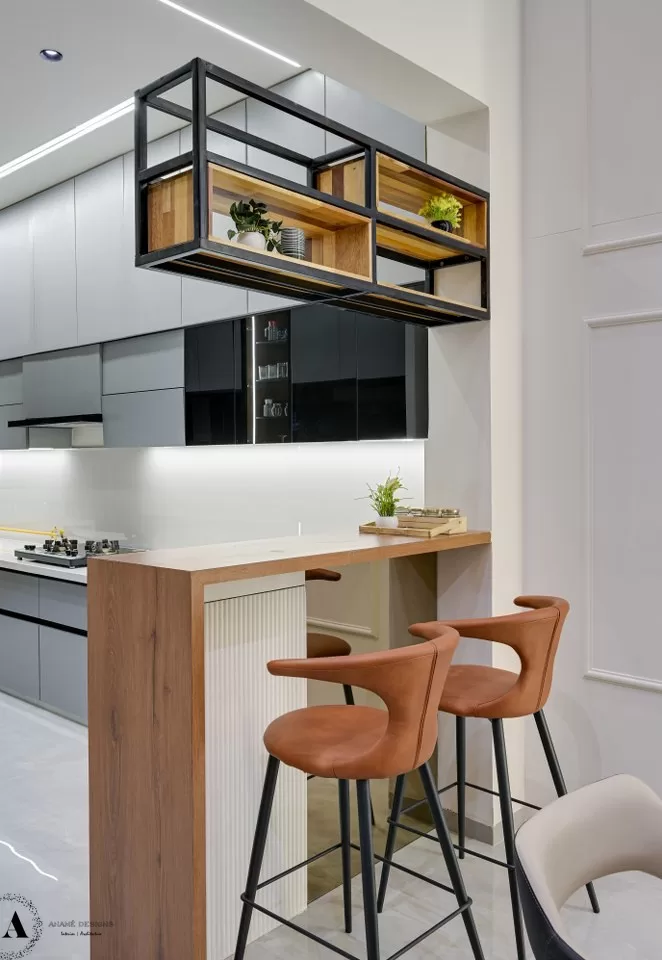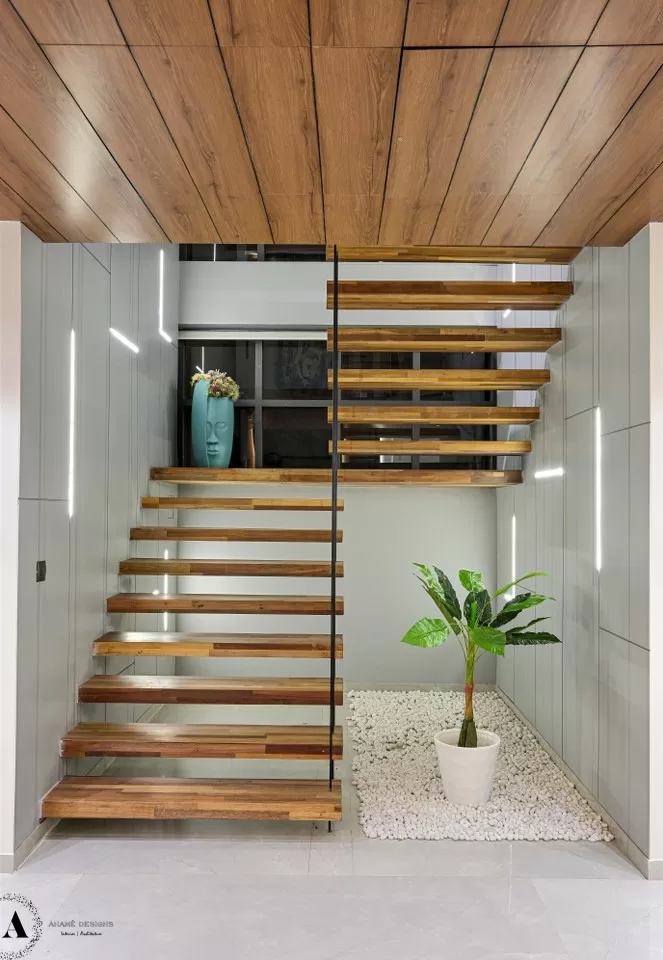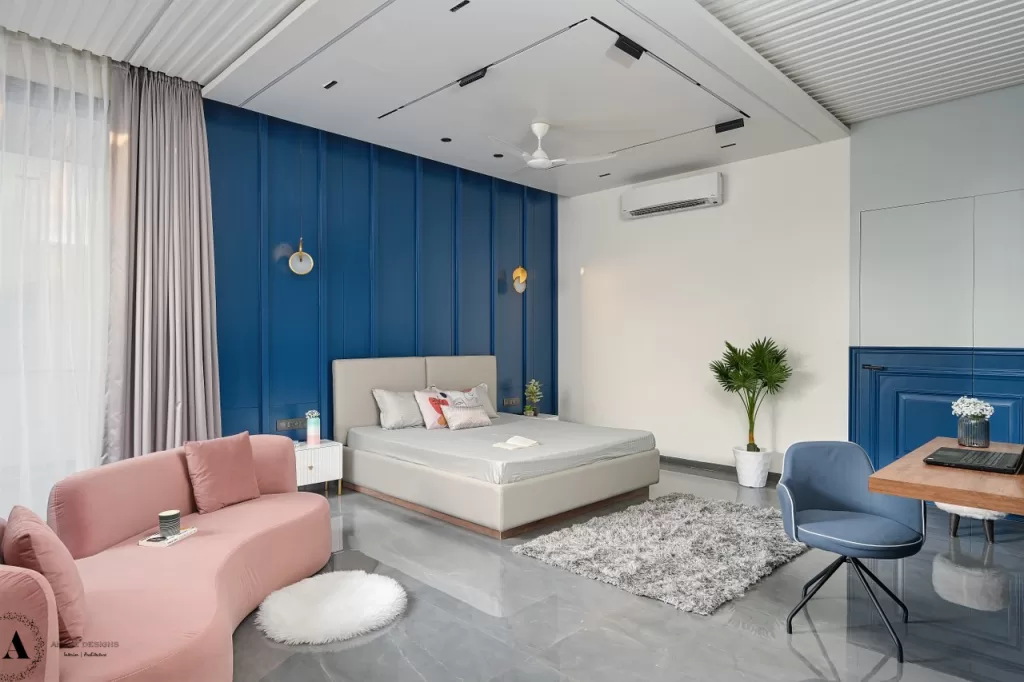 Accessories are what make a room feel complete, and in a blue and grey-themed luxurious room decor, they play an important role. Start with blue and grey throw pillows that complement the sofa and chairs. Next, grey curtains or window treatments to tie the room together. Add a few decorative accents like a stylish drawer and a green plant to add interest to the room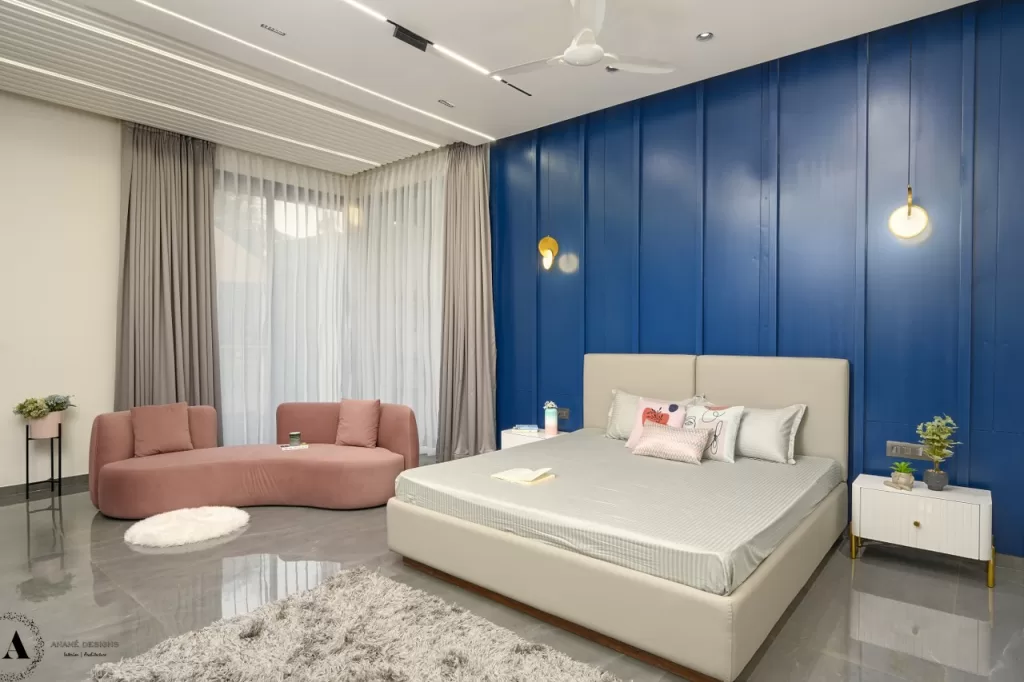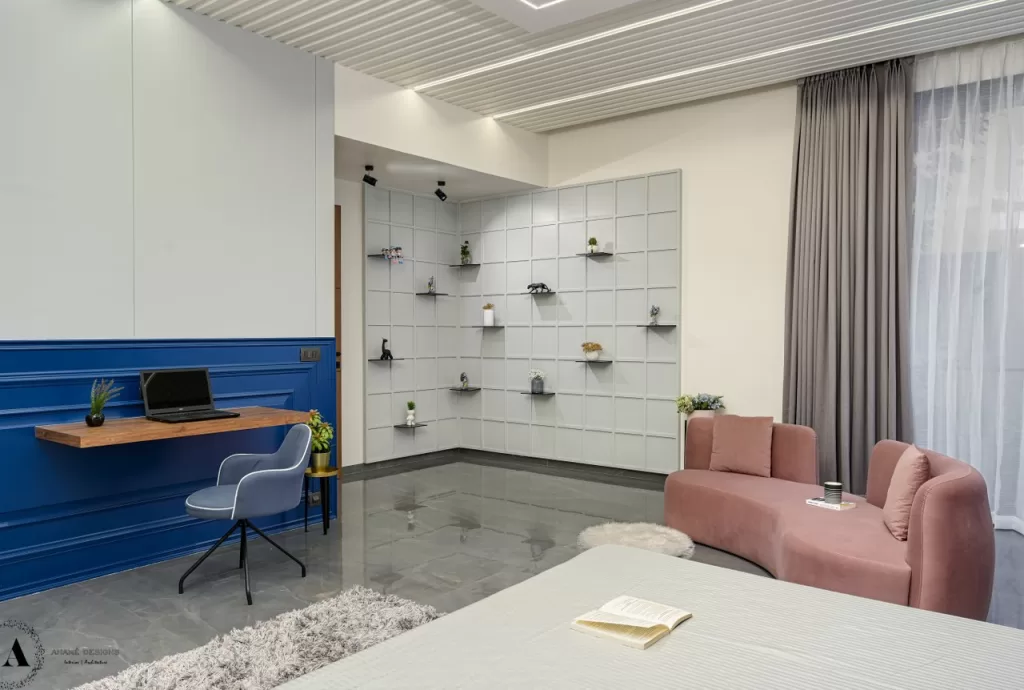 In a luxurious room decor that uses blue and grey, the furniture plays a key role in creating a cohesive look. Start with a peach velvet fabric curves shape sofa that strengthens the richness of the ambience.and add blue accent chairs to create a contrast. The blue chair adds depth and texture to the room for little working desk.
Lighting is crucial in creating luxurious room decor. For this theme, we have used a combination of magnatic lights and profile lights in the ceiling and European styled golden lights on the matt blue background wall to enhance richness of the room Final thoughts: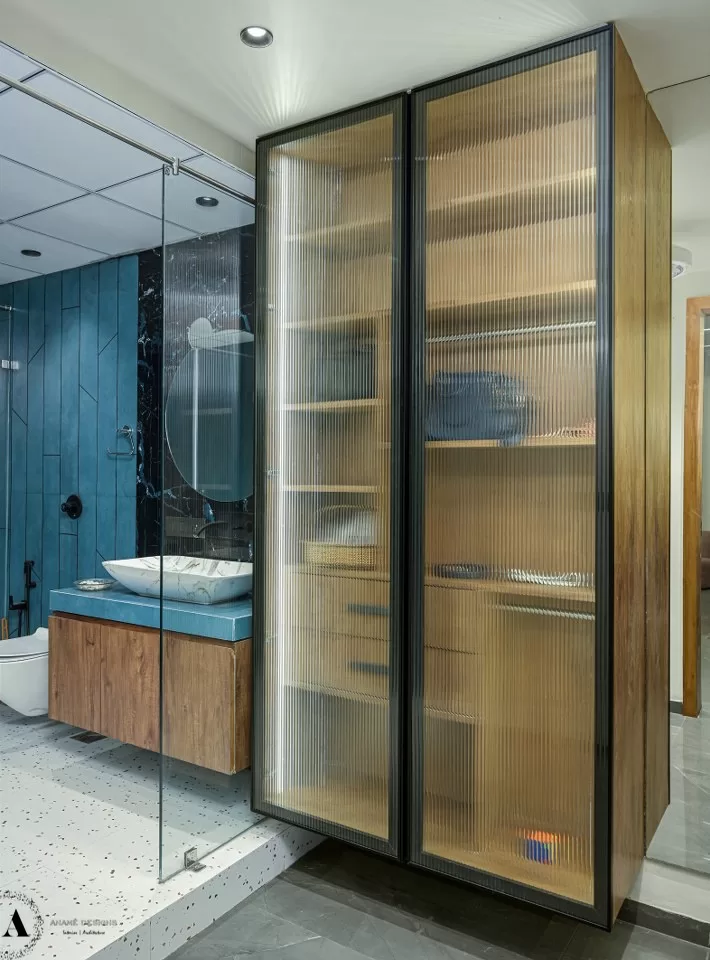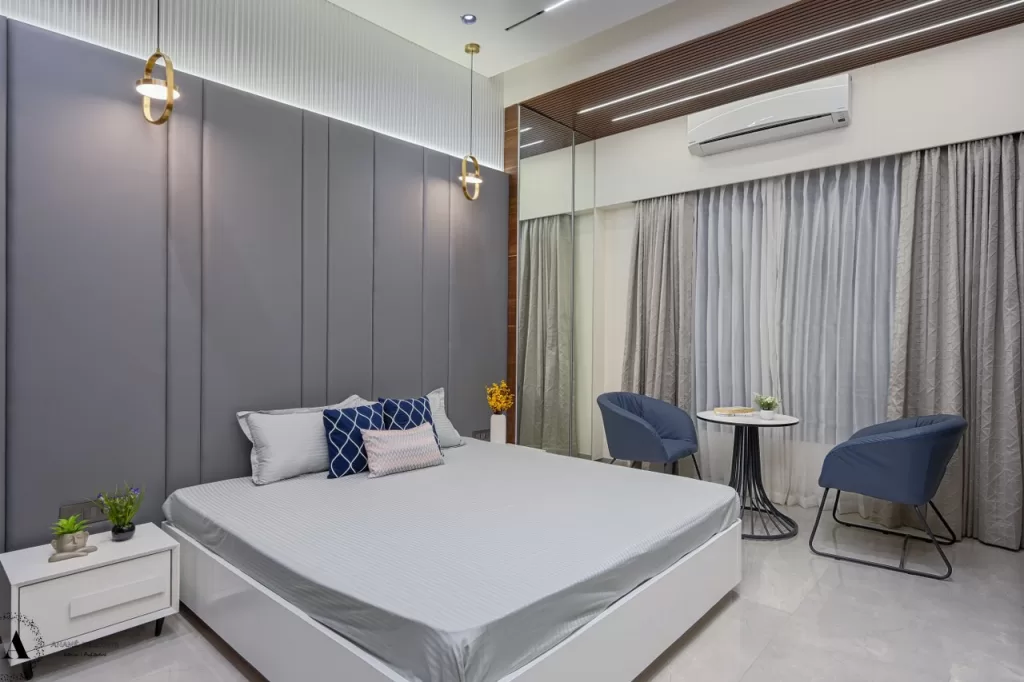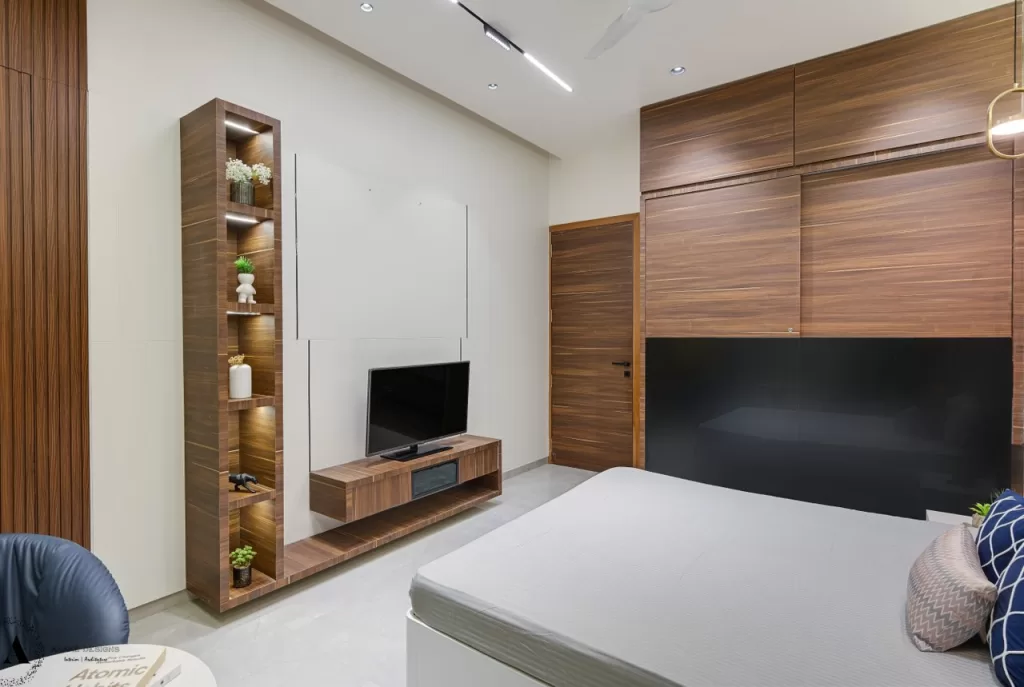 Overall, incorporating glass elements in this home has created a contemporary and stylish look, while also offering practical benefits such as increased light and functionality in the modern Master Room of lavish Abode.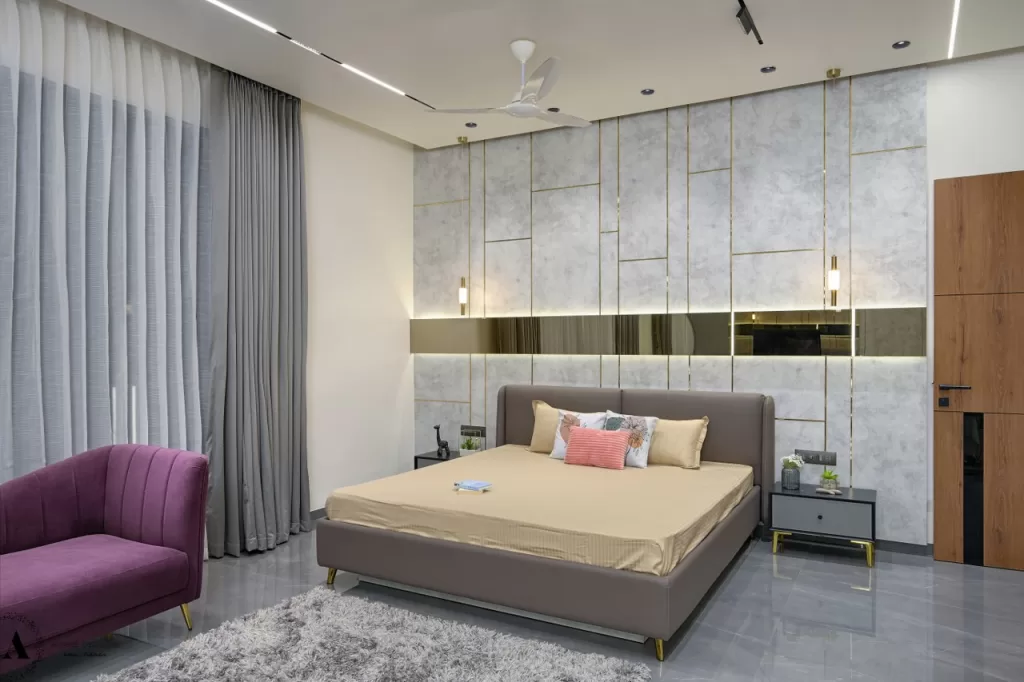 Customized sofa sets offer the opportunity to create a unique and personalized seating arrangement that is tailored to the specific needs and preferences of the Luxurious furniture.
Glass wardrobe doors can provide a sophisticated and stylish look, while also allowing you toeasily see and access your clothing and accessories. Here we have used a Glass TV unit which is adding a modern touch to the room.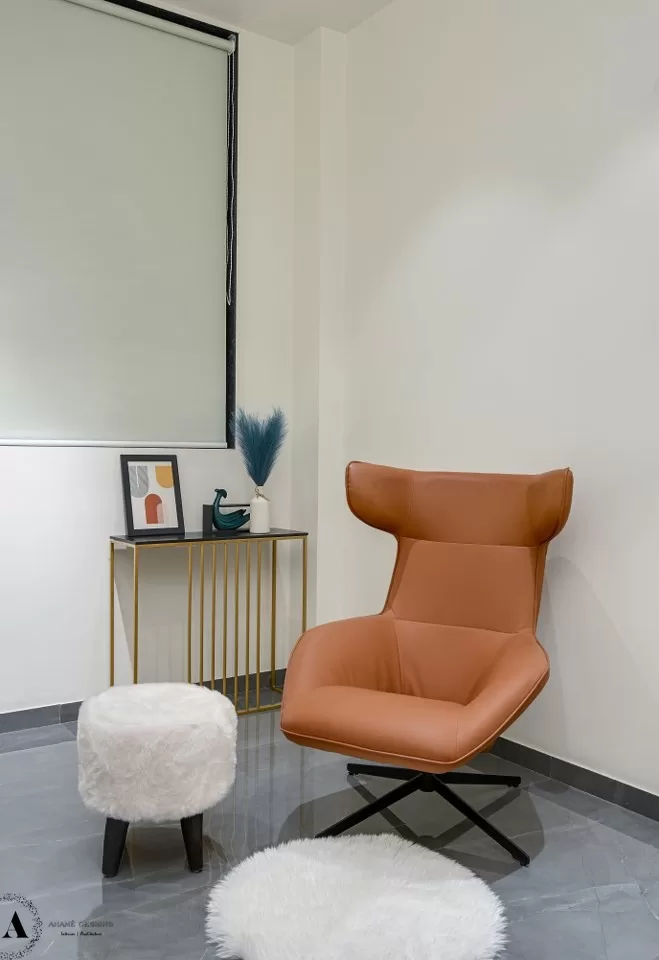 In conclusion, a luxurious room decor that uses blue and grey can create a calming and sophisticated ambiance in any space.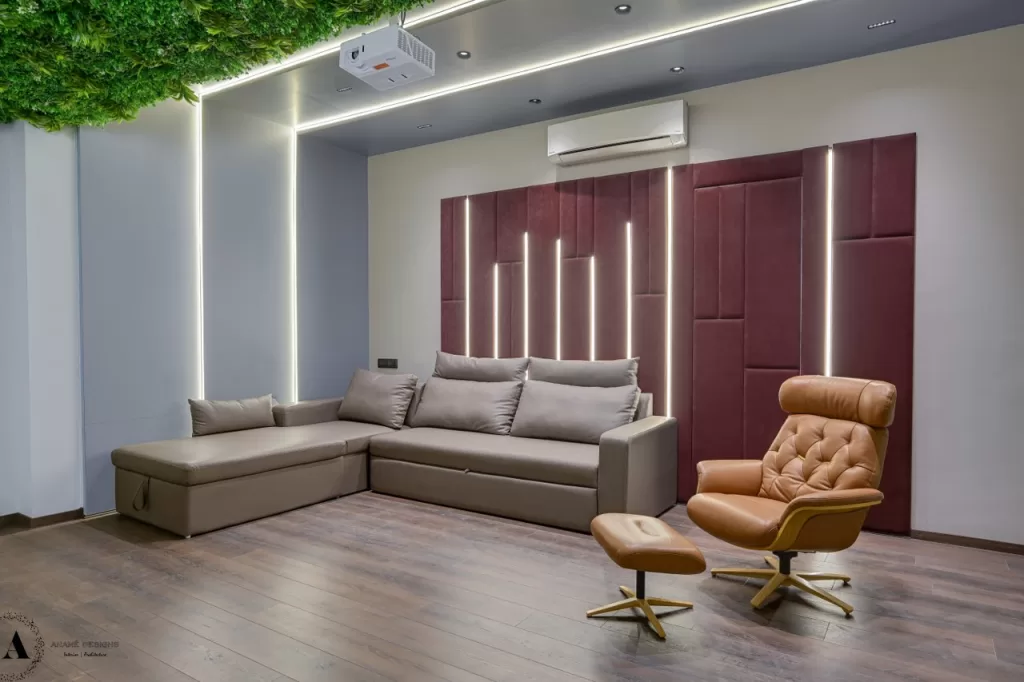 Fact File
Designed by : Anamedesigns
Project Type : Residential Interior Design
Project Name : Bansidhar
Location : Ahmedabad
Year Built : 2023
Duration of the project : 11 months
Project Size : 5202 Sq.ft
Project Cost : 2.80 crore
Principal Architect : Aanal Bhatt
Photograph Courtesy : Rockbrand Inc
Products / Materials / Vendors : Finishes – laminates ,venners ,pu finish , tile cladding / Wallcovering / Cladding – royal touch / Construction Materials – ultratech cement , steel vibrant TMT / Lighting –starigale / Doors and Partitions – greenply / Sanitaryware – jaquar / Windows – Domel section with 3layer laminated glass / Furniture – woodmont by mahavir furniture / Flooring – armani grey / Kitchen – modular kitchen / Paint – asian paints / Artefacts – vardhaman / Hardware – Hertich.
Firm's Website Link : Anamedesigns
Firm's Instagram Link : Anamedesigns
Firm's Facebook Link : Anamedesigns
For Similar Projects >> The Radiant Home – An Expression Of Calm, Inviting And Cozy Space
The post A Blend Of Modern Spaces With Natural Light And Ventilation | Anamedesigns appeared first on The Architects Diary.